This viral recipe is going to win you over. Slow Cooker Olive Garden Chicken Pasta has quickly become a viral TikTok chicken recipe! Olive Garden pasta is creamy and so delicious.
Chicken breast, Olive Garden dressing, cream cheese, parmesan, and pasta all in one comforting slow cooker chicken recipe!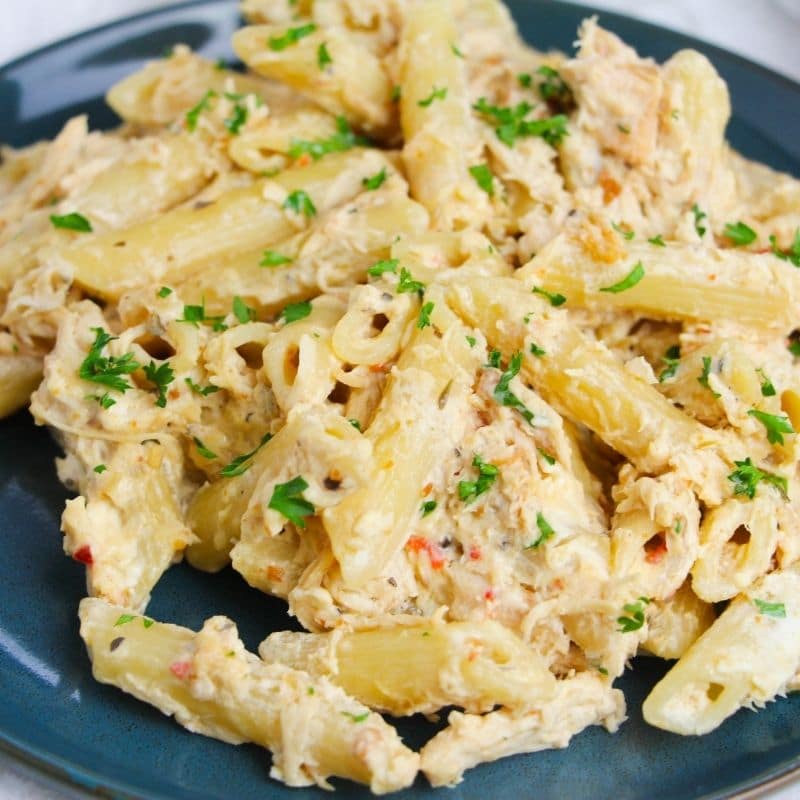 Olive Garden Italian dressing chicken recipe is one you can make as a crockpot chicken or I share directions on how to make this as an Instant Pot recipe as well in the recipe card.
Why You will Enjoy This Olive Garden Crock Pot Chicken…
Simple ingredients
Perfect for the crockpot
Simple and easy but yet great taste
Great dish to take to a potluck
Viral Olive Garden Recipe on TikTok
Family Friendly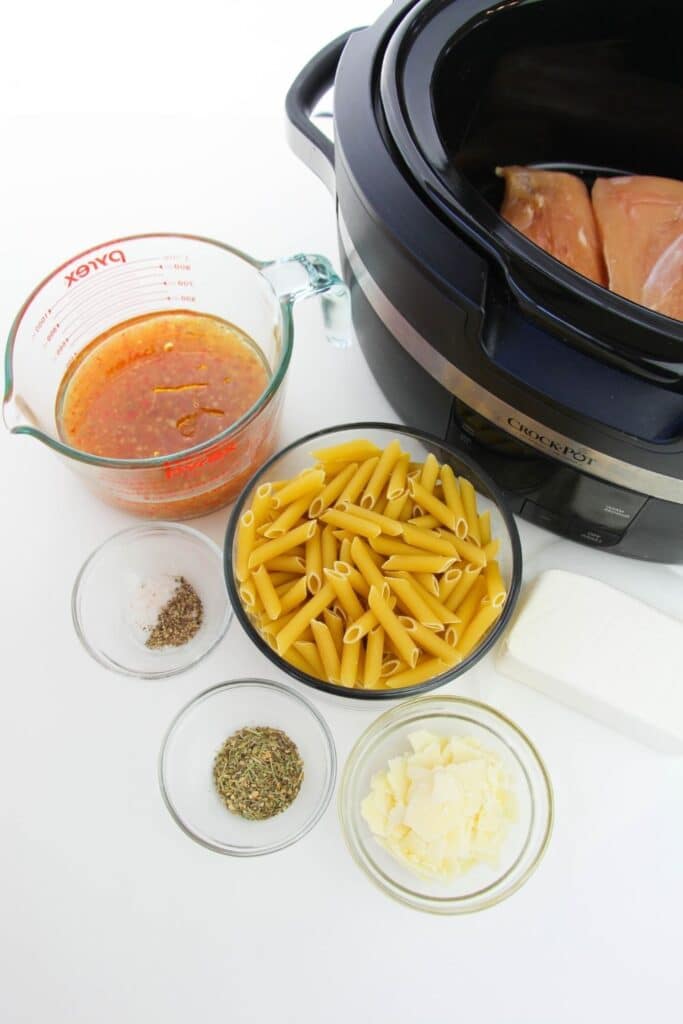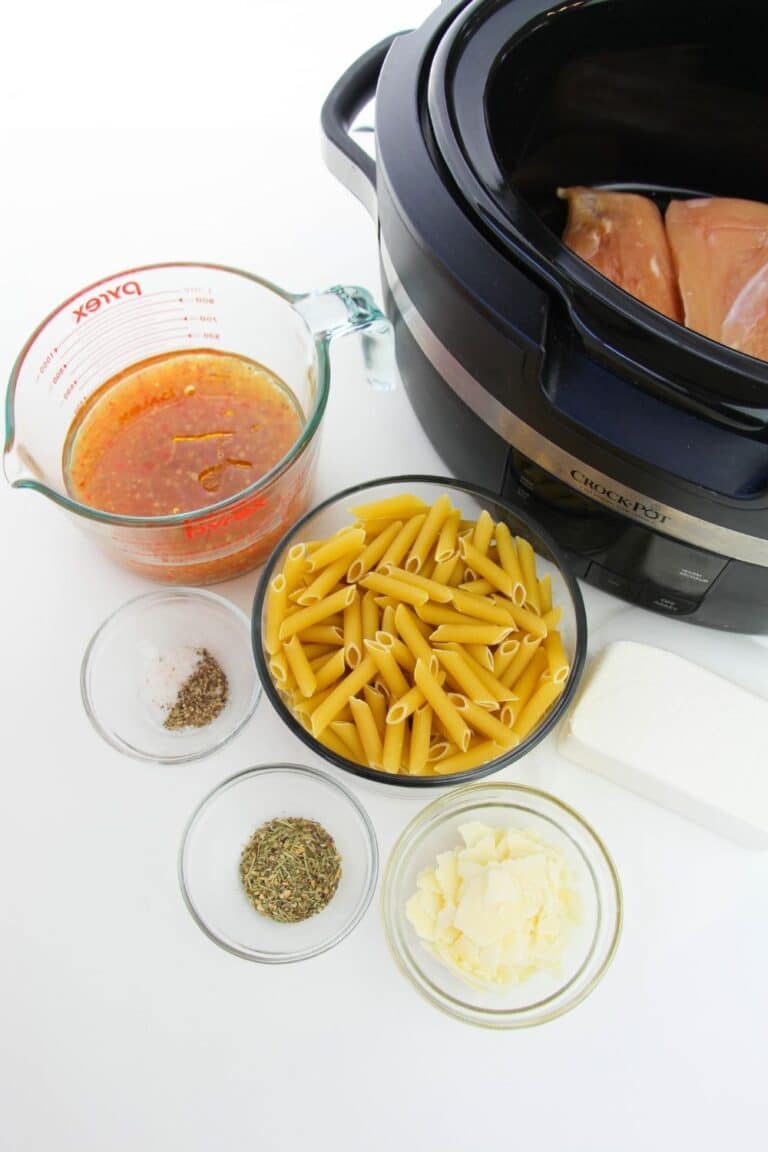 Ingredients
Chicken Breast – You can use any boneless chicken. Chicken thighs, tenderloins, etc.
Italian seasoning – This seasoning is optional for this Olive Garden chicken parmesan recipe. I find it helps add more flavor.
Salt and pepper – Season to taste.
Italian dressing – You need to use Italian Olive Garden Dressing for this chicken dish.
Cream cheese – Gives this chicken and pasta an ultra-creamy and rich flavor. Just put the block on top, and don't stir.
Parmesan cheese – Optional but adds nice tang to the recipe.
Pasta – I used penne but any smaller-sized pasta works for this Olive Garden chicken crockpot recipe. Cook pasta as directed on the box.
How to Make Olive Garden Chicken Pasta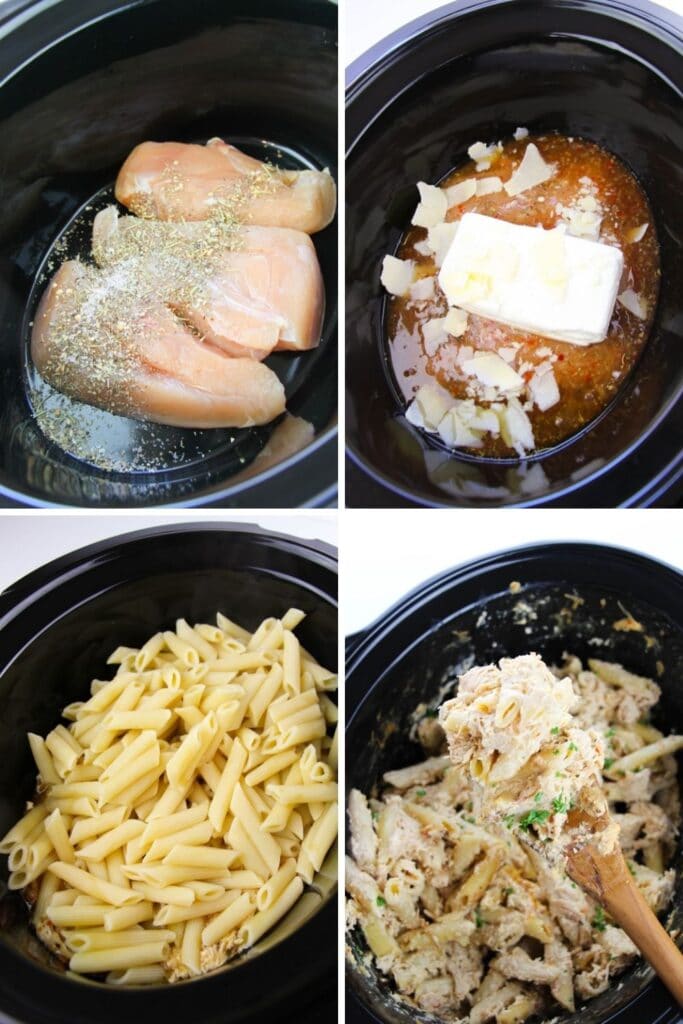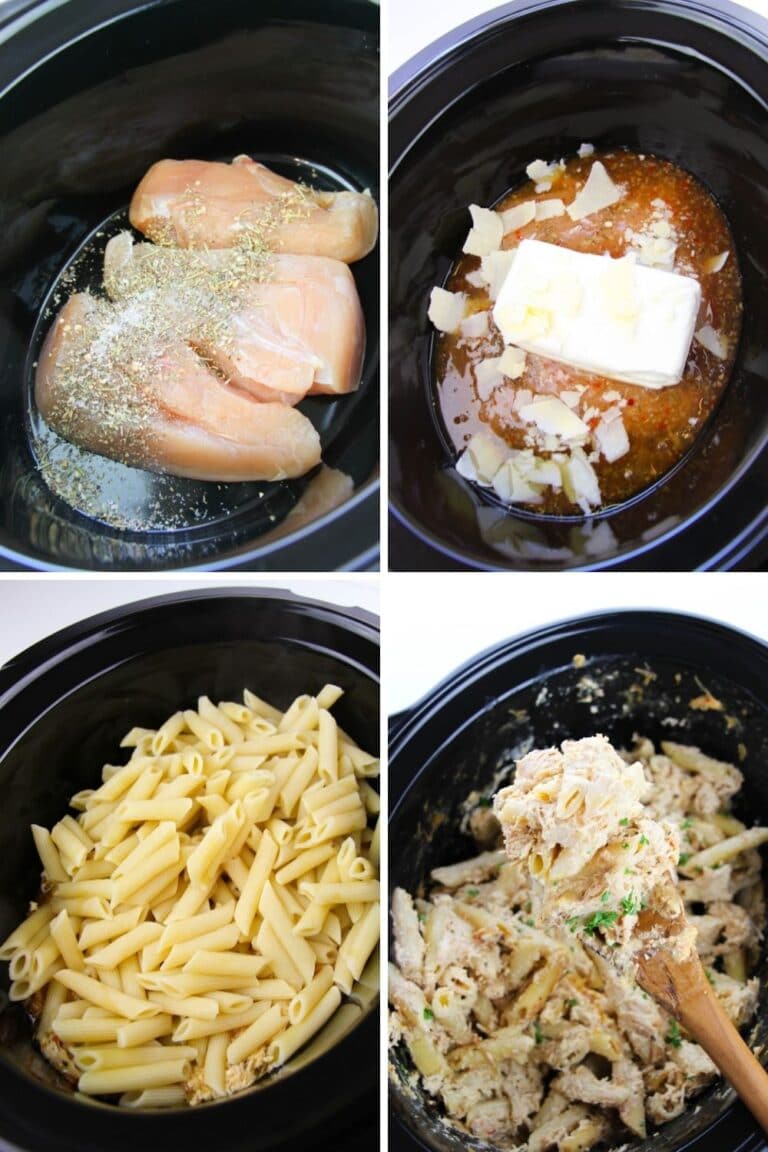 Step 1: First, place your chicken breast in the crock pot. Then once your chicken is in the crock pot.
You will season your chicken with Italian season and salt and pepper to taste.
Step 2: Next, pour the Italian dressing into your crockpot covering the chicken breast. Then top with cream cheese and Parmesan cheese.
Step 3: Then you will place the lid on the crock pot and cook for 6-7 hours on low, or until the chicken reaches proper internal temperature.
Step 4: Time to cook your pasta once your chicken has cooked and is done cooking. Shred chicken while you wait for pasta to cook.
Cook your pasta according to the directions on the side of the package. While waiting on your pasta to cook shred the chicken with two forks.
Step 5: Lastly, drain the pasta but do not rinse. Then add to the crockpot and fold into the shredded chicken until fully combined.
Expert Tips
Use a crockpot liner to make cleaning up is so much easier.
No need to use a certain type of pasta. Any will do.
Cooking on the stovetop gives the same tasty results.
Also, meat claws are great for shredding chicken fast.
Variations to Recipe
You can swap regular cream cheese and Italian dressing for fat-free options. This is just as delicious. Therefore, go ahead and use them if you prefer. The flavor will alter a bit.
Stir in some sun-dried tomatoes for added flavor.
Chicken thighs that are boneless, chicken tenderloins, work as well. Any bone-free chicken.
Leaving out cream cheese is fine, your sauce will just not be as thick.
Also, I share how to make in the Instant Pot if you don't want the slow cooker version.
In conclusion, you have ways to dress up this dish, and they all turn out delicious.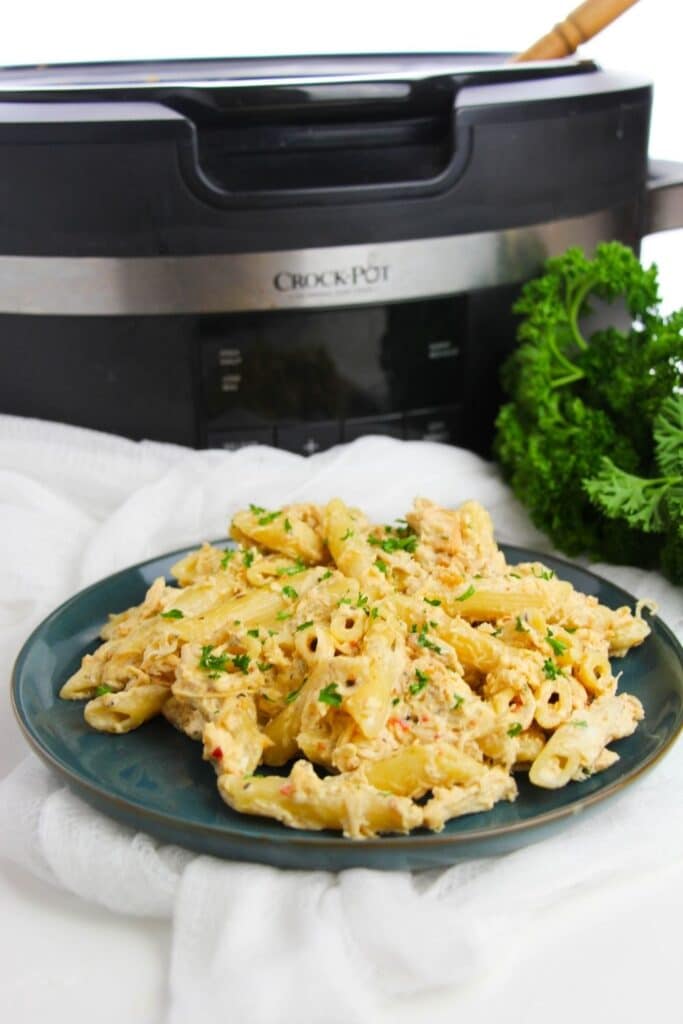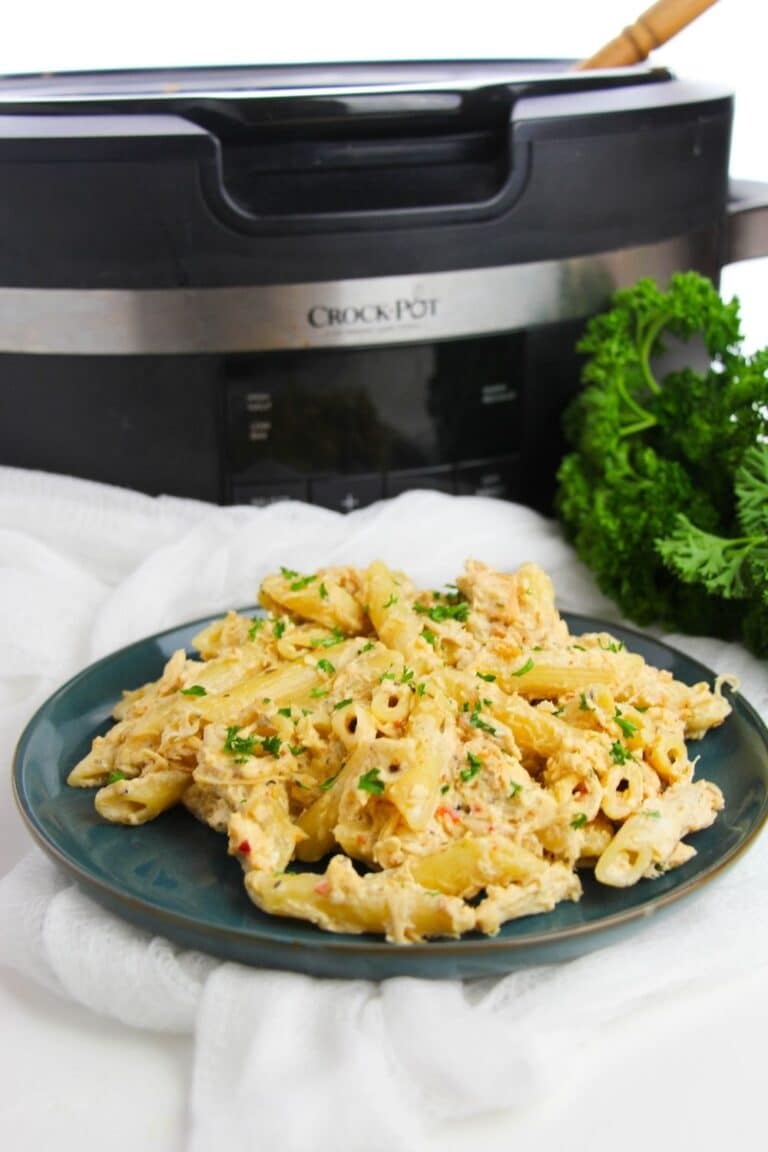 How to store leftovers?
Storing any leftover chicken pasta should be placed in an airtight container and in the fridge. It is only good for up to 4 days in the refrigerator.
Reheating: The best way to heat leftover Olive Garden Chicken Pasta is to dip individual portions onto a microwave plate and heat in the microwave.
What to serve with Olive Garden Chicken Pasta
There is no need to add too much more to this dish. Keeping it simple is best. Try adding just one of these sides to make your dinner complete.
Steam broccoli
Cesar Salad
Recipe FAQs
Can you buy Olive Garden Italian Salad Dressing?
Yes! I find it at my local Walmart, but other retailers have it as well. You will need to look in the refrigerator section where they have their bagged salads.

No need to use their specific brand for this recipe but if you want to try it look for it at your local grocery store.
Can I cook on a Olive Garden chicken recipe on stovetop?
Absolutely, just boil the pasta as directed on the box. While the pasta is cooking you will pan cook your chicken in a little olive oil.

Once your noodles are cooked and your chicken is done you will mix all the ingredients together in the same pot you cooked your pasta.

Add in the rest of your ingredients and allow everything to simmer for at least 5 minutes. Now the Olive Garden penne pasta is ready to serve!
Can I make this Crockpot Olive Garden chicken with gluten free noodles?
Go right ahead and reach for a gluten free noodle if you want. Just cook the pasta according to the package, drain and pour in once chicken is cooked.
Can I put frozen chicken in the crockpot?
Depending on who you are, you will find this answer varies. It is said it is safe to put frozen chicken in the slow cooker, as long as it reaches an internal temperature of 165 degrees F.
How long does chicken take to cook in the crockpot?
Depending on the size of chicken and if you leave it whole or diced up varies. For large chicken breast like this 6-7 hours on low, or high 2-3 is what I found for this recipe.
Is it better to cook chicken on high or low in crockpot?
Cooking boneless chicken on high in the crockpot can result in dry chicken. It is recommended to do low setting when you cook chicken in your crockpot.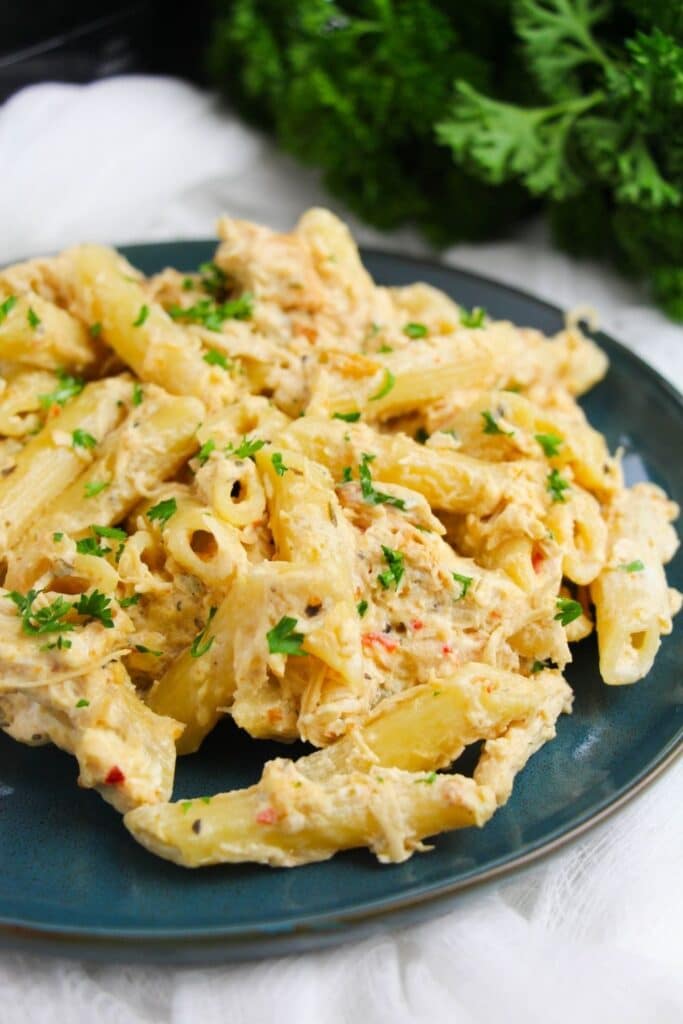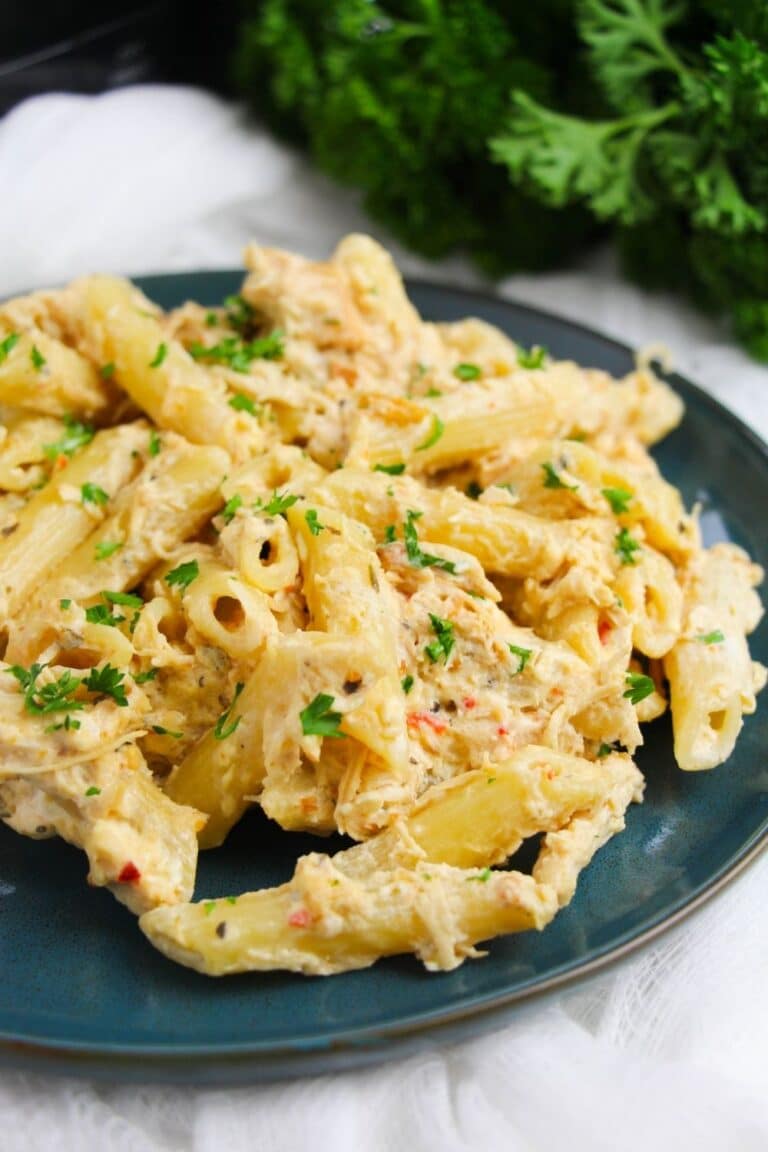 More Recipe Ideas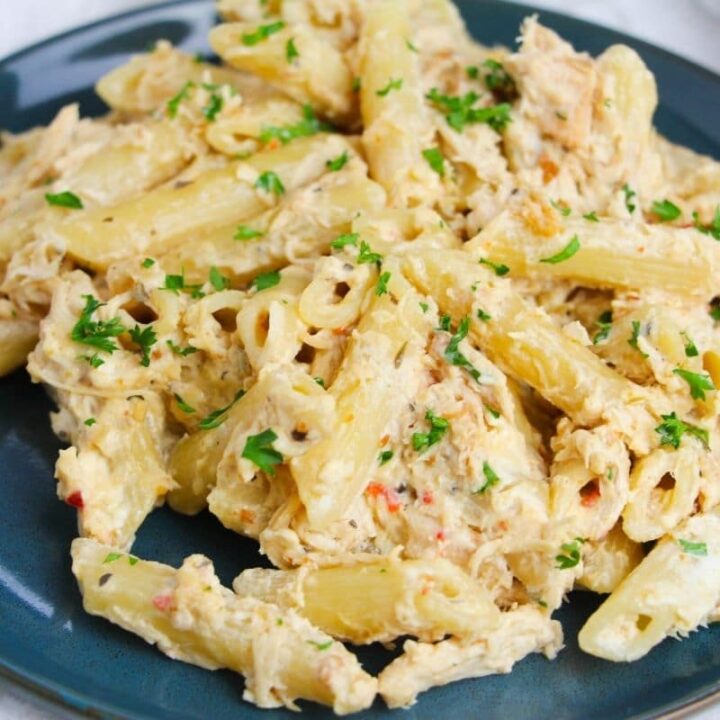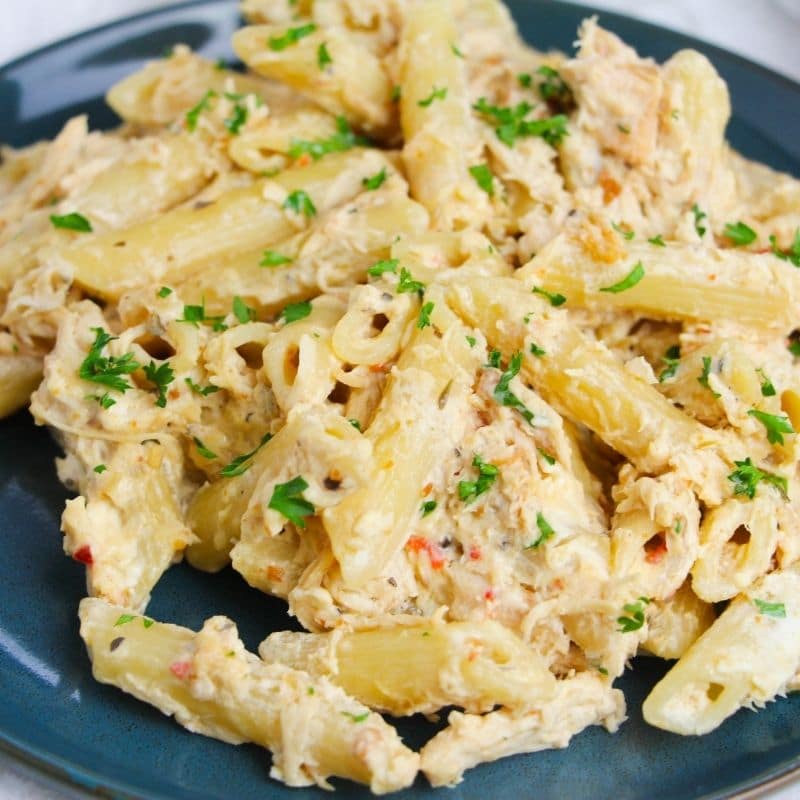 Slow Cooker Olive Garden Chicken Pasta
Total Time:
6 hours
5 minutes
Slow Cooker Olive Garden Chicken Pasta is a Tiktok chicken recipe that went viral. 7 ingredients are all that is needed for this Olive garden penne pasta recipe. Creamy pasta, shredded chicken, and slow-cooked to perfection.
Ingredients
Supplies
Ingredients
3 chicken breasts
8 oz cream cheese
2 teaspoons Italian seasoning
Salt and pepper, to taste
16 oz Italian Dressing
1/4 cup Parmesan cheese, plus more for serving
16 oz cooked pasta
Instructions
Start by adding your chicken breast into your slow cooker. Then sprinkle on salt and pepper, along with Italian Seasoning.
Pour your Olive Garden Italian dressing over the chicken.
Place the cream cheese in the center on top of the chicken, don't push it down. Then sprinkle with parmesan cheese.
Place lid on the slow cooker and cook the Olive Garden chicken for 6-8 hours on low, or 4-5 hours on high. Or until the chicken reaches 165 degrees internally.
Once the chicken is done, cook your penne pasta as directed on the box on the stovetop.
Shred your chicken and mix it up, and then pour the drained pasta in the slow cooker and stir.
Top your Olive Garden chicken pasta with more parmesan cheese and serve with your favorite side dishes.
Notes
Instant Pot and Ninja Foodi Directions For Olive Garden Chicken Pasta
Cut chicken into cubes, around an inch in size. Toss into the Instant Pot or Ninja Foodi. Now toss in the dry Penne pasta.
Pour in 3/4 cup Olive Garden dressing, 3 1/2 cups chicken broth, Italian seasoning, and salt and pepper to taste. Press the pasta down into the liquid to make sure the pasta is covered.
Place cream cheese on top, DO NOT STIR. Place lid on the Instant Pot and pressure cook 3 minutes, with 5-minute natural release of pressure. Then press off the remaining pressure.
Open the lid, and stir! Now, if the liquid is too runny, turn to saute and mix 2 teaspoons cold water and 2 teaspoons cornstarch in a bowl. Stir in the cornstarch slurry to thicken!
Tips:
Same for slow cooker if you are worried about the Olive Garden dressing being too rich do 1 cup dressing, 1 cup broth.
The internal temperature of the chicken needs to be 165 degrees.
You can use tenderloins or even boneless chicken thighs in this slow cooker chicken recipe
Nutrition Information:
Yield:

8
Serving Size:

1
Amount Per Serving:
Calories:

449
Total Fat:

27g
Saturated Fat:

9g
Trans Fat:

0g
Unsaturated Fat:

15g
Cholesterol:

83mg
Sodium:

808mg
Carbohydrates:

27g
Fiber:

1g
Sugar:

8g
Protein:

24g
This information is automatically calculated by third-party software, including but not limited to the Create or Bake Me Some Sugar. For accurate nutrition, I suggest running the ingredients in your own system to get a more accurate reading. Nutritional information is approximate and automatically calculated, and should only be viewed as an indication.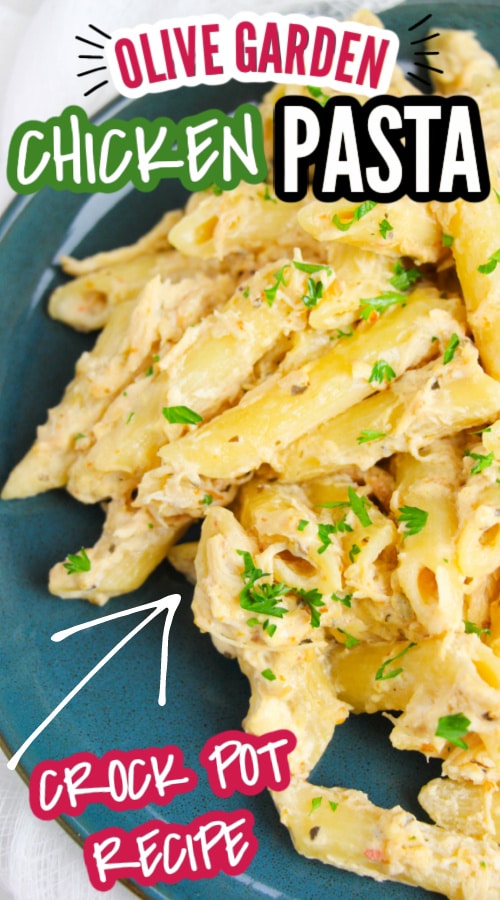 Above all, this chicken is an easy and satisfying meal.