Cherry Poke Cake is a white cake that is poked full of holes and topped with a cherry gelatin. Once chilled it is topped with a cheesecake topping and cherry pie filling. A delicious poke cake recipe perfect for this weeks dessert or potluck dish.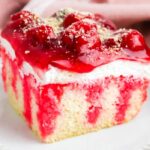 Whip up this cherry poke cake for an unforgettable dessert! A white cake that is poked full of holes and cherry gelatin poured in. Top with a cheesecake topping and cherry pie filling. This poke cake recipe is one of my favorites.
This white cake with cherry filling on top is one that is great for parties, summer cookouts, potluck events, and more. If there is canned cherry pie filling involved I am always game for it. Don't wait, try my cherry cheesecake poke cake right away.
If you are a fan of poke cakes, try out my rainbow poke cake that is bursting with fruity flavors. Or for a more decadent version try my red velvet poke cake or for fall my pumpkin poke cake. Also here is over 45 cake mix desserts to try out.
Or if you like strawberry, dive in to this strawberry crunch poke cake, it is loaded with sweet crunchy topping!
This Cherry Poke Cake Recipe Is…
Made with Boxed Cake Mix (Ways to make boxed cake mix taste better)
Uses Canned Cherries For Topping
Cheesecake Whipped Topping
Easy To Make Cherry Pie Filling Cake
Stores Well
Great Make Ahead Dessert
Also Called A Cherry Dream Cake
Potluck Friendly
What Is A Poke Cake
Poke cakes are a delicious and easy baked cake that has holes poked all over it. Then you pour a cherry Jello over the top, and it soaks into the cake giving it tons of flavor. Once the cake is chilled, you top with your whipped topping mixture and pie filling topping.
Ingredients
White Cake – I used a boxed white cake mix that you will grab the ingredients on the back of the box as well.
Pie Filling – I used a cherry pie filling, but you can use any pie filling you want. I was going for a cherry cheesecake recipe.
Cherry Gelatin – Reach for a container of cherry Jello for this, and you will mix with boiling water.
Cream Cheese – Cream cheese is going to give this a nice tangy flavor to mimic a no bake cheesecake.
Powdered Sugar – The powdered sugar helps to sweeten and thicken the topping.
Vanilla – The vanilla helps to balance out all the flavors.
Whipped Topping – I used Cool Whip that you will mix with the cream cheese and other ingredients. You are welcome to make homemade whipped cream to replace if you want.
Graham Crackers – Crushed crackers sprinkle on the top to give it that cheesecake component. This is optional.
Variations To Recipe
Do a homemade cake instead of using this boxed cake recipe.
Swap the white cake with a cherry chip cake for added cherry flavor.
Leave out the cheesecake portion and with just the whipped cream and pie filling.
Swap the cherries with strawberry pie filling or another flavor of pie filling.
How to Make
Full directions on how to make this cherry poke cake recipe are in the printable recipe card at the bottom of the post. This is a visual walk through.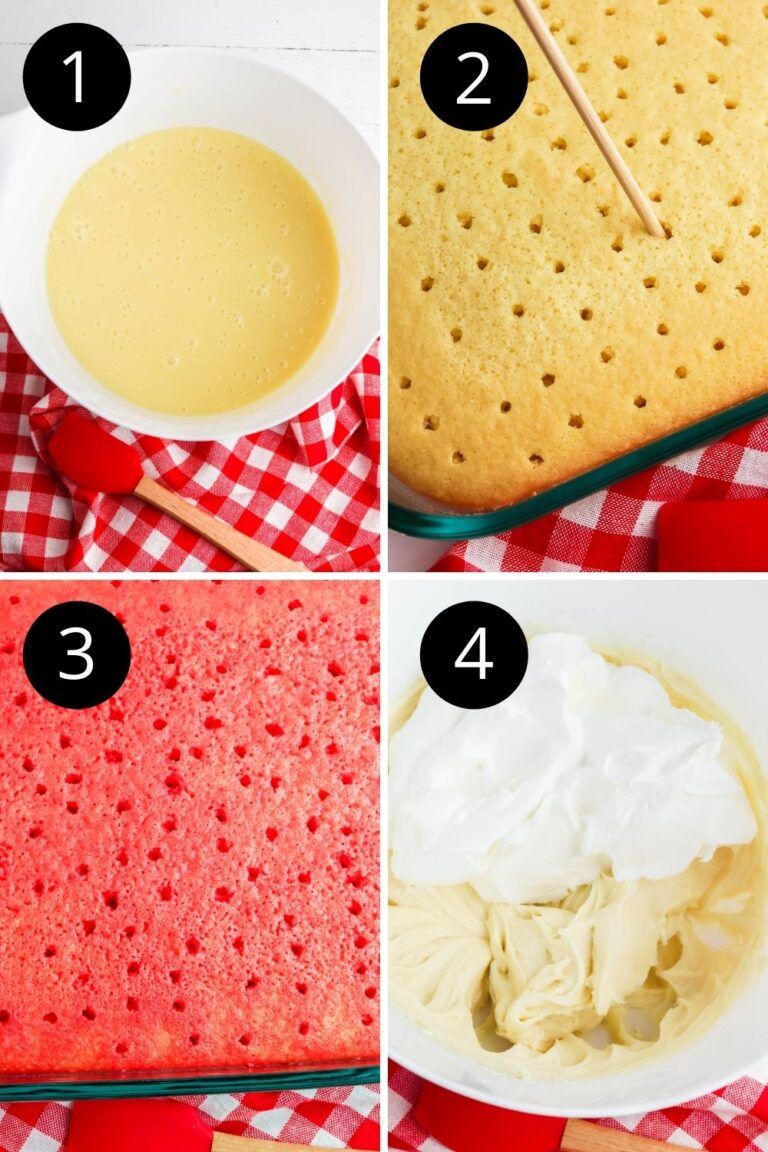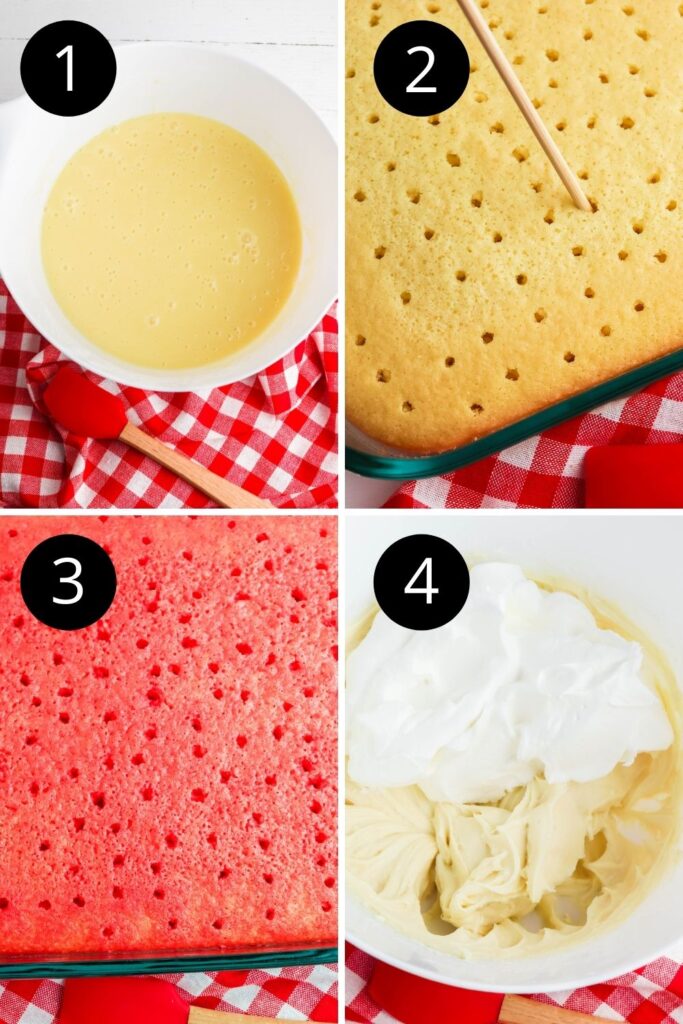 Step One: Start by mixing up and baking your cake in a 9×13 pan just as directed on the back of the box.
Step Two: Let the cake cool for 15 minutes, and then poke holes with a skewer or spoon all over the cake. You can also use the back of a wooden spoon for poking holes.
Step Three: In a bowl add boiling water and gelatin together. You want to dissolve gelatin in boiling water, making sure it is all melted. Next, pour over the cake evenly. Refrigerate the cake until fully chilled.
Step Four: Then you will work on the topping. In a mixer take softened cream cheese, vanilla, and powdered sugar. Mix well and then fold in the whipped topping.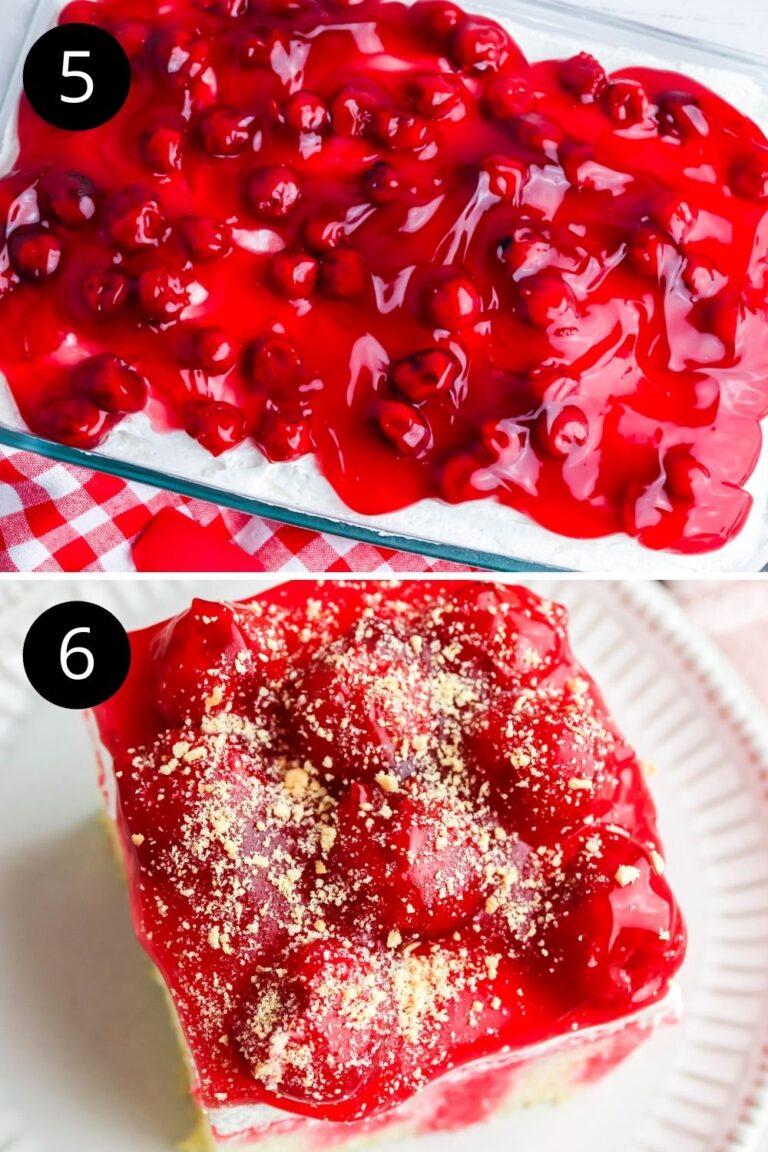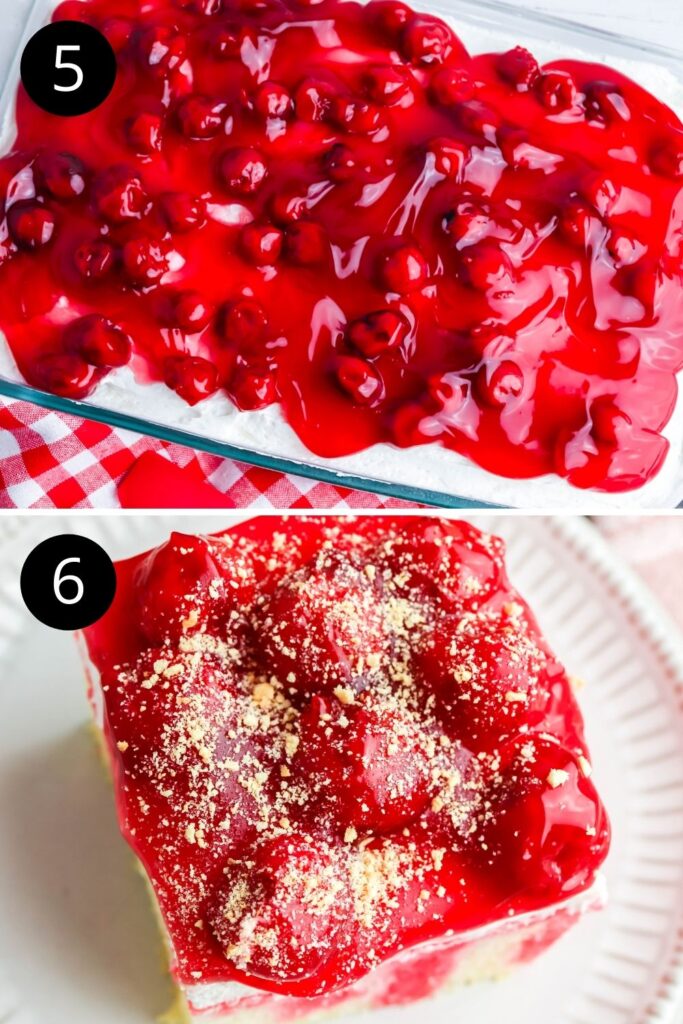 Step Five: Spread over the cake, and return to fridge to chill.
Step Six: Lastly when ready to serve top with the pie filling an
Expert Tips
Did you know sifting your dry cake mix first can help to lighten up the cake, and allow for a lighter texture.
Never overmix your cake batter or it will make the cake heavy.
Make sure to not skip the chilling in the fridge steps, or your cake will not turn out properly.
Don't put the cherry pie filling on until right before serving.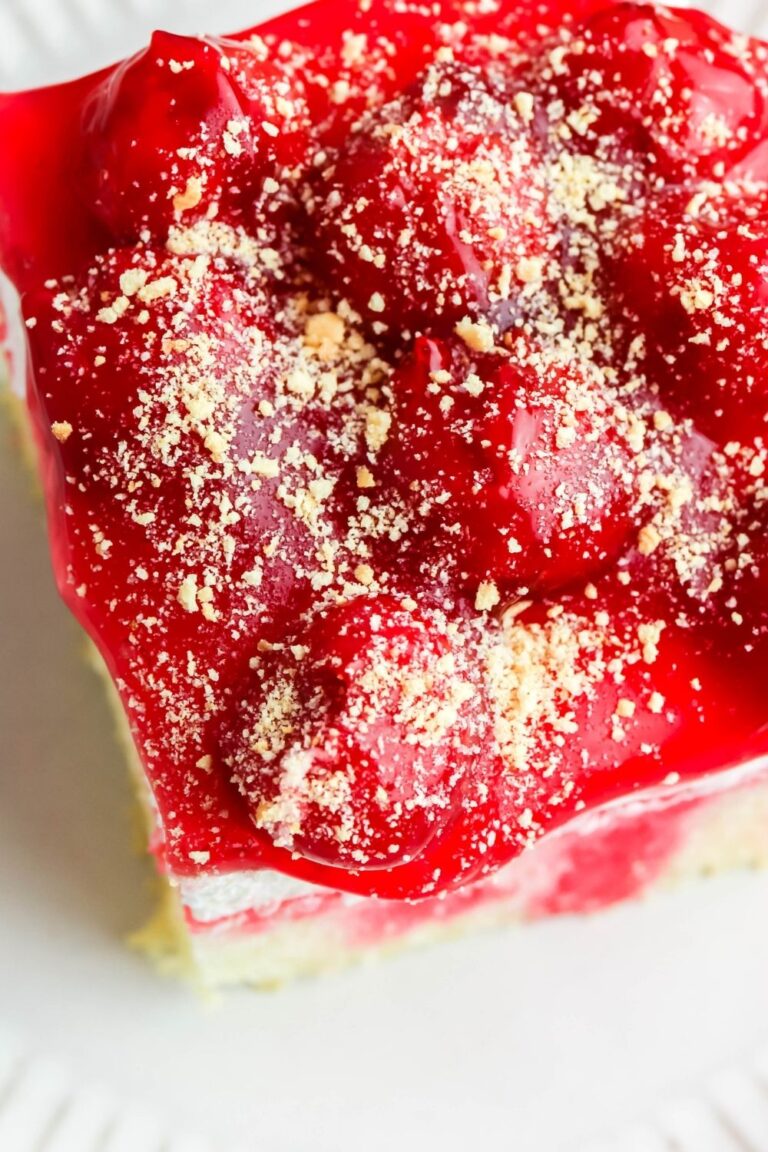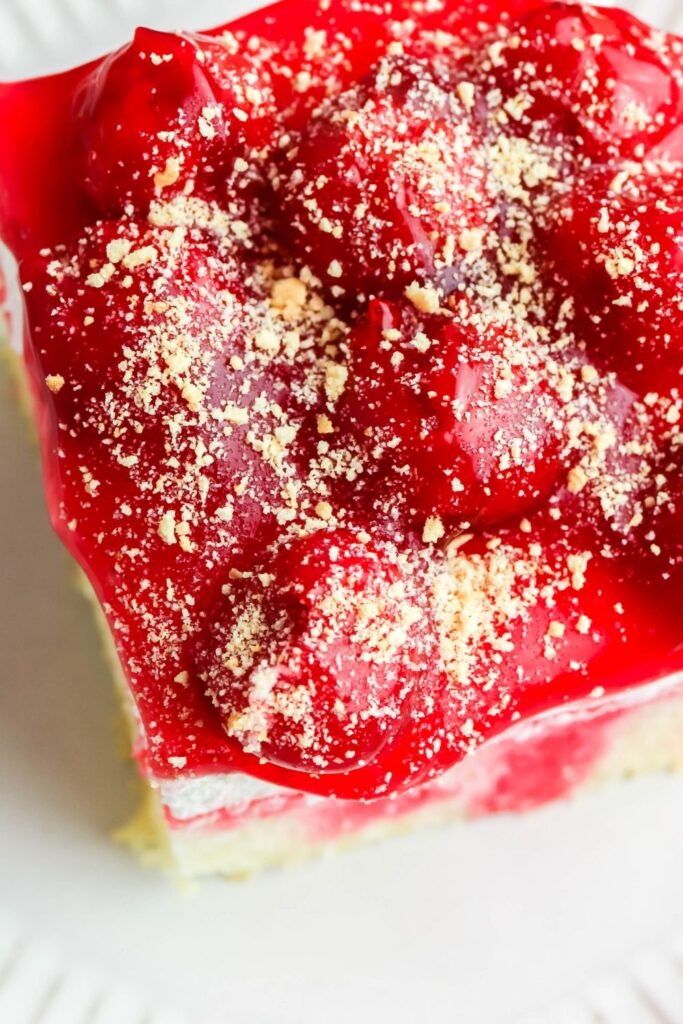 Storing Leftovers
Not sure how to store this old fashioned Jello cake? If so, no worries. I walk you through on refrigerating and freezer directions.
Refrigerate – This cake needs to be refrigerated. You can cover the cake and store in the fridge for 3-5 days. This cake is best eaten within the first few days of making, as it begins to dry out as it sits.
Freezer Directions – Want to make this cake in advance? Simply follow the steps and once the cake is made, freeze in a freezer friendly container. This cherry Jello poke cake will freeze for 3-4 months.
Thaw on the counter for 1 hour or in the fridge overnight. Then slice and devour! This cake with cherries on top is one that people beg me for.
Common Questions Asked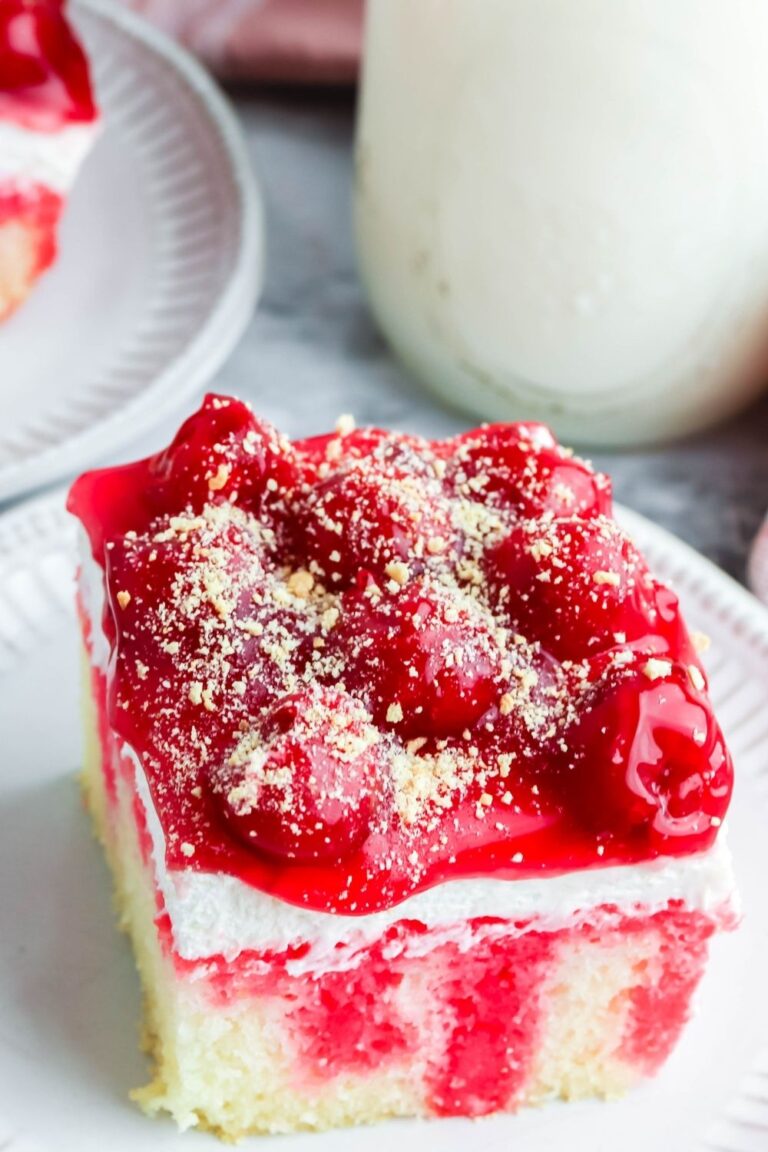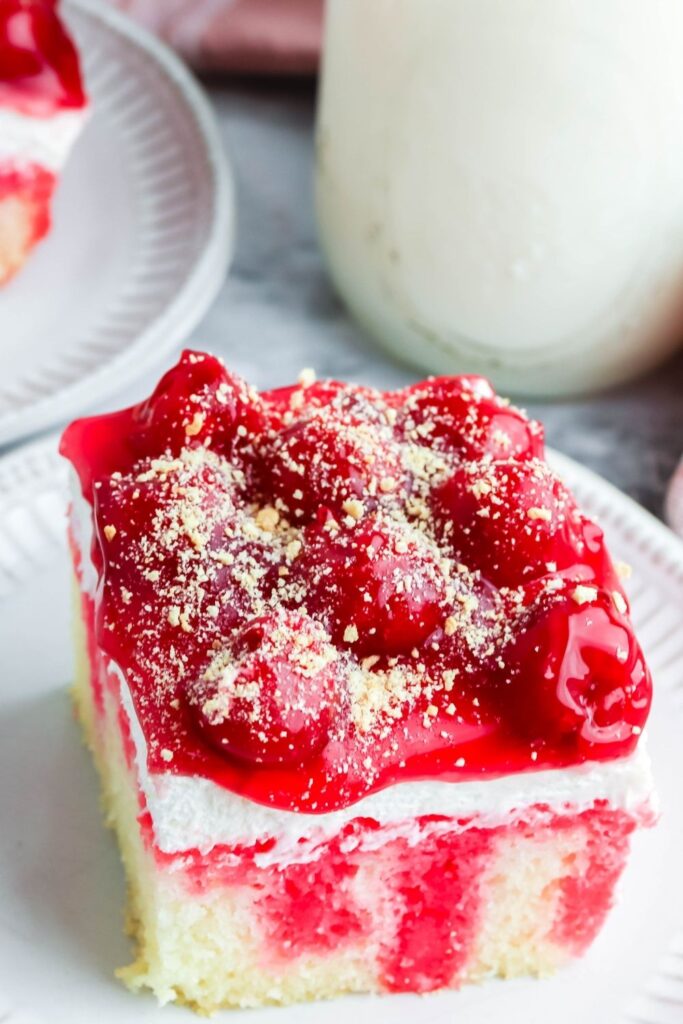 Related Recipes
Have you tried the recipe? If so, please leave a star ⭐️⭐️⭐️⭐️⭐️ rating in the recipe card below or drop a comment. Also stay in touch with me through social media by following me on Facebook, Pinterest, or My Facebook Group
Cherry Poke Cake
Servings 9 x13
Cherry Poke Cake is a white cake that is poked full of holes and topped with a cherry gelatin. Once chilled it is topped with a cheesecake topping and cherry pie filling. A delicious poke cake recipe perfect for this weeks dessert or potluck dish.
Ingredients
1 box white cake mix 15.6 ounces
Ingredients on back of boxed cake mix
1 cup boiling water
1 packet cherry Jello 3 ounces
1 packet cream cheese softened 8 ounces
1 teaspoon vanilla
1 cup powdered sugar
1 container Cool Whip 8 ounces
2 cans cherry pie filling 21 ounce cans
1/4 cup graham cracker crumbs optional
Instructions
Prepare the cake mix as directed on the back of the box, and bake as directed in a 9×13 pan.

Once the cake is done place on a cooling rack for 15 minutes to cool down a bit.

Then with a skewer, straw or other small round item poke holes all over the cake.

Bring your water to a boil and then stir in the cherry gelatin and stir until fully dissolved.

Pour the cherry gelatin evenly over the cake. Cover and refrigerate for 2 hours.

Once the cake is cooled you will begin working on the cheesecake topping.

In a stand mixer combine the softened cream cheese, vanilla, and powdered sugar. Blend until fully mixed. Scrape down the sides.

Fold in the whipped cream, and then spread the mixture on top of the chilled cake.

Cover the poke cake, and refrigerate for at lease 1 hour.

Right before serving top with the two cans of pie filling and top with the graham cracker crumbs. Slice and serve up this cherry poke cake!
Notes
Cake – If you want to bake a homemade vanilla cake go right ahead and swap from the boxed cake. Cooling Cake – Make sure you don't skip the chilling the cake in between Jello and cheesecake topping. If you put the topping on a hot cake it will melt into the cake. Pie Filling – Feel free to use other flavors of pie filling if you want. Strawberry pie filling would be delicious as well or even lemon.
Nutrition
Serving: 1gCalories: 528kcalCarbohydrates: 88gProtein: 5gFat: 18gSaturated Fat: 10gPolyunsaturated Fat: 6gCholesterol: 20mgSodium: 527mgFiber: 1gSugar: 48g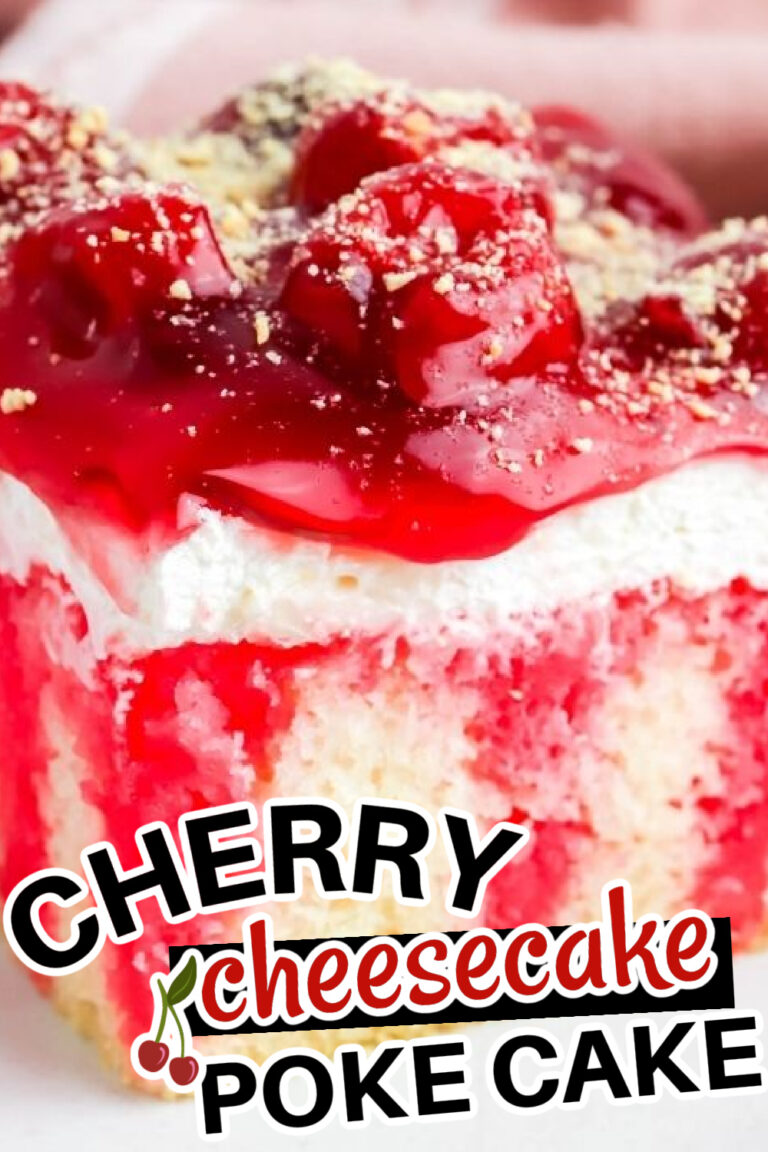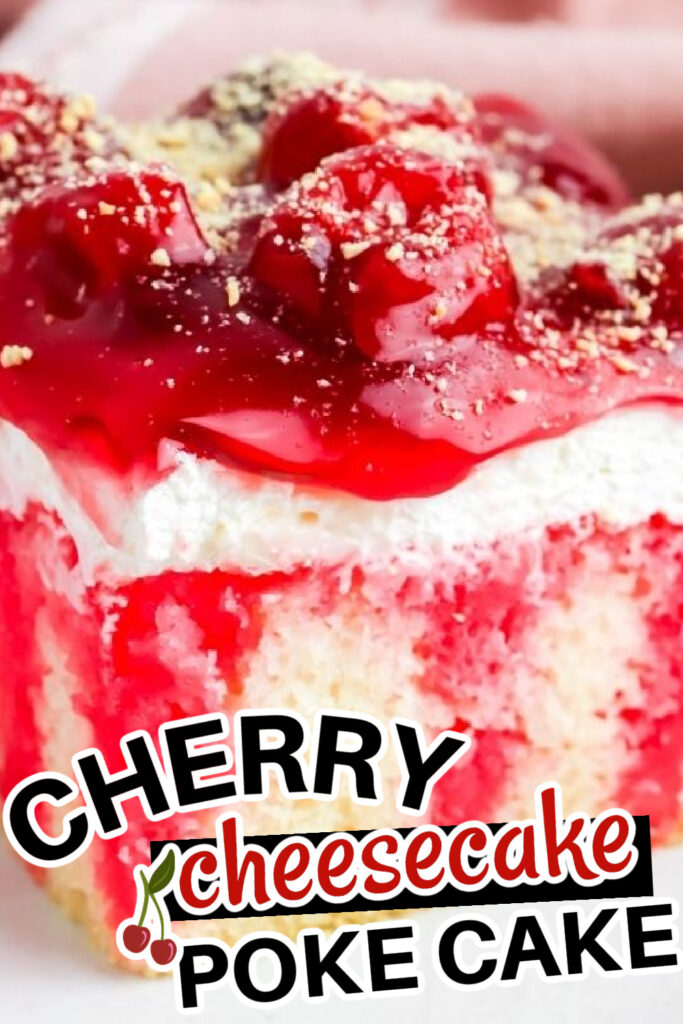 Reader Interactions