Cheesecake dip is an easy and delicious no bake dessert. This cheesecake dip is made with cream cheese, butter, powdered sugar, and whipped cream. Add on sprinkles for a fun twist of color.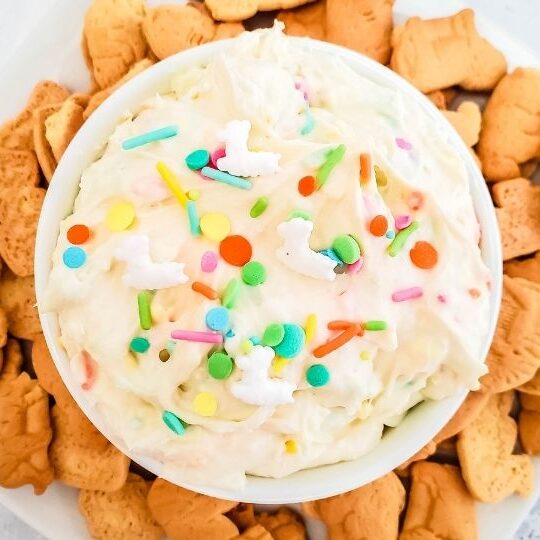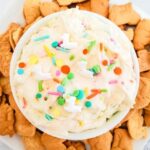 A creamy cheesecake dip that is so simple to make and great for entertaining. This creamy cream cheese dessert dip is paired with cookies, pretzels, or even fruit. Customize with your favorite mix-ins for this dessert dip recipe.
This sweet cream cheese dip is one of these easiest dips out there. Pool parties, play dates, holiday celebrations, or even a treat to cozy in and watch a movie.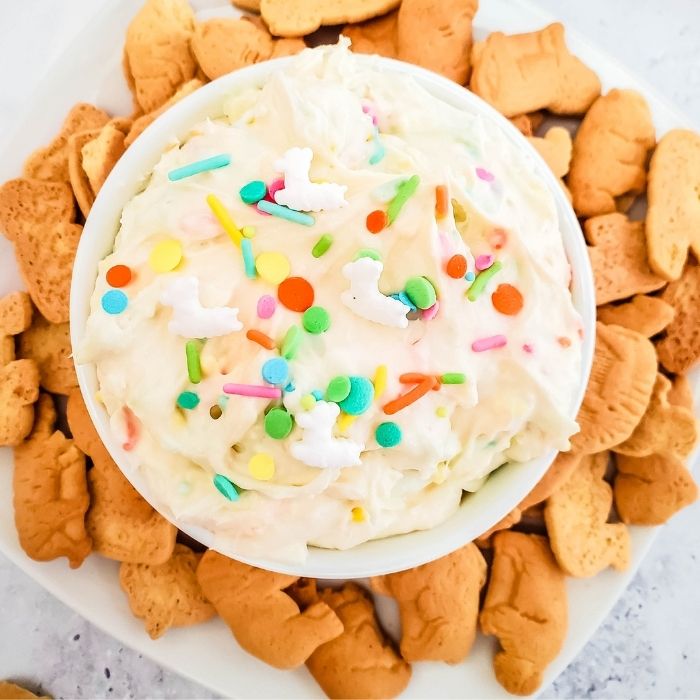 There is never a wrong time to serve up this Philadelphia cheesecake dip!
This Recipe Is…
Ready in minutes
No Bake
Cheesecake fruit dip or cookie dip
Simple Ingredients
Great Party Dessert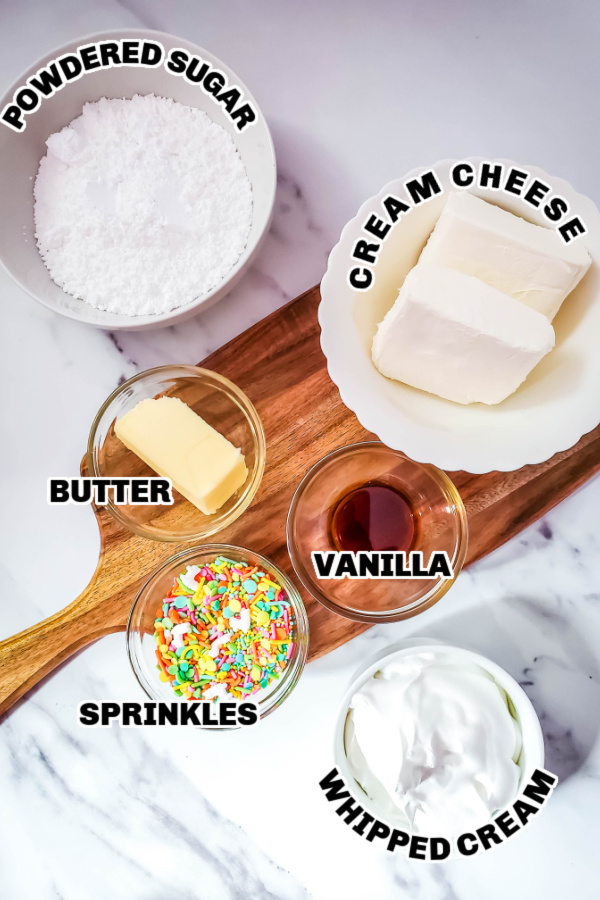 Ingredients Needed
Cream Cheese – The goal is to use softened cream cheese. That way it blends well with the other ingredients.
Butter – Real butter not margarine is needed.
Powdered Sugar – This sugar helps add a lot of sweetness to the dip without affecting the texture like a granulated sugar would.
Whipped Cream – Make homemade whipped cream or reach for some Cool Whip.
Sprinkles – Sprinkles are optional, I used a fun Llama sprinkles, I will link to a similar one to buy if interested.
Variations To Recipe
Here are a few ways to change up this dessert no bake dip recipe.
Stir in some chocolate chips for a chocolate chip cheesecake dip.
Add food coloring to change up the color of the dip to fit a special theme.
Chop up candy bars like Reese's, Kit Kats, etc. to stir in for a candy bar dip.
Add in some pecans or other nuts for a crunch.
Swirl in some caramel sauce, strawberry sauce, or even hot fudge.
Etc.
How to Make
Full directions on how to make cheesecake dip are in the printable recipe card. This is a quick walk through on how to make this party dip.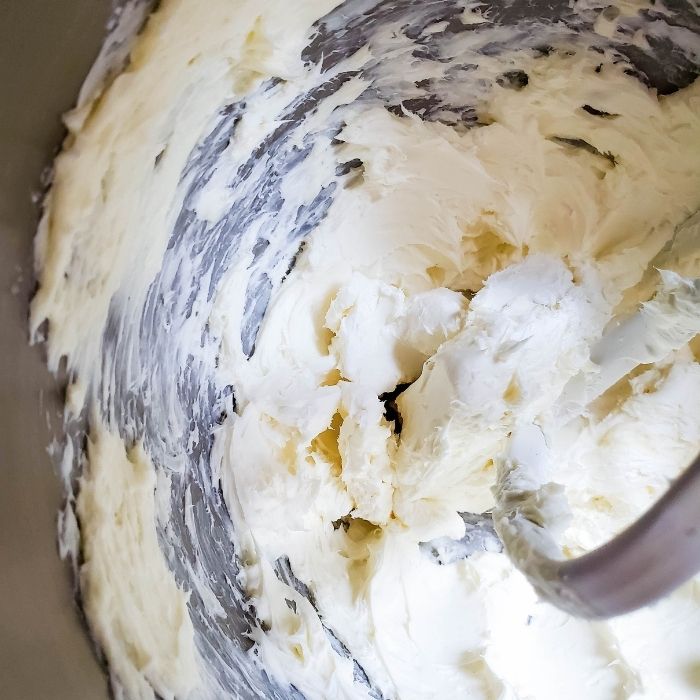 Step 1: With a hand or stand mixer you will add your cream cheese and butter into the bowl and begin mixing. I whipped mine on medium speed for 2-3 minutes.
Expert Tip: Make for certain the cream cheese is softened and room temperature otherwise it will clump and not be a creamy dip like you would like.
Step Two: Next, add in the powdered sugar and vanilla and mix till combined.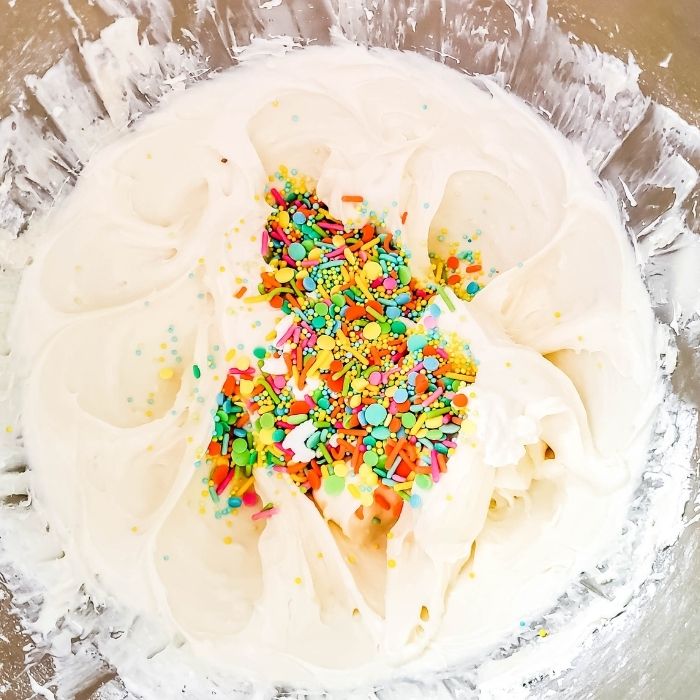 Step Three: Fold in the whipped topping and sprinkles and mix until fully incorporated. Don't overmix or it will deflate the whipped topping.
Step Four: Pour into a bowl and serve with animal crackers (try my circus animal ice cream), shortbread cookies, fruit, pretzels, waffle cone pieces, etc.
Storing Leftover Dip
If you don't eat all the dip right away, just store leftovers in a sealed container for up to 5 days in the fridge. Then you can serve up and enjoy a tasty dip whenever you want.
With all the dairy you will find that this party dip recipe does not freeze and thaw well. Only make what you plan to eat before it goes bad.
Ways To Transform the Dip
Peanut butter cheesecake dip – Mix in 1/3 cup peanut butter with the batter. Then add in chopped peanut butter cups.
Chocolate chip cheesecake – Add in chocolate chips for a chocolate chip cheesecake.
Salted caramel – Add in 1/3 cup salted caramel sauce, and then add in some pecans for a salted caramel pecan.
Cherry cheesecake – Top with some canned cherry pie filling for a cherry cheesecake dip.
S'mores – Swirl in some marshmallow fluff, chocolate chips, and then pair with some graham crackers.
Frequently Asked Questions
Here are a few questions that get asked about this cream cheese recipe.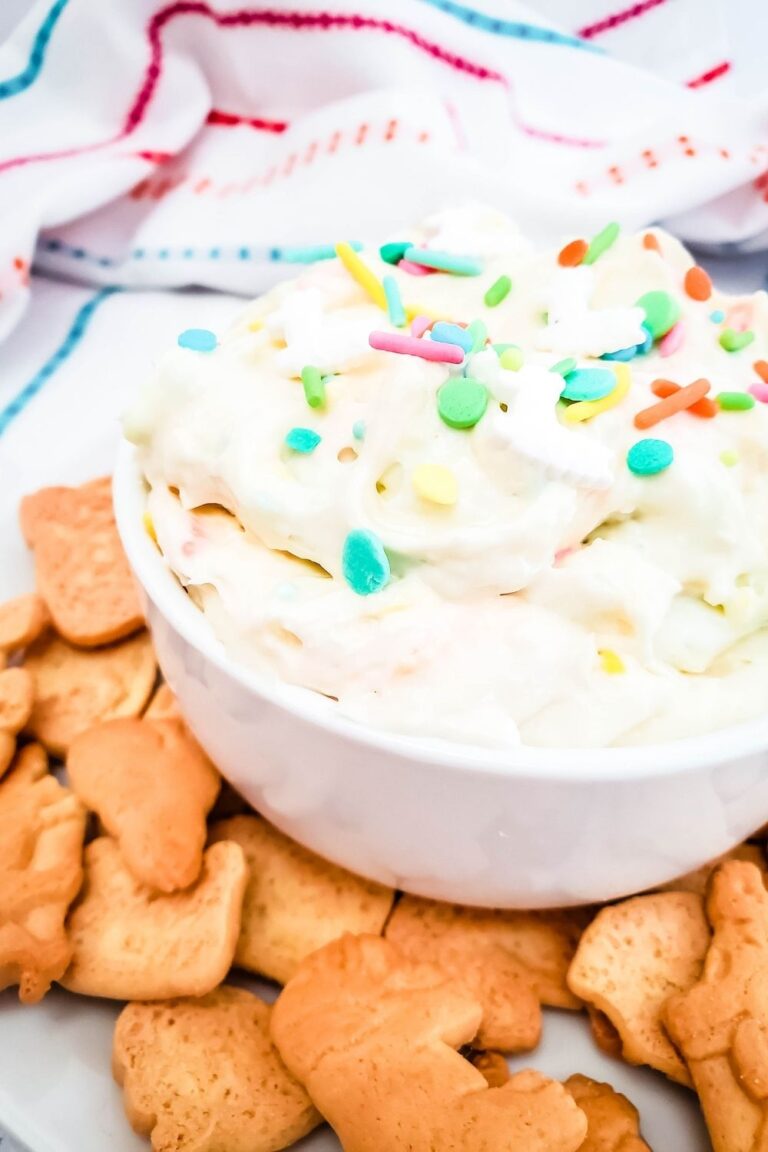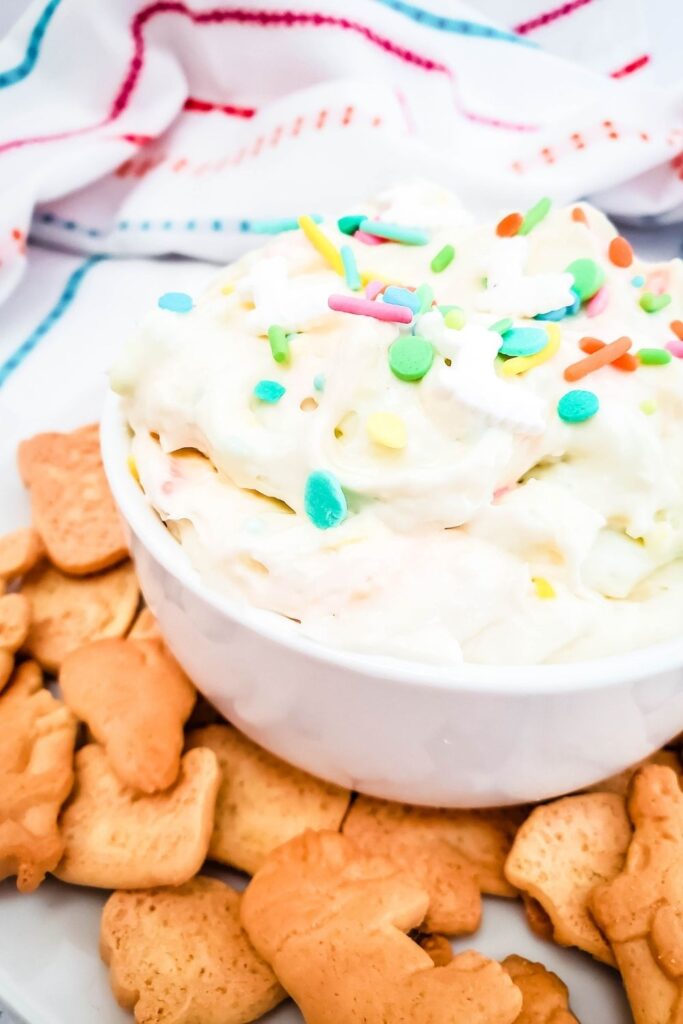 Related Recipes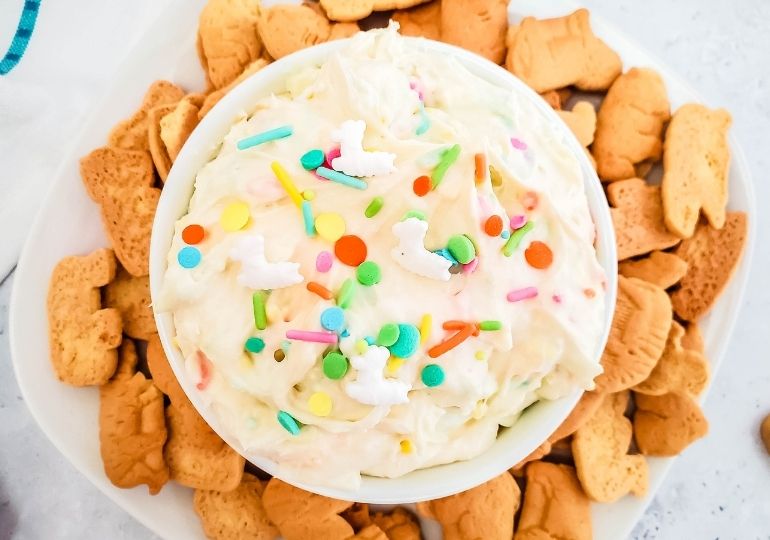 Cheesecake Dip Recipe
Servings 10 -12 servings
Cheesecake dip is an easy and delicious no bake dessert. This cheesecake dip is made with cream cheese, butter, powdered sugar, and whipped cream. Add on sprinkles for a fun twist of color.
Ingredients
1 block cream cheese softened (8 ounces)
1 cup Cool Whip
3/4 cup powdered sugar
1/4 cup butter softened
1 teaspoon vanilla extract
1/4 cup sprinkles
Instructions
In a stand mixer or with a hand mixer mix up your softened cream cheese and butter. Whip up for 2-3 minutes. Get it nice and fluffy.

Then you will add in the vanilla and powdered sugar, and mix until fully combined.

Add in the Cool Whip and most of the sprinkles. Reserve some for the top of dip.

Pour the cheesecake dip in a bowl and add the remaining sprinkles.

Serve with shortbread cookies, animal crackers, pretzels, waffle cone pieces, etc.
Notes
Cream Cheese – Make sure the cream cheese is fully softened. Otherwise you will not get a creamy texture like you want. Butter – You can use salted or unsalted. Just make sure it is butter and not margarine. Mix Ins – You can add in chocolate chips, marshmallow fluff, peanut butter, etc to change the flavor of the dip. Dipping Items – Fruit, cookies, pretzels, all work great for dipping in the cream cheese dip.
Nutrition
Serving: 1gCalories: 109kcalCarbohydrates: 11gFat: 7gSaturated Fat: 4gPolyunsaturated Fat: 2gCholesterol: 13mgSodium: 40mgSugar: 10g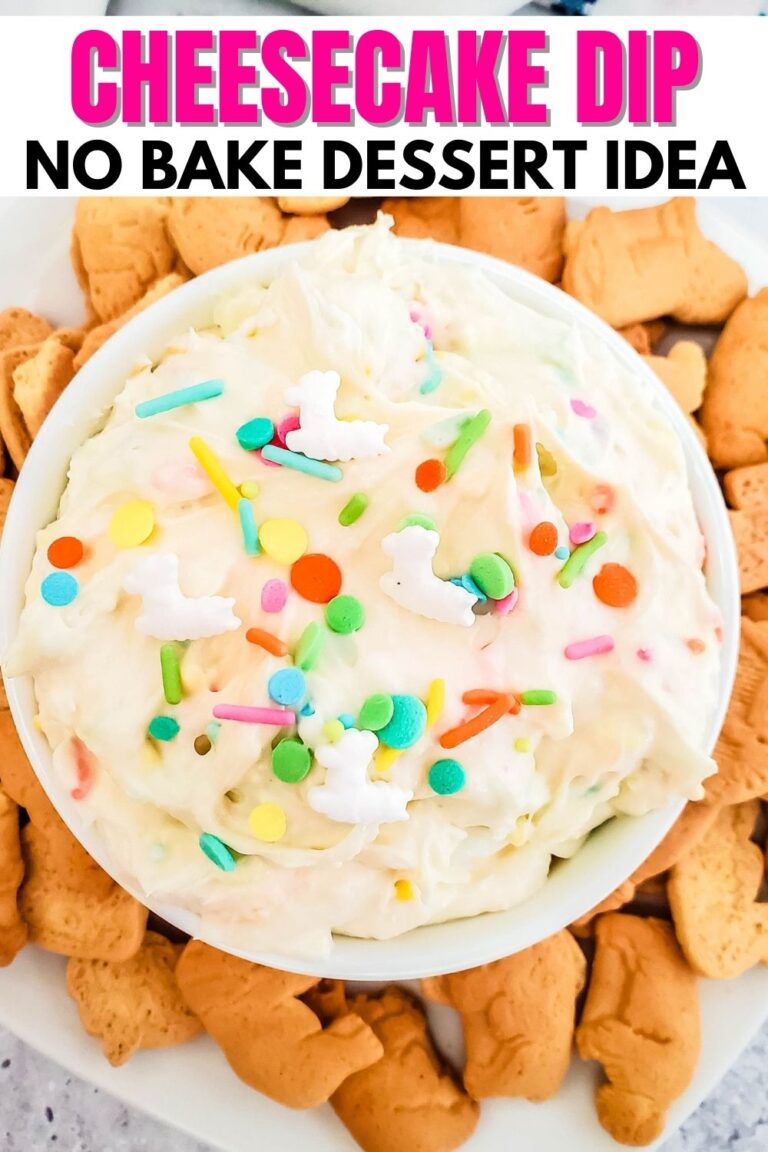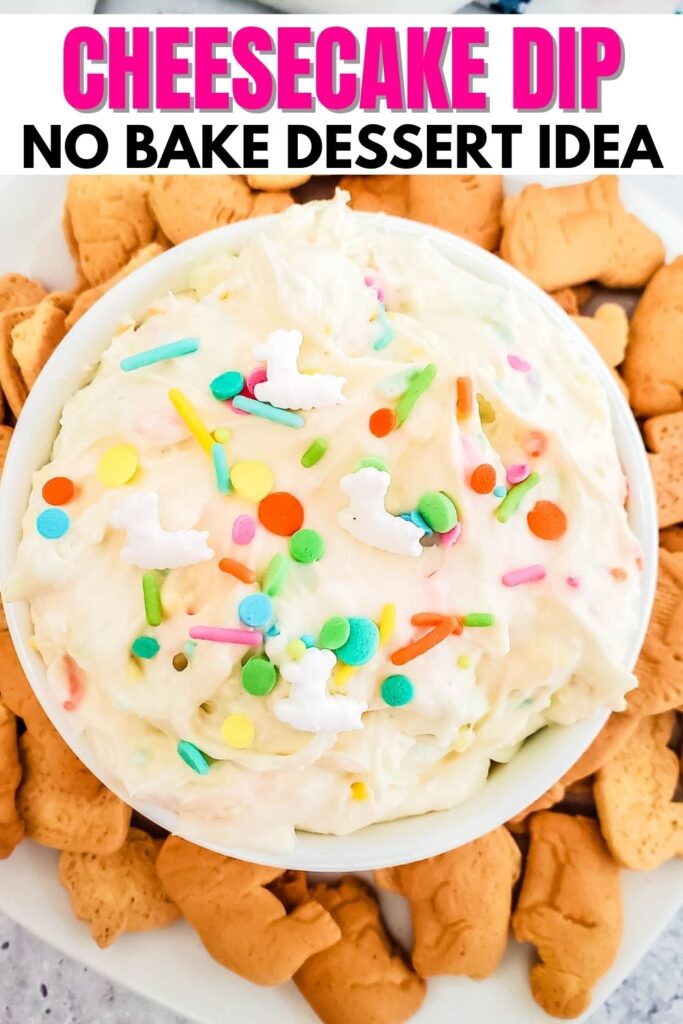 Reader Interactions