Strawberry Crunch Cake is a yellow cake filled with strawberry jello and topped with whipped cream and a strawberry shortcake topping. This is a delicious strawberry poke cake with a crunch topping.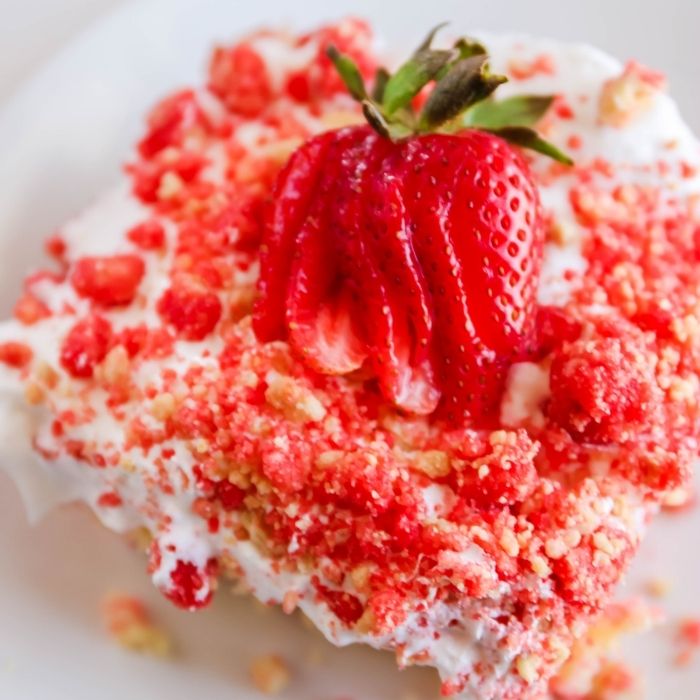 This strawberry crunch cake is a yellow cake that is filled with strawberry jello, chilled, and then topped with whipped cream and a strawberry crunch topping. Slice and serve up this heavenly strawberry poke cake recipe.
This strawberry shortcake cake recipe is one that is great for a weekday dessert, take to a summer cookout and more. It is crazy simple to make and the Oreo crumble topping is loaded with sweet strawberry flavor.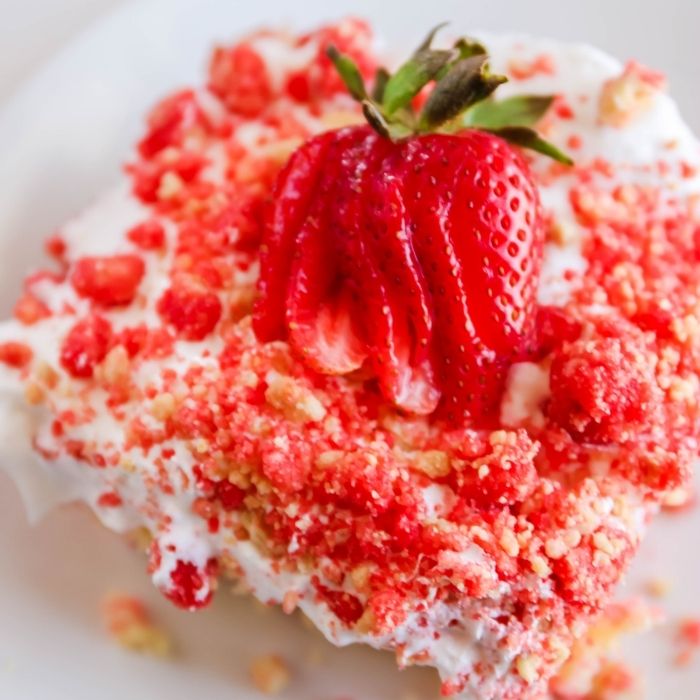 This cake is inspired by the classic strawberry crunch ice cream bars you know and love. Of course it is cake, so there are twists!
This Strawberry Crunch Cake Is…
A Strawberry cake with jello
Made with boxed cake
Strawberry Shortcake Crumble Topping
Top with sliced strawberries
Easy To Make
Great Potluck Poke Cake Recipe
Ingredients And Variations
Boxed Cake Mix – I used a yellow cake mix for this recipe. You are more than welcome to use a white cake mix. You will want the boxed cake mix and ingredients on the box.
Strawberry Jello – You will need two boxes of strawberry Jello. You could swap strawberry with cherry or raspberry very easily if you wanted.
Water – You will need hot and cold water for making the Jello mixture to pour over you cake.
Whipped Cream – I used Cool Whip but you can make homemade whipped cream if you choose.
Golden Oreos – This is the crumble topping with the Jello. Finely crush your cookies.
Butter – Salted or unsalted butter works. I recommend real butter and not margarine, as it will cause a greasy texture.
How to Make
Full directions on how to make this strawberry crunch cake are in the printable recipe card at the bottom of the post. This is a visual walk through.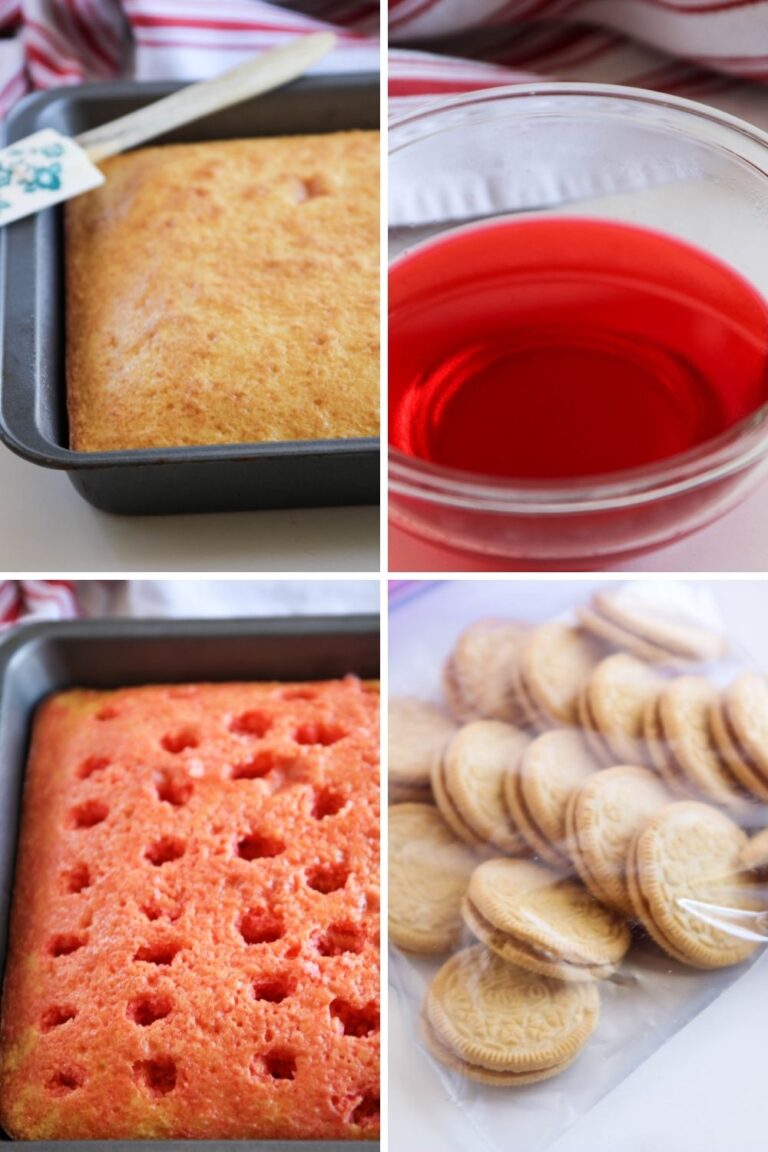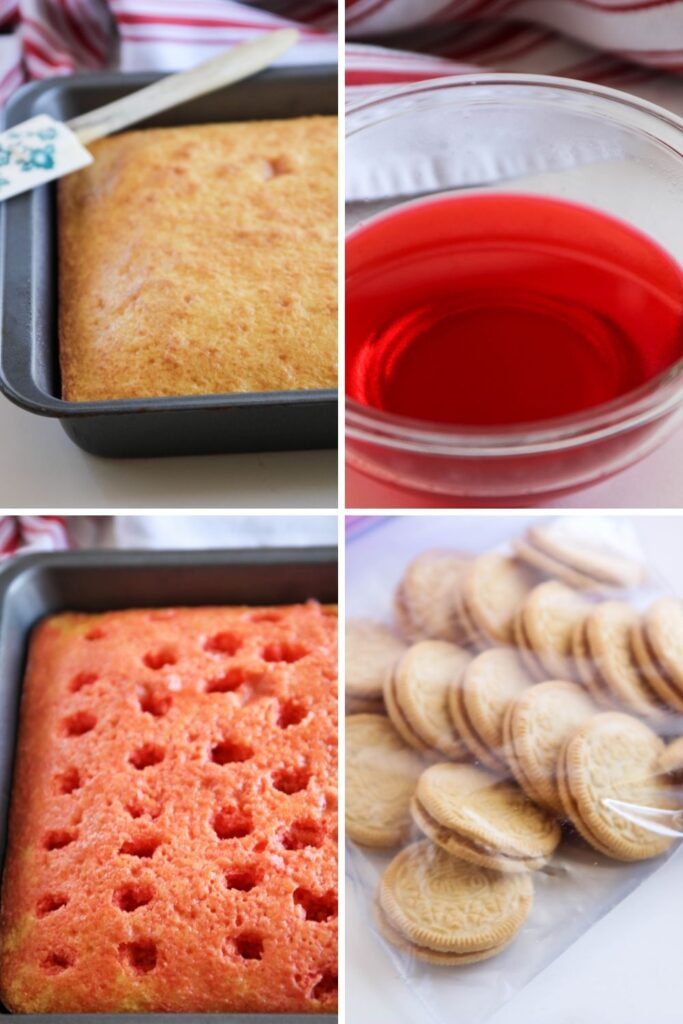 Step One: First step is mixing up your cake mix and baking it as directed on the box. Allow the cake to cool for 30 minutes.
Step Two: Next heat up water, and pour into a packet of the strawberry Jello. Stir until the Jello mixture is fully dissolved. Then add in the cold water and mix again.
Step Three: Poke holes all over the cake, and pour the Jello mixture over the top. Cover and refrigerate for 3-4 hours. You want the cake to fully set up.
Step Four: Next, you will spread whipped cream all over the top of the cake, in an even layer.
Step Five: Crush your Oreos, and then add the other packet of Jello mixture, and melted butter. Mix well and sprinkle over the top of the cake.
Step Six: Finally refrigerate and when ready to serve top with fresh sliced strawberries if you want.
As you can see it is easy to make this poke cake!
Tips For Recipe
You will bake the cake as directed. Make sure to not overcook or it will dry out the cake.
Use a round or thin spatula to poke holes all over the cake. You want to create holes for the jello to soak into the cake.
Refrigerate before topping with Cool Whip or it will melt into the cake.
This cake can be made a day in advance. I just leave off the Oreo crumble till right before serving.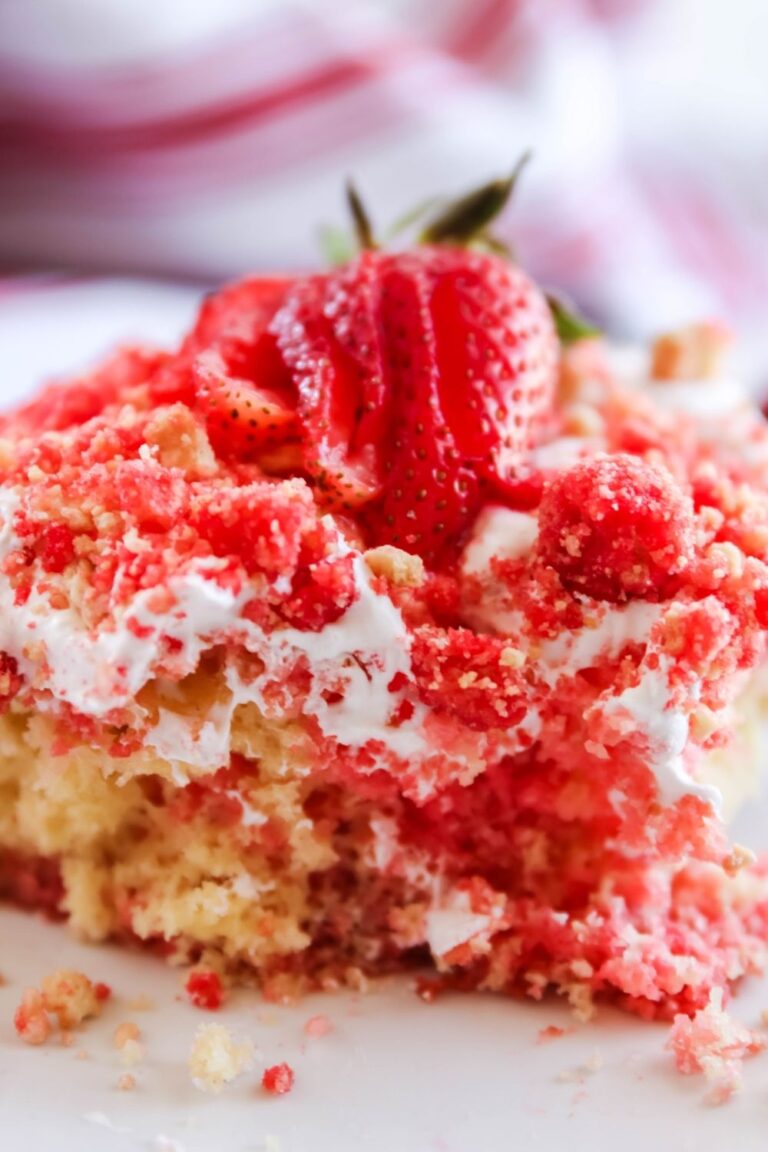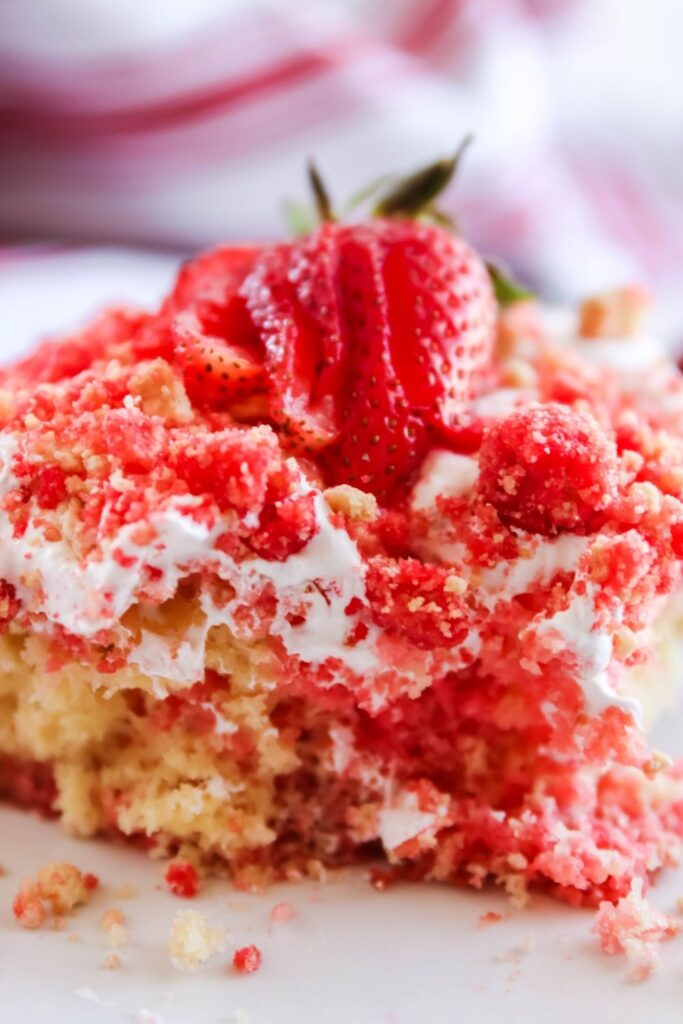 Storing
This poke cake with Jello needs to be refrigerated. As to the whipped topping and Jello mixture it will spoil if left out. Just place in a covered dish.
In terms of freezing, you can freeze this jello cake with strawberry crunch topping. Just leave off any fresh strawberries, and freeze 2-3 months. Then thaw in the fridge overnight and enjoy.
FAQs
What is strawberry crunch cake made of?
The crunch on the cake is made from Golden Oreos, butter, and strawberry gelatin powder. It is going to give a sweet and crunchy consistency.
What are cakes with holes poked all over it called?
Cakes that have holes poked all over are called poke cakes. You have the holes to soak up the Jello mixture you pour over them. This gives the flavor an extra moist and sweet flavor.
Does poke cake need to be refrigerated?
Poke cakes do need to be refrigerated. Whether they are poked with a pudding mixture or Jello they will need refrigeration to prevent spoiling.
Can poke cake sit overnight?
Go right ahead and let the poke cake sit overnight with the Jello in it. Just cover and refrigerate and then when you are ready, frost with cool whip and add on the topping!
More Poke Cake Recipes
Have you tried the recipe? If so, please leave a star ⭐️⭐️⭐️⭐️⭐️ rating in the recipe card below or drop a comment. Also stay in touch with me through social media by following me on Facebook, Pinterest, or My Facebook Group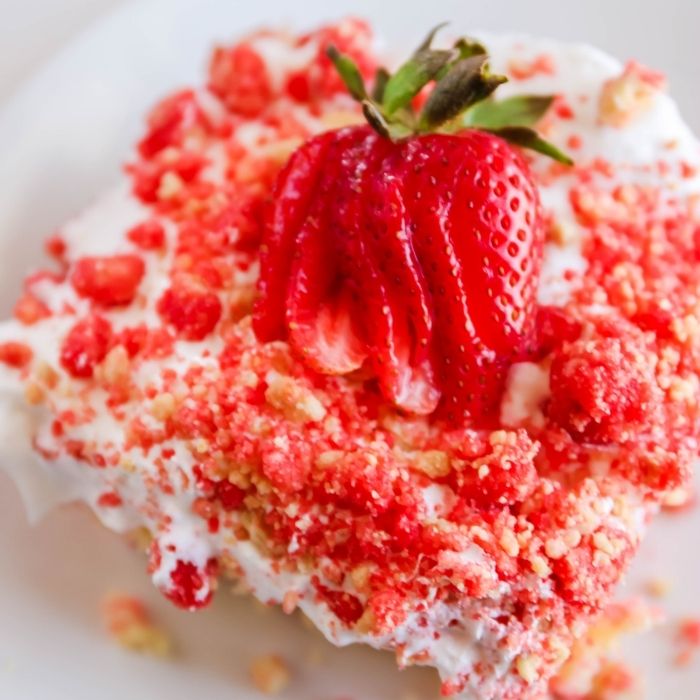 Strawberry Crunch Cake
Strawberry Crunch Cake is a yellow cake filled with strawberry jello and topped with whipped cream and a strawberry shortcake topping. This is a delicious strawberry poke cake with a crunch topping.
Ingredients
Poke Cake Ingredients
1 box yellow cake mix + Ingredients on box
1 packets of Strawberry Jello 3 ounce each packets
1 cup boiling water
1 cup cold water
8 ounces Cool Whip
Strawberry Crunch Topping
10-12 Golden Oreos crushed
3 tablespoons butter
1 packet strawberry Jello
Instructions
Start by mixing up and baking the cake as directed on the box. Use the ingredients it calls for and bake in a 9×13 pan.

Once the cake is done, let cool a bit then with a round or flat back part of a spoon poke holes all over the cake.

In a bowl add one packet of Jello and add 1 cup boiling water. Stir for 2 minutes to dissolve the Jello. Then pour in one cup of cold water. Stir to combine.

Pour over the cake, cover and refrigerate for 3-4 hours or until chilled.

Then cover the whole cake in the whipped cream. Just spread an even layer all over the cake.
How to Make Strawberry Crunch Topping
Add your Oreos to a bag or food processor. Then I used a rolling pin to crush the Oreos to make a crumble.

Add Oreos to a bowl, then add in the strawberry Jello packet and melted butter. Mix well.

Then when you have the crumb topping ready sprinkle it over the Cool Whip topped cake.

Slice and serve the strawberry crunch cake or refrigerate until ready to serve.

Notes
Make Ahead – You can do the jello and cake a day in advance. Just keep it covered and refrigerated. Then right before serving top with whipped cream and the Oreo crumble. Storing – This cake needs to be stored in the fridge or it will spoil. Refrigerate in a covered dish. Or you can freeze for 3 months or so.
Nutrition
Serving: 1gCalories: 239kcalCarbohydrates: 39gProtein: 2gFat: 9gSaturated Fat: 5gPolyunsaturated Fat: 3gCholesterol: 6mgSodium: 303mgFiber: 1gSugar: 23g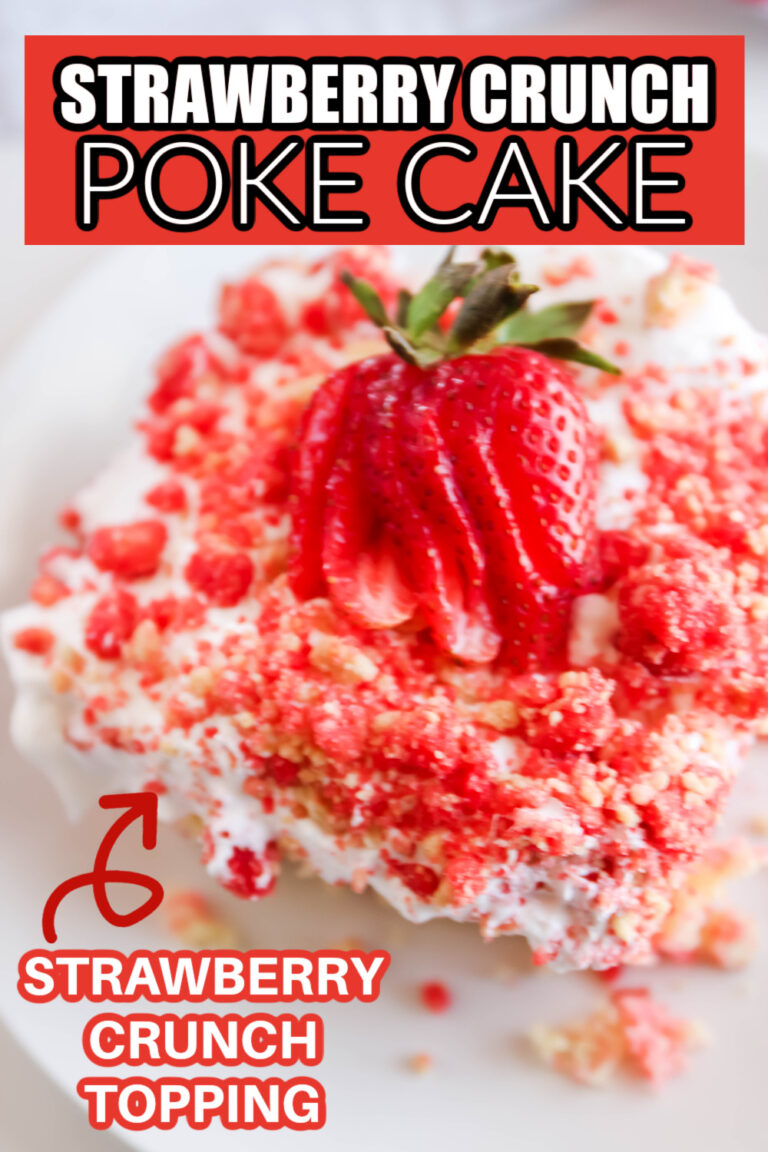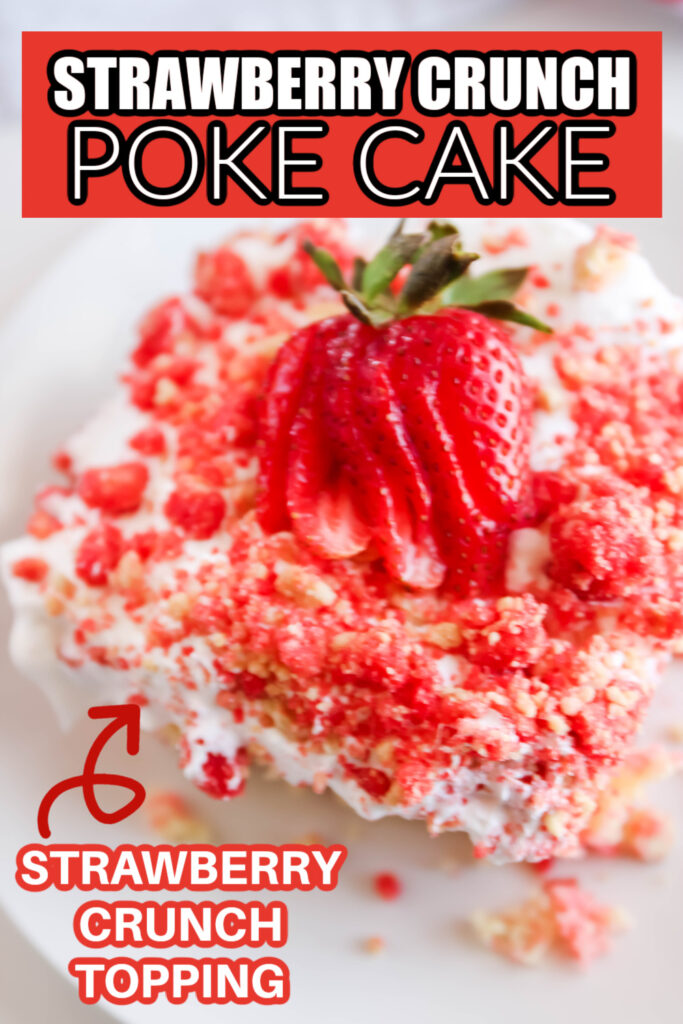 Reader Interactions