Try out my tex mex chicken with lime cauliflower rice for dinner tonight. This is a Mexican chicken marinade I make and allows the chicken to really soak in all the rich flavors. Toss in a skillet or on your Blackstone and cook up a delicious chicken and cauliflower rice bowl.
This Blackstone chicken recipe is always a hit in our home. Top with lime juice and sour cream, or pile high with lettuce, tomatoes, and all your other favorite toppings.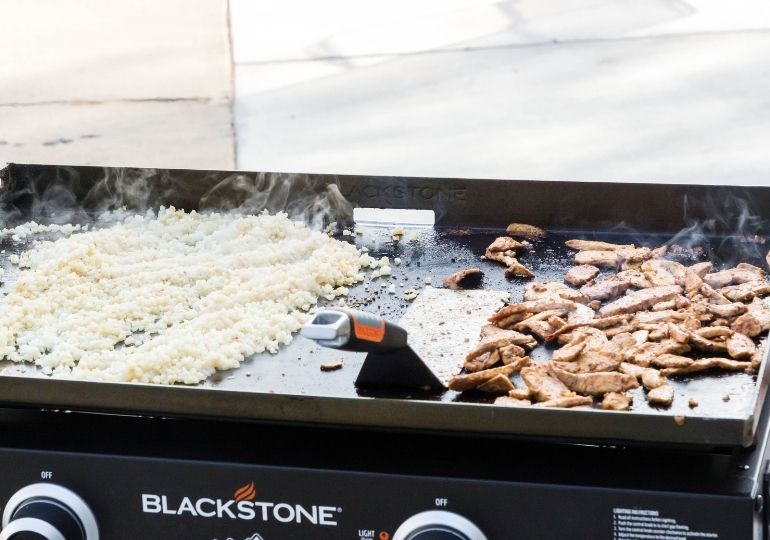 This is one chicken dinner idea we make over and over again in our home. It's simple, quick, and a lower carb dinner.
Why Make This Tex Mex Chicken
Easy Prep – A no fuss easy prep dinner that you can literally throw together. I do recommend marinating the chicken for at least 30 minutes.
Marinated chicken – I tend to make my marinade for chicken in the morning and let it soak through the day. This helps to enhance the flavor.
Blackstone Recipe or Skillet Dinner – I have made this Tex Mex Chicken and cauliflower rice on my Blackstone griddle and on the stove. You can choose what fits you best. Directions for both are in the recipe card.
Low Carb Dinner – This is a lighter version to say classic rice and Mexican chicken. The riced cauliflower has tons of flavor and even my 5 year old enjoys it.
Ingredients You Need
Chicken – I love using thin sliced chicken breast I diced up. Any boneless chicken works great. If you use tenderloin cut, remove tenderloin before slicing to prevent chewy chicken.
Oil – Vegetable or canola are what I recommend. Olive oil has a tendency to smoke when it gets too hot, and this recipe is cooked at higher heat.
Lime – Not only does the lime flavor the chicken and diced cauliflower, it also helps to tenderize the chicken and lock in moisture when it cooks.
Chili Seasoning, Salt, Pepper, Garlic Powder, Garlic Salt- Seasonings used for flavoring the dish.
Worcestershire Sauce – This little ingredient adds a nice depth of flavor to the chicken marinade!
Cauliflower Rice – Fresh or frozen works! I toss my cauli-rice in the pan or on the Blackstone frozen!
Tools Needed
You can make this Tex Mex Chicken and cauliflower in a skillet, so I give you both options to try out.
How to Make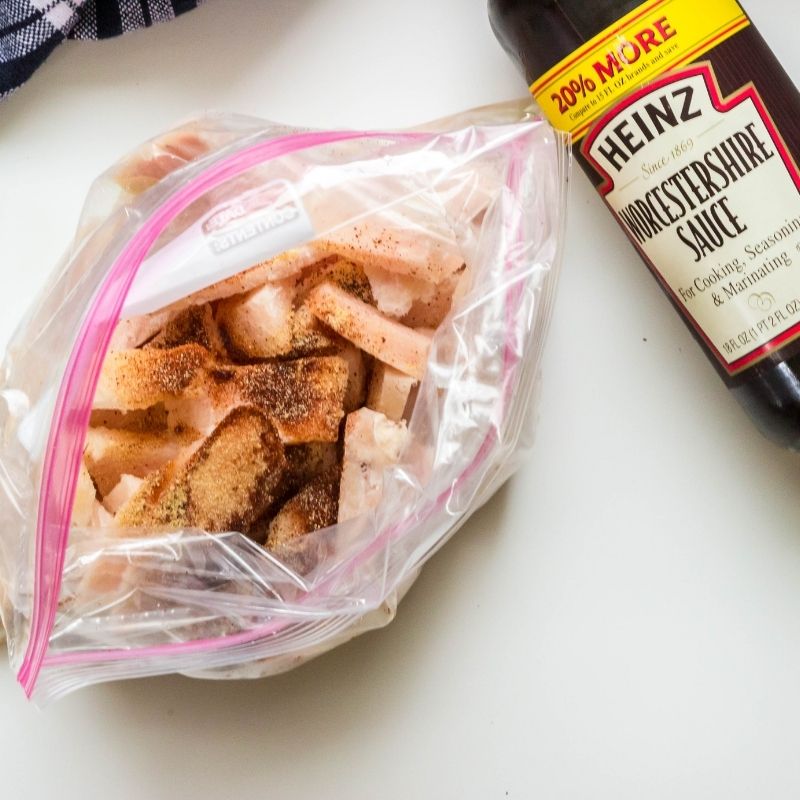 Step 1: Slice your chicken into strips. Remove any fat trimming it as you go.
Step 2: Place chicken in bag or a container. Add all the ingredients for the Mexican chicken marinade in the bag.
Step 3: Seal the bag and massage it, mixing all the ingredients around. Once mixed place in fridge for 30 minutes or up to overnight to marinate.
Step 4: Preheat your griddle to medium-high heat for 10 minutes. Add a drizzle of oil and spread around to coat the top.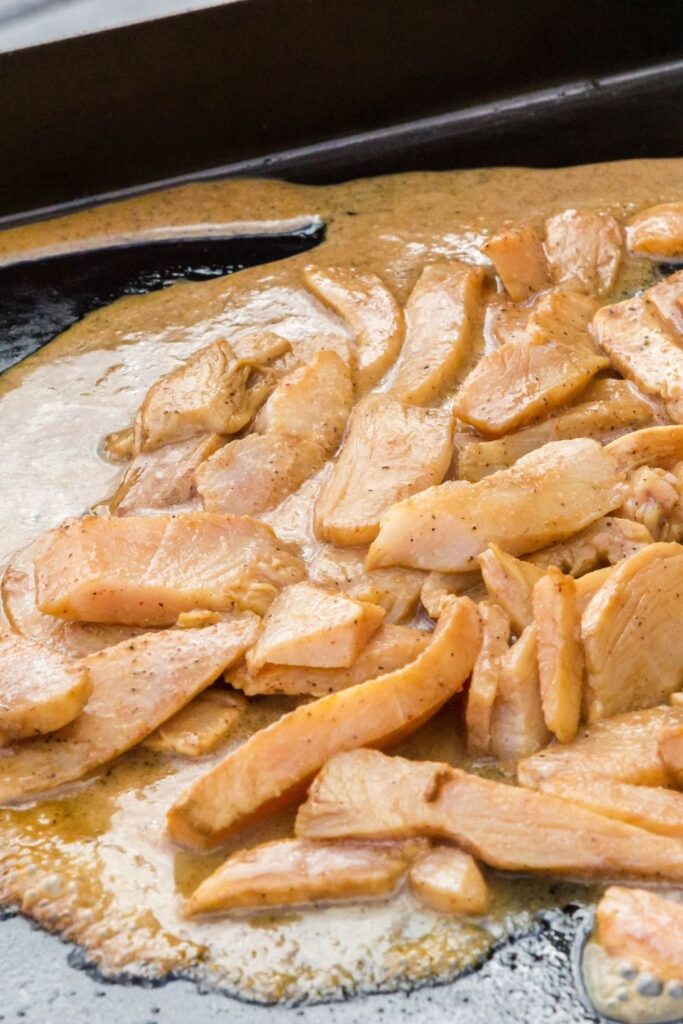 Step 5: Next toss the chicken on one side cooking for 3-4 minutes then flipping the chicken over.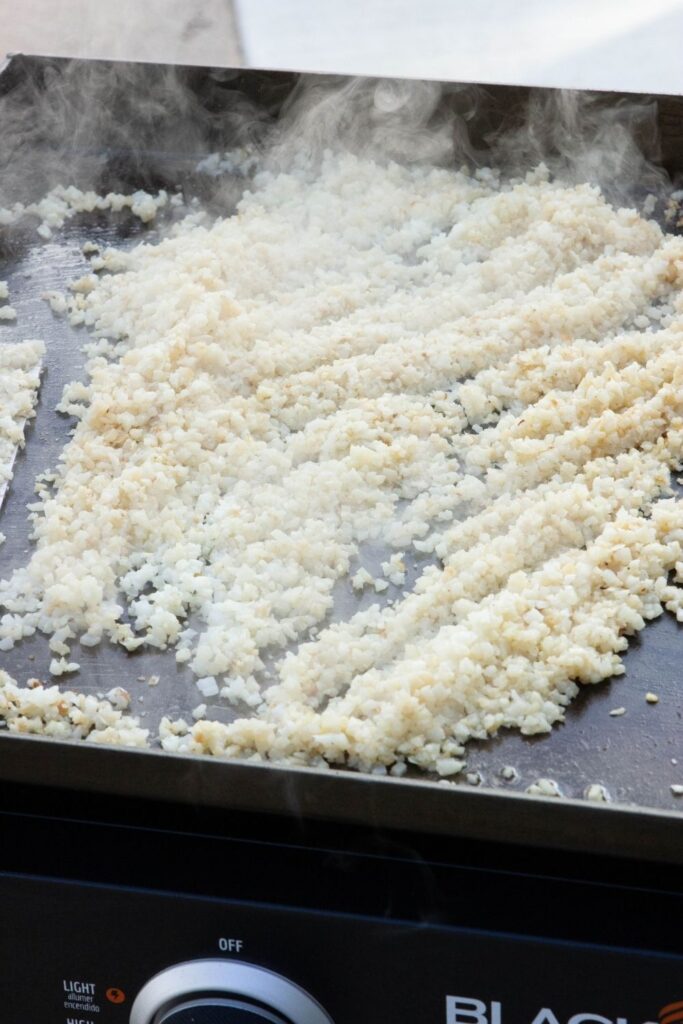 Step 6: On the other side of the flat top griddle add your cauliflower rice. Drizzle on a little water and spread it out to a thin layer and lightly season it. Drizzle half of a lime over the top of rice.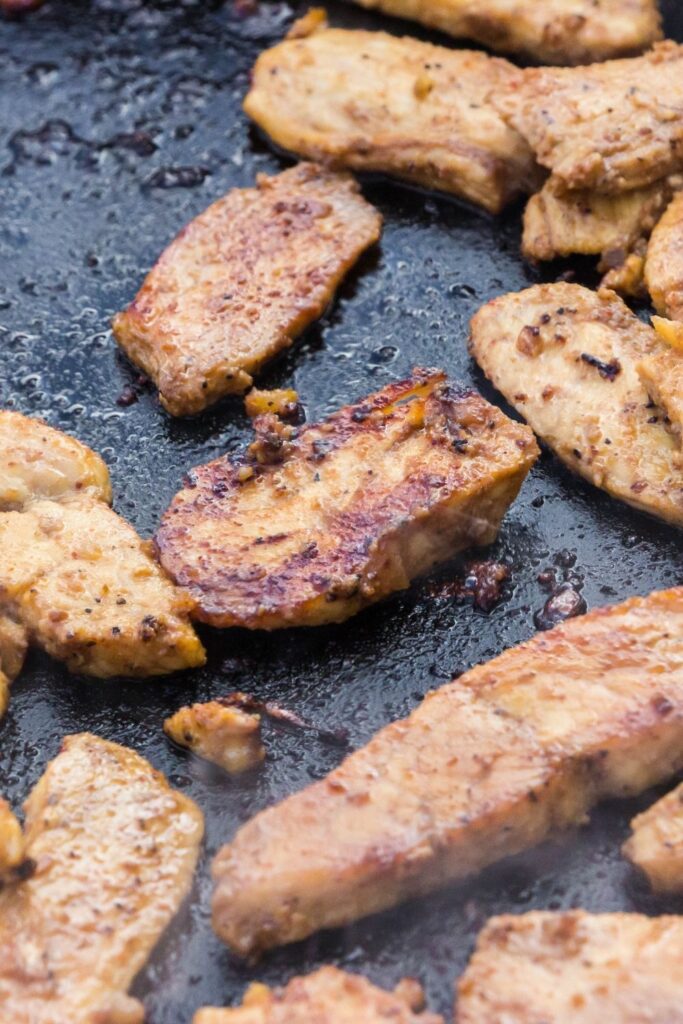 Step 7: When the chicken is done remove from the griddle and add a splash of water to lift off some of the marinade on the griddle.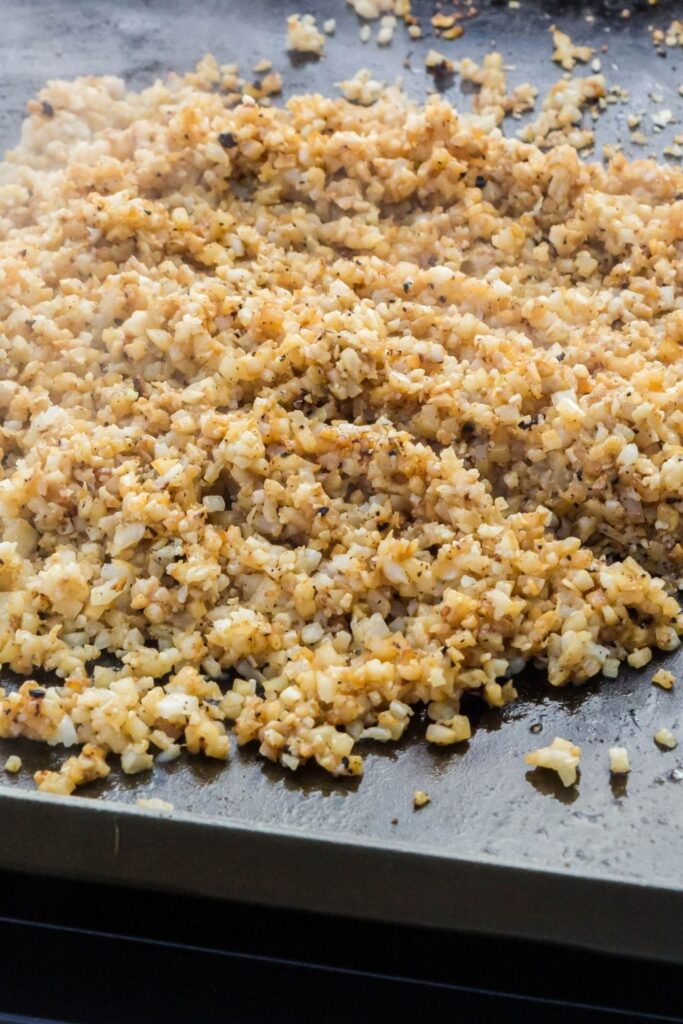 Step 8: Move the cauliflower rice to the chicken area to soak up the flavor of the marinade. Then remove from the griddle.
Step 9: Place your lime chicken and diced cauliflower into a bowl or eat it separately if you prefer. Add on Mexican shredded cheese or Cotija cheese, sour cream, fresh lime juice, salsa, etc.
Meal Prep Chicken and Cauliflower Rice
Want a meal prep dish? This chicken and cauliflower rice is great for meal prepping. Simply grab your sealed container and add in some of the chicken, followed by rice.
Then top with some cheese and in a separate compartment or container add the salsa, diced veggies, etc of choice. Then eat cold or heat in the microwave if you prefer.
Variations To Recipe
You could change out the Mexican chicken marinade recipe if you want a different flavor.
Sauté some peppers and onions to go with the dish. I love green bell peppers and yellow onions.
Toss on other veggies and cook with the cauliflower rice.
Use pre-cooked regular rice if not a fan of cauliflower rice.
Add veggies like peas and carrots into cauliflower rice to be more of a fried rice.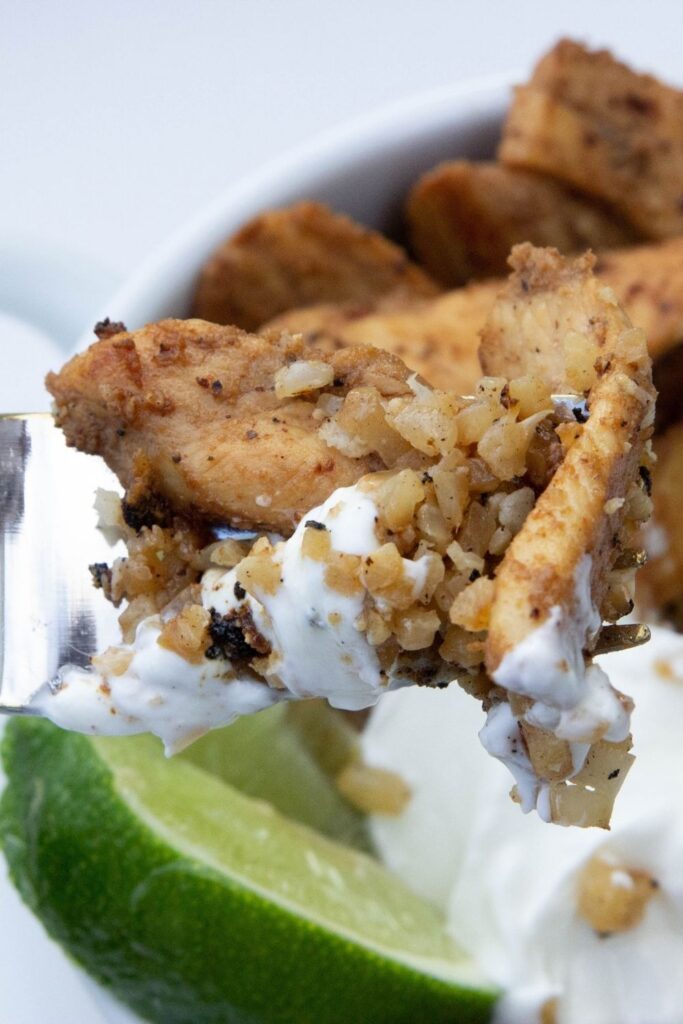 Frequently Asked Questions
Related Blackstone Posts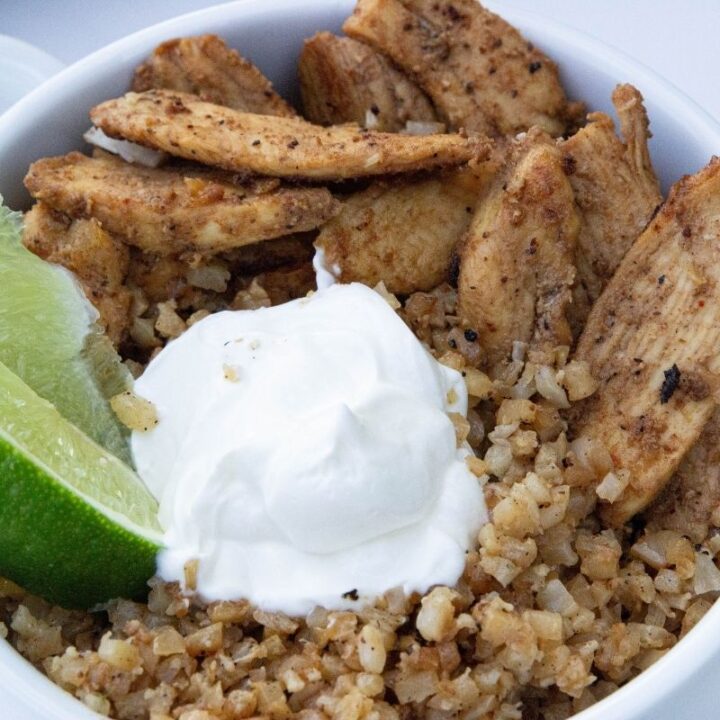 Blackstone Tex Mex Chicken and Lime Cauliflower Rice
Additional Time:
30 minutes
Whip up this Blackstone Tex Mex Chicken with lime cauliflower rice. You will use my Mexican chicken marinade, then toss on a hot grill and cook to perfection. This Blackstone chicken recipe is great for lunch, dinner, or even to meal prep for the week.
Ingredients
Mexican Chicken Marinade
3-4 chicken breasts, trimmed and sliced thin
1 limes
1 teaspoon chili powder
1/2 teaspoon garlic powder
1/2 teaspoon onion powder
2 tablespoons Worcestershire sauce
3 tablespoons oil
Cauliflower Rice
24 ounces cauliflower rice, fresh or frozen
1/2 lime, squeezed
1/4 teaspoon garlic salt with parsley
Instructions
In a Ziploc Bag or container you want to start by thinly slicing your raw chicken. Trim the meat if there is any fat that needs to be removed.
Once done, add in 1 full lime that you juice, discard lime after juicing. Toss in the oil, chili powder, garlic powder and onion powder.
Seal bag and massage the mixture to coat all the chicken with the Mexican chicken marinade. Refrigerate for 30 minutes to overnight.
Preheat your grill to medium high heat for at least 10 minutes when you are great to cook on the Blackstone.
Squirt a little oil down on the griddle and toss on your chicken. Let it cook 3-5 minutes per side until done. Once the chicken is done remove from the griddle.
While the chicken is cooking you will take your cauliflower rice and place on the other side of the griddle. You can squirt the riced cauliflower with a little water to help steam the cauliflower.
Season with the garlic salt with parsley and 1/2 of a lime squeezed. Cook until it begins to char a little bit.
When the chicken is done, remove the chicken and move the cauliflower rice over to the area where the chicken was. Squirt a little water over the area, it will help pull the marinade that is stuck to the griddle and flavor your rice.
Once rice is seasoned, remove from the griddle as well.
Place the lime cauliflower rice in a bowl, top with chicken, and sour cream, salsa, etc. toppings of choice.
Serve up this easy Tex Mex chicken and lime cauliflower rice for an easy dinner recipe.
Notes
Skillet Directions -
Marinate chicken as directed above.
When it is time to cook add chicken to a hot skillet on medium heat. Cook until the chicken is fully cooked.
While chicken is cooking in another skillet add the cauliflower rice and seasonings. Mix well and cook until fully done. You will need to add 1/2 teaspoon of oil to the pan.
Once done assemble the bowl and enjoy.
Chicken - You can do more chicken if you want, I have a family of 3 so we don't eat a ton. But you are more than welcome to double the recipe if need be.
Cauliflower rice - You can use fresh or frozen. If frozen thaw for a minute or two in the microwave. You do not want to toss a ton of frozen on the griddle as it can warp it. A little is okay but you don't want it all to be frozen.
Storage - Store in the fridge for 3-4 days. Then reheat or eat cold. You can also meal prep with this recipe very easily.
Preheat Blackstone - I recommend preheating your Blackstone 5-10 minutes. This will help create a nice even cook top for your chicken and riced cauliflower.
Recommended Products
As an Amazon Associate and member of other affiliate programs, I earn from qualifying purchases.
Nutrition Information:
Yield:

6
Serving Size:

1
Amount Per Serving:
Calories:

235
Total Fat:

10g
Saturated Fat:

1g
Trans Fat:

0g
Unsaturated Fat:

8g
Cholesterol:

68mg
Sodium:

229mg
Carbohydrates:

9g
Fiber:

3g
Sugar:

3g
Protein:

27g
This information is automatically calculated by third-party software, including but not limited to the Create or Bake Me Some Sugar. For accurate nutrition, I suggest running the ingredients in your own system to get a more accurate reading. Nutritional information is approximate and automatically calculated, and should only be viewed as an indication.