Try my chicken club wrap, which is a classic chicken club sandwich that gets transformed into a delicious chicken wrap. Salty bacon, tender chicken, lettuce, tomatoes, and a mexi-ranch that is to die for.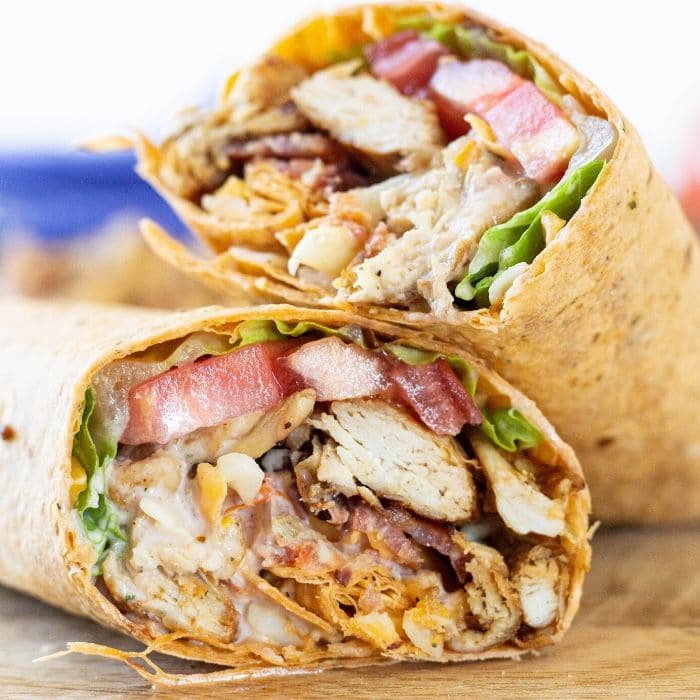 If you are a fan of chicken, I have a few more recipes for you to check out. Meal prep with Instant Pot chicken that you shred, baked Hawaiian chicken, or try my grilled Bruschetta chicken.
With summer here it is hot, and I am looking for easy and quick meals to serve up. Pair with some salty chips, potato salad, cucumber and onions, or any other of your favorites.
What Is Mexi-Ranch
Mexi-ranch is what I used to drizzle on the chicken wrap. It is a homemade ranch that has some salsa mixed in. Now, you can skip this and do a straight mayo or even plain ranch.
Either way with how you dress your wrap, feel free to enjoy. I will share instructions on how to make the mexi-ranch in the recipe card below.
How to Make Chicken Club Wrap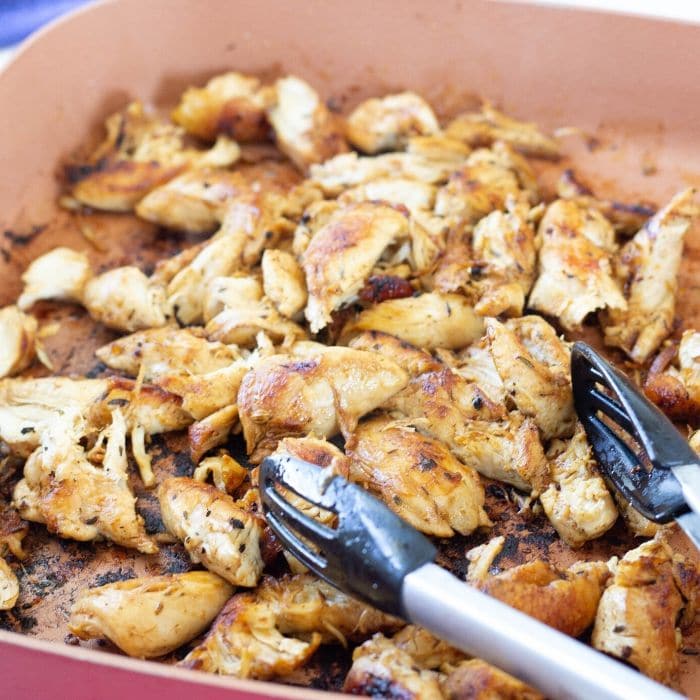 Step 1: Start by cooking your bacon and chicken how you would like. I used a Kansas City Blend seasoning and cooked my chicken in a skillet on the stove.
You can season your chicken however you would like. Or you can use leftover rotisserie chicken if you would like.
Step 2: Now you will work on your mexi ranch. I just made homemade ranch dressing following the packet. Then I stirred in some salsa to make a dressing for this wrap recipe.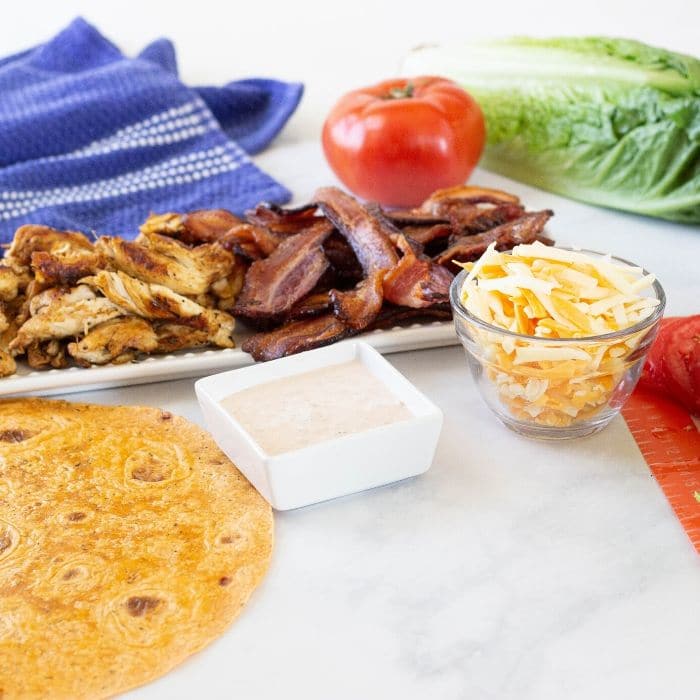 Step 3: Assemble your wrap with all your favorite filling. I did lettuce, tomato slices, shredded cheese, and chicken, bacon, and mexi-ranch.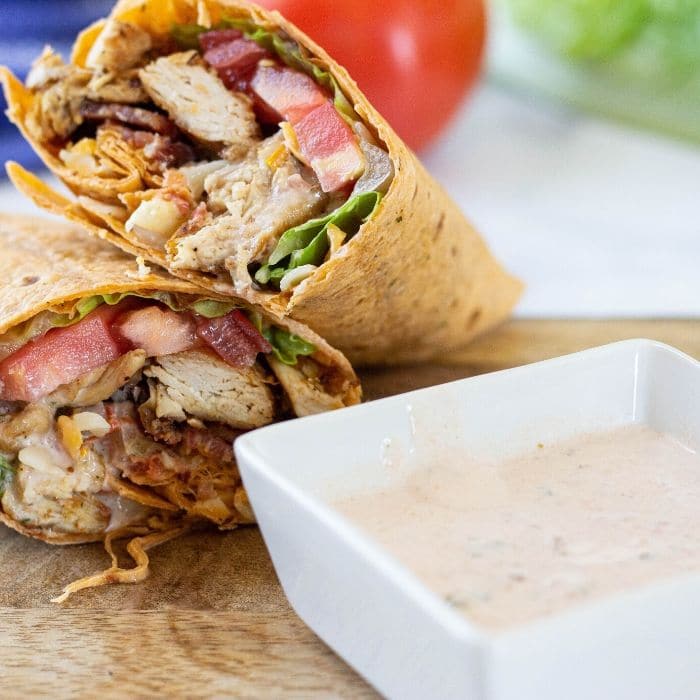 Step 4: Serve up your wraps and enjoy! This bacon chicken wrap recipe is so easy, and makes for an easy lunch recipe.
What Tortillas To Use For Wraps
I used a sundried tomato wrap, but you are welcome to use any type of tortilla you would like. At times we will use the low carb tortillas, instead of a classic wrap.
I find the flavored wraps help to add a bit more flavor to the chicken wrap recipe, but it isn't a have to have item.
Are Wraps Healthier Than Bread
Wrap are not persay healthier than bread. Depending on the brand and size of wrap you buy will vary. So you can compare the calories to your bread and see which one is healthier for you to pick.
Can I Make This With Bread Instead
Want to transform this chicken wrap into a chicken sandwich? Go right ahead. I tend to toast by bread in the toaster, but this step is optional.
Pile on your toppings and then slice your bread in half and serve up a savory chicken sandwich loaded with bacon and your favorite toppings.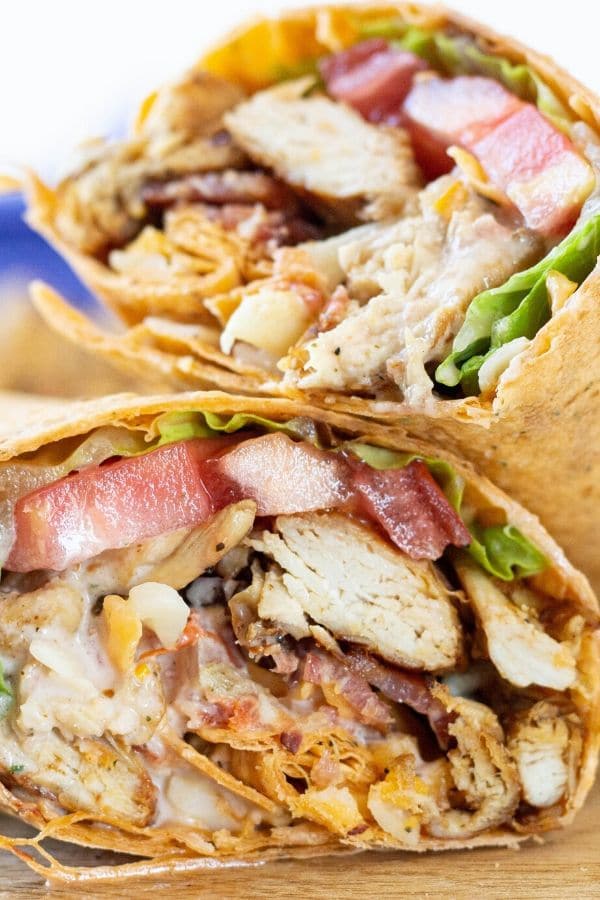 How Do You Cook Bacon In The Oven
Cooking bacon in the oven is a quick and no-fuss way to cook up the bacon. I do this when I am feeling a little lazy, or just wanting to get it cooked and not worry about it.
Simply line a baking sheet that has a rimmed edge with aluminum foil. Then lay out your bacon in a single layer. It is okay if it slightly overlaps.
Then place in a cold oven and turn the temperature to 400 degrees. And cook for 20 minutes. Make sure to check here and there, and then cook to the doneness you desire.
Sometimes it can take up to 30 minutes to fully cook. It just depends on the thickness of your bacon. Place bacon on a paper towel-lined plate, and allow excess oil to drip off before placing on the wrap.
Want More Easy Dinner Ideas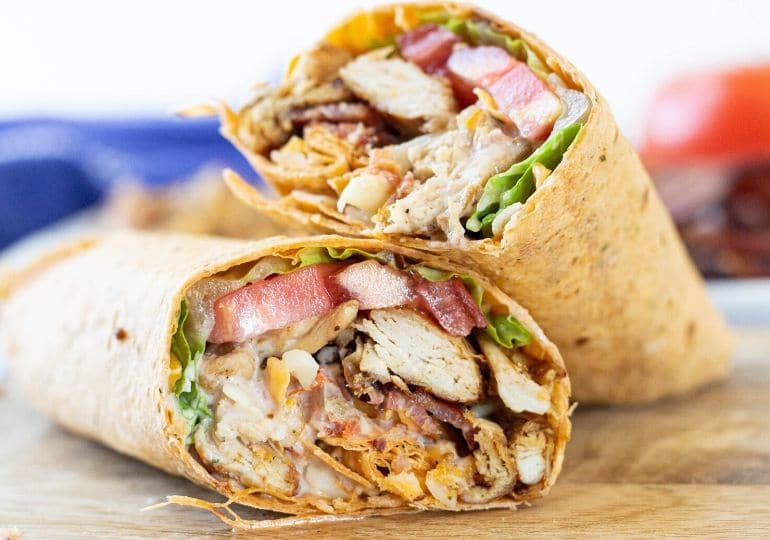 Chicken Club Wrap
Servings 6 -8 wraps
Try my chicken club wrap, which is a classic chicken club sandwich that gets transformed into a delicious chicken wrap. Salty bacon, tender chicken, lettuce, tomatoes, and a mexi-ranch that is to die for.
Ingredients
1 pound chicken tenderloins or breast cut up into small pieces
8-10 slices of bacon cooked
2 to matoes sliced thin
6-8 lettuce leaves washed
6-8 to rtillas I used sundried tomato flavored tortillas
1 packet of homemade ranch dress plus ingredients to make it
1 cup prepared salsa
2 cups shredded cheese
1 teaspoon oil
1 tablespoon Kansas City Seasoning or another seasoning for chicken
Instructions
Start by cooking your chicken and bacon. I did my bacon in the oven and chicken on the stove. For the bacon, I did 400 degrees and laid it out on a baking sheet wrapped in aluminum foil, cooked till bacon was done.

For the chicken I diced it up and placed 1 teaspoon oil in a skillet and tossed in my raw chicken, and the

Kansas City Seasoning

. Cook until the chicken is fully cooked.

For the mexi ranch I made the

ranch dressing

as to what followed on the back of the package. Once done I stirred in 1 cup salsa.

To assemble the wraps, layout lettuce leaf, tomatoes, chicken, a slice or two of bacon, shredded cheese, and a drizzle of mexi ranch.

Roll up the wrap tightly like a burrito, slice, and serve with more mexi-ranch on the side for dipping.

These chicken club wraps are so easy to make and are bursting with flavor.
Nutrition
Serving: 1gSodium: 1625mgSugar: 3gFiber: 3gCholesterol: 101mgCalories: 518kcalPolyunsaturated Fat: 13gSaturated Fat: 9gFat: 24gProtein: 37gCarbohydrates: 36g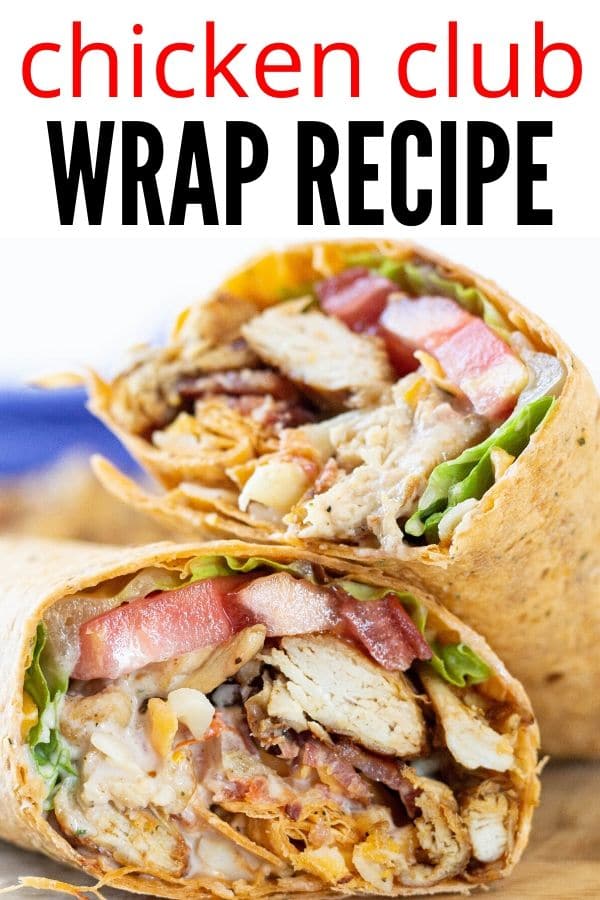 Are you a fan of chicken wraps?
Reader Interactions