3 Ingredient Bagels are so popular right now. Greek yogurt, flour are the stars of this dough. Add on any seasoning you want or serve them plain. Give this easy Greek yogurt bagel recipe a try today.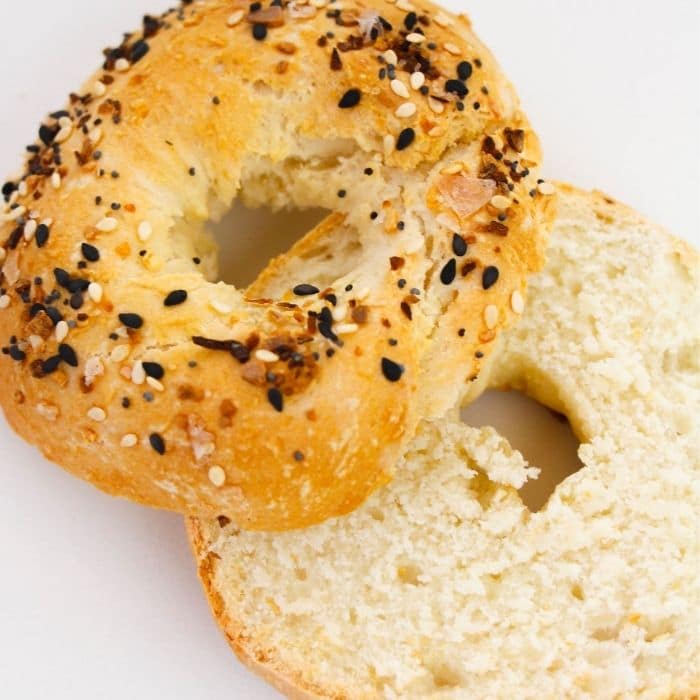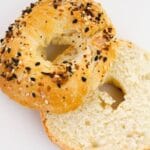 Skip the line at the bakery and make your own incredible 3 Ingredient Everything Bagels at home instead. This 3 ingredient dough is flavorful and so easy to make. A no yeast bagel recipe.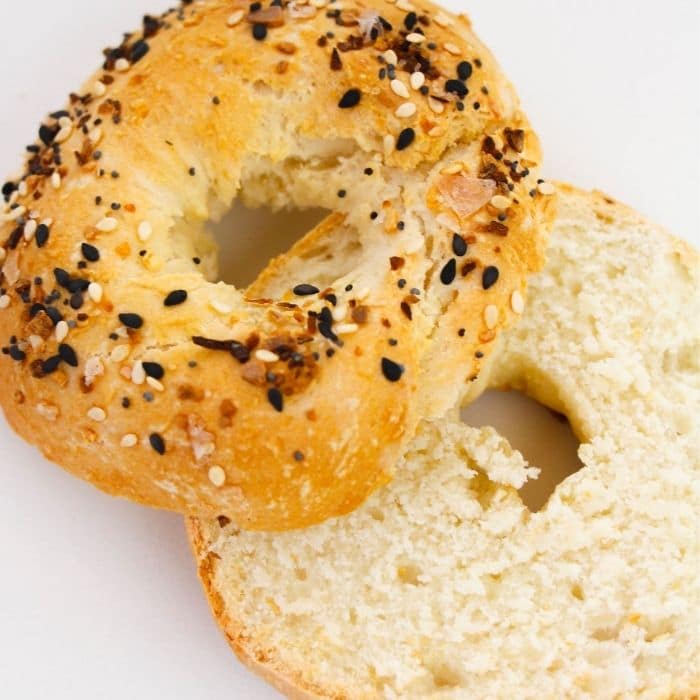 I'm a sucker for baked goods, especially bagels. That firm crust with a fluffy exterior is heavenly, and adding the everything bagel seasoning takes them to the next level. A bagel recipe with no yeast.
Give these homemade bagels a whirl because I think you are going to love them as much as I do. There is a lot of ways you can eat them or munch on a warm bagel plain. You can't go wrong!
While you are at it, give my everything bagel deviled eggs, they are to die for! Or this baked everything but the bagel chicken.
🥯 Why You'll Love This Recipe
Only 3 ingredients
Can be made in less than 30 minutes
Delicious
Great for Breakfast
Makes a Great Sandwich
Easy
Frugal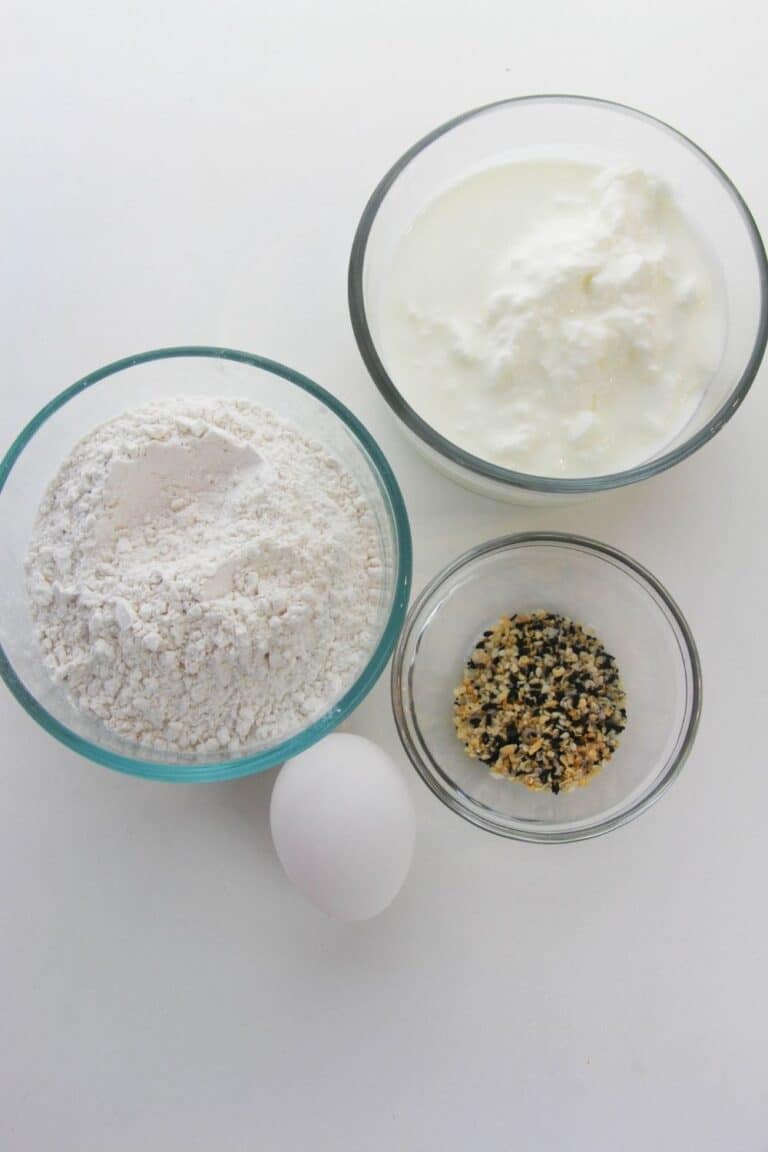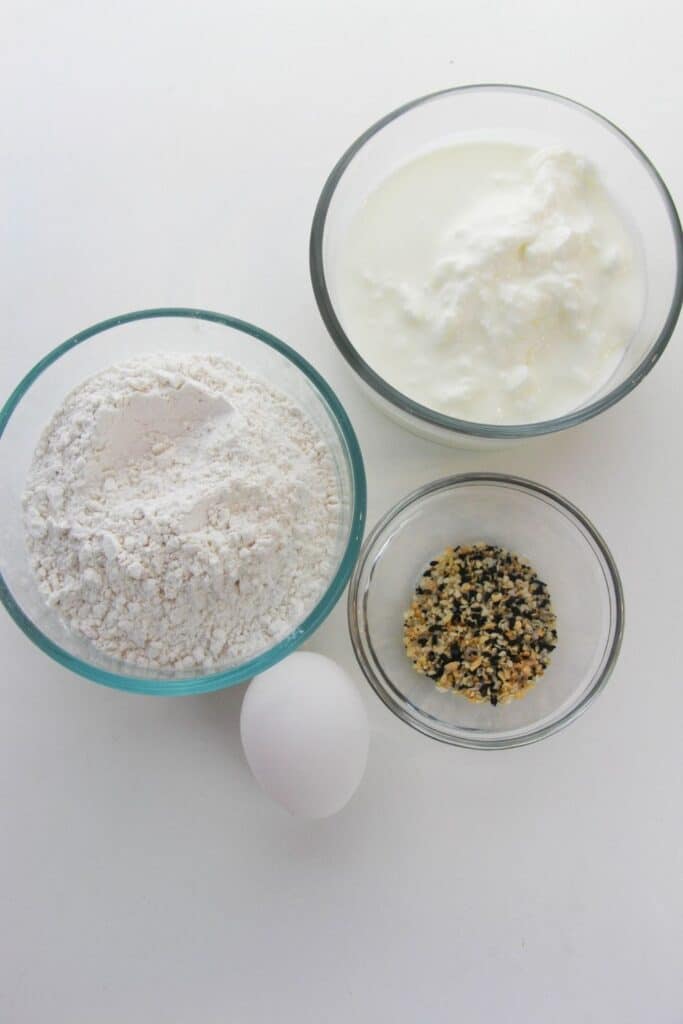 🥚 Ingredients
Flour | The most important thing about the flour is that you need to use self-rising flour. Nothing else will work and won't give the bagels the right texture.
Yogurt | It's as equally as important to use Greek yogurt. If you don't have Greek, you could swap it for plain regular yogurt, but the texture will be a little bit off.
Egg White | You don't need the entire egg, just the egg white. It's just an egg wash and gives the seasoning something to hold on to.
Seasonings are optional!
👩‍🍳 How To Make
Step 1: Heat the oven and grab your stand mixer. Combine the flour and yogurt together. Knead the bagel dough for 6 minutes.
Note: Add more flour if needed. You can knead it by hand if you don't have a mixer. This Greek yogurt bagel recipe does take time to knead together so be patient.
Step 2: Once mixed form 6 dough balls and form the bagels. Line the baking sheet with parchment paper or a silicone mat and add the bagels.
Step 3: Brush each bagel with egg white then add the bagel seasoning. Bake for 10-14 minutes. Or until the bagels are done.
Step 4: Serve these three ingredient bagels warm from the oven, or allow them to cool a bit.
There is a printable recipe card below with the full recipe.
How to Make Air Fryer Bagels with Greek Yogurt
Whether you own a classic air fryer, Ninja Foodi, or the Instant Pot duo crisp, here are the directions when using the air fryer settings.
Step 1: Follow the same directions on mixing the bagel dough the same way as you would if making in the oven.
Step 2: Spray your air fryer oven tray or basket with your oil. Then turn the air fryer to 330 degrees Fahrenheit. Place your round-shaped and seasoned bagels and cook.
Step 3: Cook air fryer bagels for 10-14 minutes or until golden brown and fully cooked.
🍽️ Storage
The 3 ingredient everything bagels will last at room temperature for up to 5 days. You can also store them in the freezer for up to 2-3 months.
🥄 Expert Tips
Don't overmix the dough for the bagels, or they will become denser.
Only bake until they are golden brown and cooled all the way, about 10-14 days.
If you don't have everything bagel seasoning, you can add your own mixture of seasonings or spices. Garlic salt is delicious!
📌 Recipe FAQs
Is three ingredient dough healthy?
Three ingredient bagel dough is healthier than a traditional bagel. You use Greek yogurt to add protein and fiber to the recipe. But, they still have carbs, so eat in moderation.
Will 2 ingredient dough rise?
The self-rising flour in this bagel recipe is what makes the dough rise a bit. It won't rise a ton but enough you have that pillowy texture of a traditional bagel.

You need to ensure you use self-rising flour.
What do I eat with bagels?
The options are endless! Add bacon, sausage, cheese, or eggs for an incredible breakfast sandwich. Or eat with a layer of cream cheese.

Another idea is to add some deli meat, cheese, and veggies. You will have an incredible lunch that's super easy to make.

Really, you can even add a burger and enjoy a tasty dinner idea too. Go wild and try all sorts of ideas.
Do I have to use everything bagel seasoning?
Nope! You are welcome to skip it entirely. The bagels are great by themselves, but you can also add other seasonings.

Another delicious option is to add your favorite cheese on top. It will get crispy as it bakes.
What replaces Self rising flour?
You can make your own self rising flour if you do not have any on hand. For 1 cup self rising flour here is how to make it.

1 cup all purpose flour, 1 1/2 teaspoons baking powder, and 1/4 teaspoon salt. Mix and use in replace of store bought self rising flour.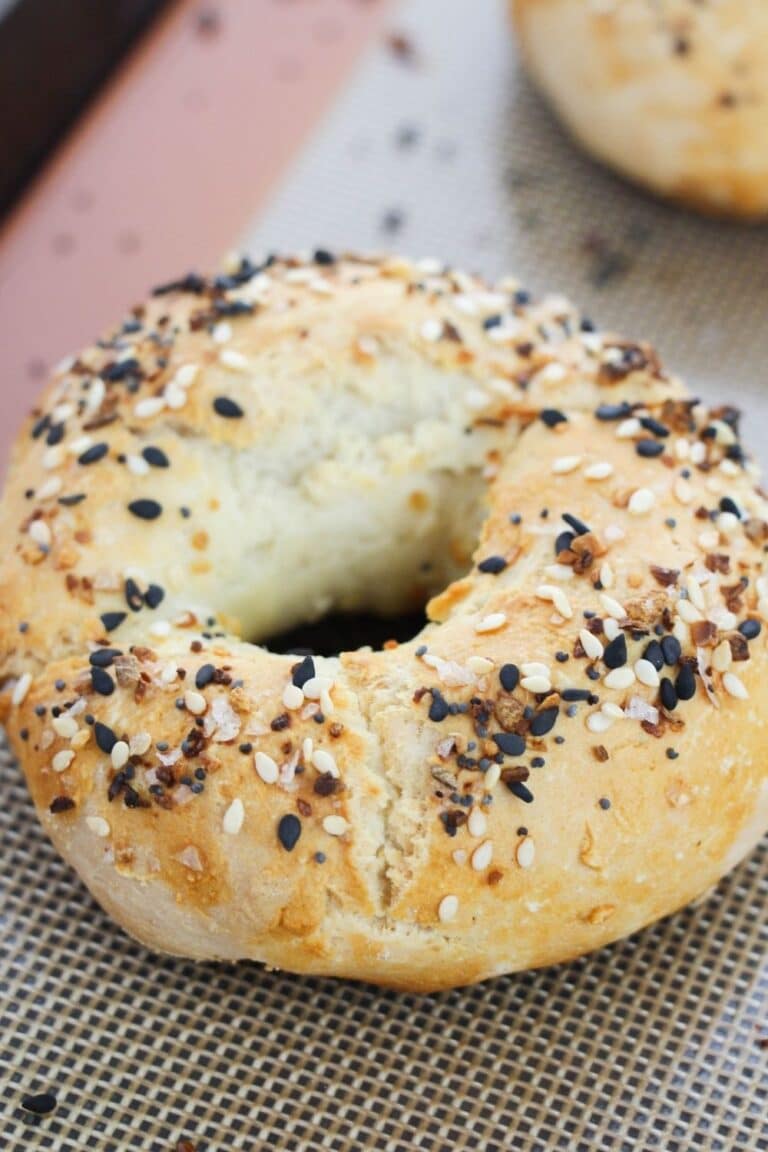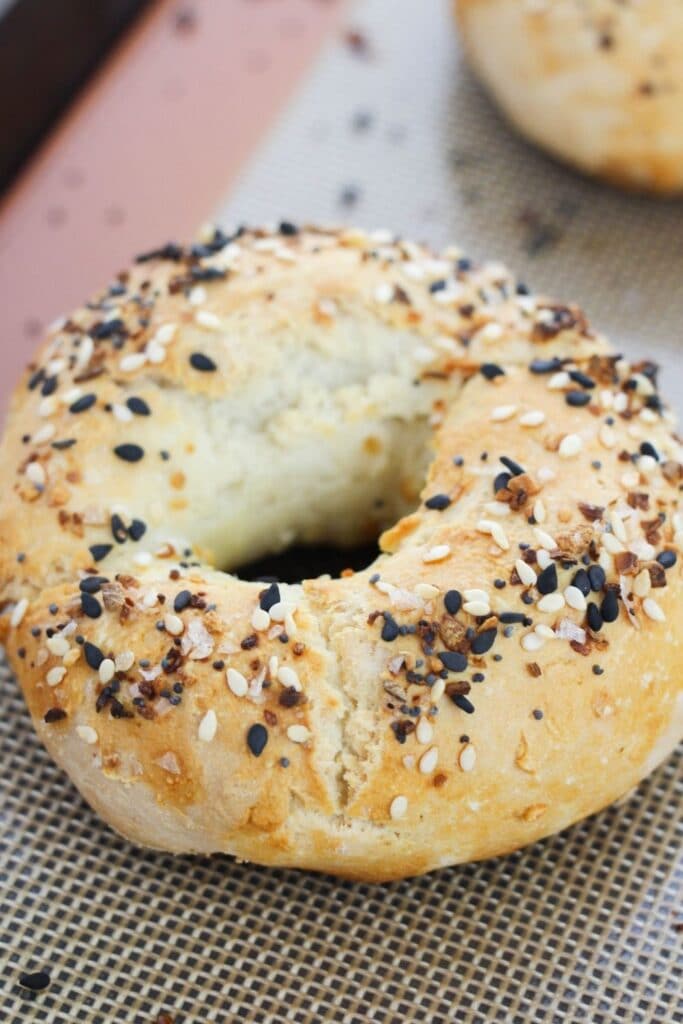 More Breakfast Recipes
Tried this recipe? Make sure to rate ⭐️⭐️⭐️⭐️⭐️ and leave a comment to let me know how you like it! Plus get more Instant Pot Recipes or Home Cooked Recipes Facebook Page on my Facebook. Stay up to date and Follow Me On Pinterest!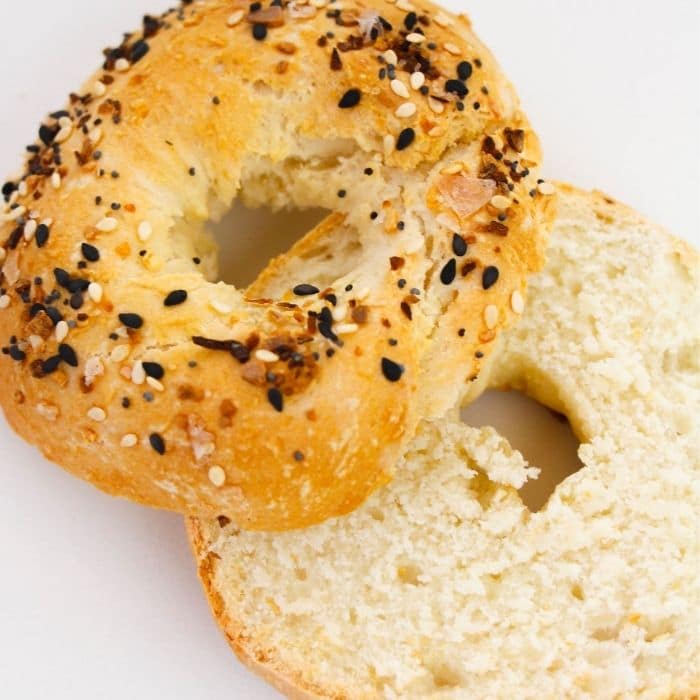 3 Ingredient Bagels
Servings 6 bagels
3 Ingredient Bagels are so popular right now. Greek yogurt, flour are the stars of this dough. Add on any seasoning you want or serve them plain. Give this easy Greek yogurt bagel recipe a try today.
Ingredients
Ingredients for Bagels
2 cups self-raising flour plus additional for kneading
1 cup greek yogurt
1 egg white
2 Tablespoons everything bagel seasoning Optional
Instructions
Preheat oven to 475F. Place your baking sheet with parchment paper or silicone mat to the side.

Now in a stand mixer with a paddle, you will add in your self-rising flour and the Greek yogurt. Knead for 6 minutes until it forms a ball. If you need add more flour to help it form a ball.

When the dough is formed, and offers an elastic ball texture, remove it from the bowl and lay it out on a floured surface.

Divide the dough into 6 equal parts. Then work at rolling into a snake shape and then make a circle pressing ends together to form a circle.

Lay the bagel dough on the baking sheet. Brush with the egg whites, and sprinkle with everything bagel seasoning.

Bake for 10-14 minutes or until the bagels are golden brown and done.
Notes
Air Fryer Directions
Form the dough the exact way in the recipe card. Then in your air fryer spray with oil or layout parchment paper.
Place bagels in the air fryer, leave space between each one, baste with egg, and add seasoning. Batch cook if you need.
Cook at 330 degrees for 10 minutes or until the bagels are done.
This recipe can be used for the Ninja Foodi, Instant Pot Duo Crisp, or a classic air fryer. All air fryers heat slightly different so keep an eye on bagels to ensure you don't overcook them.
The seasoning is optional in this recipe. Feel free to leave it out, or swap it out with any or all your favorite seasonings.
Store your bagels in an airtight container to prevent them from drying out.
You can freeze your bagels for up to 3 months.
This recipe does double if you want to make extras to have on hand.
Grab my Free Kitchen Conversions Printable! This shows you how many cups are in a quart, pint, etc. A great printable to keep handy for when you need to convert a recipe.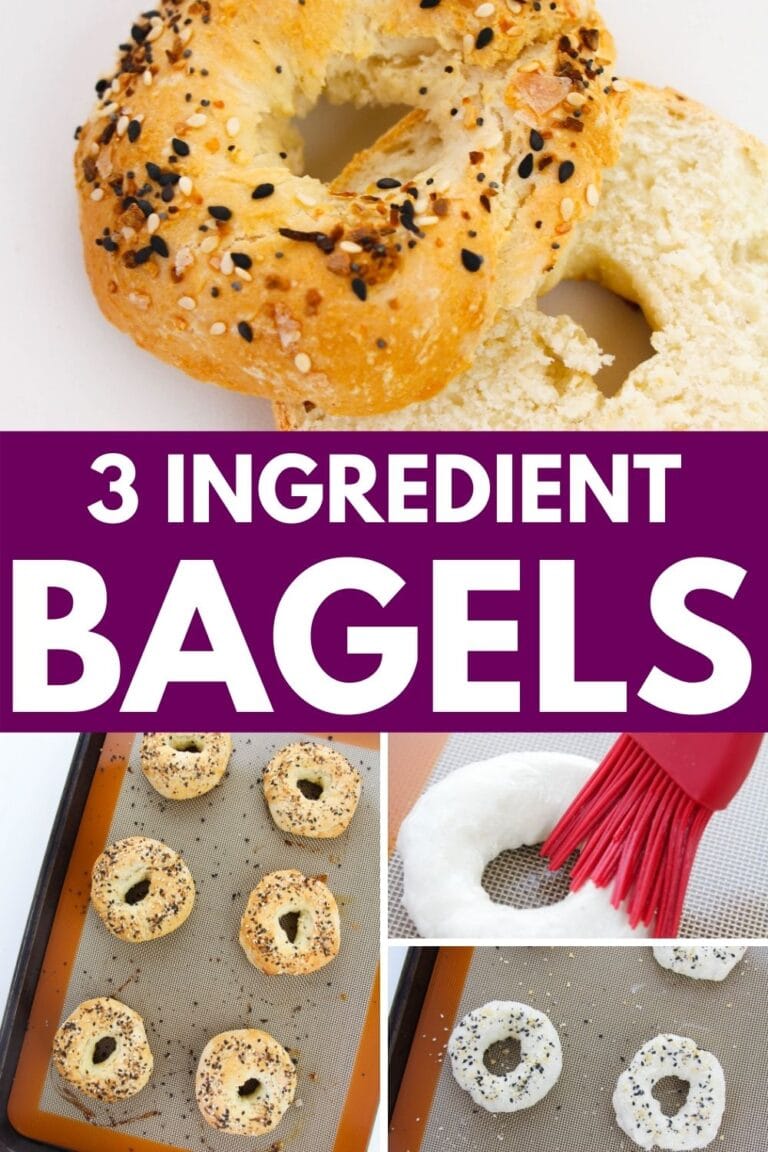 I hope you learned how to make bagels without yeast! It is a super fast and no waiting for dough to rise bagel recipe. What seasoning would you use for these 3 ingredient bagels?
Reader Interactions