Homemade Guacamole is loaded with avocado, diced tomatoes, onion, lime juice, salt and pepper. This is an authentic guacamole recipe takes minutes to make.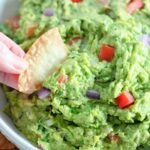 Homemade Guacamole is made with fresh ingredients like onions, tomatoes, avocados, and cilantro along with spices and fresh lime juice. Add fresh guacamole to your tacos, burritos, scrambled eggs, on toast, or to any of your favorite dishes.
Served with homemade tortilla chips, this easy guacamole recipe is a must for any occasion. It's ideal for entertaining or a lazy night at home.
If you are constantly craving Mexican food, you aren't alone! We can't get enough of my Mexican shrimp guacamole bites, Mexican chicken spaghetti casserole, or Instant Pot Mexican street corn.
Why you will enjoy this homemade guacamole…
Easy recipe for even when you are short on time.
Tastes incredible!
Family-friendly appetizer, dip, or snack.
Easy to customize to fit your personal preference.
Great for parties, tailgating, or a simple snack.
Homemade chips are the perfect flavor combination!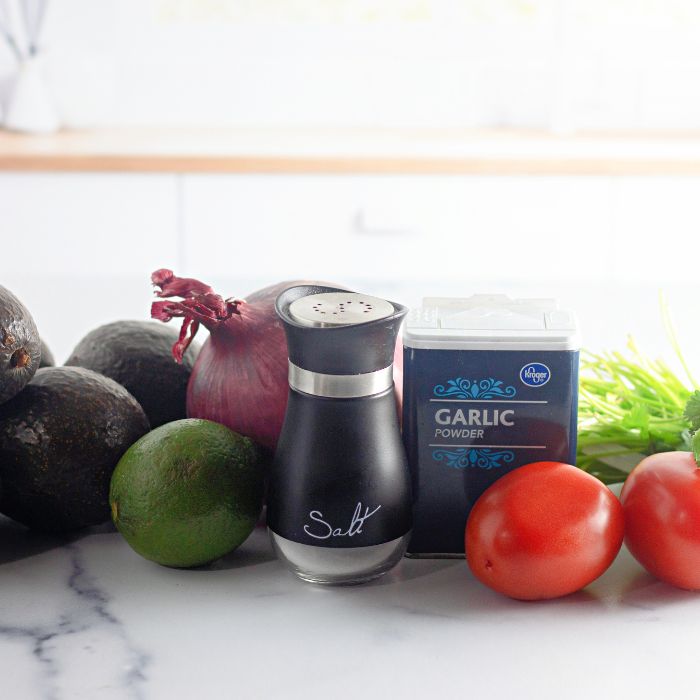 Ingredients
Avocados – Choose ripe avocados that are slightly soft to the touch. They will be the easiest to work with and will give you the best flavor.
Lime Juice – Nothing beats fresh lime juice! Stay away from the pre-packaged juice because it won't have as bold of a flavor as fresh does. Consider using this lemon and lime squeezer, it is great for getting the most out of your citrus.
Seasonings – You'll need a combination of salt and garlic powder to give the homemade guacamole the ultimate flavor
Tomato – We prefer to use Roma tomatoes because they hold their shape well when diced and taste great too.
Onion – Add some purple onion to really enhance the flavors! It's fine to adjust the amount based on your preference. Try this vegetable chopper to create evenly sized pieces of onion.
Cilantro – It's best to use fresh cilantro, not only because it tastes better, but you can also use it as a vibrant garnish too.
Corn tortillas – If you haven't made your own chips yet, now is the time! It's also fine to swap the corn tortillas for flour.
Oil – Vegetable oil is our preference for frying tortilla chips, however, you could use your favorite type of oil instead.
How to Make
You can find the full written directions in the printable recipe card on how to make guacamole.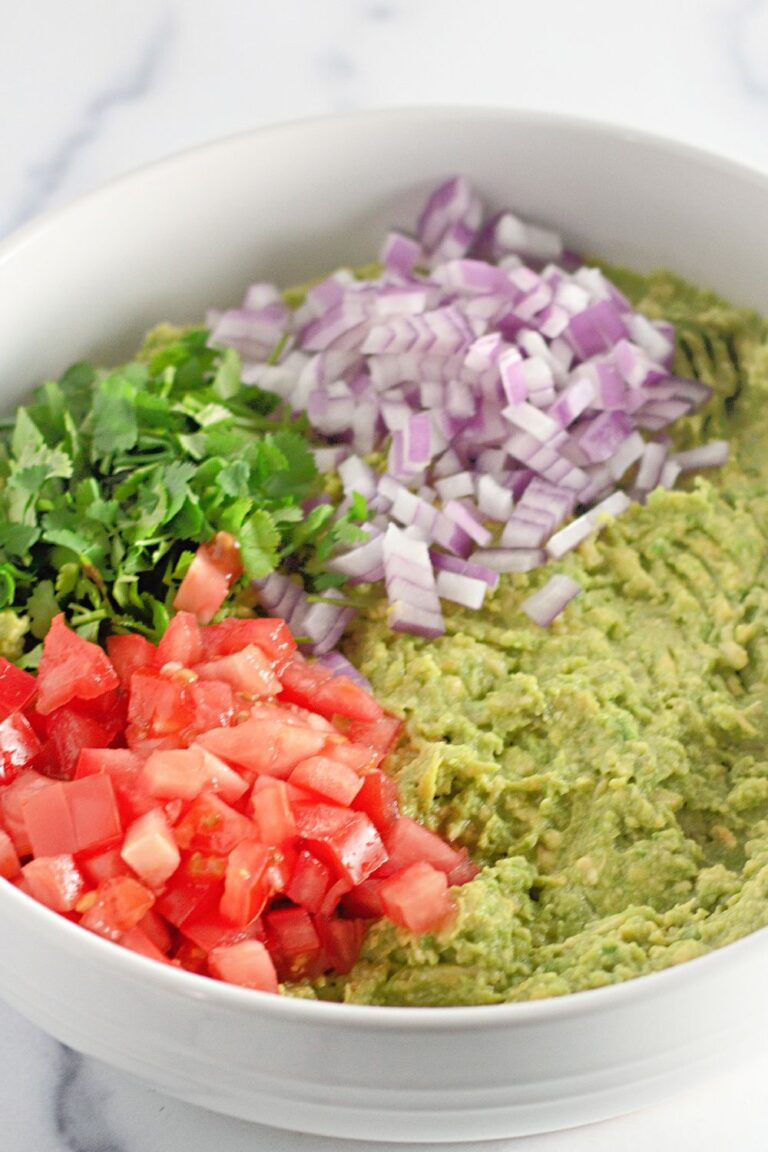 Place the cut avocados in a mixing bowl and mash. Then drizzle in the lime juice and sprinkle with salt and garlic powder. Stir well.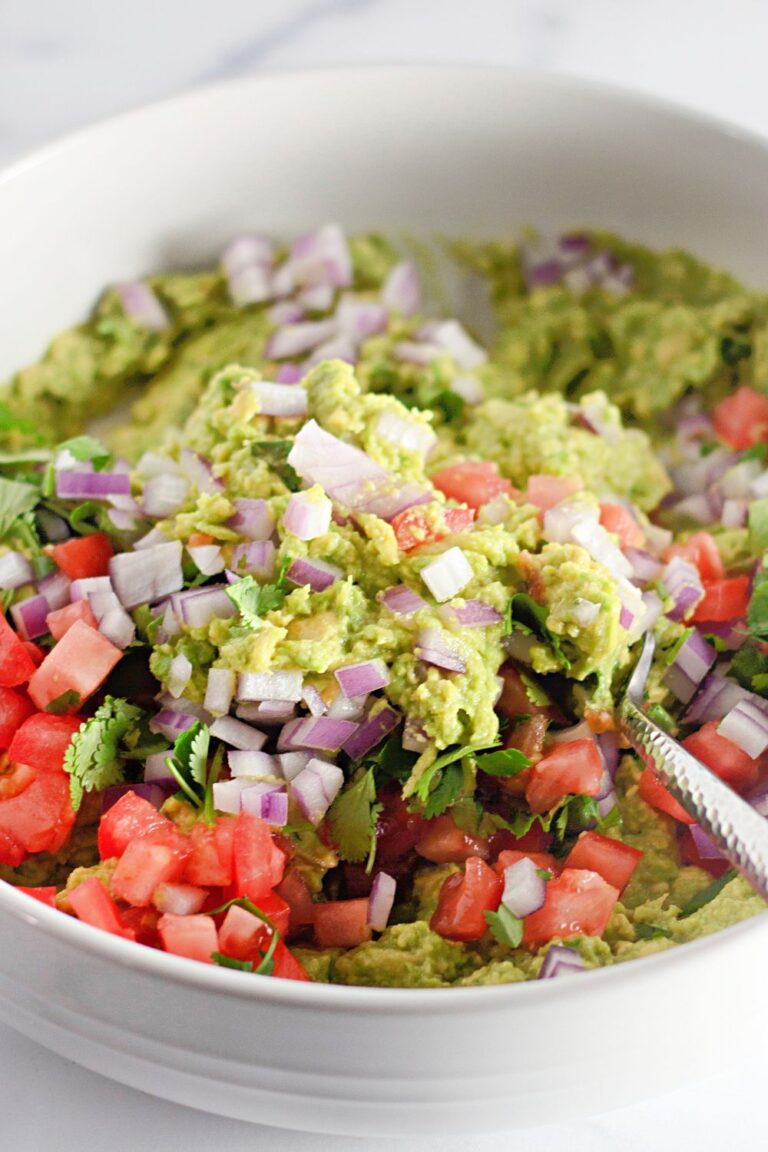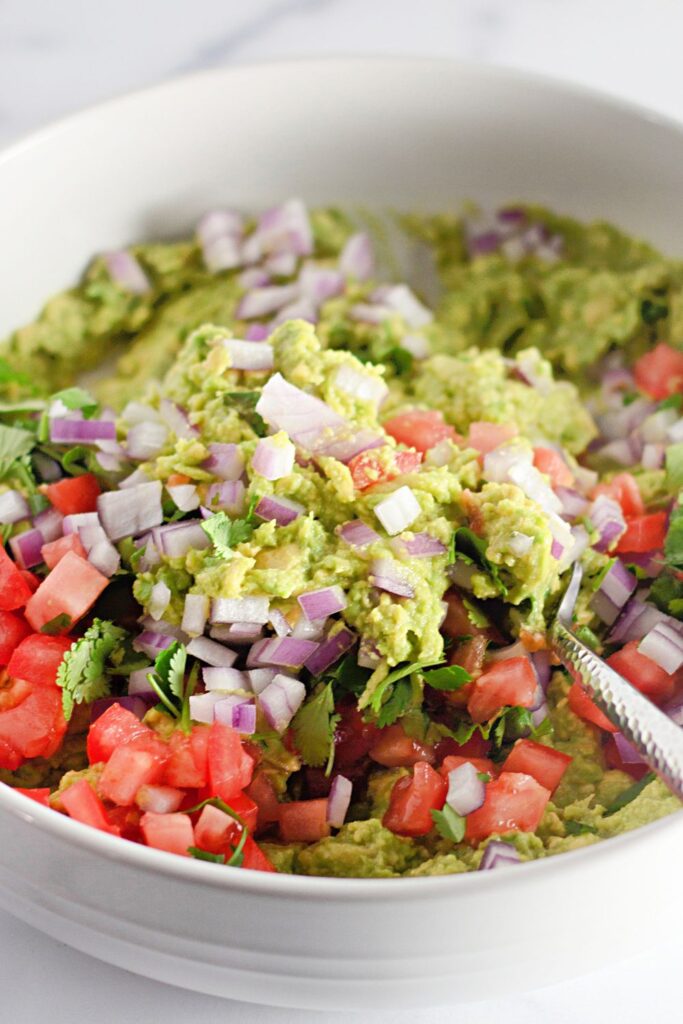 Mix in the tomatoes, cilantro, and onions. Stir until blended. Season to taste as you would like.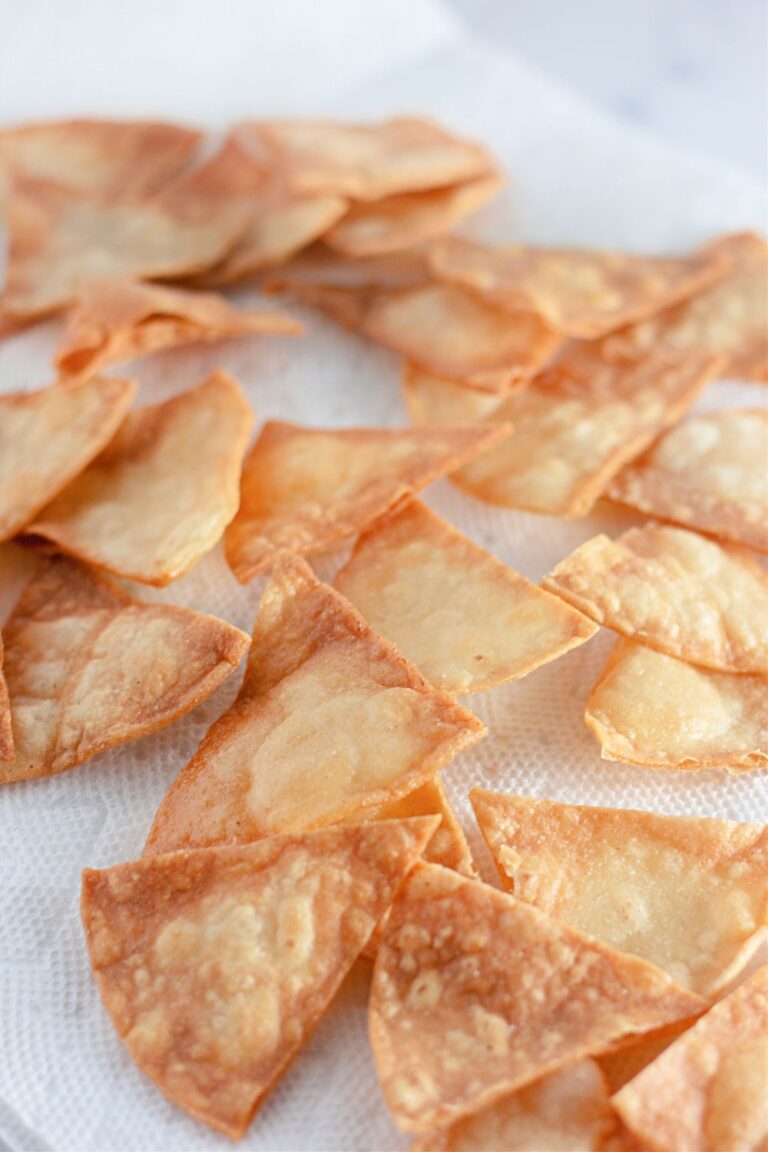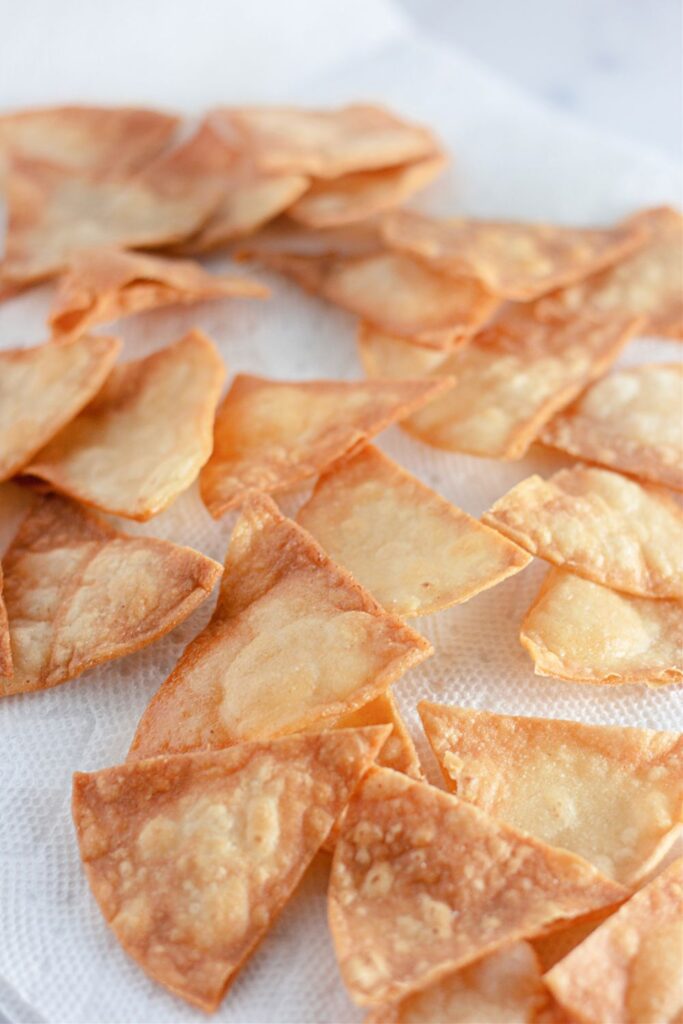 Cut the tortillas into 8 wedges and heat in a heavy skillet with hot oil. Fry until golden brown and drain on a paper towel-lined plate. Add salt and serve with fresh guacamole. Enjoy!
Top Tips
The avocados you pick will affect the final results, so don't choose an avocado that is too ripe or underripe. When you give the avocado a slight squeeze it should feel slightly soft.
When you overmix the guacamole the texture will be affected. Instead, just stir until the ingredients are incorporated, and serve.
If you want more salt, go ahead and add another sprinkle!
It's okay to add fresh jalapenos for a kick or add more seasonings to taste. Another option is to add red pepper flakes for some heat.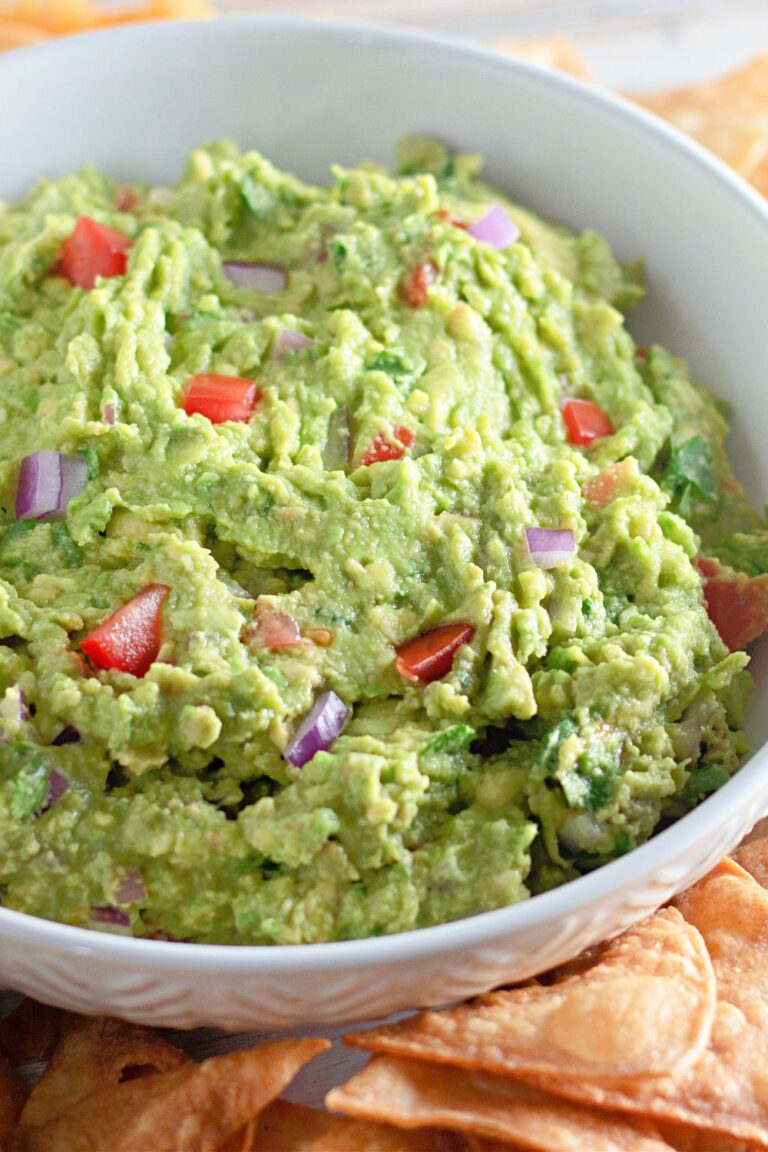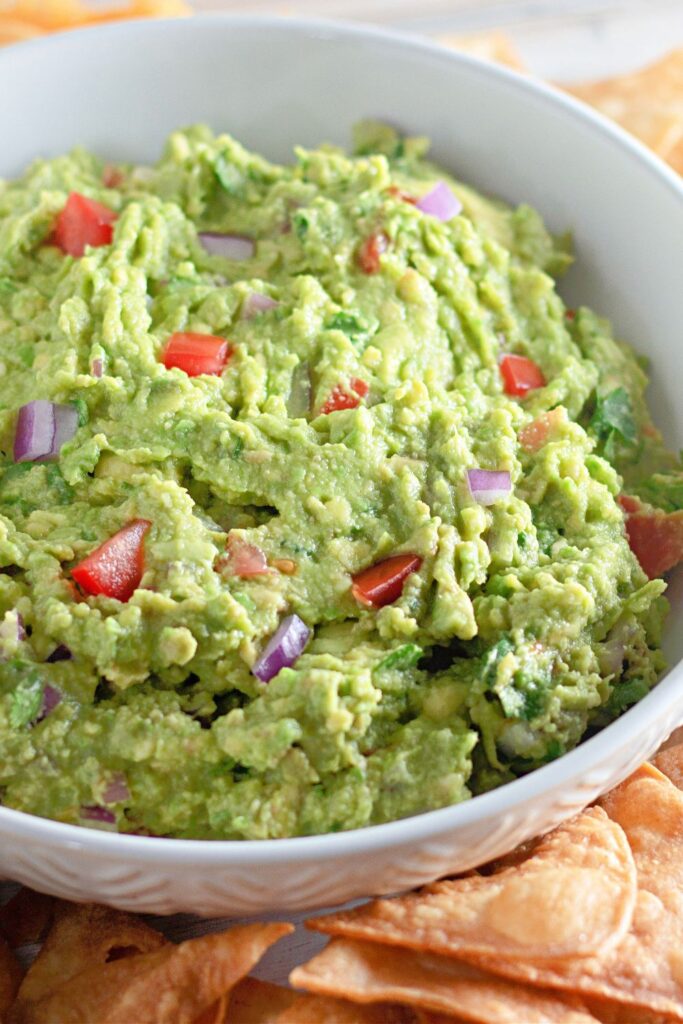 Storing
Before storing leftover guacamole, drizzle with more fresh lime juice. This will help prevent it from turning brown. Then keep in an airtight container in the fridge for up to 1-2 days.
Frequently Asked Questions
How do you serve guacamole?
Homemade guacamole can be served in all sorts of ways. It's fine on its own with tortilla chips, but there are many options! Add it to any of your favorite Mexican-inspired dishes. Use it to add flavor to your fish, steak, or pork. Mix it into scrambled eggs or enjoy it spread on a sandwich.
Can I make guacamole without cilantro?
Of course! Leave it out entirely, or swap it for another fresh herb, such as parsley or oregano. If you leave out the cilantro, you may want to increase the salt and add some extra garlic powder. Taste test it before serving and add extra seasonings as desired.
What can I use instead of lime juice?
If you don't have or don't want to use lime juice, it's fine to use lemon juice instead. No matter which juice you use, be sure it's fresh to get the most out of this easy guacamole recipe!
What is the healthiest thing to eat with guacamole?
Fresh crisp veggies are best for dipping into guacamole. Carrot sticks, celery, cucumbers, etc. Or you can use rice cakes or even pork rinds to still reach for that crunch factor.
Are there any benefits to eating guacamole?
Guacamole is loaded with fresh vegetables and especially avocado. Avocados are great for helping to lower cholesterol and lower your heart risk.
Related Recipes
Have you tried the recipe? If so, please leave a star ⭐️⭐️⭐️⭐️⭐️ rating in the recipe card below or drop a comment. Also stay in touch with me through social media by following me on Facebook, Pinterest, or My Facebook Group
Homemade Guacamole
Servings 8 servings
Homemade Guacamole is loaded with avocado, diced tomatoes, onion, lime juice, salt and pepper. This is an authentic guacamole recipe takes minutes to make.
Ingredients
6 medium avocados ripe
1 lime juiced
½ teaspoon garlic powder
½ teaspoon salt
1 Roma tomato diced
1/3 cup diced purple onion
¼ cup chopped fresh cilantro
Tortilla Chips
8 medium corn tortillas
Oil for deep frying
salt
Instructions
First start by cutting up your avocados and placing them in a bowl. Remove the skin and seed.

Use a fork or masher to create a creamy texture. You are welcome to do a creamy texture or leave some chunks if you prefer.

Next add in the lime juice, garlic powder, and salt.

Add in the diced tomatoes, onions, and chopped cilantro. Mix well to combine.

Season with more salt or garlic as needed. Then serve with tortilla chips or preferred dippers. Or top your favorite Mexican cuisine.
How to Make Tortilla Chips
Start by slicing the tortillas into 8 wedges.

In a large heavy duty pot heat on medium-high heat. You want to add about 2-inches of oil in the pan. Heat to 350 degrees.

Fry the tortilla wedges in small batches, cooking for a minute on each side or until golden brown.

Place the cooked chips on a paper towel lined plate to soak up the excess oil from the chips.

Once the chips are done, sprinkle with salt, and repeat cooking more chips.
Notes
Avocado – Make sure to use fresh and ripe avocado for this recipe. Otherwise, you will find that the guacamole will lack flavor.  Season to Taste – Feel free to season the guacamole to taste. You can always add more lime juice if you need it as well.  Spicy – Want to spice up the flavor? Consider adding in some diced jalapeno. If you want remove the seeds to help tame the spice or add a few in for a spicy flavor.  Tortilla chips – You can make homemade tortillas or buy them from the store. Either will work. 
Nutrition
Serving: 1gCalories: 5kcalCarbohydrates: 1gProtein: 0.2gFat: 0.03gSaturated Fat: 0.004gPolyunsaturated Fat: 0.01gMonounsaturated Fat: 0.004gSodium: 146mgPotassium: 29mgFiber: 0.3gSugar: 0.3gVitamin A: 69IUVitamin C: 4mgCalcium: 4mgIron: 0.1mg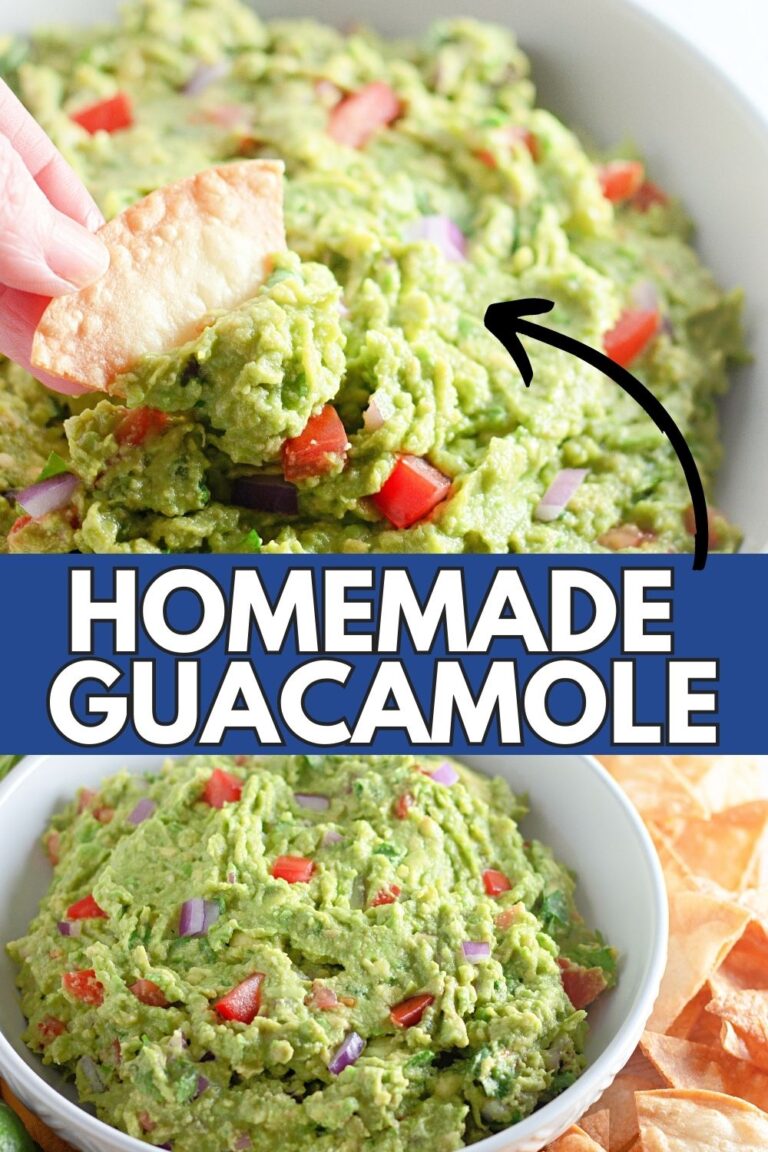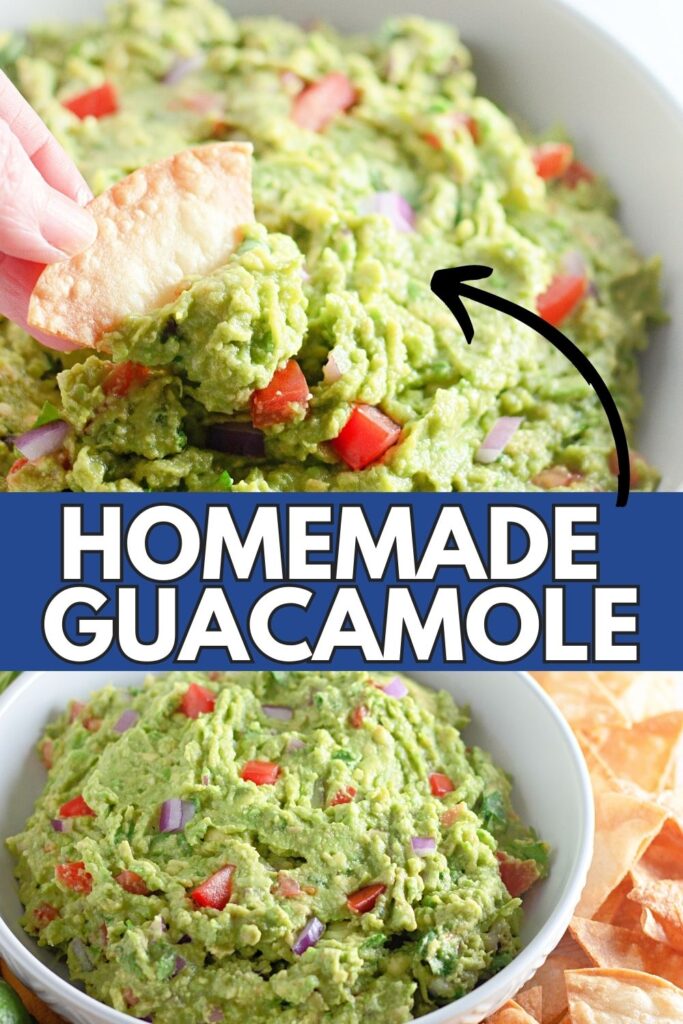 Reader Interactions