These shrimp tacos are filled with seasoned shrimp, cabbage, Cotija cheese and a homemade crema sauce. The shrimp taco sauce truly elevates the flavor of these Mexican tacos.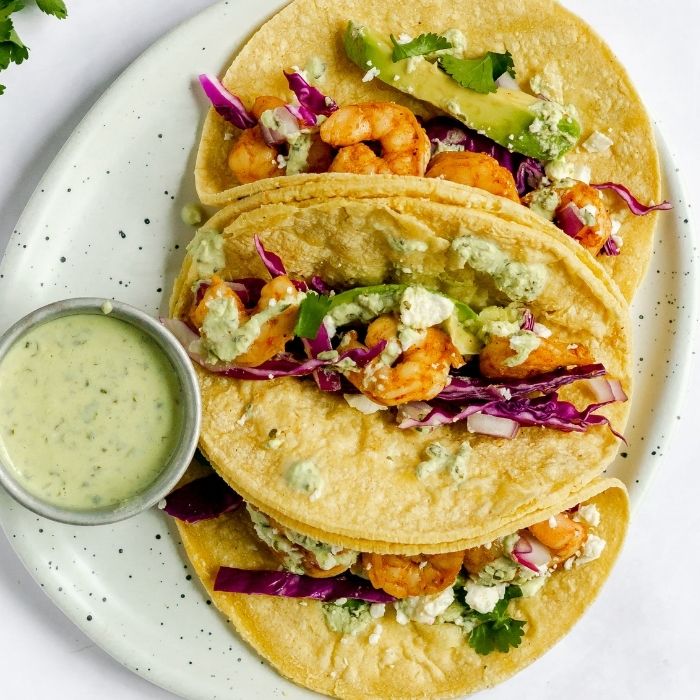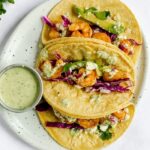 Shrimp tacos are the perfect dinner any night of the week. A marinated shrimp that is sauteed on the stove and then paired with corn tortillas and a homemade crema sauce recipe that is dynamite. This taco recipe with shrimp is outstanding. Dress up your taco Tuesday.
The warm corn tortillas paired with the spicy shrimp, cabbage slaw, and a creamy shrimp taco sauce really just gives this taco recipe restaurant quality. Give them a try for your next weeknight dinner, or serve to guests.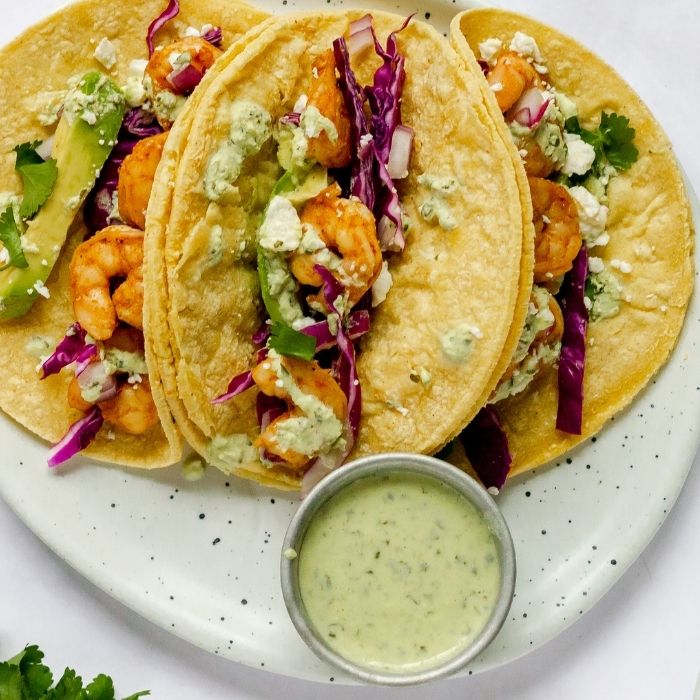 A 20 minute dinner that takes no time to come together. Pair with some crisp cabbage, cilantro and any other of your favorite taco toppings. Try my fresh spring rolls with shrimp as well for another easy weeknight meal.
This Shrimp Taco Recipe Is…
Made with fresh ingredients
Great for a busy weeknight
Homemade taco seasoning
Soft corn tortillas
Healthy shrimp recipe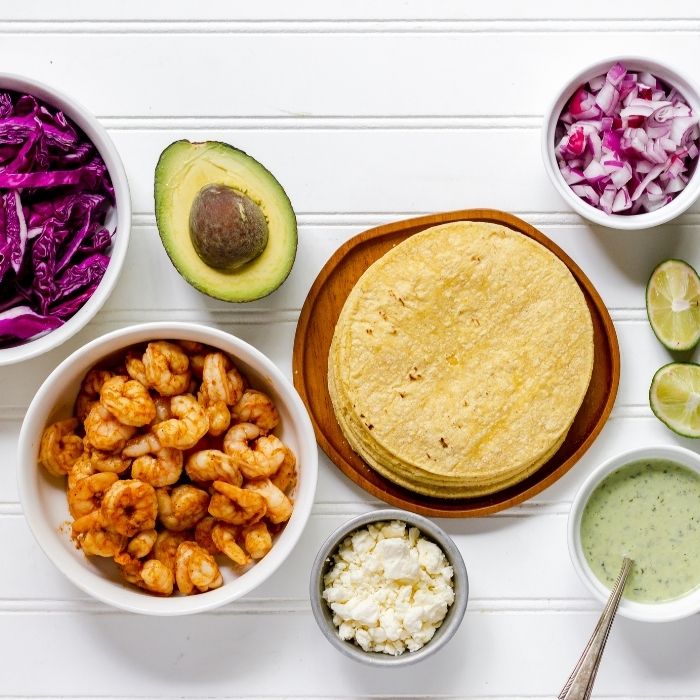 Ingredients
Fresh Shrimp – You will want to use peeled and deveined shrimp for this recipe. If frozen you can thaw the shrimp first and then marinate.
Seasoning Mix – Chili powder, cumin, onion powder, black pepper, paprika, pepper flakes
Oil – Any oil works, we tend to use canola or vegetable oil.
Fresh Cilantro – This is optional, you are welcome to leave it out if you are not a fan of cilantro.
Garlic – Mince your garlic, or buy jarred minced garlic.
Salt
Lime
Sour Cream – If you do not want to use sour cream you can use a plain Greek yogurt instead.
Corn Tortillas – I used yellow corn but feel free to use any tortillas you want. Even flour tortillas.
Purple Cabbage – Shred up some purple cabbage for a nice crunch to your tacos.
Avocado – You can use fresh avocado or reach for guacamole to replace.
Red Onion
Cotija Cheese
How To Make
Full steps for how to make shrimp tacos are in the printable recipe card at the bottom of the post. This is a visual walk through.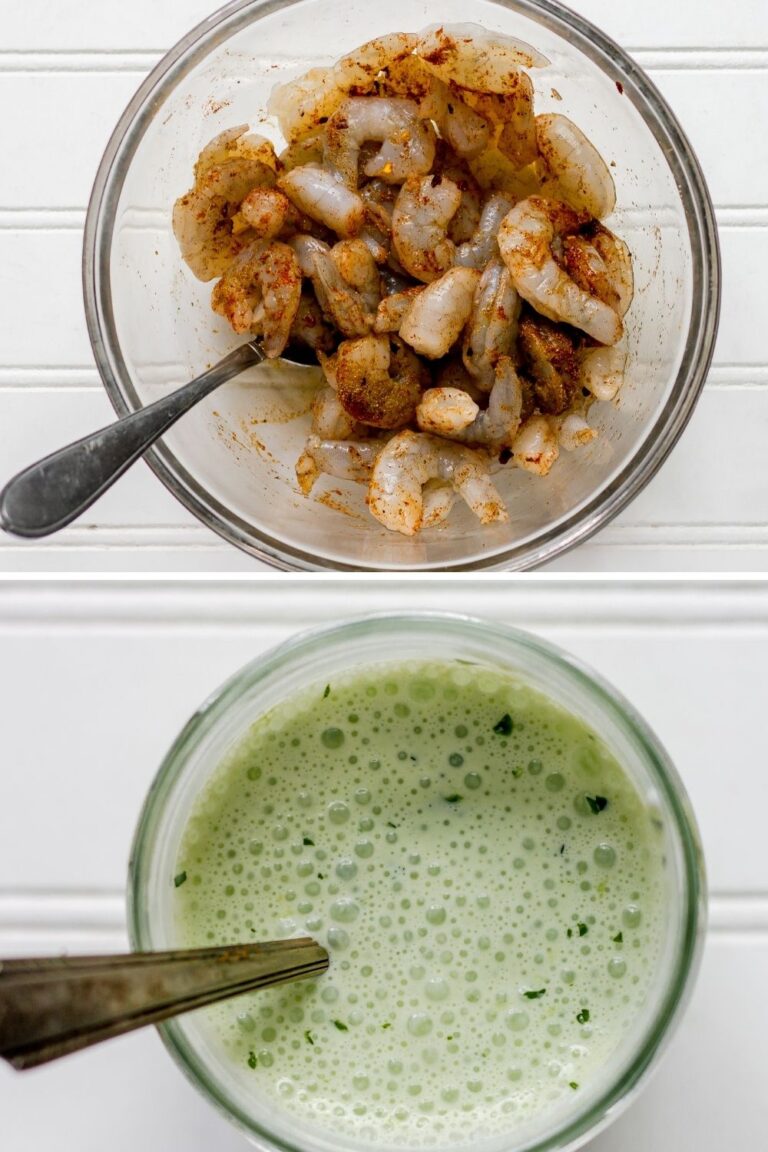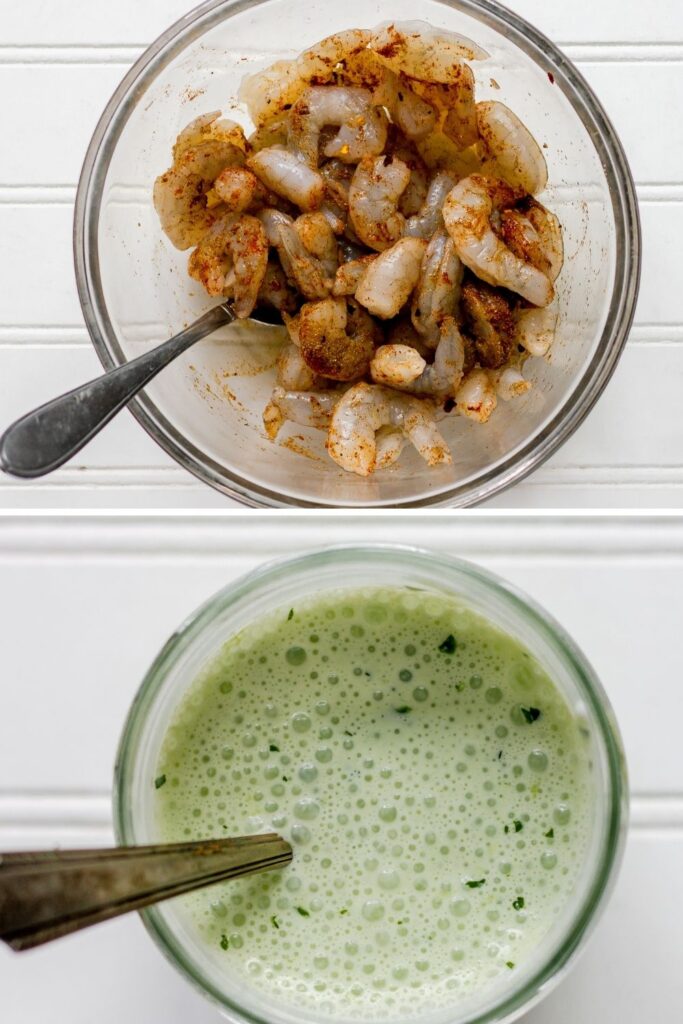 Step One: Add all your spices in a bowl and add in the prepared shrimp. Coat the shrimp fully.
Step Two: Heat a skillet over medium heat with the oil and once hot toss in the shrimp and fully cook your shrimp.
Step Three: Next you will transfer the cooked shrimp to a plate. Then set aside.
Step Four: While the shrimp is cooking you will mix up your crema sauce. Combine sour cream, water, cilantro, garlic, salt, and lime juice. Mix well.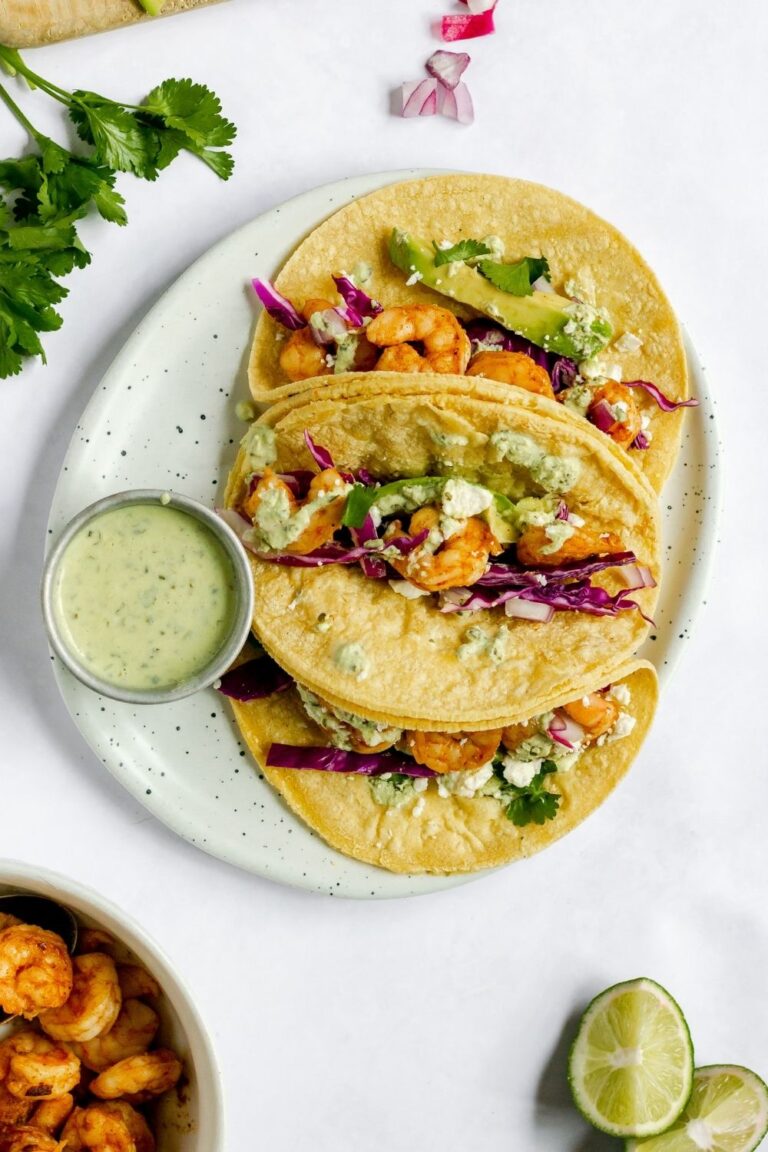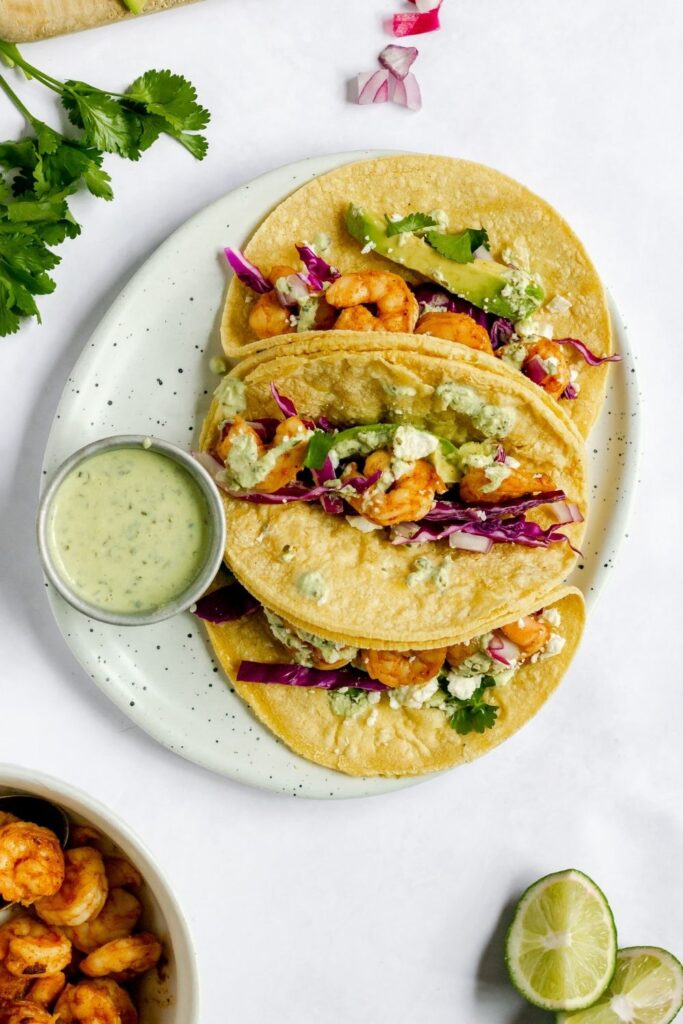 Step Five: Heat up your tortillas, add in some shrimp, cabbage, red onion, avocado, cheese, and drizzle with crema.
Storing Leftovers
If you happen to have leftovers, simply store in an airtight container in the fridge. I recommend storing the shrimp separate from the rest of the ingredients. That way it stays freshest. Same for the leftover cabbage and other ingredients.
Then you can heat and assemble the tacos. The shrimp will store for 2-3 days easily, and then after that use best judgement in terms of keeping or tossing. I only like to keep seafood for 2-3 days max once cooked.
Variations to Recipe
If you don't want to make a homemade shrimp seasoning you can use store bought taco seasoning.
Skip the cilantro if you are not a fan.
Use flour tortillas in replace of corn tortillas.
Skip the cabbage and do lettuce instead.
How To Toast Tortillas For Tacos
Here is a two ways you can toast your tortillas for tacos! It is simple to do and will really help bring out all the flavors of the corn tortillas.
Skillet Method – Heat up a heavy duty skillet, and then heat on medium high heat. Once it is nice and hot place the tortillas in a single layer. Depending on size of pan depends how many you can cook at once. Cook for about 30 seconds per side.
Gas Stove – Turn your stove to medium low heat, and toast your tortillas on top of the flame. Use long tongs and then flip every 3-5 seconds to prevent burning. Then once nice and toasted, repeat the process.
FAQs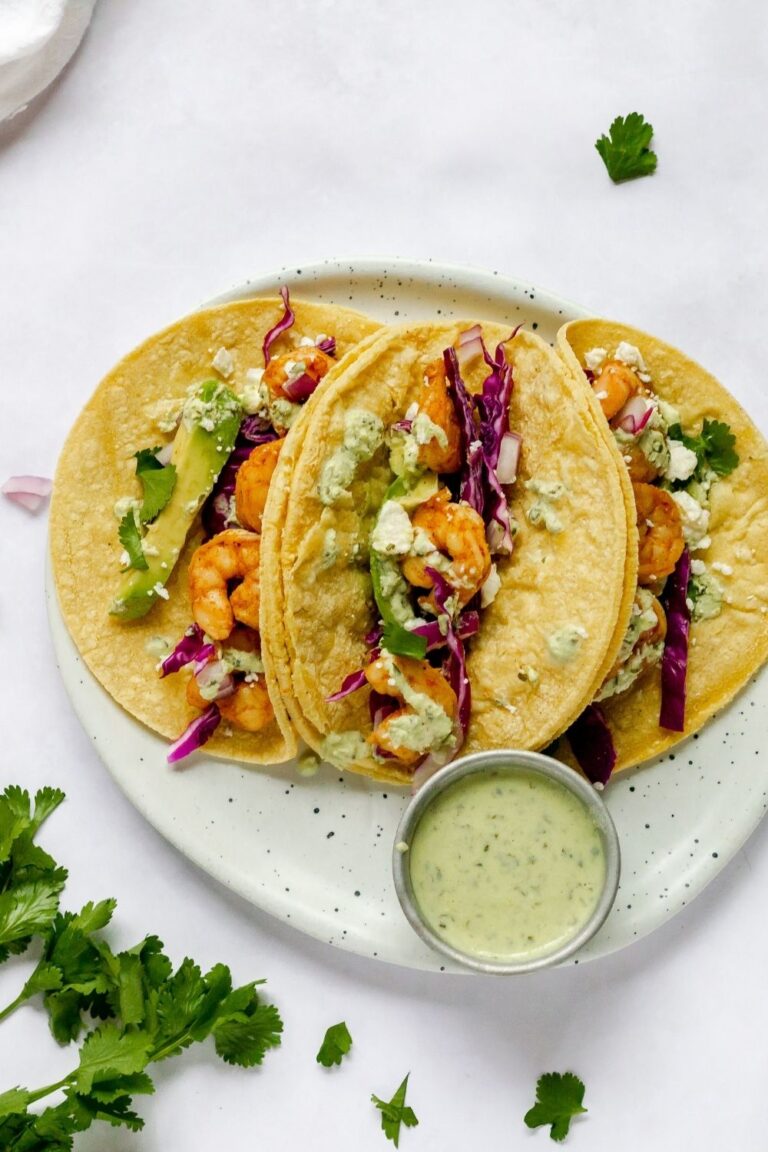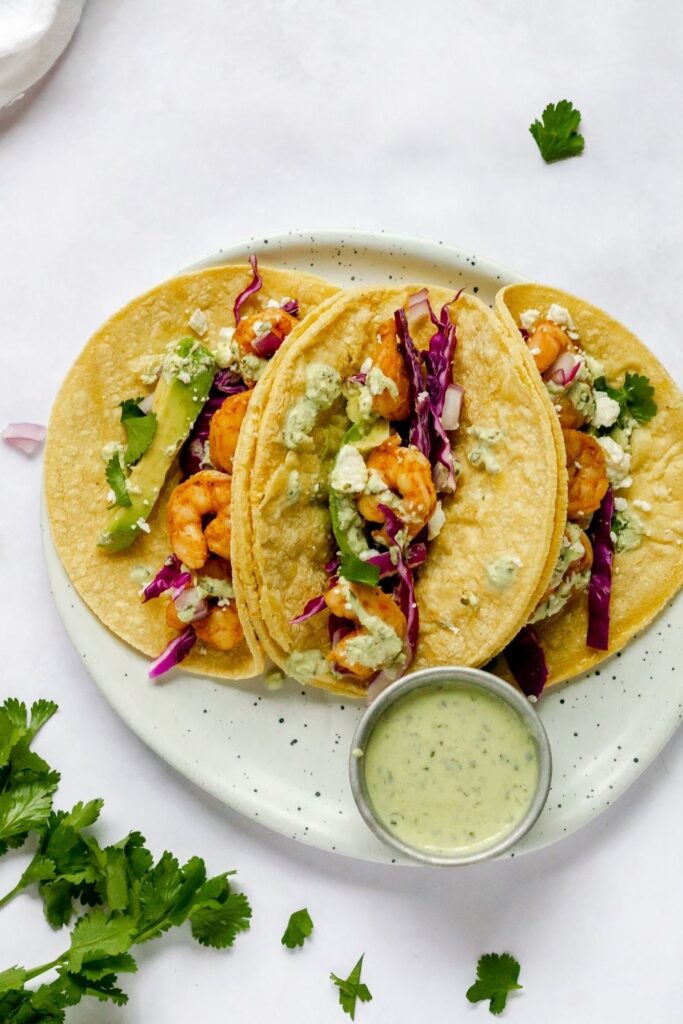 Related Recipes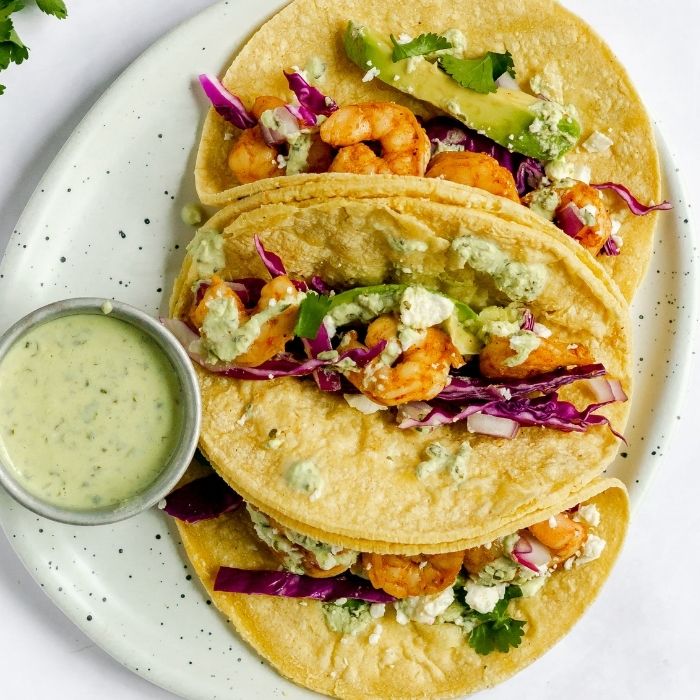 Shrimp Tacos
Servings 3
These shrimp tacos are filled with seasoned shrimp, cabbage, Cotija cheese and a homemade crema sauce. The shrimp taco sauce truly elevates the flavor of these Mexican tacos.
Ingredients
Shrimp Taco Seasoning
1 pound shrimp peeled and deveined
3/4 teaspoon chili powder
3/4 teaspoon cumin
1/4 teaspoon Cayenne pepper flakes
1/2 teaspoon onion powder
1/2 teaspoon black pepper
1/2 teaspoon paprika
1 tablespoon oil
For the Tacos
8 6 inch corn tortillas
2 cups red cabbage shredded
1 medium avocado
4 ounces Cotija cheese
1/2 cup red onion sliced
1 medium lime cut into wedges
Cilantro Crema
2 tablespoons water
2 cloves garlic minced
1/2 cup sour cream
1/2 teaspoon salt
2 limes juiced
1/2 cup cilantro minced
Instructions
In a bowl you are going to add all your spices. Chili powder, cumin, onion powder, black pepper, paprika, cayenne pepper, and then the shrimp.

Toss to coat the shrimp fully.

Heat a skillet over medium heat and then add in the oil and get it nice and hot.

Toss shrimp in and cook until it is fully cooked. Once cooked remove from the skillet and place on a plate. The shrimp will curl in, and become pink and opaque once fully cooked.

White the shrimp is cooking add your ingredients for crema sauce in a bowl and whisk to combine.

Heat up your corn tortillas and then assemble your tacos with all your favorite toppings and a drizzle of crema sauce.
Nutrition
Serving: 4gCalories: 662kcalCarbohydrates: 56gProtein: 44gFat: 33gSaturated Fat: 11gPolyunsaturated Fat: 4gMonounsaturated Fat: 14gTrans Fat: 1gCholesterol: 300mgSodium: 1076mgPotassium: 1226mgFiber: 13gSugar: 7gVitamin A: 1556IUVitamin C: 65mgCalcium: 456mgIron: 4mg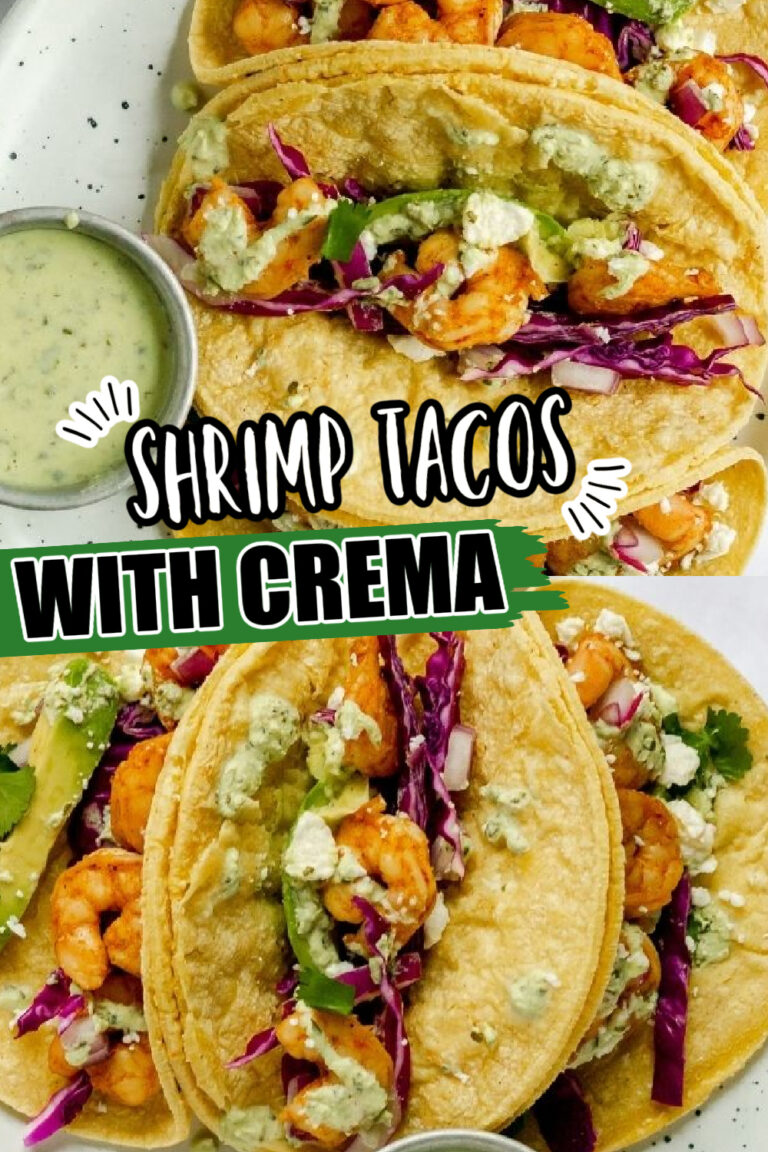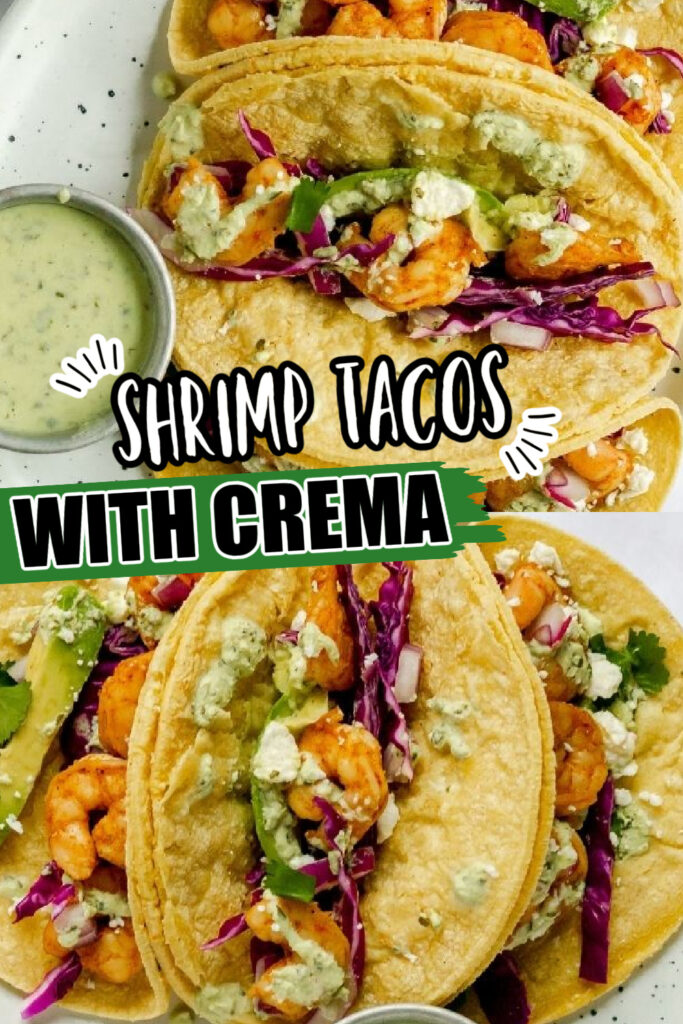 Reader Interactions