Fresh spring rolls that are veggie packed and paired with shrimp. This gluten free spring roll recipe has a video to walk you through step by step how to make spring rolls.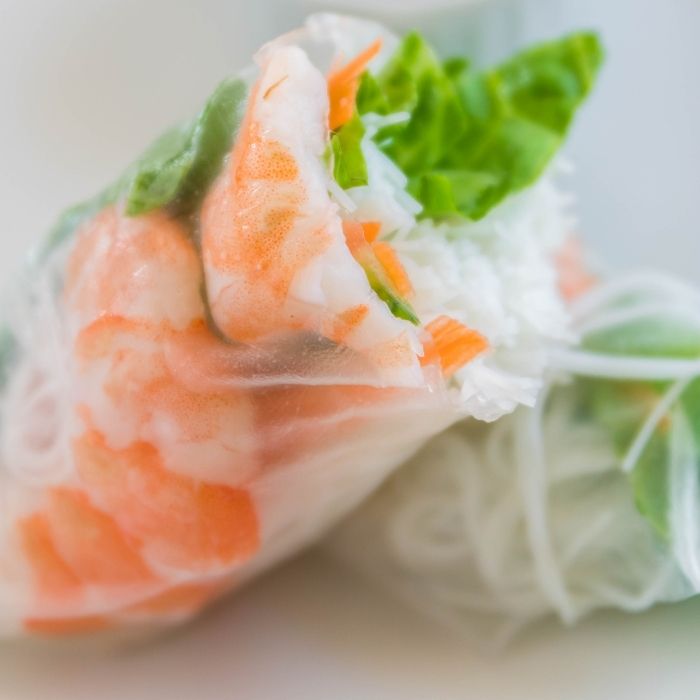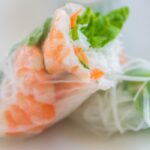 Fresh spring rolls are packed with crisp fresh veggies, and juicy shrimp and are ready to be dipped into a homemade peanut sauce. These shrimp spring rolls are light and refreshing. A delicious and easy summer rolls recipe, that you can find at Thai or Asian markets. The peanut dipping sauce is out of this world, and a compliment to this perfect spring roll recipe.
I first had these as vegan spring rolls at our local Thai restaurant. I came home and knew I had to make them, with some adjustments. The peanut sauce for the spring rolls is phenomenal! Give this spring roll recipe a try for a light lunch or appetizer. I share a video tutorial on how to make homemade spring rolls.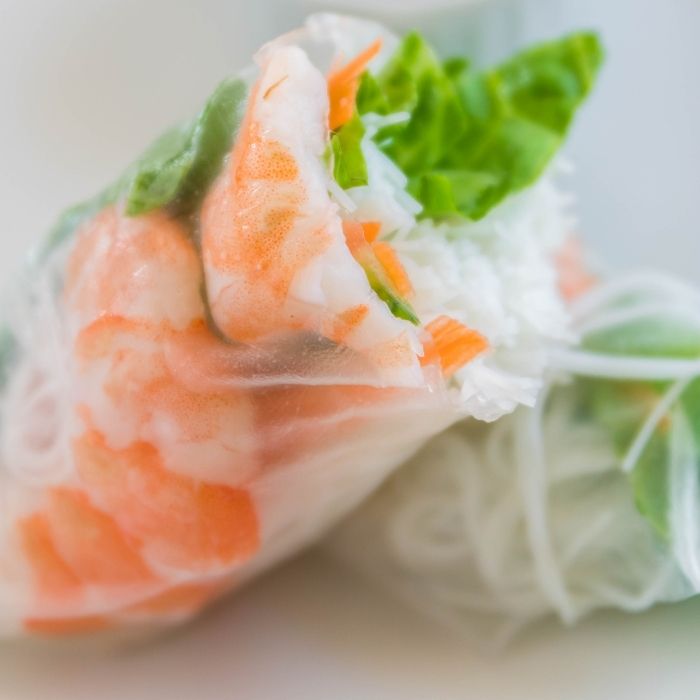 With a few steps, and some fresh produce you too can make these rice paper rolls or rice rolls. They are called different things depending on where you live. Try my cold shrimp salad recipe as well for another healthy shrimp recipe.
These Spring Rolls Are…
Quick and easy to make. If you use shrimp cocktail there is no cooking that is needed.
Made with fresh produce so each bite is crisp and refreshing. You will find each bite is crunchy.
A healthy appetizer or even lunch or dinner option for you to whip up.
Very easy to adjust the filling to fit your personal preference. If you don't like something simply leave it out.
Can be made vegan if you are a vegan or want a vegetarian spring roll recipe.
Thai restaurant inspired, along with the creamy peanut butter sauce for dipping.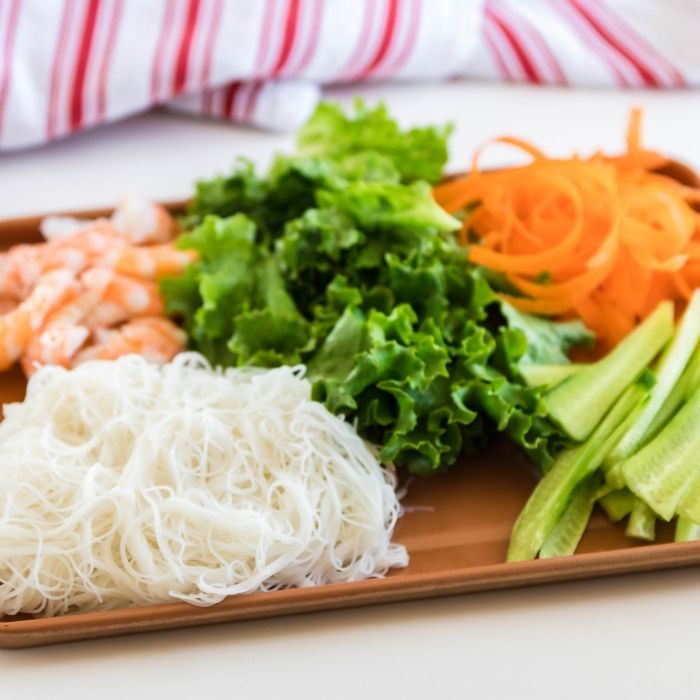 Ingredients
Rice Paper Rolls – I got ours at Walmart you will find that depending on where you live there are different brands.
Vermicelli Noodles – These are optional but they do help add filling to the spring rolls. You just want to use thin rice noodles if you opt to place noodles in the rolls.
Lettuce – You will slice up the lettuce, a piece of lettuce filled in the rice-paper wrappers.
Cucumbers – Slice into very thin strips.
Carrots – I used a peeler to create very thin strips. I used my Julienne peeler to get this. I find prepping whole carrots over mini carrots offers better flavor.
Shrimp – Pre-cooked shrimp that is sliced in half. I used medium-sized shrimp. Now you can leave out the shrimp or replace it with chicken, pork, or even steak.
Peanut Sauce Ingredients
Peanut Butter – I recommend using creamy.
Rice Vinegar
Soy sauce – You can use low-sodium or Tamari
Honey – Agave can also be used as a sweetening agent. Or if you need a sugar-free alternative go right ahead.
Sesame Oil
Water
How to Make
Learn how to make spring rolls, this is a quick walkthrough. The full directions are in the printable recipe card below.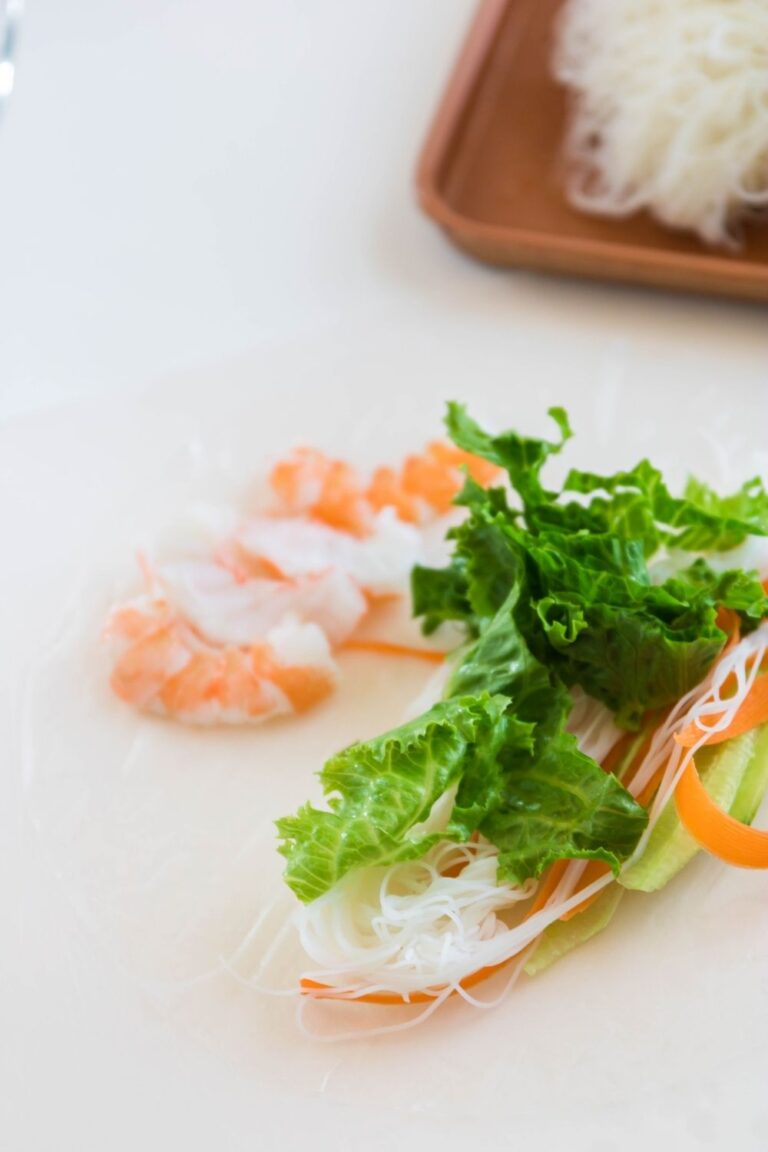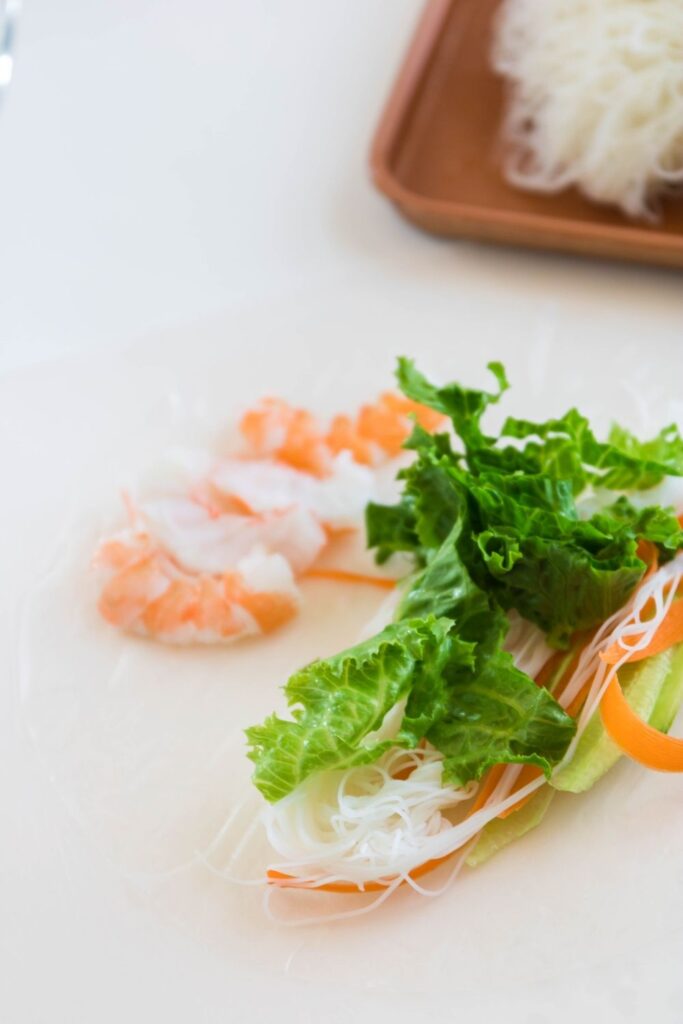 First, cook your noodles as directed on the package. Then drain and run under cold water.
Next, fill a pie plate with a few tablespoons of water. Then dip your rice paper in the water for about 20 seconds give or take. You want the paper to be pliable but don't let it become too soft. Depending on the brand the water time varies.
Place rice paper on the work table and add on all your vegetables, and the shrimp.
Now you will roll tightly and make sure to pull in the sides like rolling a burrito.
Repeat till they are all done. Dip a paper towel in water, and then place it over the spring rolls to keep them damp.
Finally, for making the peanut sauce mix the ingredients together and then serve with your shrimp spring rolls.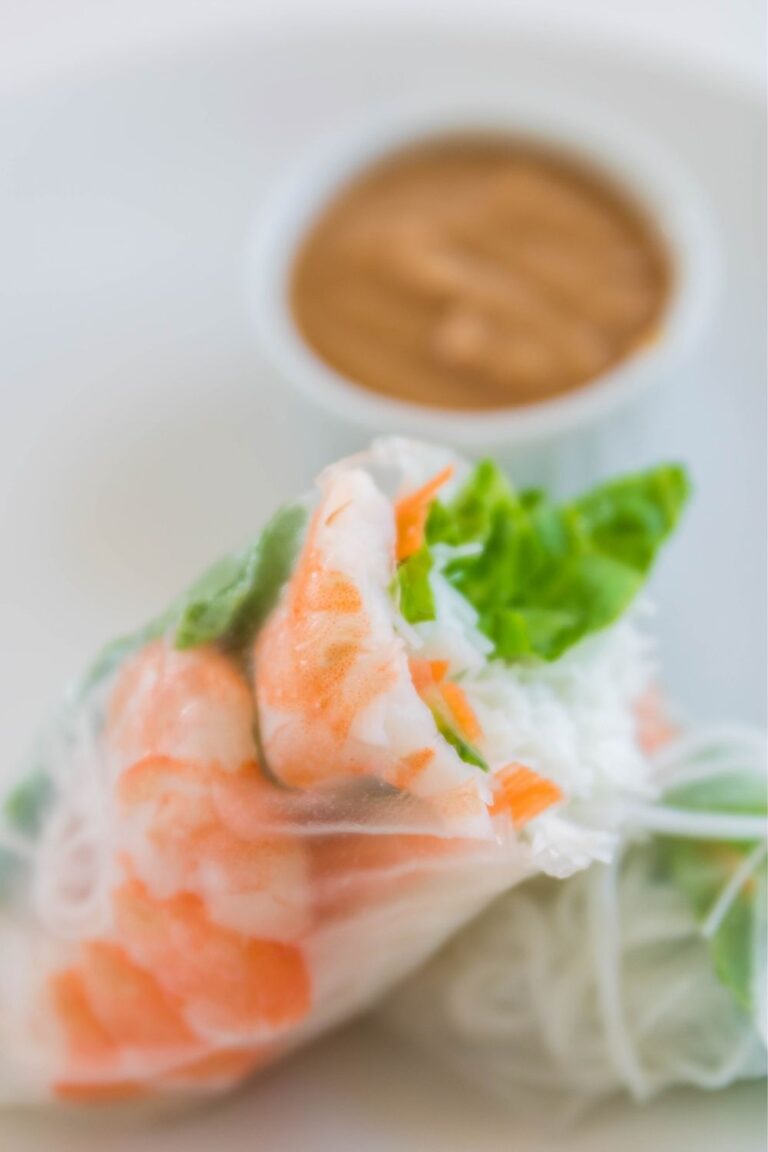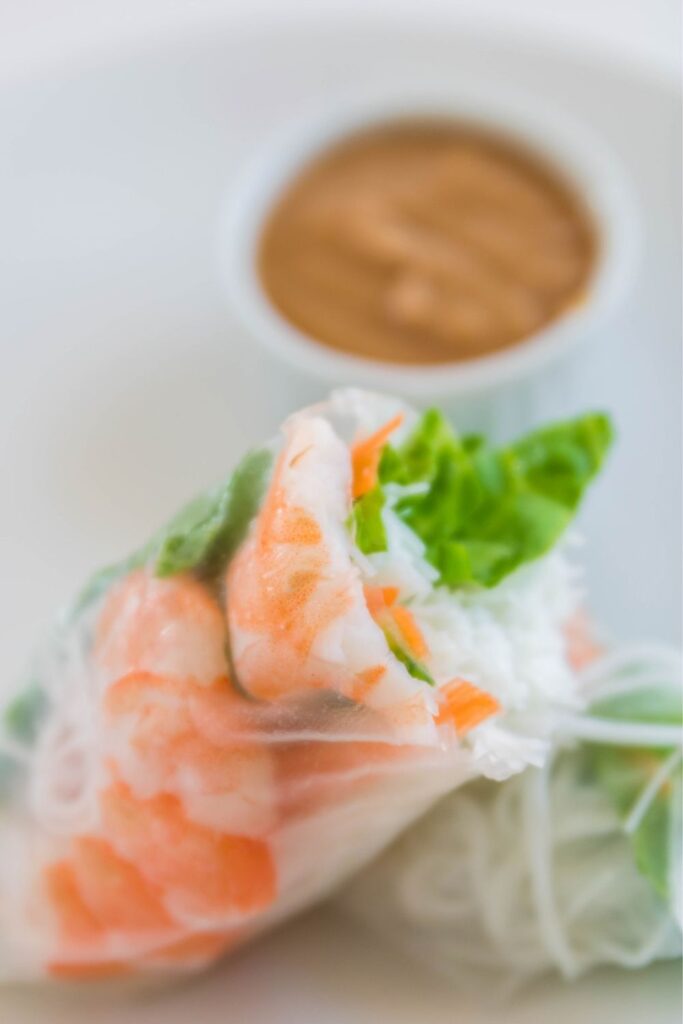 Storing
You can store these spring rolls for 2-3 hours once they are made. The rice paper rolls can dry out, so if you do want to make them, you have to place damp paper towels over the top of the spring rolls.
Otherwise, they will become dry, and you can find the paper becomes chewy.
Variations To Recipe
Leave out the noodles or swap even with brown rice noodles
Cilantro
Any spring vegetables you want
Fresh Mint
Add chili sauce for a kick of spice.
Leave out the shrimp to make vegan
Add in chicken, steak, or even pork that is thinly sliced
Dice up red or green cabbage
Bell Peppers
Etc.
Tips on How to Work With Rice Paper Wraps
Soften the Rice Paper – When you go to soak the paper, you want to place in warm water. Use a shallow dish, and submerge it for just 10-15 seconds. Don't oversoak or it will become too difficult to handle.
Damp Towel – Place your wet rice paper on a damp paper towel so it doesn't stick to the surface. This will help in wrapping.
Don't Overfill – Make sure to not overfill the rice paper wrap. If you do, it will make it hard to wrap the rice paper. Work quickly as the paper wrap needs to be wrapped quickly after it has been dipped.
Rolling – Start by folding the sides in, and then roll the bottom edge over the filling, and wrap it tightly. This takes time and practice.
Cover With A Damp Paper Towel – Once you wrap your rice paper wraps place a damp paper towel or rag on top. This is going to keep the papers from drying out until you serve them up.
FAQs
Related Recipes
Have you tried the recipe? If so, please leave a star ⭐️⭐️⭐️⭐️⭐️ rating in the recipe card below or drop a comment. Also stay in touch with me through social media by following me on Facebook, Pinterest, or My Facebook Group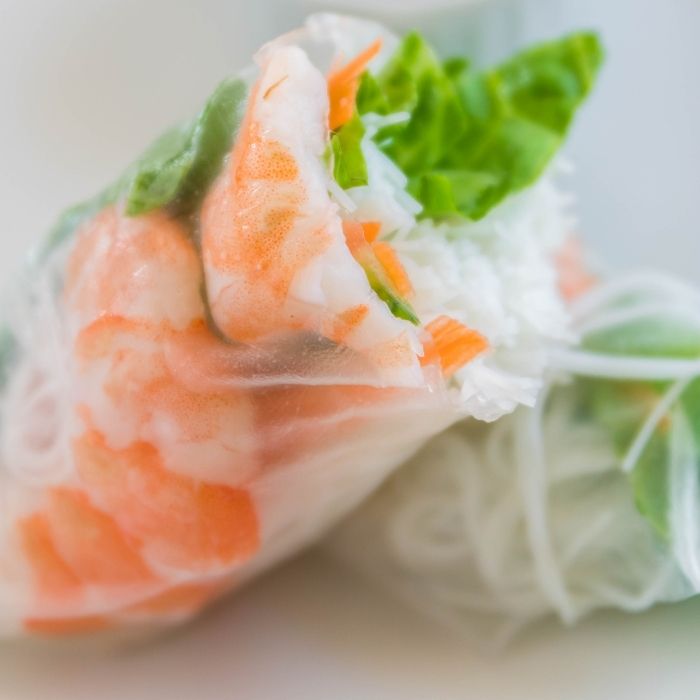 Fresh Spring Rolls
Servings 6
Fresh spring rolls that are veggie packed and paired with shrimp. This gluten free spring roll recipe has a video to walk you through step by step how to make spring rolls.
Ingredients
Spring Rolls
8 sheets rice paper wraps
1 tablespoon honey
1 small cucumber thinly sliced
1 carrot thinly sliced
3 tablespoons water
1/2 pound shrimp cooked and sliced in half
4 ounces rice noodles cooked and cooled
Peanut Sauce Ingredients
1/3 cup peanut butter creamy
2-3 tablespoons water
2 tablespoons rice vinegar
1 1/2 tablespoons soy sauce
1 teaspoon honey or 2 teaspoons for sweeter
1/2 teaspoon Hoisin
1 tablespoon sesame oil
Instructions
How to Make Peanut Sauce
Start by adding the peanut butter, hoisin, soy sauce, rice vinegar, honey, sesame oil, and water.

You can mix up the ingredients and add the water to make it as thick or thin as you would like.
How to Make Spring Rolls
Cook your rice noodles as directed on the package. Then once done, drain and run under cold water.

Prep all of your vegetables ahead of time. Wash and slice thinly. I used my Juilenne slicer for carrots.

Fill a shallow pie pan with a few tablespoons of water. Then dip one of your rice paper wrappers in the water for about 15-20 seconds. You want the wrapper to be pliable. Don't let it get too soft.

Place a few slices of carrots, cucumbers, some noodles, and then shrimp on the bottom portion of the rice paper wrapper.

Begin rolling, wrapping tightly. Be gentle or it will tear the paper wrapper. Then Fold in the sides like a burrito and finish wrapping.

Cover with a damp paper towel and repeat the rest of the spring rolls.

Serve your fresh spring rolls with the homemade peanut sauce immediately.
Notes
Filling – Feel free to add different vegetables, cilantro, etc.  Shrimp – You can leave the shrimp out if you want. You can replace with sliced chicken, steak, pork or do meatless.  Storing – These are best eaten fresh. Cover in damp paper towels or it will dry out the wrapper.  Peanut Free – Swap the peanut butter with an almond butter or sunflower butter.  Vegan Spring Rolls – Leave the shrimp out and swap the honey with a maple syrup to make these vegan friendly. 
Nutrition
Serving: 8gCalories: 222kcalCarbohydrates: 27gProtein: 13gFat: 8gSaturated Fat: 1gPolyunsaturated Fat: 2gMonounsaturated Fat: 3gTrans Fat: 1gCholesterol: 61mgSodium: 422mgPotassium: 282mgFiber: 2gSugar: 6gVitamin A: 1717IUVitamin C: 1mgCalcium: 42mgIron: 1mg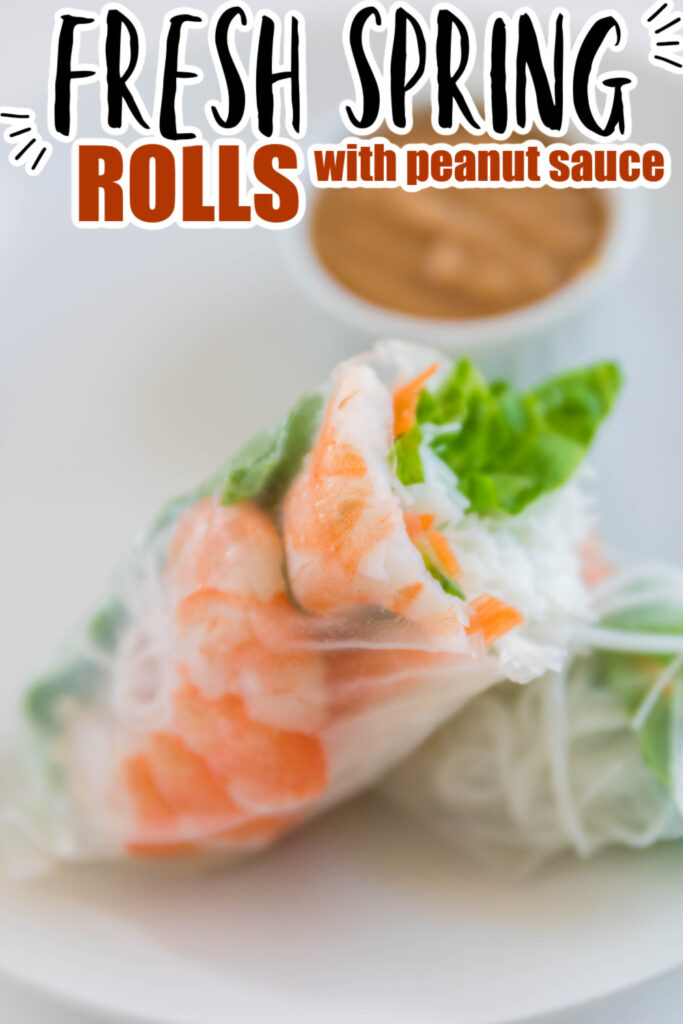 Reader Interactions