5 Ingredients is all it takes to make these blackberry biscuits! Serve up these light and flaky easy blackberry biscuits for breakfast or even dessert.
If you love fruit recipes, I have a few more for you to check out. Whip up these mini fruit tarts, strawberry rhubarb pie, fruit salsa, or black forest cobbler.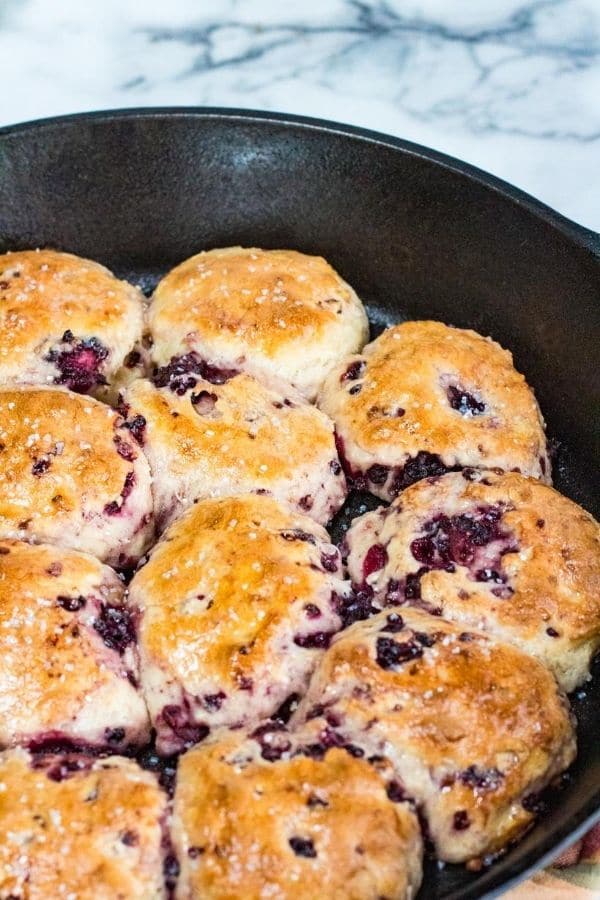 Cast iron biscuits are such a great way to get the golden brown color you want. This blackberry recipe can be made in a different oven safe skillet or even a baking dish.
Why This Recipe Is Deliciously Popular
5 Ingredient Biscuits – 5 simple pantry essentials is all it takes to make these homemade biscuits. A delicious blackberry biscuit that is so irresistible.
Blackberry Recipe – Fresh or frozen blackberries work for this easy blackberry recipe. A tasty dessert to serve up.
Quick Prep – You can whip up these biscuits in minutes and get them baking in the oven.
Cast Iron Biscuits – If you love using your cast iron, you will love the method of making cast iron biscuits.
Ingredients
Self Rising Flour
Blackberries
Buttermilk
Granulated Sugar
Melted Butter
How To Make
Step 1: Start by preheating your oven to 450 degrees if you are using a cast iron skillet or 400 degrees for a glass baking dish.
Lightly butter your iron skillet or spray baking pan with cooking spray.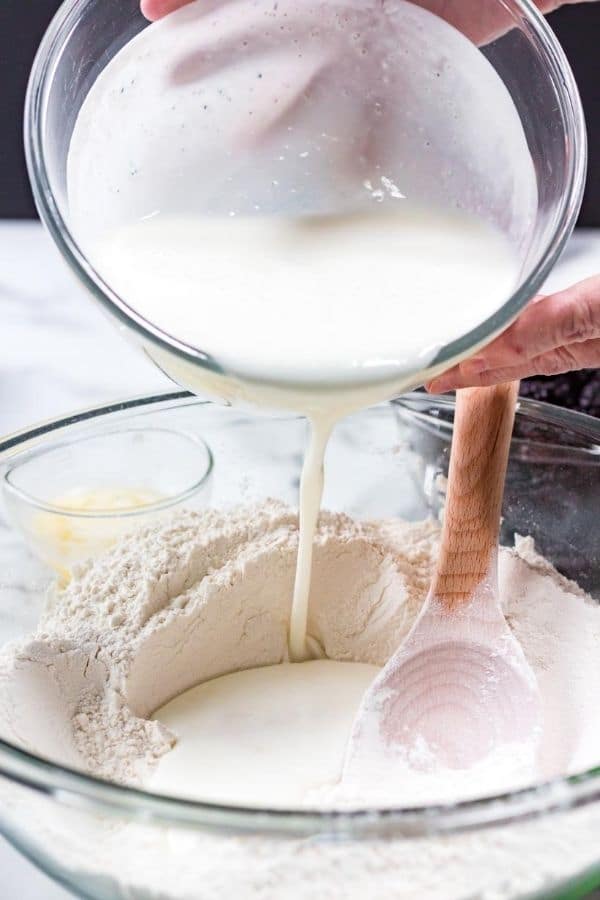 Step 2: In a large bowl you will add your 2 cups of self-rising flour and sugar. Slowly stir in your buttermilk.
Work the dough until it isn't too dry. Don't over mix. If it is too wet slowly add in a bit more buttermilk.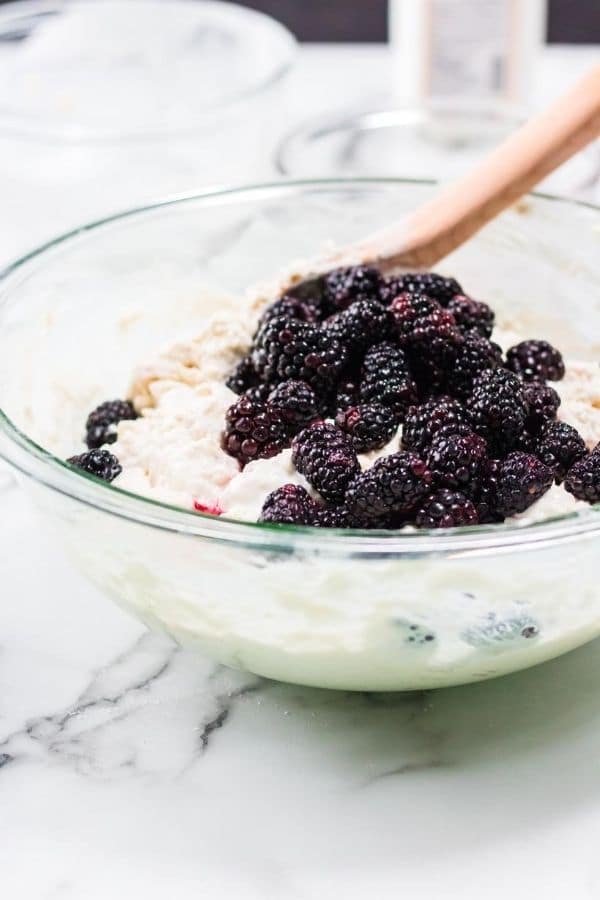 Step 3: Once your batter is mixed you will fold in your blackberries. Don't overmix the batter or it will smash the berries.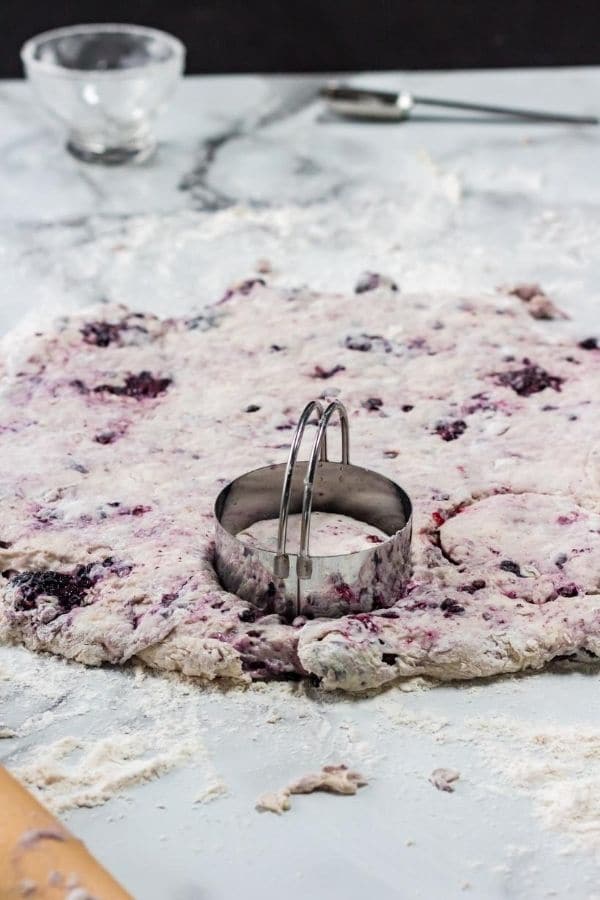 Step 4: You will turn your dough out on a lightly floured surface. You can add more flour if needed to the dough. Your aim is that the dough won't be too sticky.
Knead the dough to bring it together to a ball. Then roll the dough out on the floured surface to 1 inch thickness.
Cut biscuits I used 2 1/4 inch round cutter. You can use anything round. Just remember depending on size of biscuits will vary in cooking time.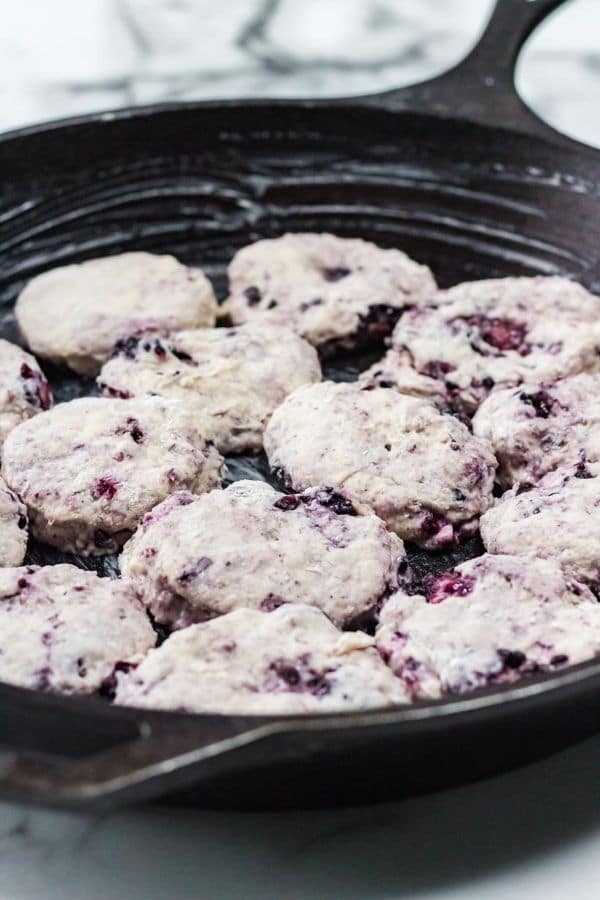 Step 5: Arrange biscuits in pan or skillet. Make sure the edges of the biscuits are touching in the pan.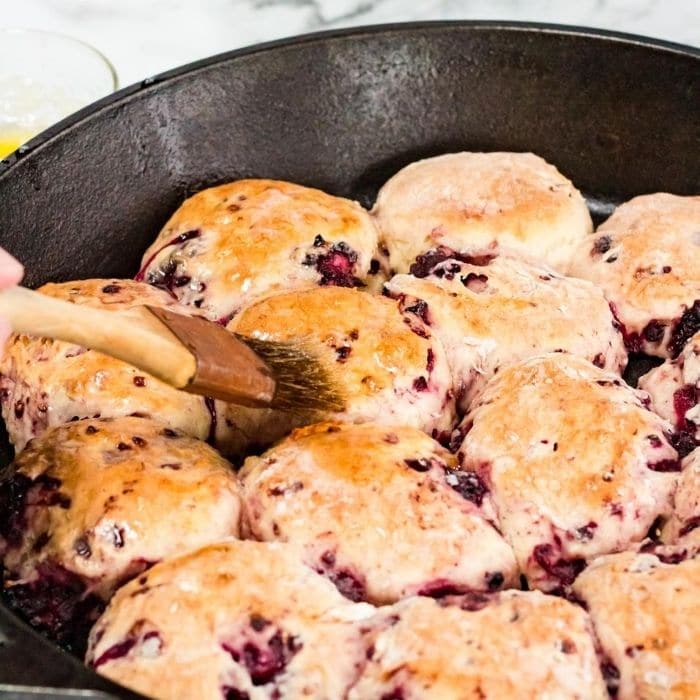 Step 6: Once you pull your biscuits out of the oven brush them with melted butter!
Storage
Here is how I store my blackberry biscuits, feel free to refrigerate or freeze.
Refrigerate – You will want to refrigerate any of the fresh fruit biscuits you don't eat right away. That way they don't spoil. The biscuits will store for 2-3 days.
Freezer Directions – You can also freeze your biscuits, allow them to cool and then freeze in a bag or airtight container. The biscuits will freeze for 3-4 months.
Best Way to Reheat – When reheating you can warm up in the microwave. Or warm the biscuits in the oven, in a covered dish.
Expert Tips and Variations
Make sure to not overmix the dough, or you will make your biscuits heavy.
Fresh or frozen blackberries work in this recipe.
Feel free to add in other fruit, or swap the blackberries for another type of fruit.
These are delicious served warm with a drizzle of honey, or slab of butter.
You can bake the biscuits in a baking sheet, cast iron, or even a baking dish.
FAQs
How to know when biscuits are done?
You will know when biscuits are done, just use a toothpick to stick into your biscuits. If it comes out clean your biscuits are done.
You will also notice the biscuits get firmer to the touch and that they will start to turn golden brown. Just try not to over-bake as it will dry out the biscuits.
Skillet biscuits are so good, and you can call this a breakfast fruit biscuit or a cast iron dessert to serve up friends or family.
Are these drop biscuits?
These are not drop biscuits. You will will roll out the dough, and use a cutter to shape the biscuits.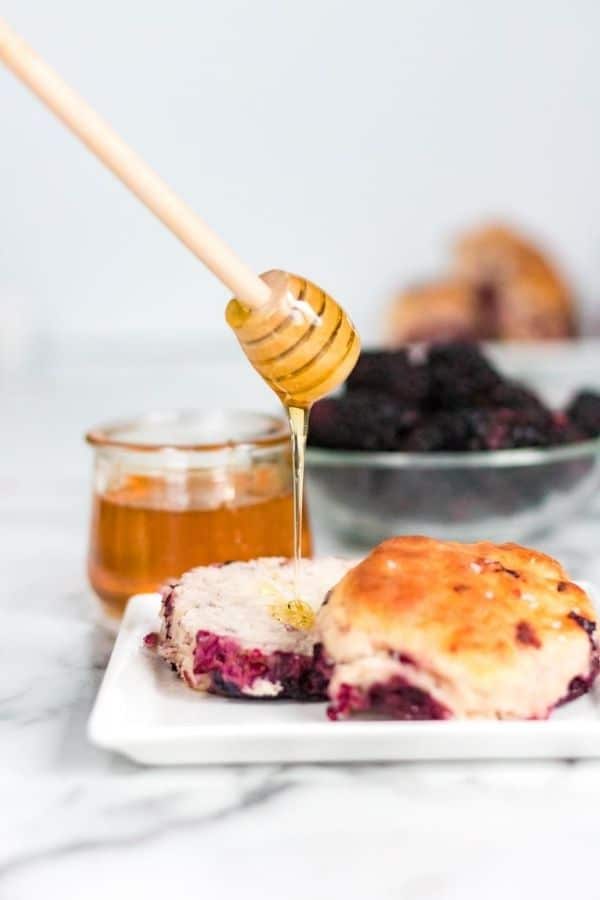 How to Serve Up Berry Biscuits
Serve with a slice of butter
Drizzle with Honey
Pair with a scoop of ice cream as a dessert
Etc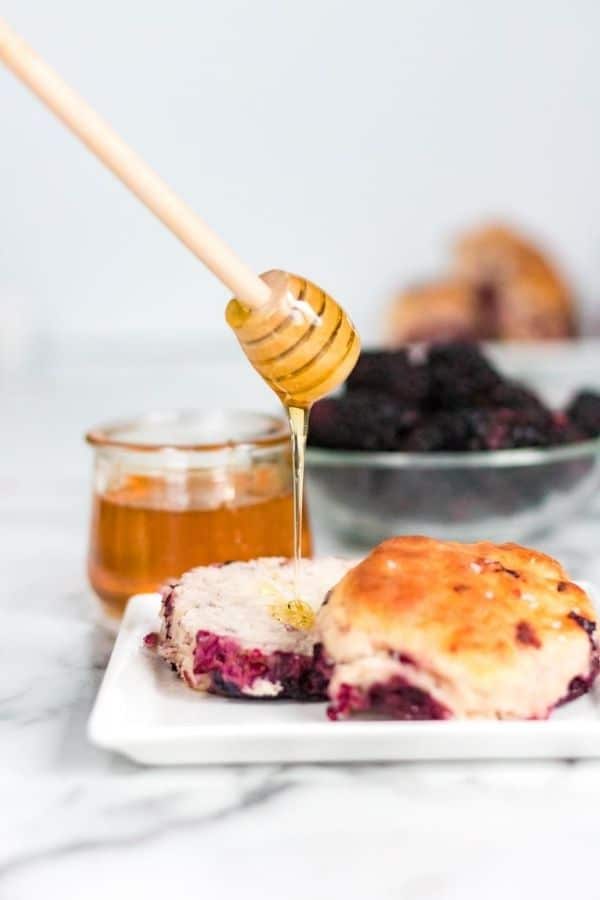 Blackberry Biscuits
Servings 15 -18 biscuits
Homemade blackberry biscuits that are baked in a cast iron skillet. This is a homemade blackberry biscuit recipe that is bursting with fresh berries. You can make this berry biscuit recipe in a baking dish. Just 5 ingredients are all you need. #blackberry #biscuits #castiron #breakfast #oven #dessert #easy #homemade #fromscratch
Ingredients
3 cups self rising flour 1 cup is for rolling out dough
1 1/2 cup buttermilk
3/4 cup granulated sugar
1/4 cup melted butter
3 cups fresh blackberries
Instructions
Preheat your oven to 450 degrees for a cast iron skillet. Or 400 degrees for a metal or glass baking dish.

Then grease your cast iron skillet or baking dish.

In a bowl add your granulated sugar and 2 cups of self-rising flour. Give it a mix.

Stir in your buttermilk and mix until the batter comes together like biscuit dough. If too dry, add a bit more buttermilk to the batter.

Now gently fold in your blackberries.

Turn the dough out on a lightly floured surface. Sprinkle some of the remaining flour on the counter. Then work the dough by kneading it. You can add a little more flour if it is too sticky.

Roll the biscuit dough out with a rolling pin to around 1-inch thickness.

Then cut biscuits with 2 1/4 inch round cutter. Then place the biscuits in a skillet making sure the biscuits touch.

Place biscuits in a preheated oven in the center rack. Cook for 12-15 minutes or until the tops are golden brown and biscuits are cooked through.

Once you remove from the oven spread your melted butter over the tops of the blackberry biscuits and serve up warm biscuits.

I dusted with sugar and served up the cast iron blackberry biscuits.
Notes
Blackberries – Fresh or frozen berries can be used in this recipe. How to Make Self Rising Flour – If you don't have self rising flour you can make it. For every 1 cup of self rising flour you need 1 cup all purpose, 1 1/2 teaspoons baking powder, 1/4 teaspoon salt. Baking – Bake in a cast iron, baking sheet, or cake pan style dish. If you are not using a cast iron lower heat to 400 degrees.
Nutrition
Serving: 1gCalories: 177kcalCarbohydrates: 33gProtein: 4gFat: 4gSaturated Fat: 2gPolyunsaturated Fat: 1gCholesterol: 9mgSodium: 370mgFiber: 2gSugar: 13g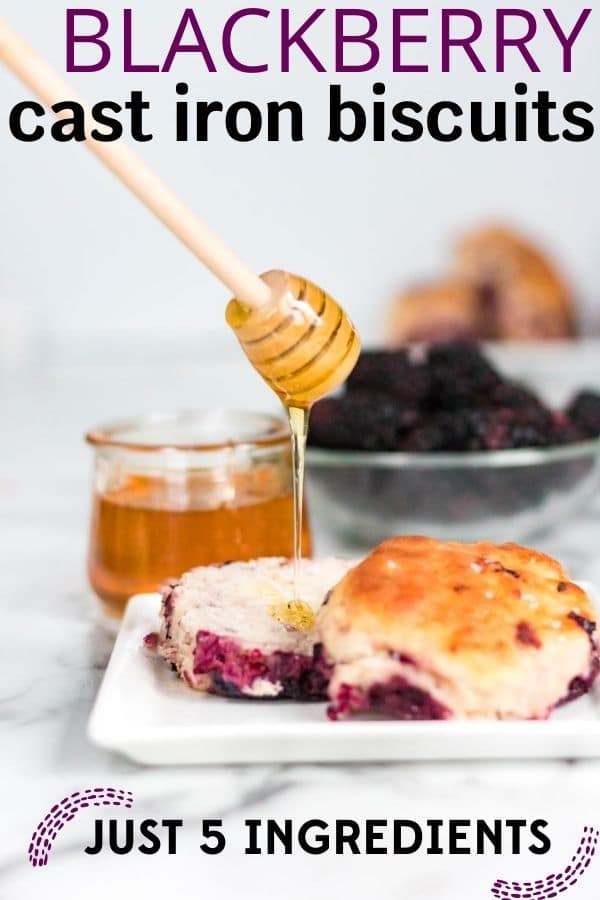 Reader Interactions