Strawberry Rhubarb Pie, sweet and tangy, that is sliceable and perfect for serving a crowd. Homemade rhubarb-strawberry pie that has a flakey crust and a rich and sweet homemade pie filling.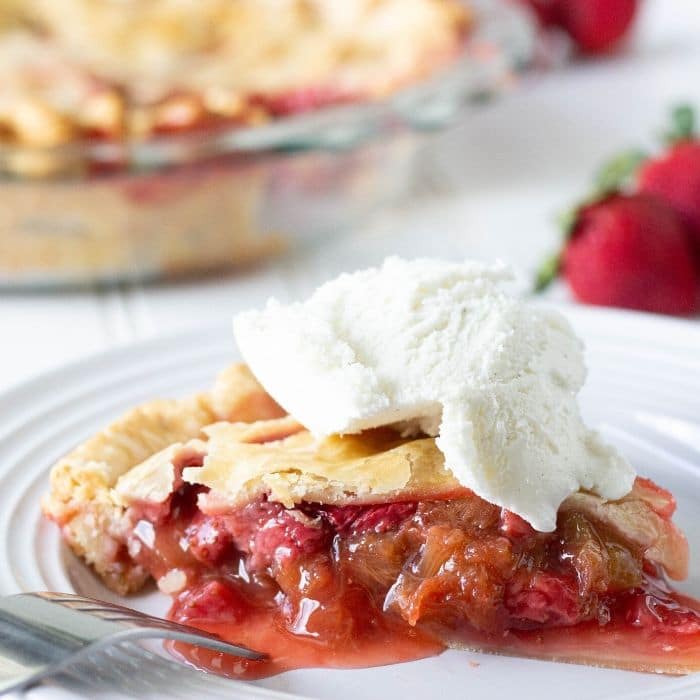 Strawberry Rhubarb Pie
My mother-in-law was craving strawberry rhubarb pie, so she sent me her frozen rhubarb and I whipped her up this incredible rhubarb pie. She loved it, and I was happy to make her a pie! She does so much for the family, she deserved to get treated. Try my strawberry layered cake with bananas.
I am an Amazon Affiliate, so if you purchase through my link I can earn a commission on sales.
Baking With Rhubarb
My father loved rhubarb, and he was always baking with it once he would go and pull some from our garden. So being able to bake with rhubarb reminded me of my father, who has now passed away.
Try my Strawberry Rhubarb Jam I made and then canned. It is perfect for slathering on bread, rolls, etc. My dad loved this jam!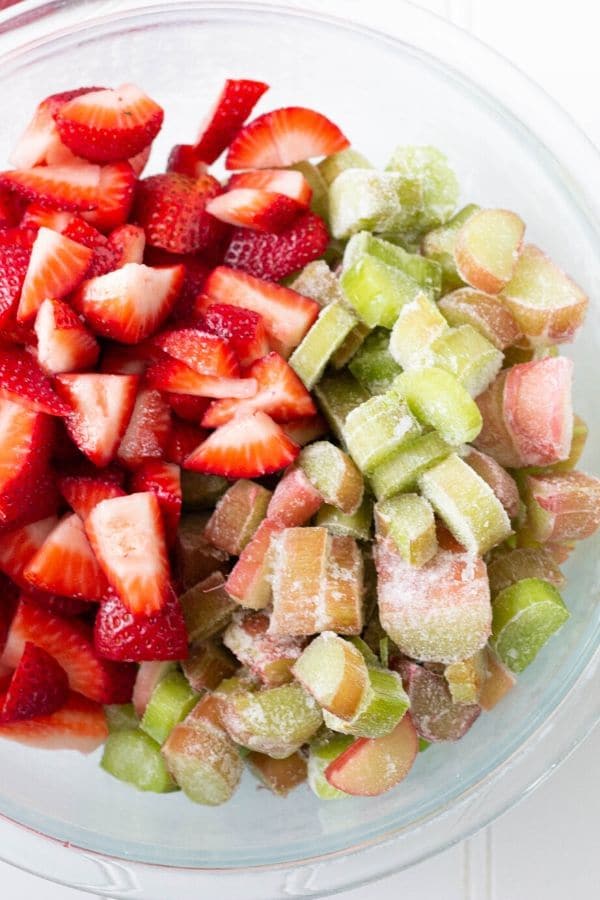 Is Rhubarb Poisonous
Rhubarb itself is not poisonous but the leaves do contain a poisonous substance. It is called oxalic acid, so you need to discard and wash your rhubarb properly and thoroughly before prepping and cooking.
What Do You Need For Rhubarb Strawberry Pie
Rhubarb
Cornstarch
Fresh Lemon Juice
Pie Crust (2, I used store-bought)
Salt
Egg and Milk for Egg washing the top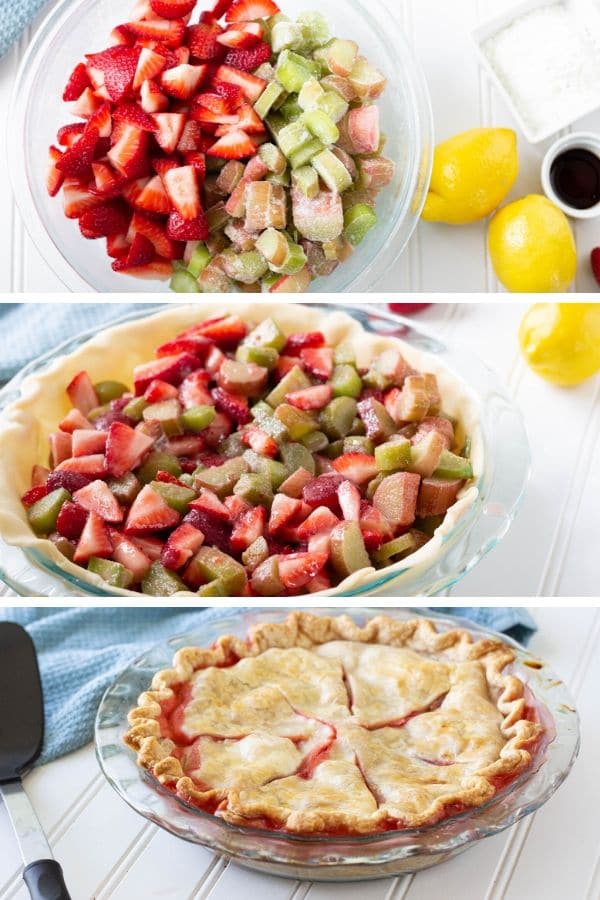 How To Make Strawberry Rhubarb Pie
Making this homemade strawberry rhubarb is so easy. I will share most steps here but for full instructions for this strawberry, rhubarb pie recipe are below in the printable recipe card below.
Prep your strawberries (try this huller) and rhubarb. I used frozen rhubarb and fresh strawberries for my pie.
Pour fruit in a bowl and top with granulated sugar, lemon juice cornstarch, salt, and vanilla extract.
Give the mixture a good stir and then let sit for 10 minutes. This is going to start to pull juices from the fruit.
Grab a deep-dish pie pan and place your crust in, and make sure there are no air bubbles. Pour your filling on top.
Then I topped with another pie crust that I folded the edges for a simple rustic pie crust look. Cut air holes in the top, and then brushed with egg wash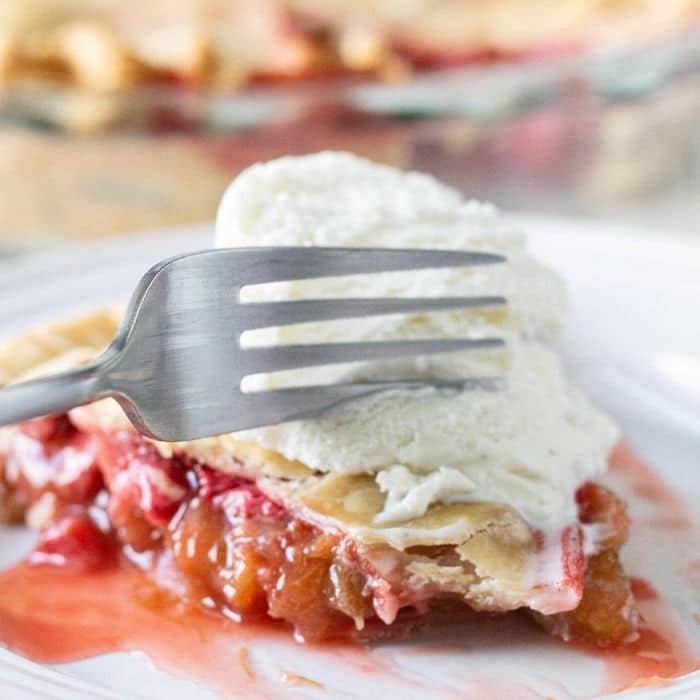 Ways To Serve Up This Pie
I love to add a big scoop of vanilla bean ice cream on top. Or you could do a dollop of whipped cream. But, I have eaten it plain as well, so all toppings are welcome.
Could I Do Rhubarb Raspberry Instead
Absolutely! This rhubarb recipe is versatile so if you want to do raspberry instead of strawberry go ahead. And some even add pineapple into their pie.
As long as you keep the ratio of fruit the same you should be more than fine to change up the fruit filling in this easy pie recipe.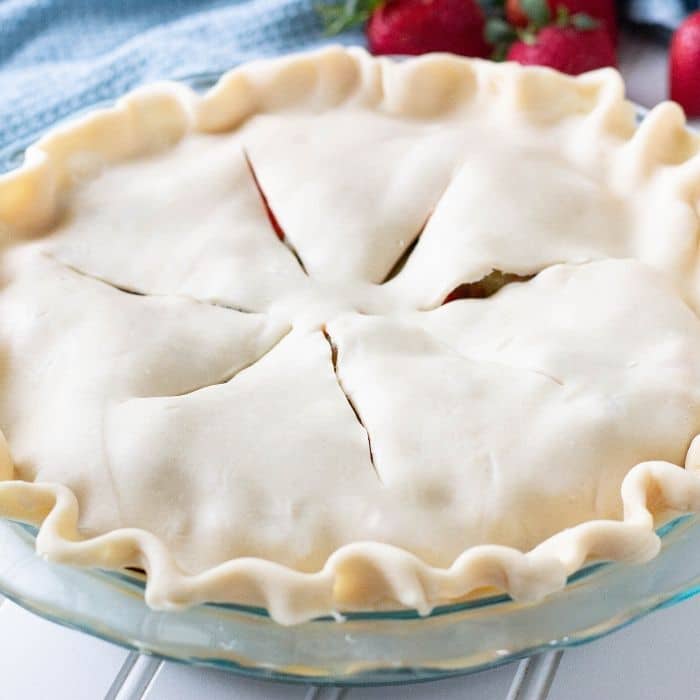 How To Prevent Pie Crust From Over Cooking In Oven
I take aluminum foil and wrap around the edge of my pie crust as it bakes. Then the last 15 minutes you remove the foil to golden it up.
You can also buy pie crust protectors that you wrap around the pie crust. I recommend the silicone style, as I had the metal style, and after the juice leaked it ruined it.
I did try washing it but then rust developed cause some water stayed on it, so now I use silicone when I don't reach for my classic wrap with aluminum foil.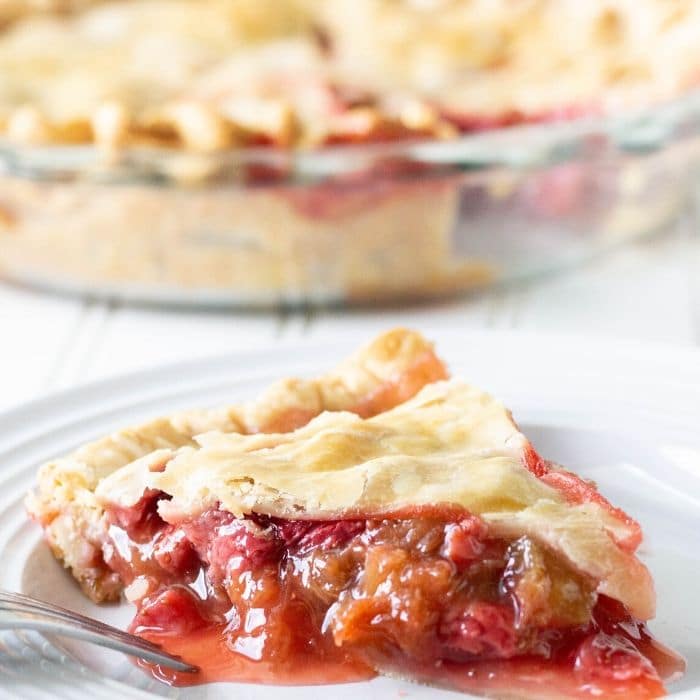 How To Store Pie
This strawberry pie needs to be stored in the refrigerator. It will spoil if left out on the counter.
Then to freeze the pie all you have to do is a place in the proper container and freeze for up to 2-3 months. Thaw on the counter for a quick thaw or even in the fridge overnight.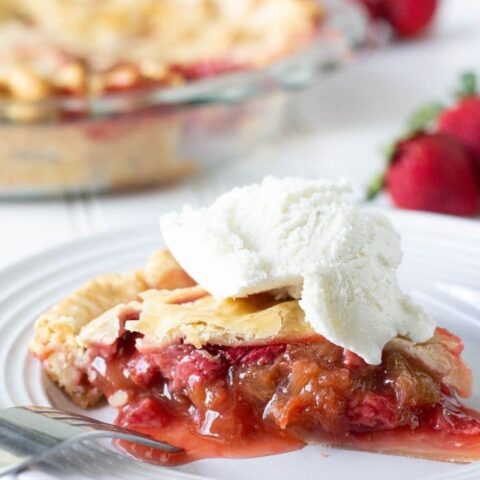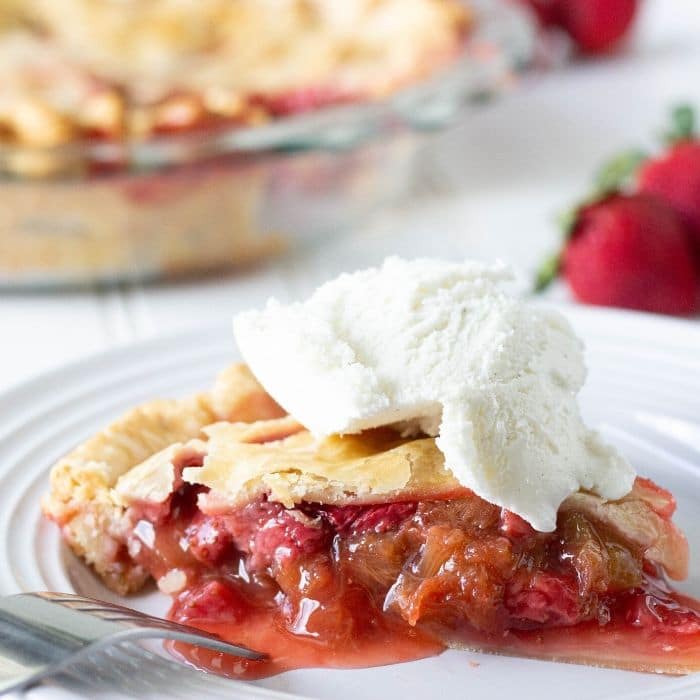 Strawberry Rhubarb Pie
Additional Time:
4 hours
10 minutes
Total Time:
5 hours
5 minutes
Strawberry Rhubarb Pie, sweet and tangy, that is sliceable and perfect for serving a crowd. Homemade rhubarb-strawberry pie that has a flakey crust and a rich and sweet homemade pie filling.
Ingredients
4 cups rhubarb, diced into 1 inch pieces
2 1/2 cups strawberries, hulled, and diced into slices
3/4 cup granulated sugar
1/2 teaspoon vanilla extract
1/4 teaspoon salt
1 teaspoon fresh lemon juice
1/4 cup cornstarch
2 pie crust for deep-dish pie
Egg Wash Topping
1 large egg
1 tablespoon milk
Instructions
First, you will prep your fruit for the rhubarb-strawberry pie. Wash and dice your rhubarb, I used frozen 1-inch pieces. Then strawberries I sliced into pieces.
Pour fruit in a bowl. Add in your cornstarch, salt, vanilla, and lemon juice. Give a quick mix. Now pour in sugar and mix around one more time.
Set your bowl to the side and let it sit for 10 minutes.
Now grab your pie dish and place one of your pie crusts. I used the refrigerated Pillsbury Pie Crust for this. Even out your pie crust.
Then pour your filling in the pie crust, and top with the second pie crust.
Shape the edge of your crust, I just used my fingers. Then take a knife and slice lines for air holes.
Whisk up your egg and milk and then brush the pie. This is going to help it become golden on top.
Cover the pie crust edge with a pie crust protector or use aluminum foil. This will prevent the outer crust from overbaking.
Bake in a preheated 400-degree oven for 20 minutes. At that time drop the temperature down to 350 degrees and continue to bake 25-30 minutes or until the crust is fully cooked.
Remove your pie from the oven and allow it to cool for an hour on a baking rack.
Cover your strawberry rhubarb pie and then store in the fridge for at least 4 hours for the filling to set up.
Remove, slice, and serve.
Nutrition Information:
Yield:

8 slices
Serving Size:

1 slice
Amount Per Serving:
Calories:

361
Total Fat:

14g
Saturated Fat:

4g
Trans Fat:

0g
Unsaturated Fat:

8g
Cholesterol:

23mg
Sodium:

291mg
Carbohydrates:

57g
Fiber:

4g
Sugar:

26g
Protein:

5g
This information is automatically calculated by third-party software, including but not limited to the Create or Bake Me Some Sugar. For accurate nutrition, I suggest running the ingredients in your own system to get a more accurate reading.