Use canned cinnamon rolls to make this pumpkin monkey bread muffins recipe. This is a fun twist on a traditional monkey bread recipe. A quick and easy fall breakfast or dessert to whip up for the family.
These cinnamon rolls in muffin tins have a fun fall twist with pumpkin puree and pumpkin spice. Monkey muffins you will want to eat over and over again. Or start your morning with some red velvet cake donuts!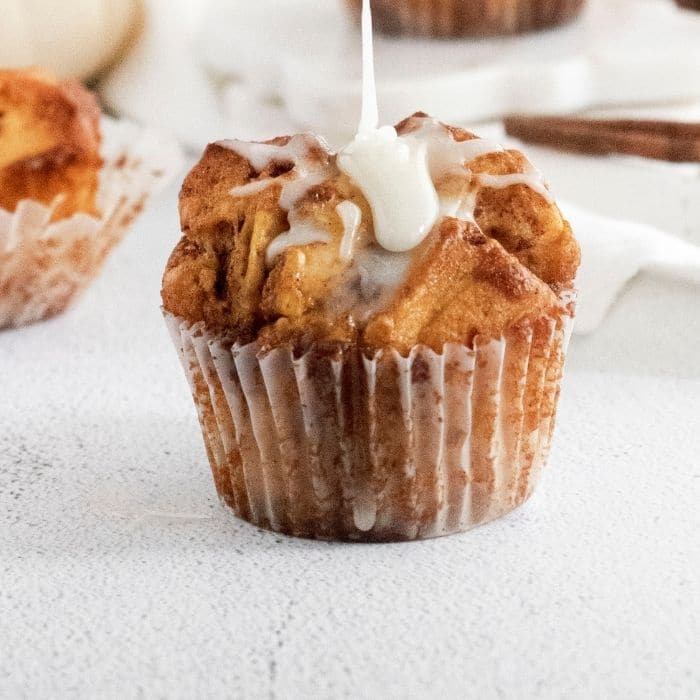 You can make these mini monkey bread as a breakfast or dessert. 5 ingredients are all you need for this easy cinnamon roll monkey bread recipe.
Why This Recipe Works
5 ingredients
Quick prep
Pumpkin Spice recipe that can be made in no time
A great monkey bread recipe to make and freeze for later.
👩‍🍳 Ingredients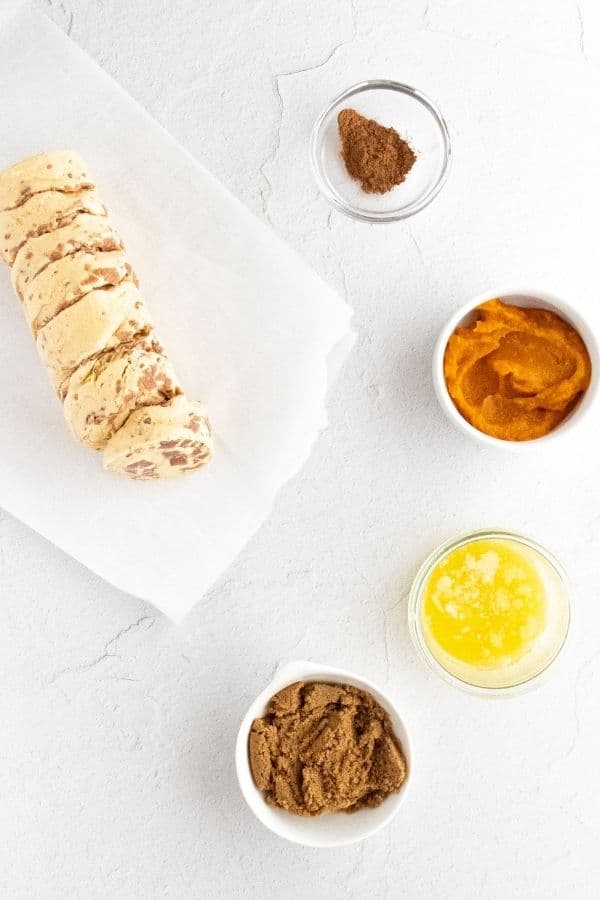 Cinnamon Rolls | Canned cinnamon rolls are all you need for the base of these muffins.
Pumpkin puree and spice | Pumpkin puree and pumpkin spice give this monkey bread a fall flavor!
Brown sugar and Butter | Add a little sweet and base to these to transform them into muffins!
Variations To Recipe
Use flavored canned biscuits – like orange, pumpkin or other holiday flavors.
Skip the glaze on top if you would like.
Pair with a scoop of ice cream for a tasty dessert.
🥄 How to Make
Step One: Start by preheating your oven to 350 degrees. You will want to grease 8 muffin cups or use paper liners.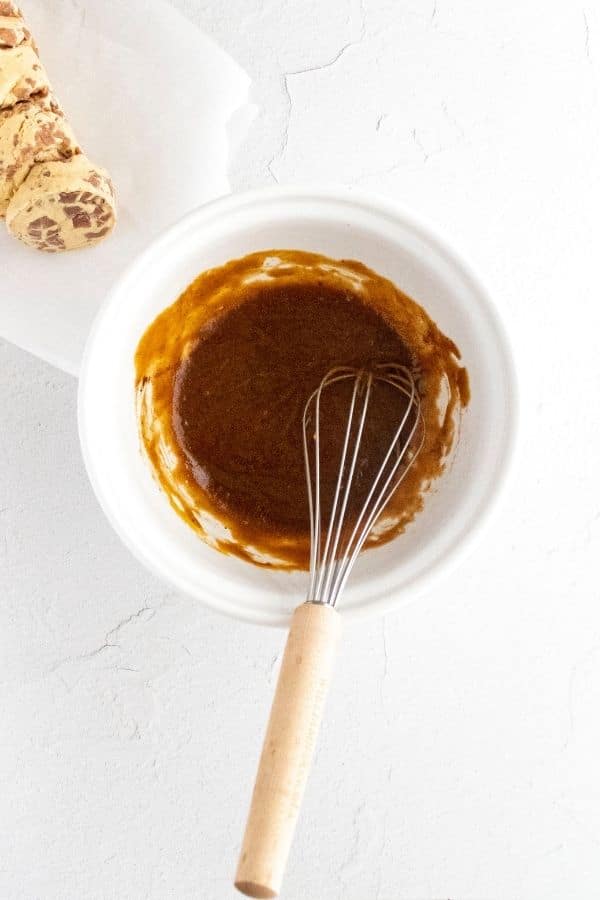 Step Two: Now you will grab a bowl and whisk together the pumpkin puree, brown sugar, melted butter, and pumpkin pie spice. Mix until no lumps and it is creamy.
Step Three: Now you will take your cinnamon rolls and cut them into quarters. Use a knife or kitchen shears.
Step Four: Whisk your cinnamon roll pieces in the pumpkin mixture, and make sure all is mix well.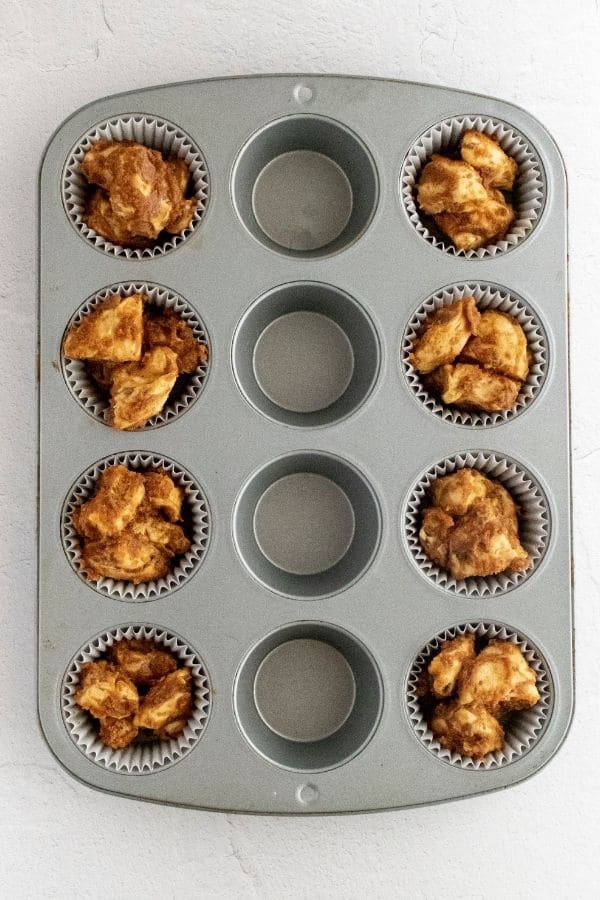 Step Five: Then place 4 pieces of the cinnamon rolls into each muffin cup. Bake for 18-20 minutes or until each the pumpkin monkey bread muffins are cooked through.
Step Six: Once done you can serve as is or take the icing that came with the cinnamon rolls and drizzle over the top.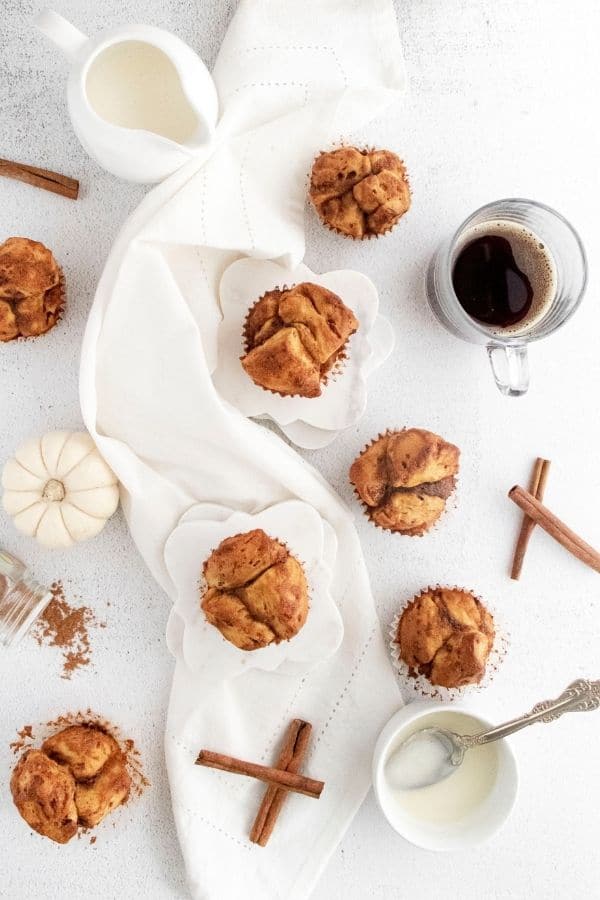 Meal Prep
Go right ahead and make these muffins and use to meal prep for breakfast for the week. Or you can toss your muffins in the freezer to save for later on in the following months!
You can place in an airtight container and store in the fridge or freezer and then reheat in microwave or eat cold from the fridge.
📌 Expert Tips
Follow these tips and tricks to help get the perfect monkey bread muffins each and every time.
Make sure you use cooking spray to grease muffin tin if you are not using liners in the muffin pan or they will stick.
Make sure to mix the butter mixture well with the pumpkin puree and other ingredients. Ensure no clumps of brown sugar mixture are left.
Use pumpkin puree not pumpkin pie mix. They are totally different ingredients.
Consider adding on some chocolate chips for added sweetness.
You could swap the cinnamon rolls with biscuit dough.
Cut each cinnamon roll into 4 pieces.
Don't press the cinnamon rolls into the pan, just drop them in.
Recipe FAQs
Why is it called Monkey Bread?
A pastry chef called it monkey bread as you would pick it apart to eat. That is similar to how a monkey would reach and eat their food.
Is monkey bread good the next day?
Monkey bread is best when served warm and fresh from the oven. Store any leftovers you have in the fridge for up to 2 days. Then reheat in the microwave for a fresh out of the oven flavor.
What are the best cinnamon rolls to use?
You can use any flavor of cinnamon rolls you like. Feel free to reach for a pumpkin flavor, Cinnabon brand, etc. Each roll will alter the flavor a bit but still be delicious.
How to know when monkey bread muffins are done?
You will look at your cinnamon roll pieces. You can stick a toothpick in and if it comes out without dough on it, the muffins are done.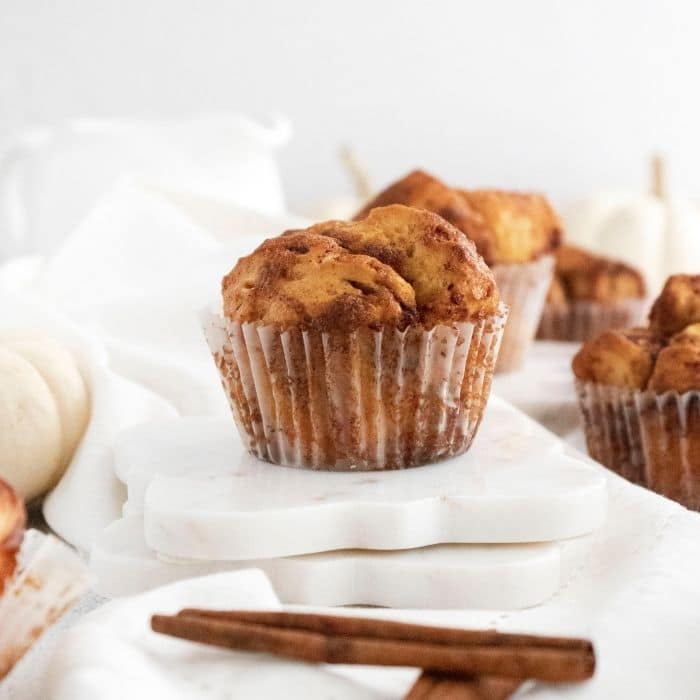 Here Are More Fall Dessert Recipes To Try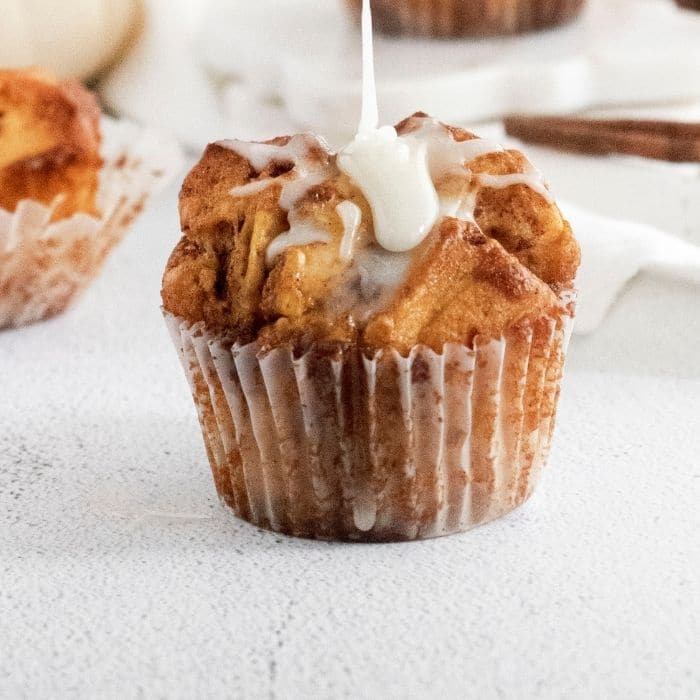 Pumpkin Monkey Bread Muffins
Servings 8 muffins
Pumpkin monkey bread muffins are the perfect way to kickstart your morning. Cinnamon roll monkey bread pumpkin muffins drizzled with icing. A fall flavored recipe that will win over the whole family. Canned biscuits are a quick shortcut for an easy prep breakfast that is melt in your mouth good.
Ingredients
1 package of Pillsbury Original Cinnamon Rolls
1/4 cup pumpkin puree
1/4 cup brown sugar
3 tablespoons butter melted
1/2 teaspoon pumpkin pie spice
Instructions
Preheat your oven to 350 degrees. Grease your muffin tin or line it with paper liners and set aside.

In a bowl you will want to mix your melted butter, brown sugar, pumpkin spice seasoning, and canned pumpkin puree. Mix until it is nice and creamy.

Then take your cinnamon rolls and cut into quarters.

Add your diced cinnamon rolls into the pumpkin mixture. Then you will mix your cinnamon roll pieces until fully mixed.

Take your cinnamon rolls and put the mixture into each muffin tin. I did 4 pieces of cinnamon rolls in each muffin tin.

Bake for 18-20 minutes or until your muffins are done.

Top with the cinnamon roll icing or serve them without.

These pumpkin cinnamon roll monkey bread muffins are so easy to make and kid approved.
Notes
You can use any brand or flavor of cinnamon rolls you would like.
Swap cinnamon rolls with canned biscuits. Bake the same as cinnamon rolls.
Make sure to use pumpkin puree not pumpkin pie filling.
You can drizzle with the cinnamon roll icing or leave them plain.
Store in the refrigerator for up to two days. Then reheat in microwave or eat cold.
You can freeze your muffins for up to 3 months. Then just heat in microwave or place in the fridge overnight.
Nutrition
Serving: 1gSodium: 122mgSugar: 8gCholesterol: 11mgCalories: 99kcalTrans Fat: 1gPolyunsaturated Fat: 1gSaturated Fat: 3gFat: 6gProtein: 1gCarbohydrates: 12g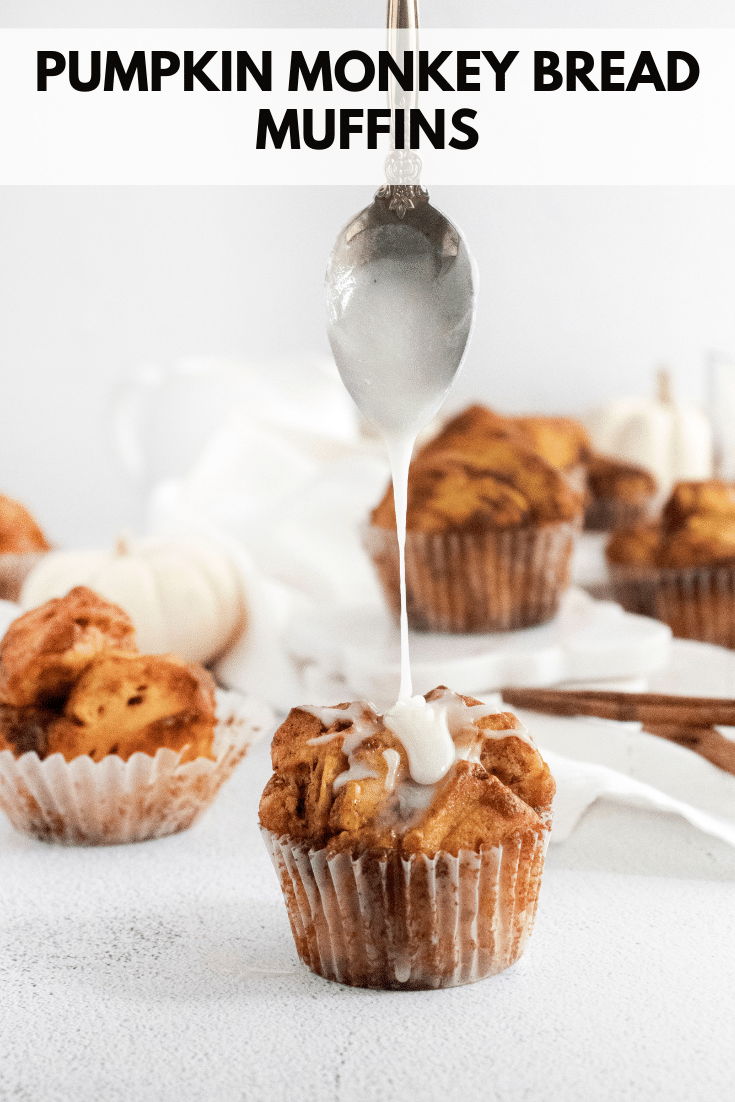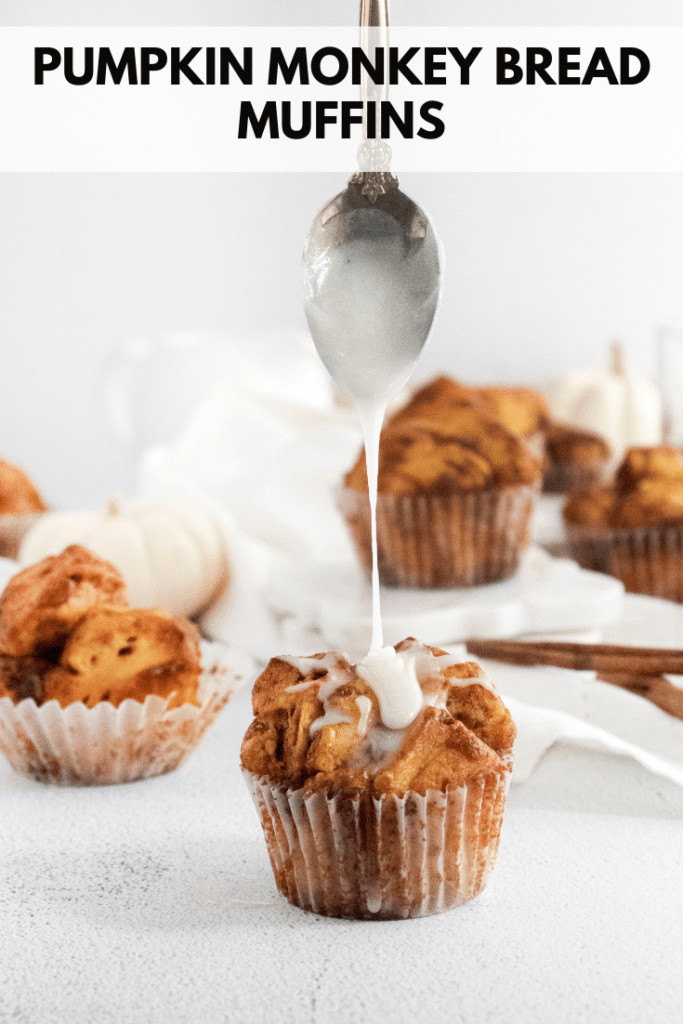 Reader Interactions