White chocolate Chex mix is a sweet and salty Chex mix that is made with a few simple ingredients. Chex cereal, white chocolate, M&M's, pretzels, popcorn and more. A quick and easy snack mix recipe that is perfect for holiday snacking.
Or if you are a fan of sweet and salty recipes, make this chocolate Chex mix all year round. Change up colors of candies and sprinkles to fit the season you are in. This sweet Chex mix recipe is an instant hit!
This Chex party mix recipe requires no oven time. Just mix, pour the chocolate on, mix and let it set up. Easy, quick, and downright addictive.
This White Chocolate Chex Mix Recipe Is…
Easy Everyday Ingredients – Nothing crazy or hard to find. Just simple everyday ingredients is what you will need. 
Quick – This no bake Christmas dessert takes minutes to throw together. Once the chocolate is hardened it is ready to serve. 
Versatile – This Chex party mix is versatile in ingredients you will use. When you change up the ingredients the flavor changes a bit for a fun twist. 
Make Ahead Dessert – If you are in charge of making up some desserts here is one you can make the night before you plan to eat. Just store in a sealed container.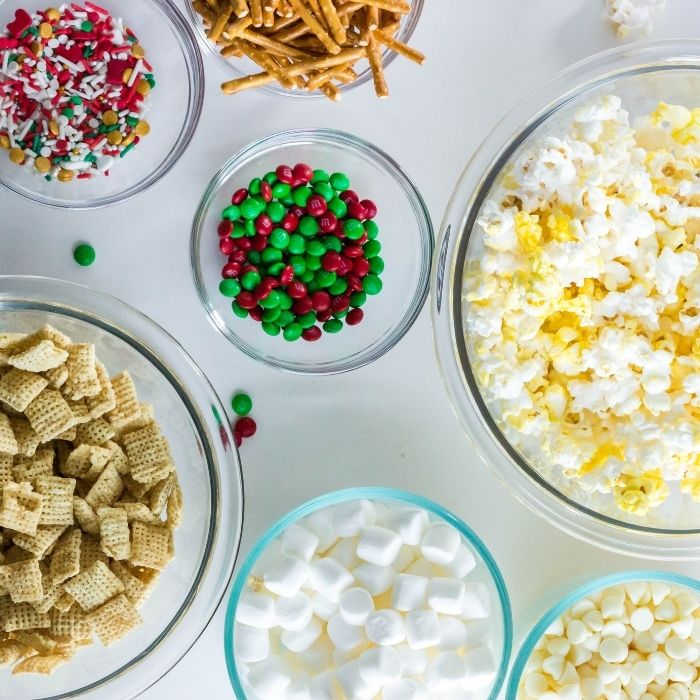 Ingredients Needed
Popcorn – Grab a bagged popcorn or make your own. I cooked mine up in my popcorn maker with some oil. 
Pretzels – The pretzels ass a nice salty and sweet component. Sticks, balls of the classic pretzel shape work. 
Marshmallows – Mini marshmallows are a fantastic addition to the snack mix. It adds a soft and fluffy component. 
Chex – I used Chex cereal, corn or rice work great for this. I love how the cereal adds a nice crunch.
M&M's – I used Christmas M&M's but if you are not making this for a Christmas dessert use any color of candies you want.
Sprinkles – Optional, but they do add a nice pop of color to your Chex mix recipe.
White Chocolate – White chocolate chips or almond bark work great. If your chocolate is too thick you can add in a little oil and it will help thin it up and give it a glossy look.
Variations to Recipe
Use a different type of cereal – Cheerios, different Chex, cornflakes, etc.
Swap white chocolate with a colored candy melt, peanut butter chips, milk chocolate, etc.
Add in nuts like cashews, peanuts, or even almonds.
Add in items like Goldfish crackers, broken graham crackers, or other items.
Etc
The possibilities are endless on how you can change up this recipe. You can essentially make this any way you want, and it will be a fun snack mix to serve up.
How to Make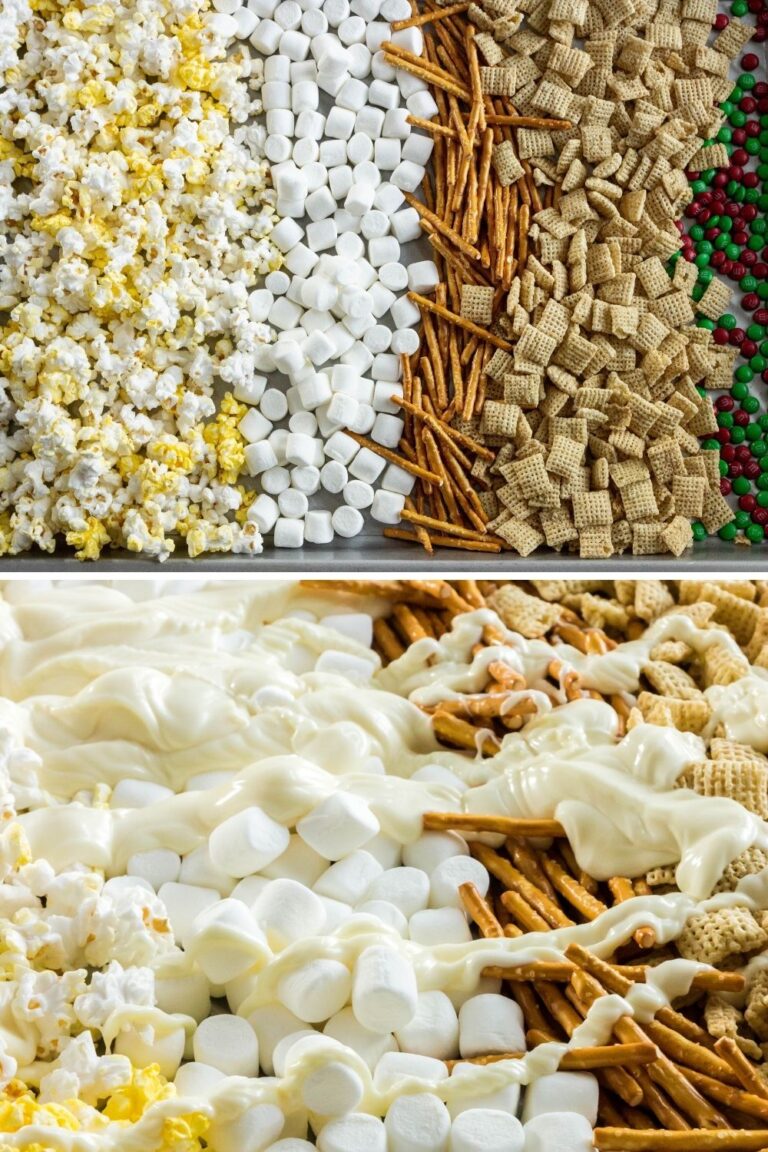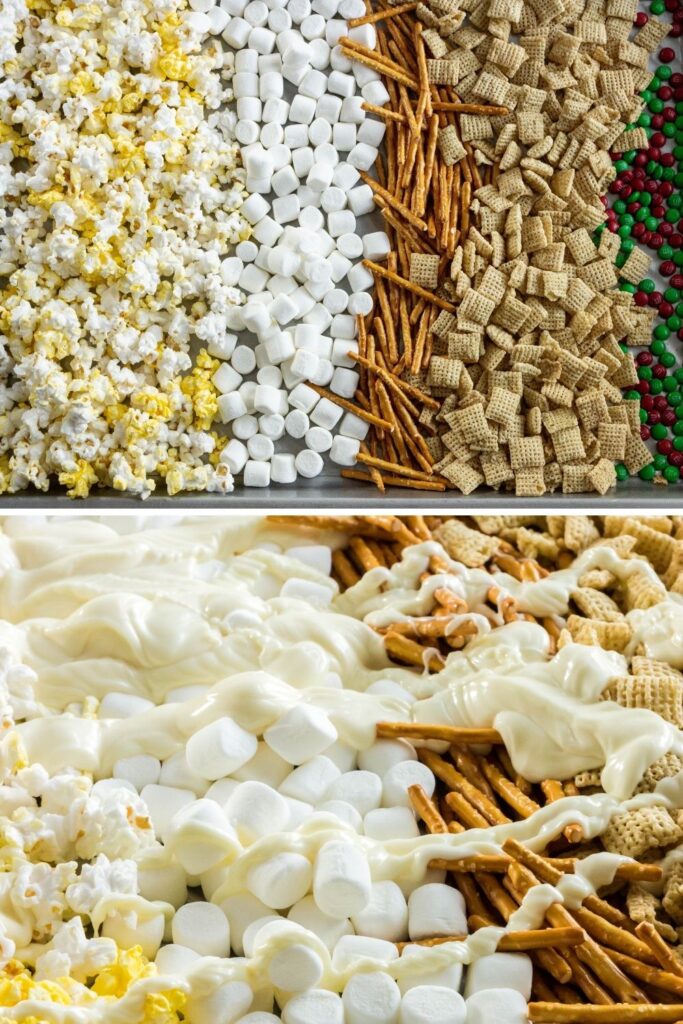 Step One: Start by laying out or toss all mix items in a bowl. Popcorn, pretzels, marshmallows, Chex cereal, and M&M's.
Step Two: Melt chocolate in the microwave for 20 second cycles. Stir between each heat cycle.
Pro Tip: If the chocolate is too thick, add in 1/2 teaspoon of vegetable or canola oil, and it will help thin out the chocolate.
Step Three: Pour melted chocolate over the Chex trail mix items and then stir well with spatula. Make sure to coat all the ingredients well.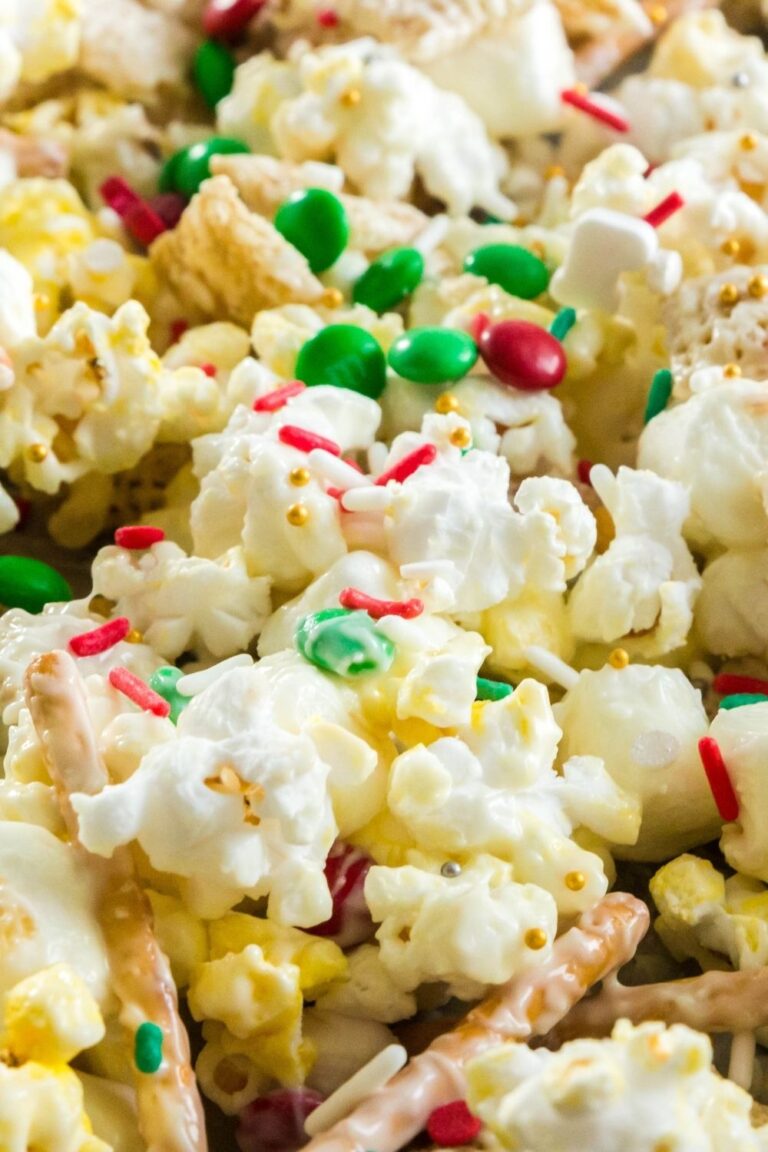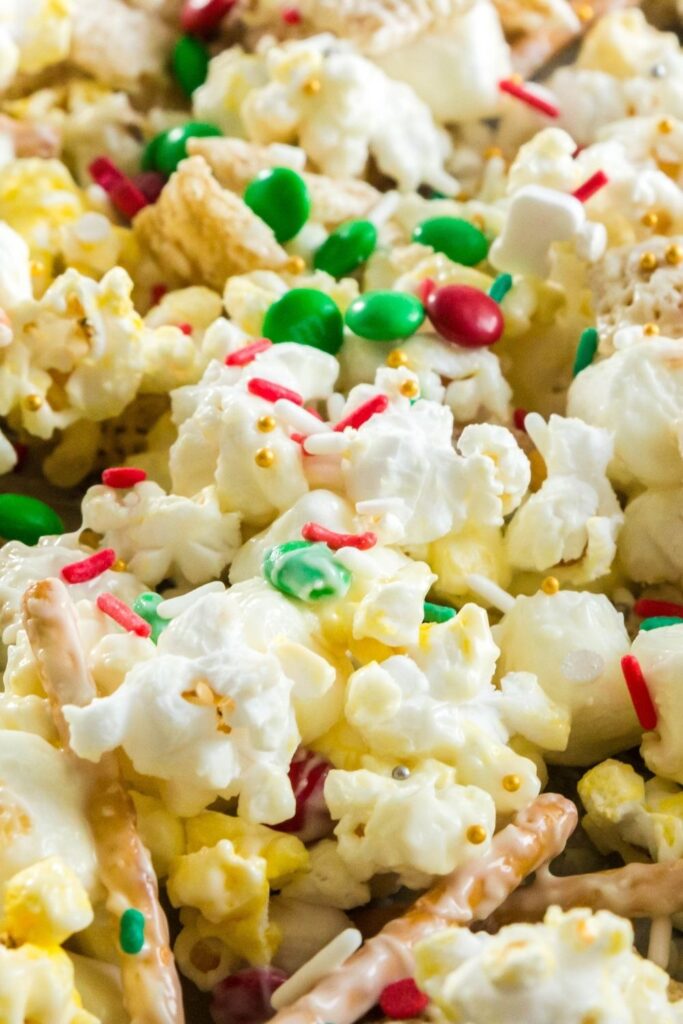 Step Four: Next, add sprinkles if you want and spread out evenly to harden. Break apart once it is hardened, and serve.
Once ready serve and enjoy. The white chocolate clumps ingredients together a bit for a tasty and simple sweet and salty Chex mix recipe!
Storage
Store the leftovers of this Chex mix with M&Ms in an airtight container or sealed bag. It is important to do so or it will cause the ingredients to go stale.
You can store the Christmas Chex mix for 2-3 days. You will find the popcorn and pretzels can become stale or soggy after they sit too long.
This Christmas Chex mix recipe does not freeze well, as it will cause most of the items to become soggy once it thaws.
FAQs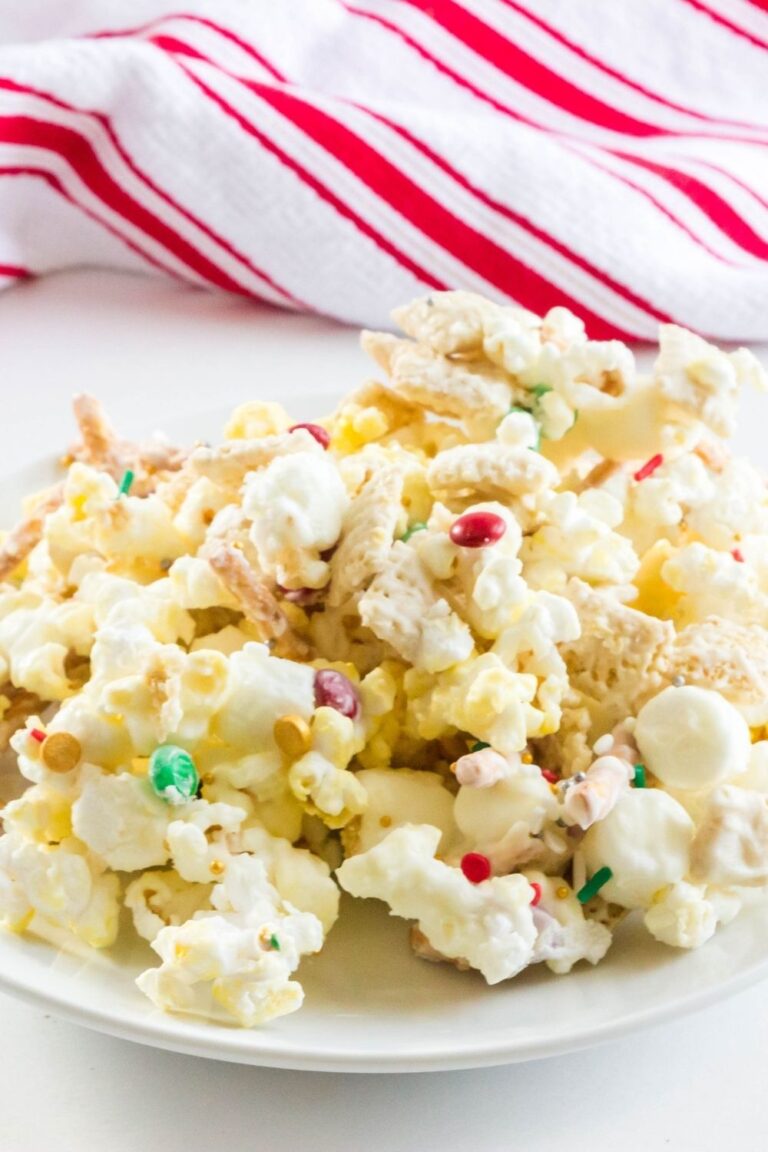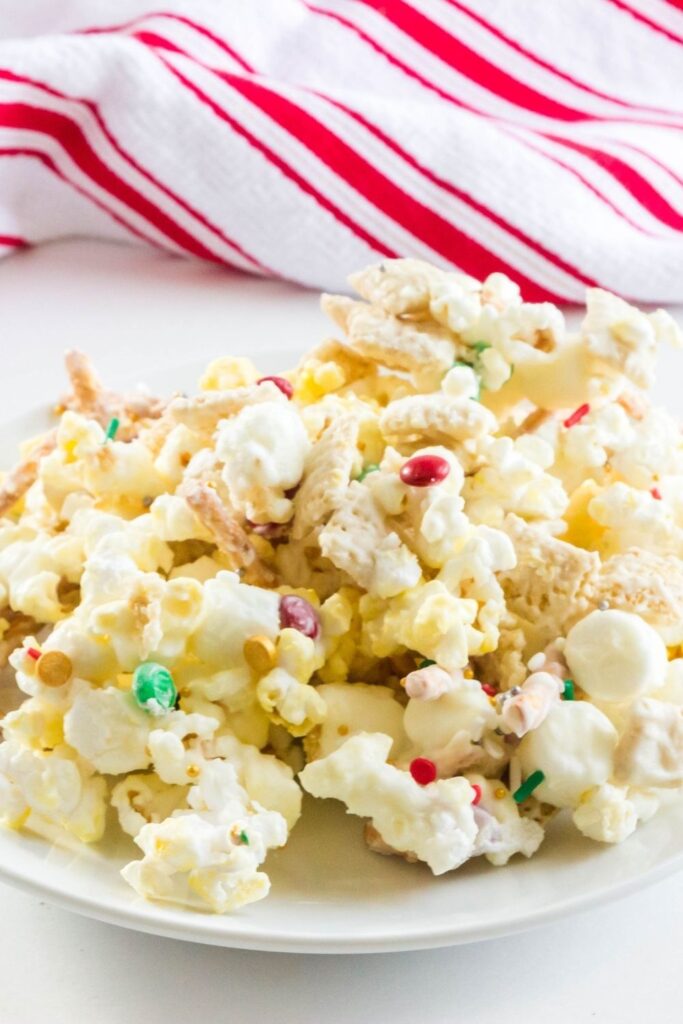 Related Recipes
White Chocolate Chex Mix
White chocolate Chex mix snack mix is an easy no bake Chex trail mix dessert you can make for any time of the year. Loaded with popcorn, marshmallows, pretzels and more. An easy white chocolate snack mix that takes minutes to make. A sweet and salty recipe!
Ingredients
3 cups popcorn
1 1/2 cups pretzel
1 cup mini marshmallows
2 cups Chex Cereal
2 1/2 cups white chocolate
1 cup mini M&M's
1 tablespoon Sprinkles optional
Instructions
Start by adding popcorn, marshmallows, pretzels, Chex, and M&M's onto a tray or bowl.

Then in a microwaveable bowl you will add your almond bark or white chocolate chips. Melt at 20 second incriments stirring between each heat cycle. If the chocolate is too thick, add 1/2 teaspoon vegetable or canola oil to it.

Once the chocolate is melted, pour over the popcorn mixture. Then with a rubber spatula mix up.

Make sure all the chocolate coats the mixture then add on sprinkles if you want.

Let the popcorn trail mix sit and then once the chocolate is hardened, break apart.

Serve up the white chocolate Chex mix and enjoy!

If you have leftovers of the trail mix Chex mix, then store in an airtight container.
Notes
Popcorn – You can use plain, air popped, or butter, etc. This is versatile in what you use. Cereals– Change up cereal you use another like Cheerios, cornflakes, etc. Snack Items – Bugles, Frito corn chips, and other items are a great salty option. Even Goldfish are good. Chocolate – You can use a different chocolate if you want. Colored candy melts, milk chocolate, etc.
Nutrition
Serving: 1gCalories: 261kcalCarbohydrates: 36gProtein: 3gFat: 12gSaturated Fat: 7gPolyunsaturated Fat: 4gCholesterol: 7mgSodium: 132mgFiber: 1gSugar: 27g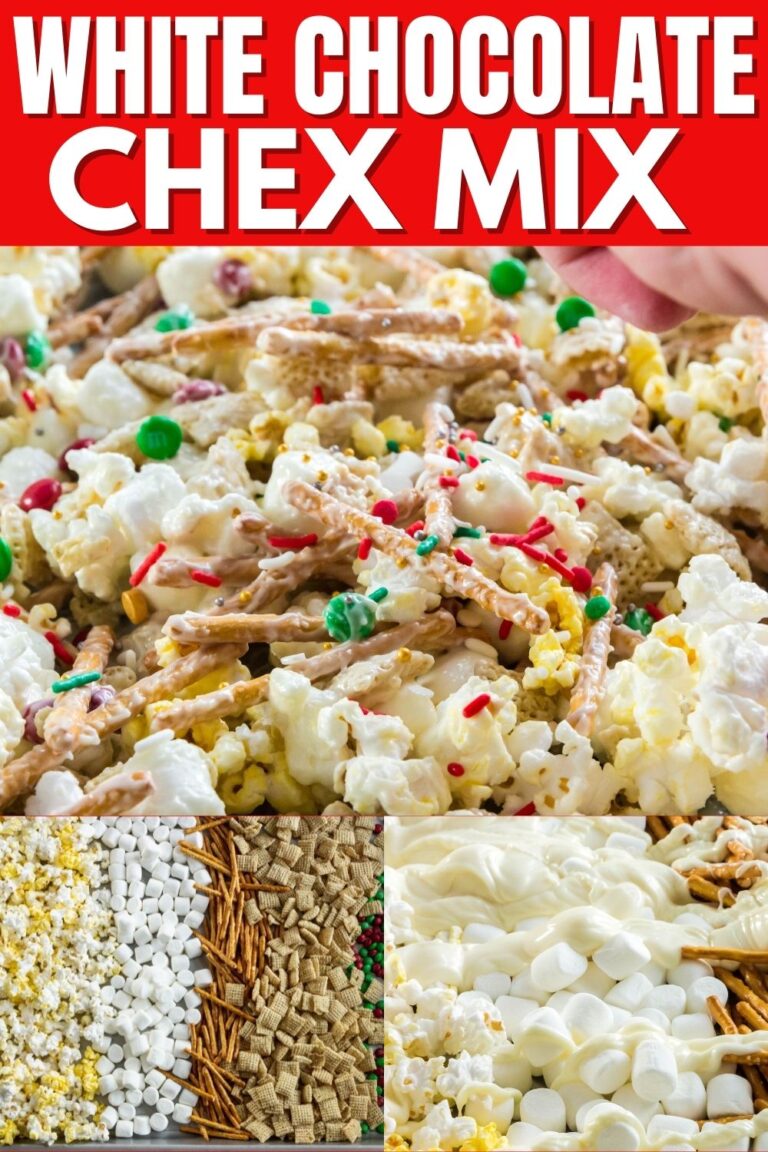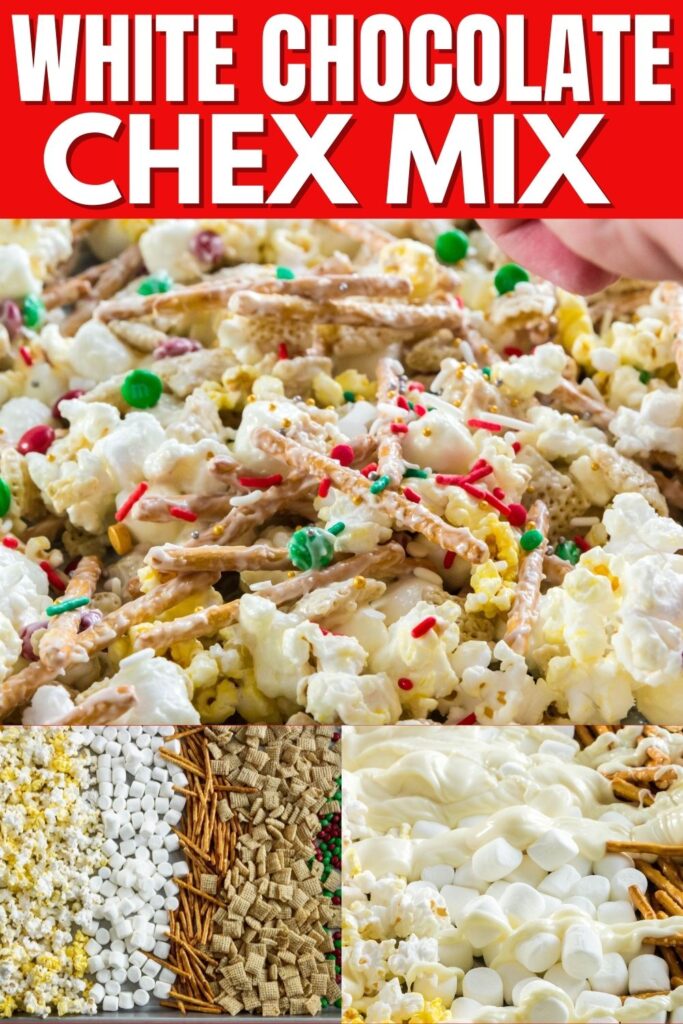 Reader Interactions