Cranberry Crostini is a quick and easy throw together party appetizer for the holidays. Honey butter, cream cheese and cranberry all topped on a golden baguette. This cranberry appetizer is crazy simple and delicious.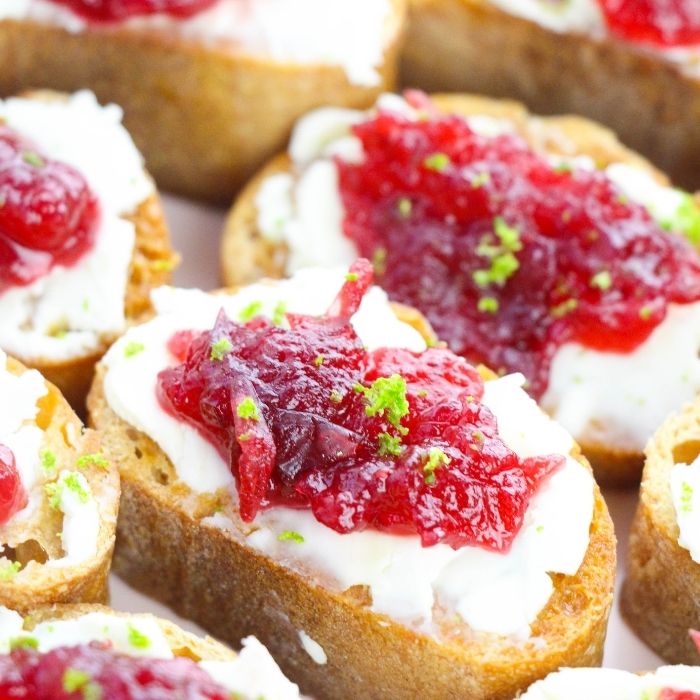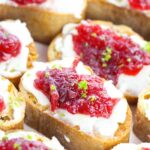 Check out this cranberry crostini! This is a Christmas appetizer that is sticky, tangy, and sweet. This Christmas cranberry appetizer is one I make every year. This Christmas party food is one that will disappear quickly.
Crostini literally means, "little toast". Crostini appetizers have endless possibilities. I used honey, cranberry, and more to give this cranberry recipe a fun twist. Also, try my blueberry brie bites for another appetizer.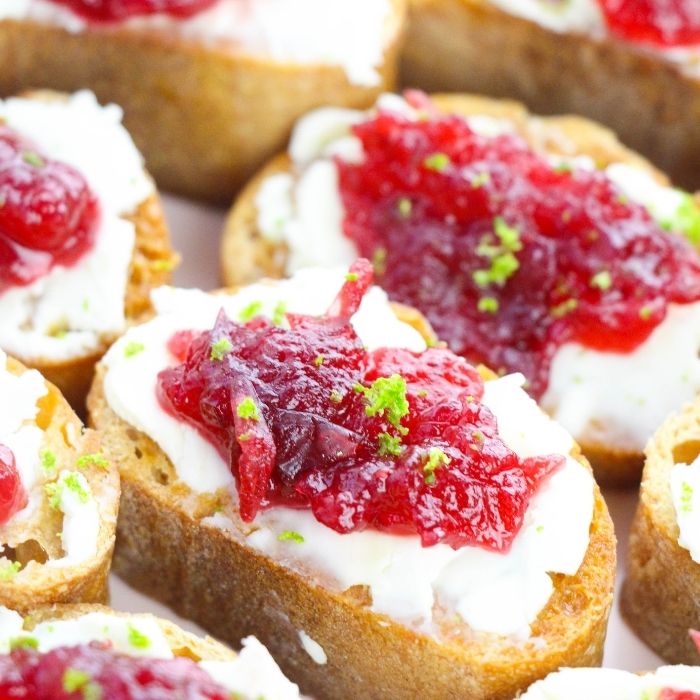 Grab some baguettes and supplies and let's get cooking. This is a last minute appetizer you can practically throw together and serve! Also, try my White Chocolate snack mix for a holiday dessert.
This Cranberry Crostini Recipe Is…
Made with 6 ingredients
Can use canned or homemade cranberry sauce
Quick Prep
Cooks In A Hurry
Great last minute Christmas appetizer
Affordable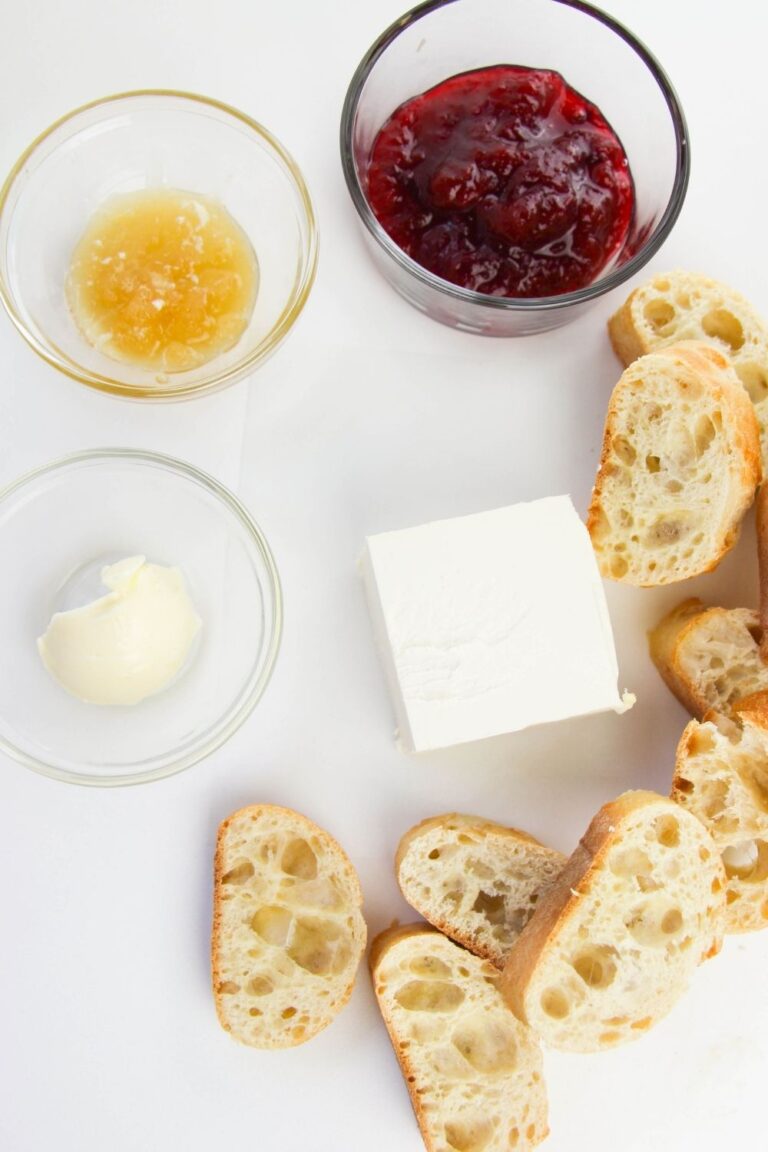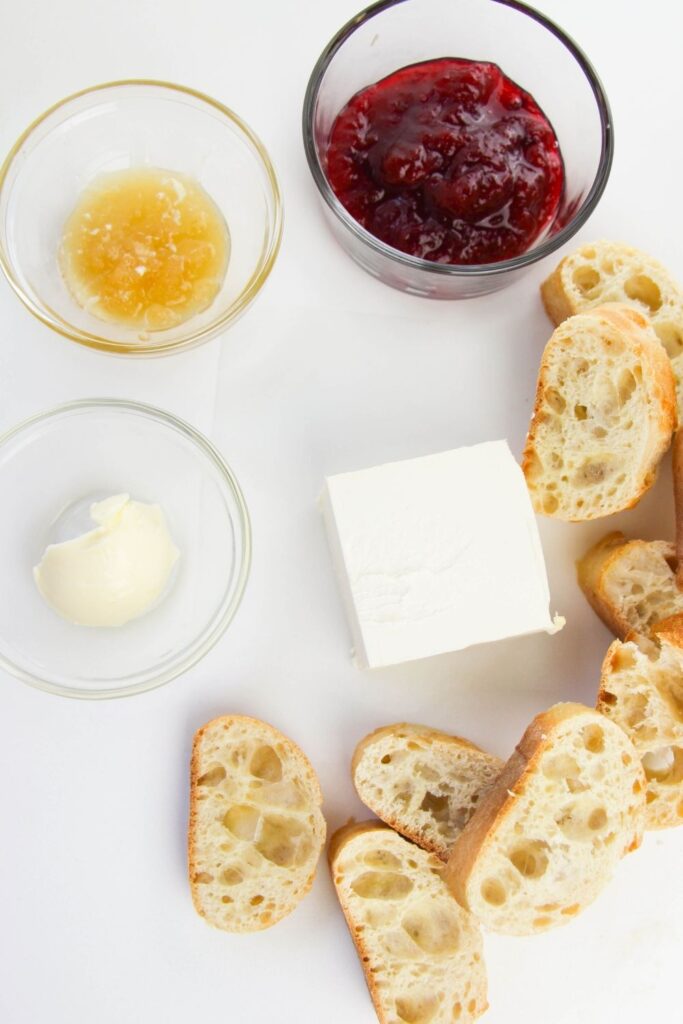 Ingredients Needed
Here are the cranberry crostini ingredients you will need to make this holiday appetizer.
Cranberry Sauce – Make homemade or reached for canned. If you do canned, I prefer using the cranberry that has whole berries in it.
Baguette – Grab your baguettes at the grocery store and have for this simple appetizer. If they have different brands or varieties buy what you would prefer.
Cream Cheese – I used cream cheese but you could easily swap and make this a cranberry brie appetizer or even use goat cheese.
Honey and Butter – I make a homemade honey butter that is rich and sweet down to the last drop.
Lime Zest – Lime is optional but the zest adds a bit of tangy flavor and dresses up with a pop of color.
Tools
Baking Sheet
Silicone Baking Mat or Aluminum Foil
Variations To Recipe
Here is a few swaps and changes up for grabs for this appetizer using cranberry sauce.
Use different varieties of bread to try out.
Swap cream cheese with goat cheese, Brie, etc.
Add a little spice by mixing in a little jalapeno in with the cranberry sauce. Or top with a jalapeno.
Add on a thin slice of prosciutto
Swap lime with orange zest for a change.
How to Make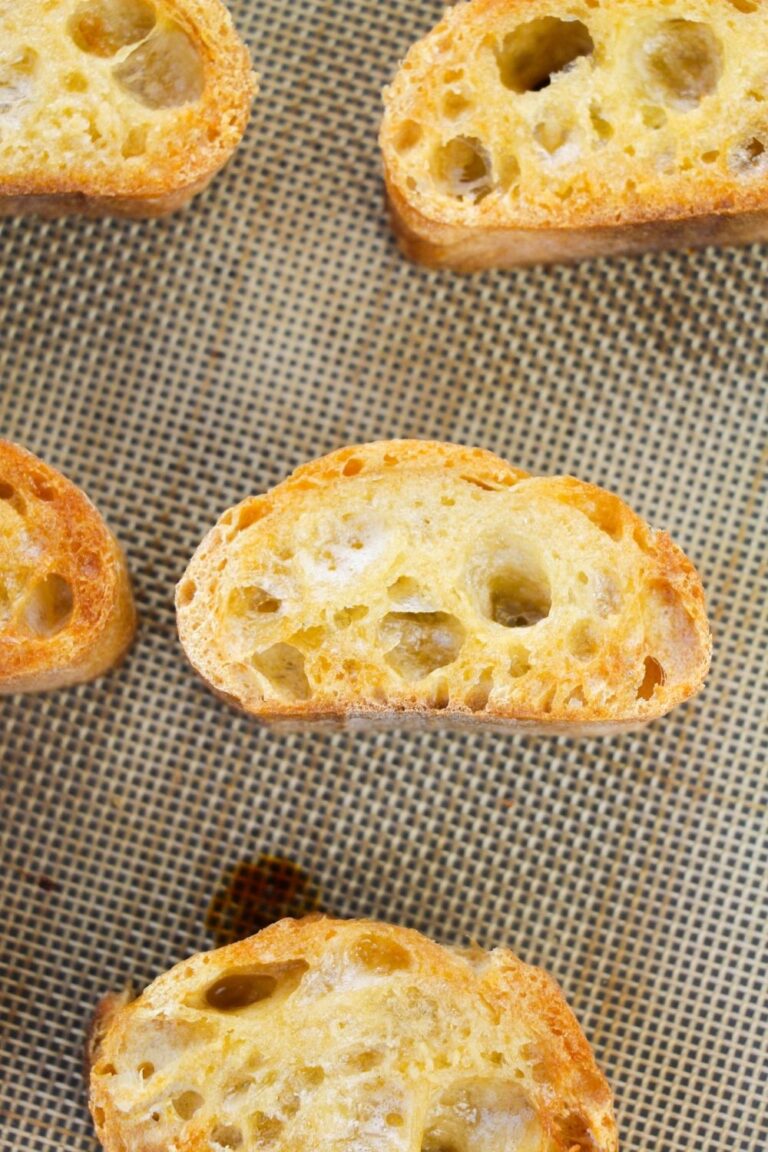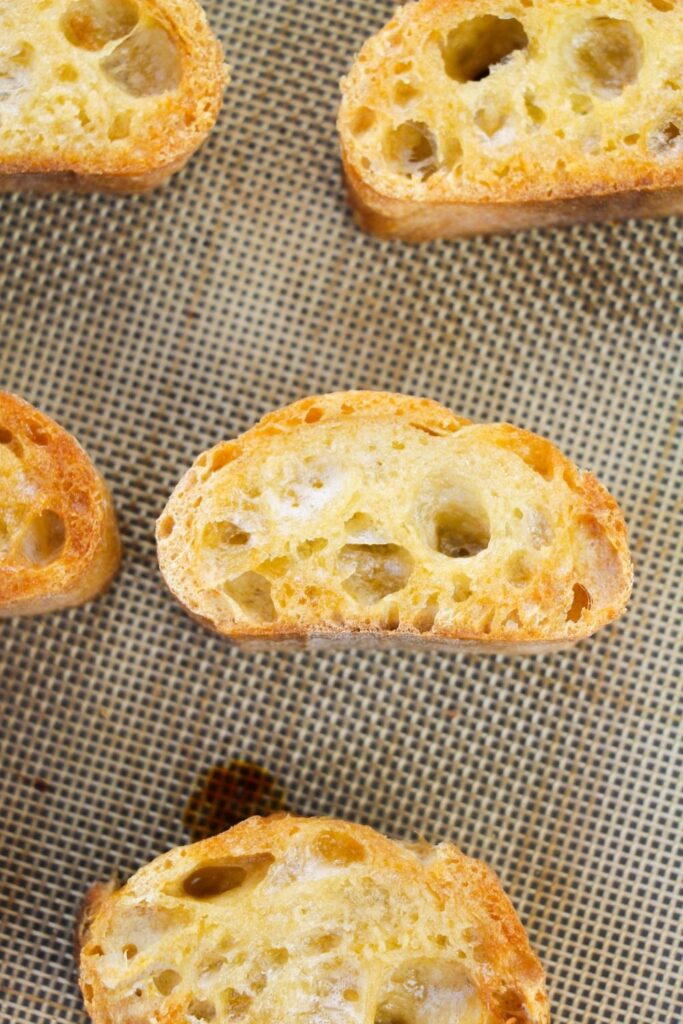 Step One: Preheat the oven and grab your baking sheet. Take your baguette slices and place in single layer on prepared baking sheet.
Step Two: Take your softened butter and mix with the honey until nice and creamy.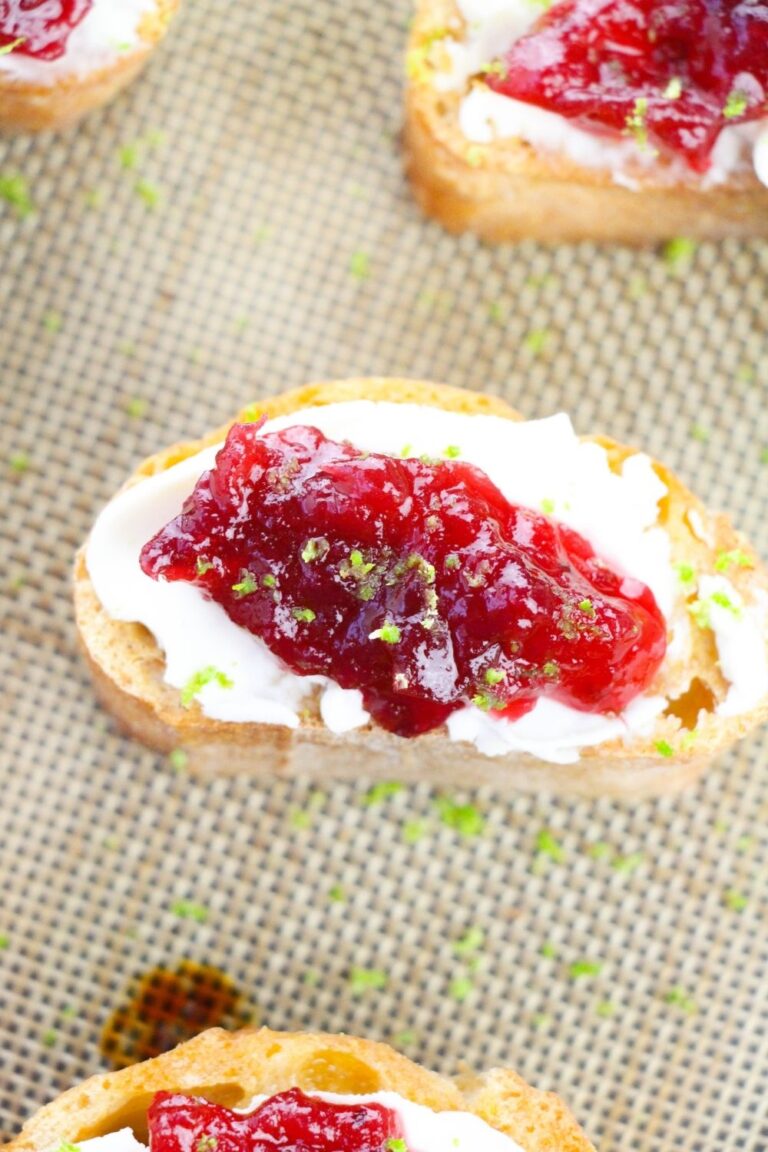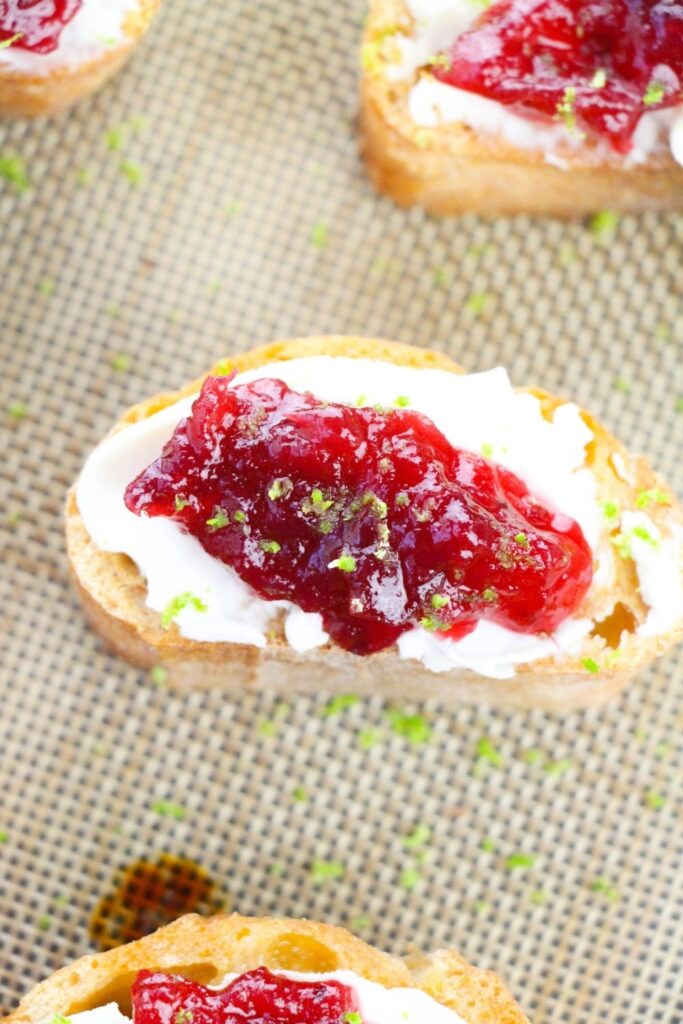 Step Three: Take the honey butter and spread on each baguette. Then you will toast in the oven until golden color.
Step Four: Remove from the oven and spread a layer of softened cream cheese on top, and a dollop of the cranberry. Garnish with lime zest if you want.
Serve and devour!
Storage
These crostini bites are best served fresh and warm. I recommend not making more than you plan to eat. If you happen to have a few leftover, store in the fridge. Then eat them cold. The texture can change a bit to where they are soggier.
If you have extra bread, butter, and such, store each item separately in the fridge. Then heat and assemble for a fresh and tasty cranberry holiday appetizer.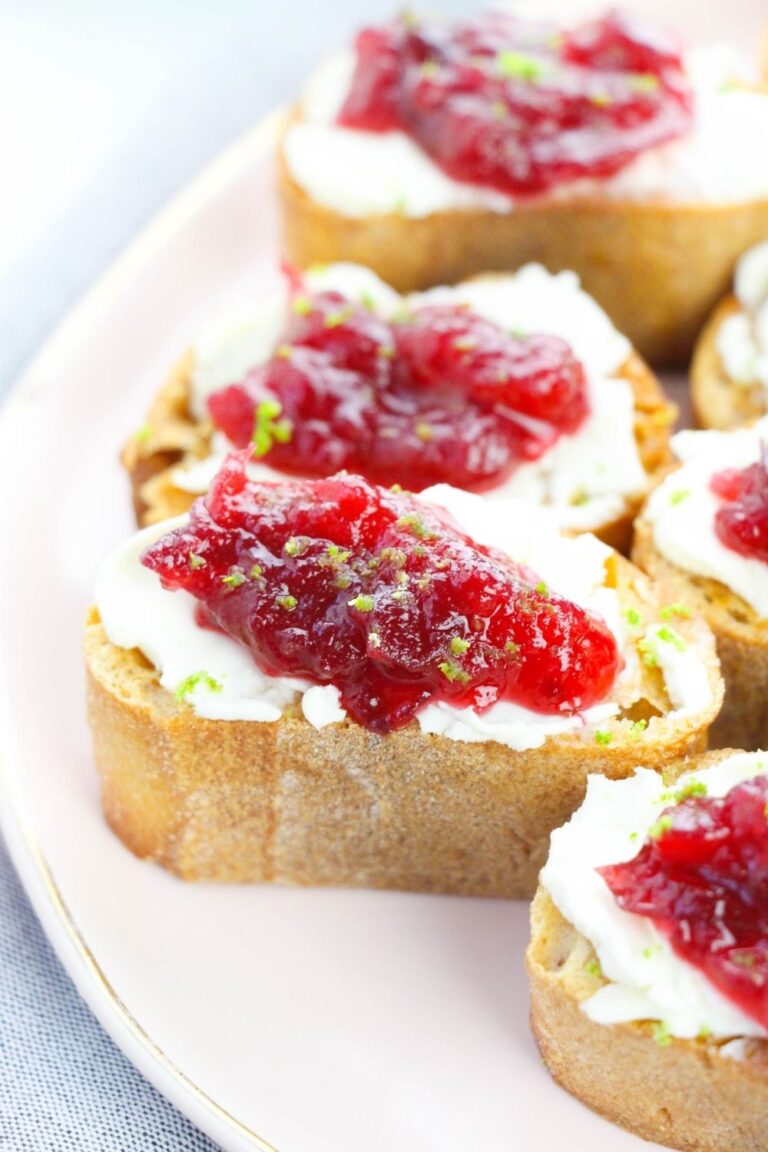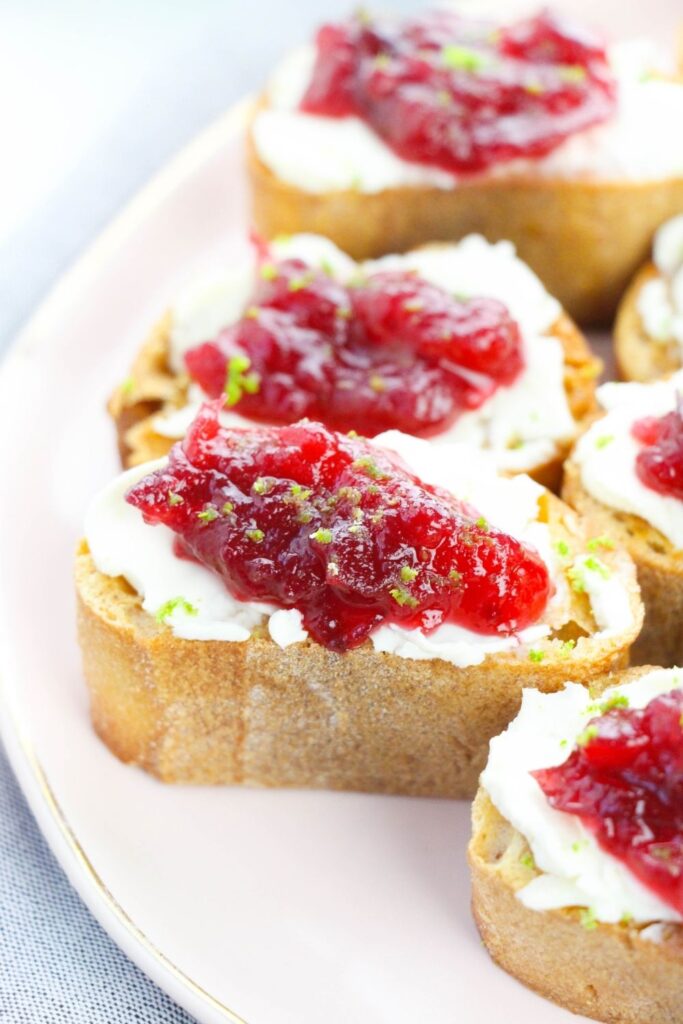 Pro Tips
Helpful tips when making this cranberry Christmas appetizer!
Any type of baguette style bread works.
Make sure to use softened cream cheese so it spreads evenly.
Same with the butter use softened butter so it mixed well.
If you don't want it to be too sweet, you can leave the honey off and spread with butter and toast.
Make right before you plan to serve. Otherwise, the bread will become soggy. This is one party appetizer you don't want to make in advance.
FAQS
Related Recipes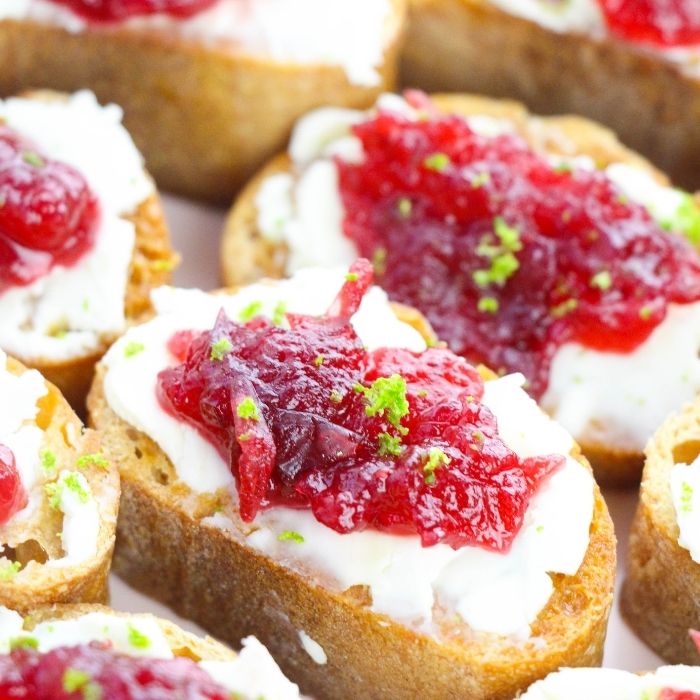 Cranberry Crostini
Servings 16
Cranberry Crostini is a quick and easy throw together party appetizer for the holidays. Honey butter, cream cheese and cranberry all topped on a golden baguette. This cranberry appetizer is crazy simple and delicious.
Ingredients
1 Baguette sliced 2″ thick
4 ounces Cream Cheese softened
3 Tablespoons Butter softened
1 Tablespoon Honey
1/2 cup Cranberry Sauce
Lime Zest optional
Instructions
Preheat your oven to 350 degrees. Then line a baking sheet with aluminum foil or silicone baking mat.

Then place your baguette slices on the cooking. If your baguette is not sliced already you will slice in 2 inch slices.

In a bowl, add butter and honey. Mix well then spread on each of the baguettes. Make sure the butter is softened so it mixes well.

Bake for 5-7 minutes or until toasted. Then remove.

On top add softened cream cheese, and a dollop of cranberry sauce.

Zest some lime on top if you want, or even a zest of orange works great.

Serve these cranberry crostini bites right away.
Notes
Honey butter – make sure the butter is softened or it will not mix well with the honey. Baking – You want to bake the baguettes until they are golden, so they have a little crunch to them. If you prefer to have softer bread cook for less time. Cranberry Sauce – You can use homemade cranberry sauce or store bought. Both work great for this recipe. Zesting – The zest adds some color but also a kick of citrus flavor.
Nutrition
Serving: 1gCalories: 117kcalCarbohydrates: 16gProtein: 3gFat: 5gSaturated Fat: 3gPolyunsaturated Fat: 2gCholesterol: 13mgSodium: 162mgFiber: 1gSugar: 5g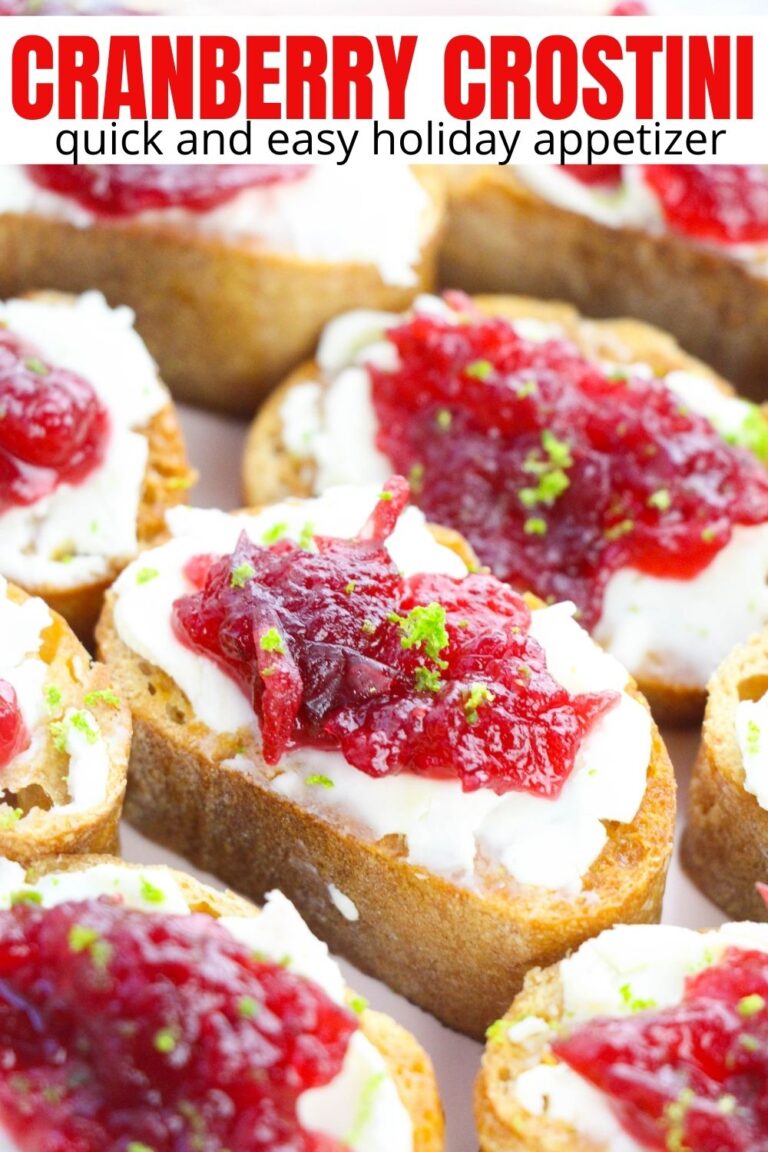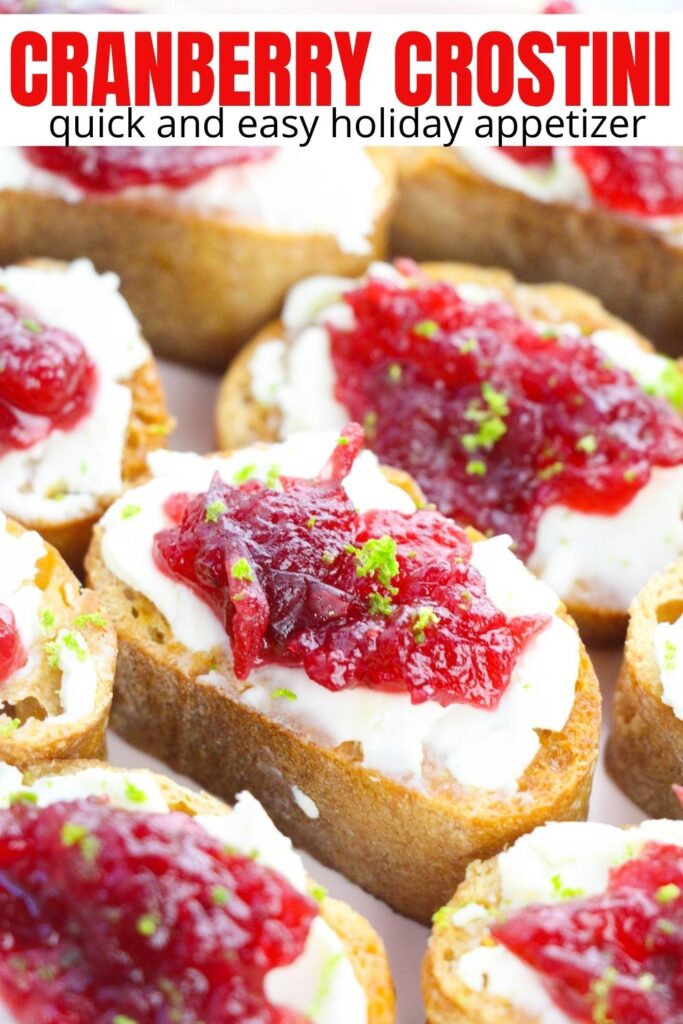 Reader Interactions