Tender and delicious Cranberry Banana Oat Muffins are a show stopper. Made with fresh cranberries, oats, and ripe bananas, they are the perfect treat for all occasions. Give the incredible muffins a taste! A breakfast muffin that kids and adults can enjoy.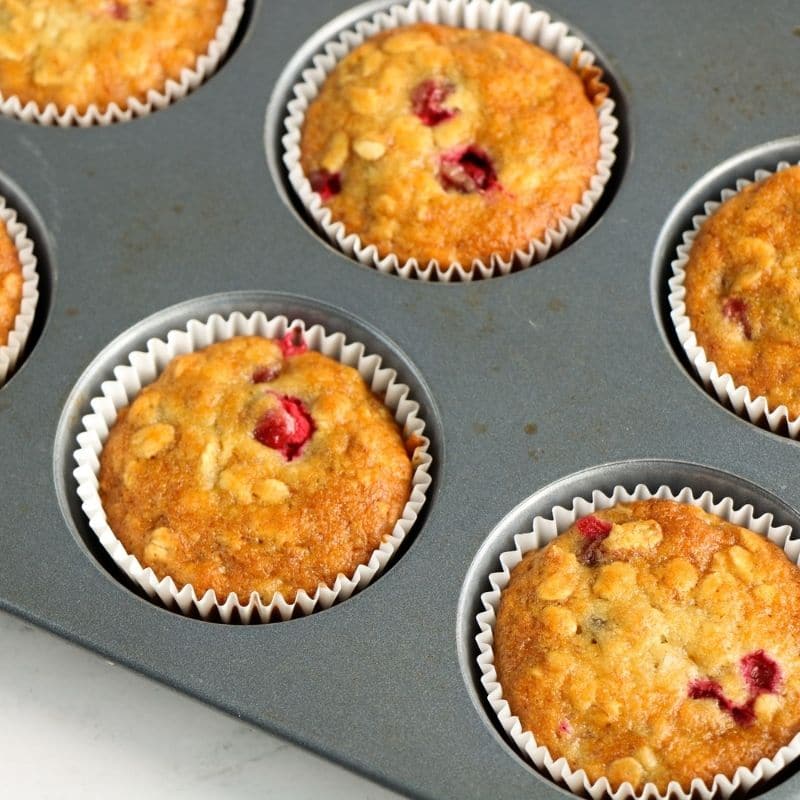 The tangy goodness of the fresh cranberries paired with the creamy banana is an irresistible combination. Can't get enough banana and cranberries together? Check out my Cranberry Banana Coffee Cake.
Whether you are looking for a delicious dish for holiday brunch or want a quick grab and go breakfast, these cranberry muffins are ready to steal the show. You can easily make this a cranberry orange muffin as well!
I am an Amazon Affiliate, so if you purchase through my link I can earn a commission on sales.
🧁 Why Make This Recipe
great for Christmas
super flavorful
tasty morning muffins recipe
fresh cranberries recipe
a great breakfast or snack
made in just 30 minutes
they are festive
super easy recipe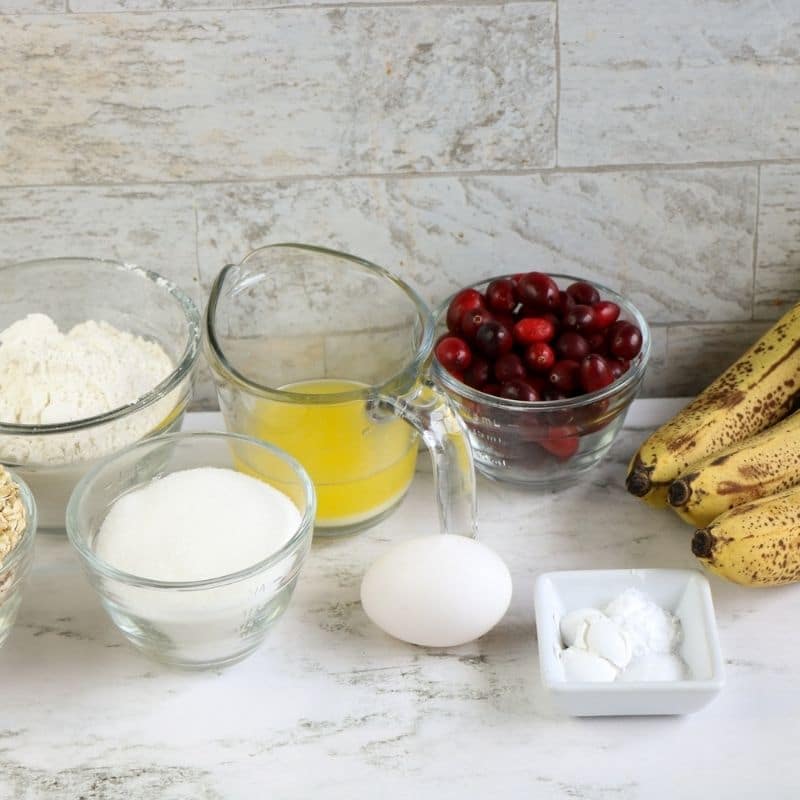 🍊 Ingredients
All-purpose flour
Old-fashioned oats
Buttermilk
Granulated white sugar
Baking powder
Salt
Large egg
Ripe mashed bananas
Melted butter
Fresh cranberries
Grab my Free Kitchen Conversions Printable! This shows you how many cups are in a quart, pint, etc. A great printable to keep handy for when you need to convert a recipe.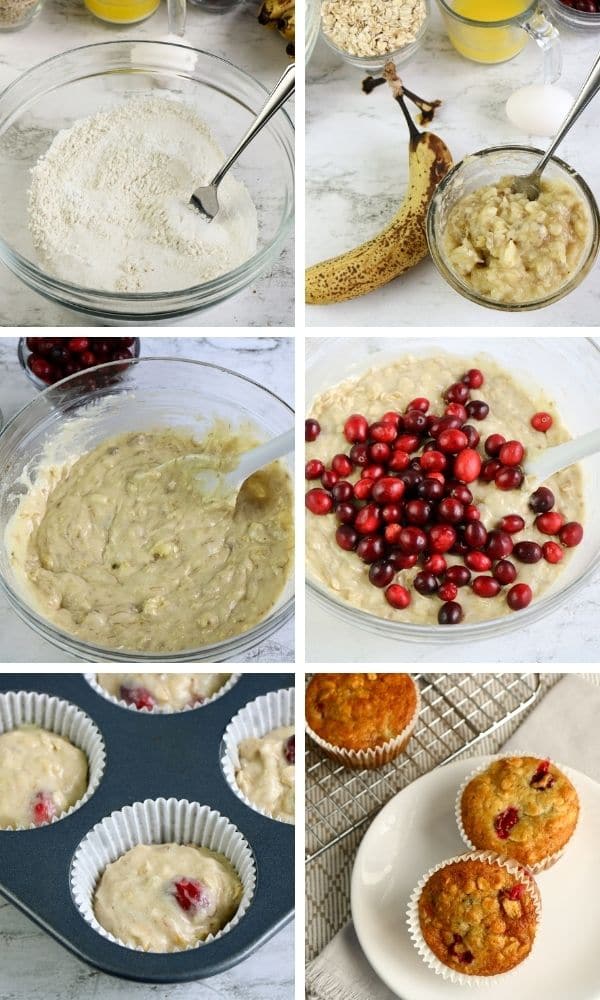 👩‍🍳 How to Make
Full directions and measurements for these cranberry banana muffins are in the printable recipe card below.
1. Prepare the muffin pan and preheat the oven.
2. To soften the oats, soak them in buttermilk for 20 minutes before preparing the muffins. This step can be skipped if you don't mind a heartier texture.
3. Combine the flour, baking soda, baking powder, salt, and sugar. Then add in the oats.
4. Mix the eggs, melted butter, and bananas with a whisk.
5. combine the banana mixture with the flour mixture until well blended.
6. Fold in the cranberries.
7. Scoop batter into muffin tin filling them 2/3 full.
8. Bake for 20-25 minutes.
9. Enjoy!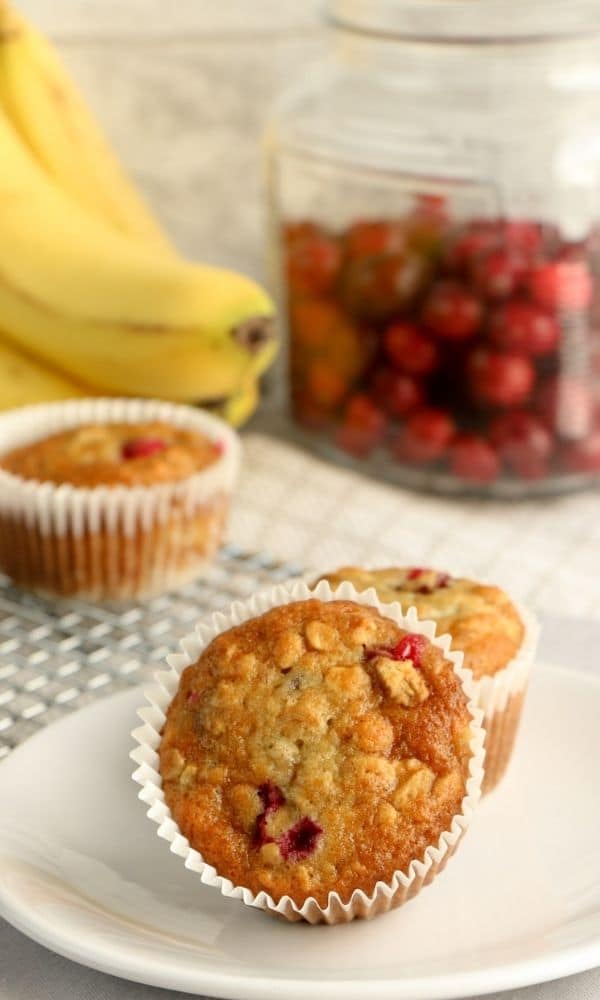 More Cranberry Recipes
📌 Expert Tips
Don't overfill the muffin tins. You need to save room at the top for them to rise and expand.
Either use muffin liners or spray the muffin tin, so the cranberry bananas come out easily.
Test the doneness of the muffins by inserting a toothpick in the center. It should come out clean and free of wet batter.
Make your own homemade muffin mix by adding all the dry ingredients to a mason jar or plastic bag. Be sure to label it. Then it's ready to go and just needs wet ingredients when you are ready.
In order to prevent the cranberries from sinking, roll them in a bowl with a tablespoon or two of flour. Then fold into the batter.
🍌 Recipe FAQs
Should there be lumps in the batter?
Yes, it is very common to have some lumps in the batter when making muffins. This is more than fine, and you don't want to overmix it to get rid of the lumps. If you do, they will end up very dense.
How do I get the muffins the same size?
I highly recommend using a large cookie scoop or even a measuring cup. Then each muffin is going to be uniform in size and will bake more evenly as well.
How can I make my muffins light and fluffy?
The best way to ensure the muffins are light and fluffy is by not overmixing the batter.

Another important thing is to use ingredients that are room temperature. Let the egg sit out for 30 minutes before starting, and let the melted butter cool down for a couple of minutes.
More crave-worthy muffins
Tried this recipe? Make sure to rate ⭐️⭐️⭐️⭐️⭐️ and leave a comment to let me know how you like it! Plus get more Instant Pot Recipes or Home Cooked Recipes Facebook Page on my Facebook. Stay up to date and Follow Me On Pinterest!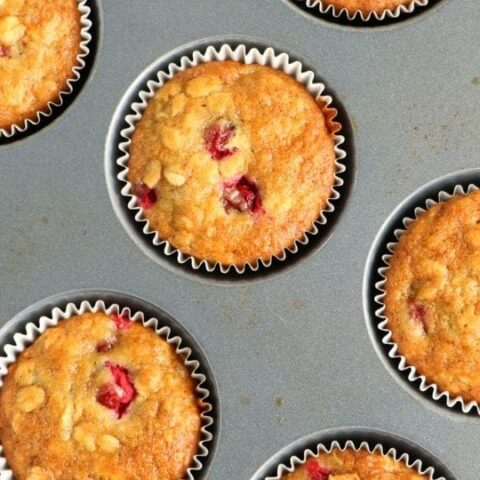 Banana Cranberry Muffins
Whip up a batch of these banana cranberry muffins! This is a great breakfast muffin you can whip up with fresh cranberries in each bite. Oats, banana, cranberry, all come together for one tasty homemade cranberry muffin.
Ingredients
1 ¼ cups all-purpose flour
3 to 4 ripe bananas, mashed
1 cup old fashioned oats
1 cup buttermilk
⅔ cup granulated sugar
1 ½ teaspoons baking powder
½ teaspoon salt
1 egg, room temperature
⅓ cup butter, melted
1 cup fresh cranberries + 1 teaspoon flour
Instructions
Start by preheating the oven to 350 degrees. Then place muffin liners in your muffin tin. If you don't use liners grease your pan.
For softer oats you will want to soak your oats in buttermilk for 15-20 minutes.
In a bowl add your flour, sugar, baking powder, baking soda, salt, and then stir and set aside.
In a stand mixer you will mash your bananas really well. Then mix in the butter and eggs. Now add in your dry ingredients and the oats and buttermilk.
Fold in the cranberries. I tossed the cranberries with teaspoon of flour to help prevent them from falling to bottom of the muffins.
Once the banana cranberry muffin batter is mixed, then spoon into the muffin tin. I did around 3/4 the way full.
Bake for 15-25 minutes depending on when they are done. It all depends how full you fill your muffin tins.
Remove cranberry banana muffins from oven and let cool on a baking rack then serve.
Notes
Depending on altitude baking time can vary.
Stick a toothpick in muffins and if it comes out clean of wet batter the muffins are done.
Allow the muffins to fully cool before you transfer them into an airtight container to store.
You can use dried cranberries to replace fresh ones if you would like.
These cranberry muffins will freeze really nicely. Just allow to fully cool then transfer to proper container and freeze for up to three months.
Recommended Products
As an Amazon Associate and member of other affiliate programs, I earn from qualifying purchases.