This banana pecan bread with a crumb topping is a marvelous breakfast bread recipe to pair with a hot cup of coffee. This banana bread recipe is loaded with chopped nuts and a sweet and crunchy crumb topping.
A moist banana bread that is a delicious recipe for ripe bananas. My family loved the fun twist of the banana bread topping. It added a lot of flavor to the bread. Try these banana cinnamon muffins as well.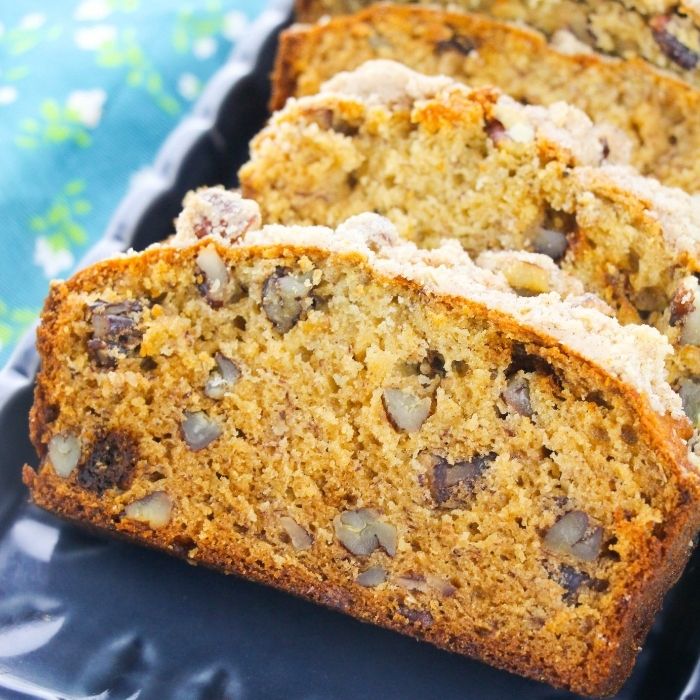 This banana nut bread is a great recipe to make with ripe bananas. Don't let those bananas go to waste, try out this easy quick bread a try.
Why Make This Banana Pecan Bread
Simple Ingredients
Moist banana bread recipe
Quick to whip up
Delicious crumb topping for a twist to a classic banana bread
Stores and freezes well
Ingredients Needed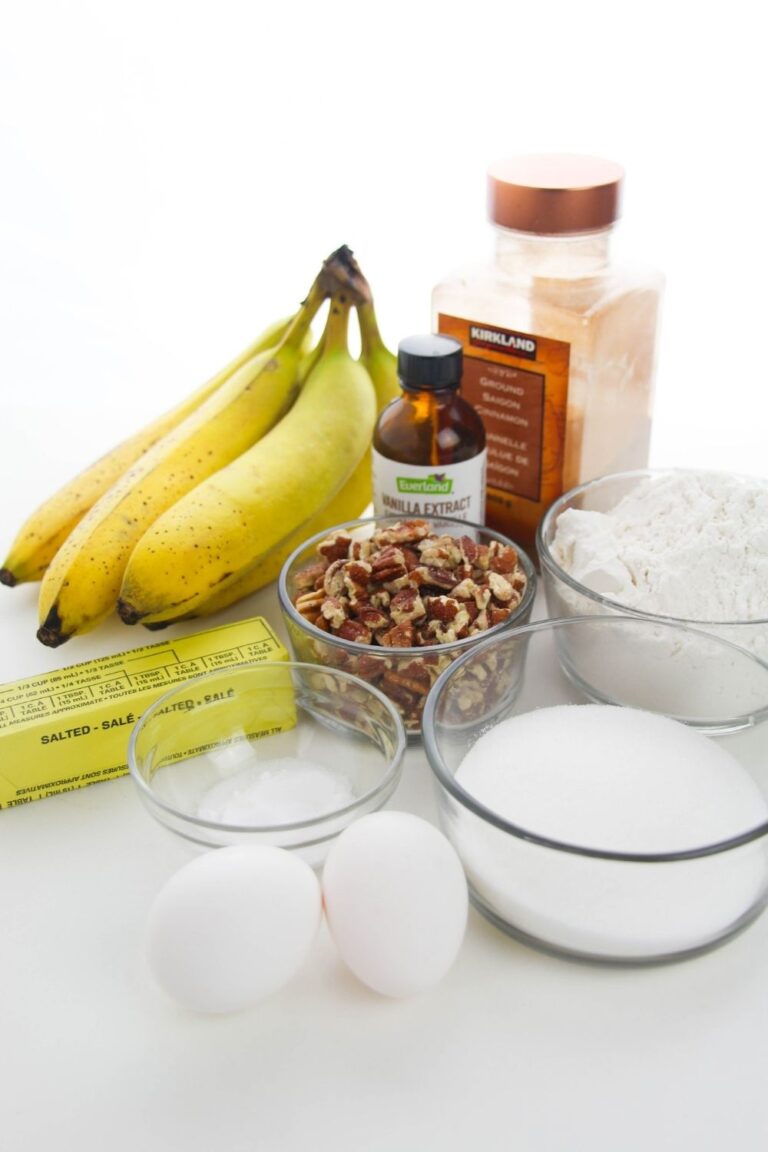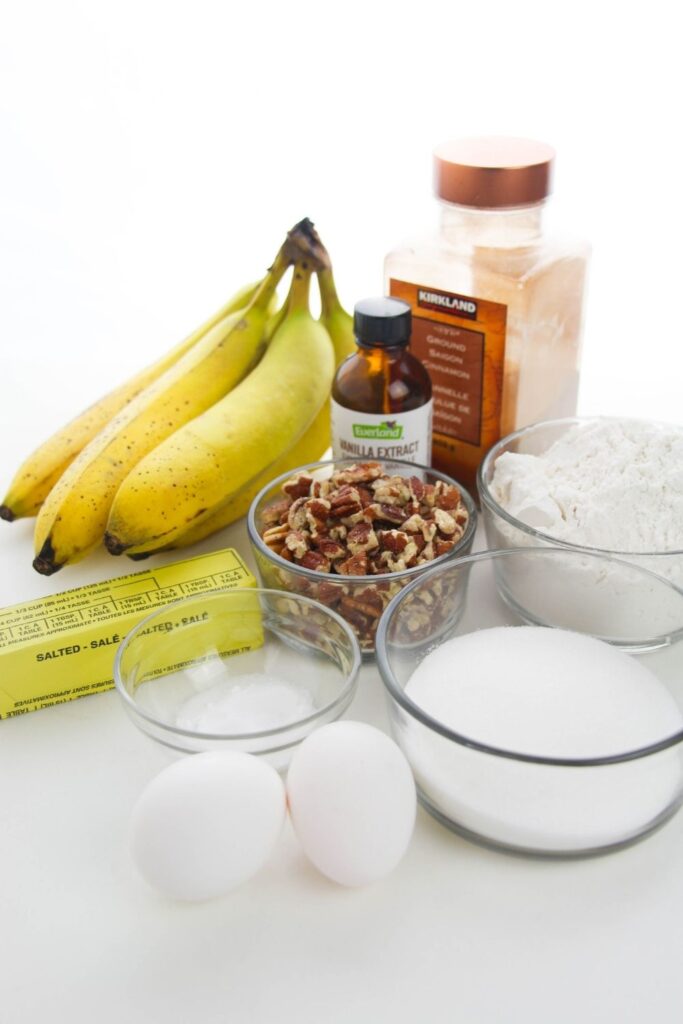 Flour – All purpose flour is what you will use for this bread recipe.
Baking Soda
Salt
Cinnamon
Butter – If you use salted butter just omit the salt in the recipe.
Eggs
Bananas – Reach for ripe bananas that have brown speckles on them. This will add a rich banana to your bread.
Nuts – I used pecans, but you are more than welcome to use walnuts or other nuts.
Brown Sugar – Light or dark brown sugar works.
How to Make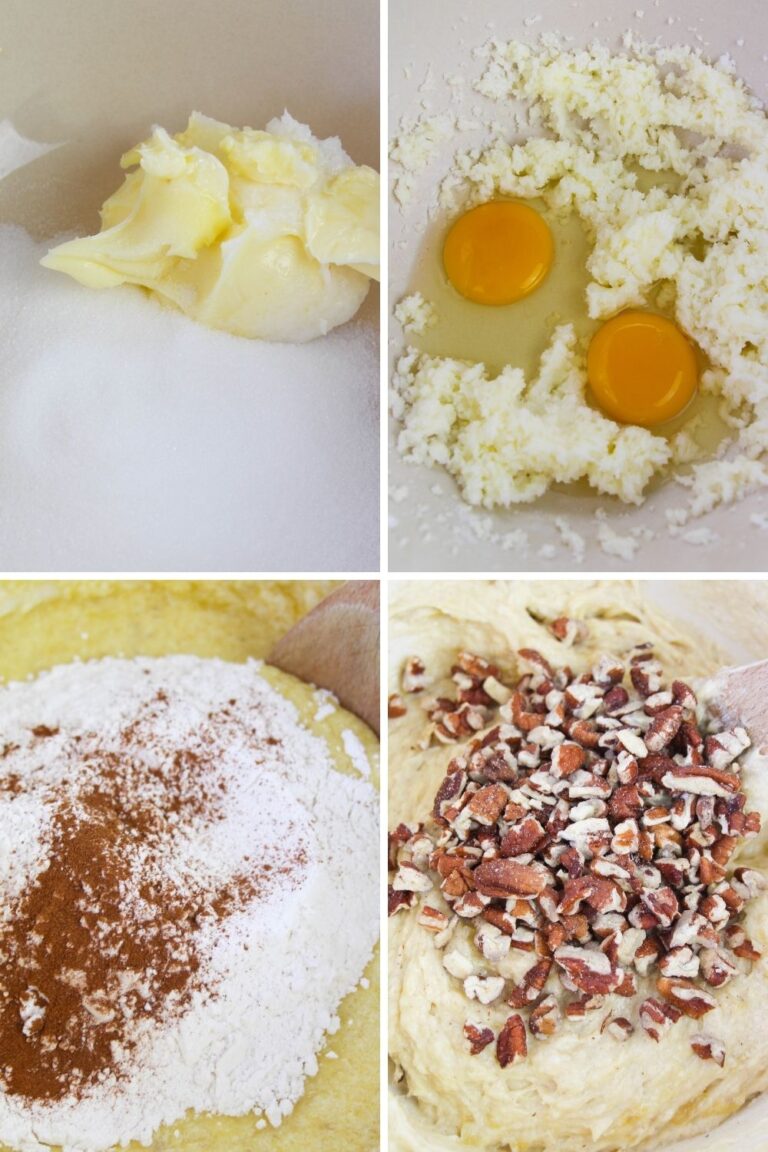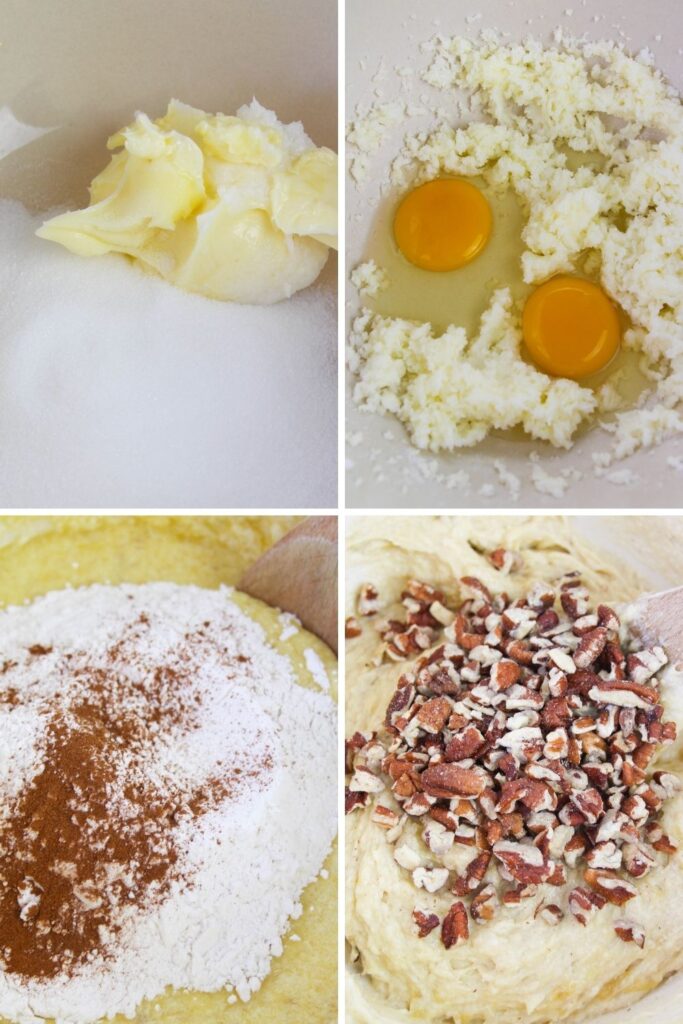 Step One: Preheat the oven and grease your bread loaf pan with cooking spray. In a bowl, you will add your flour, baking soda, salt, and cinnamon. Mix well and set aside.
Step Two: In a bowl with stand mixer or hand mixer beat the melted butter and the granulated sugar together for 1-2 minutes. You want the sugar to dissolve in the butter.
Step Three: Now add in the eggs one at a time and the mashed bananas. Make sure to mix the batter well to incorporate.
Step Four: Next add in the dry ingredients slowly, making sure to scrape down the sides of the bowl.
Step Five: Once mixed well, fold in the nuts. Then pour into your greased pan.
Step Six: Now in a small bowl add your crumb topping ingredients together and then sprinkle all over the banana bread.
Step Seven: Bake for 45-55 minutes or until the loaf pan is cooked all the way through.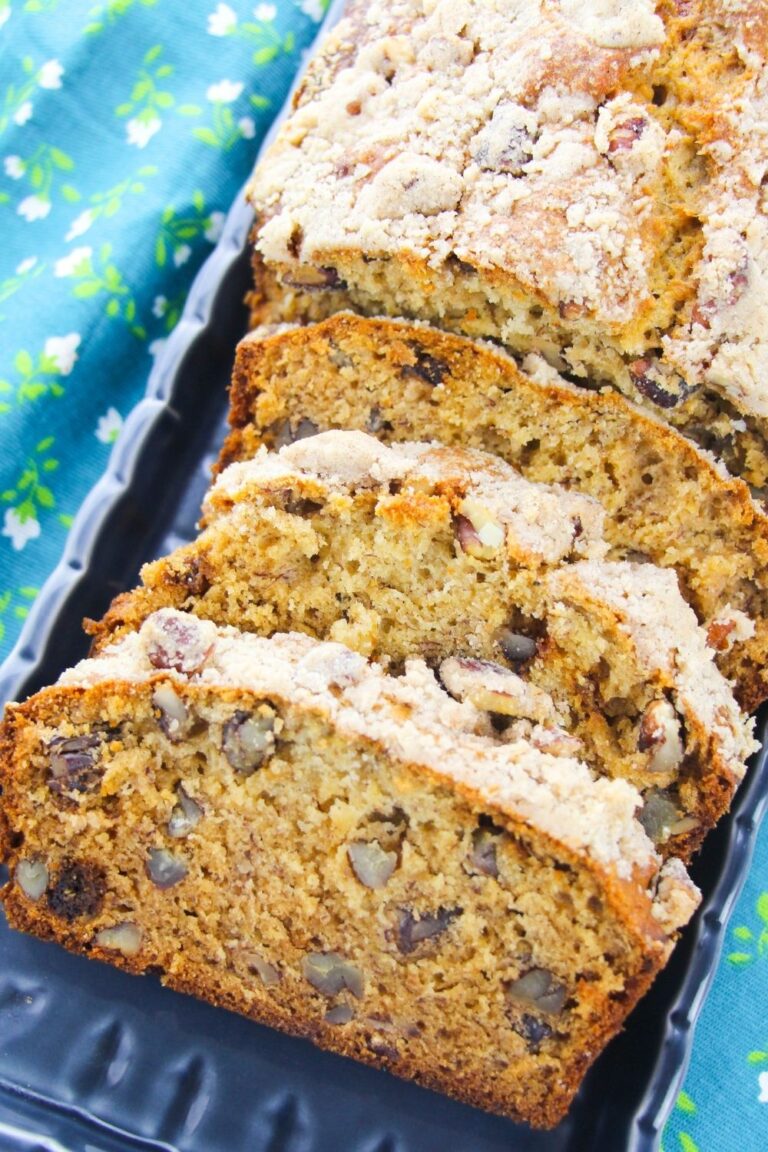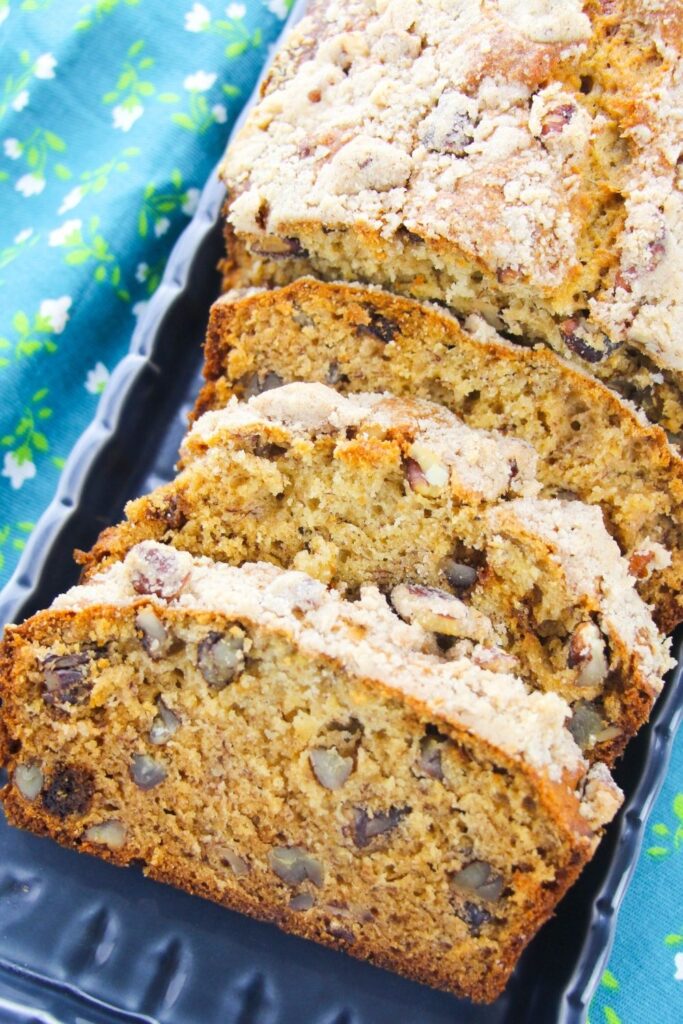 Variations To Recipe
Here are a few changes you can make to this banana bread with crumb topping recipe.
Add in some chocolate chips.
Leave out the nuts if you prefer.
Mix in 1/3 cup old fashioned oatmeal for a crunchier streusel topping.
Grab my Free Kitchen Conversions Printable! This shows you how many cups are in a quart, pint, etc. A great printable to keep handy for when you need to convert a recipe.
Storing
Fridge or Counter – You can store your banana bread with pecans on the counter for 3 days or in fridge up to 5 days.
Freezing Bread – Or you can freeze your banana nut bread for 2-3 months. Wrap tightly in foil then place in a freezer bag.
Helpful Tips For Banana Bread
Ripe Bananas – It is important to make sure you use ripened bananas. Otherwise, your bread will lack in flavor. You can use frozen bananas that have been mashed up as well.
Over-browning Top of Bread – If you find that your bread is browning too fast on top of the loaf, then take aluminum foil and lightly tent over the bread. This will help prevent the top of the loaf from over-cooking while the rest is still a bit raw.
Chopped Pecans – Use pecans or any other type of nut you want. I like to roughly chop the nuts, so they are not too large when mixed in the batter.
FAQs
Related Recipes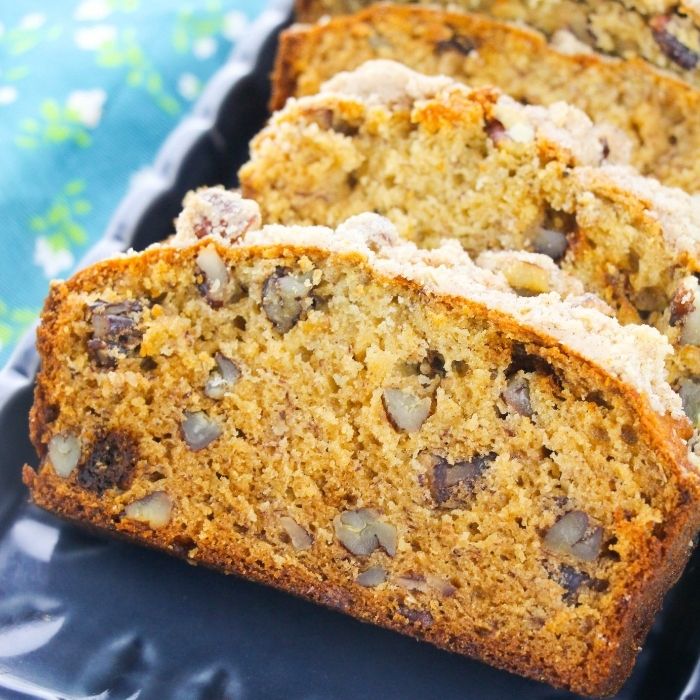 Banana Pecan Bread with Crumb Topping
Servings 1 loaf
Banana bread with a crumb topping is a delicious and moist banana bread recipe. Whip up this easy and delicious banana bread recipe for breakfast or a dessert.
Ingredients
Banana Bread Ingredients
1 1/2 cups all purpose flour
1 Tablespoon cinnamon
1 teaspoon baking soda
1 teaspoon salt
2/3 cup white sugar
1/2 cup butter melted
2 eggs
3 bananas mashed
2/3 cup chopped nuts we used pecans
Crumb Topping
1 cup all purpose flour
1 cup brown sugar
2 Tablespoons cinnamon
6 Tablespoons butter melted
Instructions
Preheat the oven to 350 degrees and grease your loaf pan and set it aside.

Peel bananas and then mash your bananas in a bowl and set to the side.

Then in a bowl add your flour, baking soda, cinnamon and salt. Mix well and set aside.

In a stand mixer or bowl add your softened butter and the granulated sugar. Mix for 1-2 minutes or until the sugar dissolves with the butter.

Now add in the eggs, and the mashed bananas.

Slowly add in the dry ingredients, mixing well. Scrape down the sides of the bowl. Once done, fold in the chopped nuts.

Pour the banana bread batter into your pan.

In a small bowl, add your melted butter, flour, brown sugar, and cinnamon. Mix well and then sprinkle on top of the banana bread.

Bake for 45-55 minutes or until the bread is fully baked.

Let cool a bit then slice this banana pecan bread and enjoy.
Nutrition
Serving: 1gSodium: 425mgSugar: 30gFiber: 3gCholesterol: 67mgCalories: 403kcalTrans Fat: 1gPolyunsaturated Fat: 8gSaturated Fat: 9gFat: 19gProtein: 6gCarbohydrates: 56g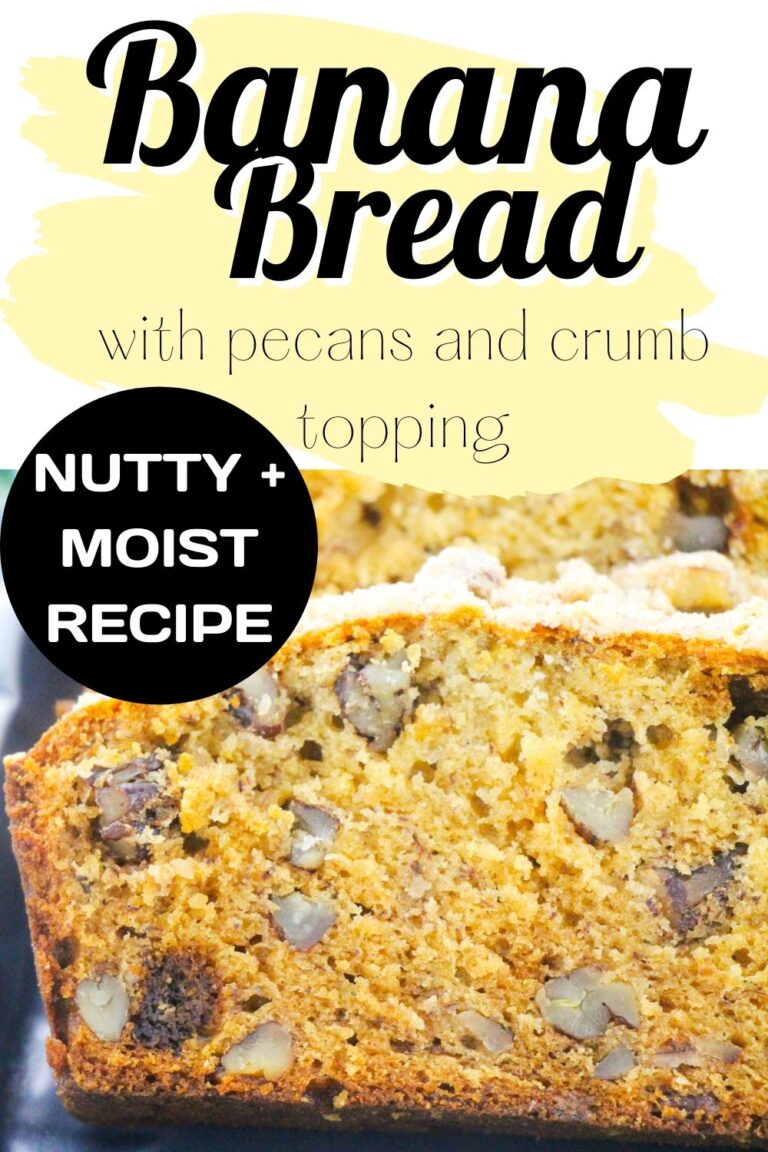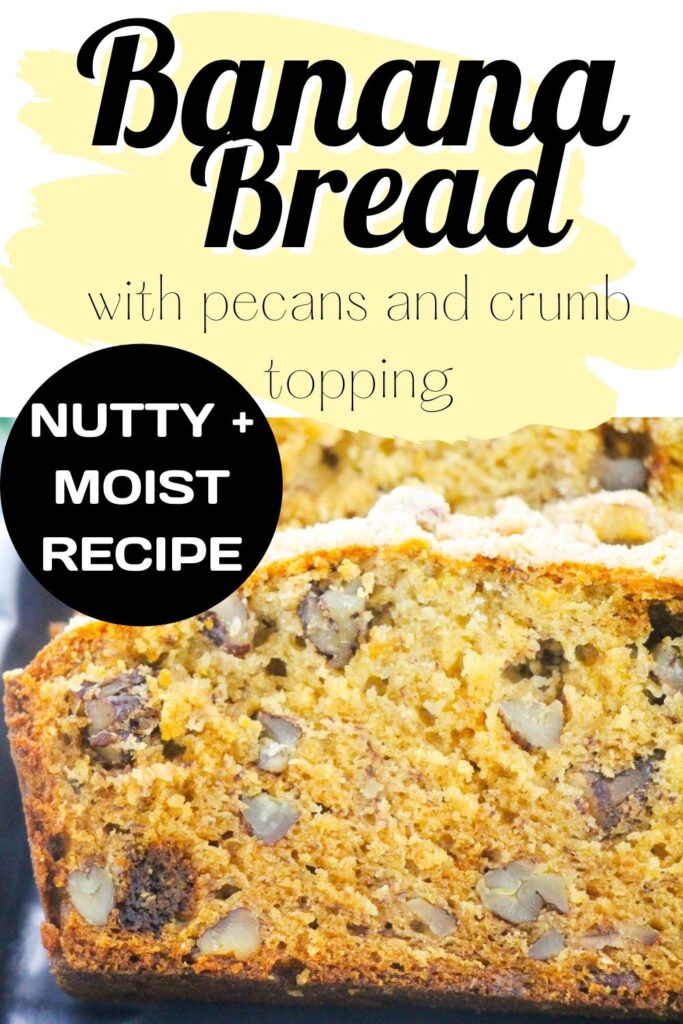 Reader Interactions