Whip up this gorgeous wreath cake. A red velvet wreath cake recipe that is topped with homemade buttercream frosting. A festive cake idea perfect for the Christmas season.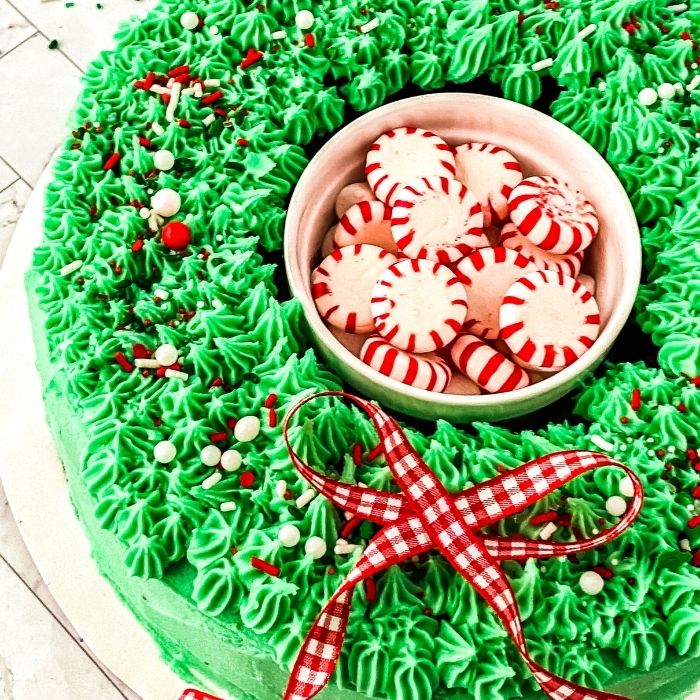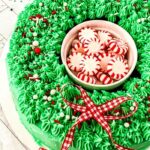 Whip up this stunning red velvet Christmas wreath cake for your Christmas parties and family gatherings. This is a decadent red velvet cake that is frosted with a homemade buttercream frosting. This must make Christmas cake will be the highlight of the night.
If you are looking for a stunning but simple holiday cake recipe, look no further. This donut cake pan works perfectly for making a holiday wreath cake. Learn how to make a Christmas wreath cake in no time.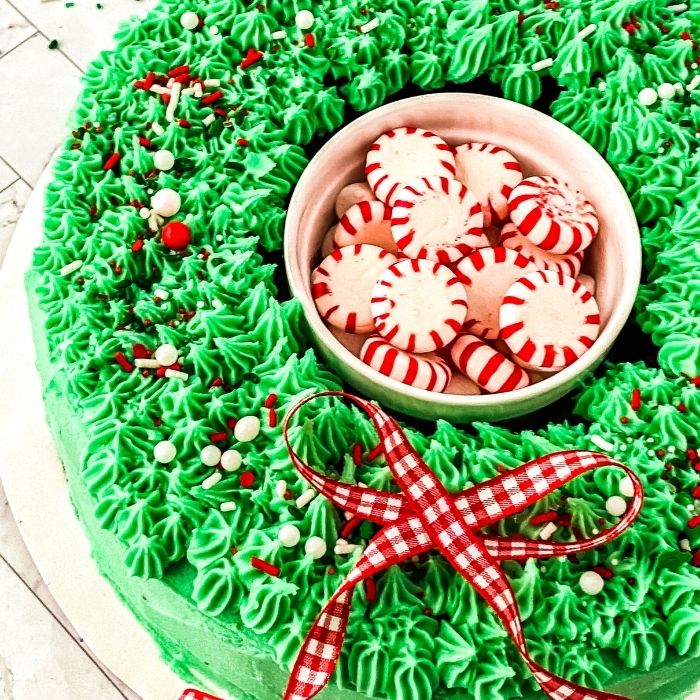 My red velvet Christmas cake is great for taking to parties your attending, showcasing at the end of the night for hosting parties at home, or a treat for the family.
This Christmas Wreath Cake Recipe Is…
Easy to make
Stunning to showcase for the holidays
A fun festive cake idea
Pretty red and green dessert that fits the holiday theme
Decorate the wreath however you want
More Red Velvet Recipes To Try: Red velvet poke cake, or my 4 ingredient red velvet cookies, or my red velvet donuts.
Ingredients Needed
Red Velvet Cake Mix + Ingredients On Box – You will make your red velvet cake as directed on the box.
Butter – Use unsalted real butter for making the buttercream frosting.
Sea salt – Just a little enhances the flavor.
Vanilla – Sweetens the frosting a bit.
Heavy Cream – If you don't have heavy cream you can use milk in replace.
Powdered Sugar – This is the base of the buttercream frosting.
Food Coloring – I used green food coloring for making my wreath green. You are welcome to use any color you want.
Sprinkles – Christmas sprinkles add a lot to the dessert, give it a try today.
Variations To Recipe
Here are some changes to make to the red velvet wreath cake if you would like.
Use any flavor of cake you would like. I just thought red velvet was fitting to the recipe.
Feel free to use homemade cake instead of boxed.
Decorate your wreath any way you would like.
Frost your xmas cake with a different flavor of frosting if you don't want to use buttercream.
Tools Needed
How to Make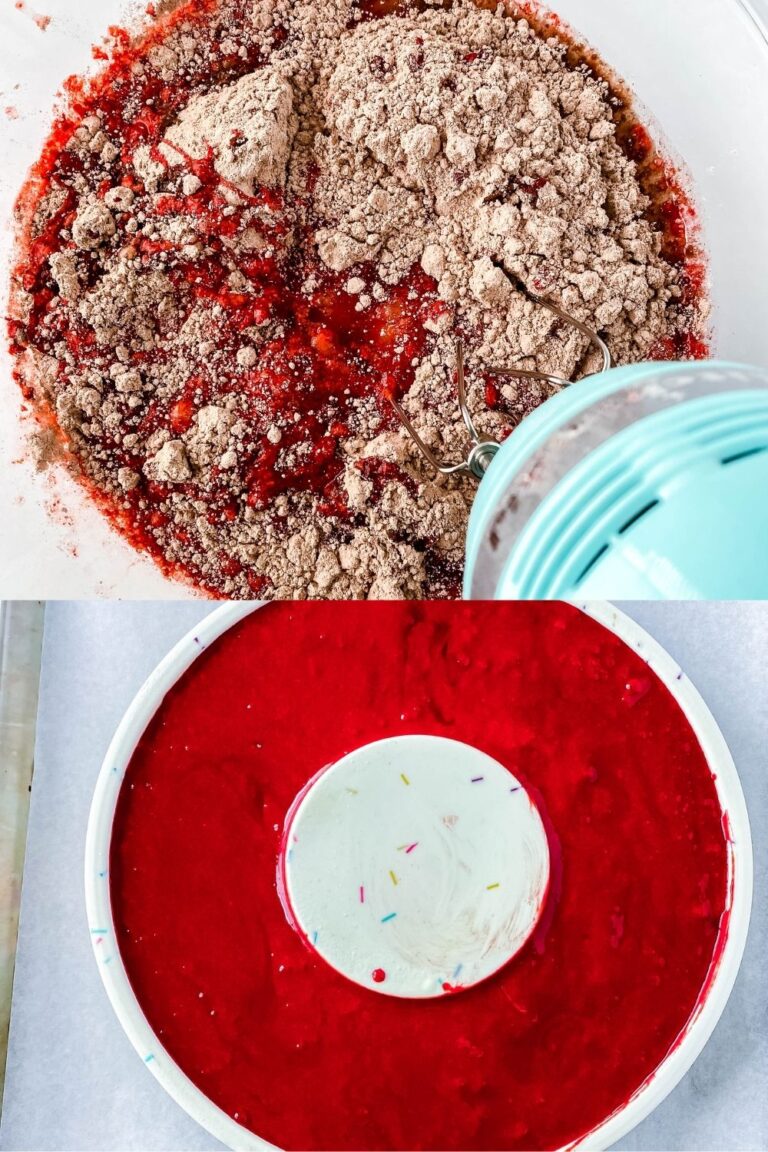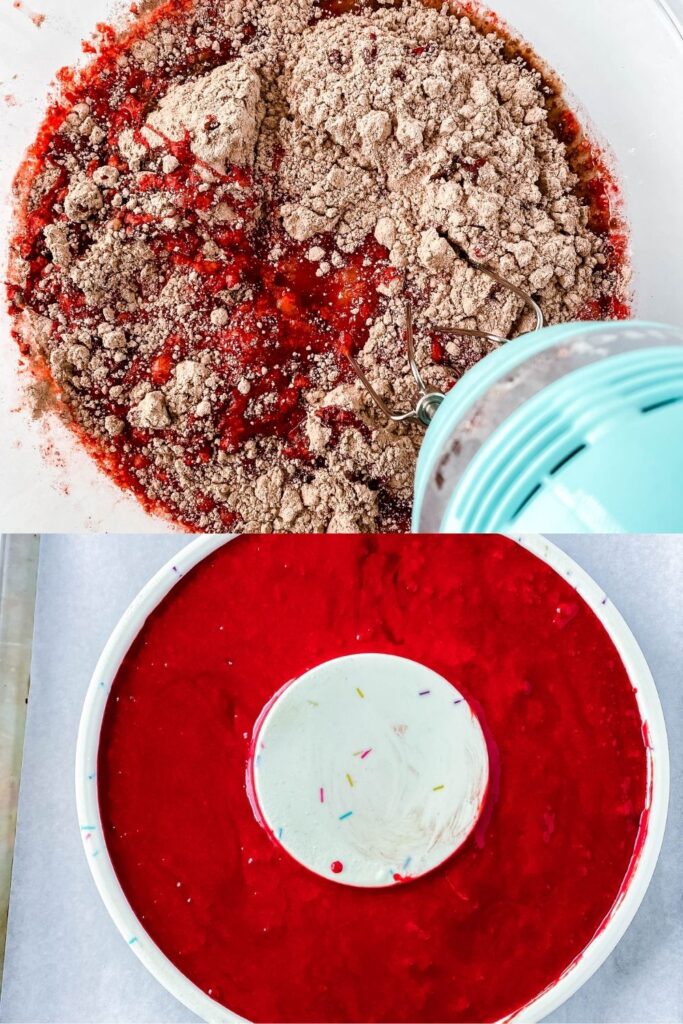 Step One: Preheat the oven and spray your donut pan with cooking spray and then set aside.
Step Two: In a bowl, you will add the cake mix and the ingredients on the back of the box. Mix well and then pour in pan.
Step Three: Bake for 35-40 minutes or until the cake is fully cooked. Place cake on a cooling rack and allow to cool.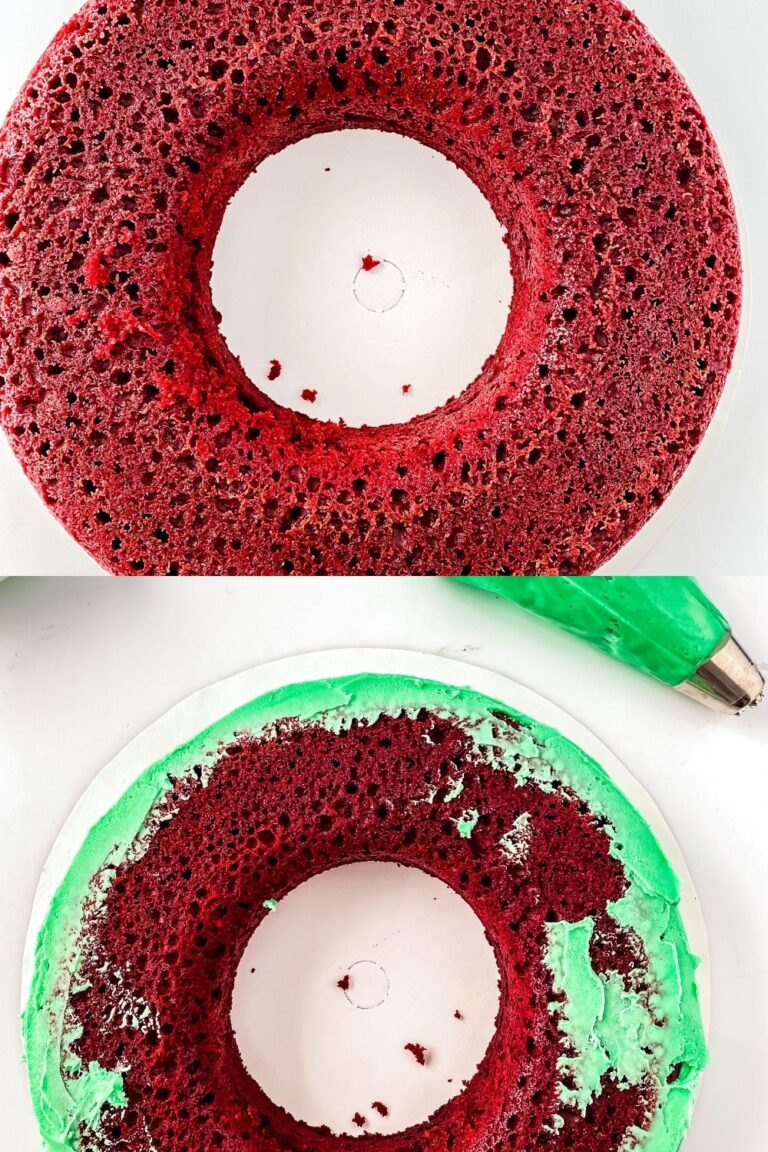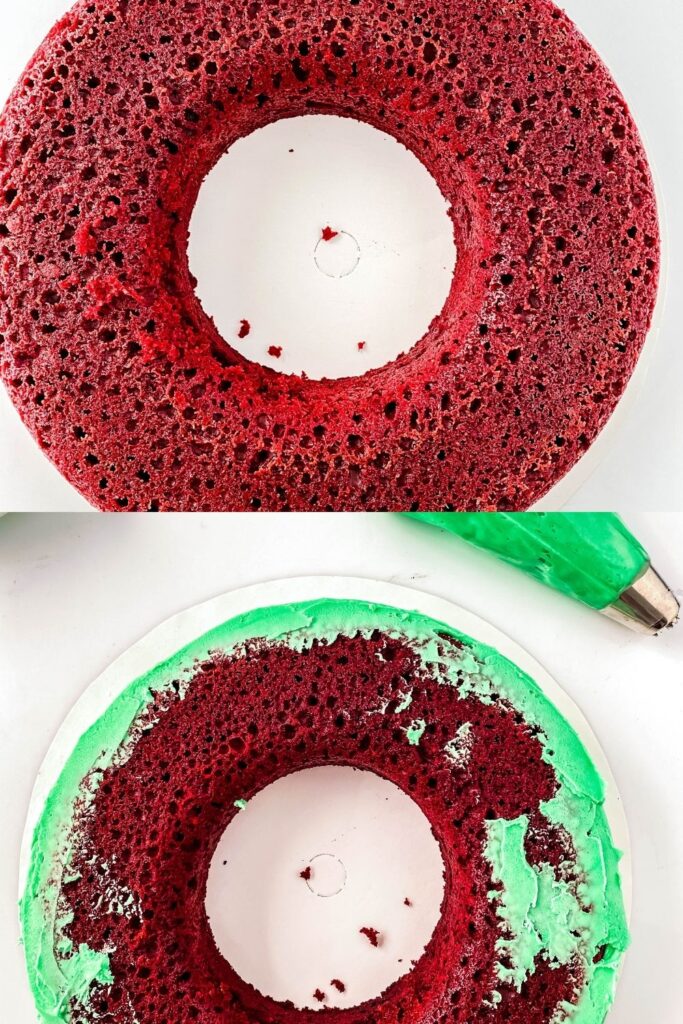 Step Four: Next, you will cut off any excess cake, using a serrated knife, making sure the cake is level on top and not dome shaped.
Step Five: Once cooled, wrap the cake in plastic wrap and place in the freezer for 4-6 hours. Once done, unwrap and place on a cake board.
Step Six: In a mixer whip up your buttercream frosting, and then add green food coloring to give it that green look.
Step Seven: Use a spatula to spread the buttercream frosting on the sides of the cake. Spread evenly.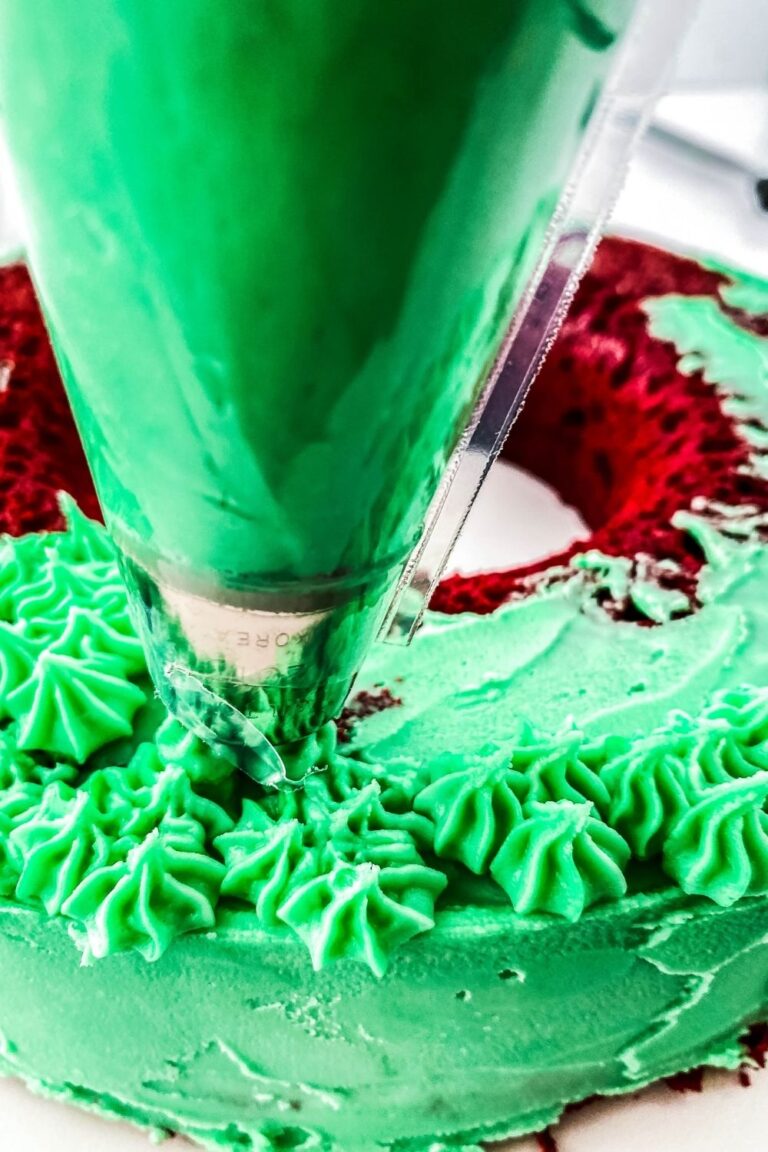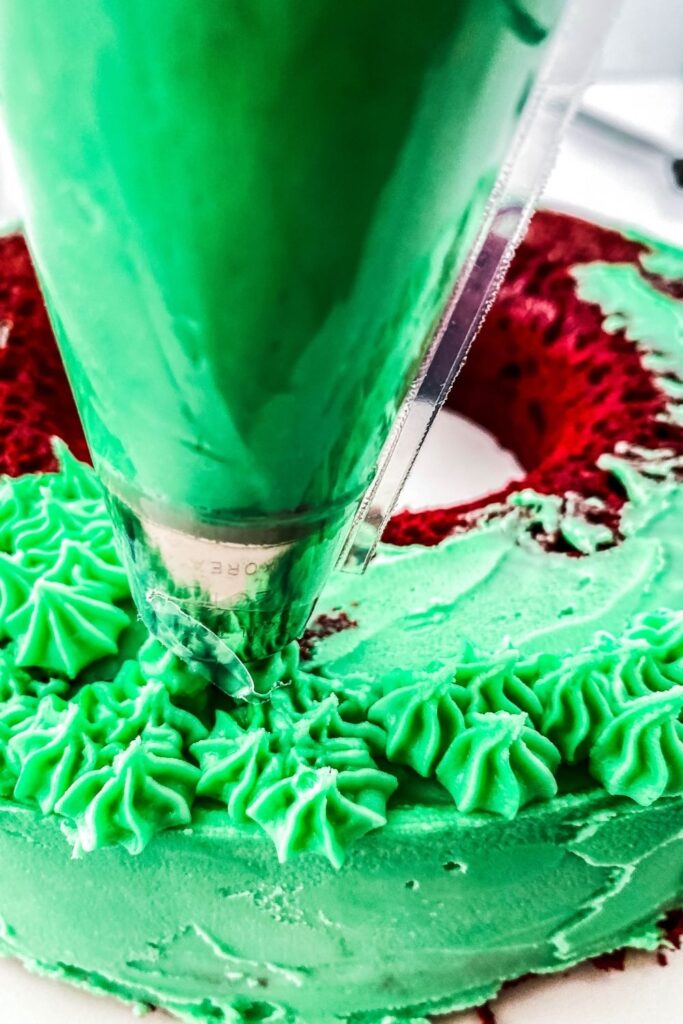 Step Eight: Next, add a triple star tip to the piping bag. Then use it to pipe all over making stars on the cake.
Step Nine: Then use a classic star tip, and go over the cake in a few random areas adding even more texture to the cake.
This is how to decorate a Christmas wreath cake, but know you can truly decorate your cake in so many ways.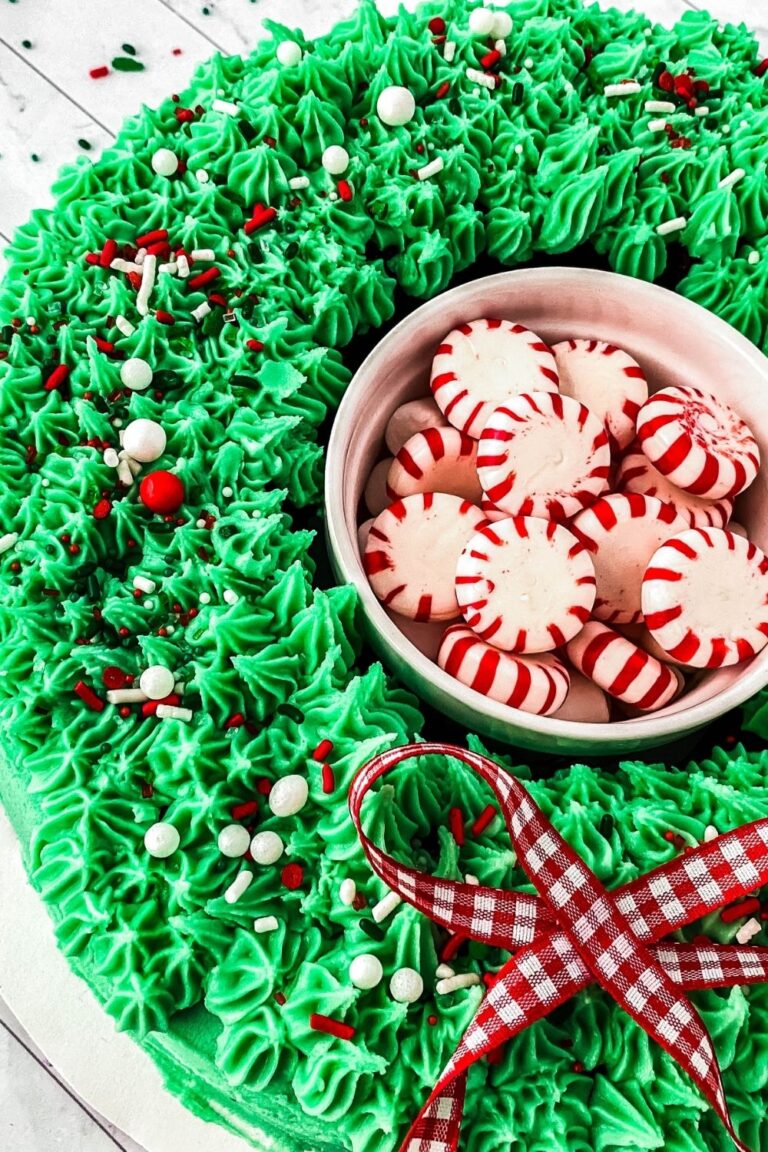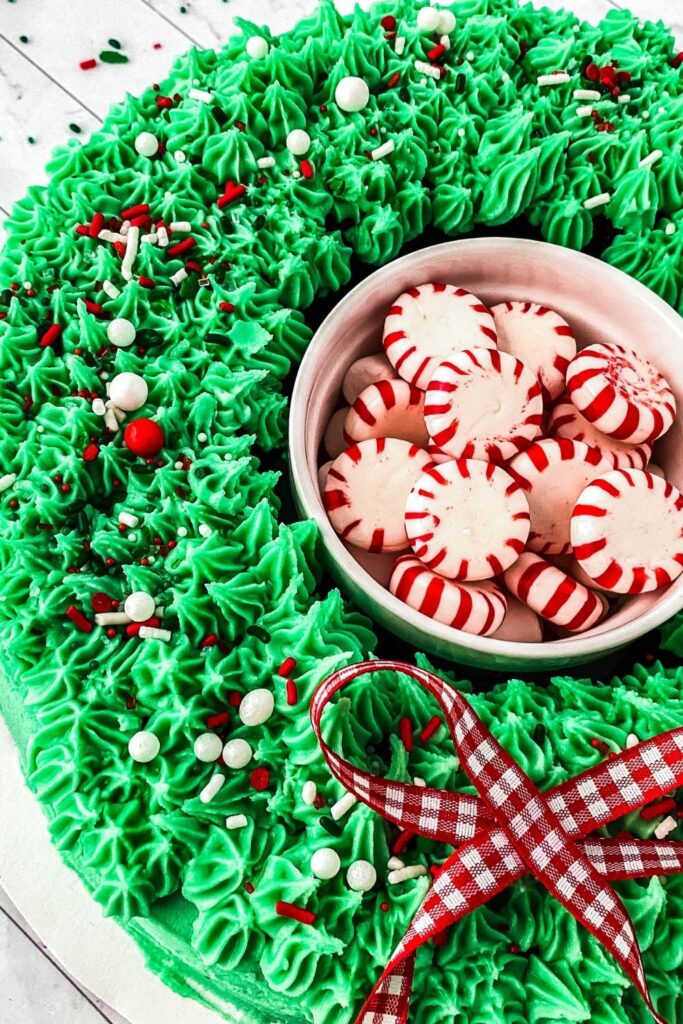 Step Ten: Once done, add sprinkles, and a bowl of mints in the center. I did make a bow out of ribbon I placed in the center. But you need to remove before serving as it it not edible.
Helpful Tips
Make sure to freeze the cake, so it is firm and when you apply the frosting it doesn't cause it to crumble a bit.
Using the star tip with even pressure just leave stars all over the cake. As you add more it will really come together.
Add sprinkles on right after you finish frosting, that way the sprinkles stick in the frosting.
Feel free to skip adding the mints in the center, I just thought it was a fun way to display the cake.
How to Dress Up A Boxed Cake Mix
Are you wanting to dress up a boxed cake mix? If so, here are a few swaps you can do to help make your boxed cake mix taste like a bakery style cake.
Add 1 more egg than the box calls for.
Use real melted butter in replace of oil in the recipe.
Lastly, use whole milk instead of water.
By doing these three things you will find that it really does transform the flavor of the cake and texture.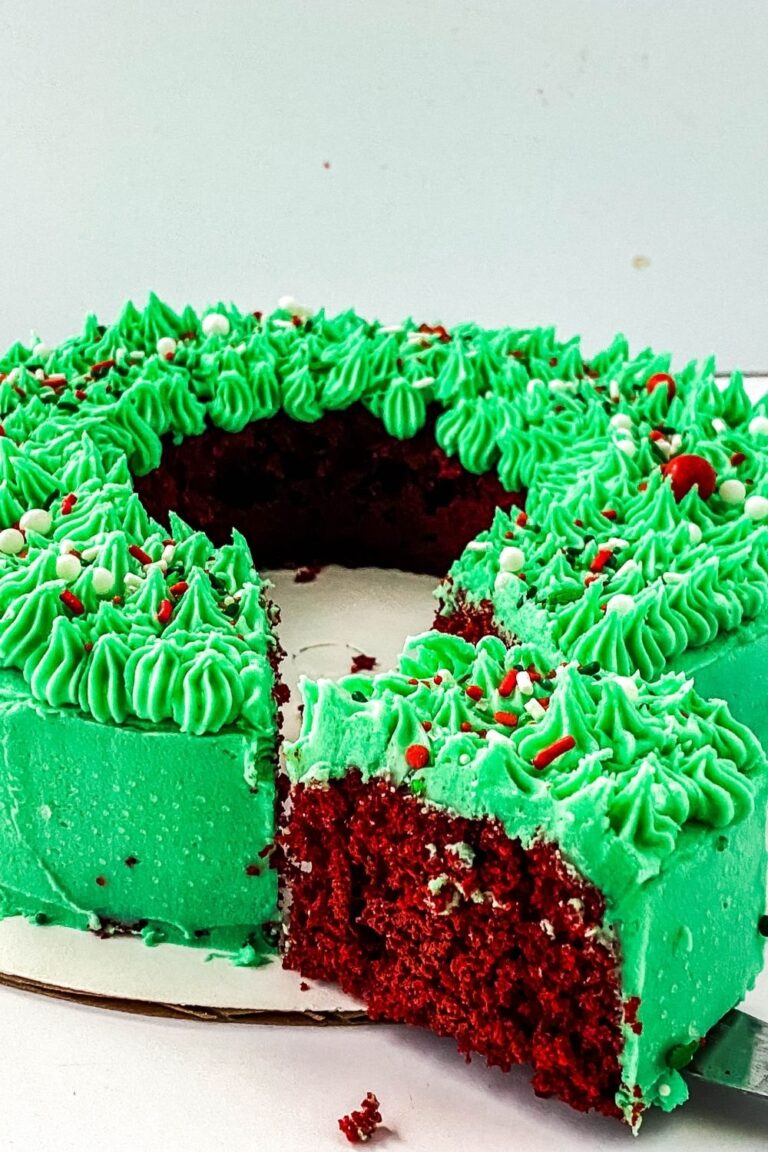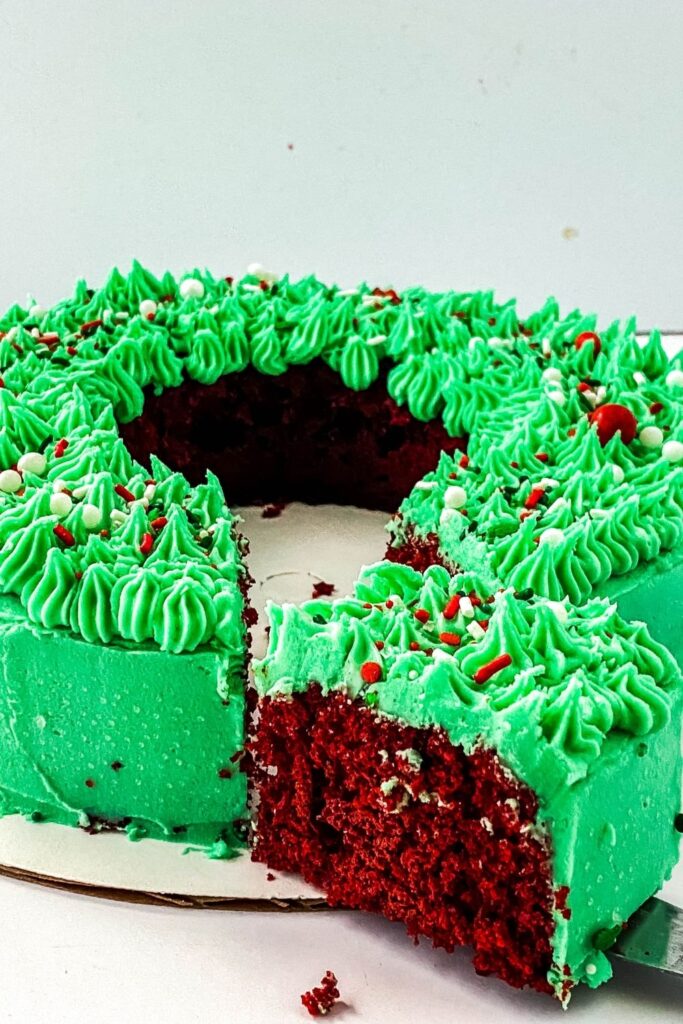 Recipe FAQs
Related Recipes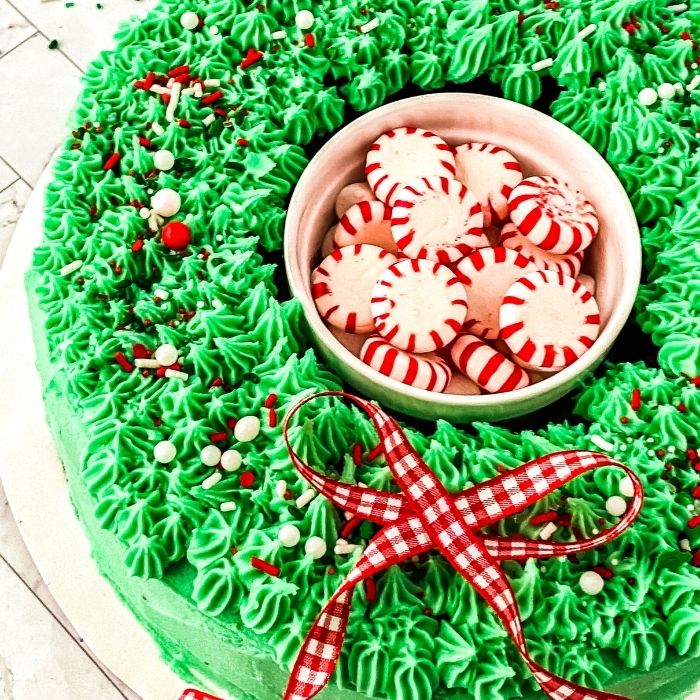 Red Velvet Christmas Wreath Cake Recipe
Servings 1 cake
Whip up this gorgeous wreath cake. A red velvet wreath cake recipe that is topped with homemade buttercream frosting. A festive cake idea perfect for the Christmas season.
Ingredients
Supplies Needed
Cake and Frosting Ingredients
1 Red Velvet Cake Mix + Ingredients On Box 15.25 ounce box
3 sticks unsalted butter softened
24 ounces powdered sugar sifted
1 tablespoon vanilla
2-3 tablespoons heavy cream
Pinch of salt
Instructions
Preheat the oven to 350 degrees. In a bowl or stand mixer you will mix up your cake the way it is directed on the back of the box.

Grease your donut pan and pour the cake batter in, and bake for 35-40 minutes or until the cake is fully baked.

Once done, allow it to cool. Use a serrated nice and cut off the top to make it level. Or if you want it is okay to leave it dome-shaped.

Place the cake in the freezer for 4-6 hours. I wrapped mine in plastic wrap. Working with frozen cake is easier than fresh soft cake.

When cake is froze you will work on buttercream. In a bowl sift your powdered sugar, then set aside.

In a stand mixer you will use a paddle attachment and beat your butter on medium speed for 5-7 minutes.

Now lower the speed, and slowly add in the salt and powdered sugar, mixing a little at a time.

Add in the milk and 2 tablespoons heavy cream. Mix for another 6-7 minutes.

If your buttercream frosting is too thick add more cream, otherwise don't add in extra.

Add in the green food coloring, then use a flat spatula and spread on a thin layer of frosting all over the sides and top of cake as the base.

Next, place in a piping bag with a triple star tip. Place little stars all over the cake, to give it some texture.

Swap to the single star tip and do even more frosting, to add dimension.

Top with sprinkles, and consider making a bow with ribbon to sit on for decoration.

This wreath cake recipe is so fun, and I did take a little bowl of peppermints for the center. That is optional.
Notes
Cake – You can do homemade cake if you don't want to use boxed cake. Also any flavor of cake will work. Frosting – So I took the time to make a buttercream frosting, but you can truly use any flavor of frosting you want. Storing Cake – Store your cake in the fridge for up to 5 days. Or you can freeze cake for 3-4 months if you don't want to eat it all right away.
Nutrition
Serving: 1gCalories: 368kcalCarbohydrates: 47gProtein: 1gFat: 21gSaturated Fat: 13gPolyunsaturated Fat: 7gCholesterol: 56mgSodium: 44mgSugar: 44g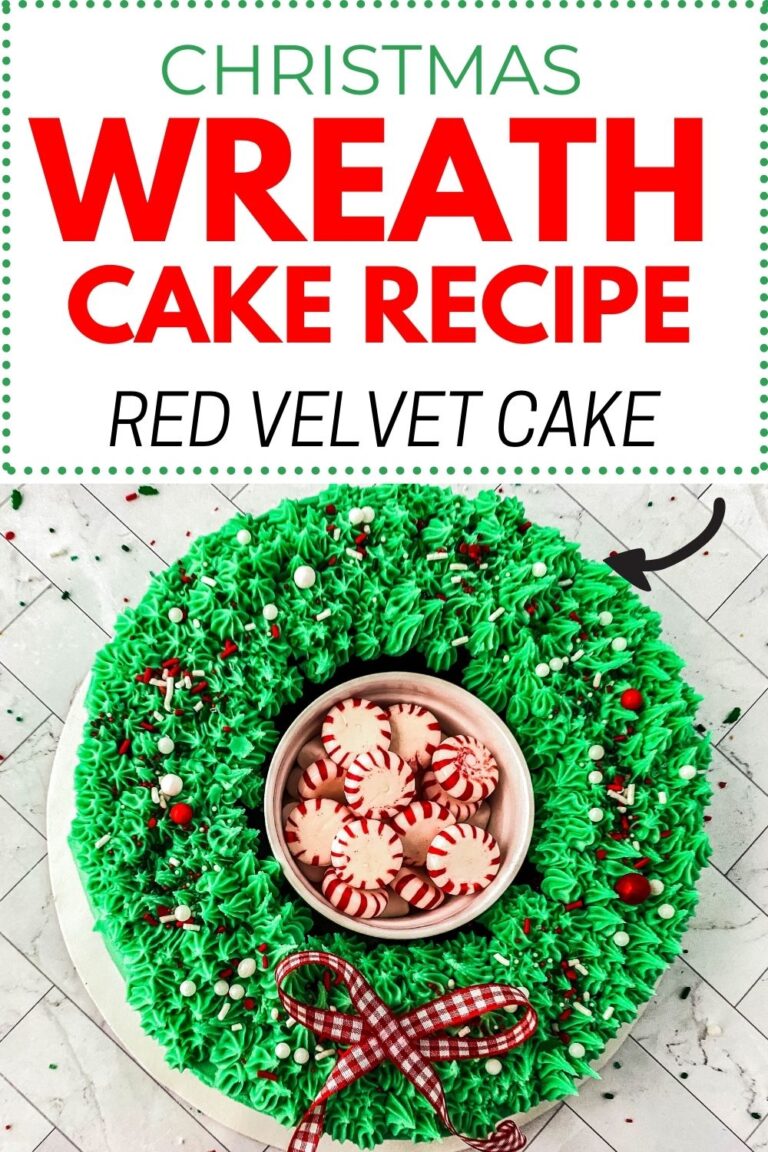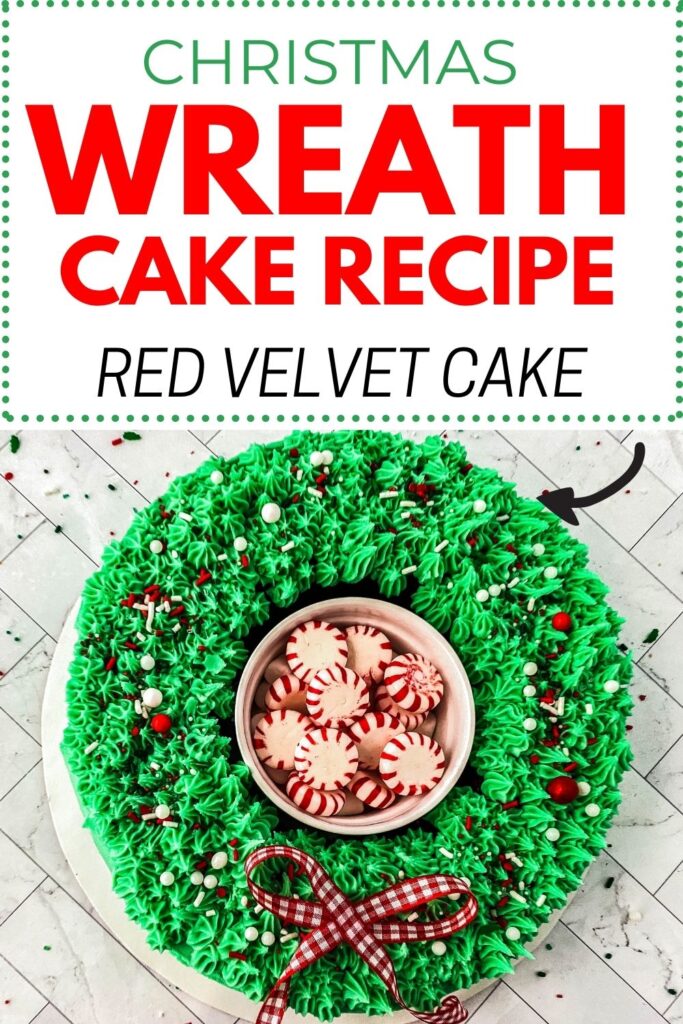 Reader Interactions