Christmas Cakesicles are a delicious cake popsicle. It is a cake pop filling that is surrounded in chocolate and sprinkles and drizzled with colored candy melts. A fun and creative Christmas dessert idea.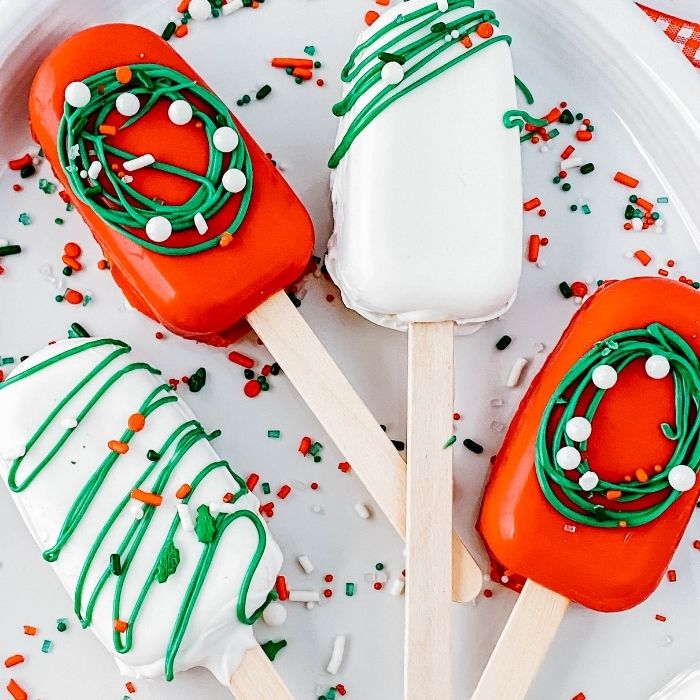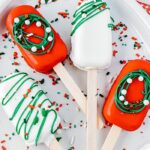 Check out these festive and delicious Christmas cakesicles. Cakesicles are a cake popsicle that is dipped in chocolate and decorated. Think of these as jumbo cake pops! A fun and delicious Christmas cake idea that is different and absolutely divine.
A delicious cake pop in the shape of a popsicle is one of my favorite treats to serve up. You can essentially decorate your popsicle cake pops with any colors of chocolates, and sprinkles for anytime of the year.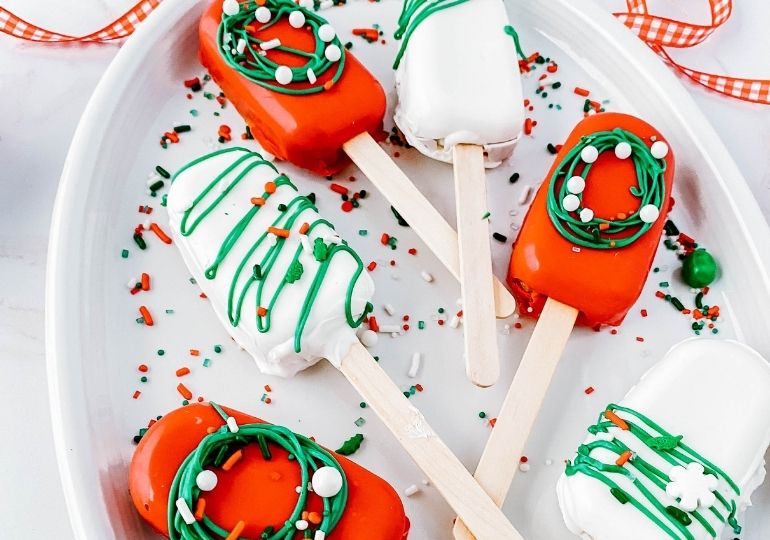 Learn how to make cakesicles and then whip up your favorite cake batter mix, and get to decorating. I use a cake pop mold that is meant for cakesicle molds, so you get a popsicle shape.
Why Make Cakesicles
Easy – This is such an easy dessert. A cake mixed with frosting, then shaped into a single serve treat that kids and adults will go nuts for.
Decorations – Use any color of candy melts for dipping, grab all types of sprinkles. Make birthday cakesicles, Thanksgiving themed, Halloween, etc. I did Christmas but feel free to do any you want.
Delicious Gift Idea – Wrap in cellophane for a gift. Tie a ribbon on and even a gift tag and send it over to a friend, co-worker, neighbor, etc. These are also great for bake sales, or packing in Christmas gift tins!
Cake Flavor – Use any flavor of cake you would like. Or do part white cake others red velvet. You can use homemade cake or store bought cake mix.
Ingredients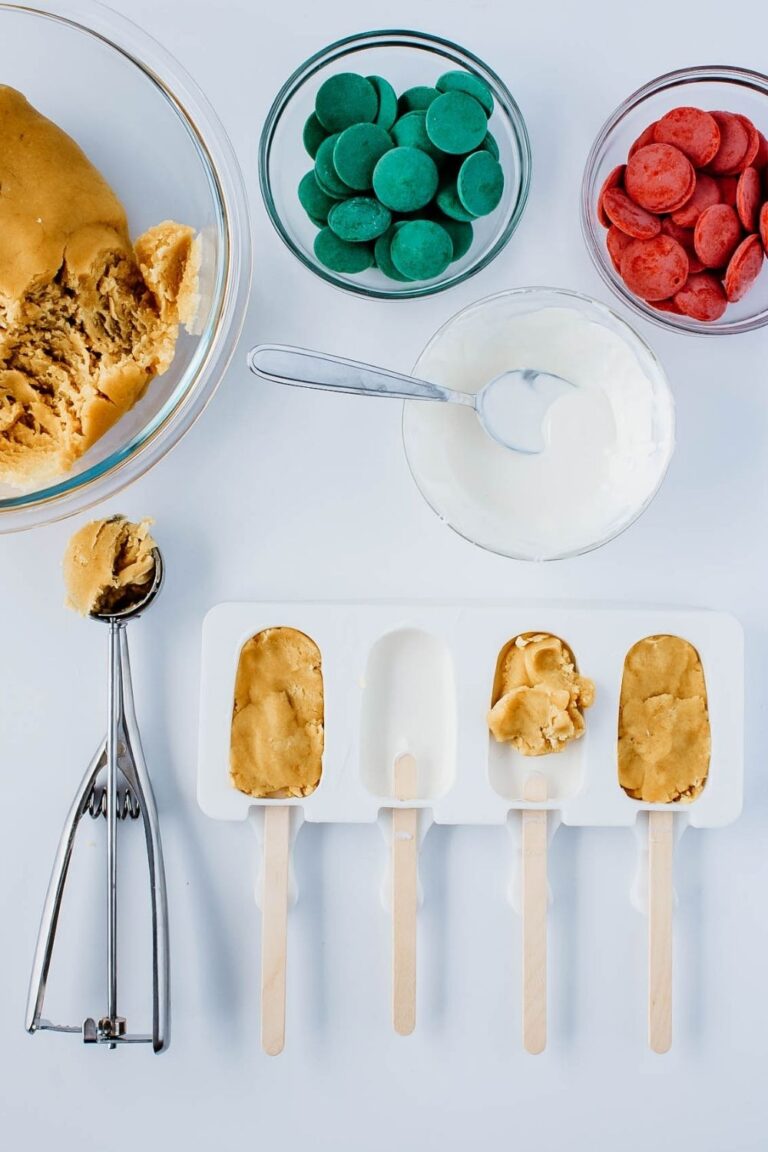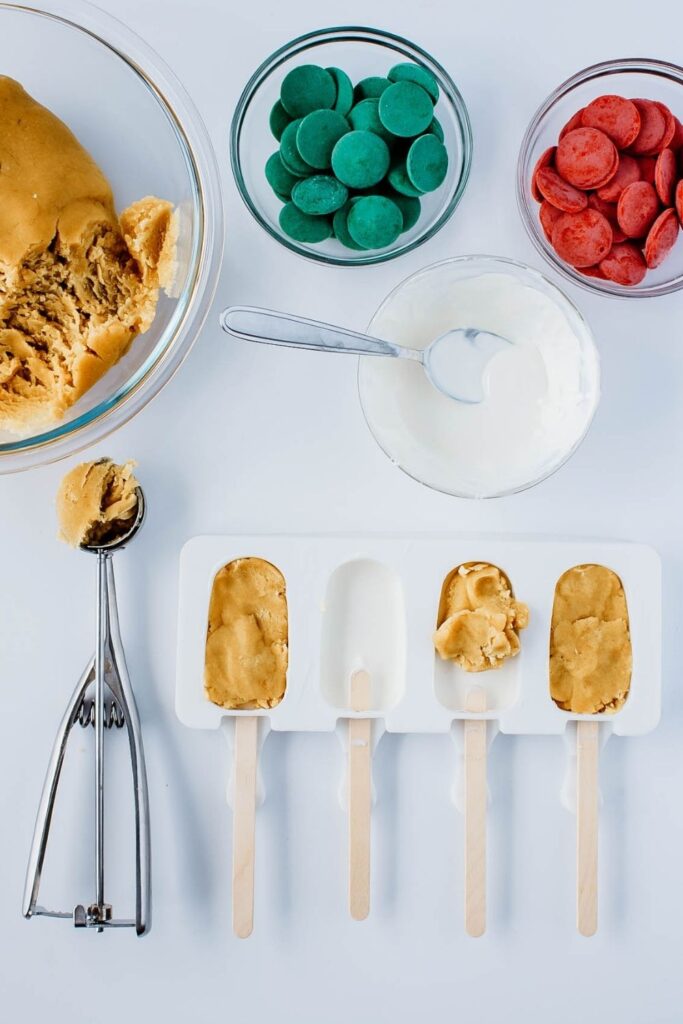 Box Cake Mix – Any cake mix you want, plus ingredients on box (egg, oil, water)
Buttercream Frosting – Salted butter, powdered sugar, vanilla, heavy cream
Coating – Different Colored Candy melts, paramount sprinkles and colored sprinkles
Any flavor of cake and frosting can be used. Yellow cake, white, chocolate, red velvet, etc.
Same for frosting. You are welcome to use boxed cake and canned frosting if you don't want to make homemade.
Supplies Needed
How to Assemble Cakesicles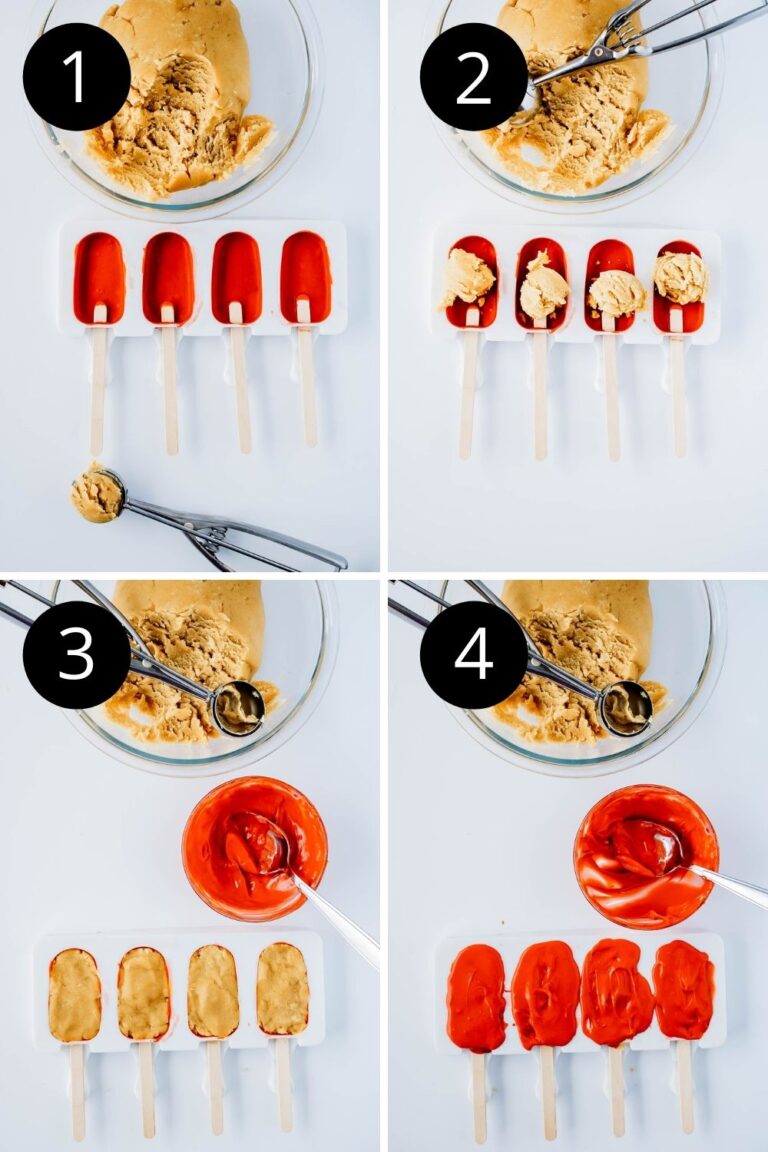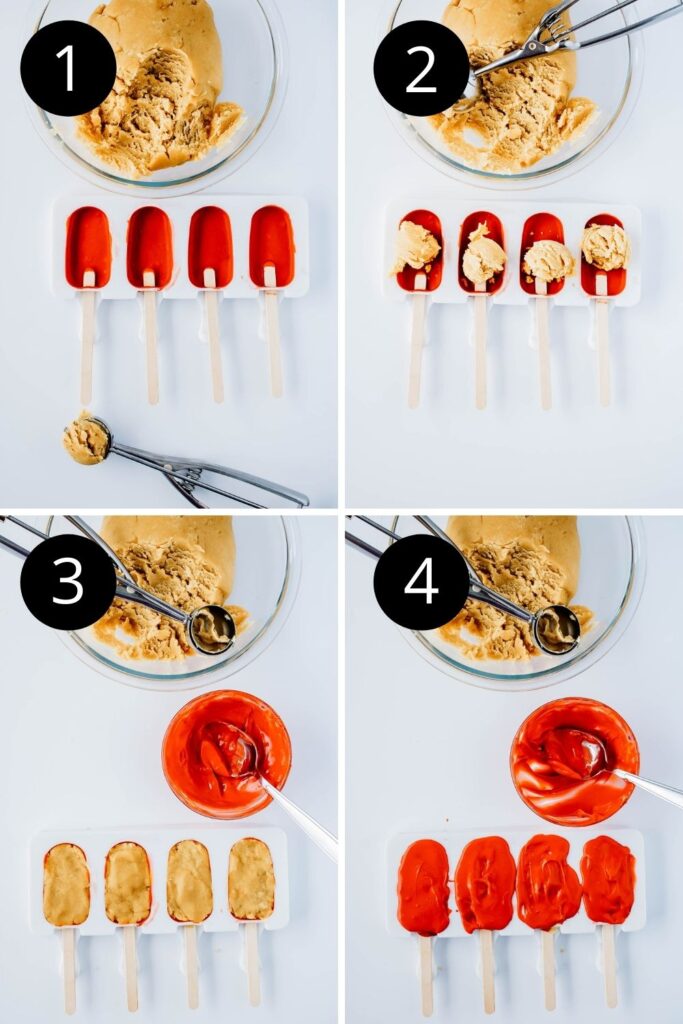 Step 1: Melt your candy melts in the microwave or a double boiler. Then you will add a layer of the chocolate in the molds. Spread the chocolate to the sides, to make sure it coats.
Step 2: Place the popsicle sticks in the molds, making sure to get them even. Then freeze for 15 minutes. Once hardened, add some of the cake pop filling.
Step 3: Now with fingers or a spoon spread your cake pop filling out over the mold.
Step 4: Now pour more chocolate over the top, making sure to cover all the areas. Remove excess chocolate and then pop back in the freezer for 5-10 minutes.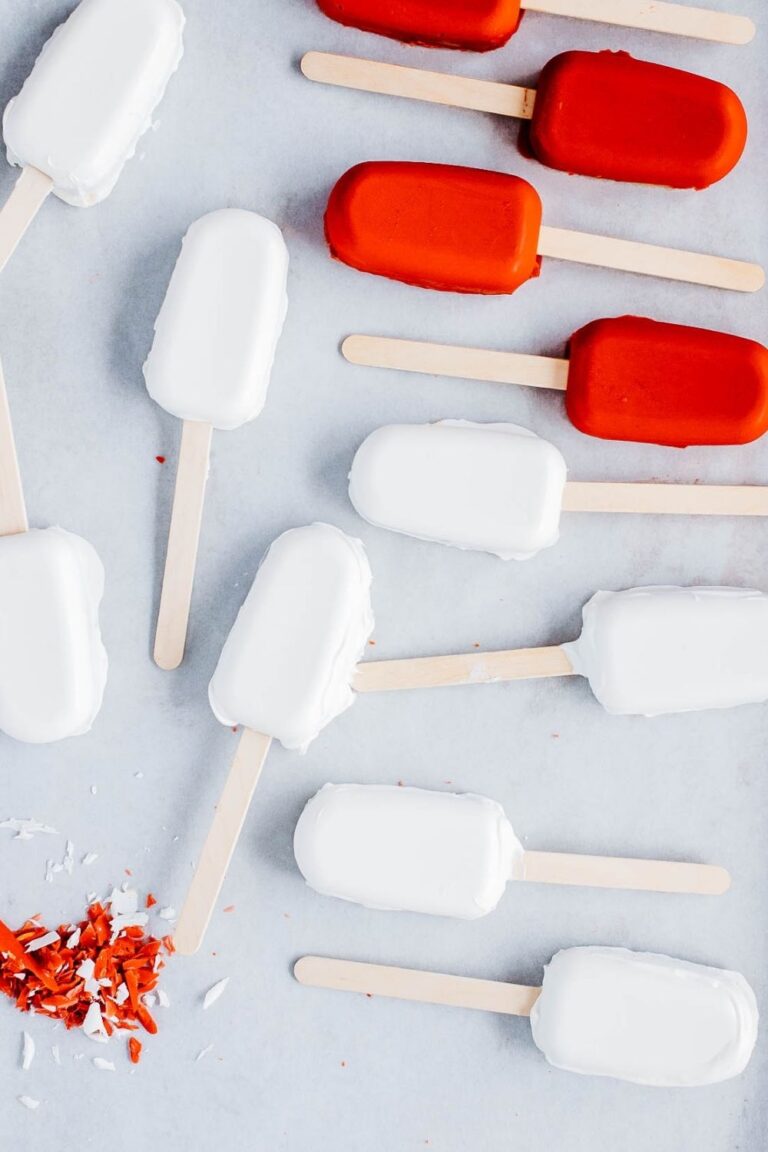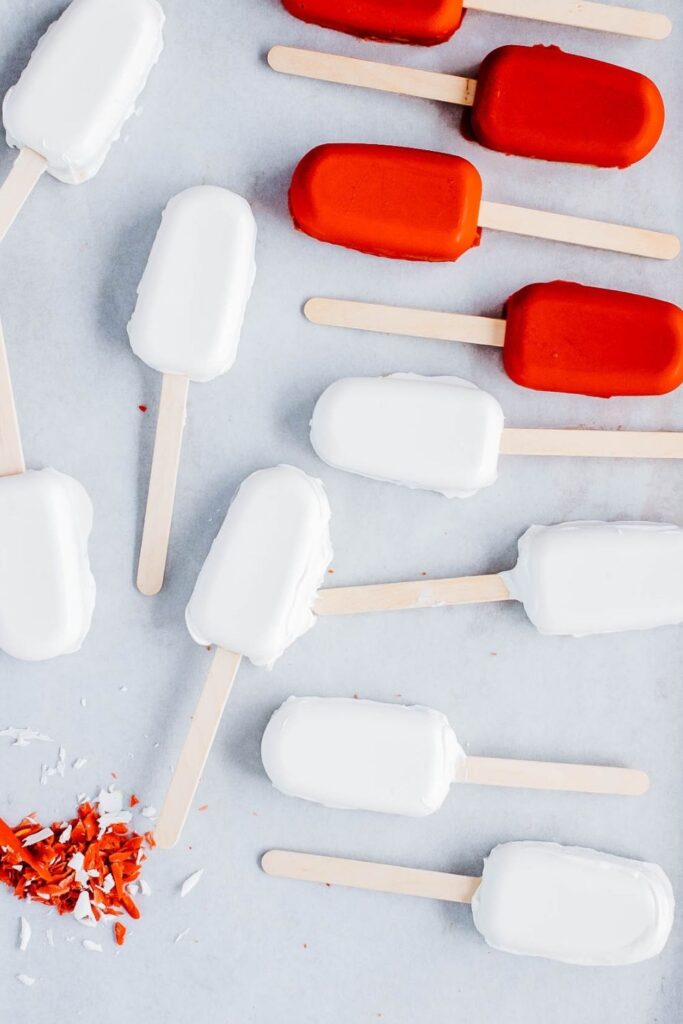 Step 5: Carefully remove the cake popsicles from the mold. If you are too hard with it, you will break the chocolate. Slow and gentle is key.
Step 6: You will want to use scissors or a knife to shave off the extra chocolate around the cakesicles. That way you get a nice clean look for this cake on a stick cake pop cake recipe.
Decorating Christmas Cake Popsicles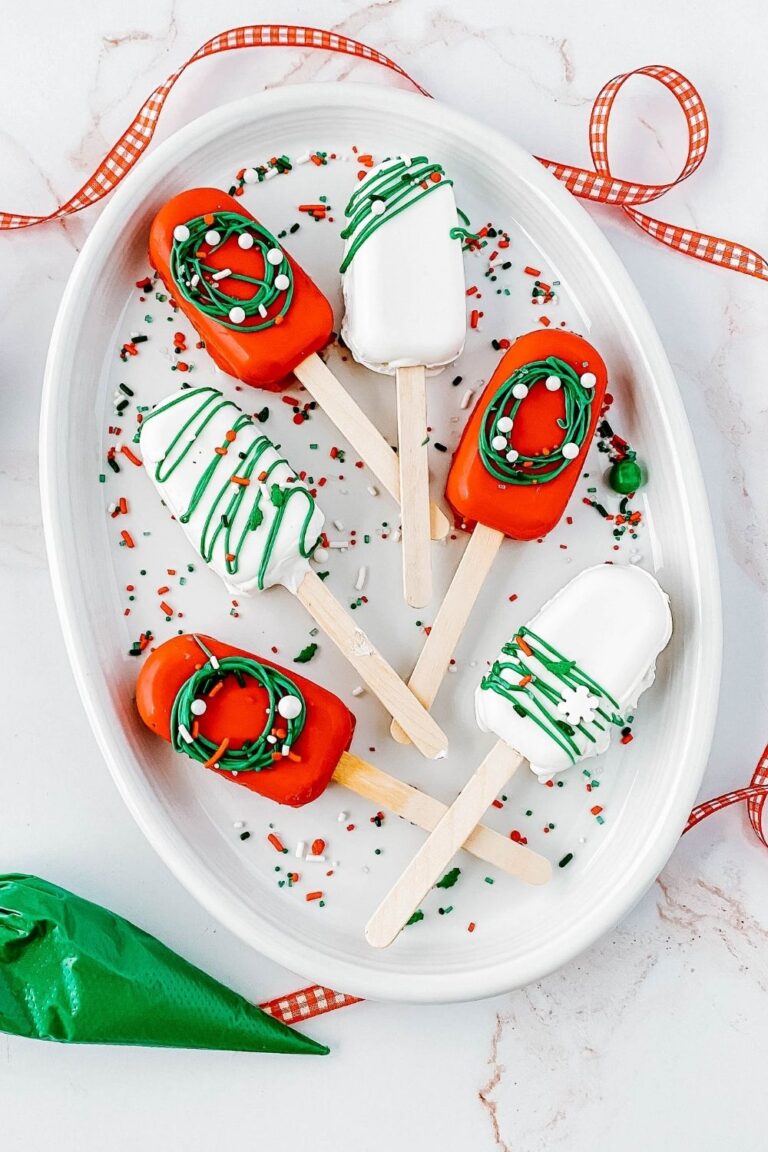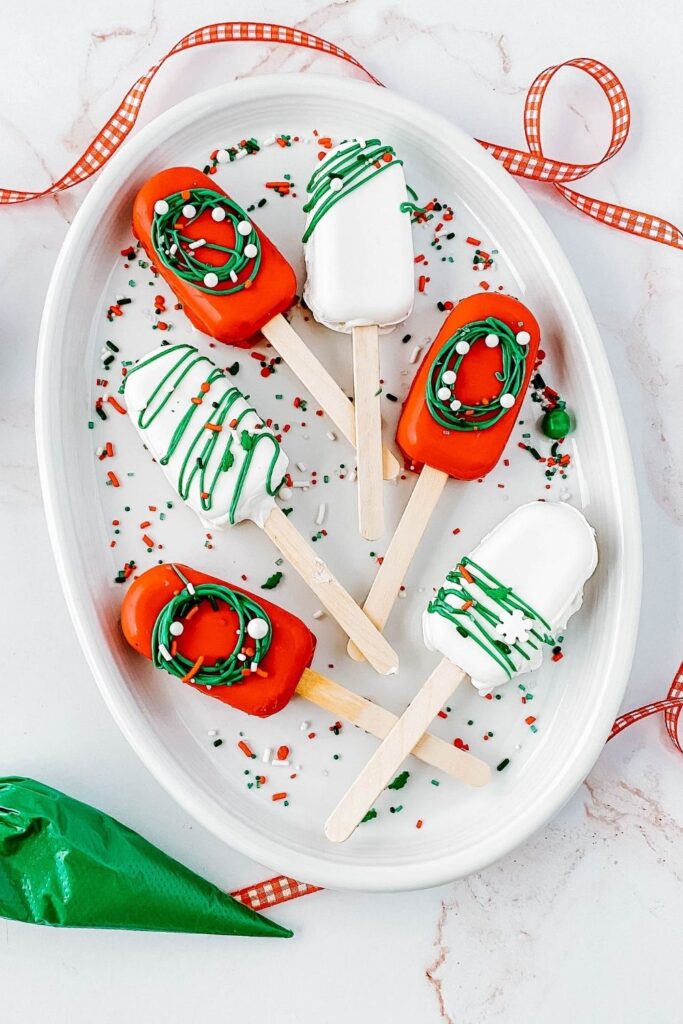 Drizzle on chocolate. I just melt chocolate and place in a piping bag. Cut the tip off, and then decorate. I go back and forth to create that drizzle look, and then quickly add on festive sprinkles.
For the Christmas Wreaths, simply just make a circle over and over again, and then once you have a handful of circles add some sprinkles to mimic a holiday wreath.
You can essentially do any designs you want. Add on edible candy, or decorate simple like I did. Or even add on crushed candy canes, cookie crumbles, etc.
Expert Tips
You can use homemade cake, or boxed for the cake pop bars filling. I used boxed cake mix and then made a homemade buttercream to mix with it.
I made these cake pops into a Christmas dessert recipe but you can use any colors, sprinkles, to fit whatever theme you want.
Cut off the excess chocolate around the edges of the chocolate once your cake pop bars are fully set up.
If you find an area that didn't get covered in chocolate you can pipe on more in the are that is missing the chocolate.
Make sure to get your sticks pretty even, or you will have bent sticks when you go to serve guests.
Storing
Store your cake pop bars in an airtight container in the fridge. You can store your cake bars for up to 5-7 days in the fridge. Or toss them in the freezer for 3-4 months. Then thaw in the fridge overnight.
These can be made up to a day or two in advance if you would like to have a make ahead dessert. The cake pop popsicles are best when eaten in the first couple of days.
Variations
Use chocolate cake or even red velvet.
Mix in some cookie crumbles to the cake and frosting mixture for a cookies and cream style cakesicle.
Sprinkle in chopped candy for a twist.
Use any colors of flavors of chocolate for coating, and decorating with.
FAQs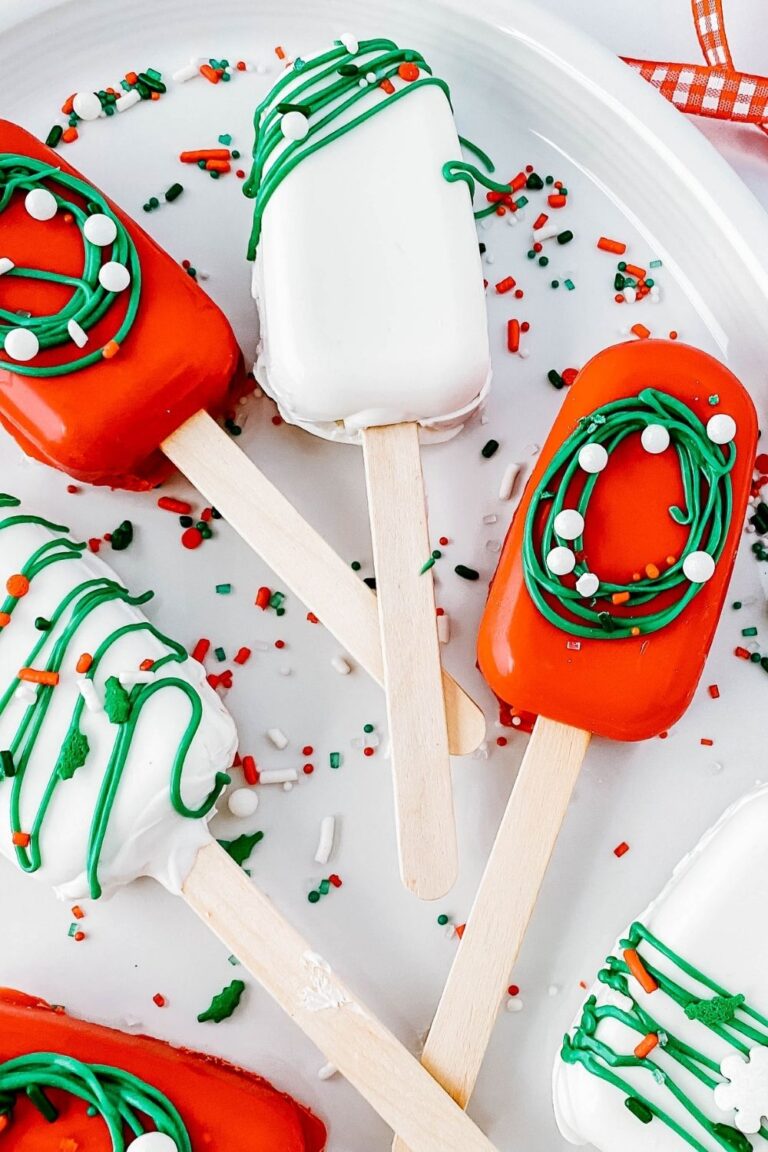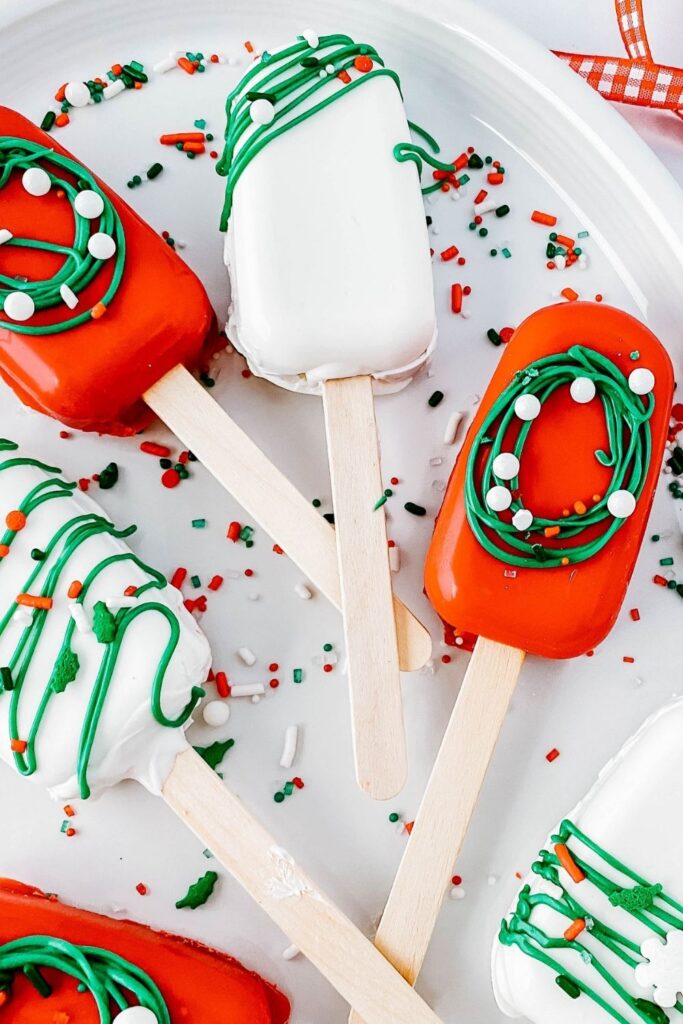 Related Recipes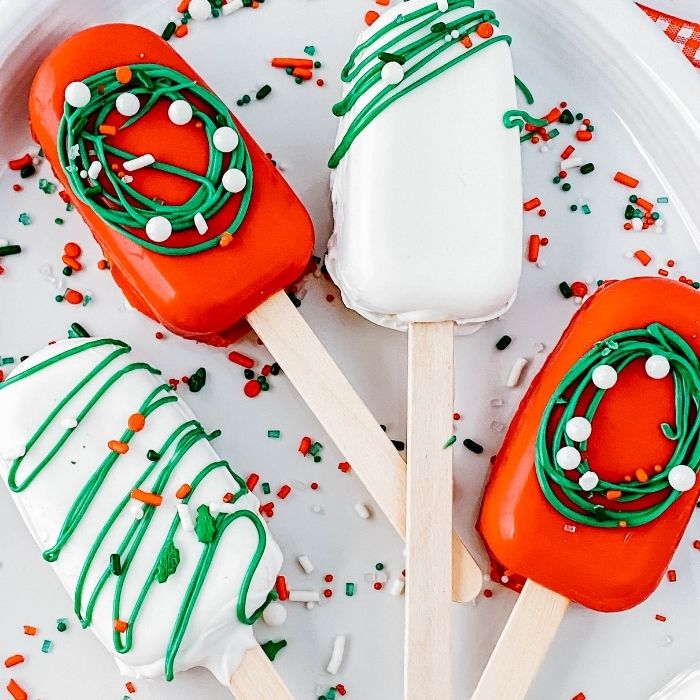 Christmas Cakesicles Recipe
Servings 12 -15
Christmas Cakesicles are a delicious cake popsicle. It is a cake pop filling that is surrounded in chocolate and sprinkles and drizzled with colored candy melts. A fun and creative Christmas dessert idea.
Ingredients
Cake
1 Box White Cake Mix 15 Ounces Plus egg, oil on box 9×13 pan.
Buttercream Vanilla Frosting
1 stick salted butter room temperature
1 tablespoon heavy cream
2- 2 1/2 cups powdered sugar
1 teaspoon vanilla
Coating For Cakesicles
1/2 cup Candy Melts – White Green, Red (1/2 cup each color)
Sprinkles optional
Tools Needed
Instructions
Start by mixing up your cake as directed on the box. Pour into a 9×13 cake pan, and bake. Once done, allow it to cool and then crumble up the cake and place in a bowl.

In a stand mixer you will add your softened butter, vanilla, and 2 cups of the powdered sugar. Mix until creamy, and then add in the heavy cream and extra powdered sugar if you need.

Then toss in the crumbled cake and mix with mixer or spatula. This is your cake pop filling.

Now you will melt your candy melts in the microwave. Once melted you will add a spoonful of chocolate into the silicone mold. Use a spoon to move chocolate around to coat the sides.

Then you will slide popsicle sticks in, make sure they are centered.

Toss the molds in the freezer for 15 minutes.

When you remove then you will add some of the cake pop dough in, and use your fingers or a spoon to spread it around. Be gently or you can break the chocolate.

Next you will cover the cake with chocolate, clean edges up if you can. Then place together and freeze for 5 minutes.

Remove trays from the freezer, and carefully take out of the molds.

Use a knife or kitchen shears to scrape down excess chocolate around the mold.

Then melt different colored chocolate to decorate your cakesicles with.
Notes
Removing from mold – Be very careful when removing, or you will break the chocolate. Place on a parchment lined baking sheet to decorate. Decorating – I melted candy melts and then placed in a piping bag. I would drizzle back and forth to make lines. Or do a circle over and over and top with sprinkles to look like a holiday wreath. Stick Staying In Mold – If you find the stick won't stay in the mold, add chocolate on the stick and slide in and let sit 5 minutes to harden up. Or add chocolate around the end of the stick that is in the chocolate, so it seals it in. Cut Away Chocolate – Cut away the chocolate around the outer rim of the chocolate. Use scissors or a knife. Storing – Store these in a sealed container in the fridge for up to a week. Or freeze for 3-4 months.
Nutrition
Serving: 1gCalories: 319kcalCarbohydrates: 61gFat: 9gSaturated Fat: 5gPolyunsaturated Fat: 3gCholesterol: 22mgSodium: 86mgSugar: 54g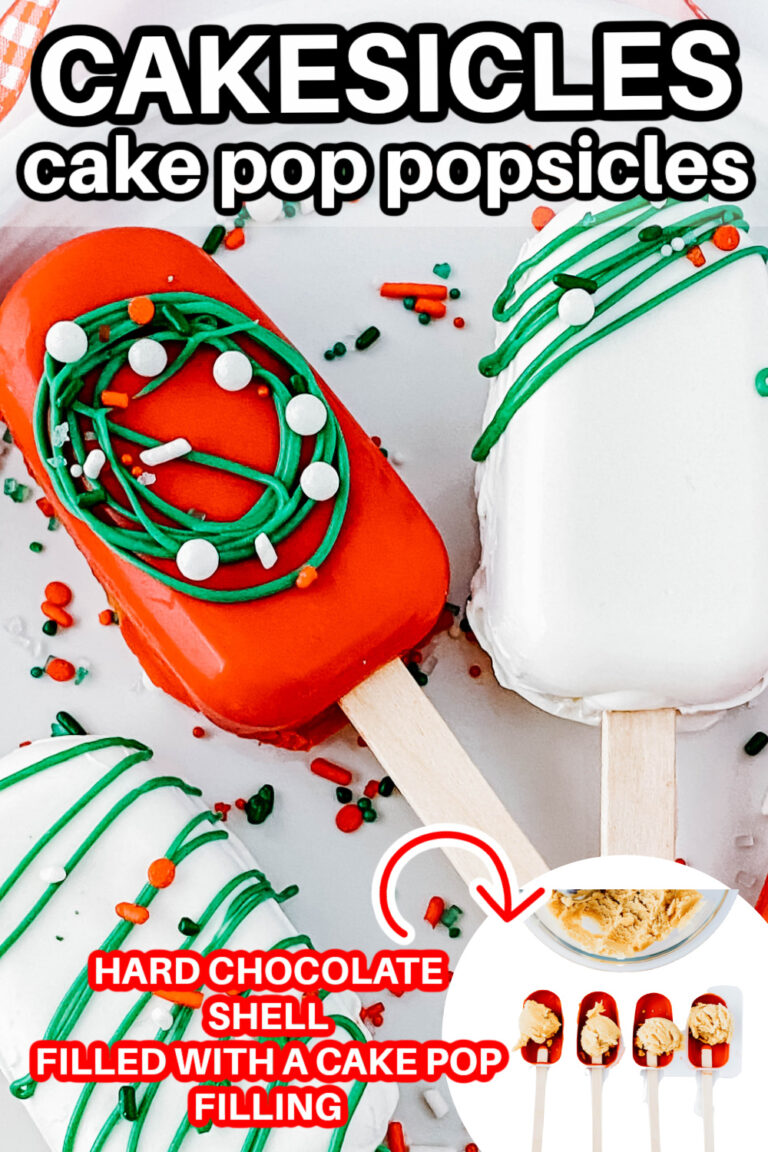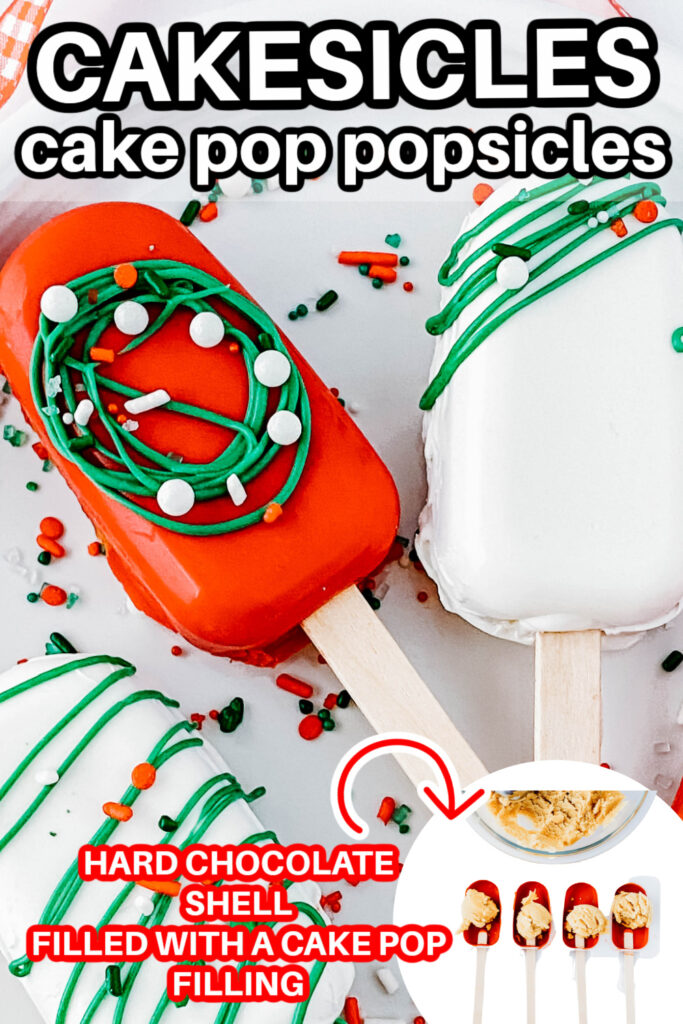 Reader Interactions