Chocolate Peanut Butter Balls are a classic holiday dessert recipe. These no-bake peanut butter balls have been something I make over and over again each Christmas season.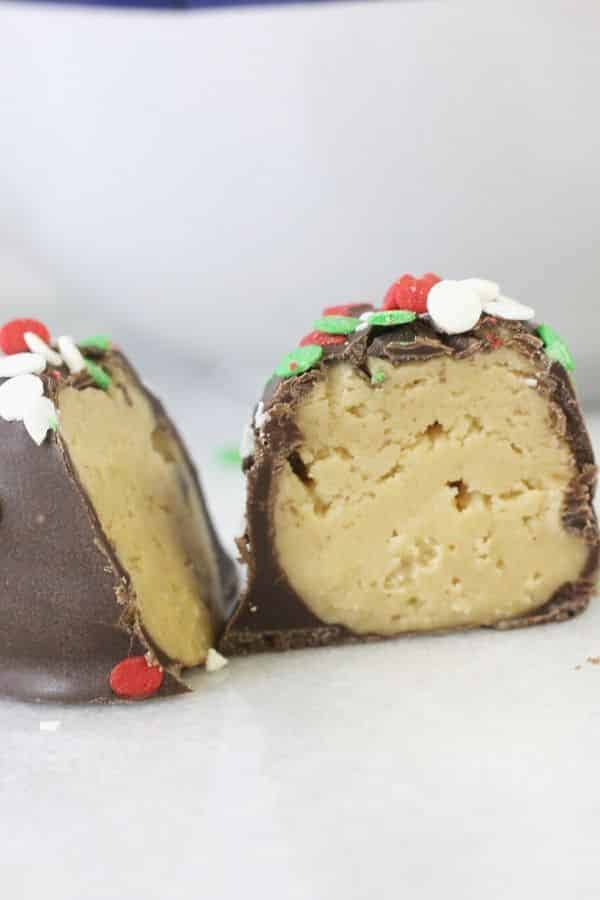 Can you ever have too many chocolate balls? I mean I can't complain. These are always highly requested for the holidays. A creamy chocolate ball candy that gives you peanut butter and chocolate combination.
Looking for more holiday Christmas Recipes
Chocolate Peanut Butter Balls
I opted for a creamy peanut butter no-bake balls recipe. I have made this same recipe and mixed in crunchy peanut butter or even Rice Krispies cereal for a nice crunch. You have options that I will share all of them below.

Tips For Making Peanut Butter Balls
I find using a 1-inch cookie scoop is great for getting those one inch balls that are uniform in size.
Make sure to toss your balls in the freezer for at least 20 minutes before you go and dip in the melted chocolate.
I used a special spatula for dipping chocolate that works great for dipping into a double boiler or your bowl of chocolate.
Or you can stick a toothpick in your ball and dip in the chocolate that way, or use a fork if you don't want to buy a special tool.
You can use a chocolate almond bark or chocolate chips with shortening. This will help your melted chocolate chips set up and harden.
Layout your balls on waxed paper or parchment paper to easily pull up your balls.
Can I Use A Nut Butter Instead of Peanut Butter for Peanut Butter Balls
Yes, you can use nut butter
in replace of peanut butter in this recipe. The key to this recipe is getting your peanut butter mixture the right consistency. You will want to ensure the dough is soft and when you touch it, it doesn't stick to your hands. If it is sticky, add in more powdered sugar, or too dry add in more nut butter.
Can You Use The Instant Pot As A Double Boiler
Yes, you sure can use your Instant Pot as a double boiler. This is a great way to keep your chocolate from hardening in between dipping your balls.
Variations To Plain Peanut Butter Balls
Use 1/2 cup Rice Krispies to add a crunchy texture to the balls.
Swap creamy peanut butter with crunchy
Use white almond bark or white chocolate chips
Top with sprinkles
Use colored melting chocolate to drizzle over the top to add color
Add in 1/4 cup crushed graham crackers to the peanut butter ball dough
Can I Make The Peanut Butter Dough For Peanut Butter Balls Ahead of Time
Yes, you can actually whip up the peanut butter dough for these balls and wrap in plastic wrap and store in the fridge. You can store the peanut butter dough for up to two days in the fridge. If you do refrigerate then roll into balls and go right into dipping into your melted chocolate.
Why Do You Freeze Peanut Butter Balls Before Dipping
Because you are taking the peanut butter dough and dipping it into hot melted chocolate you need to have the peanut butter somewhat firmed up.
If you don't refrigerator or freeze the peanut butter ball dough you will find it can begin to melt once you are rolling it around in the chocolate.

Is There A Trick to Dipping Peanut Butter No Bake Balls
When you dip your balls into the chocolate, make sure to shake off the excess. I shake the spoon on the side of the bowl to shake off any excess chocolate. This gives an even coating to the chocolate.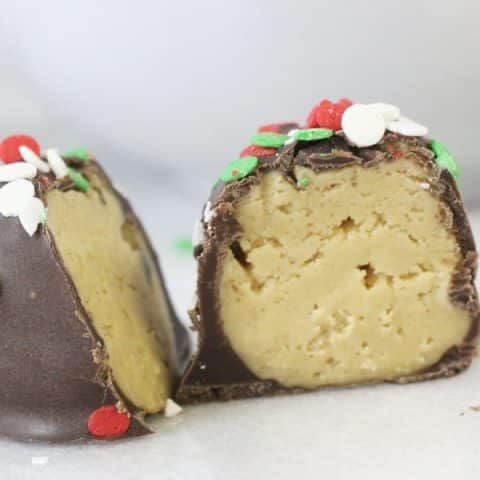 Chocolate Peanut Butter Balls
Yield:
16 Peanut Butter Balls
Additional Time:
30 minutes
Chocolate Peanut Butter Balls are a classic holiday dessert recipe. These no-bake peanut butter balls have been something I make over and over again each Christmas season.
Ingredients
1/2 cup creamy or crunchy peanut butter (or nut butter)
1 cup powdered sugar (might need a bit more)
3 tablespoons softened butter
8 ounces chocolate almond bark (or chips)
sprinkles (optional)
Instructions
Start by adding your butter and peanut butter into a bowl. Mix until it is creamed together.
Then slowly add in your powdered sugar and mix until it is well incorporated.
Use a cookie scoop and use that to scoop out mixture and roll into balls.
Lay balls on parchment or wax paper and repeat till all the balls are made.
Toss balls in the freezer for up to 30 minutes.
Melt your chocolate and remove balls from the freezer.
Dip the ball into the chocolate and then shake off excess chocolate. Lay balls on wax or parchment paper.
Add sprinkles when chocolate is wet. Let dry and eat.
Notes
If you do chocolate chips add in a teaspoon of shortening to the chocolate mix. This will help the chocolate setup.
Recommended Products
As an Amazon Associate and member of other affiliate programs, I earn from qualifying purchases.
Nutrition Information:
Yield:

8
Serving Size:

2 balls
Amount Per Serving:
Calories:

358
Total Fat:

26g
Saturated Fat:

9g
Trans Fat:

0g
Unsaturated Fat:

16g
Cholesterol:

12mg
Sodium:

116mg
Carbohydrates:

26g
Fiber:

5g
Sugar:

16g
Protein:

9g
How to Store Peanut Butter Balls
You can store your peanut butter balls for up to two weeks at room temperature. If you plan to make extra balls you are welcome to freeze them if you want.
How To Freeze No Bake Peanut Butter Balls
Place balls in an airtight container and store your balls in the freezer for up to a month. Thaw them at room temperature or opt to place in the fridge the night before you plan to eat.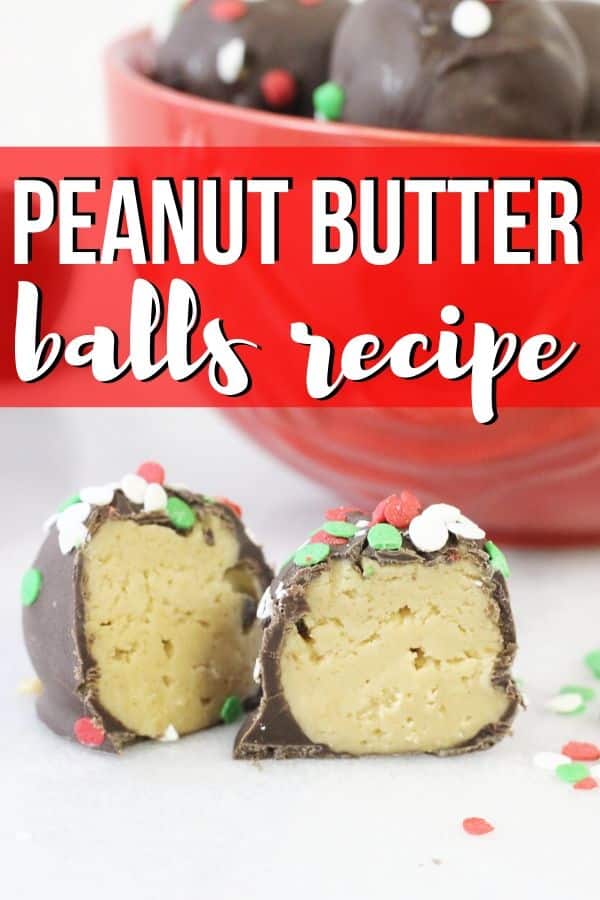 These balls are like a homemade Reese's peanut butter cup. Crisp chocolate outside and a creamy peanut butter filling. Whip these up for any occasion.
Have you ever made homemade peanut butter balls?