Learn how to make dehydrated marshmallows in your air fryer! Dehydrated marshmallows are a fun snack, toss in hot cocoa, or even cereal. These are a fun cereal marshmallow that is absolutely delicious.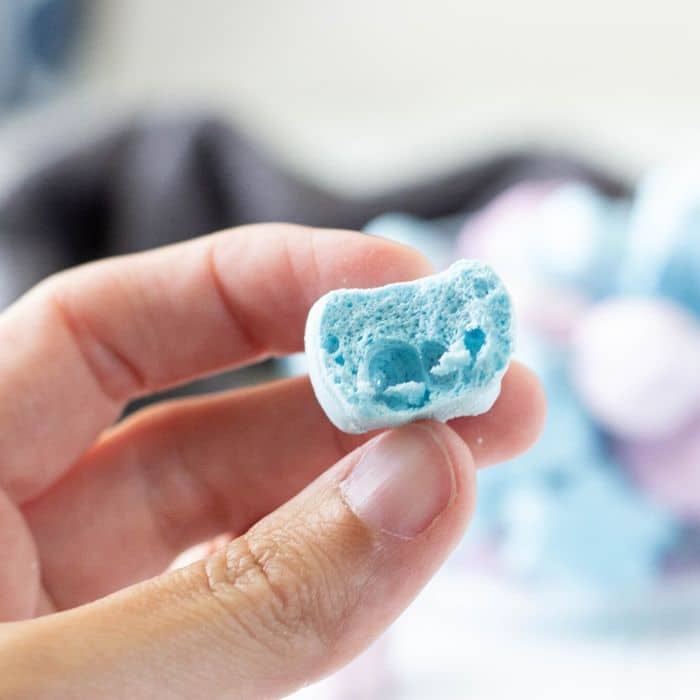 If you enjoy Lucky Charms cereal you will know exactly how fun these dehydrated marshmallows can be. Sweet, crunchy, and easy to make.
I dehydrated my marshmallows in my air fryer but you can also use the oven. I am obsessed with my air fryer so it was fun for my son and me to pull it out and use it.
I am an Amazon Affiliate, so if you purchase through my link I can earn a commission on sales.
What Are Dehydrated Marshmallows
Dehydrated marshmallows are dried marshmallows. Just as you would dry fruit you can dry mini fruit marshmallows, plain marshmallows, etc.
Or you might know them as mallow bits, where you can buy little containers to pour in hot chocolate, baked goods, and more. A crunchy marshmallow that is perfectly sweet.
The marshmallows turn hard, crunchy and totally addictive to snack on.
Why Make Dehydrated Marshmallows
I will admit I am a sucker for buying hot chocolate packets with those crunchy marshmallows. Or eating Lucky Charms only to hope I get a big bowl of marshmallows.
Every kid and even adults love them. Why not make your own?! All you need are marshmallows!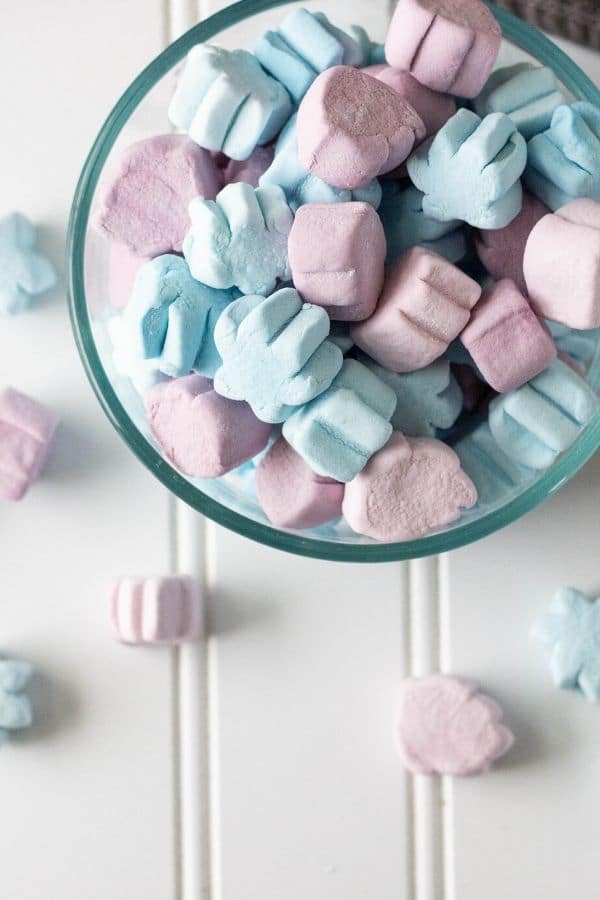 Uses for Dehydrated Marshmallows
Toss in trail mixes or snack mixes
Sprinkle into hot chocolate
Eat plain as a snack
Mix into Rice Krispies for added texture
Use to top baked goods
Etc
How To Make
Place marshmallows in single layer on rack.
Turn on the air fryer and cook for around 2-3 hours at 160 degrees Fahrenheit.
Once they are hardened, allow to cool.
Store in an airtight container or vacuum seal.
See how easy they are to make! And so affordable especially if you buy your marshmallows on sale.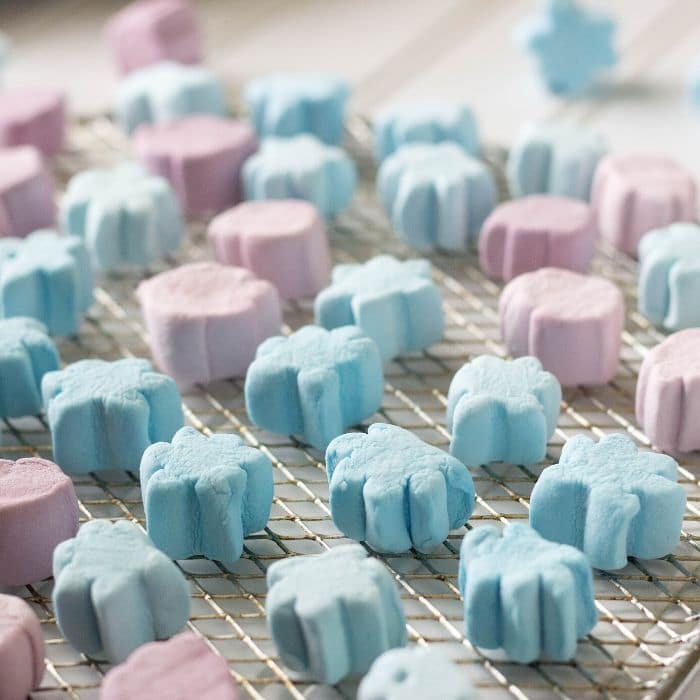 What Size Marshmallows To Use
To be honest any size of marshmallows will work! It can just take longer for larger marshmallows to fully dehydrate.
Then of course smaller mini marshmallows will be faster. I used medium-sized Disney Frozen marshmallows.
How To Tell When Marshmallows Are Dehydrated
If you are wondering how can you tell when your marshmallows are dehydrated, no worries.
All you have to do is take one of the marshmallows and give it a light squeeze.
If they are hardened up and don't feel soft they are dehydrated fully. But if you find the mallows are still slightly soft and have a little give when you squeeze they need to dehydrate longer.
Storing Properly
Store the marshmallows in an airtight container. If stored properly your marshmallows can store for months this way.
Or if you have a vacuum seal system you can extend the shelf life even more. Vacuum seal and keep marshmallows good for up to a year or more.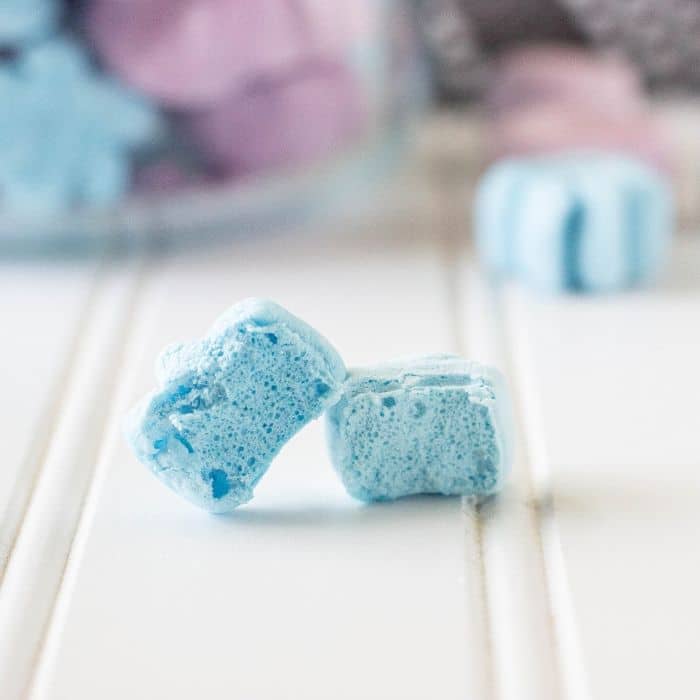 Tips For Dehydrating In Air Fryer
Single Layer | Place your mallows in a single layer on the tray or basket. You will not get an even drying if you don't do a single layer. Leave space in between each marshmallow.
Cut | If you are working with large marshmallows you can use clean kitchen shears or a knife to cut them if you want. By cutting the mallows into smaller pieces they will dehydrate a lot faster. This is optional though.
Why Is It Taking Longer To Fully Dehydrate
Humidity in the air, temperature in home, size of marshmallows all play a role. You will use my directions as a guide but know the time can vary.
Every air fryer brand tends to cook differently just slightly. So there are many factors that can affect the time to being done.
Will Marshmallows Shrink Or Expand
I was curious to see if the marshmallows would shrink or expand in the air fryer.
My marshmallows pretty much stayed the exact same size. Now depending on your brand you bought you might find a different outcome.
Most of the time the marshmallows will stay almost the exact same size once fully dried.
As you can see learning to make dried marshmallows is so easy when you use your air fryer.
Looking for more tasty recipes
Tried this recipe? Make sure to rate ⭐️⭐️⭐️⭐️⭐️ and leave a comment to let me know how you like it! Plus get more Instant Pot Recipes or Home Cooked Recipes Facebook Page on my Facebook. Stay up to date and Follow Me On Pinterest!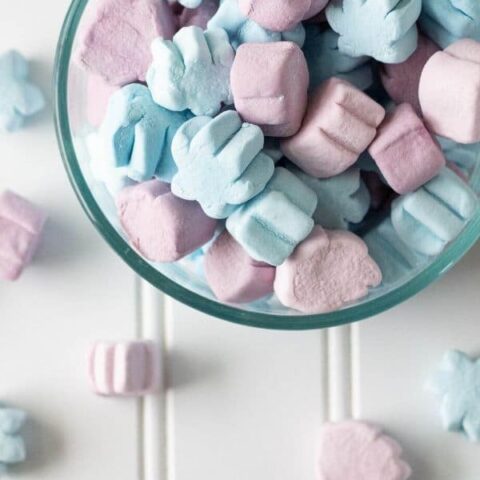 Dehydrated Marshmallows
Total Time:
2 hours
5 minutes
Learn how to make dehydrated marshmallows in your air fryer! Dehydrated marshmallows are a fun snack, toss in hot cocoa, or even cereal. You can use a dehydrator as well if you don't own an air fryer.
Ingredients
Marshmallows, any size you would like
Instructions
Take your marshmallows and place them on your air fryer rack or in the basket.
Make sure to leave space between each marshmallow.
Put marshmallows in the air fryer, and turn temperature to 160 degrees. Then dehydrate for 1 hour. Once done you will want to check on your marshmallows on how dry they are.
You should need to cook for at least 1 more hour if not longer depending on the size of your marshmallows.
You will know marshmallows are done when they are firm when you gently squeeze them. If they still have some give to them, they need to dehydrate a bit longer.
Once your marshmallows are dehydrated, allow them to cool then store in an airtight container.
Notes
If you want you can use large marshmallows that you cut up to make smaller marshmallows with.
All air fryers heat a bit differently, so make sure to use the cooking time as a guide. Feel the marshmallows and when they are fully firm you know they are done.
If you pull the dehydrated marshmallows too soon they can get soggy after they sit.
Marshmallows that are dehydrated need to be stored in an airtight container. Otherwise, if any humidity or moisture in the air soaks into the dried marshmallows they can get soft and stale.
Feel free to make as many or as few as you would like.
Batch cook the marshmallows if you plan to make a bunch. You want to ensure your fresh marshmallows are in a single layer or they can dehydrate unevenly.
Nutrition Information:
Yield:

24
Serving Size:

1 marshmallows
Amount Per Serving:
Calories:

1
Total Fat:

0g
Saturated Fat:

0g
Trans Fat:

0g
Unsaturated Fat:

0g
Cholesterol:

0mg
Sodium:

0mg
Carbohydrates:

0g
Fiber:

0g
Sugar:

0g
Protein:

0g
This information is automatically calculated by third-party software, including but not limited to the Create or Bake Me Some Sugar. For accurate nutrition, I suggest running the ingredients in your own system to get a more accurate reading.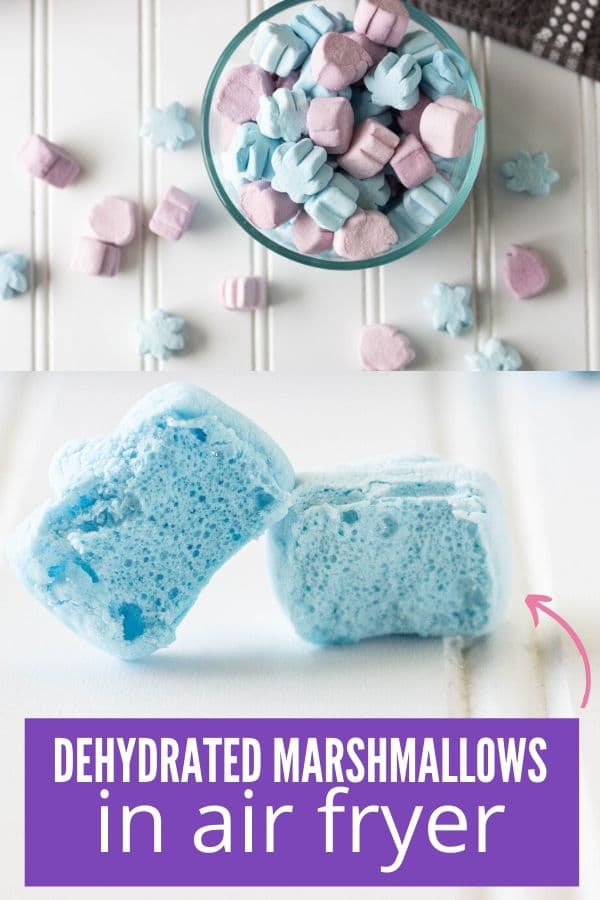 Have you ever made dehydrated marshmallows?