Whip up this lemon sheet pan cake. This is a lemon cake recipe made from scratch and bursting with citrus flavor, and topped with cream cheese frosting.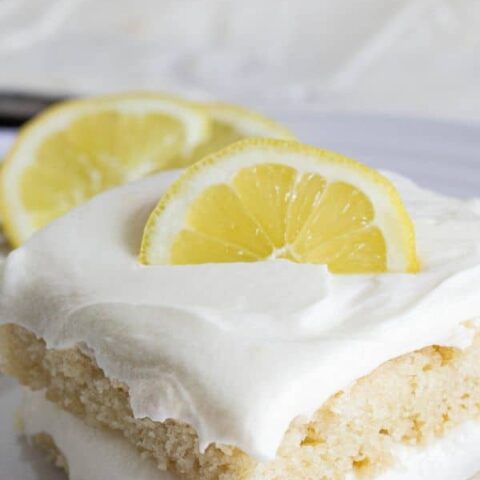 My lemon cake recipe from scratch will tickle those taste buds. A sheet pan lemon cake that is homemade and topped with a velvety cream cheese frosting.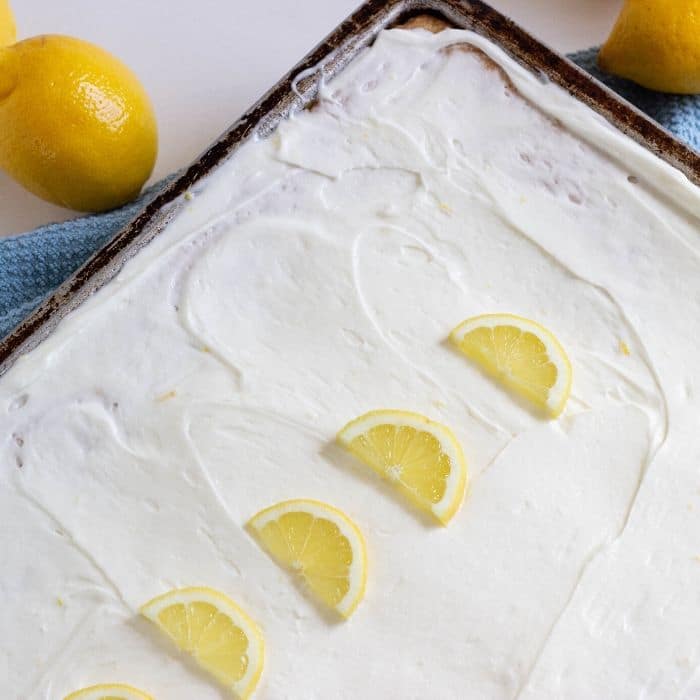 If you are looking for the best lemon Texas sheet cake you just found it! If lemon desserts are you thing, this cake will not disappoint.
Lemon Cake Recipe From Scratch
While I love boxed cakes, I wanted to create a homemade lemon cake that really focuses on the sweet and citrus of the lemon but not overpowering feeling.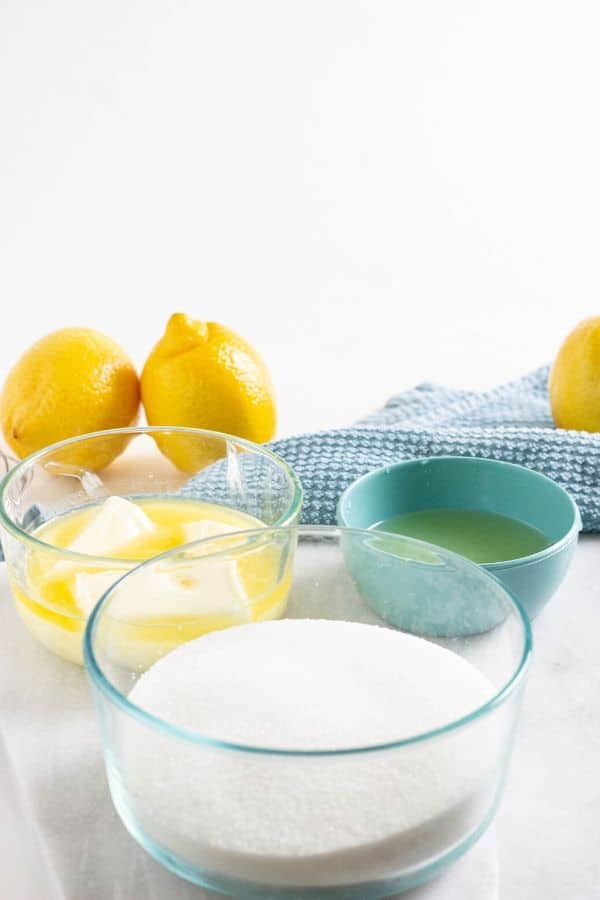 How To Make Lemon Sheet Cake
The full instructions for this lemon cake are in the printable recipe card below. So keep scrolling if you want ingredient measurements and directions.
You will start by creaming your butter and sugar together with a hand mixer or even whisk and a bowl. Once your mixture is creamy, add in your lemon juice.
Now incorporate the eggs, vanilla, and sour cream. Whisk good till creamy.
Mix in your dry ingredients, and then pour the lemon cake batter into the jelly roll pan.
Bake until you can stick a toothpick in and it comes out clean. My cake took around 15-18 minutes in the oven at 350 degrees.
Allow cake to fully cool.
Then you will begin to work on your cream cheese frosting. Once the cake is fully cooled slather onto the cake, and slice and serve!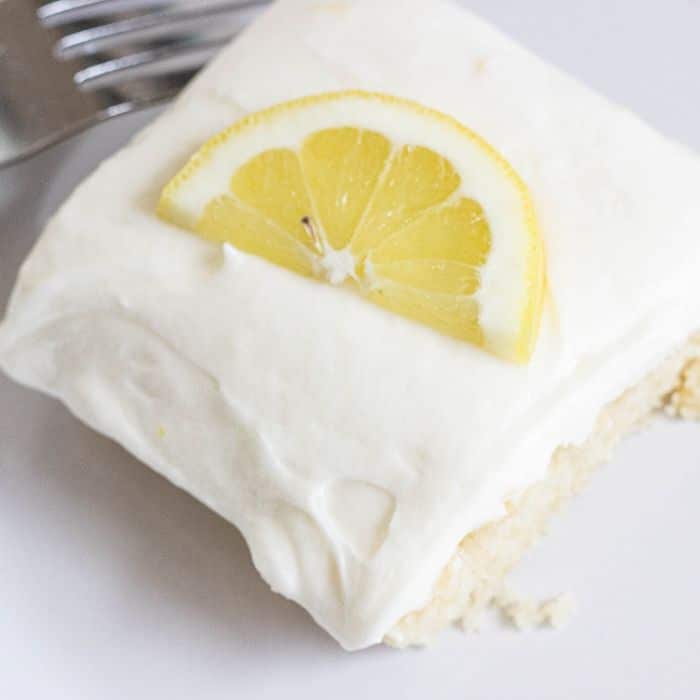 Fresh Lemon Juice Vs Lemon Extract
I used fresh lemon juice for this lemon cake recipe. Now, I can't vouch that lemon extract would work, just because I have never used it.
But if you have some on hand and want to try it out, please let me know how it works.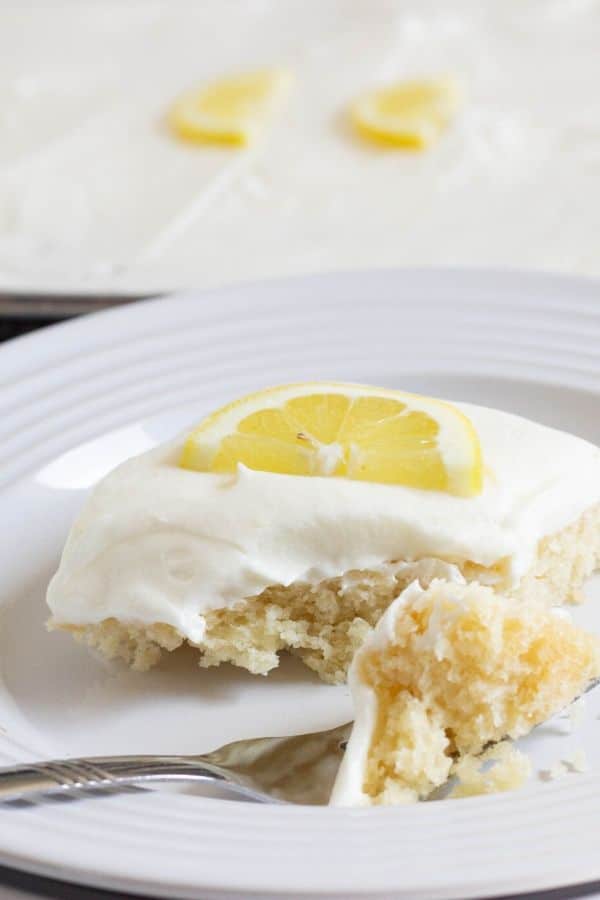 Light And Fluffy Lemon Cake
The cornstarch is a secret ingredient in this recipe. It creates a fun and different texture to the batter so it bakes up light and fluffy.
Then the frosting uses butter and cream cheese so it is almost like a whipped cream frosting texture. Trust me, the frosting alone is hard to resist eating straight from the bowl!
Craving More Lemon Recipes
How Many Lemons Yield 1/2 Cup Of Lemon Juice
I used 3-4 smaller sized lemons to reach my 1/2 cup of lemon juice. I used my lemon squeezer, it works great at really getting every ounce of lemon juice out of your fresh lemon.
If you have larger lemons you could probably get away with 2-3 easy for the 1/2 cup.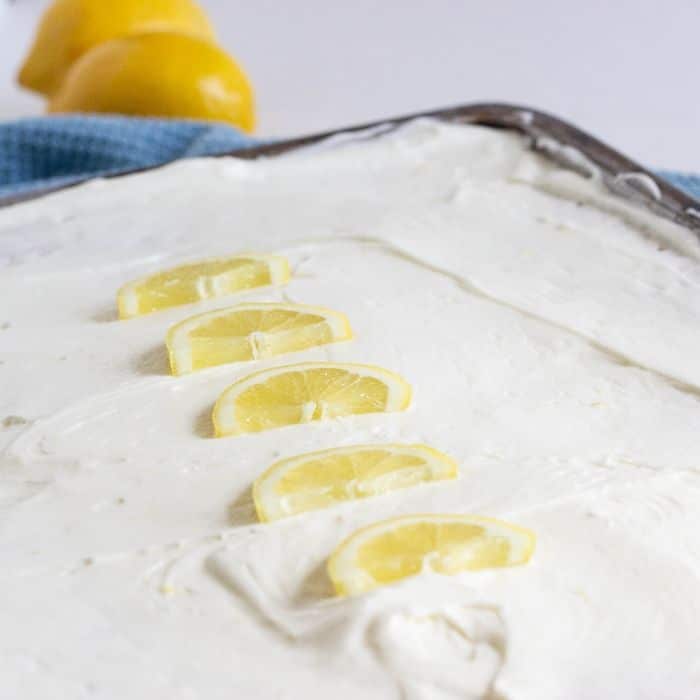 Do You Need Cake Flour For This Texas Sheet Cake Recipe
No, you can use all-purpose flour. That is what I reached for and my cake turned out perfect. If you have cake flour on hand, go ahead and use it if you would like.
Otherwise, all-purpose flour will work fine.
Ways To Serve Up Lemon Cake
Add a scoop of vanilla ice cream to the side.
Skip the frosting and dust with powdered sugar.
Slice and decorate with fresh lemon wedges.
Etc
There are many ways to dress up your sweet lemon cake. Feel free to do whatever you would like.
How to Store Cake
Since this cake has a cream cheese based frosting, your cake needs to be stored in the fridge. Place in an airtight container and store in the fridge for up to five days.
The first few days are the best.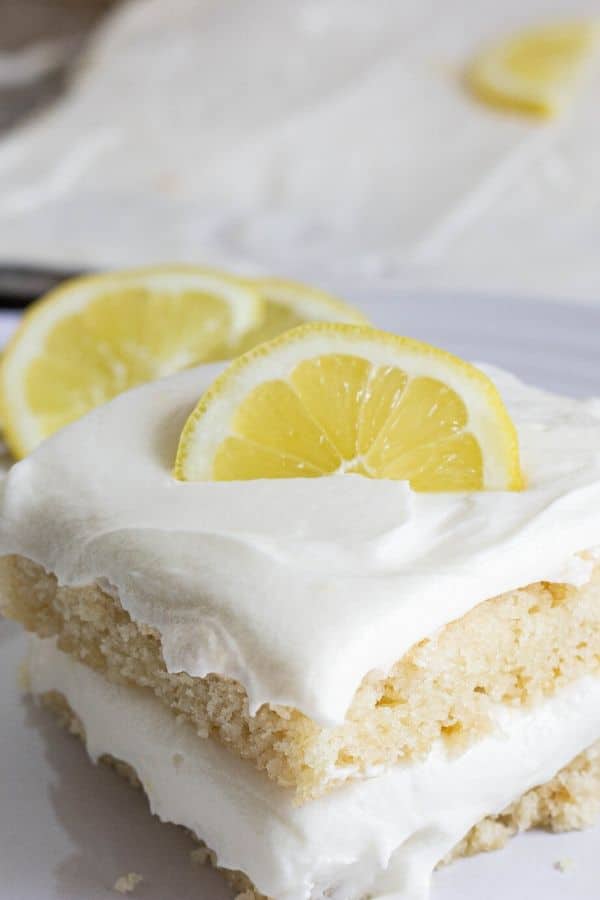 Can You Freeze This Cake
Absolutely! I place my cake in an airtight container. You can store your cake for up to three months if stored properly.
Let it thaw in the fridge the night before or on the counter for 30 minutes or so. Then dive in for the ultimate lemon dessert recipe.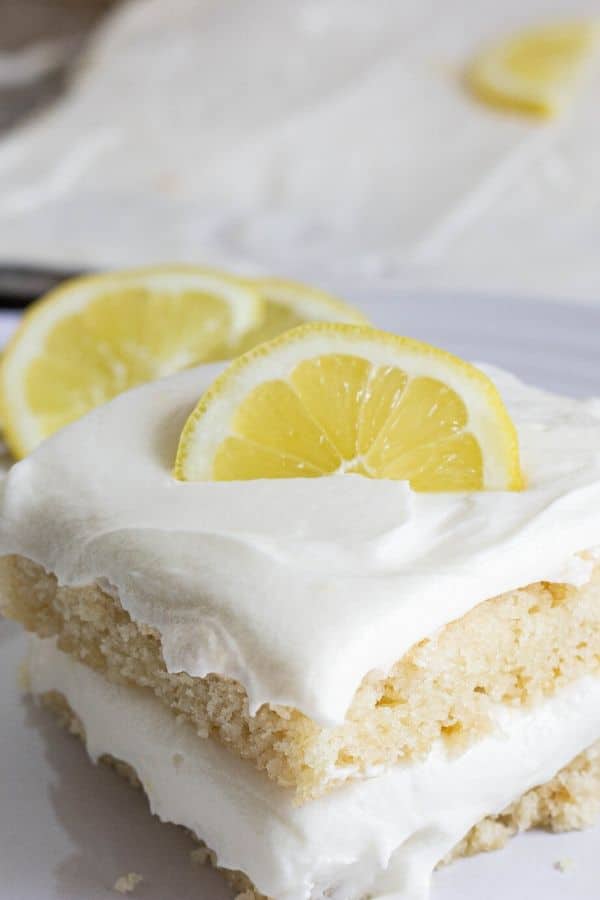 Lemon Sheet Pan Cake
Servings 24 slices
Whip up this lemon sheet pan cake. This is a lemon cake recipe made from scratch and bursting with citrus flavor, and topped with cream cheese frosting.
Ingredients
2 1/4 cup all purpose flour
1/2 teaspoon baking soda
1 teaspoon baking powder
1/2 teaspoon salt
1 1/2 tablespoons cornstarch
1 1/2 teaspoons vanilla
1/2 cup sour cream
2 large eggs
2 cups granulated sugar
1/2 cup fresh squeezed lemon juice
3/4 cup unsalted butter
Cream Cheese Frosting
4 cups powdered sugar
8 ounces softened cream cheese
1 stick unsalted butter
Instructions
Preheat oven to 350 degrees.

Start by taking your melted butter that has cooled off a bit, and place in a bowl or stand mixer. Add in your granulated sugar.

Once your mixture is creamed, you will then add in your eggs whisking to incorporate them. Now toss in your lemon juice, vanilla, and sour cream.

Make sure your lemon cake batter is creamy and then begin adding in your cornstarch, baking soda, baking powder, salt, and flour.

Once the lemon cake batter is fully incorporated, pour into a greased jelly roll pan.

Bake for 15-18 minutes or until the cake is fully cooked. Stick a toothpick in the center and if it comes out clean the cake is done.

Place lemon sheet cake on a cooling rack to fully cool.

Once your cake is fully cool you can mix your cream cheese frosting ingredients in a bowl, whisk until super creamy. I find using a stand mixer works best.

Spoon on the frosting and spread evenly over the cake.

Slice and serve your lemon sheet pan cake and enjoy it.
Notes
You can add a teaspoon of fresh lemon juice and a teaspoon of lemon zest to the cream cheese frosting if you want even more lemon flavor to your cake.
Nutrition
Serving: 1gCalories: 316kcalCarbohydrates: 46gProtein: 3gFat: 14gSaturated Fat: 9gPolyunsaturated Fat: 5gCholesterol: 53mgSodium: 130mgSugar: 35g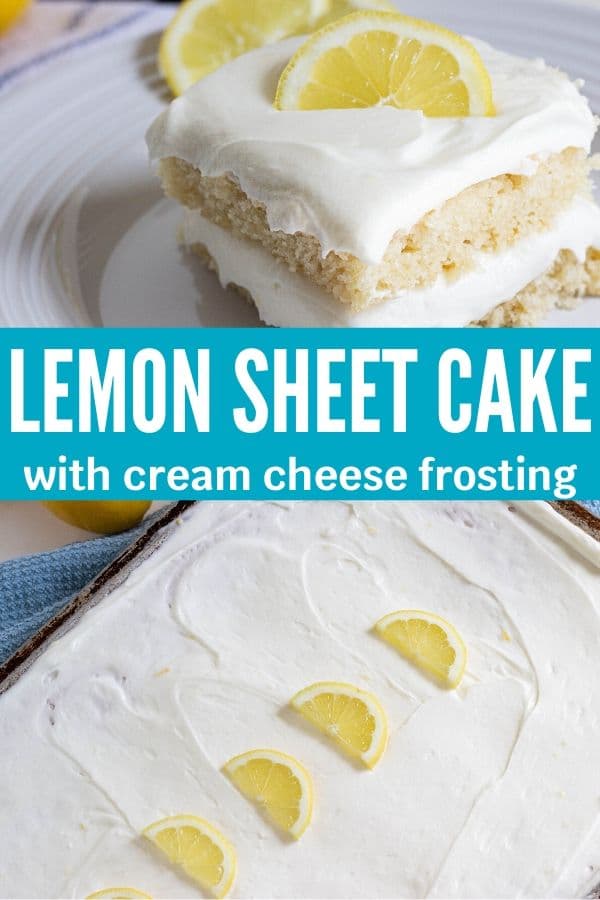 Have you ever made a lemon cake recipe from scratch?
Reader Interactions