This Pumpkin Chocolate Chip Bread is the fall recipe that you've been waiting for. One bite of this pumpkin loaf, and you'll forget about anything else pumpkin-flavored that might be on your radar.
It's no secret that craving pumpkin foods are typical this time of year. It's like once the air gets a little bit of chill and September 1st hits the calendar, all the pumpkin recipes start to make their rounds. Try my pumpkin carrot muffins for a fun twist to your pumpkin puree recipes.
Pumpkin Chocolate Chip Bread
And truth be told, I'm not mad about it. I love the taste of pumpkin and crave that familiar goodness all year long. This is one time of the year that I allow myself to splurge on sweets and treats more than normal just because I love that pumpkin flavor and taste so much.
One thing is for certain…I'm so excited to be sharing this chocolate chip pumpkin bread recipe with all of you. It's so good that I have to pass this treat on to others!
What is the difference between pumpkin pie mix and pumpkin puree?
Believe it or not, there is a difference.
Pumpkin puree
is just like it sounds. It's literally just pureed pumpkin without any other ingredients. Pumpkin pie mix, however, is often pumpkin but also other ingredients that you might find in a traditional pumpkin pie as well such as cinnamon, sugar or even
pumpkin pie spice
.

Why is my pumpkin loaf so dense?
Don't overmix your ingredients! Doing so might cause this pumpkin quick bread to become dense and have a different texture than intended. You just want to combine the ingredients enough so that everything is mixed well overdoing it.
How do you know when pumpkin bread is done?
Sometimes it can be hard to tell when a loaf of bread is done cooking. Even though it's done entirely on the outside, how do you really know that it's ready in the middle? One simple way is to take a toothpick and enter it into the inside of this pumpkin puree recipe. If the toothpick comes out clean, the middle of the bread is done and it's time to remove it from the oven.
If the toothpick comes out covered in batter, it needs to stay and cool longer.
Why did my pumpkin bread not rise?
Check to ensure your baking soda and baking powder both are still good. For quick bread recipes, you will find that one or both of these ingredients have gone bad and that is why your bread hasn't risen properly.
Looking for more pumpkin recipes
How do you keep pumpkin bread moist?
You might be surprised to learn that the shelf life for keeping homemade pumpkin bread moist is about 2-3 days. To keep it as moist as possible, keep your pumpkin loaf wrapped up in saran wrap and airtight as much as possible. This keeps the air out and allows it to retain that fresh taste and flavor. I find storing your bread in the fridge allows 3-4 day shelf life.

How long is pumpkin bread good for?
This can vary, but I would say for the best results, you'll want to consume it with 2 days of baking it. (Although, it's so delicious I highly doubt you'll have any trouble with that timeframe!)
How to freeze pumpkin chocolate chip bread
If you happen to not consume it within a couple of days of baking it, you can freeze this homemade pumpkin bread recipe easily enough. Just make certain that you store it in a freezer-safe bag or container and have it sealed airtight. Once you have that secured, you can freeze for a couple of months with no issues.
One other little tip about freezing your pumpkin bread is that if you have the capability to freeze it in individual slices, it makes it that much easier to pull out a slice to thaw and eat as you want rather than having to unthaw an entire loaf.
Variations to chocolate chip pumpkin quick bread
If you love this recipe but want to make a few changes, do so! This is just another reason that this pumpkin bread recipe is so good. You can easily add in some walnuts or pecans and even some dried fruit, too. And if you aren't a chocolate fan, swap it out for some shredded coconut
or marshmallow fluff instead.
Once you get the hang of making this delicious recipe, you're going to find that there are so many variations that you can try!
Now do you see why I love this delicious pumpkin loaf recipe so much? I can't wait for you to try it as well. Make certain to let me know what you think after you take your first bite…I have a feeling that you're going to be very, very pleased!


How to make pumpkin chocolate chip bread
Are you ready for this delicious pumpkin bread recipe? Grab the full ingredient list and directions below!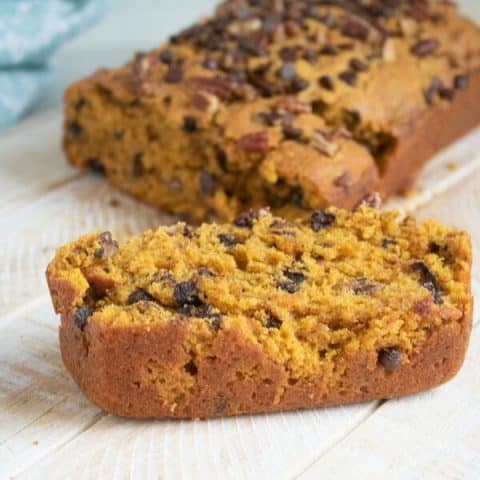 Pumpkin Chocolate Chip Bread
Cook Time:
1 hour
5 minutes
Total Time:
1 hour
15 minutes
Pumpkin chocolate chip bread is a fantastic pumpkin quick bread recipe loaded with chocolate chips, walnuts, and moist and flavorful pumpkin bread.
Ingredients
• 1 cup unsalted butter, softened
• 2 cups granulated sugar
• 2 large eggs
• 15 ounce can pumpkin puree
• 2 cups all-purpose flour
• 1 teaspoon ground cinnamon
• 1 teaspoon ground cloves
• 1 teaspoon ground nutmeg
• 1 teaspoon baking powder
• ½ teaspoon baking soda
• ½ teaspoon salt
• 1 cups chocolate chips
• 1 cup chopped pecans or walnuts, optional
Instructions
Preheat your oven to 325 degrees. Then grease 2 loaf pans with cooking spray.
Then in a bowl beat your butter until creamy, and then add in your sugar. Once it is creamy add in your eggs and pumpkin puree.
Now in a seperate bowl add in your dry ingredient except or nuts and chocolate chips. Slowly add the dry ingredients into the wet, until creamy. Do not overmix.
Then fold in your chocolate chips and nuts, and reserve a little to top the loaves if you want.
Pour batter into pans, and top, and then bake 65-70 minutes or until bread is cooked through.
Recommended Products
As an Amazon Associate and member of other affiliate programs, I earn from qualifying purchases.
Nutrition Information:
Yield:

18
Serving Size:

1
Amount Per Serving:
Calories:

333
Total Fat:

18g
Saturated Fat:

9g
Trans Fat:

0g
Unsaturated Fat:

9g
Cholesterol:

48mg
Sodium:

133mg
Carbohydrates:

42g
Fiber:

2g
Sugar:

29g
Protein:

4g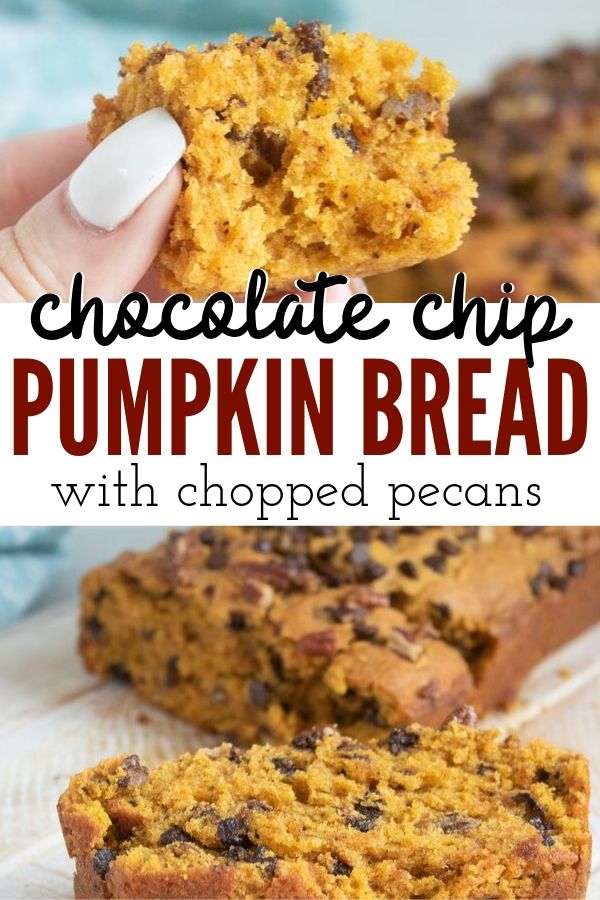 Have you ever made a chocolate chip pumpkin bread before?