Nutella Filled Donuts Recipe that uses canned biscuits as the donut base. Learn how to make stuffed donuts that are filled with a Nutella hazelnut spread. A quick and easy donut recipe!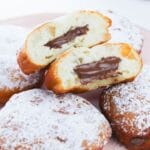 Nutella filled donuts are a magical creation. A puffy dough that is filled with Nutella and dusted with powdered sugar. A simple and quick stuffed donut that is made with canned biscuits.
Canned biscuit donuts are so simple. They make for an easy donut recipe, and this recipe needs 4 ingredients. Learn how to make a delicious Nutella donut that is bursting with hazelnut flavor.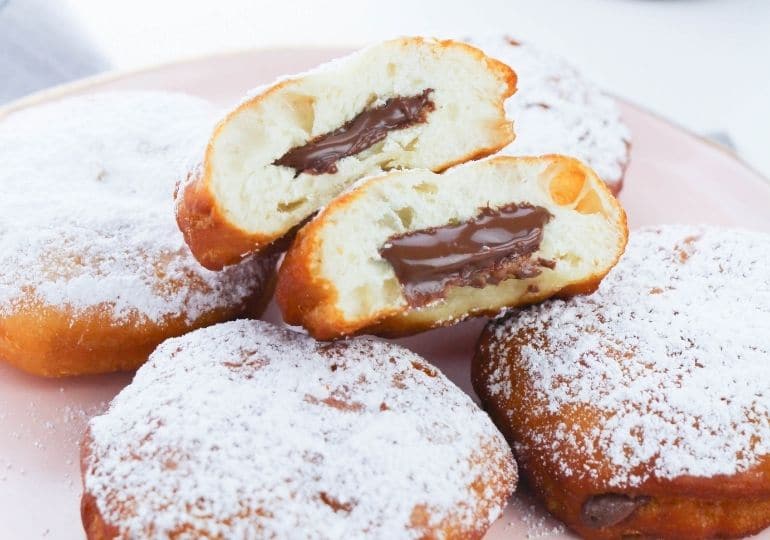 Table of contents
While we don't eat donuts too often for breakfast, I will make up these Nutella stuffed donuts on occasions. They are a fun and delicious way to make the morning.
Why This Recipe Is A Hit
Affordable – 4 Ingredients is all it takes to make these donuts. Literally so affordable and quick that even hose who are not super confident in the kitchen can get on board with the recipe.
Canned Biscuits Recipe – If you like canned biscuits, this is a great recipe to try out. Just use the Grands biscuits, or other brand you prefer.
Filled Donuts – I used hazelnut spread to fill my donuts but feel free to stuff with any of your favorite fillings! Pastry cream, jam or jelly style, or even frosting.
Easy Prep – You can have these biscuit dough donuts cooking in literally minutes. No yeast, or waiting for dough to double in size then to work on shaping donuts.
Ingredients You Will Need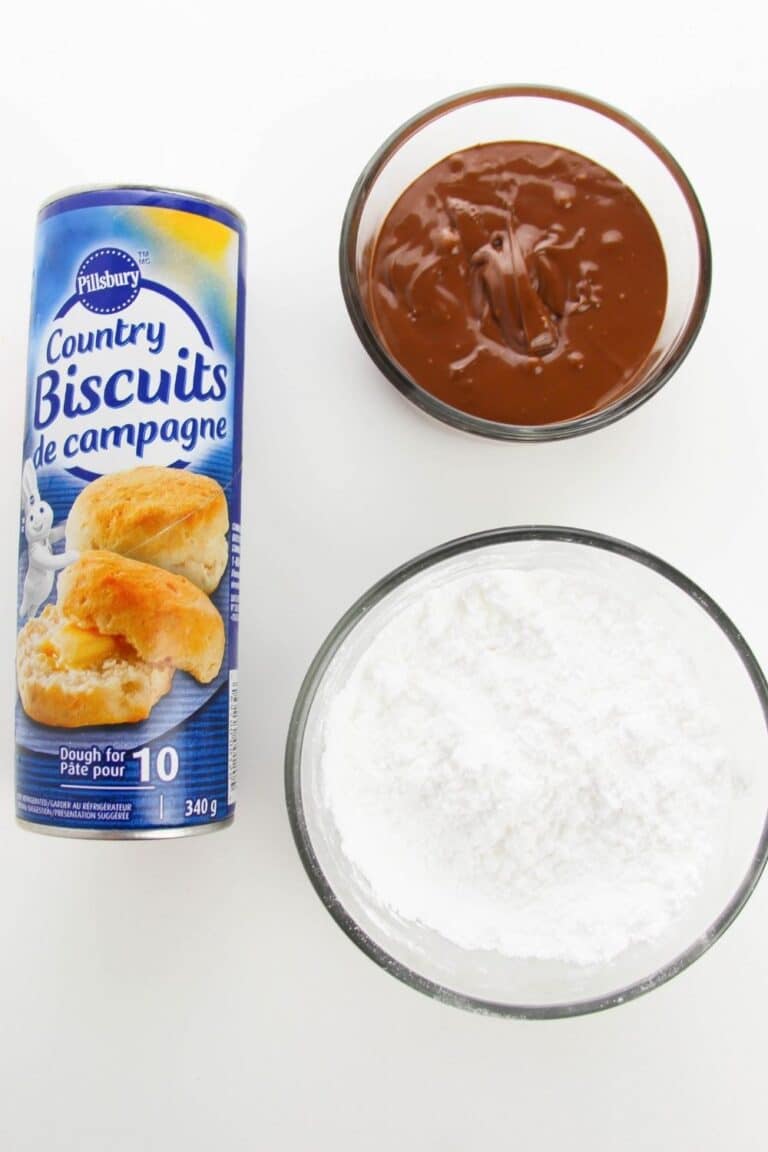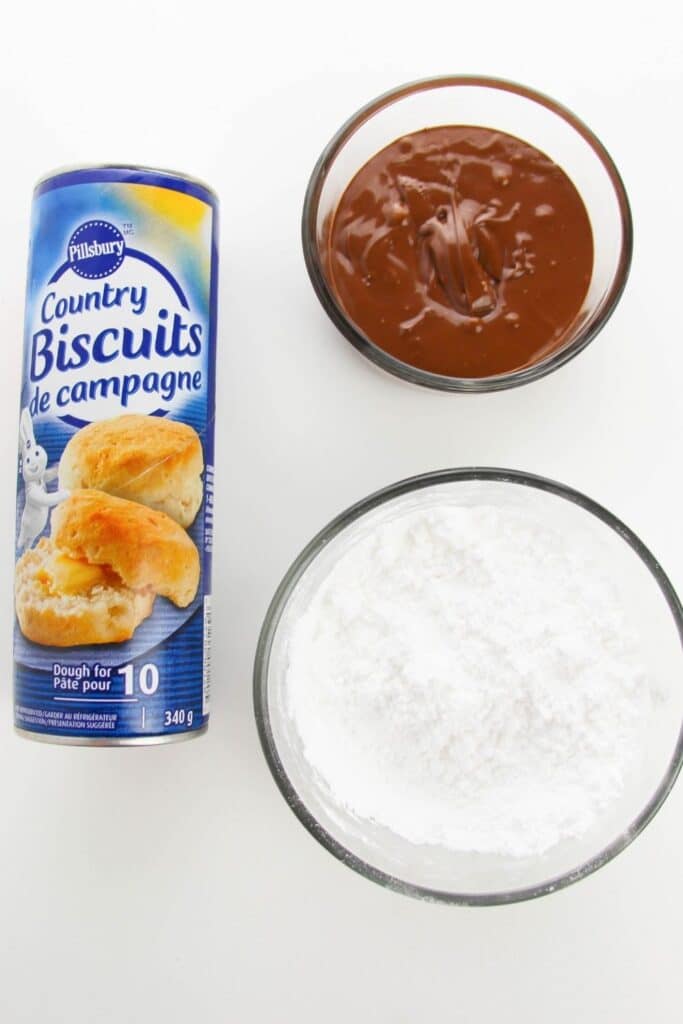 Biscuits – I used just the classic Grands style for this recipe.
Nutella – Reach for your favorite Nutella spread as it makes an incredible filling!
Powdered Sugar – Dust donuts with powdered sugar or even cinnamon and sugar coating.
Oil – You will want oil for frying, or I will share how to make these donuts in the air fryer as well.
How to Make
Step 1: Start by heating up your oil in a heavy duty pot or fryer. You want the temperature to reach 350 degrees. While that is heating up, place a cooling rack on top of a baking sheet. The baking sheet will catch drips.
Step 2: Stretch out each of the biscuit dough to 1/2″ to 1″ in size. This is important for making the donuts. They don't have to be perfectly shaped.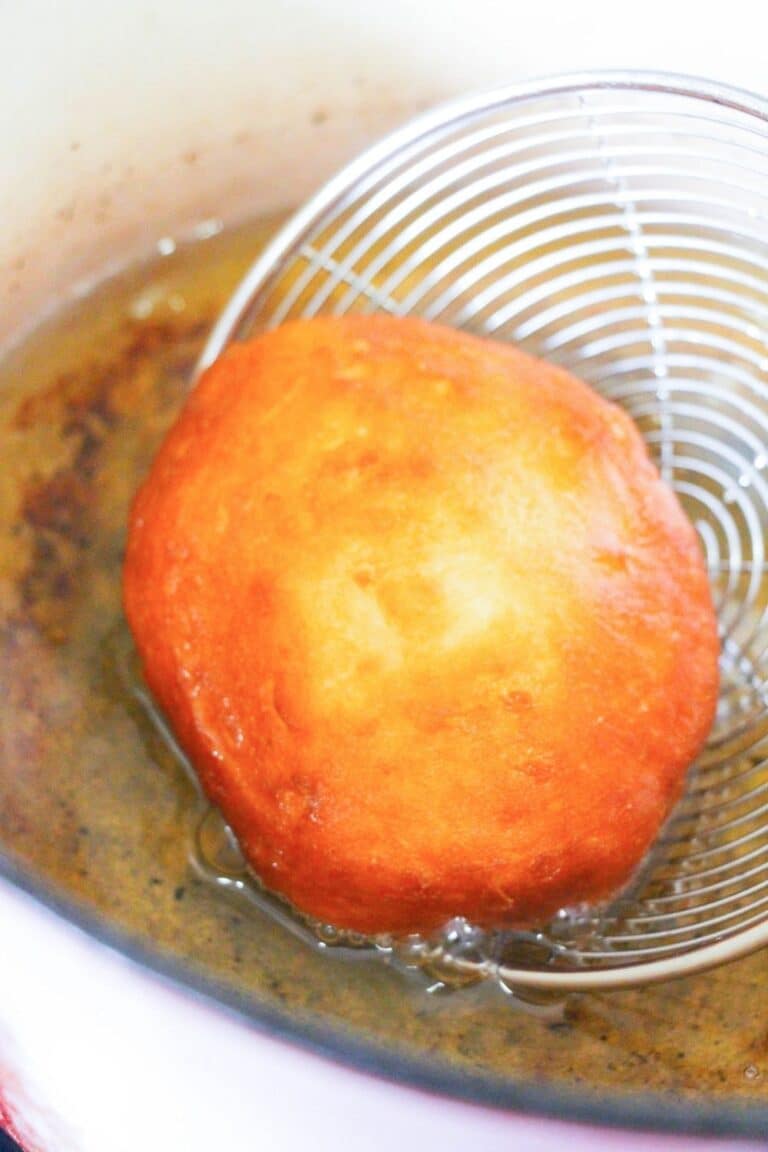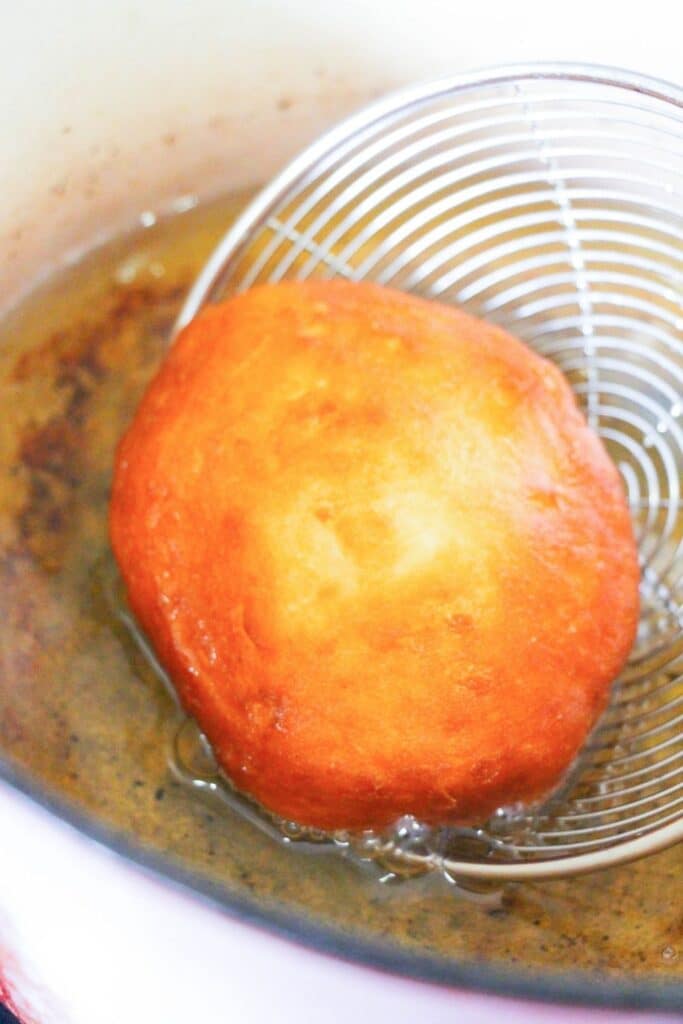 Step 3: Place dough in hot oil and fry for around 1 minute per side. Be careful flipping as the oil is extremely hot. I used my frying ladle.
Step 4: Once done, place your donuts on the cooling rack. Repeat until all the donuts are cooked.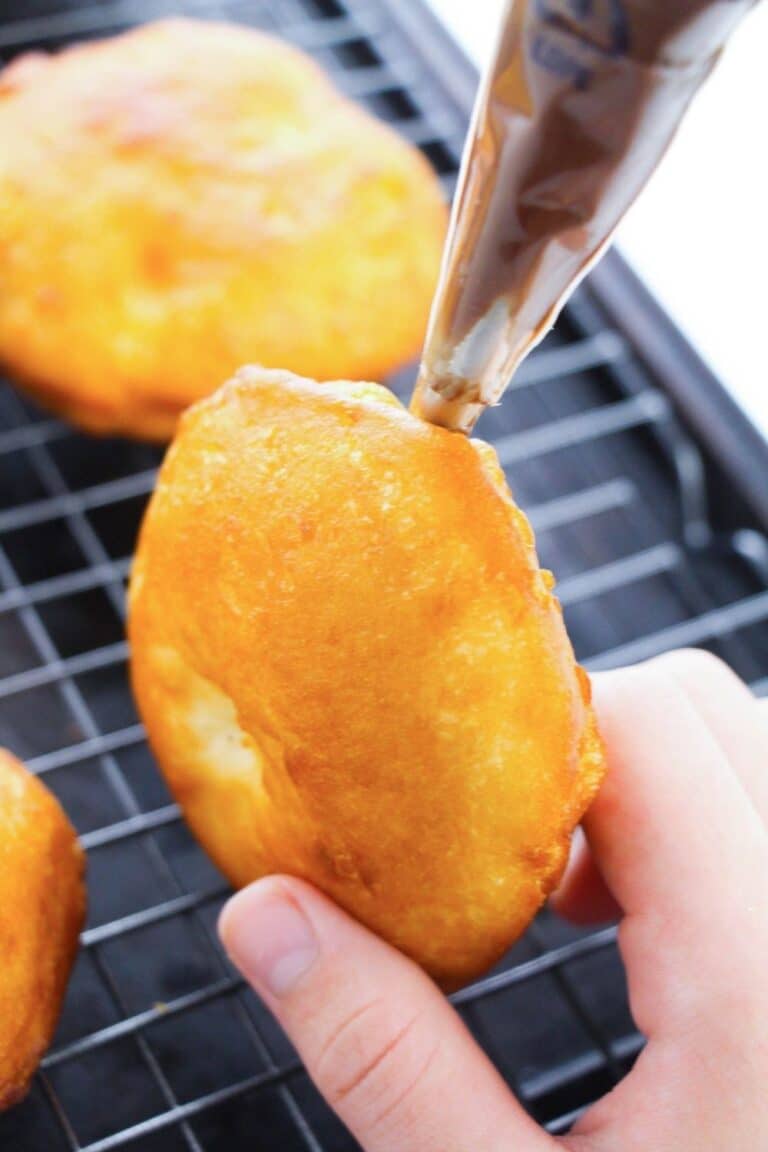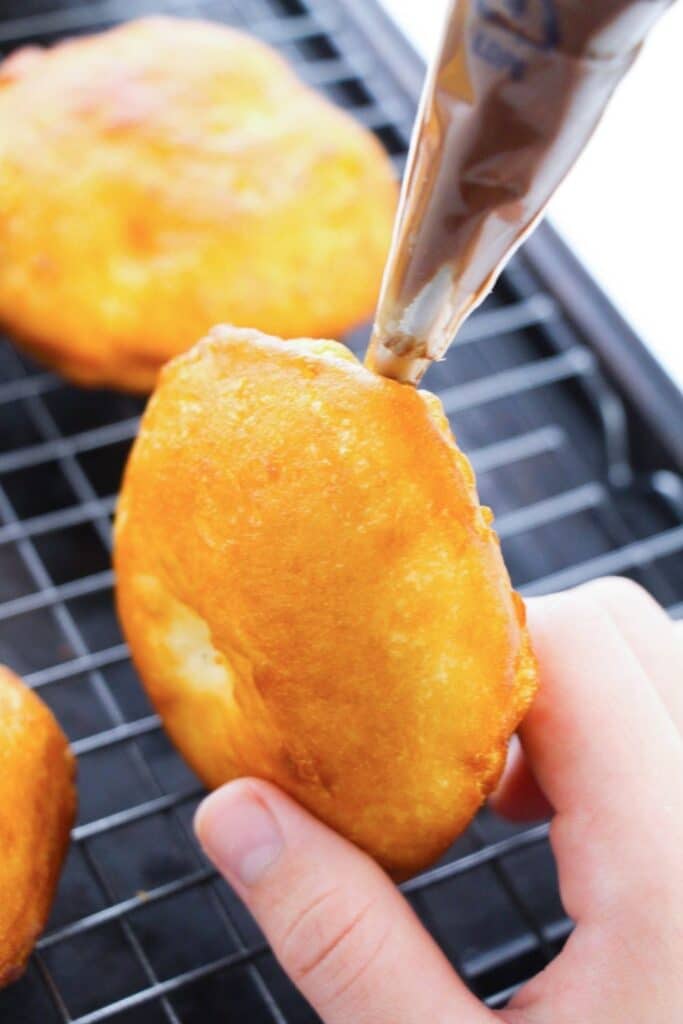 Step 5: With cooled donuts, pour the Nutella hazelnut spread into a piping bag with a tip. Place the tip in the donut a ways and pipe in around 1-2 tablespoons of the hazelnut spread.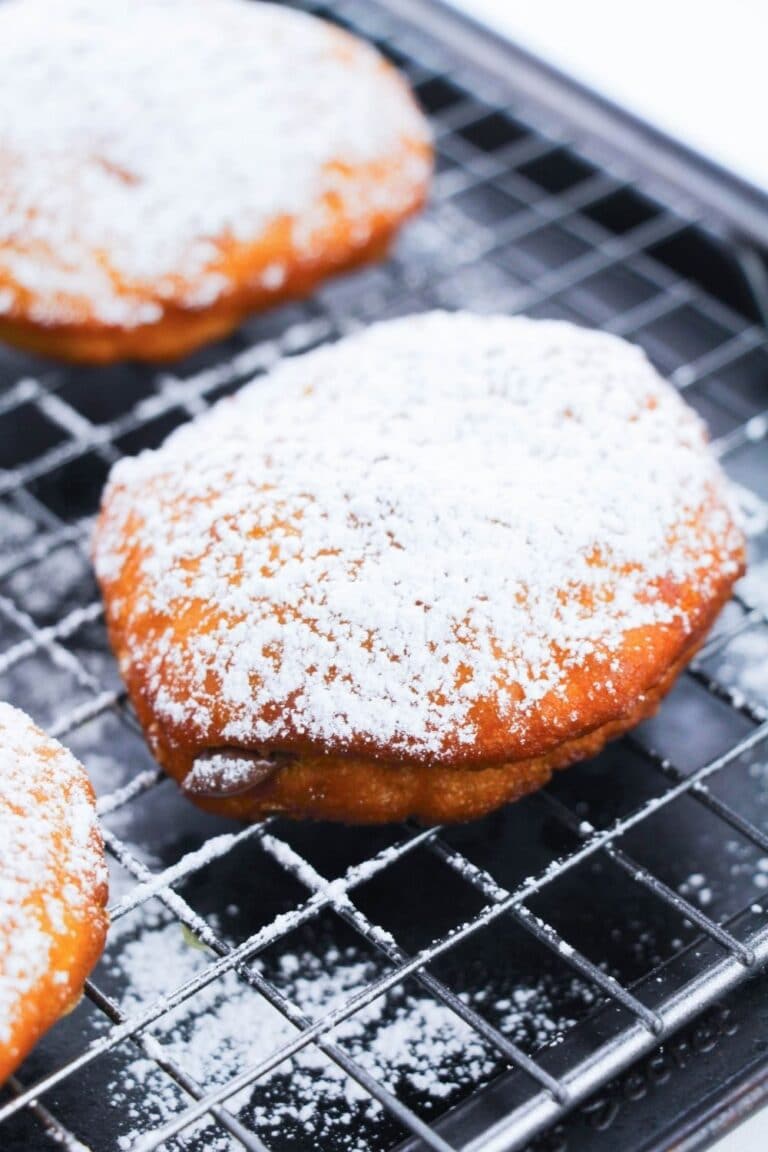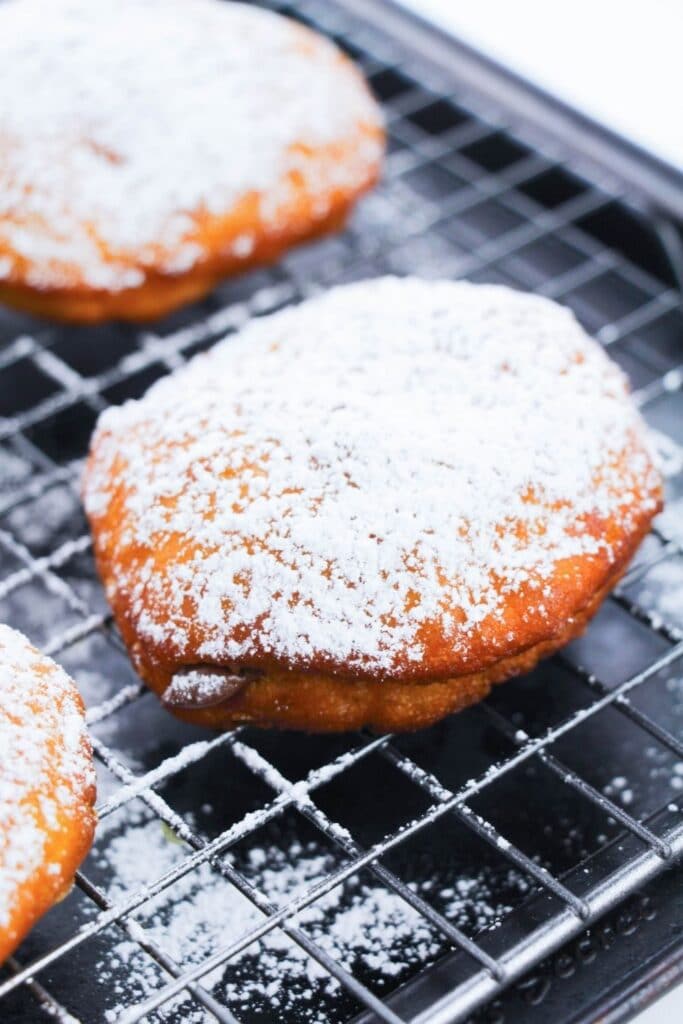 Step 6: Once all the donuts are filled, dust with powdered sugar and enjoy.
Want more hazelnut recipes: Nutella no bake cookies, 2 ingredient hazelnut cake, or try these Nutella cupcakes.
Storage
These donuts are best served fresh and warm. You will find that as the cool down and sit, they will dry out pretty fast. So, if you do not eat right away, store in an airtight container for a day or so.
You can freeze the donuts you don't eat. Just cool completely, store in the freezer in airtight bag or freezer bag. I recommend waiting to dust with powdered sugar till later. The donuts will freeze for 2-3 months.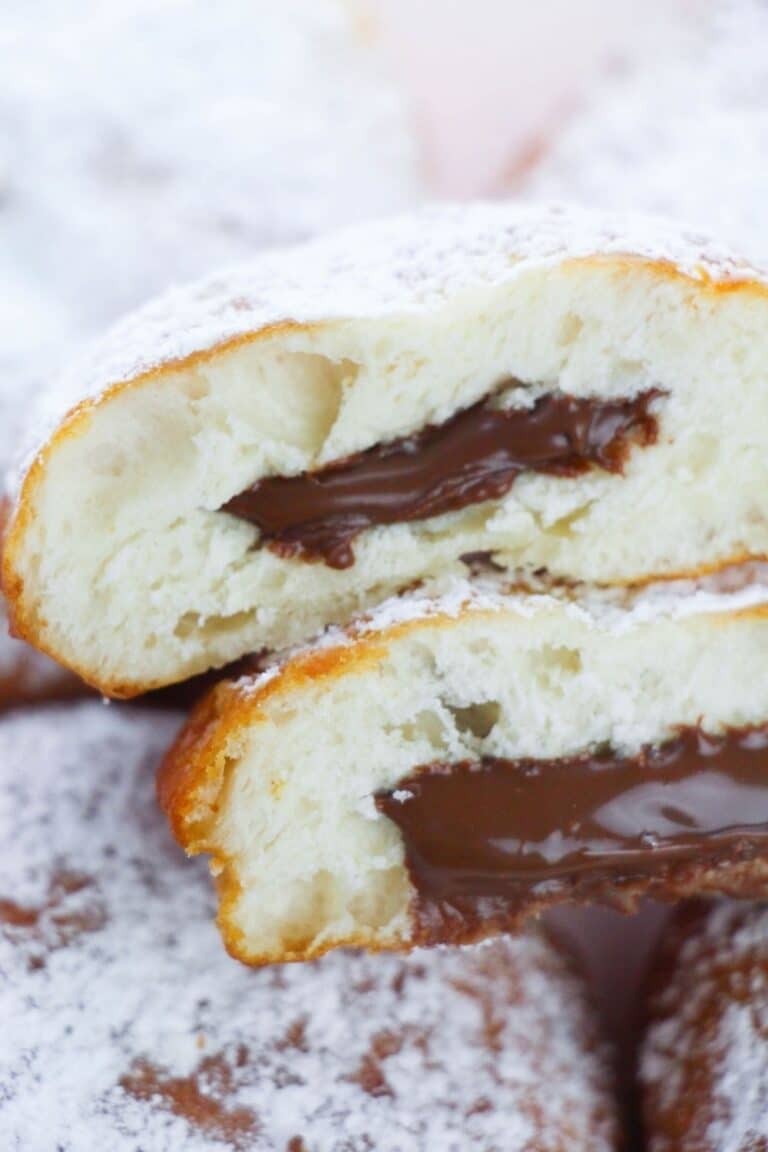 Expert Tips and Variations
Classic biscuits work best. you will find the flaky or pull apart style biscuits don't hold up as well and fill as good as the classic canned biscuits.
You can fill your donuts with cream, frosting, jelly, jams, etc. Feel free to swap out the hazelnut if you would like. You will pipe in the same way.
You can deep fry or air fry the biscuit donuts. I share directions for both methods in the recipe card.
Roll your donuts in cinnamon sugar mixture for a change, dip in frosting, or serve plain.
You could easily make donut holes if you want, and then fill. Just use less hazelnut for the filling.
Grab my Free Kitchen Conversions Printable! This shows you how many cups are in a quart, pint, etc. A great printable to keep handy for when you need to convert a recipe.
FAQs
How to make stuffed donuts?
Take the tip of your piping bag, and poke it into the donut. Just enough to get the tip in there, then pipe. It will fill the donuts, and then remove dip and set down. Move on and repeat until all the donuts are done.
Can I make this recipe with homemade yeast donuts?
Go right ahead and fry up classic yeast donuts in replace of canned biscuit donuts. You will cook the same, and then fill.
How to know when donuts are done frying?
Donuts cook fast, as the oil is very hot. It takes only around a minute on each side to cook your donuts. Keep your oil around 350 degrees, and cook until the donuts are golden brown on the outside. If the oil is too hot it will cook the outside but leave the center doughy.
Can I double this recipe?
Go right ahead and double this recipe if you want to make extra donuts for everyone. Just batch cook as you normally would, and then fill, dust, and serve.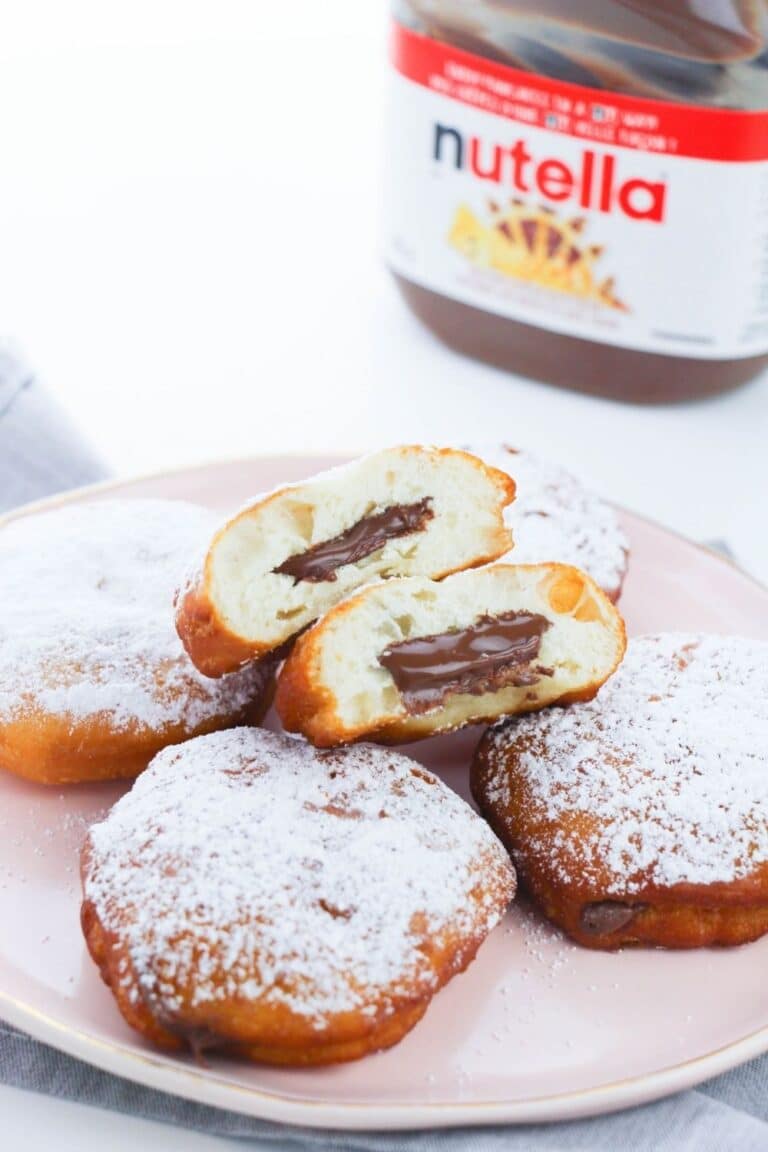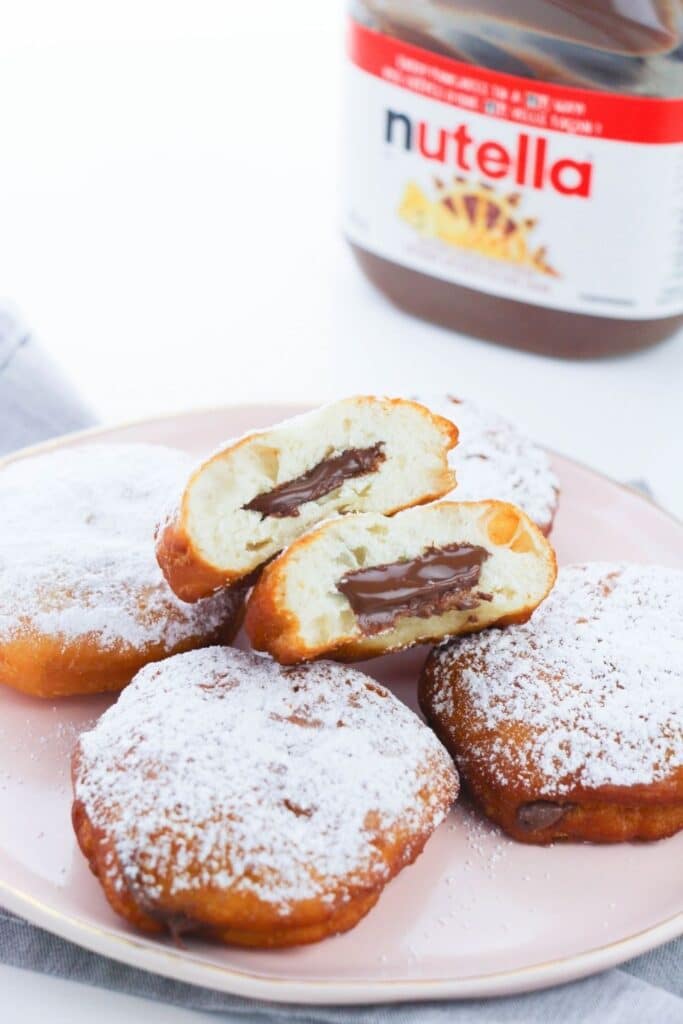 Related Recipes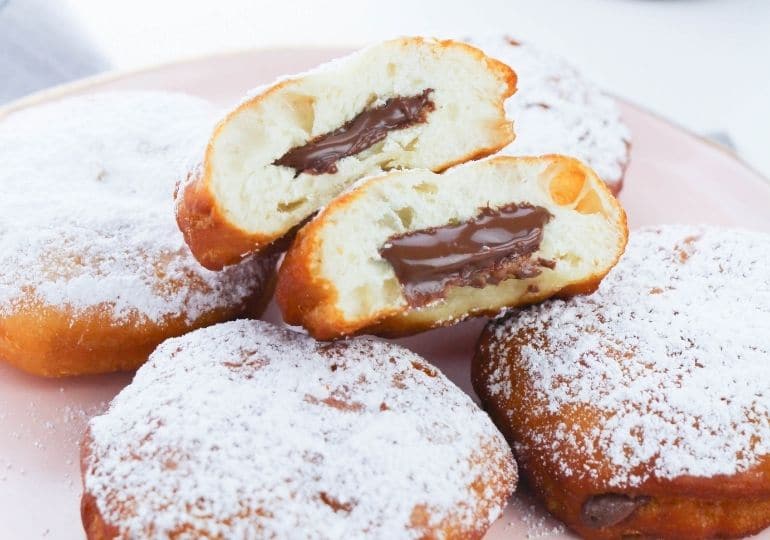 Nutella Filled Donuts Recipe
Servings 10
Nutella Filled Donuts Recipe that uses canned biscuits as the donut base. Learn how to make stuffed donuts that are filled with a Nutella hazelnut spread. A quick and easy donut recipe!
Ingredients
1 can biscuits I used Grand biscuits
1 cup powdered sugar
2/3 cup Nutella hazelnut spread
4 cups oil for deep frying
Instructions
Start by adding oil to your heavy bottom pot or deep fryer. Heat oil to 350 degrees.

While oil is heating you will want to place a cookie sheet on counter then place a cooling rack on top. This will be to place donuts, and the excess oil drips off into the baking sheet.

Stretch out your raw biscuit dough to 1/2-1" wider, so they are a bit flatter and circular.

Place a donut or two into the hot oil and fry for around 1 minute on each side, or until nice and golden brown.

Remove donut, let excess drip off and place on cooling rack to cool. Repeat until all the biscuit dough is cooked.

Once donuts have cooled, then grab a piping bag, and fill with the hazelnut spread. Stick the tip into the dough and pipe 1-2 tablespoons of Nutella into the donut.

Repeat until all the donuts are stuffed with the Nutella. Then dust the filled donuts with powdered sugar and serve.
Notes
Air Fryer Directions – Place your flatted donuts in a single layer in your air fryer and cook for 5-6 minutes at 320 degrees. Spritz the biscuit dough with oil so they turn golden brown. Then allow to cool the same. Filling – I used Hazelnut spread but you can swap with a cream, jelly, jam, or any other donut filling. Topping – Swap the powdered sugar with a cinnamon and sugar coating. You will roll the hot donuts in the cinnamon and sugar mixture to ensure it sticks. Then once the donuts are cooled you will fill the same. Freezing – You can freeze your leftover donuts for 2-3 months. Allow the donuts to fully cool then place in an airtight container or freezer bag.
Nutrition
Serving: 1gCalories: 978kcalCarbohydrates: 26gProtein: 2gFat: 98gSaturated Fat: 11gPolyunsaturated Fat: 83gTrans Fat: 1gSodium: 76mgFiber: 1gSugar: 19g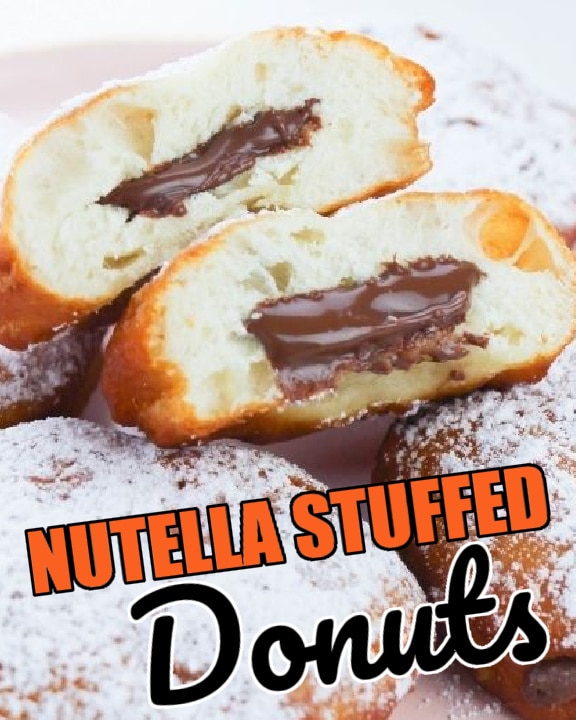 Reader Interactions