A dill pickle recipe that is crunchy, tangy, and a perfect way to use cucumbers. This homemade dill pickle recipe is simple, and can be made into hamburger pickles, spears, or leave pickles whole.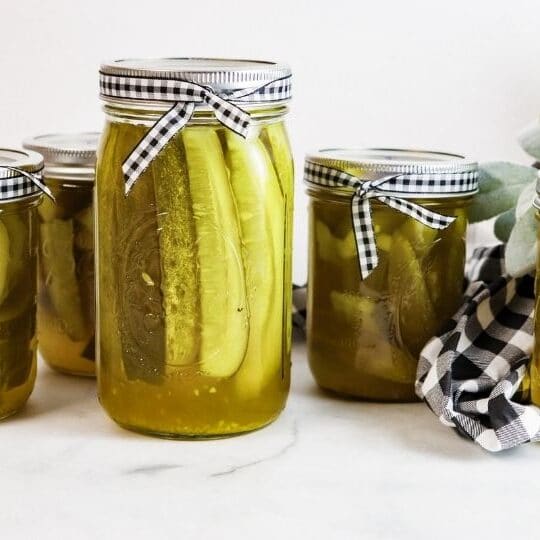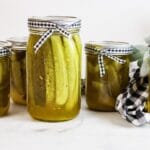 If you have a surplus of cucumbers on hand, consider this dill pickle recipe! Crispy, crunchy, and a nice tangy flavor to these delicious homemade pickles. Canned pickles are the perfect way to preserve summer produce.
I began learning how to can a little over a year ago. From canning my popular jalapeño jelly to relish! I will reach you how to can cucumbers for making pickles. Or for a kick of spice try out my pickled jalapenos. Or try my spicy pickles that are made with horseradish.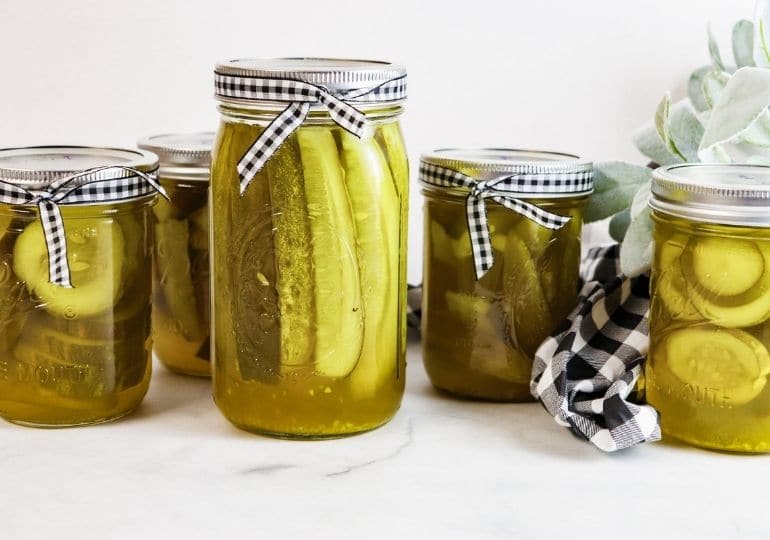 I made dill pickles but you can easily alter the ingredients to make bread and butter pickles, spicy, and more. Use these pickles to make this delicious vegan dill pickle soup.
Why I Love Making Homemade Pickles
Easy – You will be surprised at how easy making pickles really is. Plus you can stock your pantry with pickles to enjoy all year long.
Summer Produce – Cucumbers are one item we love to have in our garden. So having surplus cucumbers on hand, this is a great way to maximize your crop. Preserve it for later. Instead of watching it spoil.
Homemade Dill Pickles – Flavor Swaps – There is something about homemade pickles that just hits the spot. You will love the homemade flavor of these easy dill pickles I think. I love making garlic dill pickle recipe as well as other variations.
Slice How You Want – Making hamburger chip pickles, spears, or even do whole baby pickles. It's up to you.
Shelf Life – Canning allows a long shelf life! Keep pickles in a cool dry place and they will last up to a year.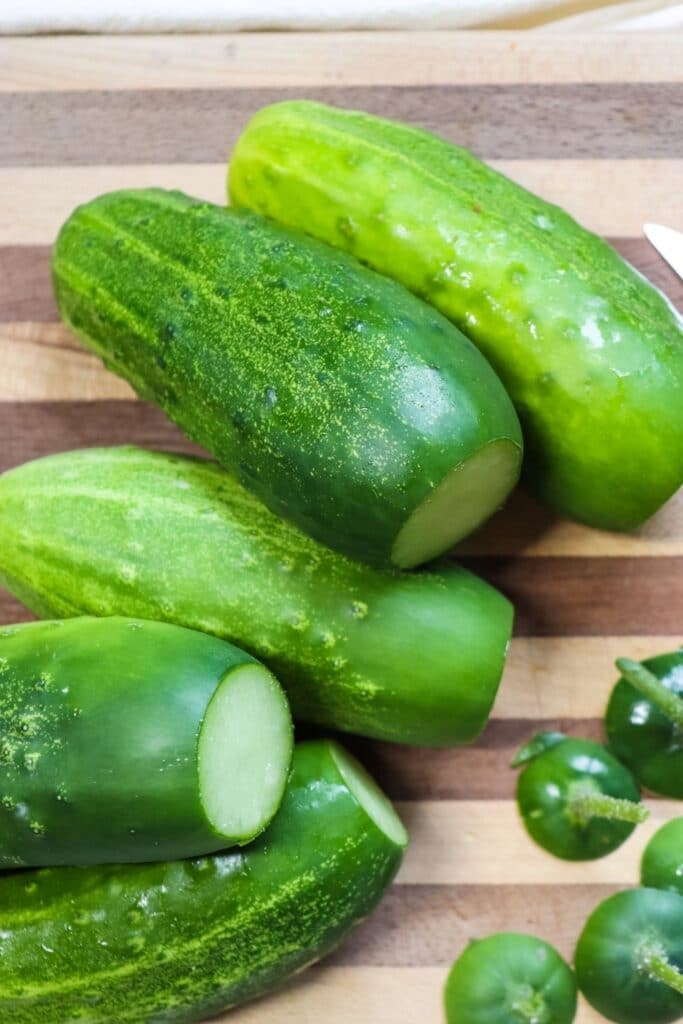 Ingredients Needed
Here are the ingredients needed to make the best dill pickle recipe! This is by far my favorite way to use cucumbers up from our summer produce.
Pickling Cucumbers– Reach for pickling cucumbers that are smaller in size. A variety of cucumbers will work in this recipe.
Dill Seed – Fresh or freeze dried works if you don't have dill seeds. I have used dried but I find it doesn't offer as fresh of a flavor.
Mustard Seed – adds a nice tangy component to pickles.
Garlic – Adds nice flavor, if you want a stronger garlic flavor add extra. I do recommend fresh garlic not minced from jar.
Peppercorn- This adds a nice mild spice to the pickles.
White Vinegar – Some like to use apple cider vinegar but I prefer distilled white.
Picking Salt – You can find this by the canning supplies at the grocery store, or shop online.
Sugar – Just a little granulated sugar is all you need.
Essential Canning Tools I Use
If you are new to canning here are some essential I use when I can.
Here is a canning kit, it has all the tools for holding jars when lowering them in and out of the water, a magnet to place seals on jars. A funnel for pouring in the jar to prevent spills, and more.
Here are some great jelly mason jars that are nice quality. These are similar to what I use.
I use a older water bath pot, but here is a great one that comes with the liner to lift and lower your jars easily.
Here is a really nice scoop for pouring into the jars. This is a very handy canning tool.
Canning pickles is really easy. Don't be intimidated, and learn how to make dill pickles with this recipe. Save your produce and enjoy canning cucumbers that you can enjoy all year round.
More Pickle Ideas – Sweet or Dill Pickle Relish, and Dill Pickle Dip or even my bacon wrapped pickles!
How to Make
Step 1: The first step is to sterilize your canning jars and lids. I will share the process below for you if you don't know how.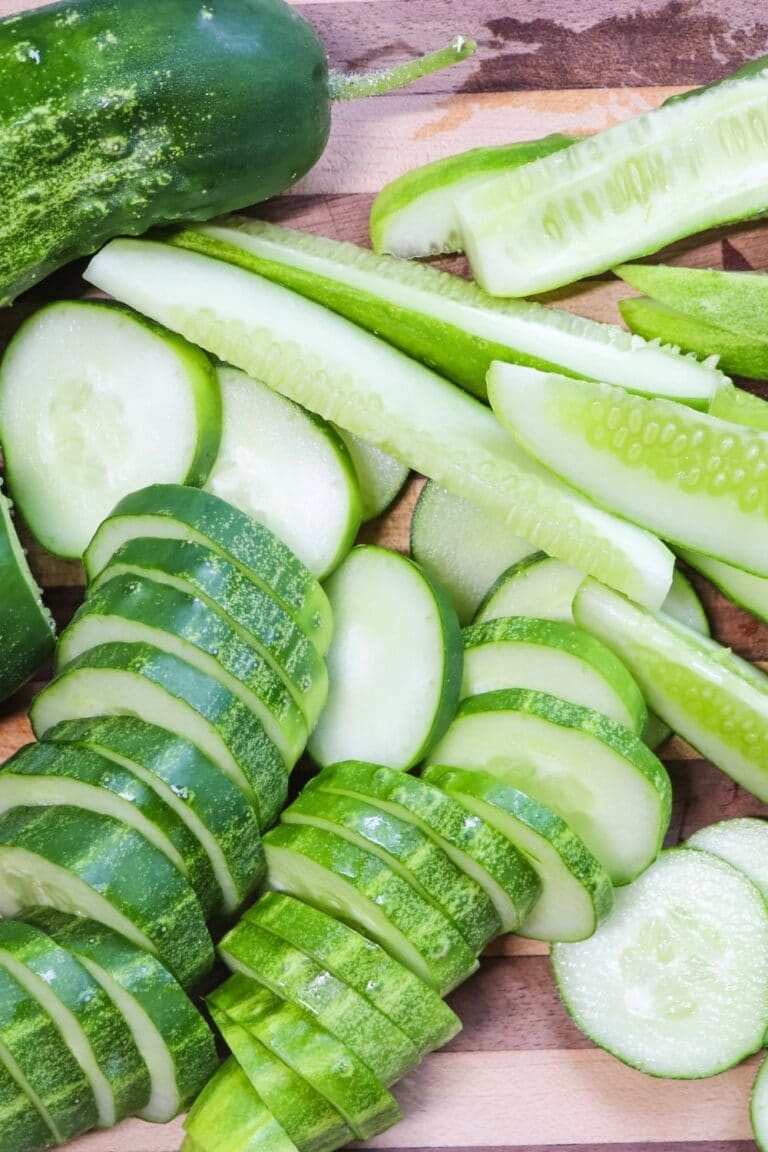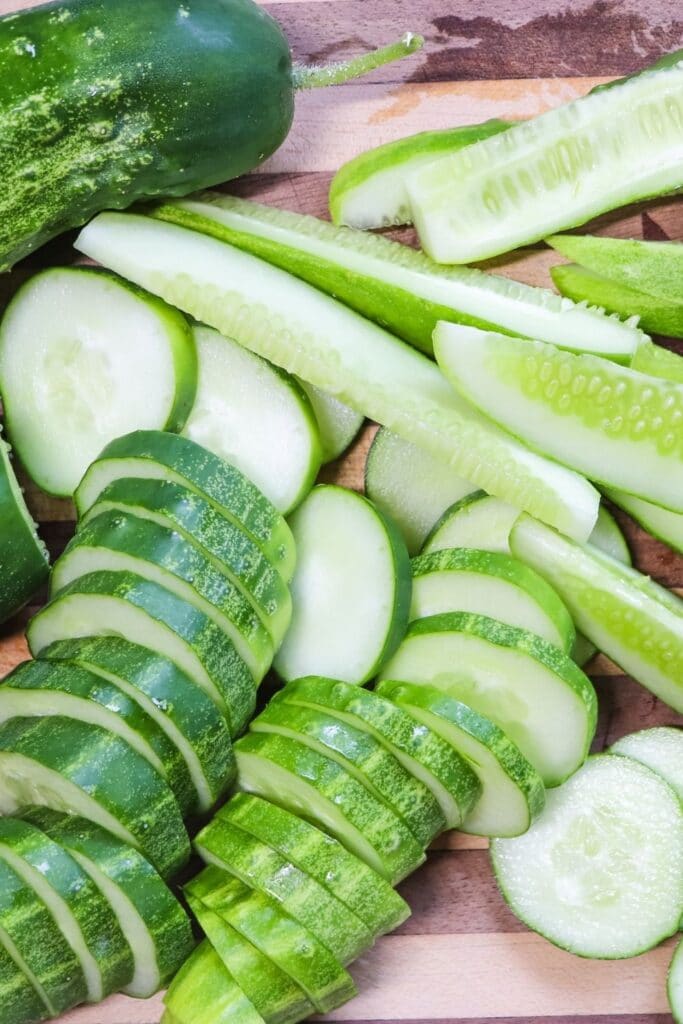 Step 2: Next, wash and remove all debris from the cucumbers under cold water. Then prep for picking. I did some hamburger slices in size and spears.
Expert Tip: Slicing the ends off the pickles is key to releasing enzymes which help for a crunchy and crisp pickle.
Step 3: Next you will add your cucumber slices or spears into jars. You will also adding in 1 garlic clove to each jar, dill, mustard seed and peppercorn.
Expert Tip: Pack your jars as tightly as possible. This will help to keep a nice texture to pickles once brined.
Step 4: Then in a pot on stove you will add water, white distilled vinegar, pickling salt and sugar. Heat over medium heat until it boils. Stir often to melt down the salt and sugar.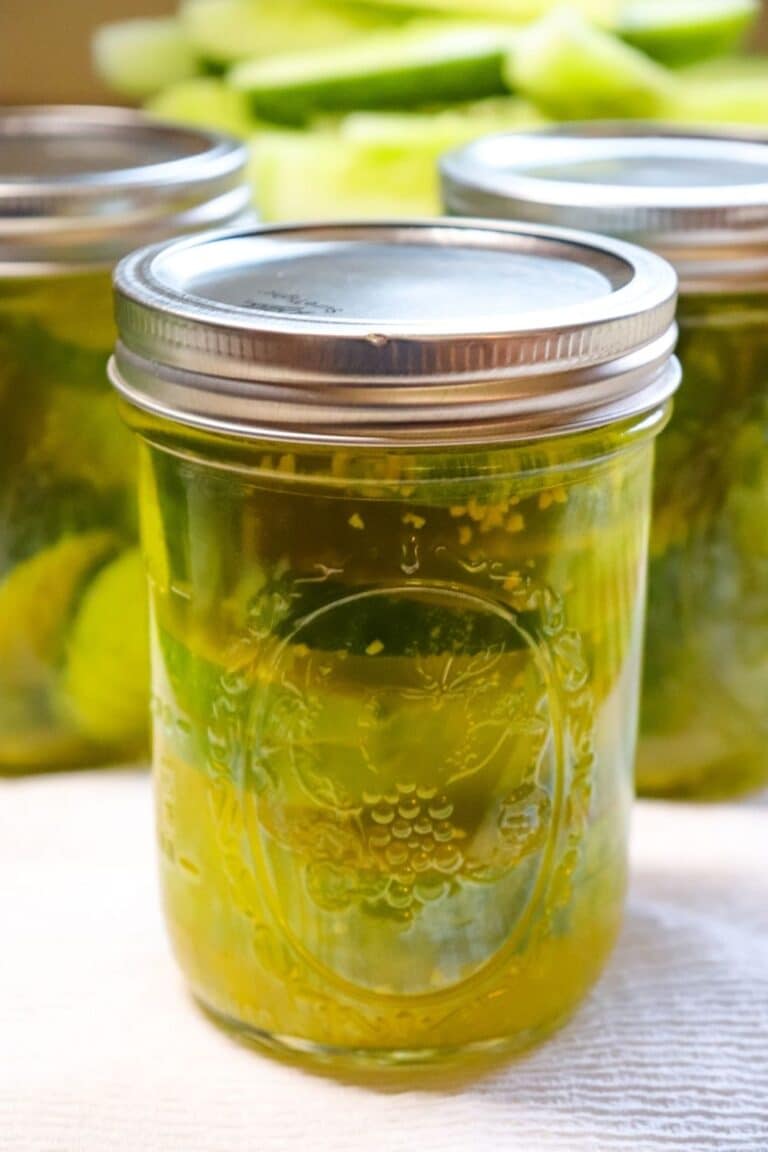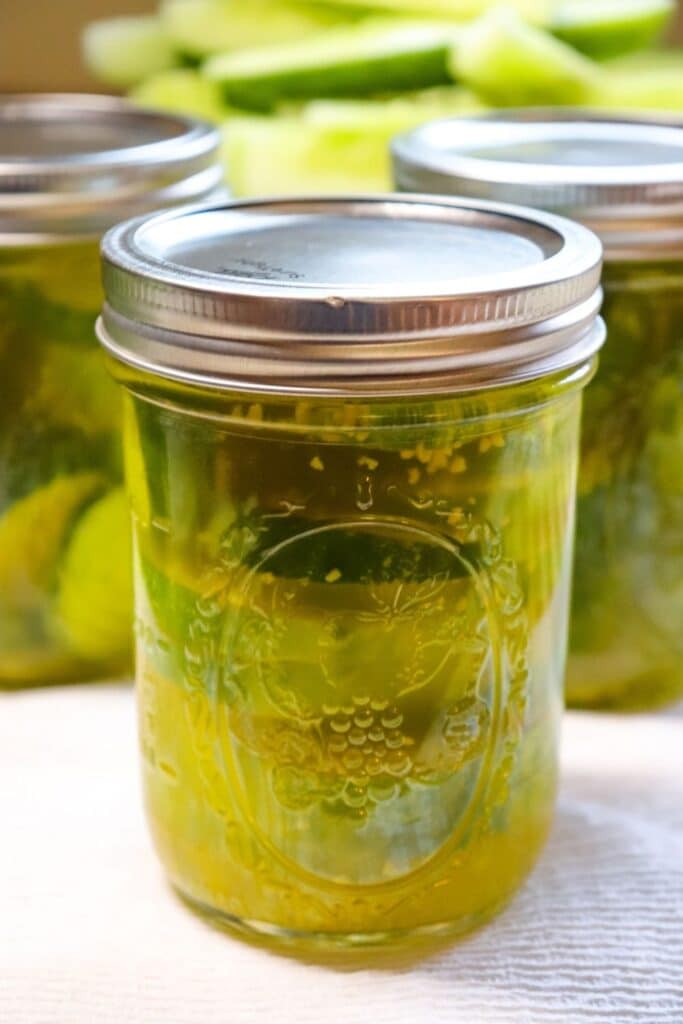 Step 5: Next, once sugar and pickling salt is melted pour pickle brine into each jar. I recommend a funnel. Leave ½" at top of each jar.
Place seal on and screw lid tight so it's on but not super tight as you will do the canning process next.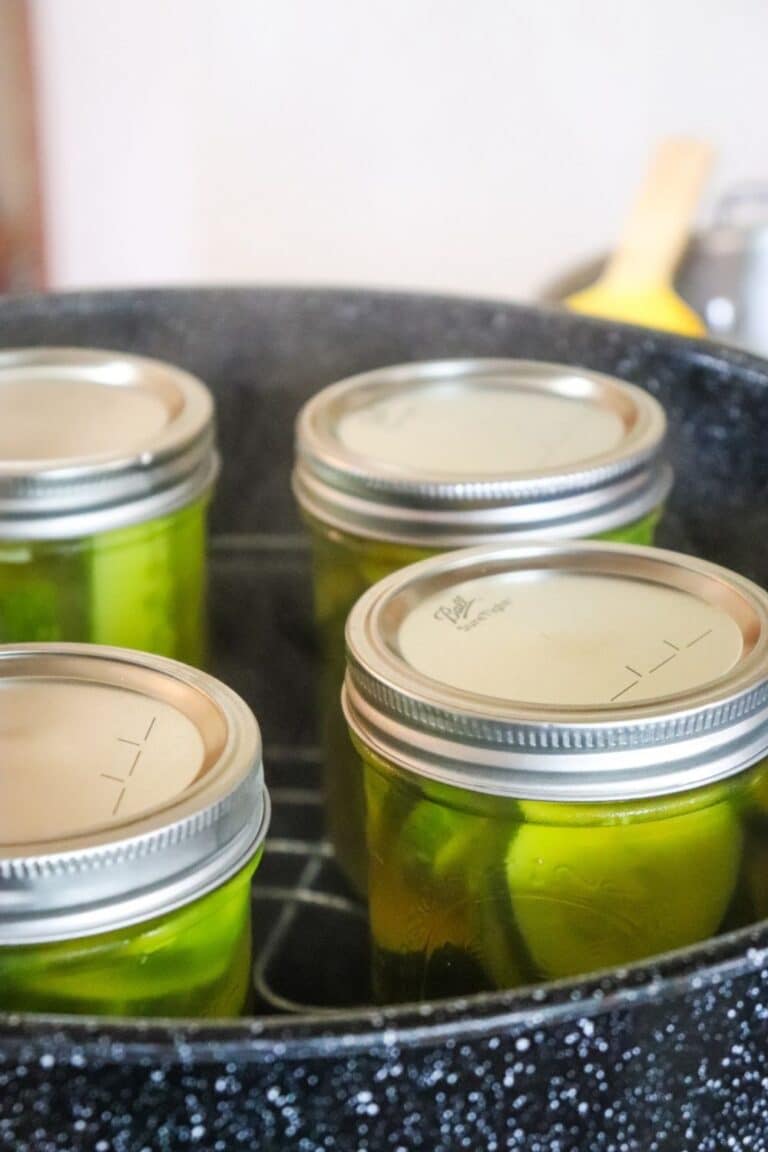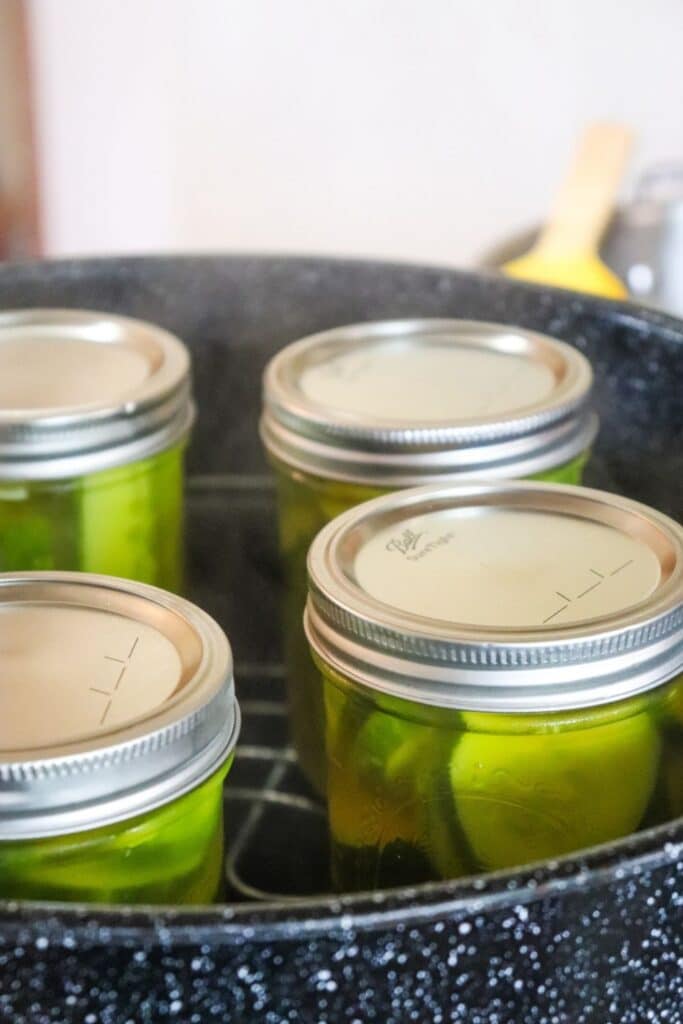 Step 6: While I work on the brine I bring my canning pot water to a rolling boil. I then use my canning tray to place jars on and lower into the water.
Step 7: Keep jars submerged in the water for 10 minutes. Depending on your altitude the cook time can vary. So adjust if you need.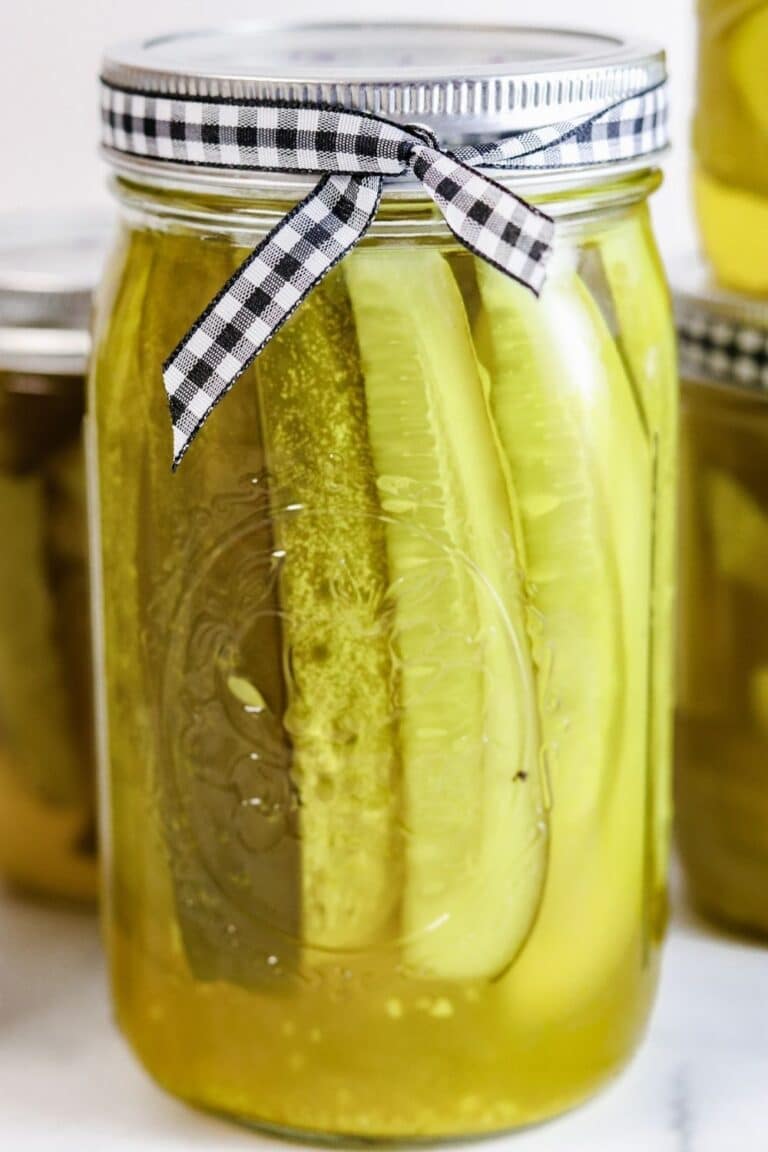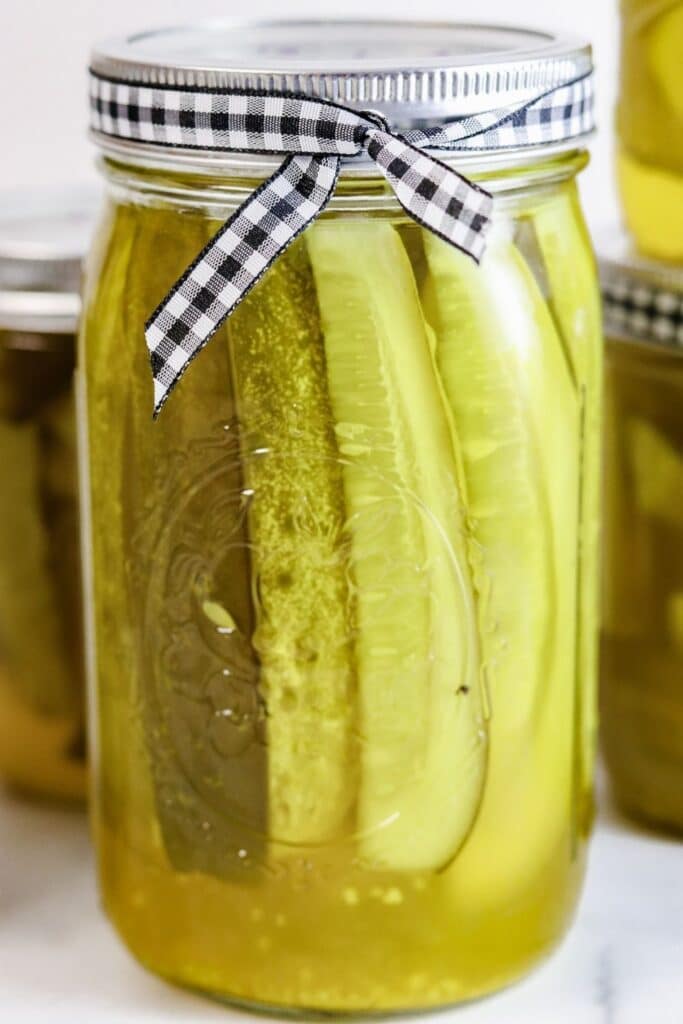 Step 8: Finally, when done remove jars carefully and place on a towel lined cooking rack. Let them sit for 12-24 hours.
When the pickles are canned the seal on the top will be locked tight. You can't push it up and down to hear popping noise.
The jars will make a pop noise once they seal. Only jars that seal can be stored in the pantry. Otherwise, store in the fridge and eat soon, as the jar didn't can if.
How to Sterilize Canning Jars
In your canning pot, you will place jars, lids, and seals. Make sure to place the rack in, as you do not want jars touching bottom of pot. Or they can explode from heat.
Bring water to a boil and let the jars sit in the water, you can then lower the heat and let them sit in the hot water as you are preparing your brine and prepping pickles.
You want to at least let them be in the hot water for 10-15 minutes.
When you fill your jars with pickles and brine you want the jars to still be warm, otherwise they can crack and break. I just pull the jars out as I go and remove excess water, fill, then top with the brine.
Storage
Store your sealed jars in a cool dry place for up to a year. If you have a jar or so that does not seal. Store the pickles in the fridge and eaten within 7 days.
Once your jars are opened, eat within a week.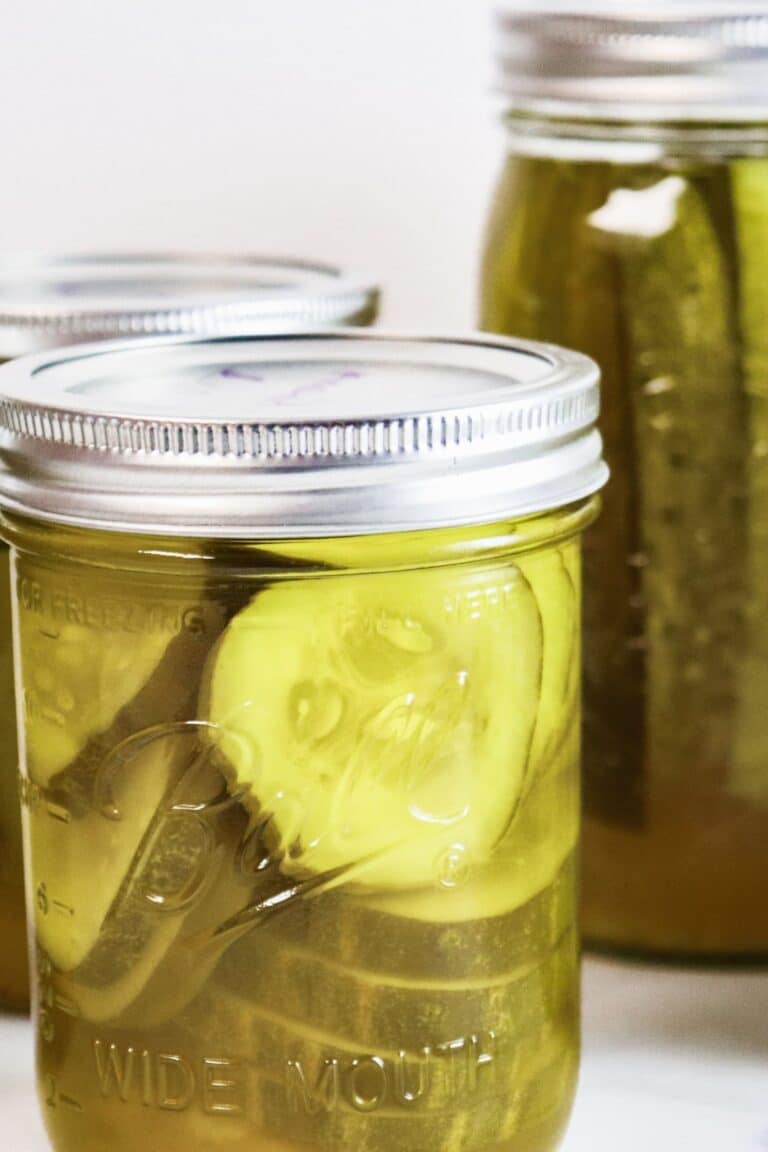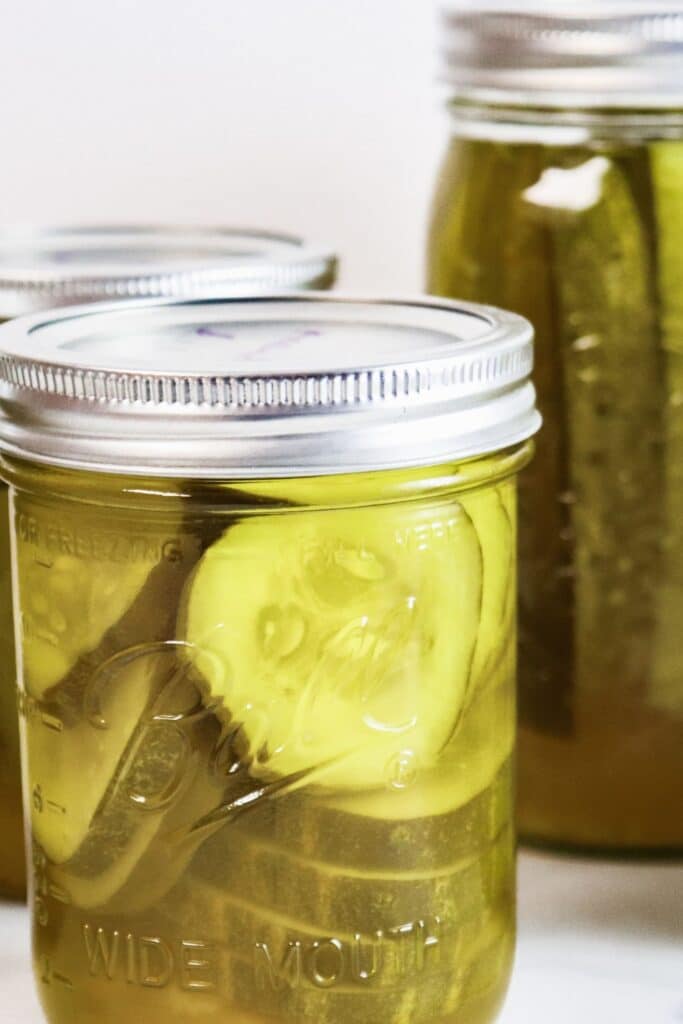 Variations To Recipe
Flavor of Pickles – Change up the spices and herbs used to alter the flavor of your pickles. You can add in some spice with red pepper flakes and more.
Slicing Cucumbers – Feel free to make any style of pickle. Hamburger slices, dill spears, or even whole pickles. This recipe works with all types of cuts.
Dill – You can use fresh dill or dried dill. I find that freeze dried dill works great at giving you dill flavor without needing to have access to fresh.
Expert Tips
You want jars to be hot when you put cucumbers and brine in, to prevent jars from cracking.
Pint jars cook for 10 minutes in the canning pot, and quarts go to 20 minutes to ensure your pickles are done.
Depending on where you live, the altitude can adjust the cooking time, so make sure to refer to your altitude and what is recommended.
Don't seal the jars tightly before you place in the canner. You just want it tight enough they are on.
The lids will seal within 12 hours of being canned. If not, that means the seal didn't work, and place in the fridge and eat within a week.
FAQs
What type of cucumbers are best for pickles?
Persian and Kirby cucumbers are best for making pickles. The texture holds up the best during the pickling process. English cucumbers and other varieties can be used. You just might find the pickles become a bit softer.
What is the difference between refrigerator pickles and canned pickles?
Refrigerator pickles are simply prepped cucumbers that you make up then store in the fridge. Then eat and enjoy a pickle within the time frame of a week. Canned pickles has ingredients to preserve your chopped cucumbers and transform them into pickles. The shelf life is up to a year if you can.
What to do with extra brining liquid?
Depending on how many pickles you make you can have extra brine. You can store the extra in the fridge for up to a week. Then use the brine to do more cucumbers later.
Can I re-try canning if the jar doesn't seal?
If you want you can remove the seal and lid. Clean well with a dry sterilized towel, and then warm the seal and ring up in water again. Then go through the canning process again to attempt sealing. This needs to be done within the first 12 hours, or you can run spoiling the food.
Can I use a pickling mix with this canning recipe?
Go right ahead and but a pickling canning mix if you want. You would follow the directions on their package on how to properly seal and can the pickles.
What size of jar to use for making pickles?
I used a mix of pint size mason jars and quart size jars. Use what you would like. For the hamburger style, they worked great in the pint size. Where spear pickles need more room so that is why I opted for quart size on those.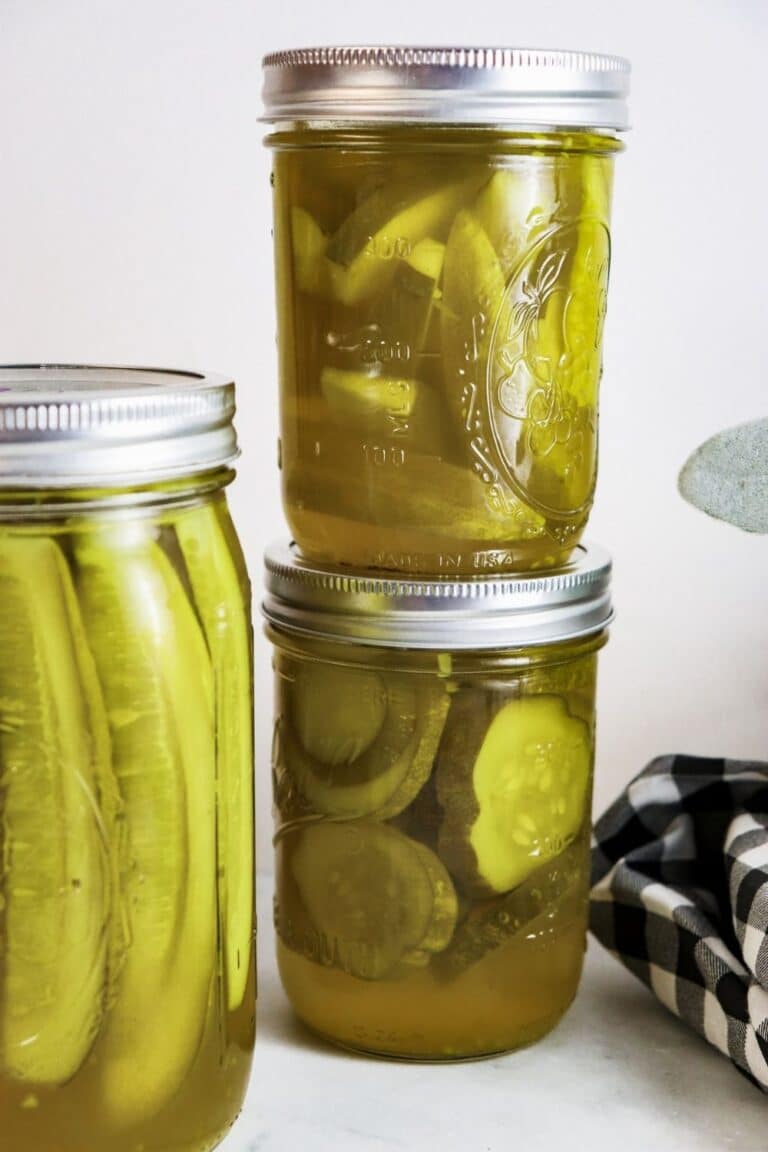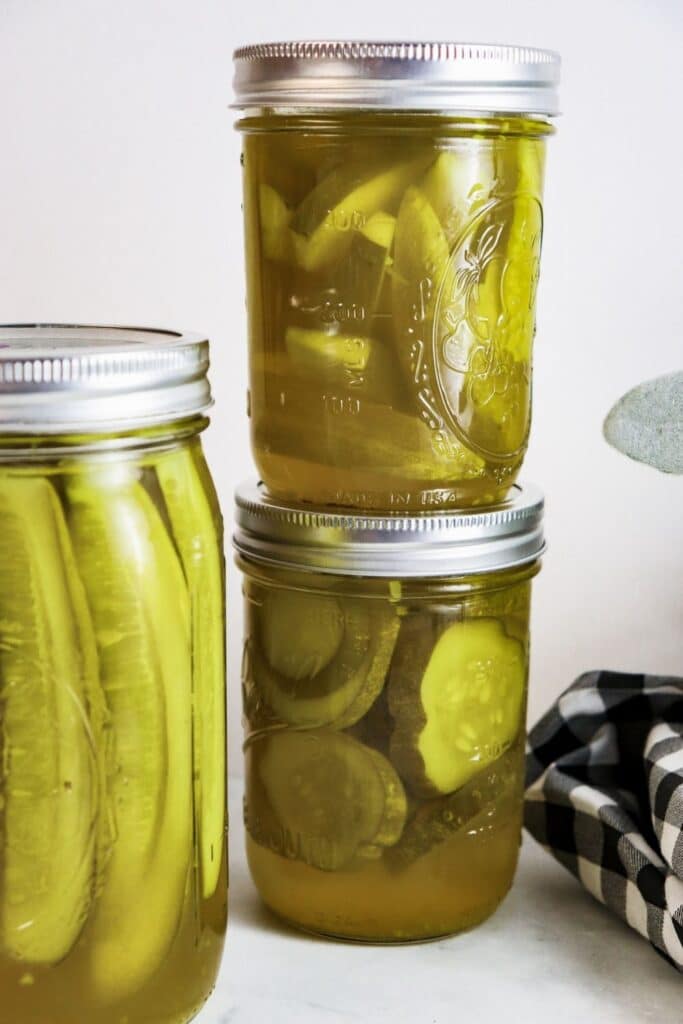 Related Posts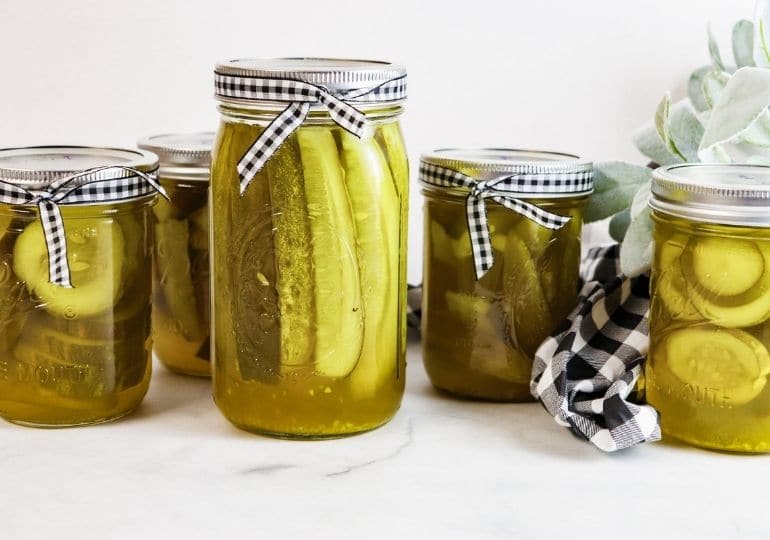 Crunchy Dill Pickle Recipe
Servings 14 pint jars
A dill pickle recipe that is crunchy, tangy, and a perfect way to use cucumbers. This homemade dill pickle recipe is simple, and can be made into hamburger pickles, spears, or leave pickles whole.
Ingredients
8-10 cucumbers pickling size
5 cups water
3 1/2 cups white distilled vinegar
5 teaspoons dill seed
4 teaspoons mustard seeds
7-14 cloves garlic 1 per jar
32 black peppercorns
2 tablespoon sugar
Instructions
Prep Canning Jars: Start by sterilizing your mason jars and lids. Clean well with soap and water, then place in a large pot with water, and let the water boil, then after 5-10 minutes, lower to let the jars simmer while you work on the pickles.

Prep Cucumbers: Wash and rinse all your cucumbers. Trim off the ends, and then slice into spears, hamburger slices, or any style you want.

Prepare Jars: Add 1 clove of garlic into each jar, and then with the rest of the dill seed, mustard seed, and peppercorn, split between all the jars.

Add in the pickles, packing the jars as tight as you can.

Make Brine: Add your water, vinegar, pickling salt and sugar in a pan over medium-high heat. bring mixture to a boil stirring, to make sure the salt and the sugar fully dissolve.

Pour the pickle brine into the prepared jars. Leave 1/2" of space at the top. Then place seals on and lightly seal hand tight. Don't do too tight.

Water Bath Canning: In your water canning pot, you will place your fitted rack in. Fill with water and bring to a full boil. Lift the rack out and place jars on the rack and lower into the water.

Make sure all the jars are fully submerged and boil for 10 minutes if pint size, and 20 minutes if quart size jars.

Once done, remove the jars carefully and place on a towel lined cooling rack.

The seals will pop as they lock tight. You should expect them to all seal within 12-24 hours of being canned.

Store your canned dill pickles in a pantry or cool dry place for up to 1 year. Best to allow the pickles to sit at least 3 weeks, the longer they sit the more flavor.
Notes
How Many Pickles Does This Recipe Make – 7 quarts or 14 pints. Depending on size of pickles, the recipe will vary quite a bit. What If Jar Doesn't Seal – You can try to re-seal by re-canning the jar in the hot water, with a fresh seal and lid. Or just place the unsealed jar in the fridge and eat within 7 days. How long Do Pickles Last Once Opened – You will want to eat your pickles within 7 days of opening them. How Long Can I Store Canned Pickles – The pickles are shelf stable for up to 1 year when stored and made properly.
Nutrition
Serving: 1gCalories: 17kcalCarbohydrates: 3gSodium: 14mgFiber: 1gSugar: 1g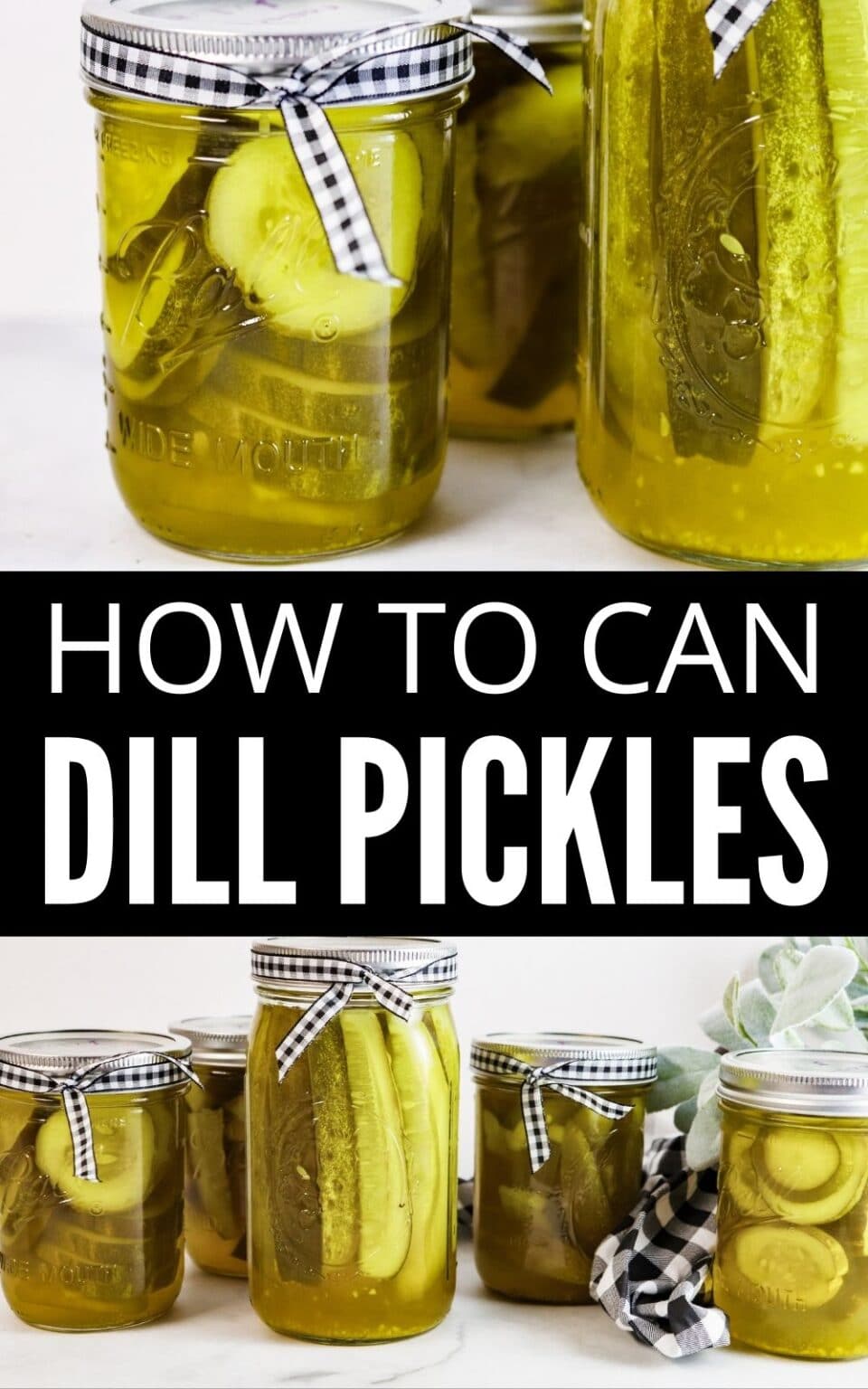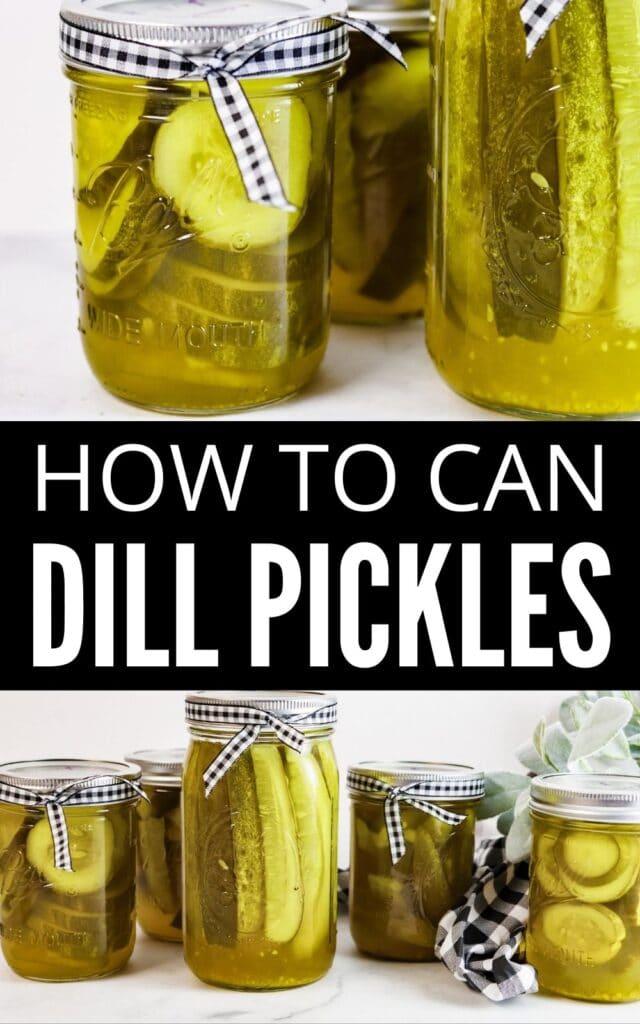 Reader Interactions