Pepper jelly is a sweet and spicy jelly that pairs perfectly with cream cheese. You control the heat factor in this red pepper jelly recipe.
Are you a fan of jalapeno jelly? I highly recommend giving this simple jelly a try as well. Similar in flavor but with more of a pepper kick.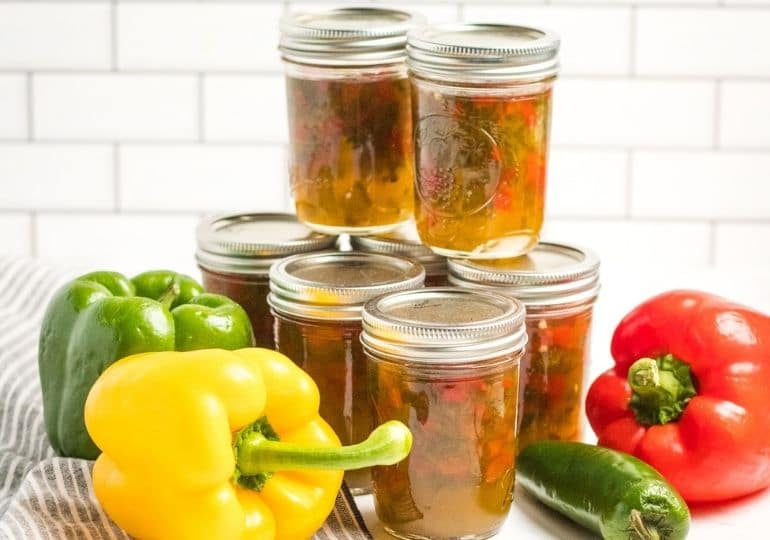 This red pepper jelly can be used to serve with seafood, chicken or pork. You will also find spreading on a block of cream cheese to
to serve with crackers.
Why Make Pepper Jelly…
Made with bell peppers and jalapeño
A spicy jelly recipe
Easy to make
Cans easily in water bath
Great appetizer or snack
Ingredients Needed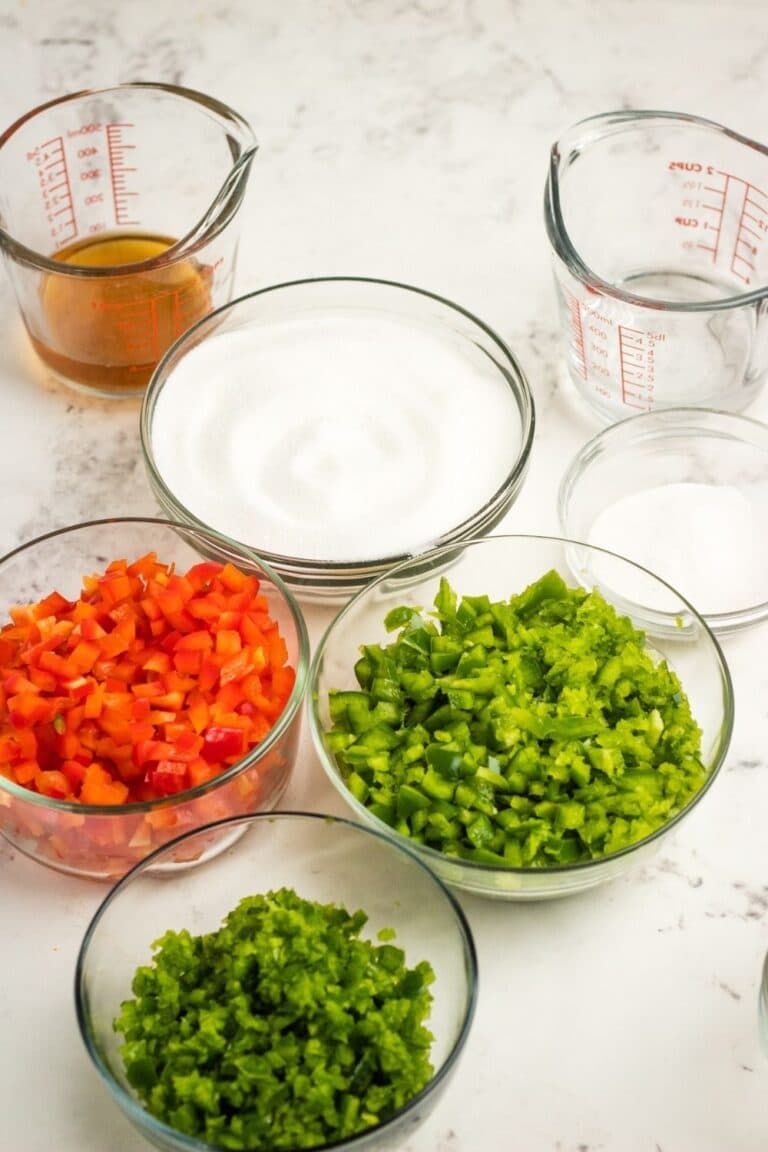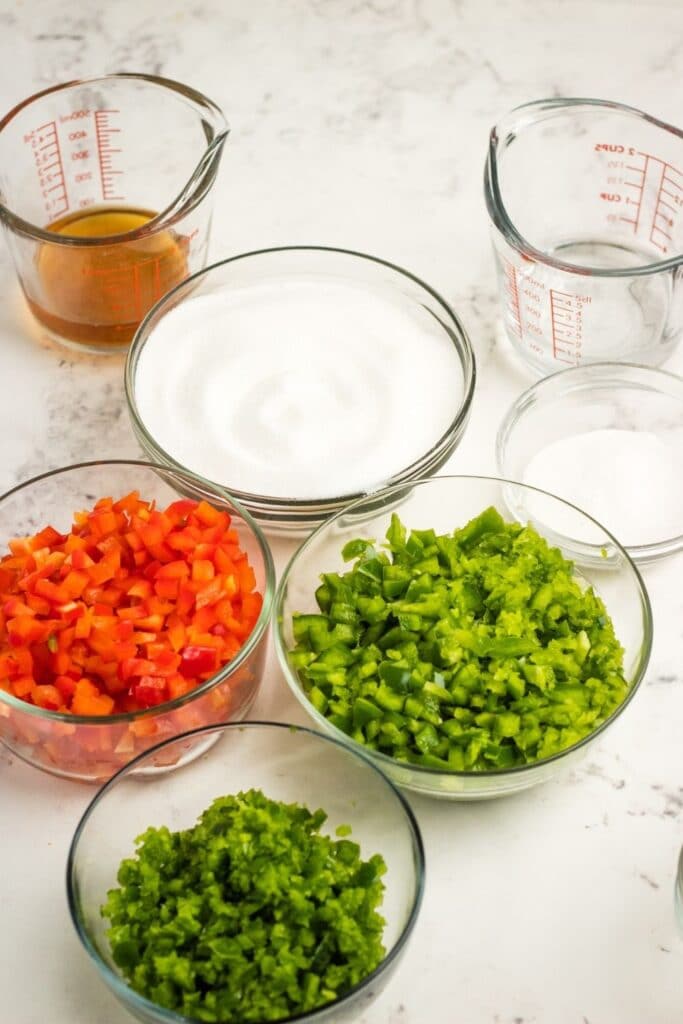 Red Bell Peppers
Green Bell Peppers (or other color)
Jalapeno
Apple Cider Vinegar
Sugar
How to Make
Step 1: Work on sterilizing jars if you plan to can this pepper jelly.
Step 2: Next, you will want to slice jalapeno and then de-seed and remove white membrane. Then rinse peppers in cold water.
This will tame the heat of the jalapenos. If you want your jelly to be spicy, leave some seeds.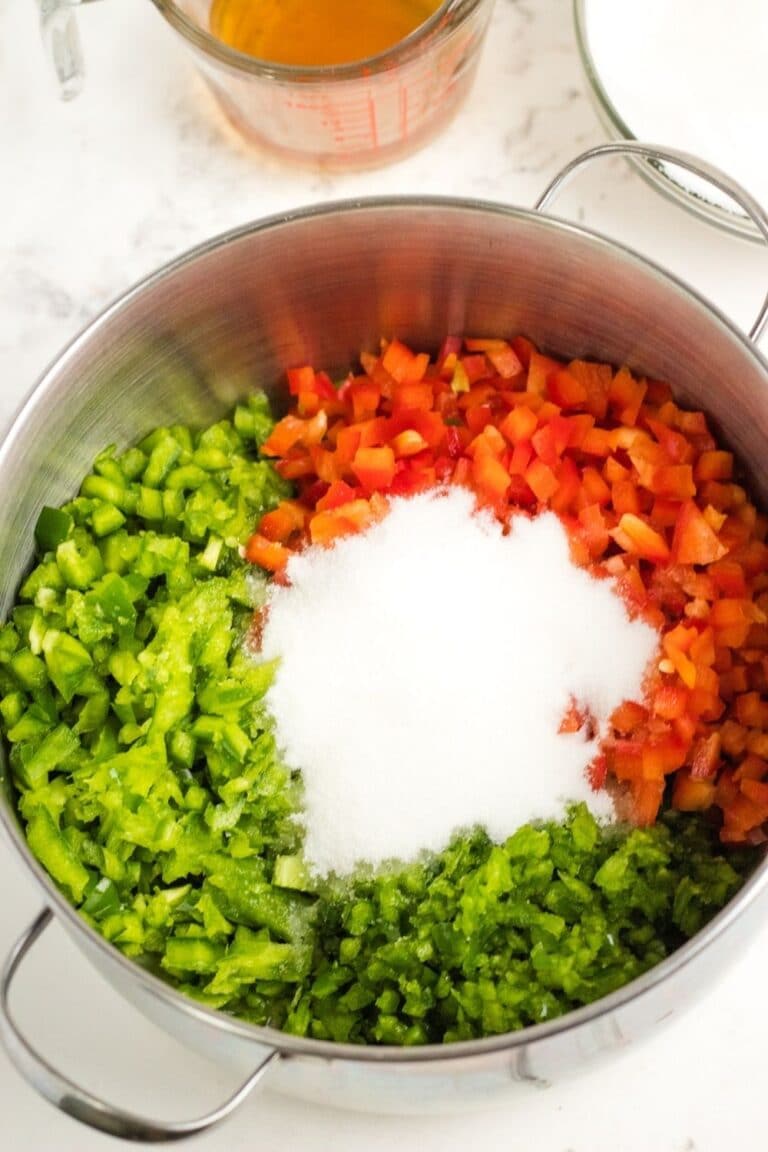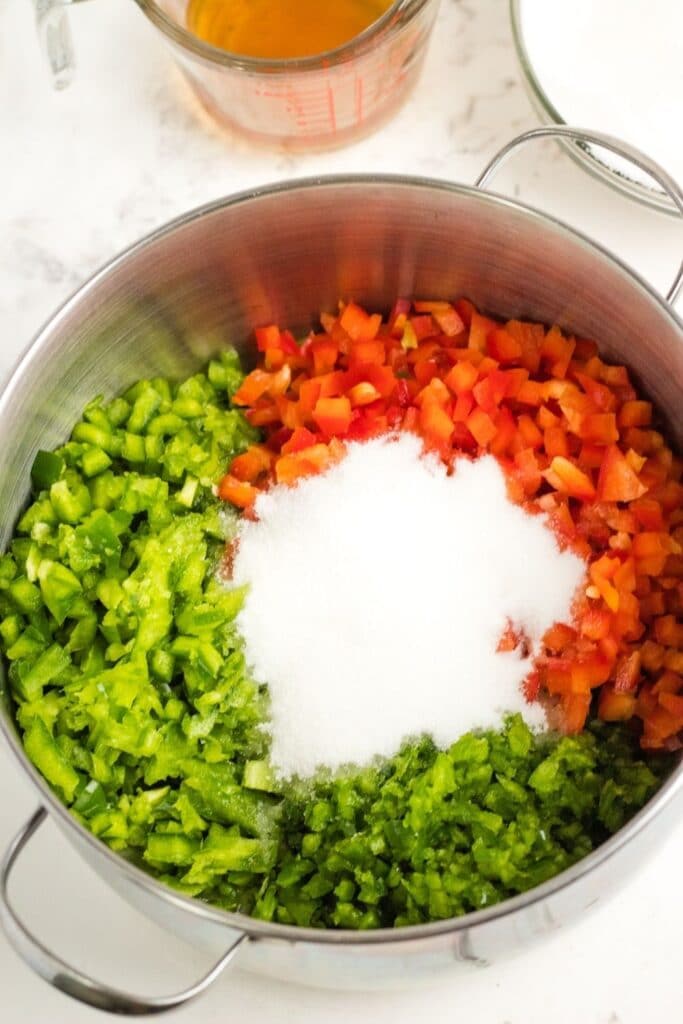 Step 3: Now prep the rest of the peppers and place all the peppers and ¼ cup sugar and pectin in the pan. Add in water and apple cider vinegar. Stir and bring mixture to a full boil. Stir constantly.
Step 4: Once boiling add remaining sugar, and cook for another minute.
Step 5: Remove sanitized jars from hot water, and pour in the hot jelly. Wipe the tops clean. Then place the seal and lightly screw the lid on.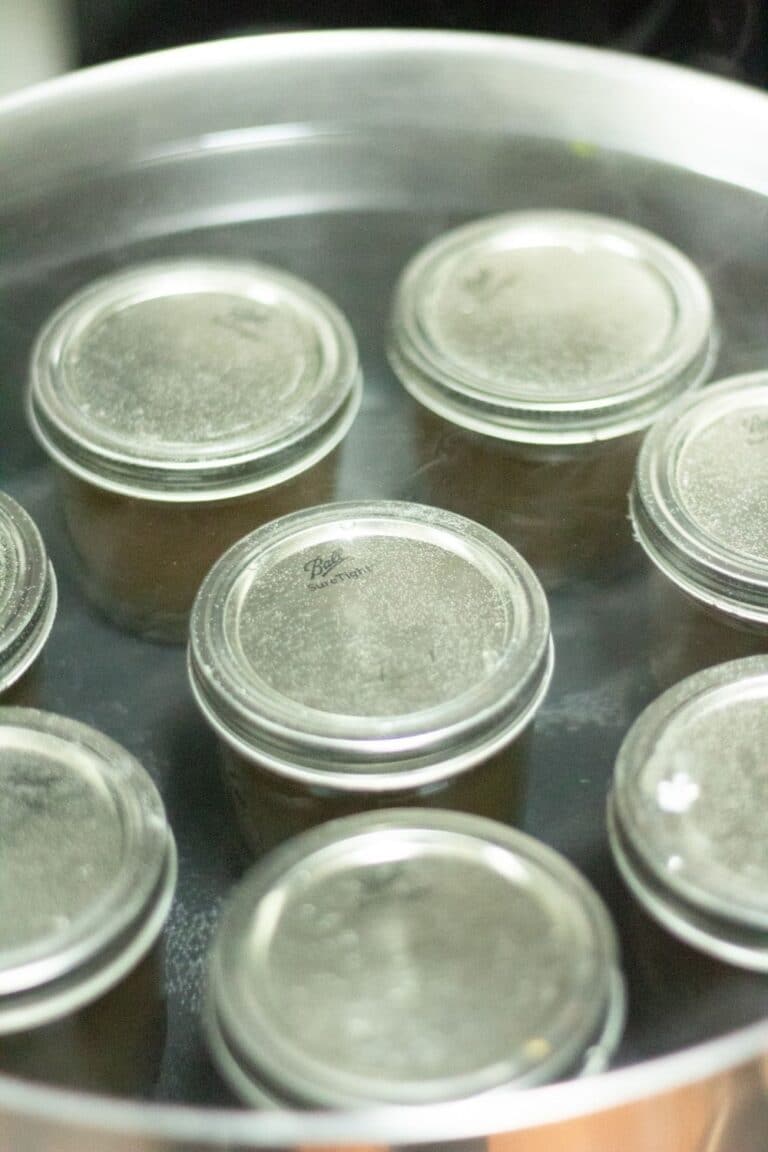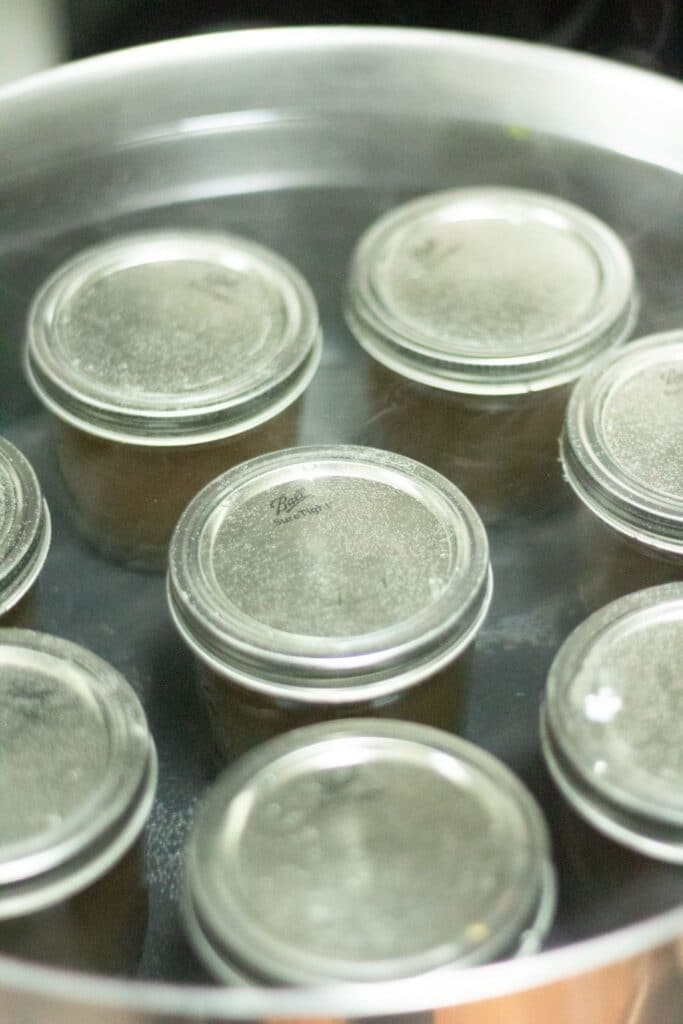 Step 6: Place all the jars in your hot water bath and submerge the jars in the bath for 10 minutes. Carefully remove and place on the cooling rack overnight.
Grab my Free Kitchen Conversions Printable! This shows you how many cups are in a quart, pint, etc. A great printable to keep handy for when you need to convert a recipe.
How to Sterilize Jars for Canning
Step 1: Take your jars and unscrew lids and remove the seals. Place a trivet in the bottom of a large pot. If you don't have one, place a round cake pan upside down.
If you don't place something in the bottom of the pot it can get too hot and break your jars.
Step 2: Bring water to a boil and then lower heat to allow jars, seals, and lids to simmer for 10-15 minutes.
Step 3: When your jelly is done use tongs to remove jars from the pot, and drain off excess water. Ladle hot jelly into jars.
You never want to use cold jars with the hot jelly mixture as you run the risk of your jars shattering.
To know your jars are sealed press down and you will see the lid is suctioned down and won't make a popping noise.
Canning Tools
If you are new to canning here are some essential I use when I can.
Here is a canning kit, it has all the tools for holding jars when lowering them in and out of the water, a magnet to place seals on jars. A funnel for pouring in the jar to prevent spills, and more.
Here are some great jelly mason jars that are nice quality. These are similar to what I use.
I use a older water bath pot, but here is a great one that comes with the liner to lift and lower your jars easily.
Here is a really nice scoop for pouring into the jars. This is a very handy canning tool.
Expert Tips and Variations
Helpful tips and tricks on how to make red pepper jelly at home.
You are welcome to use different colored bell peppers to adjust the flavor. Green bell peppers are more savory where red, yellow, and orange are sweeter.
Leave the seeds in the jalapeño if you want spicier jelly.
Wear gloves when working with jalapeño peppers if you are sensitive. The oil it releases can burn your skin.
You do not have to can the jelly to preserve it. You can store jelly in the fridge or freezer if you don't want to can it.
Feel free to use less sugar if you don't want to use as much. You can drop down to 2 cups and then use low sugar pectin.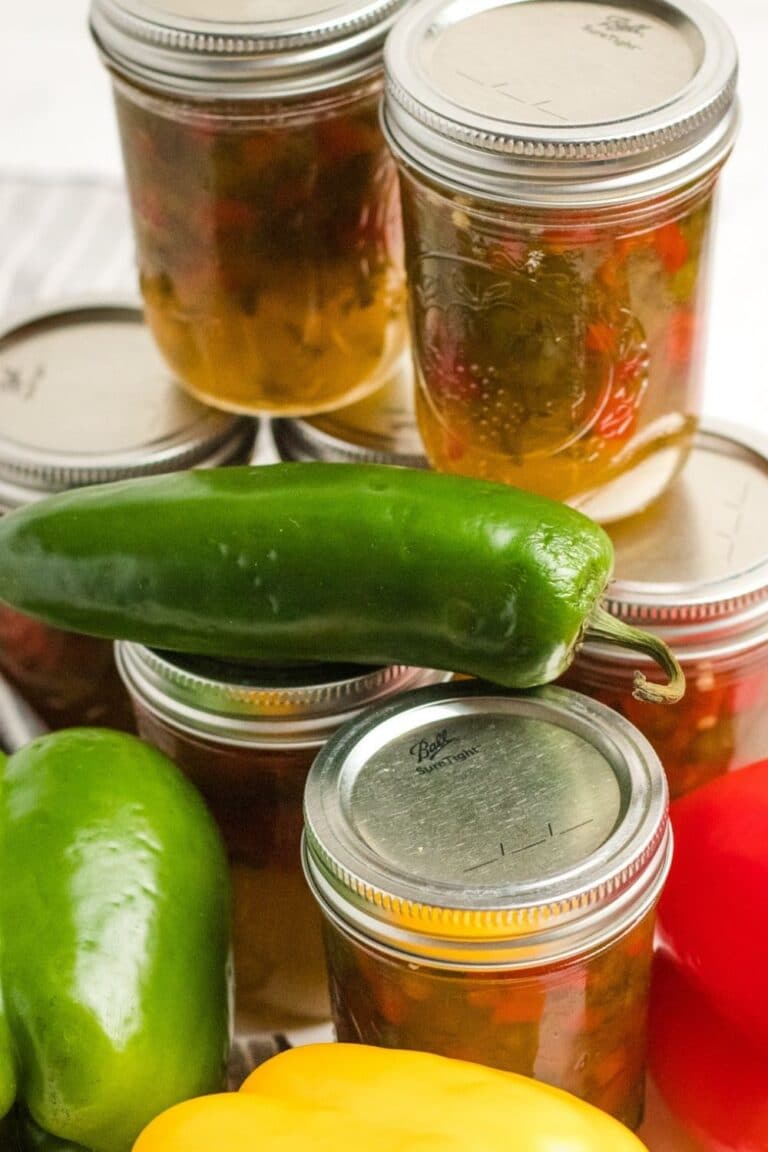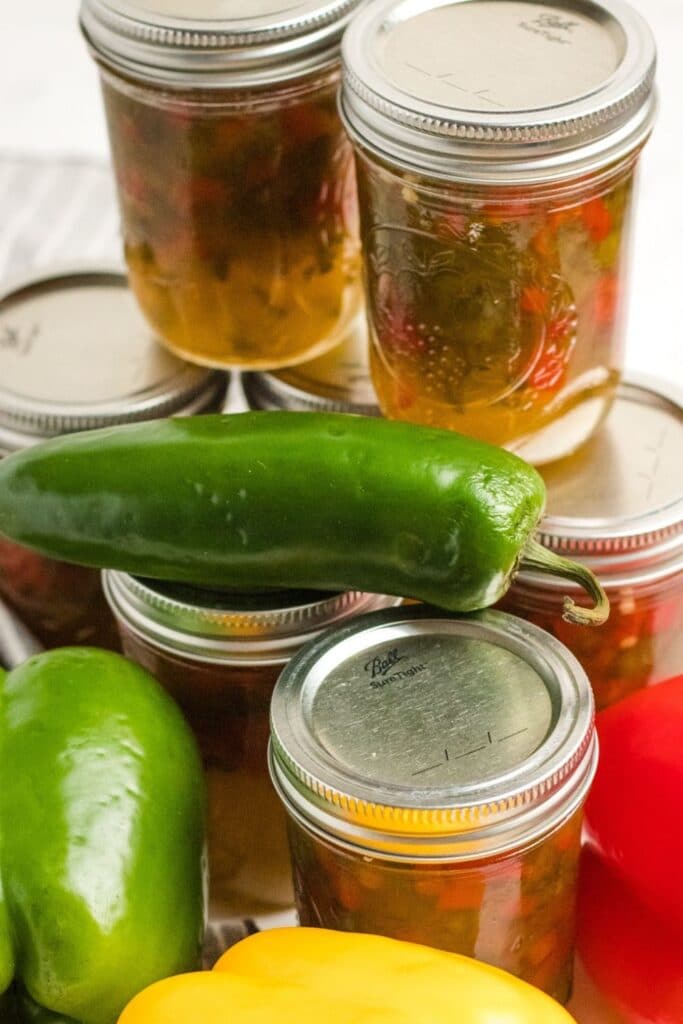 Storage
Pectin jelly can be stored for 1 month in the fridge if you do not do the canning process of making your jelly.
If you do can the hot pepper jelly recipe you can then store your jars of jelly for a year to 18 months.
You can also freeze your jelly if you do not go through canning. The jelly can freeze for 6 months.
Recipe FAQs
Common questions about this pepper jelly recipe for canning.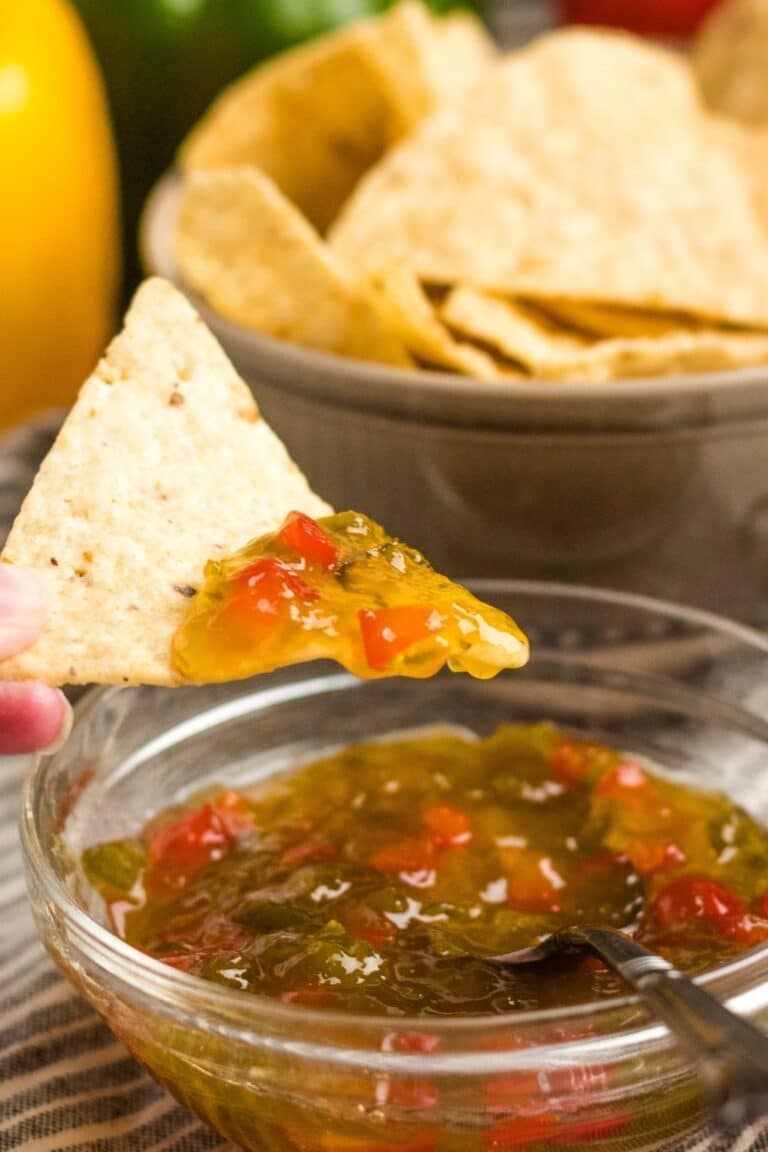 More Jam and Jelly Recipes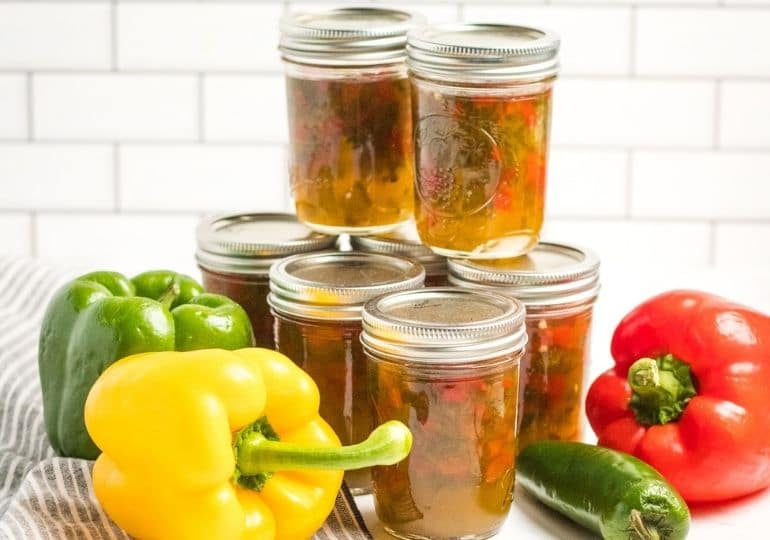 Pepper Jelly Recipe
Servings 8 half pint jars
Pepper Jelly is a delicious condiment or appetizer to serve up. You can make this a sweet pepper jelly or a spicy pepper jelly with just a tweak to the recipe. Give this easy and delicious pepper jelly recipe a try today.
Ingredients
2 large red bell peppers
2 large green bell peppers
5 jalapeno peppers add additional jalapenos if you prefer extra hot
½ cup apple cider vinegar
½ cup water
3 cup granulated sugar
1 box pectin low sugar variety Sure Gel
Instructions
Start by sterilizing your half pint jars. Then work on washing and dicing up all of the peppers. For the jalapenos remove all or most of the seeds if you want a tamer jelly. Or if you want some good heat leave more seeds.

In a pan on the stove add all the peppers, 1/4 cup sugar, pectin, water and vinegar. Bring the mixture to a boil.

Then stir in the remaining sugar. You need to stir this jelly mixture constantly or it will burn. Bring the mixture to a boil again and allow it to boil for 1 minute.

Once done, remove from heat and ladle into the sterilized hot jars. Leave around 1/4 inch at top of jar to allow it to have room to expand. Place the seals on, and ring. Make sure you wipe down the jars so you can get a good seal on the jars.

Place the jelly jars in a water bath canner that has hot water, drop the jars into the water, making sure there is around 2 inches of water above all the jars.

Boil for 10 minutes, then carefully remove jars from the water bath, and allow them to sit on a cooling rack.

The seals on the jelly jars should pop within an hour or two of being made. A lot of time the seals pop quickly after.

Store your canned pepper jelly in your pantry for 12 months to a year.
Notes
Make sure the seals on the jars lock down and seal well. Otherwise, you will need to refrigerate the jelly as it is not canned properly. If you find a jar does not seal within the first 12 hours. You can remove lid and seal, and wipe clean and try again by placing it in the boiling water again. If you are sensitive use gloves when working with the jalapenos as the oils can burn the skin. Leaving seeds and membrane in the jalapenos will give you a hot jelly. If you want it to be sweet, remove all the seeds and white membrane. Then wash peppers in cold water. You can use orange or yellow peppers as well along with the red and green. Feel free to mix and match.
Nutrition
Serving: 1gCalories: 69kcalCarbohydrates: 18gSodium: 1mgSugar: 17g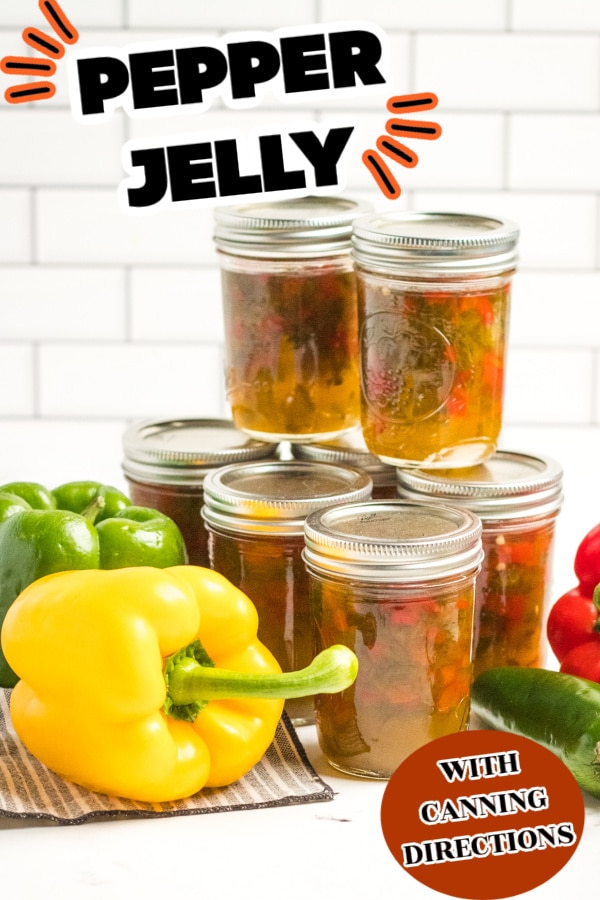 Reader Interactions