Horseradish Pickles are a delicious and spicy pickle recipe. Give this hot pickle recipe for using up your pickling cucumbers. This is a canning pickle recipe.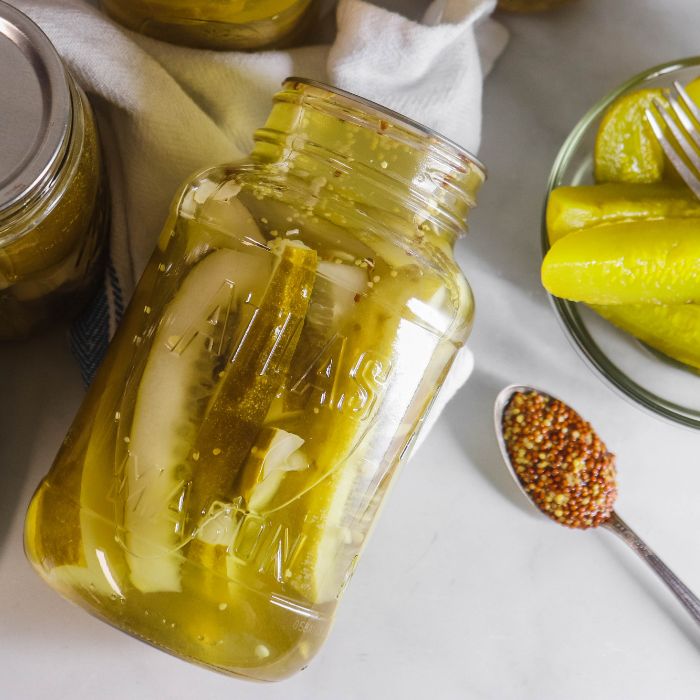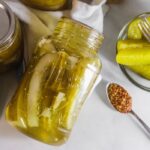 Spicy, crisp, and loaded with flavor are what you find in this horseradish pickles recipe. You will use pickling cucumbers, prepared horseradish, pickling brine, whole garlic cloves and more. These pickles with horseradish are a fun twist to a classic pickle recipe.
This horseradish pickle recipe is a spicy pickle. Now you can make it a sweet horseradish pickles recipe by adding sugar into the recipe. Make sure to check out my refrigerator pickles recipe, or a classic dill pickles.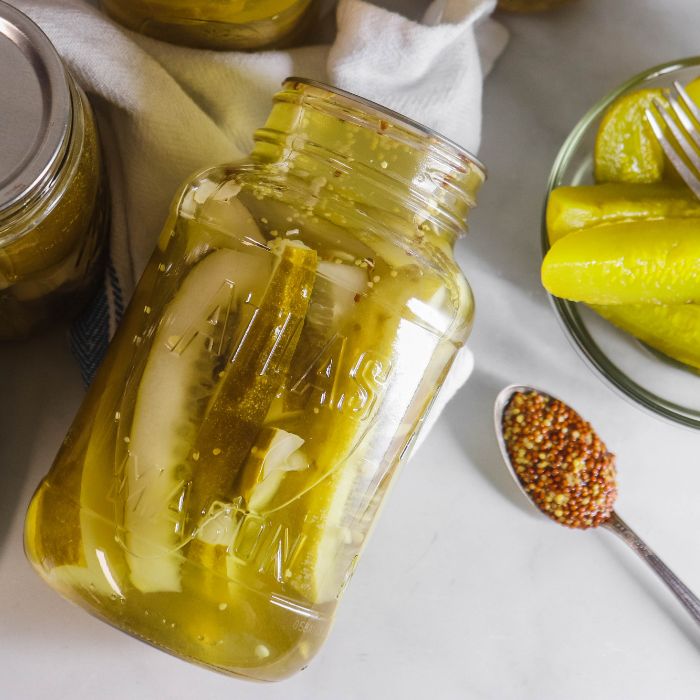 These Horseradish Pickles Are…
 Hot Pickles
Great For An Abundance of Cucumbers
Steps on How to Can Pickles
Can Use Fresh Horseradish or Horseradish Root
Spicy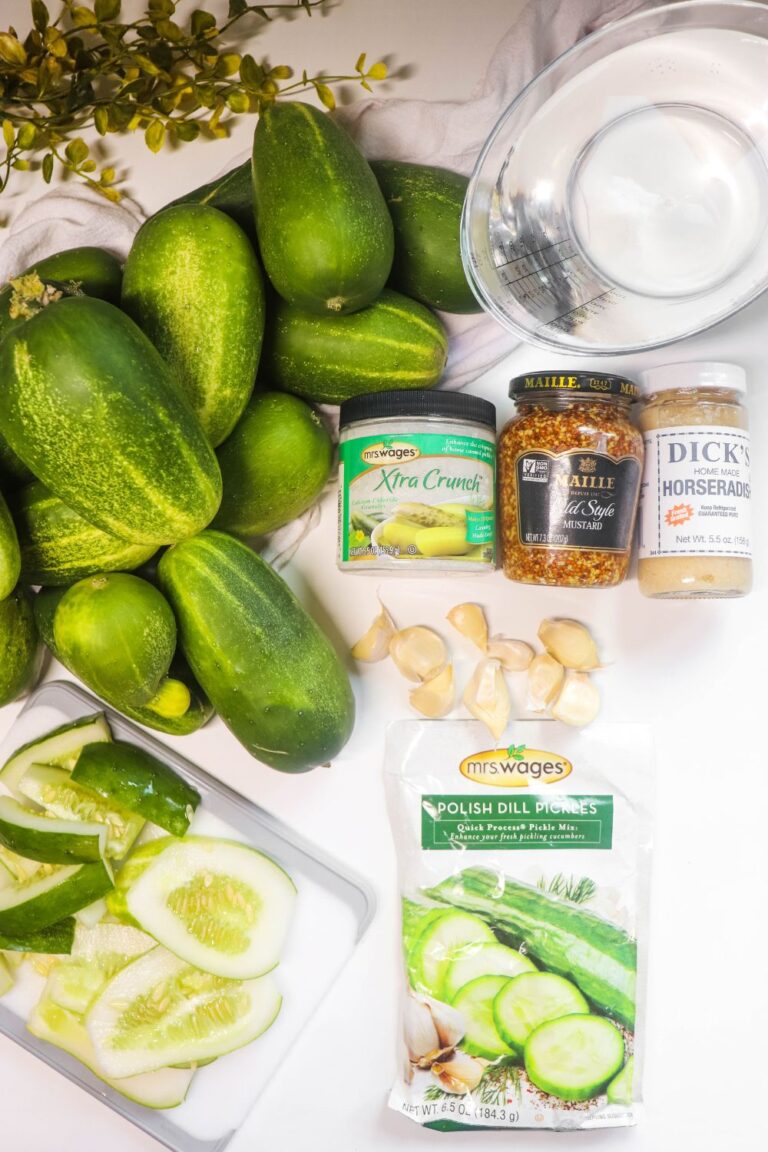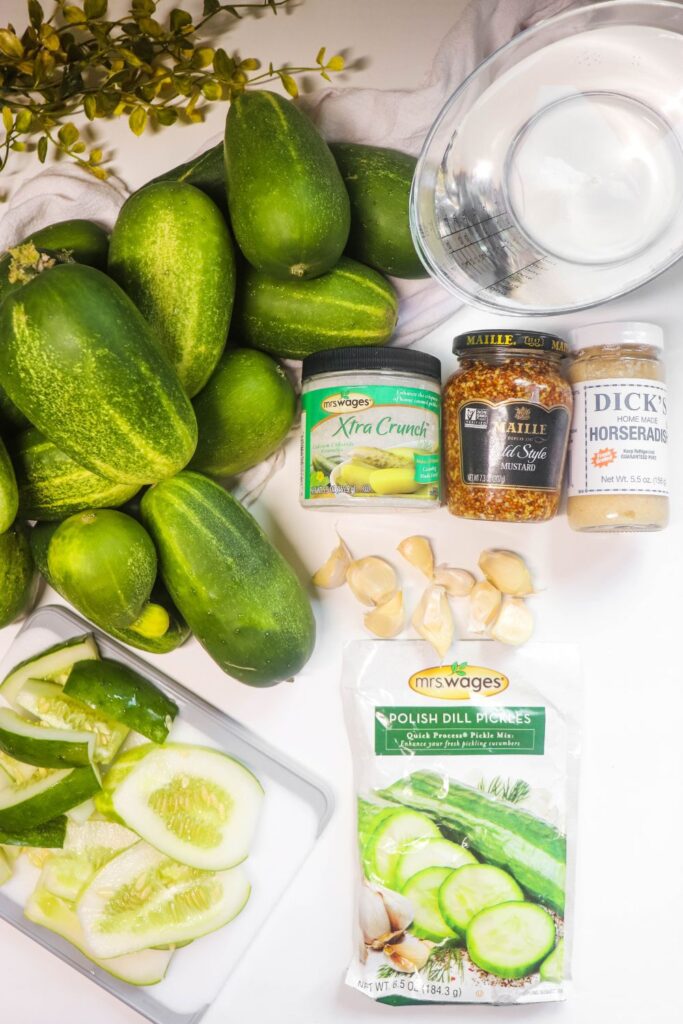 Ingredients Needed
Pickling Cucumbers – You will find pickling cucumbers are smaller than a traditional cucumber. As they are picked when they are little smaller in size.
Pickling Mix – I used the Mrs. Wages Pickle Mix as the brine for this recipe. You are more than welcome to create a homemade brine if you want.
Mrs. Wages Xtra Crunch Granules – If you want a nice crunch to your pickles this works great. You can find next to the canning jars at the grocery store.
White Distilled Vinegar – Aim for 5% acidity for the vinegar.
Prepared Horseradish – You can control the heat factor of the horseradish you want. These will be spicy pickles but you can elevate the heat more by purchasing a hot horseradish.
Garlic Cloves – I enjoy the twist of garlic in the cucumbers. I recommend using or or two whole cloves of garlic per jar.
Stone Ground Mustard – You will want to use a whole ground mustard for this. It is going to really enhance the flavor of the pickles.
Tools Needed For Canning
If you are new to canning here are some essential I use when I can.
Here is a canning kit, it has all the tools for holding jars when lowering them in and out of the water, a magnet to place seals on jars. A funnel for pouring in the jar to prevent spills, and more.
Quart canning jars are what I like as you can have pickle slices and they fit great. But you can use smaller jars if you need or prefer.
I use a older water bath pot, but here is a great one that comes with the liner to lift and lower your jars easily.
Here is a really nice scoop for pouring into the jars. This is a very handy canning tool.
How to Make
Full steps on how to make horseradish pickles are in the printable recipe card at the bottom of the post. This is a visual walk through.
Step One: Fill your water bath with water and turn it on high to bring to a boil. Then add your jars, seals and lids, and allow them to boil and sanitize while you work on pickles.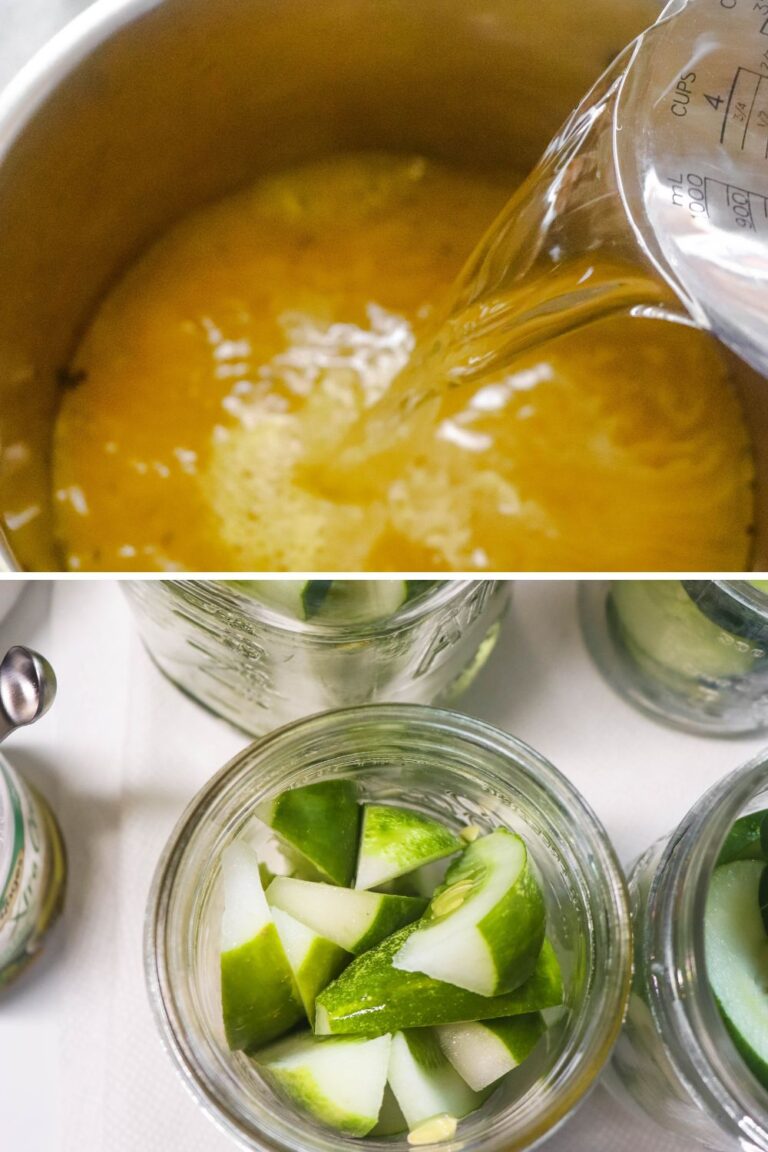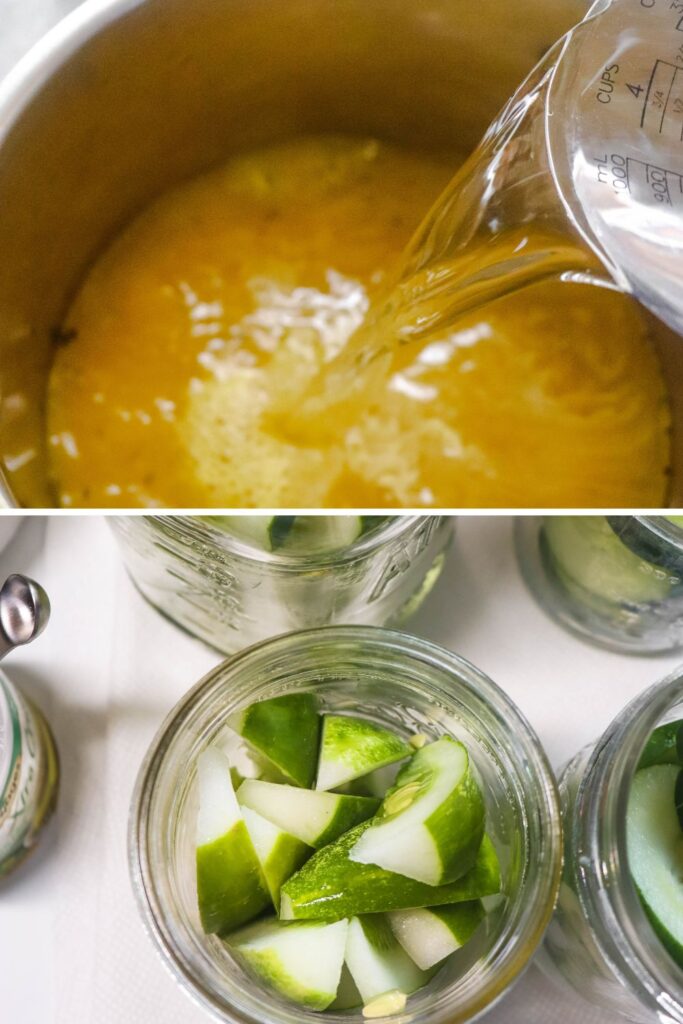 Step Two: In a large pot you will add the pickling mix, water, and vinegar and cook as directed on the package. You will bring it to a boil making sure to stir constantly, until the mixture is fully dissolved.
Step Three: Slice your pickles as you would like (spears, hamburger slices, etc). Drain your jars and place on the counter.
Step Four: Place your cucumbers in each of the jars, and add one to two garlic cloves in to each jar.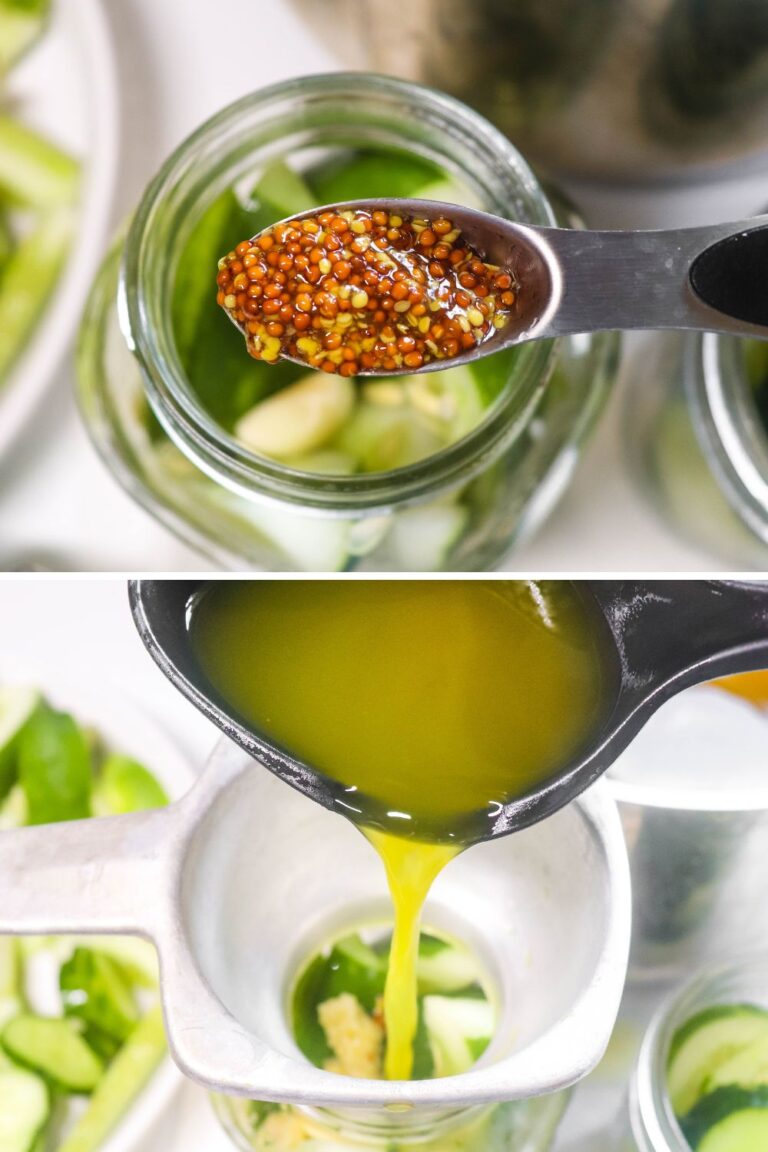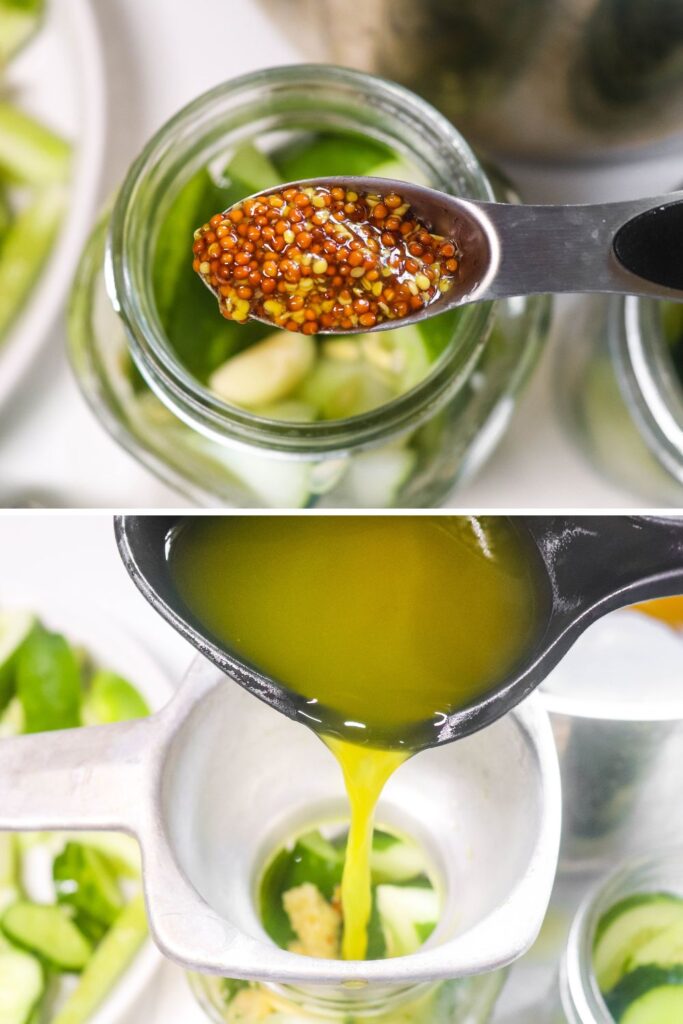 Step Five: Next you can add in the Xtra crunch granules. I added 1/4th teaspoon for a quart and if you do a pint then do 1/8th of teaspoon.
Step Six: Next you will add in some mustard, horseradish, to each individual jar. Then fill the jar with the the hot brine.
Step Seven: Wipe the rim of each jar with a paper towel or cloth towel. Place the lid and band on the jar and seal but not too tight.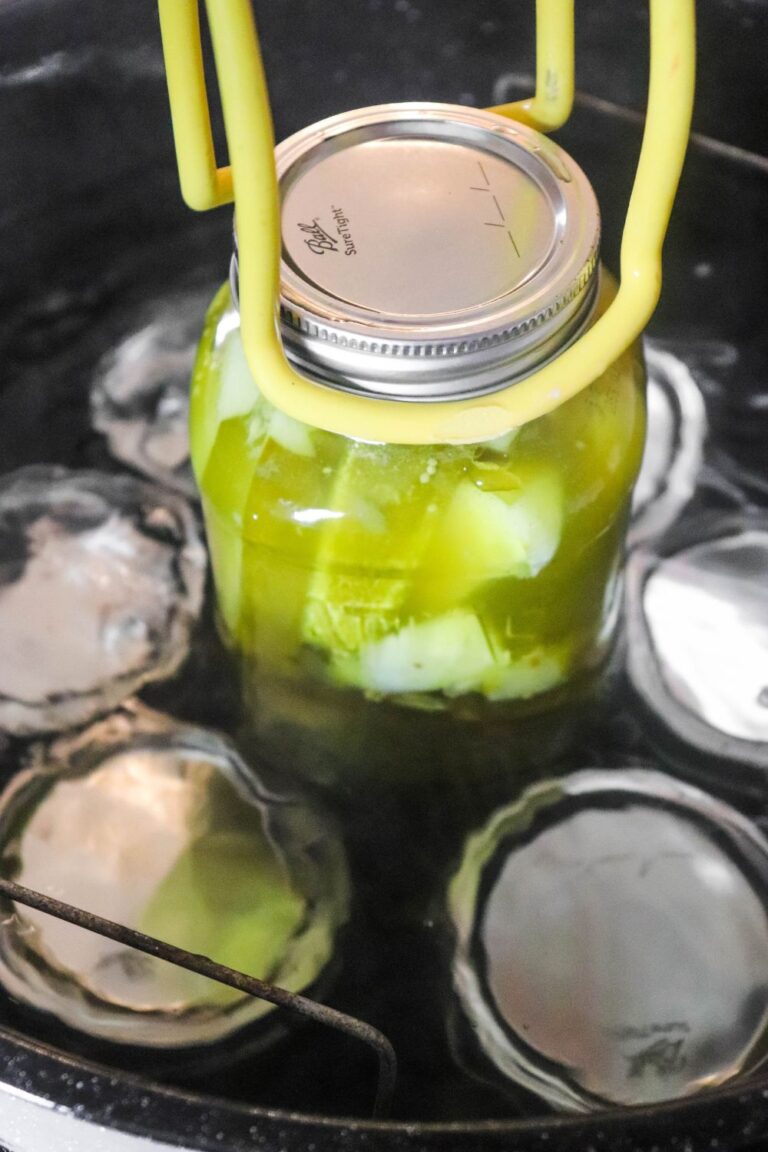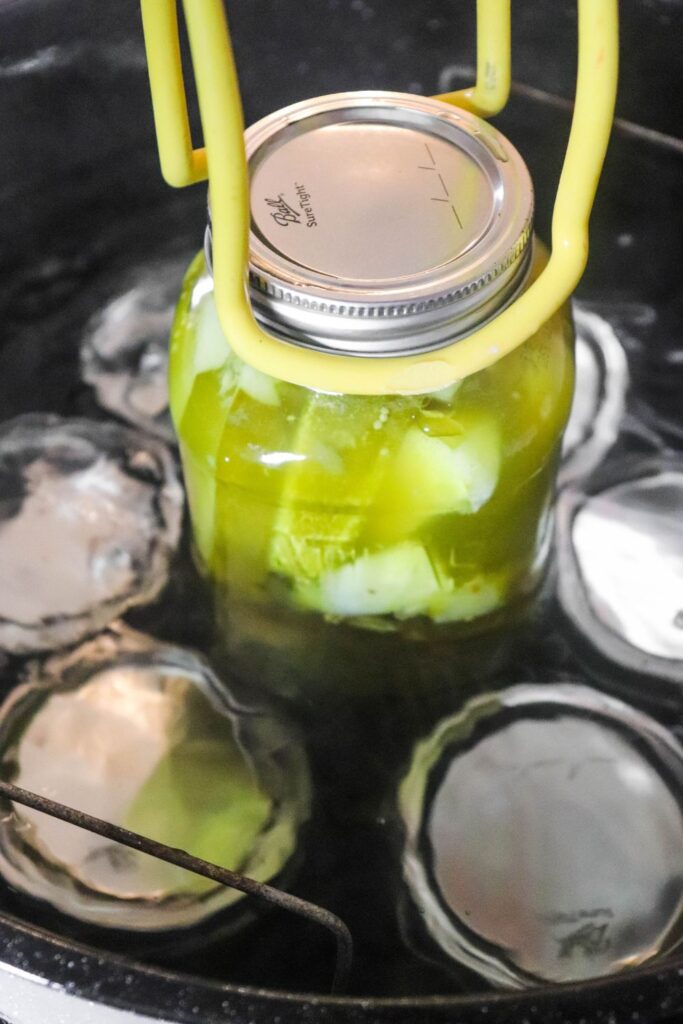 Step Eight: Now you will add your jars in the canner, and allow it to continue to boil for 20 minutes for quart size jars.
Step Nine: Remove the jars, and let them sit on a towel lined cooling rack. The seals will be sealed within 24 hours. Leave the jars alone as they are sealing, moving them around can prevent the jars from sealing.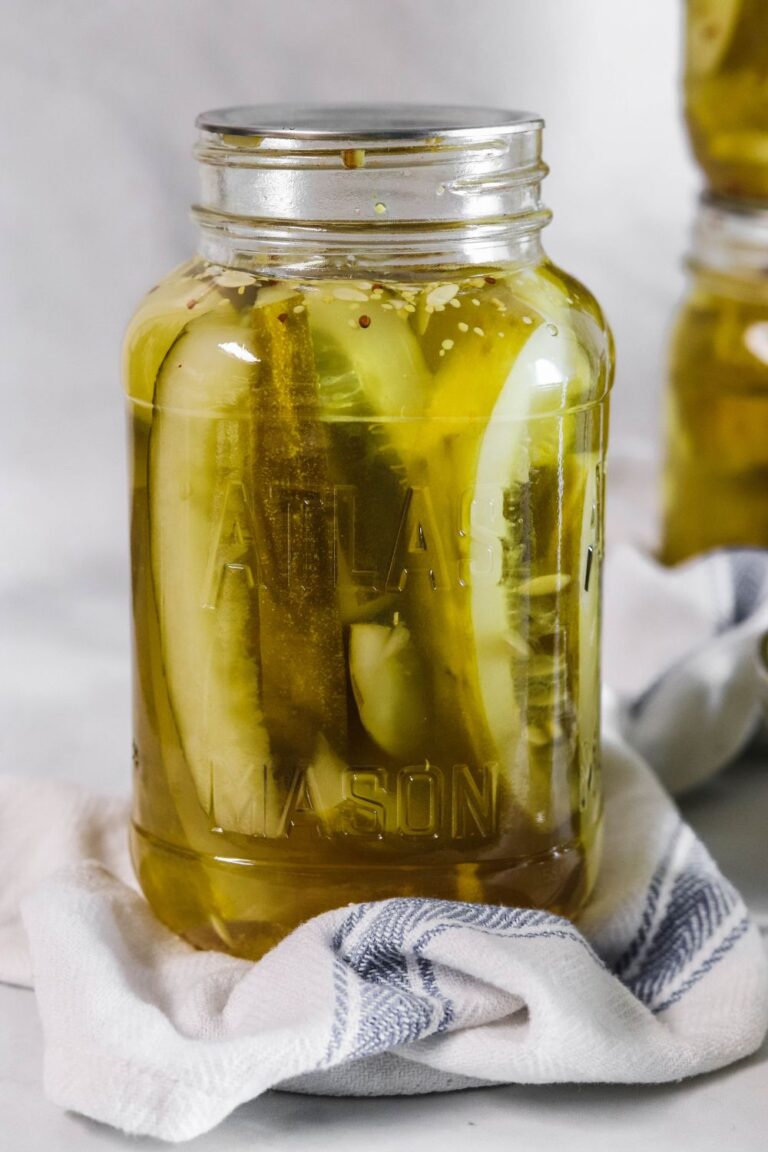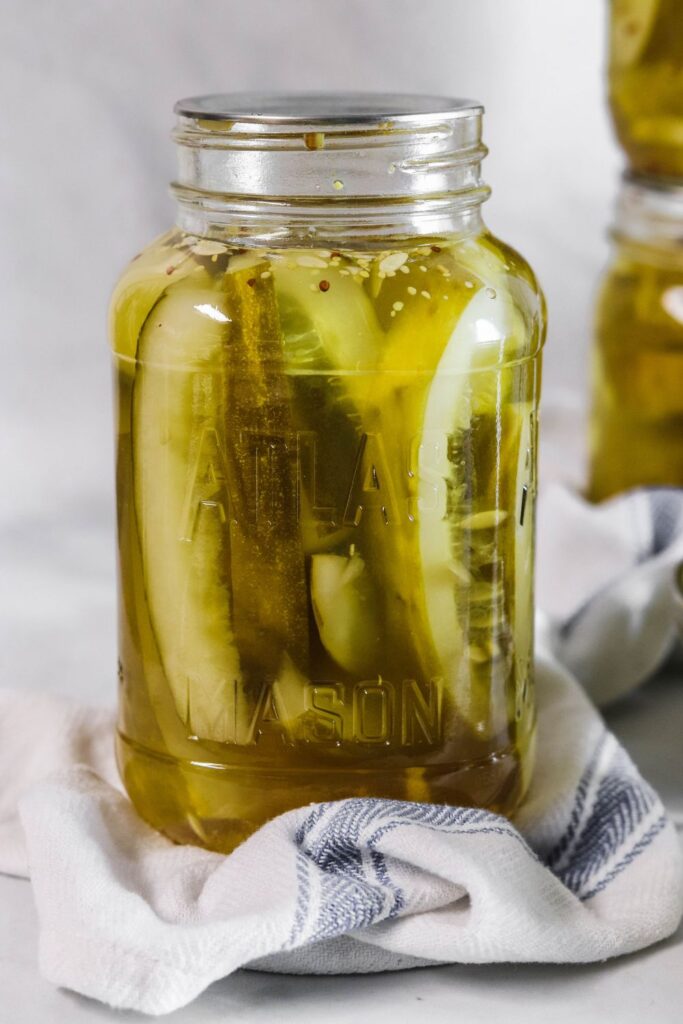 Step Ten: Next you will need to store the jars in a cool dry place, and then pickles will be ready in 4-6 weeks.
Storing
You will want to store your canned jars of pickles in a cool dry place. It does take 4-6 weeks for the pickles to reach their full flavor. You can eat before that time frame, but the flavor will lack a bit.
These horseradish pickles can store for up to 1 year when stored properly. Make sure the seal is still fully set on each of the jars.
With opened jars the pickles need to be stored in the fridge and eaten within 2 weeks of being opened.
Frequently Asked Questions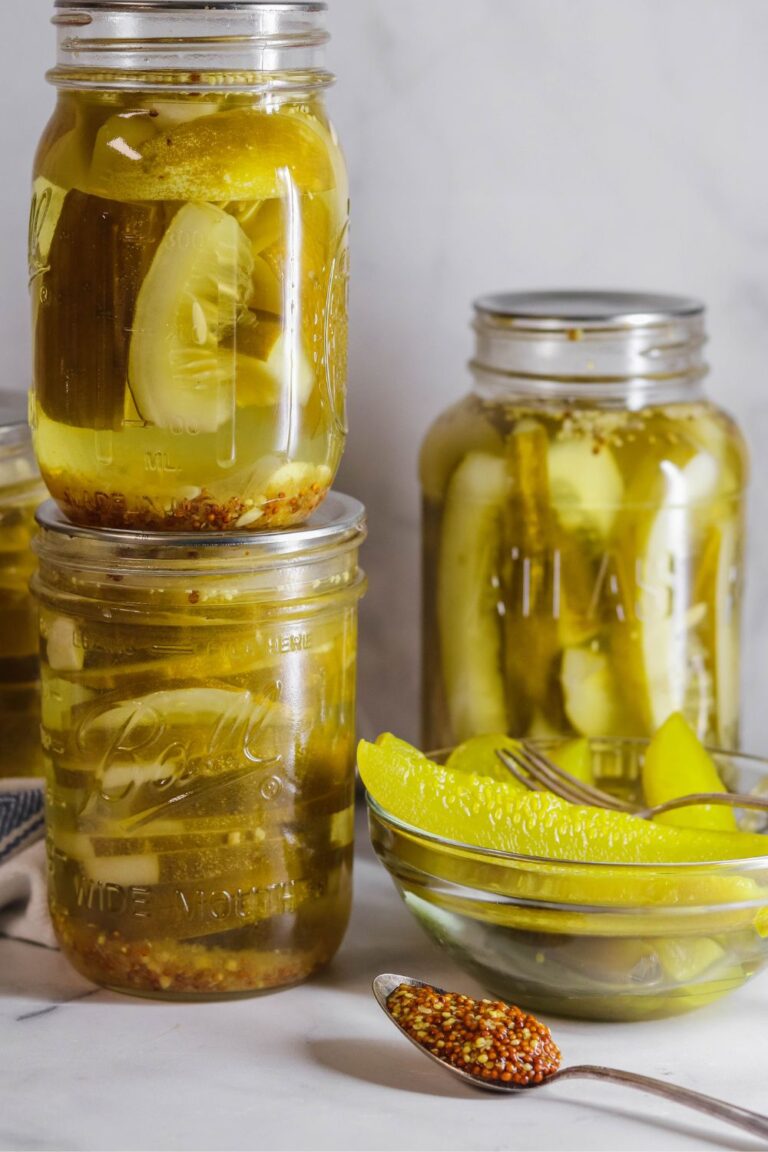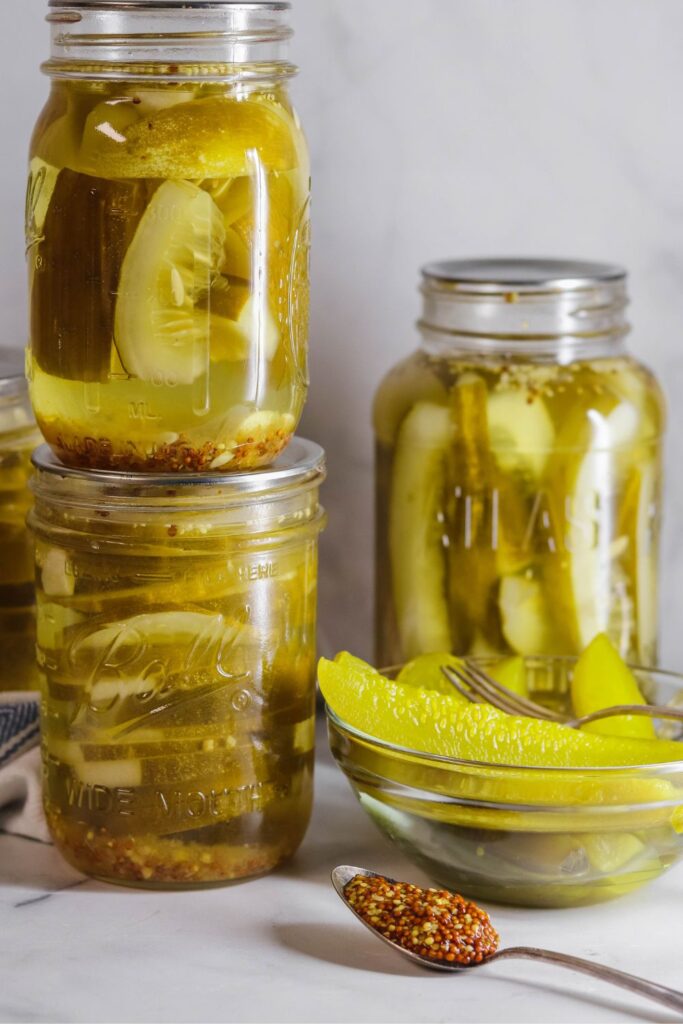 More Canning Recipes
Have you tried the recipe? If so, please leave a star ⭐️⭐️⭐️⭐️⭐️ rating in the recipe card below or drop a comment. Also stay in touch with me through social media by following me on Facebook, Pinterest, or My Facebook Group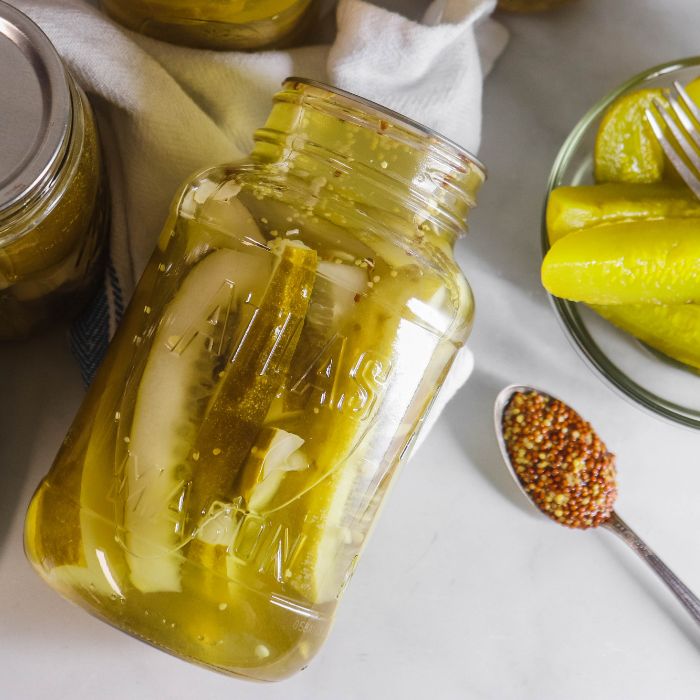 Horseradish Pickles
Horseradish Pickles are a delicious and spicy pickle recipe. Give this hot pickle recipe for using up your pickling cucumbers. This is a canning pickle recipe.
Ingredients
9-11 pounds pickling cucumbers 25 large
6 " long
and can get quite a few pickles from them.
1 packet Mrs. Wages Pickle Mix
Mrs. Wages Xtra Crunch Granules
3 2/3 cups White Distilled Vinegar 5% acidity
7 cups Water
5.5 oz jar prepared horseradish
14 fresh whole garlic cloves 1 per quart jar or ½ per pint jar
7.3 oz jar Old Style Mustard Maille brand used here
Instructions
Wash and prep your cucumbers. I sliced most of mine into wedges and did some hamburger slice style pickles. You can slice anyway you want.

Next fill your canner with water, and turn on high to get it to boil.

In a large pot I placed all my jars and lids and brought the mixture to a small boil. I did this for 10 minutes to sanitize my jars. Then I carefully remove the jars from the water and set them on counter. You want the jars to be warm when you fill with pickles and brine, so time it right.

In a large cooking pot, mix together Mrs. Wages pickling mix, water, and vinegar according to package directions and bring to a boil. Stir constantly until the brining mixture dissolves. Remove from heat.

Add your pickles into the hot jars, you will want to place the pickles in but leave a little space, don't force a ton of pickles in the jar.

Add in the brine leaving 1/2'' at the top of the jars. Use your funnel for pouring in the jars.

Add in 1/4 teaspoon for quart jars and 1/8 teaspoon of the Xtra crunch granules for pint jars.

Next add 1-2 whole cloves of garlic to each jar, 1 teaspoon mustard, 1 teaspoon horseradish to each jar on top of the brine.

Wipe the rim and place the seal on and tighten but not too tight.

When the water in the canner is at a rolling boil. Use the tongs to place the sealed jars inside. It's important to do this process with the same size jars, do pints together, and quarts together. When the water comes to a rolling boil again, after placing the jars in the water, set the timer; 10 minutes for pints and 20 minutes for quarts. I have had to wait 10 minutes for the water to come to a rolling boil again after putting the jars in
Notes
Have a towel – Have a towel handy when you are ready to remove the jars so the water doesn't drip all over. Use the canning tongs to remove the jars. Place them on a cooling rack or countertop and listen for them to pop and ting…that's when you know they've sealed. Seal – After 24 hours, double check the top lid has sealed by lightly pressing. There shouldn't be any give.
Remove the band and store the jars in your pantry or cupboard for up to one year. Tip: Do not stack jars, if there is any leakage, the weight of a jar on the lid may prevent you from realizing it. Remember to label and date your lids. Pickles are ready to eat in 4-6 weeks. Seal doesn't work – If you have any lids that do not properly seal, place these in the refrigerator for 1 week and then do a
taste test. These will keep in the refrigerator for several weeks and you can enjoy refrigerator pickles. Extra Brine: If you have extra brining liquid, you can store it in the refrigerator for 1 week. You should have more cucumbers by then!
Equipment
Canning Jars – Quart or Pints

Water Bath Canner

Canning Funnel

Saucepan and Cooking Pot

Cutting Board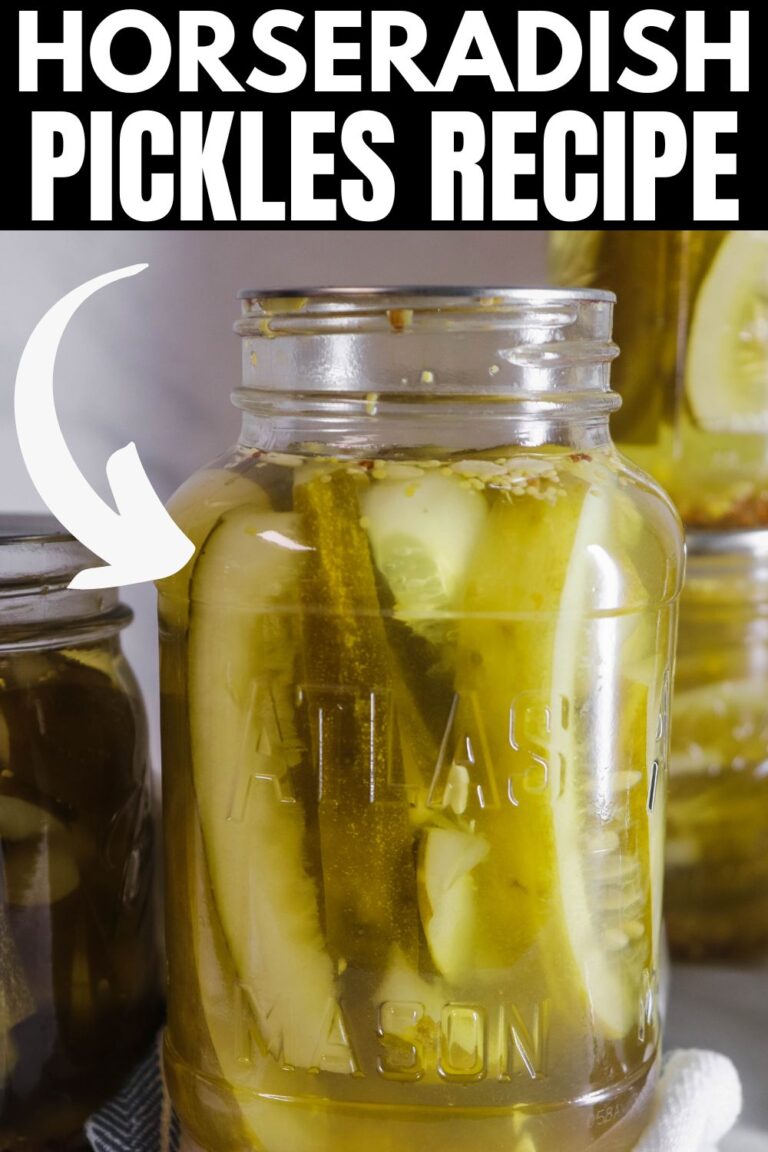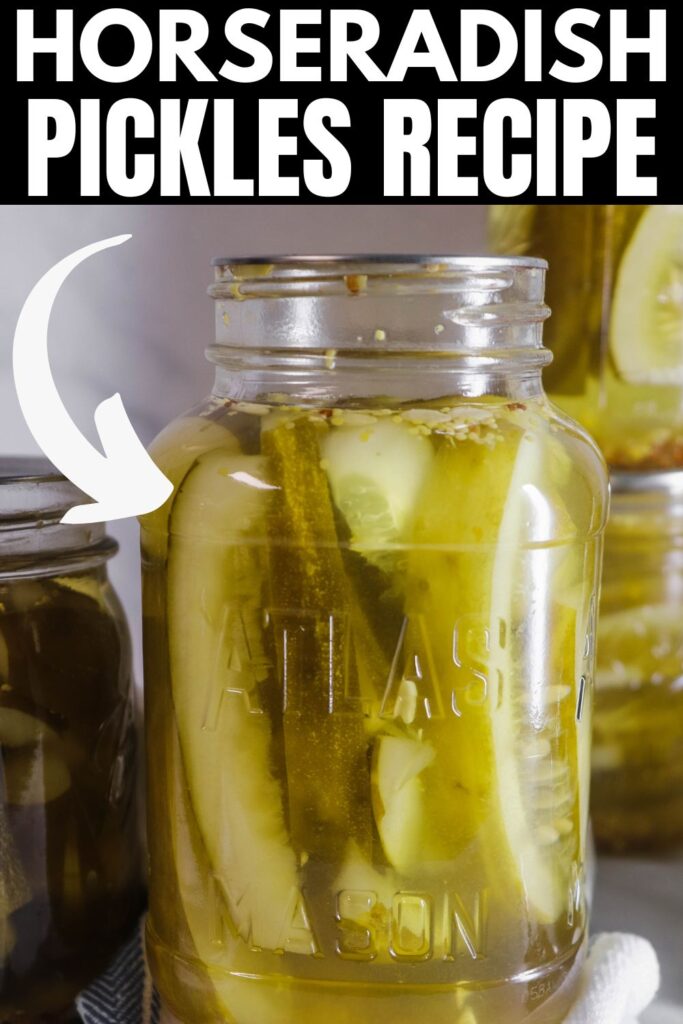 Reader Interactions