Learn how to make these refrigerator pickles for an easy quick pickle recipe. These are crunchy flavorful pickles that are so easy to make.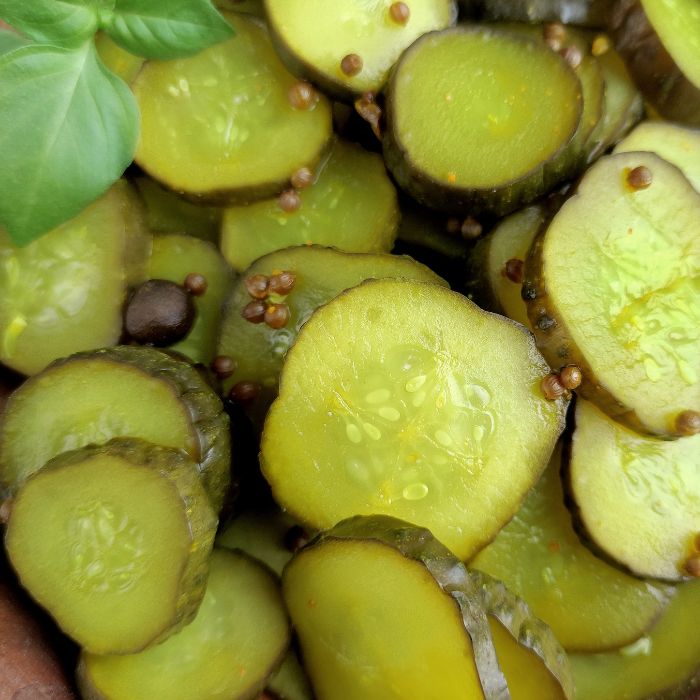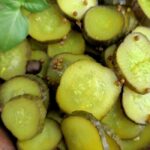 Are you looking to make refrigerator pickles with all your extra cucumbers this season? If so you have to try this delicious and easy refrigerator pickles recipe. Hamburger sliced and paired with peppercorn, coriander, turmeric and vinegar and a dash of sugar.
Quick pickles can be made in literally ten minutes and then place in the fridge until you are ready to nibble on. Skip the grocery store pre-made pickles and make these crisp pickles at home. They are the best pickles for snacking on, topping burgers, and more. Try my horseradish pickles for a spicy pickle recipe.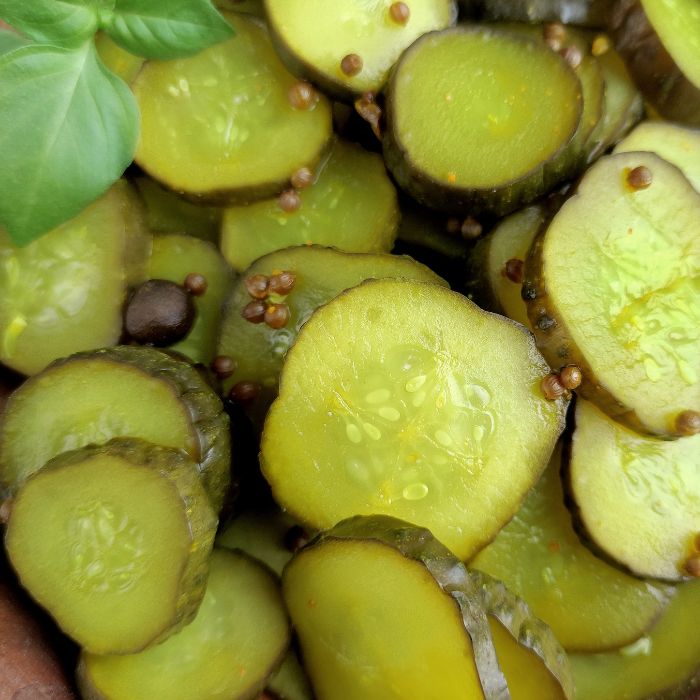 Also make sure to check out my dill pickles recipe and my pickle relish recipe. These are more recipes for fresh cucumbers you have on hand. This refrigerator pickle recipe is great for beginners who are not wanting to full on can.
This Refrigerator Pickles Recipe Is..
Perfect pickle recipe
Tangy Pickles with hint of sweet
10 Minute Recipe
Delicious Snack or Topper for burgers
Easy pickle brine (vinegar brine)
Great Flavor
Long shelf life (up to 1 month)
Perfect for using up summer months small cucumbers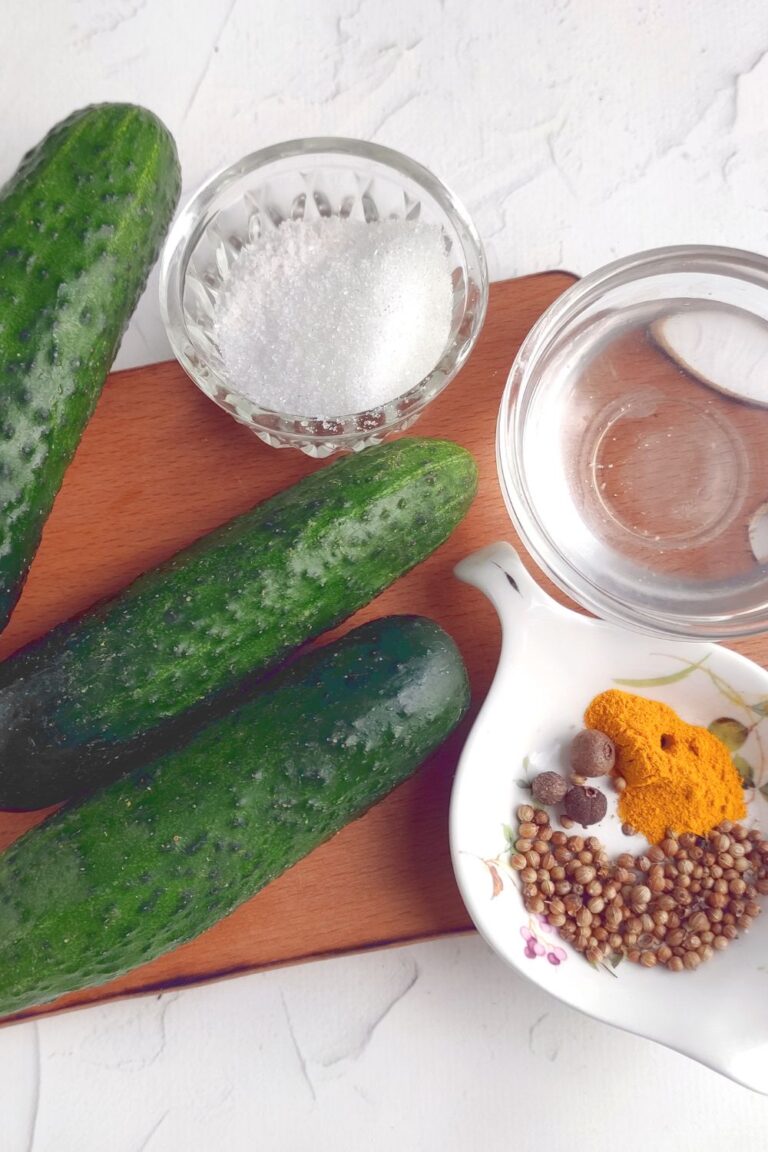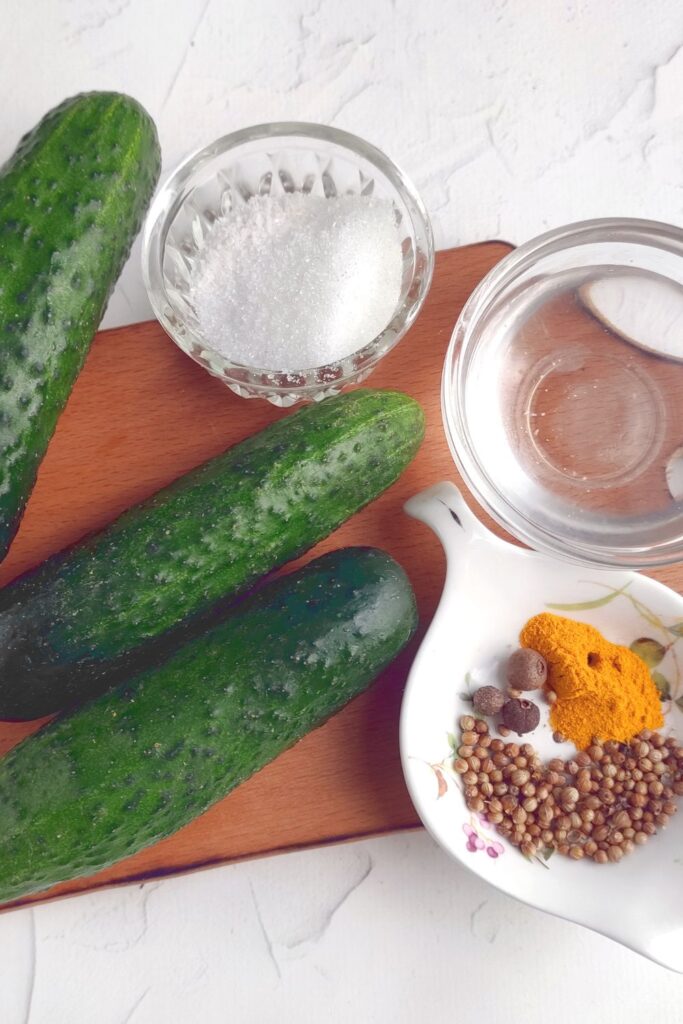 Ingredients Needed
Here is all you need for these crunchy homemade pickles. Go harvest tons this cucumber season, cause these homemade pickles beat traditional pickles any day of the week.
Cucumbers – Reach for smaller cucumbers for this recipe. I love using English cucumbers or even Kirby cucumbers.
Salt and Black Peppercorn – This is going to balance out tons of flavor in your pickles.
Sugar – Granulated sugar is going to help transform the brine and offer a hint of sweetness. Add more sugar for a sweet pickles flavor.
Coriander Seeds, Turmeric – Both are used to flavor the pickles. You can always swap out the spices with fresh dill, garlic cloves, celery seed, red pepper flakes, mustard seeds, etc.
How to Make
Full steps on how to make refrigerator pickles is at the bottom in the recipe card. This is a quick walk through with images for the visual learner.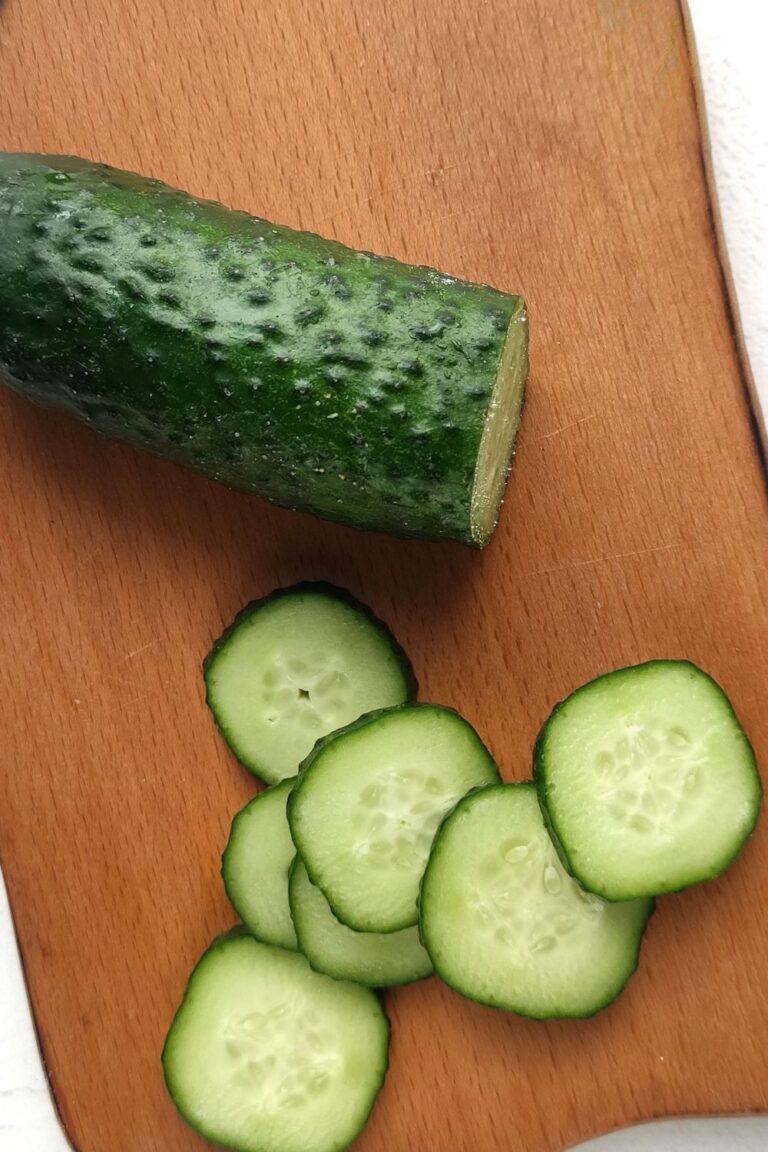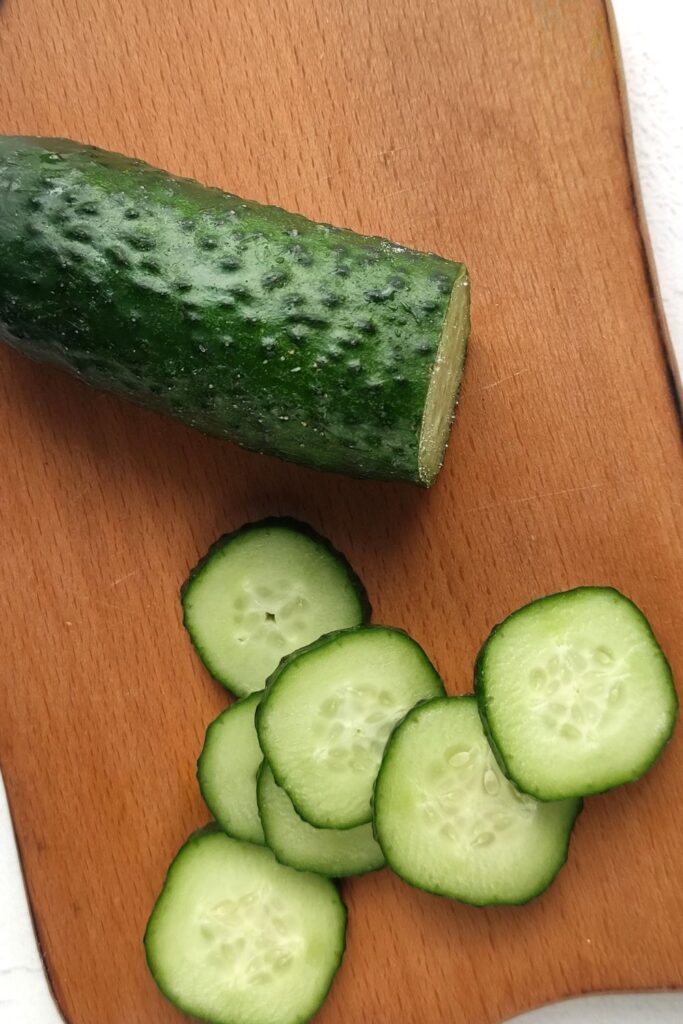 Step One: First you want to wash and then slice your cucumbers into .1 inch thick slices. Remove the ends of the cucumbers and discard.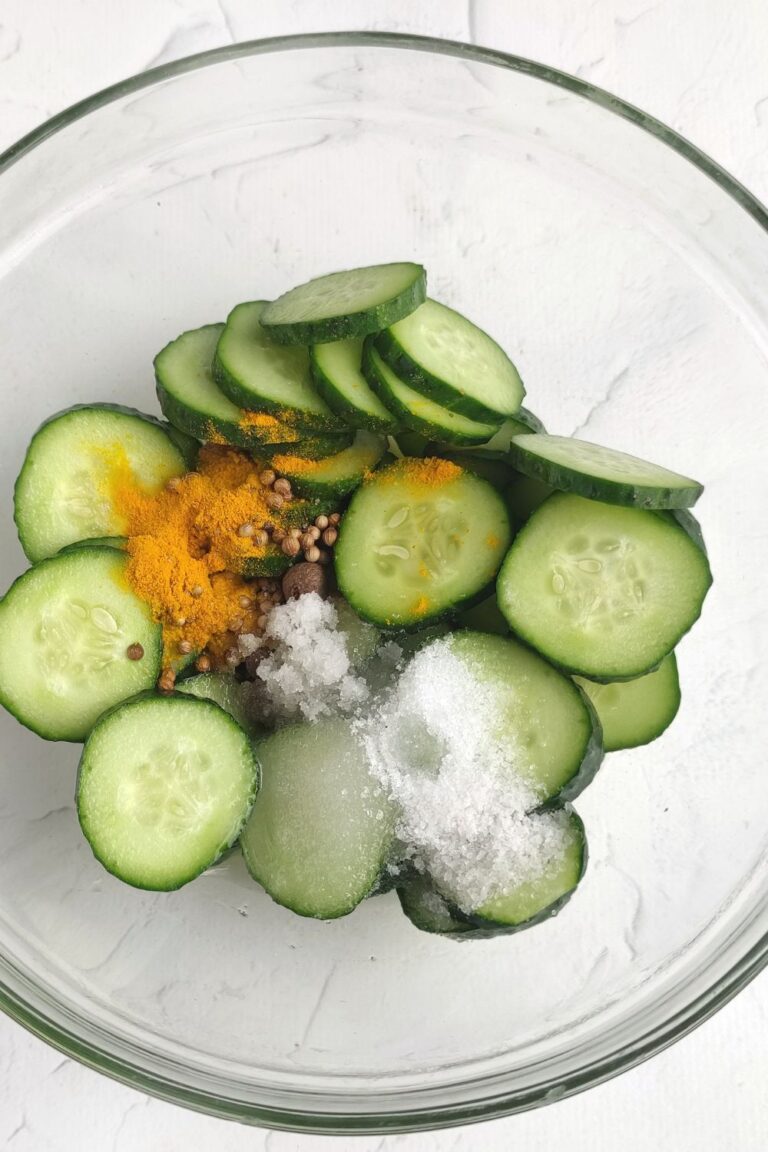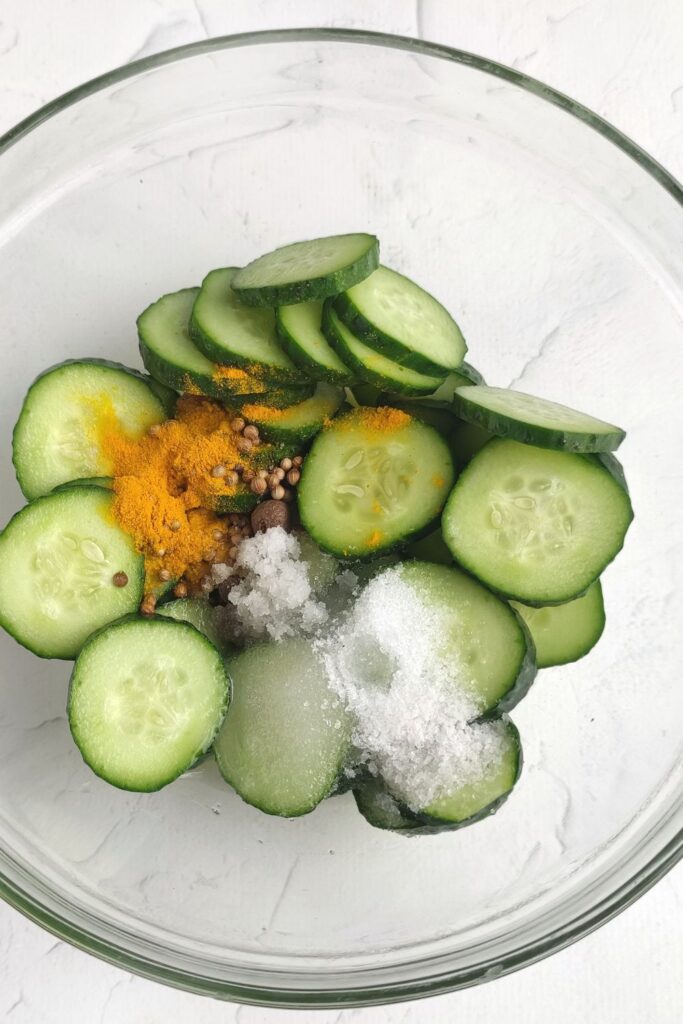 Step Two: Next you will place the sliced cucumbers in a microwave safe bowl. Then add in the vinegar, water, and all the spices and salt, pepper, and granulated sugar.
Step Three: Next microwave for a few minutes as directed. Make sure to stir the cucumbers after it cooks.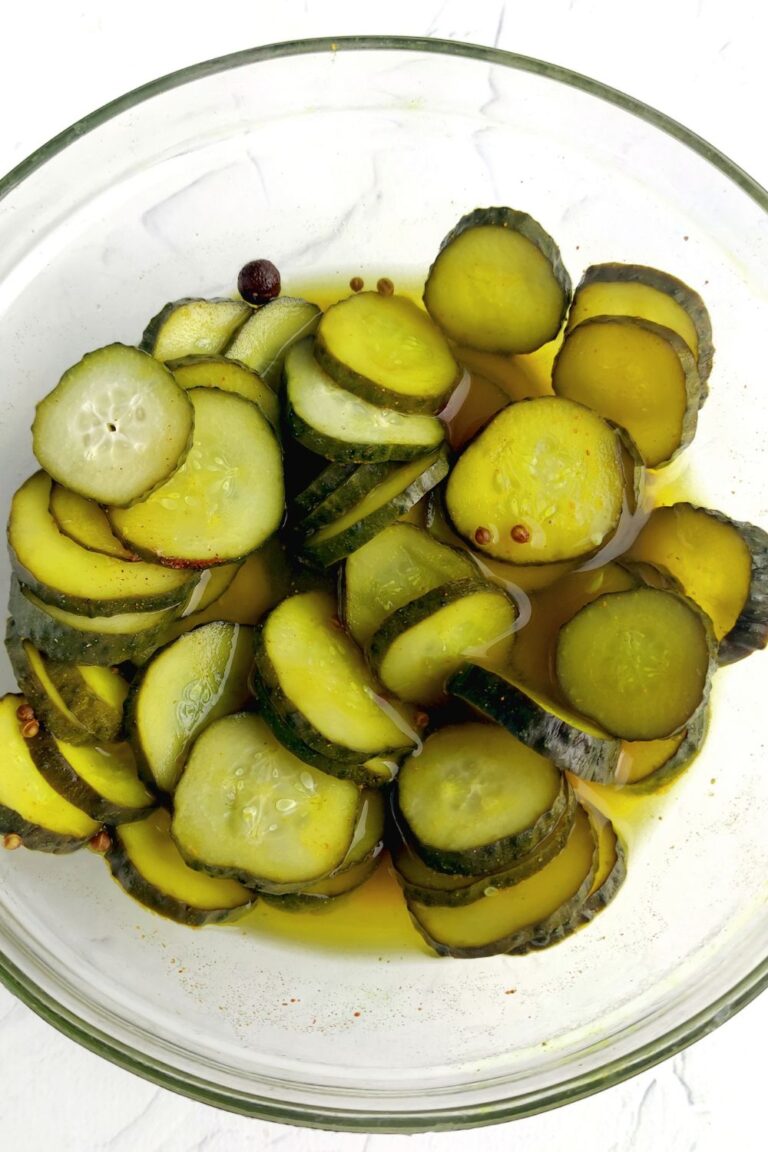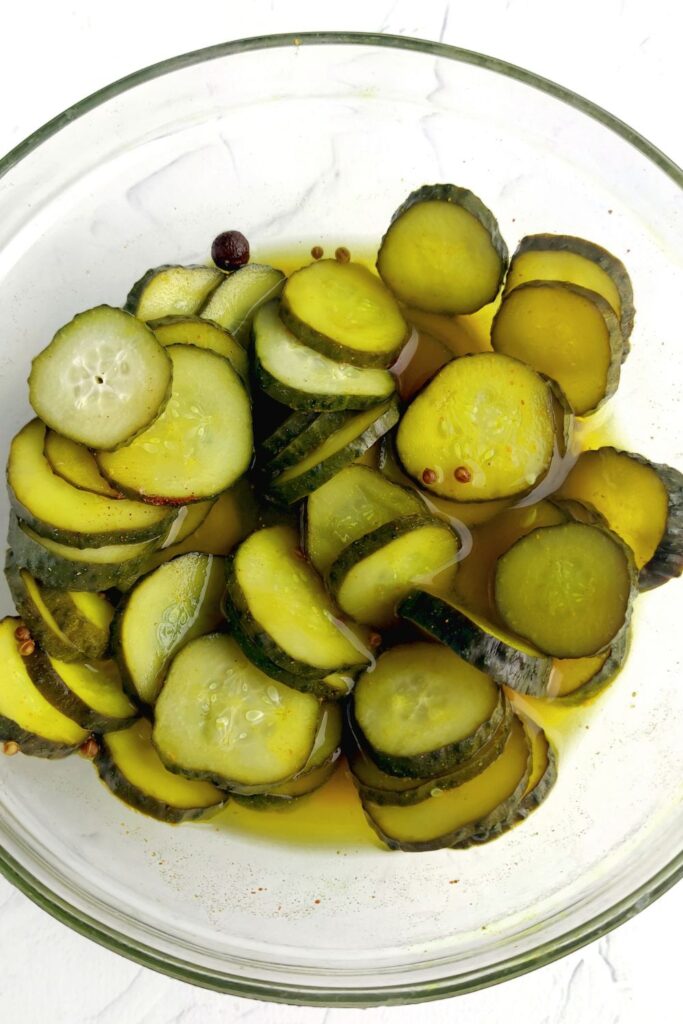 Step Four: Put cucumbers back in and cook another 3 minutes. You want the cucumbers to darken a little bit, this shows they are soaking in the brine.
Step Five: Place pickles in a jar, and pour the liquid in to the top of jar. Seal and then store in the fridge for up to one month.
Helpful Tips For Success
Make sure to thinly slice cucumbers in even slices. Otherwise, you will find that the pickles will be inconsistent on texture.
Be careful with the hot brine when you pour in the top of the jar. I like to use a funnel to help ensure I don't spill.
You can eat the pickles the next day, but they taste best after they have sat in the pickling brine in fridge for around a week.
I prefer to use a mason jar instead of a stainless steel bowl as the steel can alter the flavor of your crunchy refrigerator pickles.
You can use a crinkle cutter which will give it that classic hamburger pickle look.
You can also use pickle spears if you want a different size of pickles. Just adjust the cook time of the pickles as needed.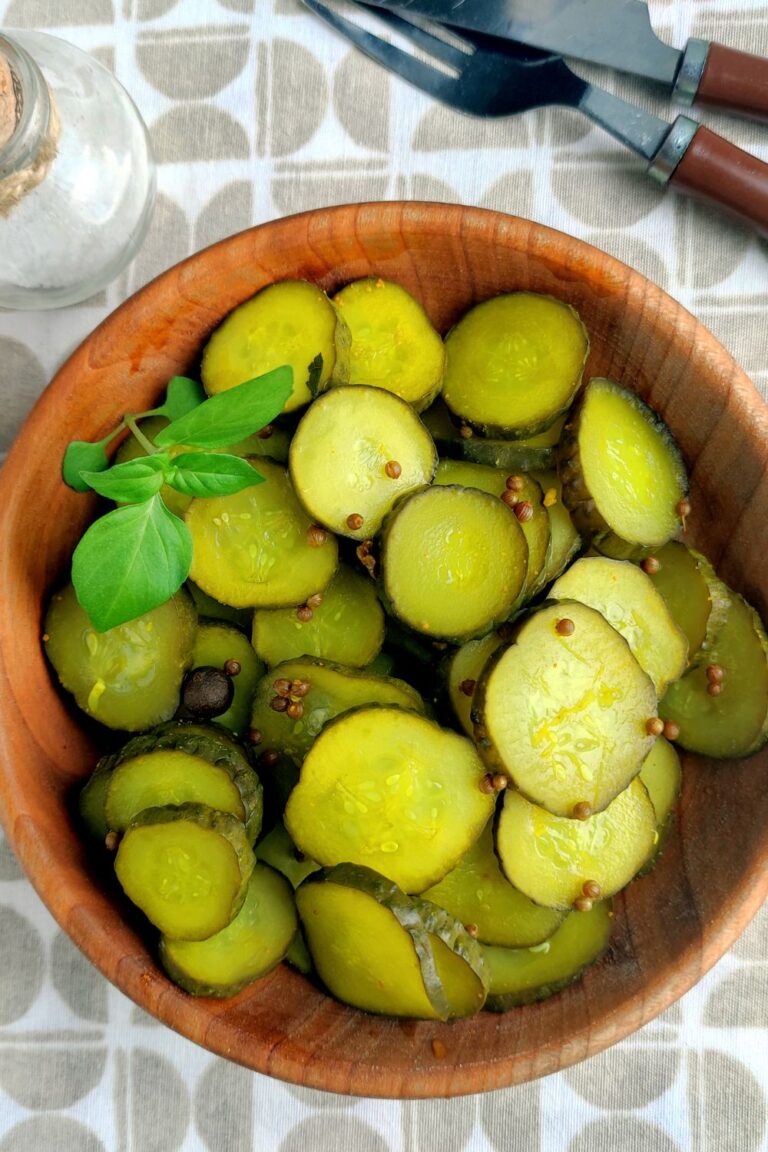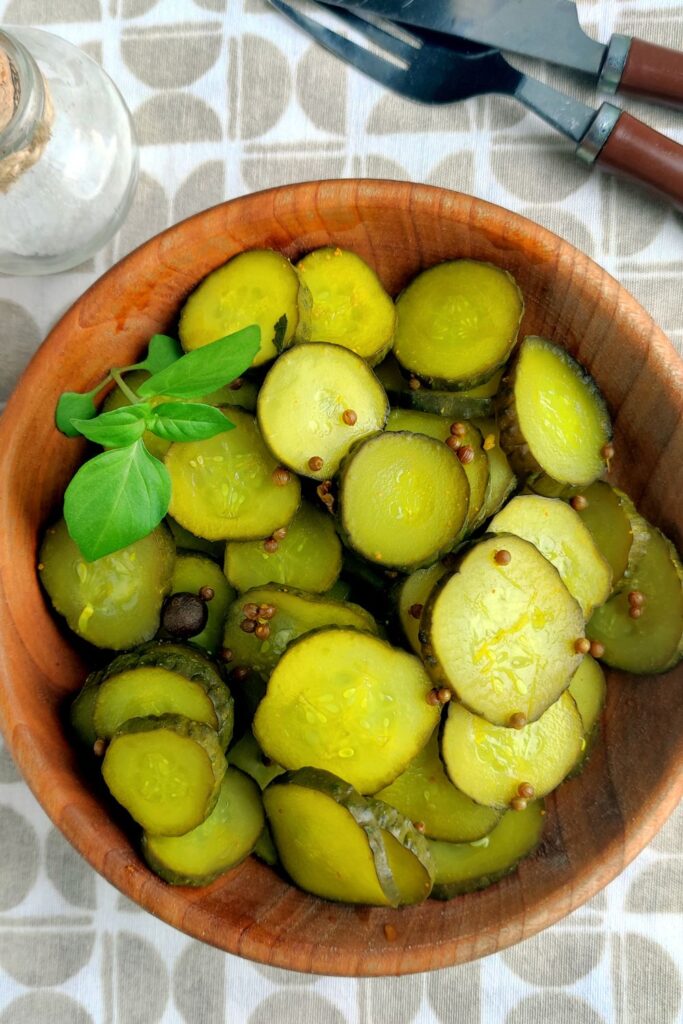 Storing Pickles
So you will want to grab a big jar to ensure it can hold all the pickles and the pickling brine. If you have to dump some of the brine that is okay. Store the pickles in a clean jar with a lid in the fridge for up to one month.
The longer the pickles sit in the fridge the richer the flavor will be. These are a slightly soft but crunchy pickles recipe. Now if you overcook the pickles it can make them a bit chewier in terms of texture.
FAQs
More Recipes
Have you tried the recipe? If so, please leave a star ⭐️⭐️⭐️⭐️⭐️ rating in the recipe card below or drop a comment. Also stay in touch with me through social media by following me on Facebook, Pinterest, or My Facebook Group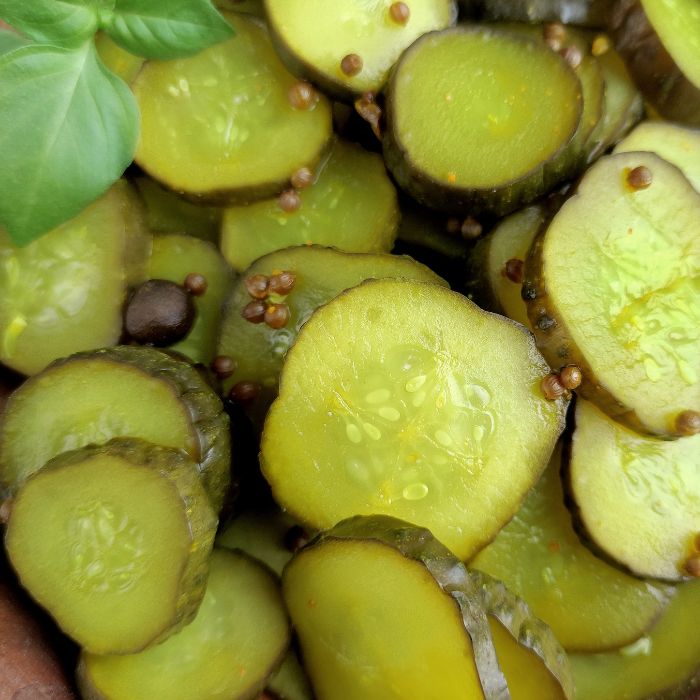 Refrigerator Pickles
Servings 15
Learn how to make these refrigerator pickles for an easy quick pickle recipe. These are crunchy flavorful pickles that are so easy to make.
Ingredients
3-4 small cucumbers thinly sliced
1/3 teaspoon salt
3-4 peppercorns
1 tablespoon sugar
2 tablespoons white distilled vinegar
2 tablespoons water
1 teaspoon coriander seeds
1/2 teaspoon turmeric
Instructions
Start by washing and then slicing your cucumbers into .1 inch thickness. Toss the ends of the pickles away.

Place sliced cucumbers in a microwave safe bowl. Then add in the spices, salt, pepper, and sugar. Add water and vinegar and stir well.

Cook at the power of 850 watts for 2 minutes.

Remove bowl and stir and then cook another 3 minutes. Your cucumbers will begin to change color and become darker.

Transfer cucumbers in a clean glass jar. Then pour the pickle brine in the jar, and seal. Refrigerator the refrigerator pickles for 1 month.
Equipment
1 jar

1 microwave safe bowl
Nutrition
Serving: 1g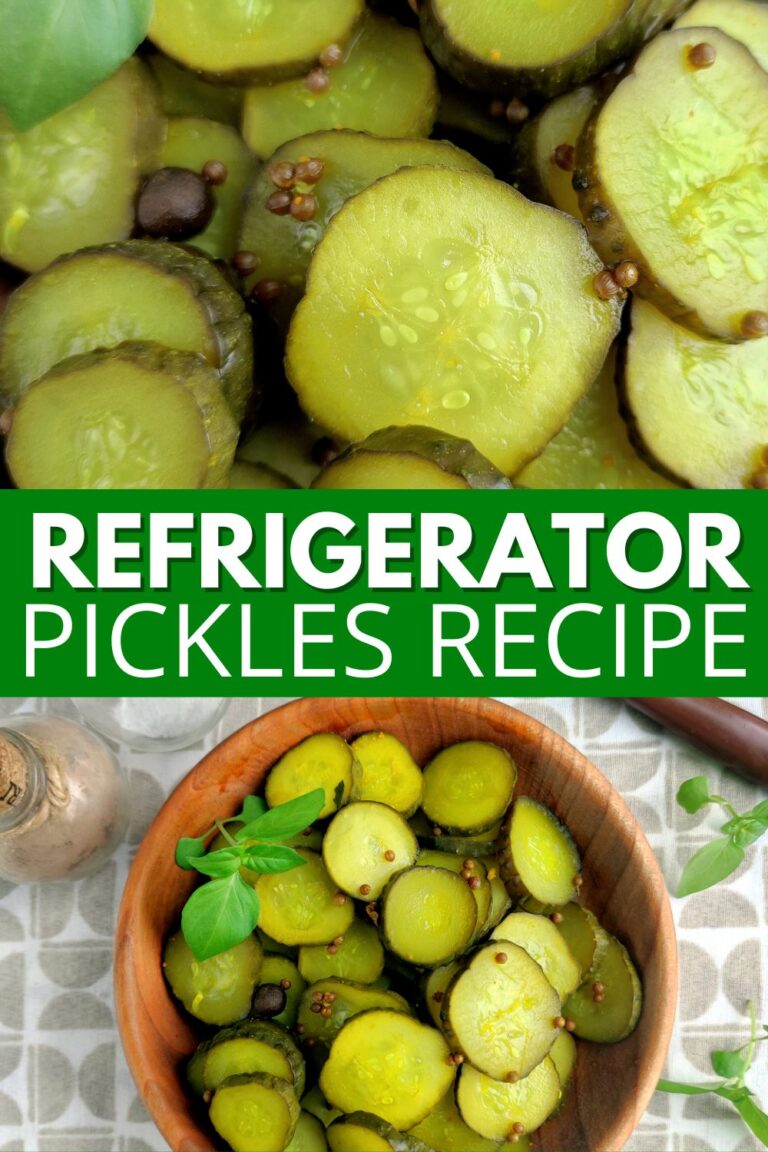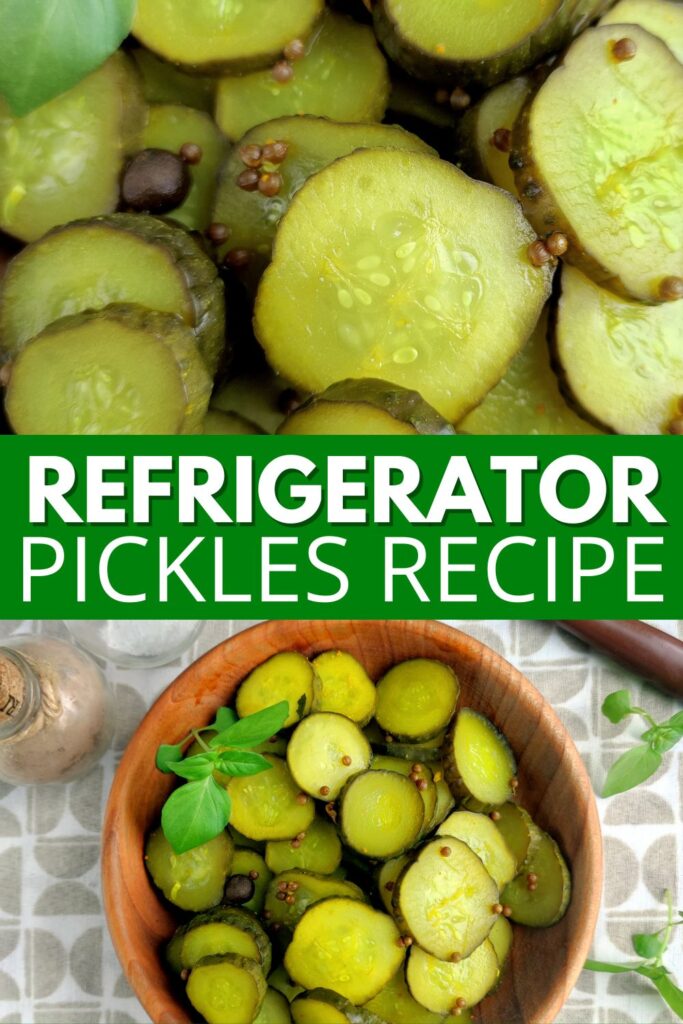 Reader Interactions