Sweet Pickle Relish is the perfect way to use up produce from your summer garden. Learn how to can pickle relish with a water bath method. Cucumbers, onions, peppers, sugar and more come together for a pickle relish recipe you will love.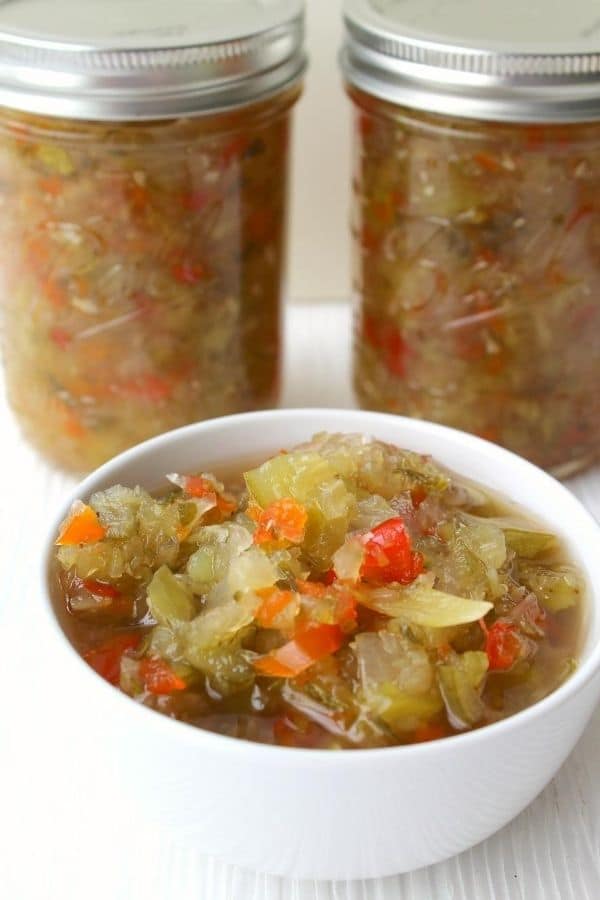 If you enjoy canning check out more recipes. Can strawberry rhubarb jam recipe or try my jalapeno jelly. Also, check out my Instant Pot vanilla extract recipe.
Sweet Pickle Relish
Whether you top your hot dogs or burgers, this pickle relish is versatile and bursting with flavor. If you are looking for a relish recipe for canning give this recipe a try.
A sweet relish that is perfect for mixing in potato salad, using as a condiment, and more.
I am an Amazon Affiliate, so if you purchase through my link I can earn a commission on sales.
How to Make
Step 1: The first thing I did was work on sterilizing my jars and lids along with rings. I placed them in a pan with water and brought water to 180 degrees. Then allowed them to sit as I worked on the recipe.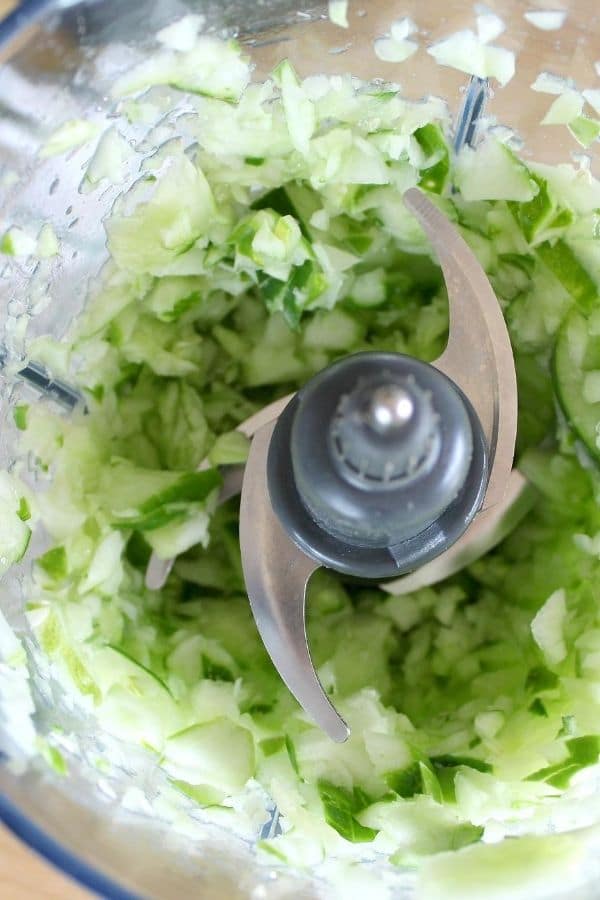 Step 2: In a food processor you will add your cucumbers, onions, green peppers, red peppers and processes them to chop them up small.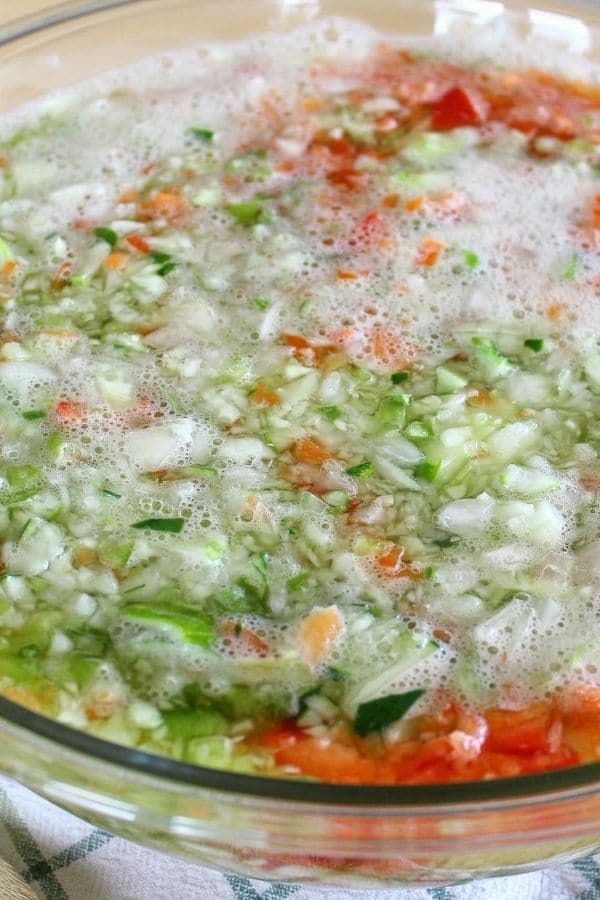 Step 3: Place veggies in a large bowl. Then sprinkle with salt and cover with cold water. Allow the cucumber and pepper mixture to sit for at least 2 hours in the water.
Step 4: Once time has passed drain and rinse your veggies thoroughly and then remove as much water as you can.
Step 5: In a large pot add your sugar, vinegar, spices to a bowl. Then you will add your drained vegetables and allow it to simmer for 10 minutes.
Stir the mixture often to help mix it up.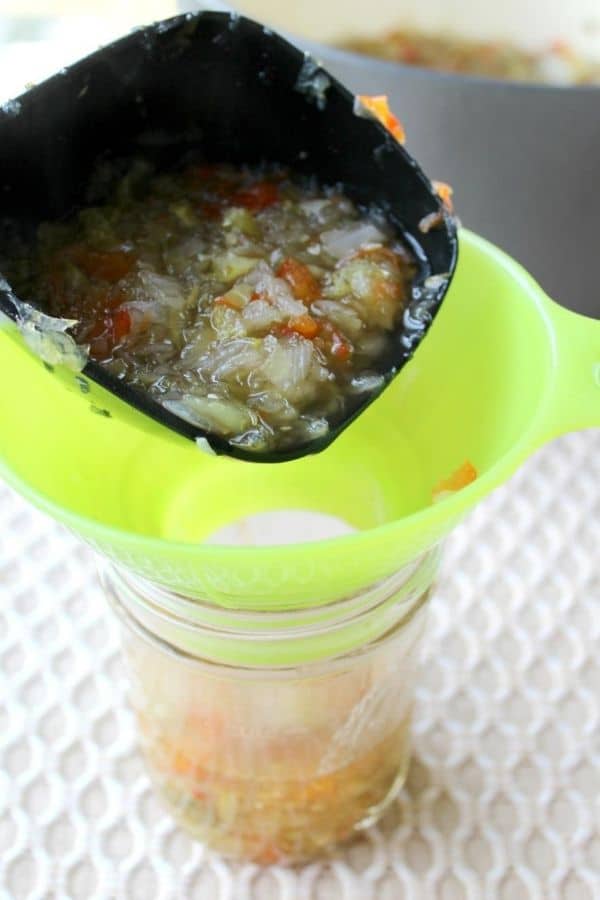 Step 6: Once done simmering, ladle the mixture into your pint canning mason jars leaving 1/4 inch at the top.
Tap the jar lightly to remove any air bubbles, then secure the lids on top of the jars.
If you want to then go on and can your jars you are more than welcome to. Or you can stop here and place jars in fridge for up to two weeks.
How to Can Sweet Pickle Relish
Now if you want to can your jars, I will share the steps for that. Canning will allow you to store your jars on the shelf in your pantry or a cool dry place for up to one year.
Step 1 for Water Bath Canning: Place your sealed jars into a pot with boiling water, using jar lifters. Once all the jars are in, you will use the metal sling to lower them into the water, covering the tops of the jars.
You want to have 1 inch of water covering the top of the jars when they are fully submerged in the water.
Step 2 To Water Bath Canning: Now you will cook for 15 minutes and then lift the jars from the water and place on a towel to cool.
The lids will pop and seal as they sit. Wipe off any excess of liquid if any has been released while in water bath.
Also, note that depending on where you live or altitude the cooking time in the water bath could vary a bit, so use this as a guide.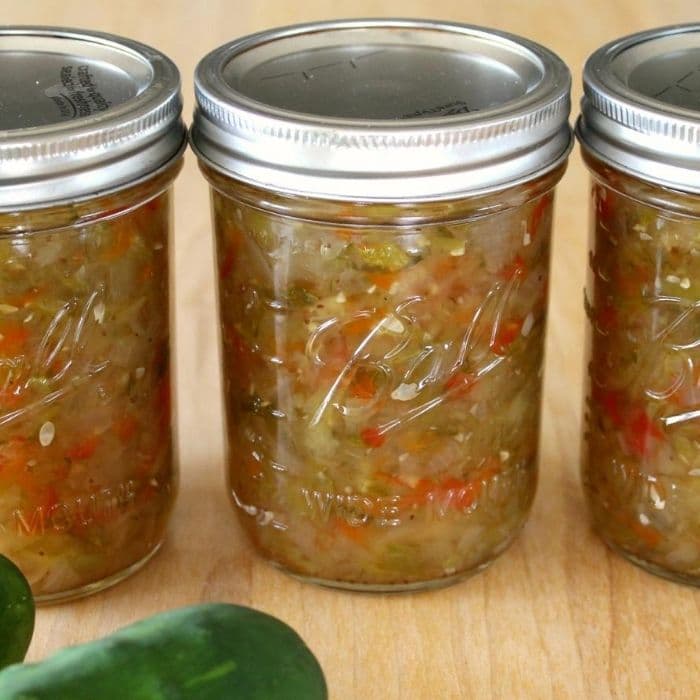 What If Seals Don't Pop Once Sweet Relish Has Cooled In Jars
If you find your seal doesn't snap tight within the first 4 hours, you can boil water again, and remove lid and ring and repeat the steps to see if you can get it to seal.
If you can't just put in the fridge and eat within 2 weeks and it should be just fine.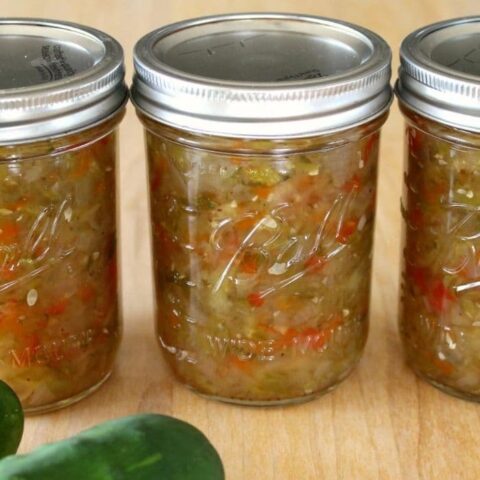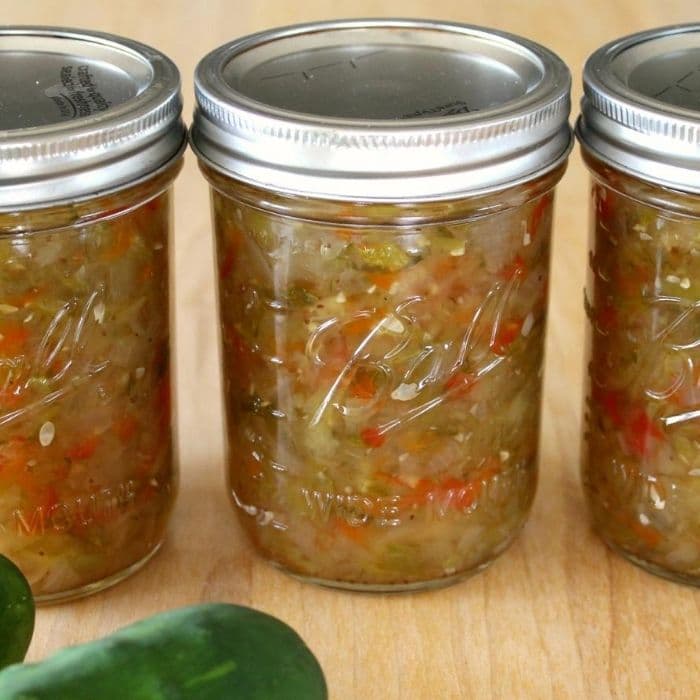 Sweet Pickle Relish
Sweet Pickle Relish is so easy to make and can! Use fresh produce from your garden to make homemade pickle relish that can store on your shelf for a whole year.
Ingredients
4-5 cucumbers (around 1 quart)
2 cups onions, chopped
1 cup green pepper, chopped
1 cup red bell pepper, chopped
3 1/2 cups granulated sugar
1 tablespoon celery seed
1/4 cup salt
1 tablespoon mustard seed
2 cups apple cider vinegar
Instructions
In a food processor add your chopped cucumbers, red pepper, green eppers, and pulse until finely chopped.
Place the vegetables in a large bowl with the 1/4 cup of salt. Then add cold water to cover the veggies. Let it sit for 2 hours.
Once the 2 hours is up, you will work on sterilizing your jars. Place your jars, lids and rings in a pot with water to sterilize them. You want the water to be at least 180 degrees. I just let them sit in the water until I am ready to use.
You can now drain off water from the vegetables. Try to get as much of the water as you can.
Now you will add your apple cider vinegar, sugar, spices and vegetables in a pot on the stove. bring the mixture to a boil, and then let it simmer for 10 minutes.
Carefully remove your jar from the water, along with seal and ring. Use a funnel and ladle in the sweet pickle relish mixture. Leave 1/4 inch at the top. Remove bubbles from jar and then place top on. Don't seal it super tight, just enough for it to stay on.
In a pot of boiling water you will add all your jars using a jar lifter. Make sure that there is 1 inch of water above the top of the lids. Allow the water to boil for 15 minutes.
Carefully remove the jars and place on a towel and allow to dry and cool down. The seals will make a pop sound. The jars should pop within 2 hours of doing them.
Notes
You can skip the canning section. If you do not want to can just make as directed and place in container and store in the fridge and use within 2 weeks.
Canned jars can last up to 1 year in proper storage.
If you happen to find a jar does not seal you can remove the lid and seal, clean well, and try again within 12 hours of doing it.
Nutrition Information:
Yield:

100
Serving Size:

1 tablespoon
Amount Per Serving:
Calories:

33
Total Fat:

0g
Saturated Fat:

0g
Trans Fat:

0g
Unsaturated Fat:

0g
Cholesterol:

0mg
Sodium:

284mg
Carbohydrates:

8g
Fiber:

0g
Sugar:

7g
Protein:

0g
This information is automatically calculated by third-party software, including but not limited to the Create or Bake Me Some Sugar. For accurate nutrition, I suggest running the ingredients in your own system to get a more accurate reading. Nutritional information is approximate and automatically calculated, and should only be viewed as an indication.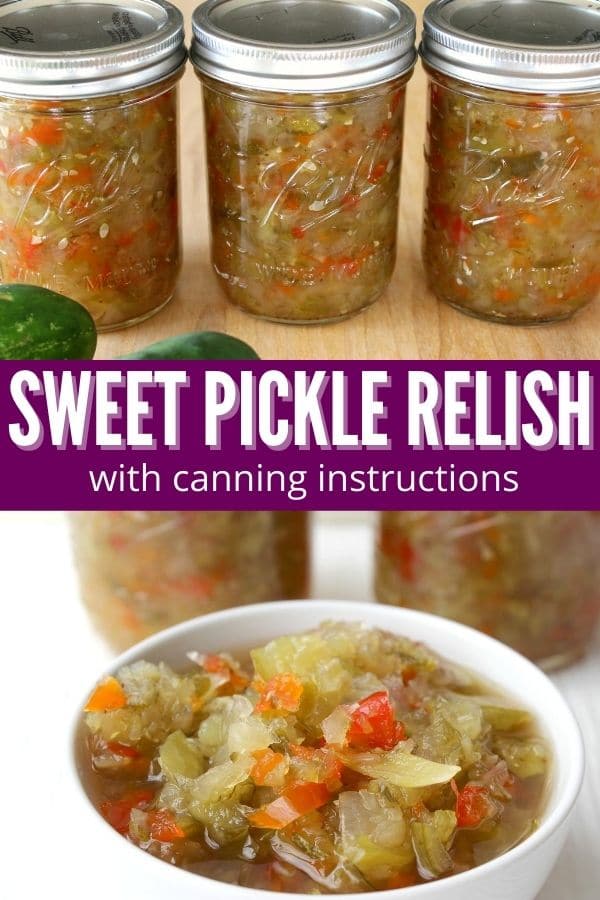 Have you ever tried homemade relish before?