Check out these Halloween Breakable Chocolate Mummy's! They are filled with candy so when you use a wooden mallet to break a sweet surprise comes up once broken! A fun no bake Halloween dessert!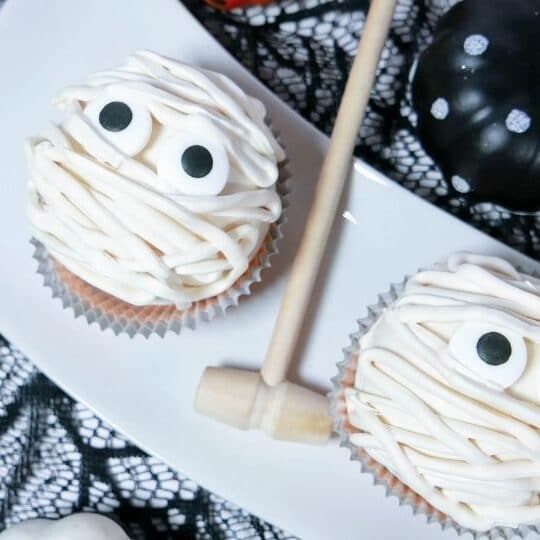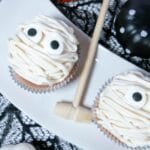 Have you ever made breakable chocolate? This is a breakable white chocolate full of candies perfect for Halloween. A mummy dessert that is a candy filled chocolate. Try this breakable chocolate mummy for Halloween!
This is a fun treat you can make and serve up for parties or let your child have fun breaking the chocolate to see what is inside!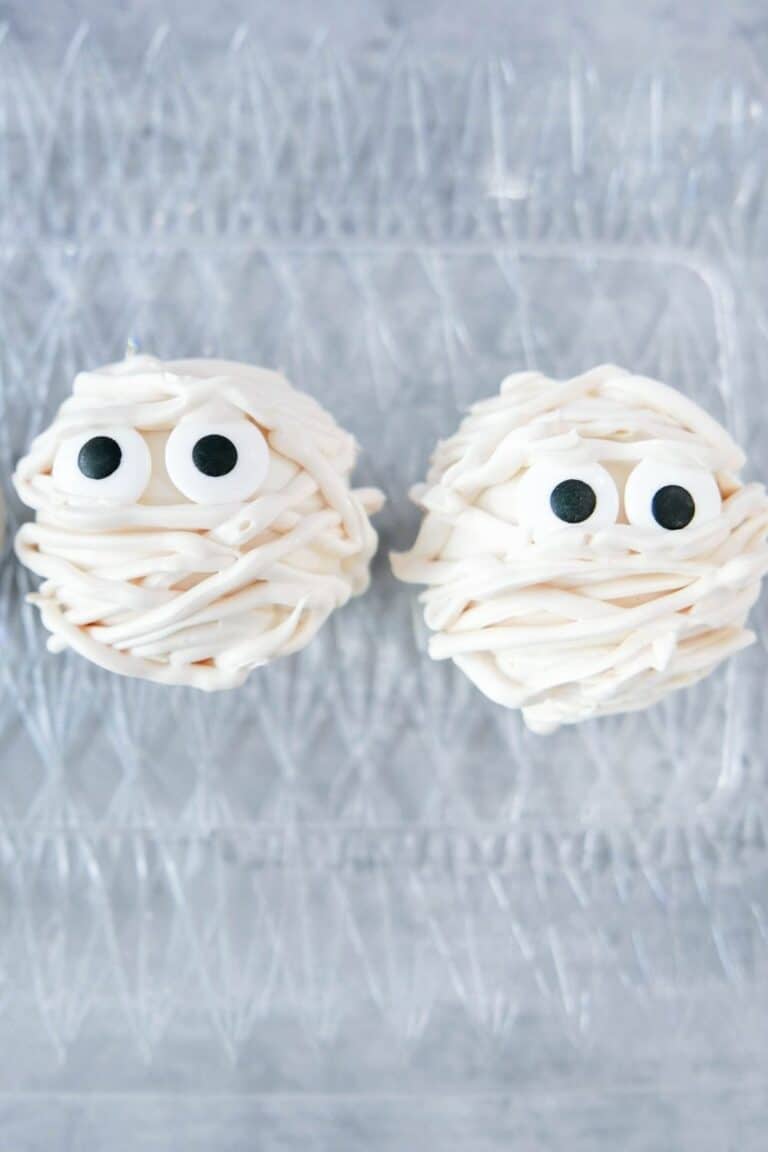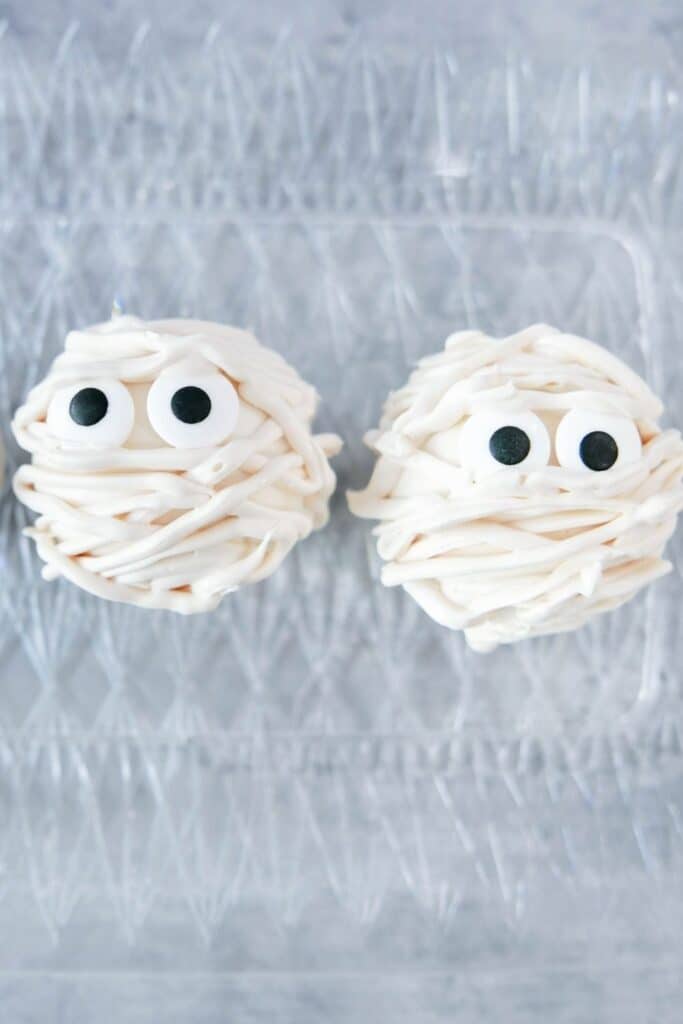 You can ultimately stuff your mummy with any candies you would like. If you love the breakable chocolate hearts, you will have fun with this edible breakable chocolate Halloween recipe.
Simple ingredients are all you need for this white chocolate dessert. Grab that wooden mallet and lets make this chocolate breakable mummy!
Why This Mummy Breakable Chocolate Is A Hit
Easy – This is such an easy no bake Halloween treat to make. The hardest part is waiting for the chocolate to set up.
Versatile – So I did white chocolate but you can use any color you want. Make a green monster, or even purple. It is super easy to change up to what you might want!
Filling – Go right ahead and stuff your hollow chocolate sphere with gummy candies, eyeball gumballs, gummy worms, etc. The sky's the limit!
Make any shape – I made a circle shape but go right ahead and buy any shape you want. Silicone molds work best in terms of getting the chocolate out without breaking it.
Breakable Chocolate – Who doesn't love the idea of breakable chocolate with a hammer? Gently smash for a sweet surprise!
So don't wait try this breakable chocolate today!
Ingredients Needed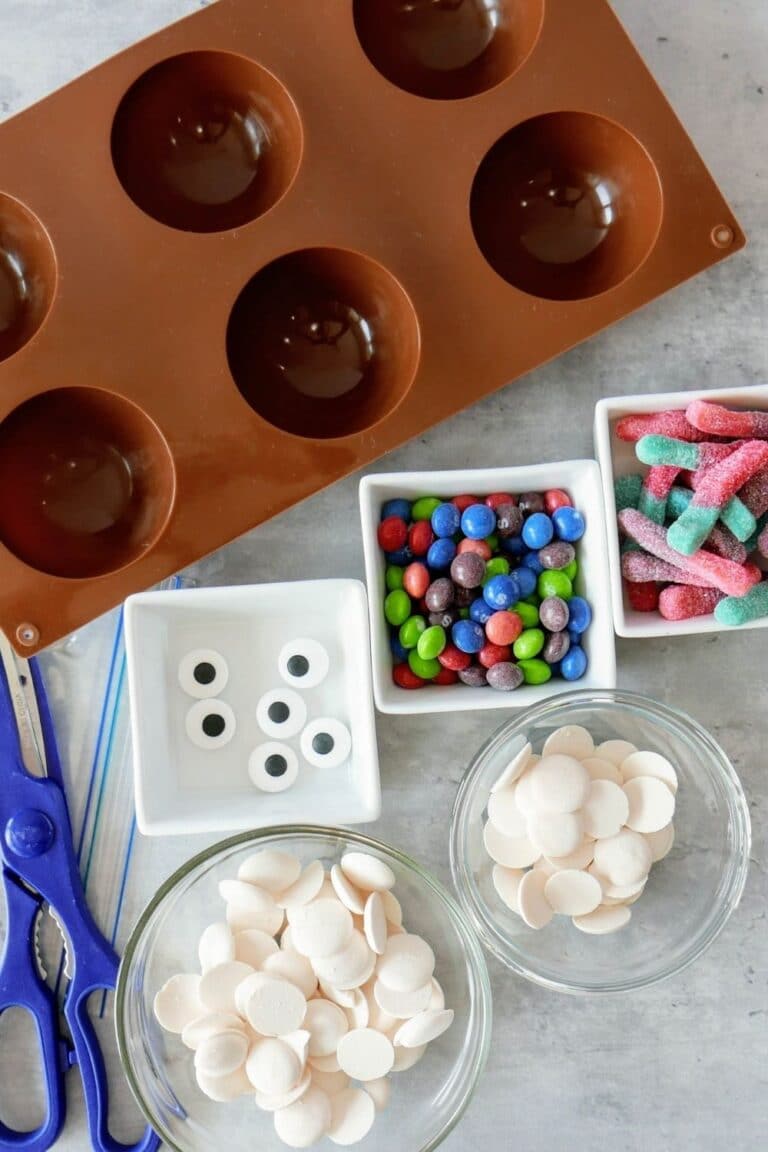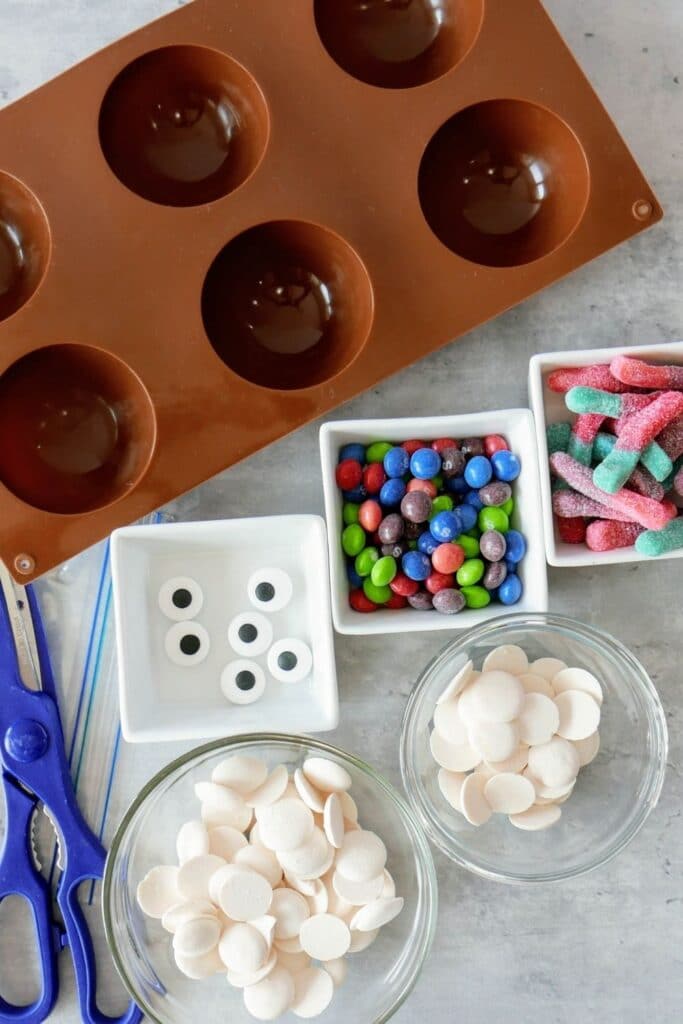 White chocolate – Now, you can use candy melts or you are welcome to reach for white chocolate. If you do white chocolate add in some shortening to help the chocolate set up. Or you will need to temper the chocolate.
Candies – Go ahead and reach for any of your favorite candies! This will be the inside of the candies.
Candy Eyeballs – I used candy eyeballs to make the eyes for the mummy. Go right ahead and use whatever you have. You can also use chocolate to make eyeballs if you want.
Supplies Needed
Sphere Silicone Mold – Feel free to reach for any size you want. Mine is around 1.5" deep. You want it deep enough to hold candies.
Wooden Mallet – The wooden mallet is used for breaking the chocolate apart. Now, if you don't want to buy one you can use a little hammer or even a kitchen tool for breaking.
Heat Safe Plate – The plate is used for taking your hardened chocolate and kind of melting the edges. This is going to act as the glue to stick both sides of the chocolate together.
Piping Supplies – Use either a piping bag to drizzle on the chocolate, or a sandwich bag you cut the tip off. Either works for drizzling the chocolate onto the ball.
How to Make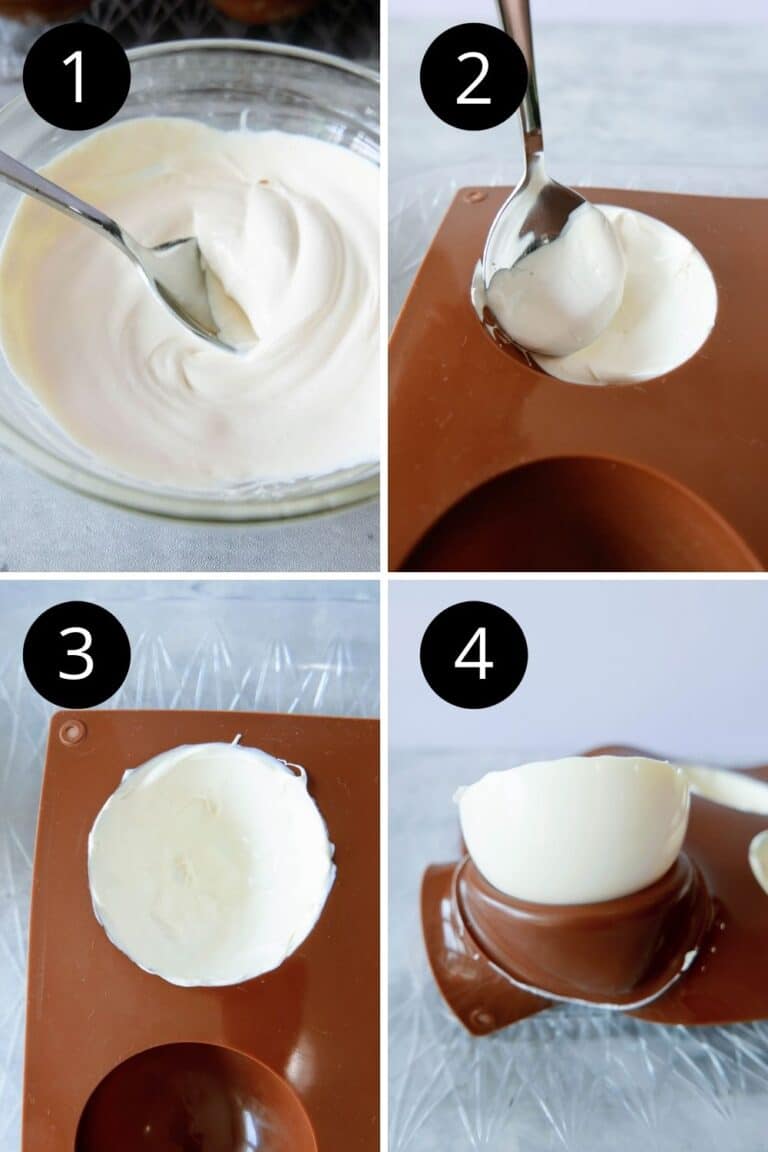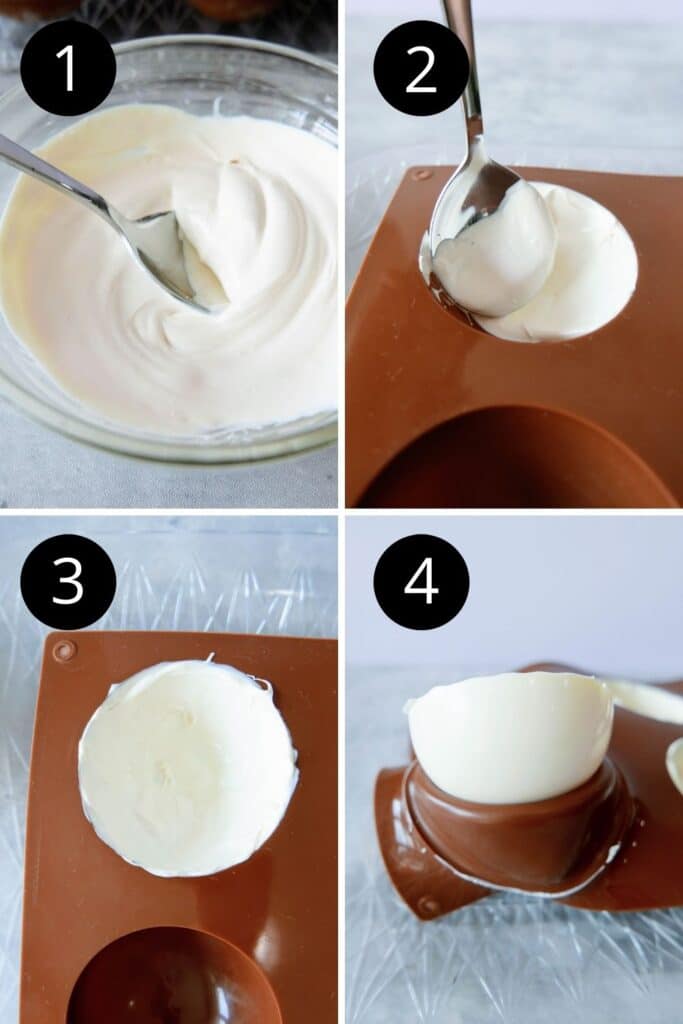 Step 1: Heat 1 cup of chocolate in the microwave or double boiler. Make sure to stir often to prevent the chocolate from burning.
Step 2: Spread around a tablespoon of chocolate into each sphere. Use a spoon or brush to shape the chocolate. Make sure the edges of the chocolate are thicker to prevent breaking.
You will want to move the chocolate to the sides as it sets up, as it will move to the bottom of the candy bowl.
Step 3: Let the chcoolate harden completely in the mold.
Step 4: Next, once the chocolate is set, remove the chocolate from the silicone molds. Be careful not to break the chocolate.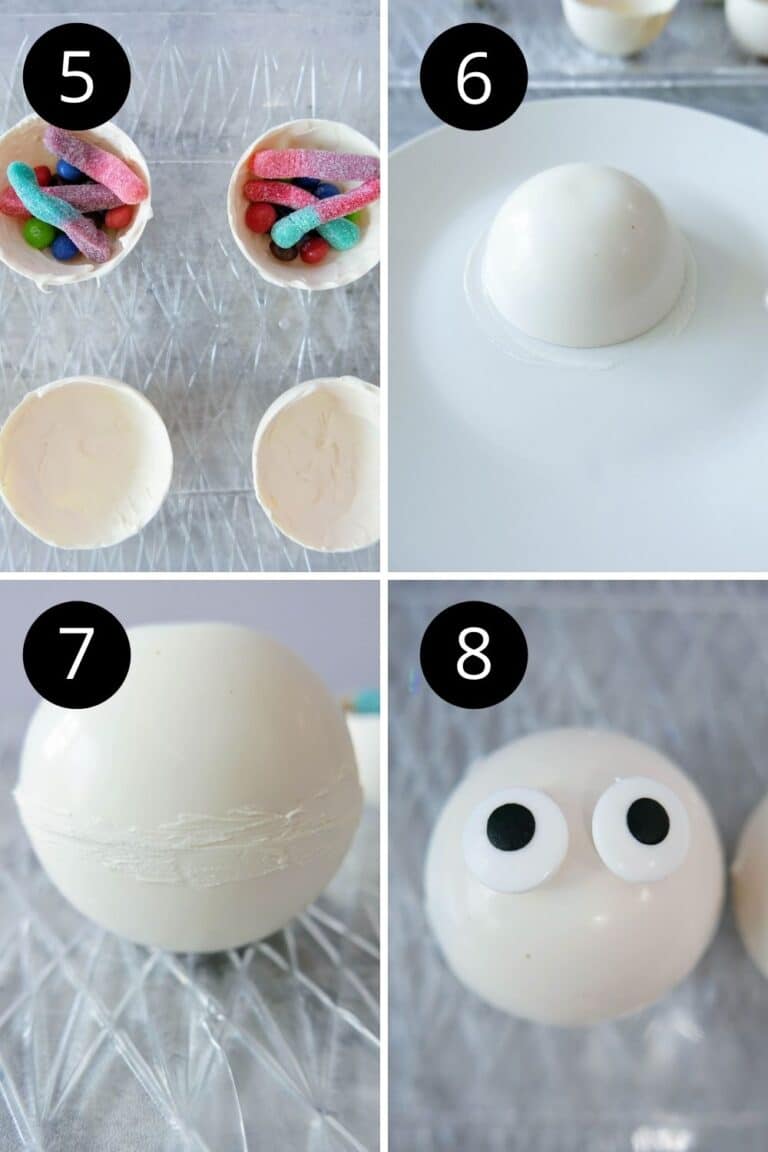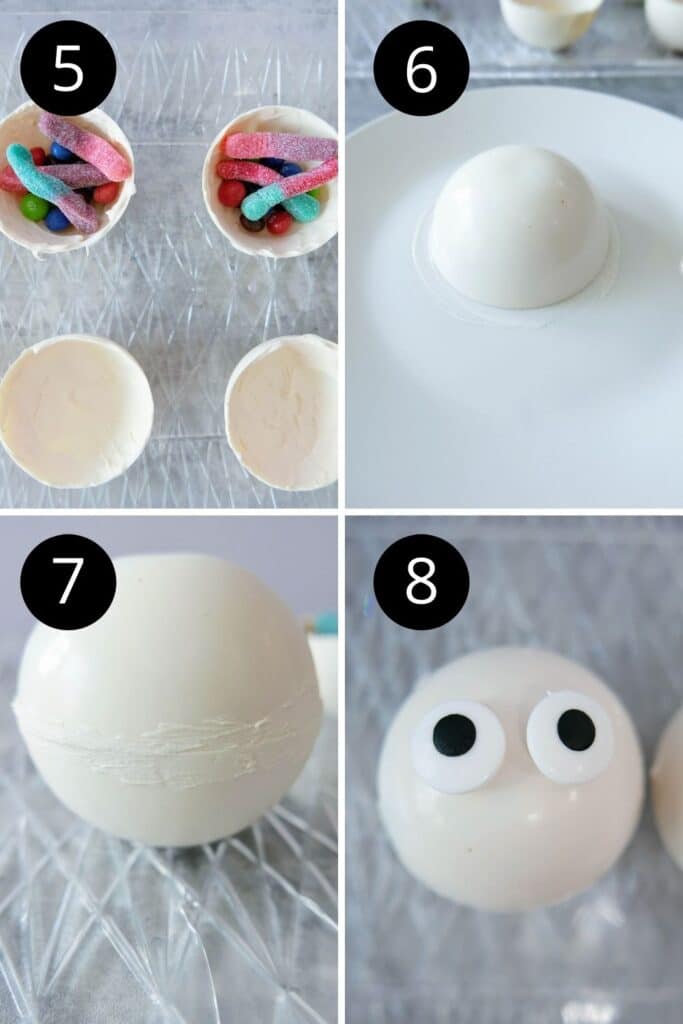 Step 5: Fill 1 side with candy, then heat up your plate. You only fill 1 side of each sphere, but don't make it too full.
Step 6: Place one empty side of the chocolate on the plate. Let it melt the chocolate just a bit.
Step 7: Then place the one side of chocolate to the other that is full of candy. Press down gently to let the chocolate act as the glue to stick the two pieces together.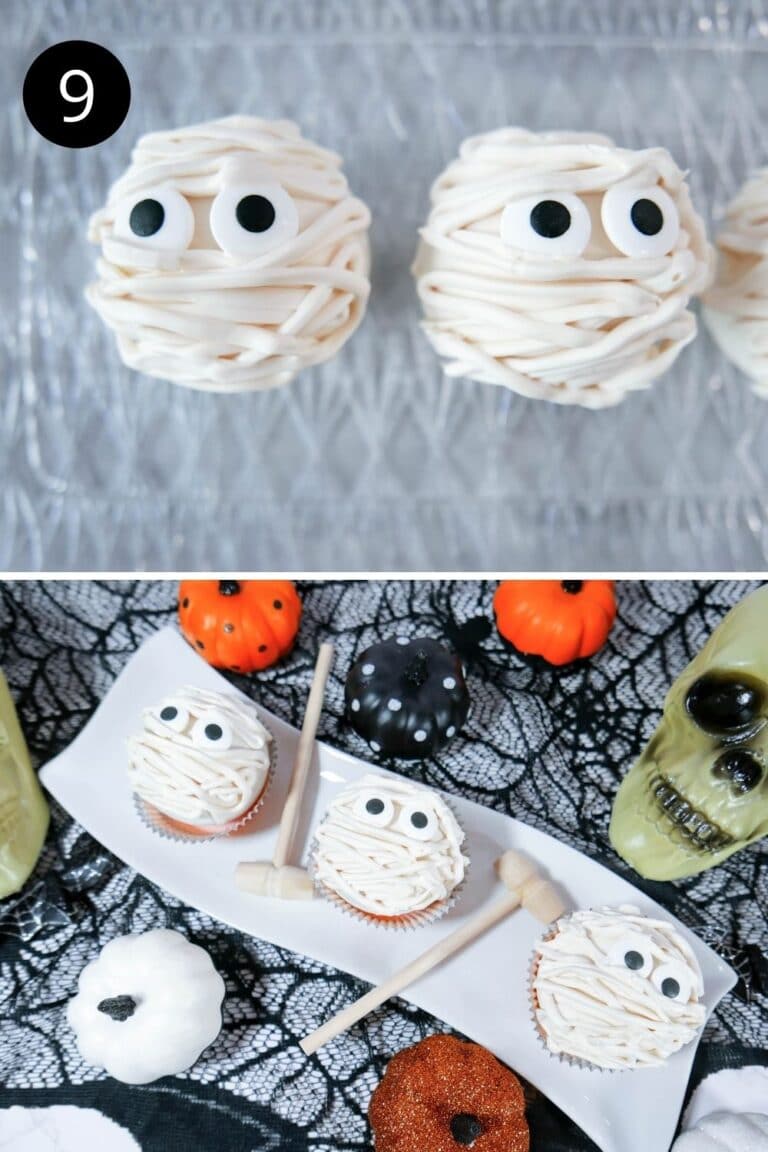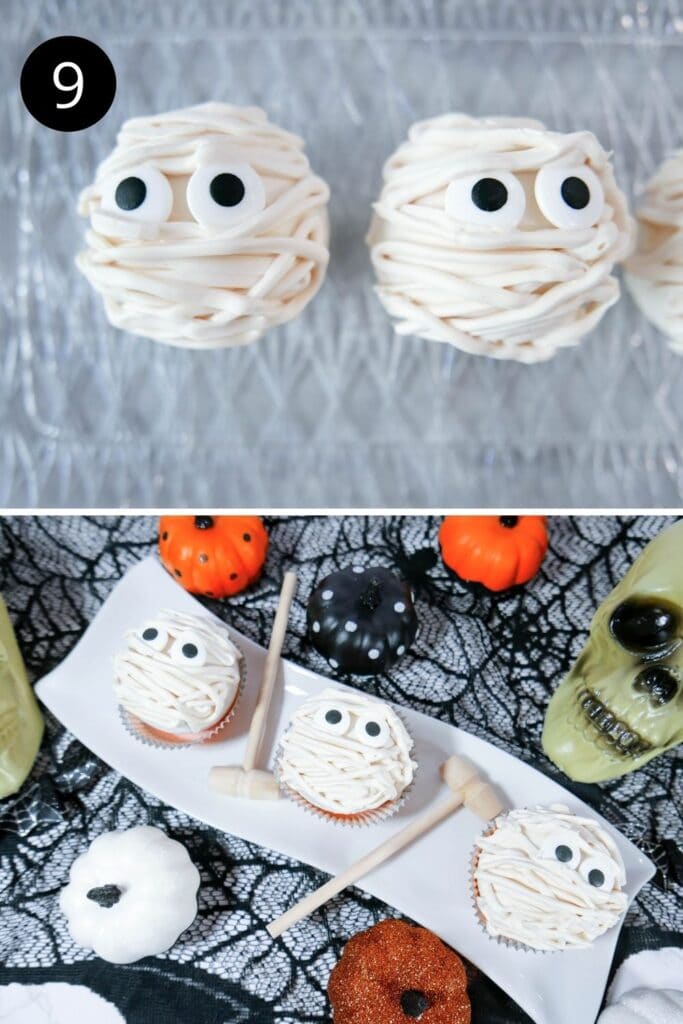 Step 8: Repeat until all the balls are formed. Add on a little white chocolate and stick the eyes on the balls.
Step 9: Drizzle with chocolate doing long strokes making sure the chocolate is spread over the circle.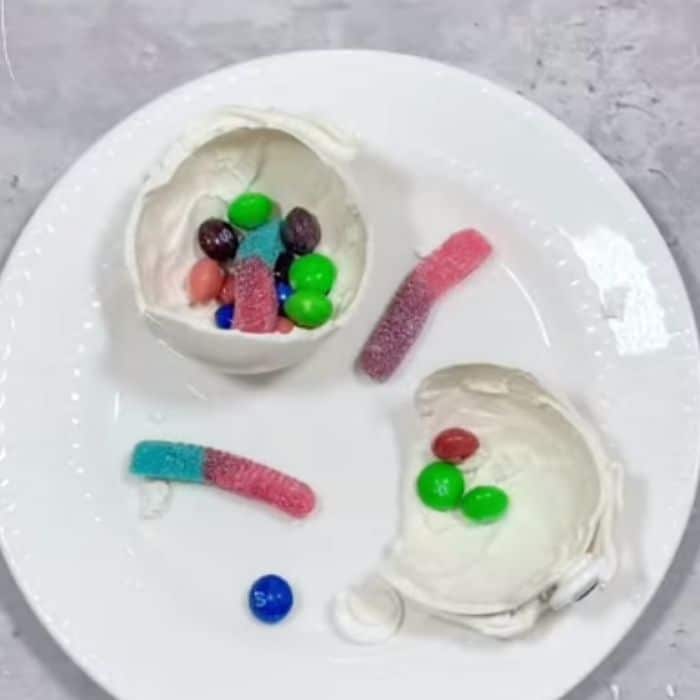 Expert Tips
If you don't use candy melts make sure to temper white chocolate. Otherwise your chocolate won't harden. Or add shortening to white chocolate chips to harden.
Using a silicone brush to help move the chocolate around the mold helps to evenly coat your sphere.
Allow the chocolate to fully harden before you go to remove from the mold.
You can also warm a pan up on the stove on low heat, instead of microwaving the plate.
Or pipe chocolate around the edge to piece the two spheres together instead of warming up a plate.
FAQs
Common questions about this mummy breakable chocolate!
How to make breakable chocolate?
The idea is to make hollow chocolate, and then you will use a wooden mallet to hit the chocolate. Depending on how thin or thick you make the chocolate will depend on hard you need to hit the chocolate.
Can you eat the breakable chocolate?
Use a clean wooden mallet and go right ahead and eat the breakable chocolate! All the items used for this chocolate and candies inside are fully edible.
Can I make this in advance?
Yes, you are more than welcome make chocolate mummy in advance. Just make and allow them to fully set up. Then place the breakable mummy chocolates, in an airtight container.
How to store breakable chocolate?
Any chocolate need to be stored in a cool place. Room temperature is fine, but if you find that your home is too hot, place the chocolate in the fridge in a proper container.
Related Desserts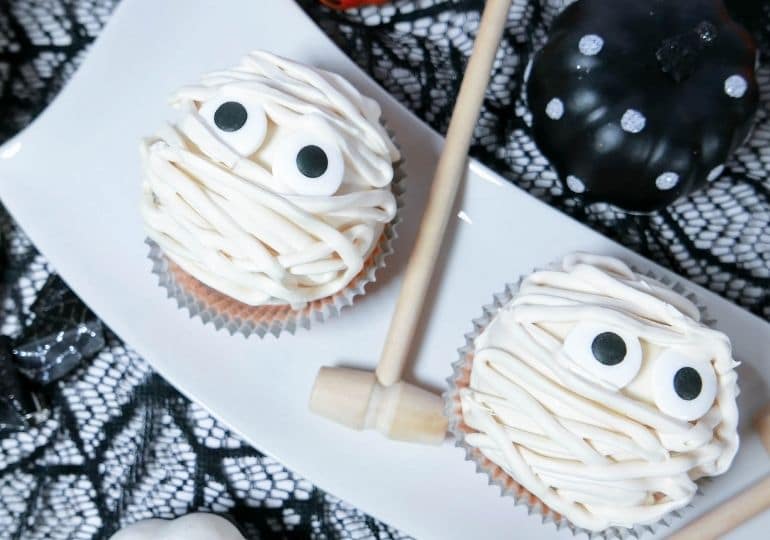 Halloween Breakable Chocolate Mummy's
Servings 3
Check out these Halloween Breakable Chocolate Mummy's! They are filled with candy so when you use a wooden mallet to break a sweet surprise comes up once broken! A fun no bake Halloween dessert!
Ingredients
Supplies
Piping Bag or Ziploc bag with tip off
Microwave safe plate
Cupcake liner optional
Instructions
Start by melting some of your chocolate in a bowl in the microwave. Heat 20 second intervals until the chocolate is melted.

Add around 1 tablespoon of chocolate into each sphere. With a spoon or brush work the chocolate all around the mold. Make sure to pull the chocolate up from the bottom to the sides. You want the sides to be thicker chocolate.

Let the chocolate set up, and harden completely.

Carefully remove all the spheres from the mold and place on a cooling rack or wax paper lined tray or counter.

Fill half the chocolates with candies.

Then warm up the plate in the microwave for 20-30 seconds. You want it to be warm to lightly melt the chocolate.

Place one of the spheres on the plate, and let it melt the edges just slightly. Move the sphere around a little, then pick up and place on the other half of the candy filled ball. The melted chocolate acts as the glue. Press together, until fully connected.

Add candy melts into bag or piping bag and melt, or melt first and pour in. Then pipe chocolate for eyes, and carefully place candy eyes.

Then long strokes going back and forth to make the mummy look.

Let the chocolate harden again.

Then grab the wooden mallet and have fun with this breakable chocolate mummy! This recipe made 3 mummy breakable chocolates.
Notes
Sides – You want the chocolate to be the thickest on the sides, so it holds together. I even used a clean paintbrush to bring up the chocolate as it was hardening from the bottom so the chocolate didn't pool at bottom of mold. White Chocolate Chips – If you don't want to use candy melts you have 2 options. Melt white chocolate chips with 1 tablespoon shortening, or correctly temper your chocolate. Otherwise, your chocolate won't hold up and set up how it needs. Colors- Use any colors of candy melts, and decorate your sphere breakable chocolate any way you want. Add on some candy eyes and make a monster design with green or purple chocolate. Have fun with it. Storage- Store in a cool dry place, so the chocolate won't melt.
Nutrition
Serving: 1gCalories: 709kcalCarbohydrates: 165gProtein: 1gFat: 5gSaturated Fat: 1gPolyunsaturated Fat: 3gCholesterol: 6mgSodium: 146mgFiber: 1gSugar: 108g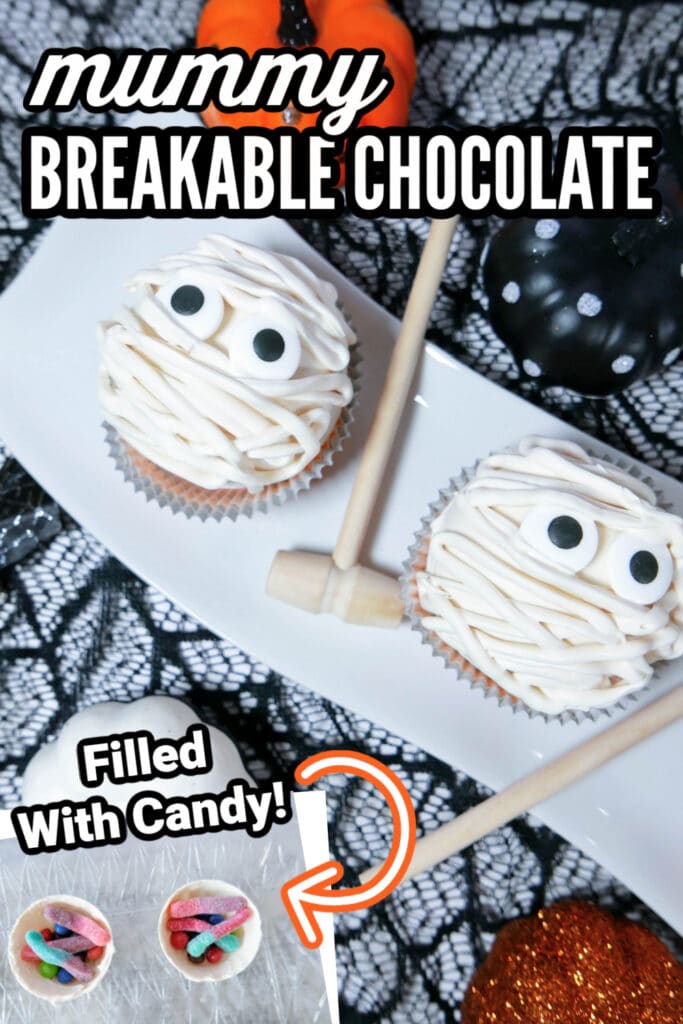 Let me know how you like this smashable chocolate! It is a fun Halloween no bake treat that kids and adjusts will enjoy.
Reader Interactions