Instant Pot Scalloped Potatoes and Ham is the ultimate comfort food. Thinly sliced potatoes, savory ham, smothered in a homemade cheese sauce. This scalloped potatoes recipe is a great dish for leftover holiday ham.
Want more easy ham dinner ideas using your Instant Pot? Check out my Instant Pot Mac and cheese with ham, broccoli rice casserole with ham, or cook ham in the Instant Pot.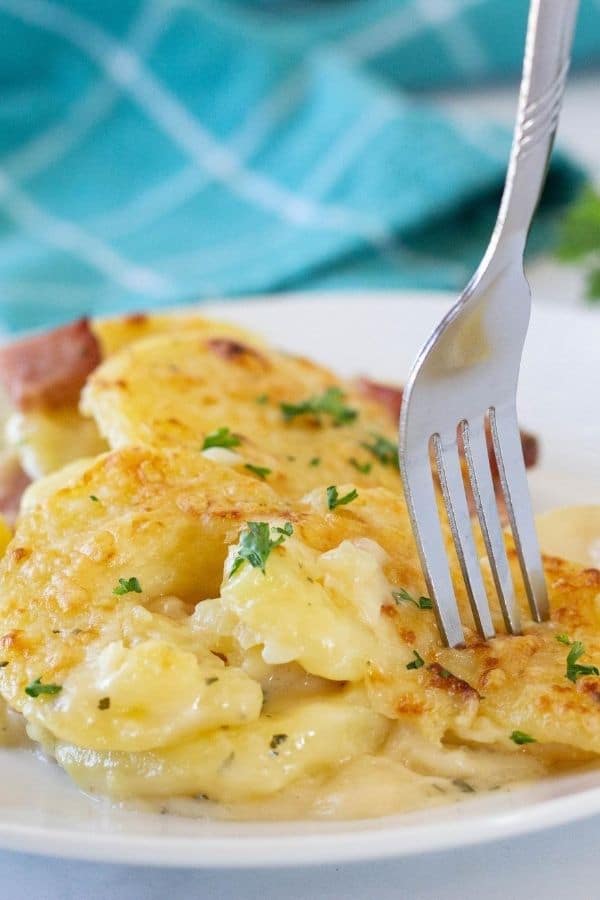 Instant Pot Scalloped Potatoes
This easy scalloped potatoes recipe can be made with or without ham. Whether you serve up these cheesy scalloped potatoes as a side dish or main dish, it will win over a crowd!
Try my Twice baked potatoes jalapeno popper recipe.
How to Make Instant Pot Scalloped Potatoes and Ham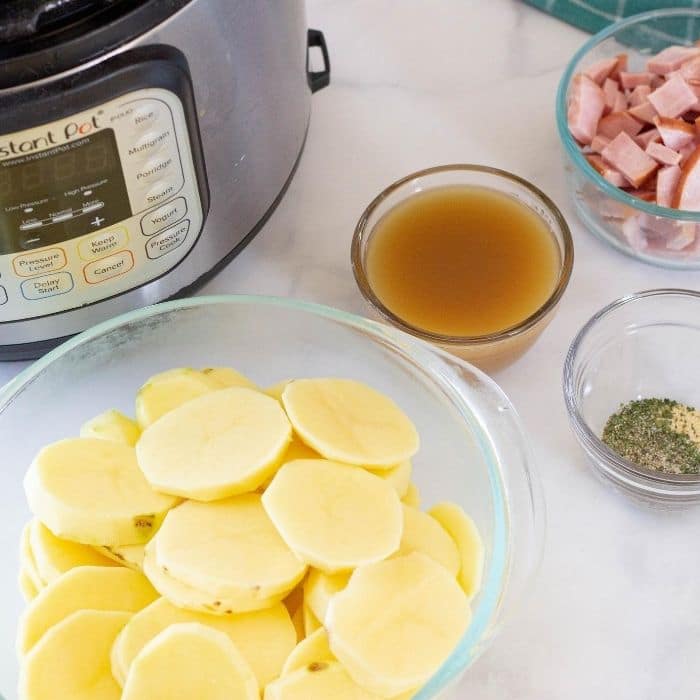 Step 1: Start by washing and peeling your potatoes. Then you will want to thinly slice your potatoes. I did around ¼ inch thick.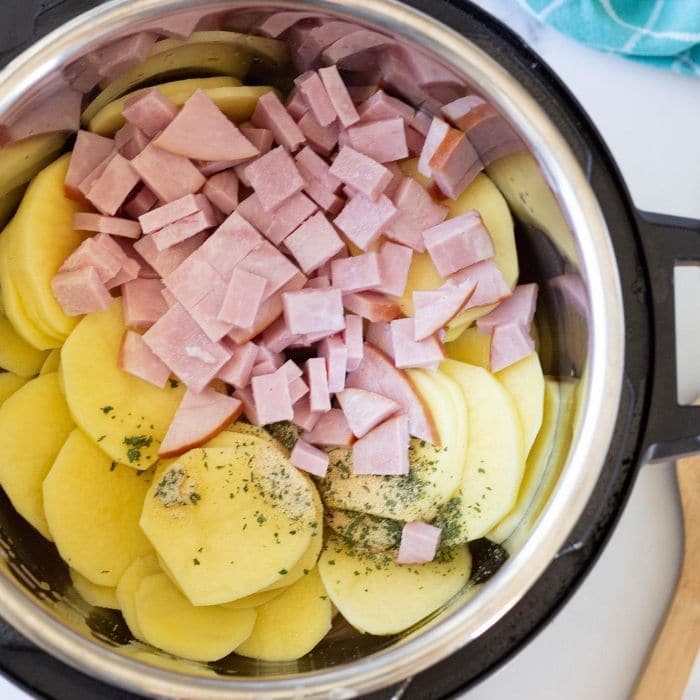 Step 2: Add your sliced potatoes, diced ham, chicken stock, and seasoning into the Instant Pot.
Place the lid on and make sure the valve is set to sealing. Pressure cook on high/manual pressure for 1 minute.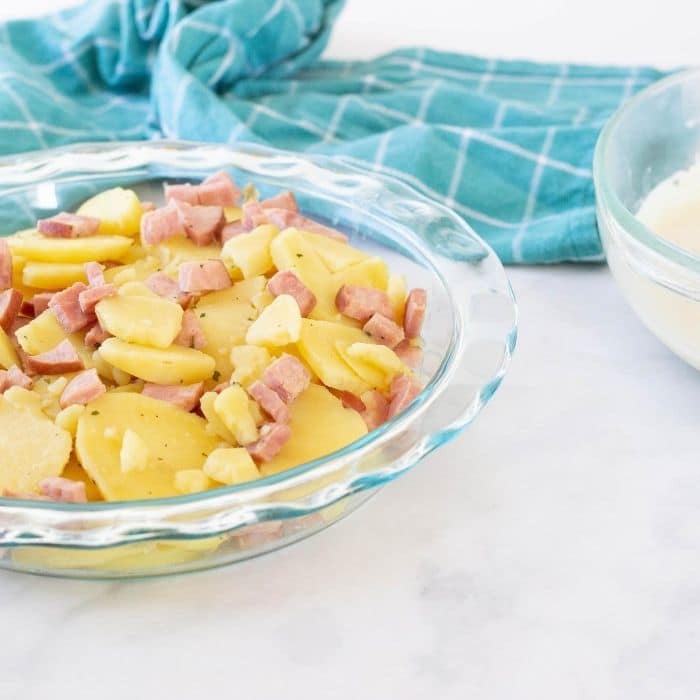 Step 3: Followed by a quick release of pressure when the timer goes off. Remove the potatoes and ham from the Instant Pot and place in a pie dish or baking pan.
Try to leave all the juice in the Instant Pot to make the creamy sauce for the au gratin potatoes.
Step 4: Once all potatoes and ham are removed from the pot, turn the saute feature on. Add in your heavy cream, Monterey jack cheese, and stir until the cheese is fully melted.
Step 5: In a bowl mix your cornstarch and cold water together and pour into the cheese mixture and continue to stir for a minute or two more. This will thicken the sauce.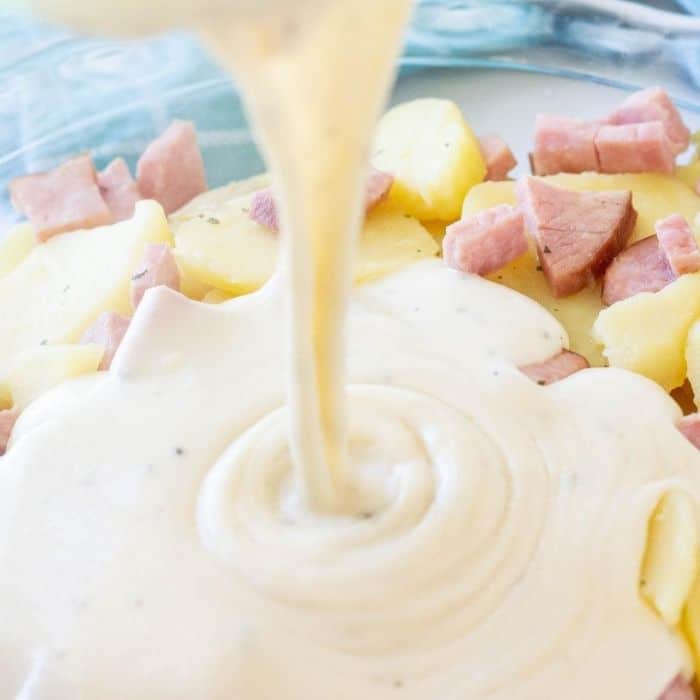 Step 6: Pour the cheese sauce over the casserole dish with potatoes and ham and stir. Toss into a preheated oven and broil on high for 4-5 minutes or until the top is golden brown.
Remove and serve up one satisfying and delicious comfort food. This pressure cooker scalloped potatoes recipe is quick and easy, and downright incredible.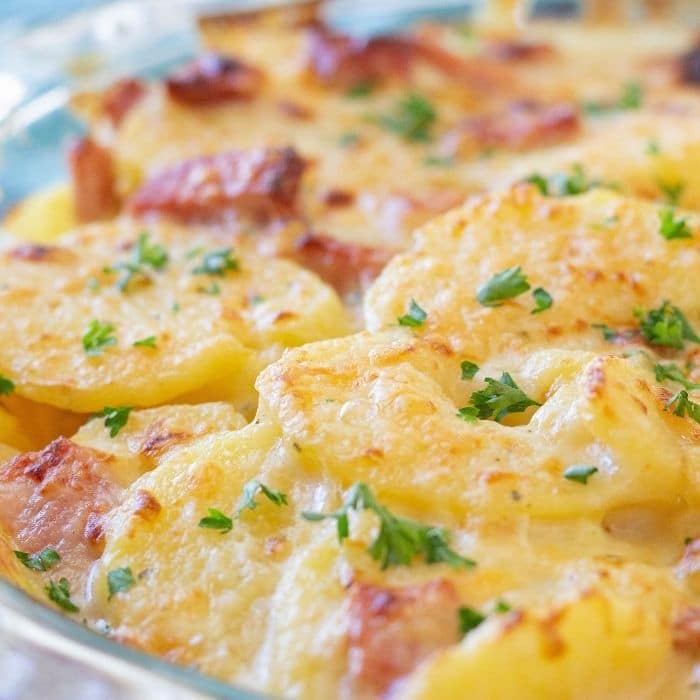 Can I Swap The Cheese Out
You can indeed swap out the Monterey Jack for another type of cheese. Sharp Cheddar, Gruyere Cheese, and even a mix of sharp and jack cheese would be good. Feel free to play around with the cheese and see what is best for you.
I do recommend shredding your own cheese off the block. Pre-packed cheese has extra starches to keep the cheese from sticking together. So that can make your cheese a bit gooey, whereas off the block cheese offers a creamier texture.
What Thickness Of Potatoes To Slice For Au Gratin
The key to making this Instant Pot potato recipe is evenly cut potatoes. Aim for 1/4 inch thick. I used a mandoline to get even slices. Also make sure to remove the peels off the potatoes.
It will give it a better texture when you go to eat it. Potato skins can make it a bit too chewy. If you like the texture of potato skins, you can leave them on. But I personally recommend removing it.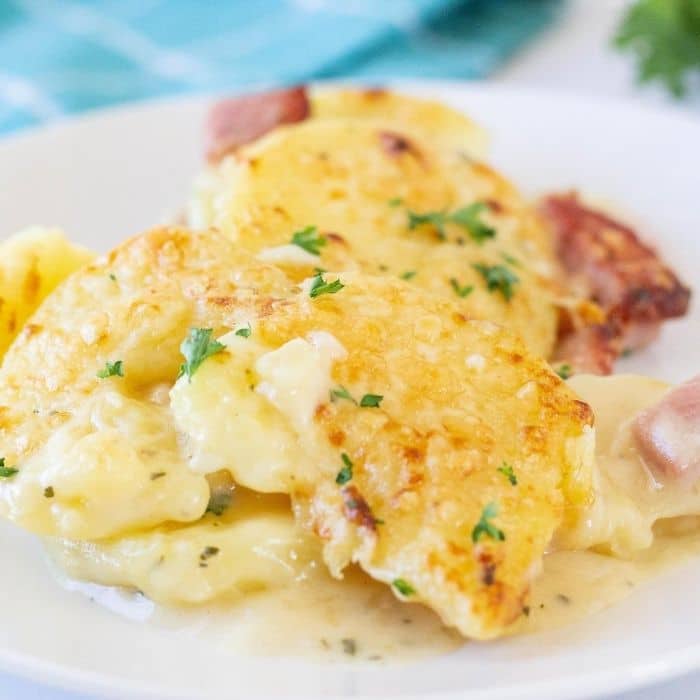 Can I Use Leftover Holiday Ham
Whether you use leftover holiday ham or buy some ham steaks to cut up, both work. Just make sure that your ham is fully cooked.
You are only cooking for 1 minute in the pressure cooker. There is no way that is time to cook ham. Dice your ham into even cubes. Or leave it out if you would like.
Searching For Popular Recipes
Storing Leftover Cheesy Scalloped Potatoes
Store your leftovers in an airtight container for up to three days. Anything after that you can use your best judgement.
These potatoes do not freeze well due to the cheese mixture and heavy cream. You will find it curdles and changes texture a bit.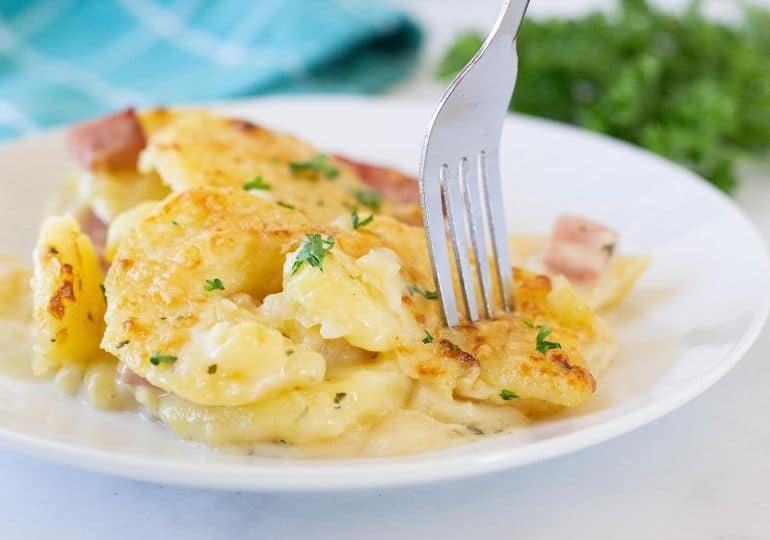 Instant Pot Scalloped Potatoes and Ham
Servings 4 -6 servings
Instant Pot Scalloped Potatoes and Ham is an incredible dinner or even a side dish for the holidays. A homemade cheesy sauce paired with tender potatoes and savory ham. Give this scalloped potato recipe a try today.
Ingredients
7-8 medium potatoes peeled and sliced 1/4 inch thick
1 1/4 cup chicken broth
1/4 cup heavy cream
1 – 1 1/2 cup diced ham
2 1/2 cups Monterey Jack Cheese shredded
1/2 teaspoon dried parsley
1/2 teaspoon garlic
1/4 teaspoon onion powder
1/2 teaspoon salt
Cornstarch Slurry
1 tablespoon cornstarch
1 tablespoon cold water
Instructions
Start by washing, peeling, and slicing your potatoes to 1/4 inch thick. I recommend using a mandoline.

Once potatoes are thinly sliced toss them into the Instant Pot. Add in your diced ham, parsley, garlic, onion, salt, chicken stock, and place lid on the Instant Pot.

Make sure the valve is set to sealing and do high pressure/manual for 1 minute. Once the timer goes off do a quick release.

Remove all your potatoes and ham and place them in your baking dish. Make sure to leave all the liquid in the Instant Pot. This will be the base of your creamy cheesy sauce.

Now you will turn your Instant Pot to saute and add in your heavy cream and shredded Monterey jack cheese. You need to stir constantly so it doesn't burn.

Once the cheese is fully mixed and melted, go ahead and mix up your cornstarch and tablespoon of cold water. Then pour that in and again continuously stir. This will thicken the sauce.

When the sauce is thick, pour over the potatoes and ham. Then gently stir the mixture to cover the potatoes and ham.

Top with 1/2 cup Monterey jack cheese and then place your mixture in a preheated oven and broil on high. Cook anywhere 3-5 minutes until it becomes golden brown on the top.

Remove from the oven, top with fresh parsley, and serve.
Nutrition
Serving: 1gCalories: 479kcalCarbohydrates: 51gProtein: 25gFat: 20gSaturated Fat: 12gPolyunsaturated Fat: 7gCholesterol: 76mgSodium: 1005mgFiber: 5gSugar: 4g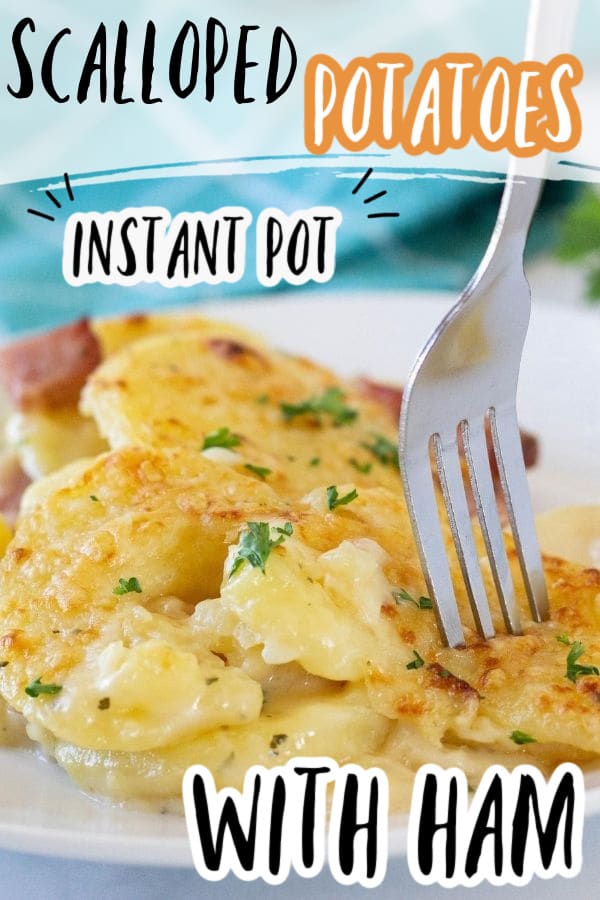 Have you ever made Instant Pot Scalloped Potatoes and Ham?
Reader Interactions