Twice baked potatoes are a loaded mashed potato that is stuffed in the potato skin, and baked. I loaded this twice baked potatoes recipe is loaded with bacon crumbles, cheese, jalapenos, ranch and more. Learn how to make twice baked potatoes for a tasty side dish.
This potato side dish is so easy. You can essentially make your potato filling with anything you want. A simple cheese and a few seasonings or load it up with bacon, green onions, etc.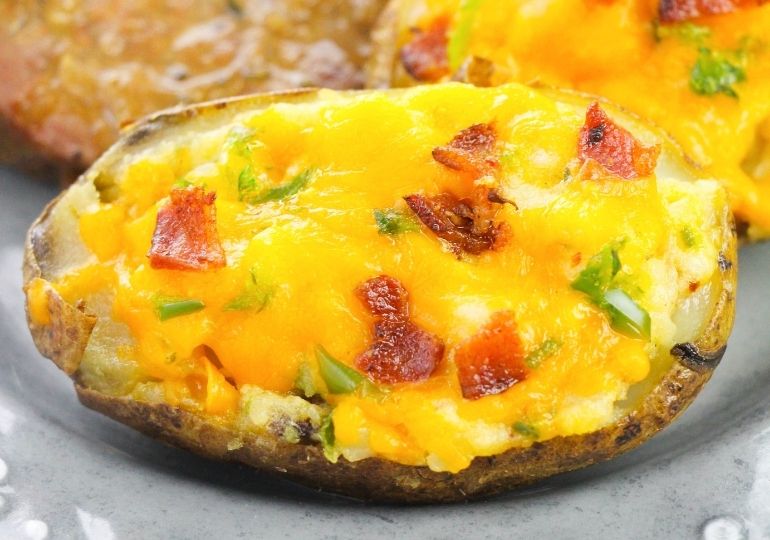 I am a huge potato lover. If you are too, you will love this simple side dish recipe. Or serve these up as a party food if you want.
Why Make These Potatoes
Use any filling you want in the potato mixture
Simple to make
Cheesy
Make Ahead Option
Freezer Friendly
Ingredients
Baked Potatoes – Russet potatoes are my go-to for making these potatoes. The skins cook up while holding shape so are great for filling with the mashed potato filling.
Oil – Canola, vegetable are either of my go-to oils. You could use olive oil if you want. You just run the risk of it smoking as it cooks.
Butter – Salted or unsalted butter work for this recipe.
Sour Cream – Sour cream is what I used, you could swap with a plain Greek yogurt.
Milk – Reach for any milk you prefer. Whole, 2%, etc.
Dry Ranch – Use dry ranch seasoning to add a nice zesty flavor.
Cheese – I reach for cheddar cheese for this recipe, but you could swap with pepper jack, Monterey, etc.
Salt and Pepper
Jalapeno Peppers – Dice up and mix in if you want a jalapeno popper twice baked potato.
Bacon – Cook your bacon and chop up into crumbled. It is good to have a crunchy bacon.
How to Make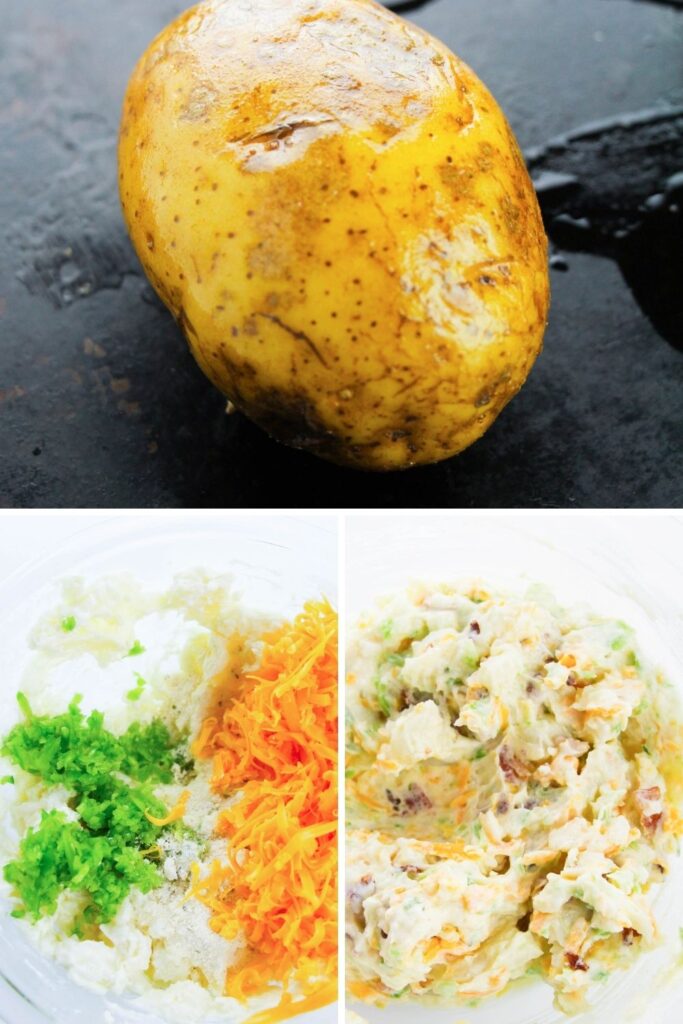 Step 1: Wash your potatoes really good, and preheat the oven. Place oil all over the potato, and bake as directed in the recipe card below.
Step 2: When the potatoes are done and fully cooled to handle, you will slice potatoes in half and scoop out the filling and place in a bowl. Leave 1/4-1/2″ of potato left around the skin to help hold its shape.
Step 3: Mix up the potato mixture with the butter, dry ranch, jalapenos, cheese, etc. Mix until nice and creamy.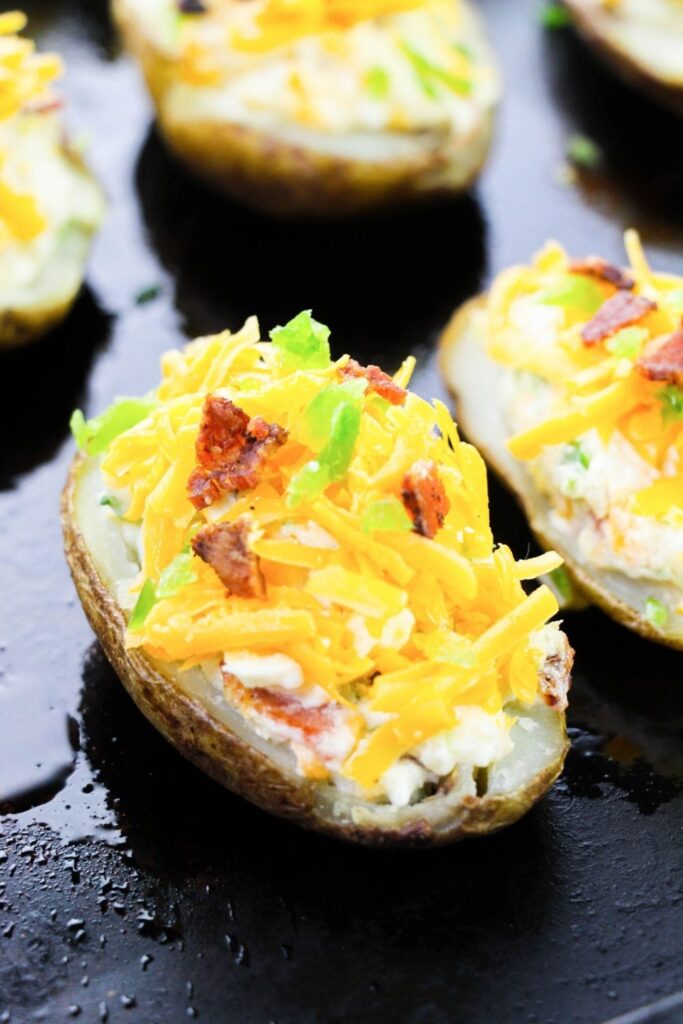 Step 4: Place your mashed potatoes in the potato skin then top with shredded cheese, bacon, and jalapenos.
Step 5: Bake in the oven, and then once cheese is melted serve with your favorite main dishes!
Storage
Refrigerate – You will want to refrigerate any of the potatoes you don't eat right away. They will store for 3-4 days in the fridge.
The best way to reheat is to heat up in the oven until warmed through. Or you can microwave, but it will soften the skins.
Freeze Pre-Cooked – You can also freeze these before you do your final cook. Assemble as is, and place in an airtight container in a single layer. If you stack place wax paper between layers to prevent sticking. Freeze up to 3 months.
Bake the same way, just add a bit of extra time to allow the potatoes to cook all the way through.
Freeze Cooked – You can also freeze your potatoes once they are fully cooked. Follow the same steps as freezing pre-cooked. Then to thaw place in the fridge overnight. Or reheat straight from frozen.
Expert Tips
Air fry or bake your potatoes. You get to choose which method you prefer cooking your potatoes.
Allow the potatoes to cool so that when you scoop out the soft potato filling it will help to ensure you don't burn yourself.
Leave 1/4-1/2″ of potato around the skin to ensure the potatoes hold shape for placing the mashed potato filling back inside.
You can bake till the cheese is fully melted, or cook longer for a golden cheesy color.
Variations To Recipe
Cheese – I used a cheddar cheese for this recipe. You are welcome to use pepper jack, Monterey jack, Colby Jack, etc.
Green Onions – I used jalapenos but you could swap out with green onions for a fun twist of flavor.
Meatless – Leave out the bacon for a meatless side dish option.
Spices – I used salt and pepper to season as well as the other ingredients. Now, you could do a very mellow flavor or ramp it up with some Cajun seasoning or other spices you enjoy.
FAQs
Here are some common questions for making this twice baked potatoes in oven recipe.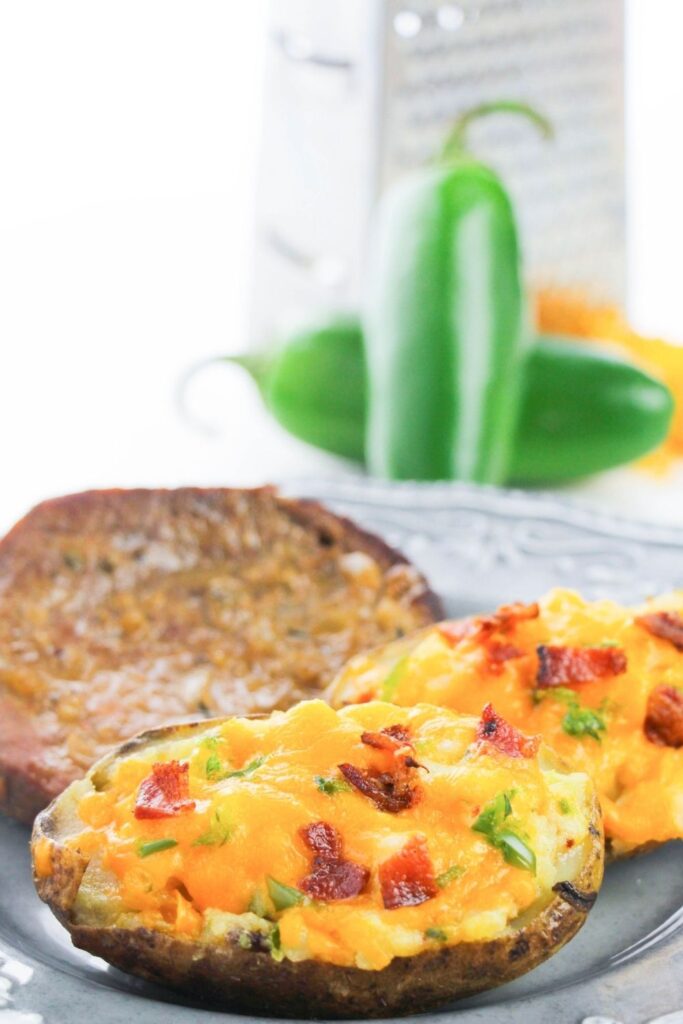 Related Recipes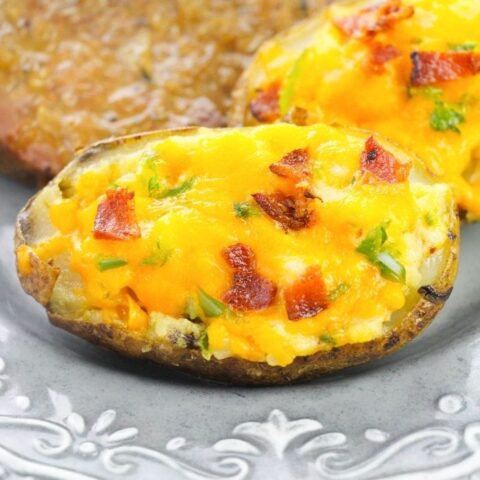 Twice Baked Potatoes
Cook Time:
1 hour
15 minutes
Total Time:
1 hour
25 minutes
Twice baked potato are one of my favorite easy side dishes. A baked potato that then gets filled with a mashed potato filling and baked again in the oven. This is loaded with jalapeno, cheddar cheese, bacon and ranch flavor.
Ingredients
4-6 potatoes
Cooking oil, as needed
1 Tablespoon Dry Ranch Seasoning
1/4 cup butter, salted
1/2 cup sour cream or plain Greek yogurt
1/4 cup milk
Salt and Pepper, to taste
2 Jalapenos, diced (deseeded)
2 cups Cheddar Cheese
1/2 cup Chopped, Cooked Bacon (approximately 4 slices)
Instructions
Preheat the oven to 400 degrees. Then line a baking sheet with aluminum foil.
Wash your potatoes really good, and then place on baking sheet. Then poke holes in the potato, and lather with oil.
Cook potatoes for 1 hour. Then if fork tender and done, remove and allow to cool a bit so you can handle them.
Once they are cool down, slice potatoes in half and scoop out the inside. Leave 1/4-1/2" of potato in the skin, to help ensure it holds its shape.
Place the potato mixture in a bowl and add in the butter, dry ranch, sour cream, milk, and salt and pepper. Mix up until them mashed potatoes are nice and creamy.
Now you will add in some of the shredded cheese and bacon, leave some for the topping, and most of the jalapenos toss in. Mix well.
Scoop the mashed potato mixture back into the potato skins and then plaice remaining cheese and bacon and jalapenos to top.
Bake at 350 degrees for 8-10 minutes or until the cheese is melted on the top.
Serve and enjoy these twice baked potatoes.
Notes
Potatoes - I tend to use Russet but any variety will work. You will find that you need a potato that can hold up as it is baked, or it can break apart.
Filling - Any style of filling works. You can do simple mashed potatoes with cheese, or pile in bacon, jalapenos, etc.
Jalapenos and Spice - De-seeding and removing the white membrane of the peppers is going to take out all the heat. You will mainly just have the flavor of the peppers. If you like spice leave in some seeds or all seeds depending on what you like.
Freezer Friendly - You can freeze these twice baked potatoes once you fill them. Just store in a freezer container for up to 3 months. Then to reheat, place temp to 350, and then just allow more time for the potatoes to thaw as they are heated. I generally cook for around 30 minutes or so.
Storing Leftovers - Store leftover potatoes in the fridge for 3-4 days. Or you can freeze the cooked potatoes as well. Then just reheat how you would like and enjoy.
Nutrition Information:
Yield:

12
Serving Size:

1
Amount Per Serving:
Calories:

256
Total Fat:

15g
Saturated Fat:

8g
Trans Fat:

0g
Unsaturated Fat:

6g
Cholesterol:

41mg
Sodium:

333mg
Carbohydrates:

21g
Fiber:

2g
Sugar:

2g
Protein:

10g
This information is automatically calculated by third-party software, including but not limited to the Create or Bake Me Some Sugar. For accurate nutrition, I suggest running the ingredients in your own system to get a more accurate reading. Nutritional information is approximate and automatically calculated, and should only be viewed as an indication.