Want to learn how to make hasselback potatoes in the air fryer? This is a simple and easy air fryer hasselback potato recipe. Thinly sliced potatoes that are air fried to crispy perfection.
This air fryer potato recipe is an easy but impressive side dish to pair with dinner. Whether you pair with rotisserie chicken, ground beef recipe, bbq pulled pork, or any other main dish.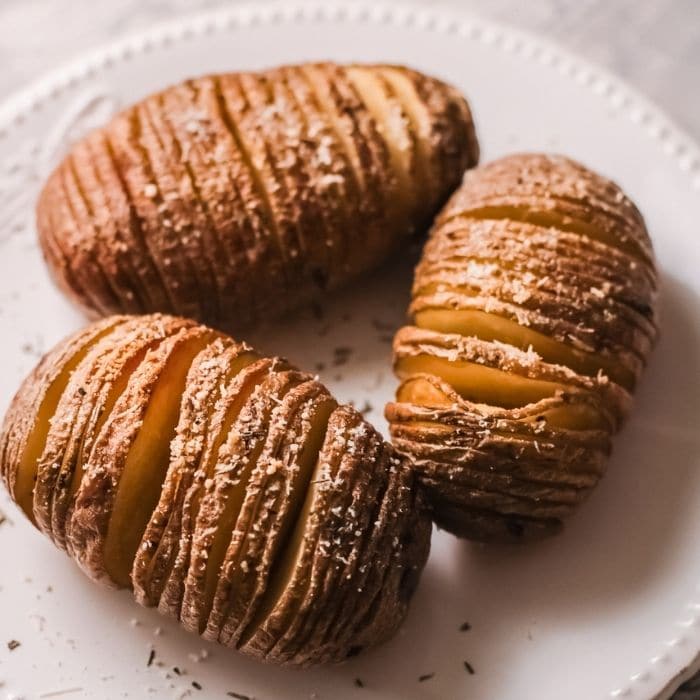 Dress up a classic baked potato in a whole new way. This is a thin sliced baked potatoes recipe, you can top with salt and pepper, sour cream, shredded cheese, etc.
Another fun potato recipe is my twice baked potato recipe!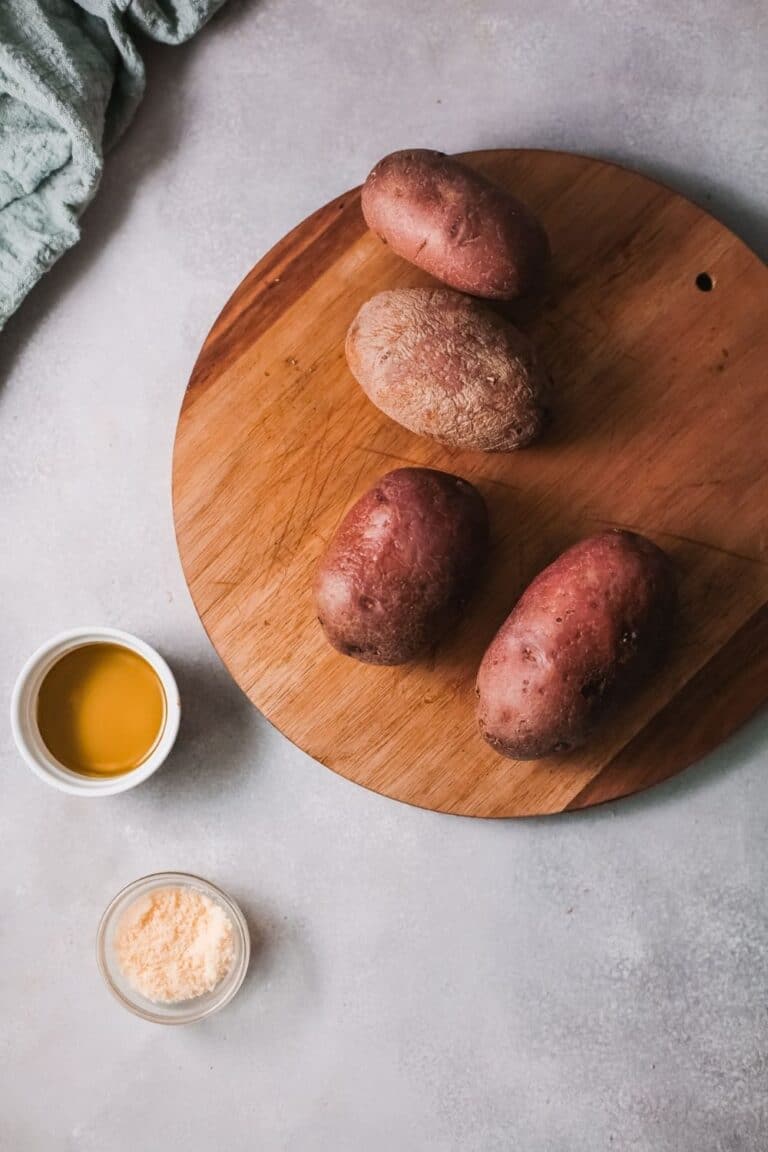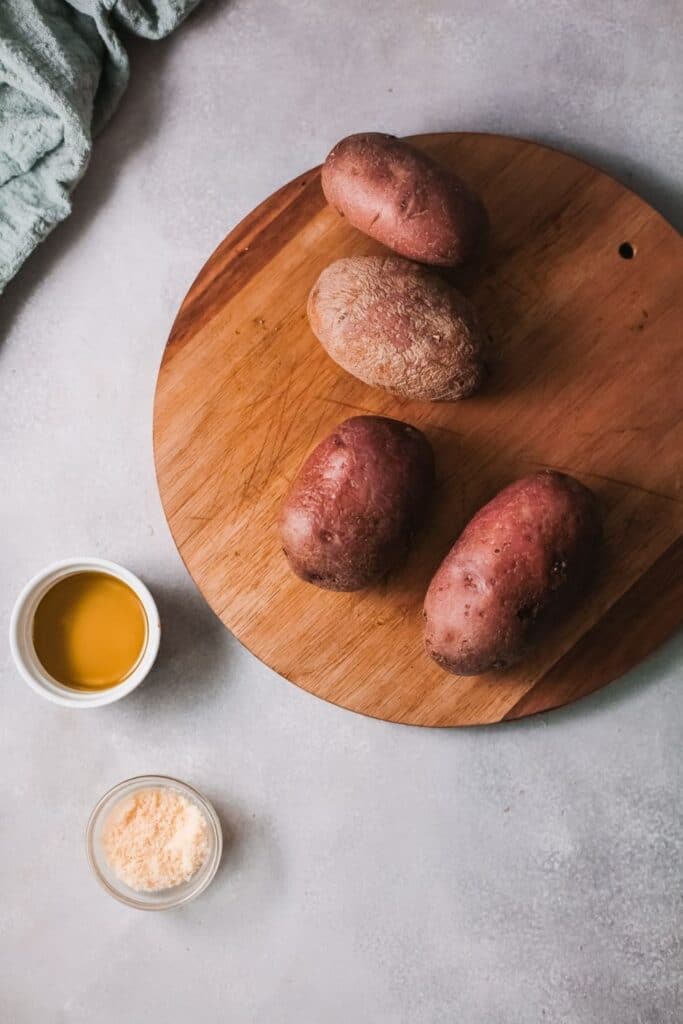 🥔 Ingredients
Large Potatoes
Oil
Salt & Pepper
Parmesan Cheese
🧀 How To Make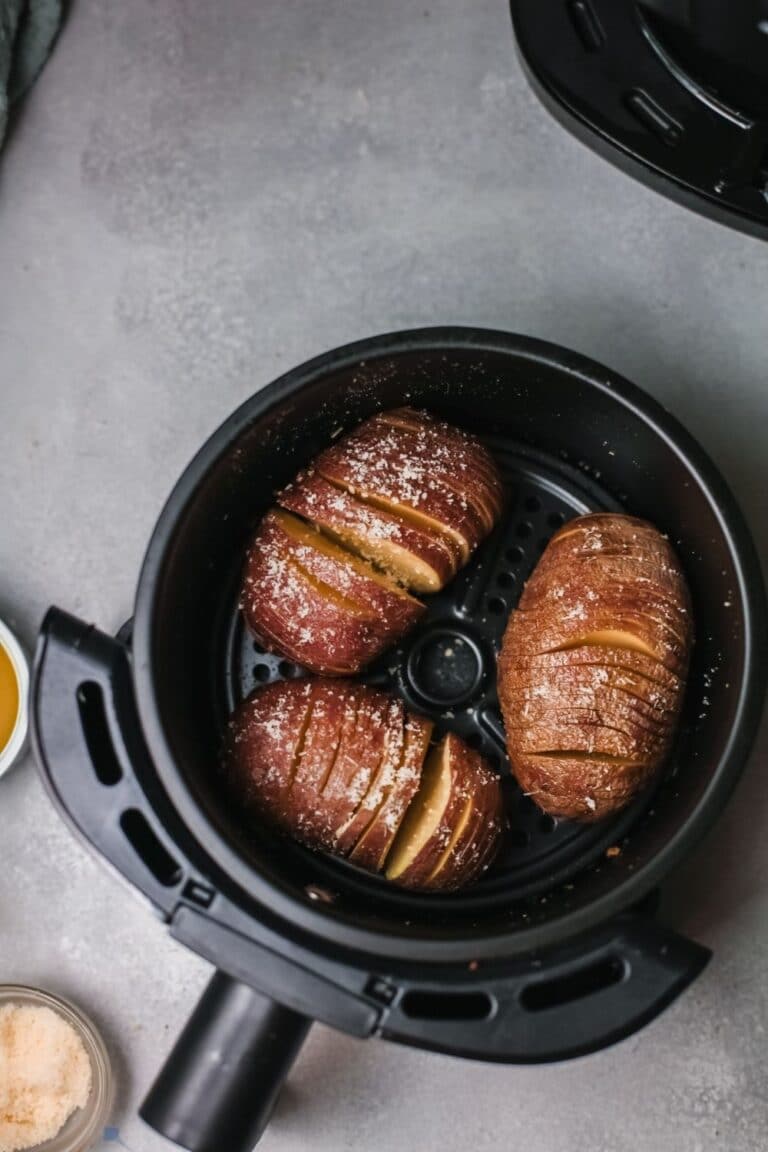 Step 1: First, start by rinsing and cleaning your potatoes. I love using a potato scrubber to help remove any dirt and debris.
Step 2: Next, preheat your air fryer to 350 degrees. Then while the air fryer is heating up, you will work on slicing your potatoes.
Step 3: To slice the potatoes the Hasselback style, you will do thin slices, not cutting through the entire potato. I leave the bottom of the potato uncut.
Step 4: Brush the thin sliced baked potatoes with oil, and salt and pepper. You will want to brush or spritz air fryer with cooking oil. Air fry for 20 minutes.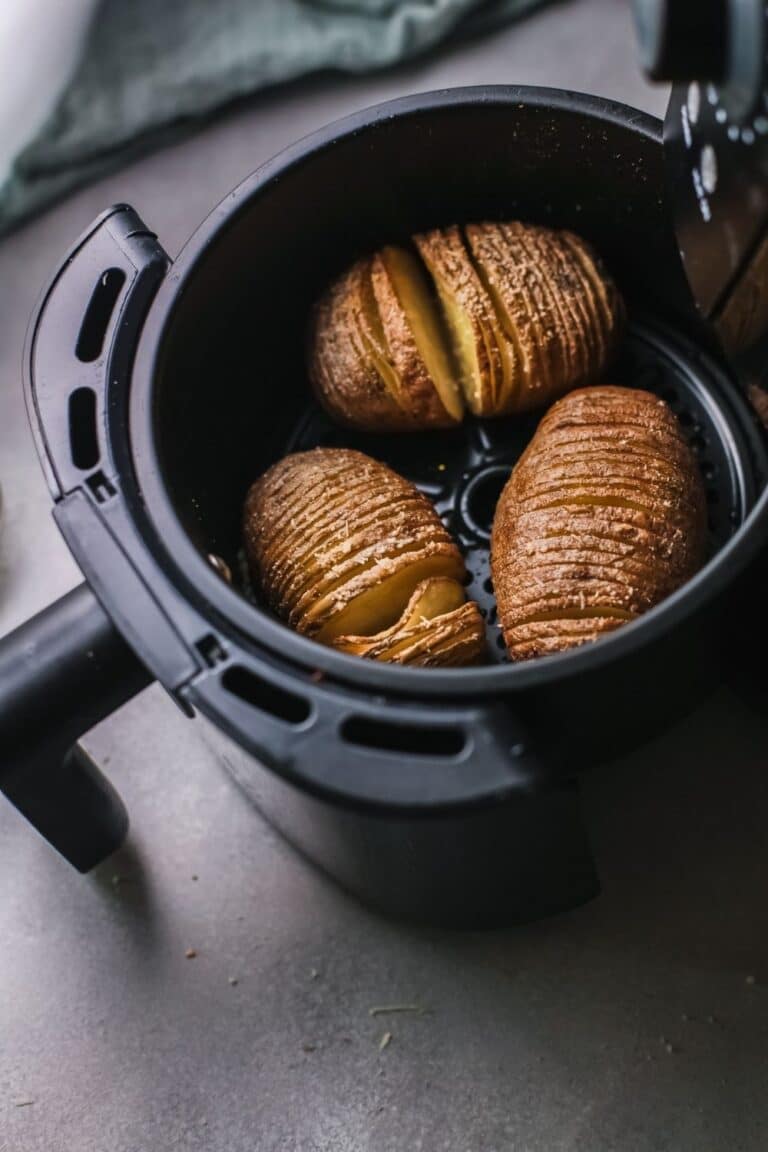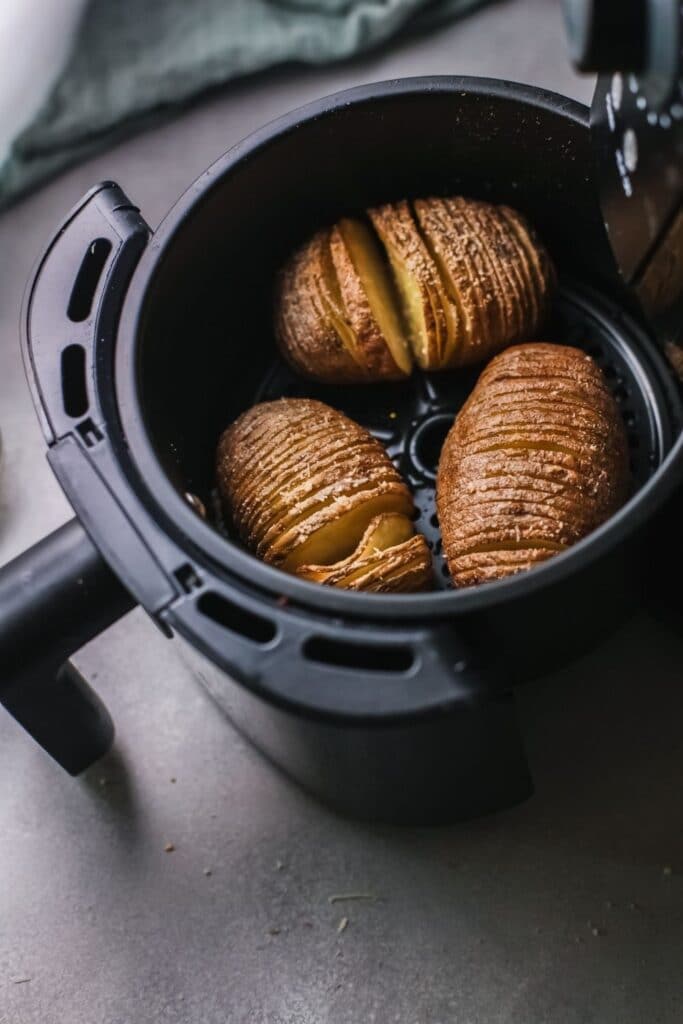 Step 5: At the 20-minute mark, open up and check on the air fryer potatoes. If they are looking close to being done, brush with oil again, and sprinkle grated parmesan.
Step 6: Lastly, you will bake another 5-10 minutes or until potatoes are done.
Storage
If you don't eat all your potatoes right away, they will store in an airtight container in the refrigerator for up to five days.
You can reheat in the microwave, or opt for oven or air fryer to help crisp up the skins of the potato again. Heat until the potato is warmed through.
📌 Expert Tips
Here are some tips for this fancy potatoes recipe! These tips will help you to have the best success making crispy potatoes that are thinly sliced for a hasselback baked potato.
Make sure you get oil in the creases of the potato slices, to ensure you get a crispy potato, as it can dry out as it air fries.
You can buy a Hasselback cutter on Amazon to help!
Depending on the size of the potatoes the cooking time will vary.
For extra crispy potatoes cook the fried potatoes a bit longer in the air fryer.
Olive oil, vegetable, or canola will work. Don't use cooking spray in the air fryer, as it can eat the enamel away.
Brushing the potatoes with oil is important, to ensure the oil mixture coats every area of the potato.
You do not peel the potatoes for this recipe.
🧀 Recipe FAQs
Craving More Potato Recipes
Have you tried the recipe? If so, please leave a star ⭐️⭐️⭐️⭐️⭐️ rating in the recipe card below or drop a comment. Also stay in touch with me through social media by following me on Facebook, Pinterest, or My Facebook Group!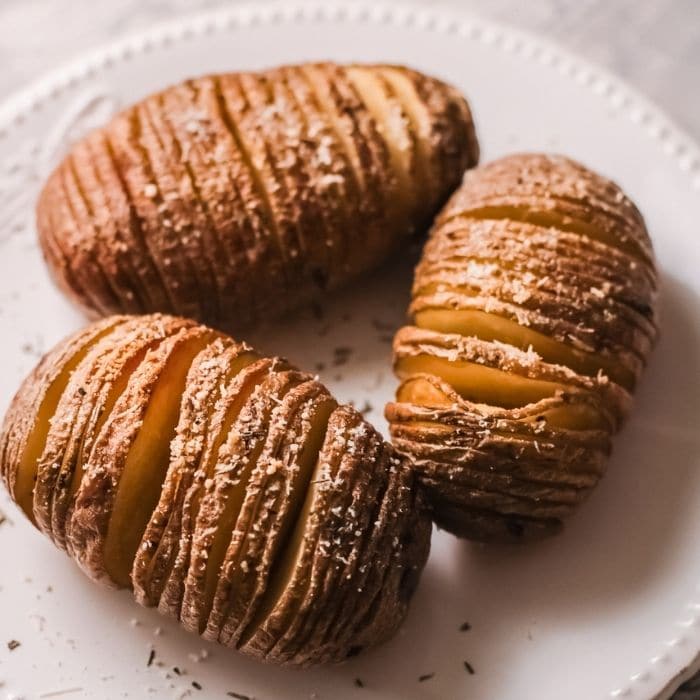 Crispy Hasselback Potatoes in Air Fryer Recipe
Servings 4 potatoes
Learn how to make hasselback potatoes in the air fryer. Crispy thinly sliced air fryer potatoes. You can also use your Ninja Foodi and Instant Pot Duo Crisp to make these potatoes. Or opt to bake these Hasselback potatoes in the oven.
Ingredients
Hasselback Potato Ingredients
3-4 large potatoes washed, scrubbed, and patted dry
1 1/2 tablespoons oil
2 tablespoons grated parmesan cheese
Salt and Pepper
Seasonings optional
Instructions
Start by preheating your oven to 350 degrees F. Then work on washing and scrubbing your potatoes. Once clean pat dry.

Now, you will want to slice your potatoes thin all the way across not cutting the bottom part of the potato. You want the bottom of the potato to stay intact so it holds together.

Now take your oil and brush the potato all over, making sure to get in the creases you cut. Season with salt and pepper.

Place your potatoes in the air fryer, and cook for 20-25 minutes.

Remove potatoes and re-brush with oil, and then top with grated parmesan cheese if you want. Place back in the air fryer and cook another 5-10 minutes or until your potatoes are fully cooked.

Then serve up your Hasselback potatoes plain or add a dollop of sour cream, green onions, etc.
Notes
This recipe works in the Ninja Foodi and Instant Pot Duo Crisp. Just use the air fryer lid. Cook Time: Depending on the size of the potato the cook time will vary. To bake in the oven do 425 degrees for 30 minutes, re-coat in oil, and cook another 30-40 minutes. Feel free to season your potatoes with spices or herbs if you want. You do not need the cutting tool to slice potatoes, but it does speed things up quite a bit.
Nutrition
Serving: 1potatoCalories: 377kcalCarbohydrates: 73gProtein: 9gFat: 6gSaturated Fat: 1gPolyunsaturated Fat: 5gCholesterol: 2mgSodium: 159mgFiber: 8gSugar: 4g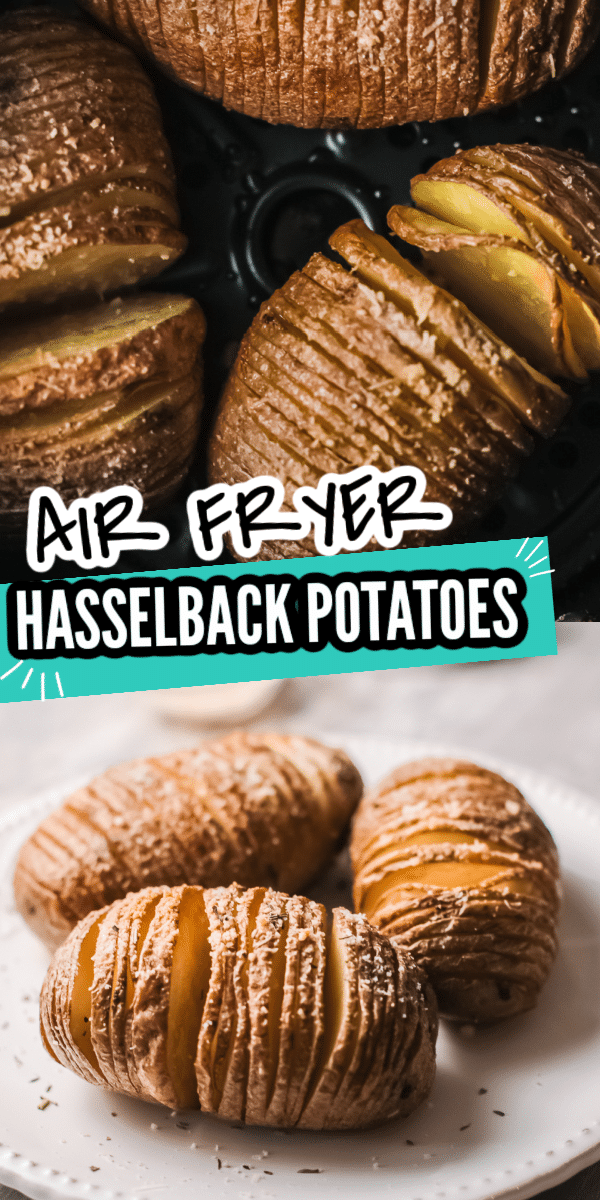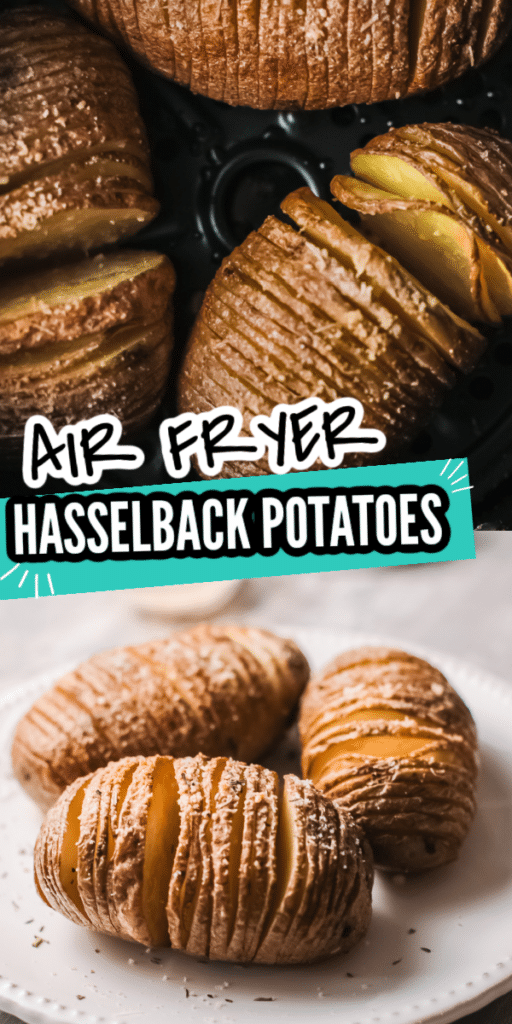 Reader Interactions