Crockpot Au Gratin Potatoes are a simple side dish that is loaded with a cheesy sauce. This is a great weeknight side dish or holiday side dish recipe. A delicious au gratin potato recipe to try soon.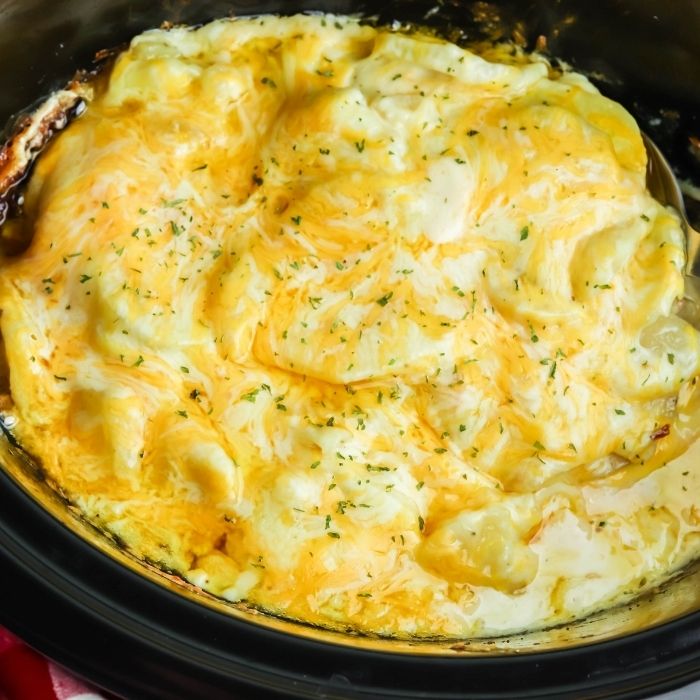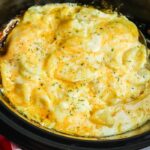 This crockpot au gratin potatoes recipe is crazy simple to make and will be a delicious and cheesy side dish for any night of the week. Or if you are planning to take a dish for a potluck even, these crock pot cheesy potatoes will be a success.
Au gratin potatoes in the crock pot allow for a nice hands off cooking. That way your oven is free to cook up some roasted chicken or even pot roast. Whatever you pair with these au gratin potatoes, will be delicious.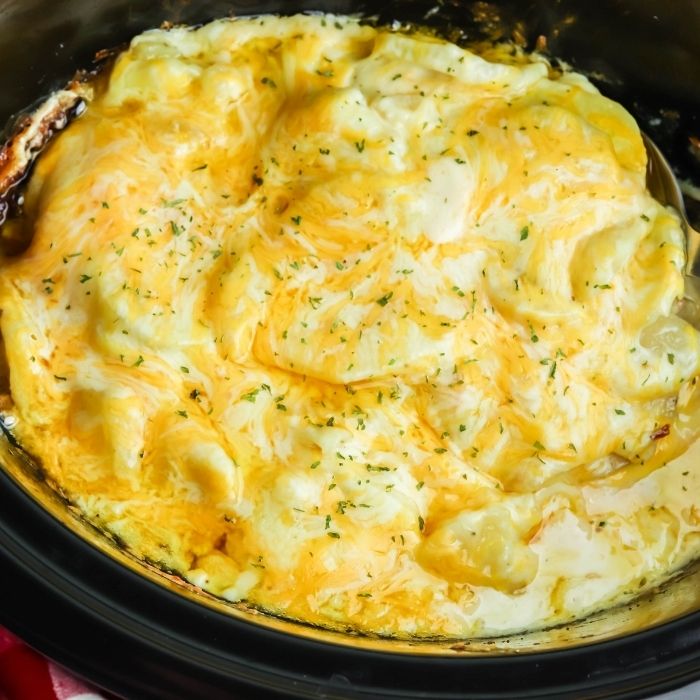 This potato side dish recipe is one we eat often. It is great for a weeknight side dish or even for holidays. We have made these for Easter, Thanksgiving, and even Christmas! So don't wait and try this slow cooker potatoes au gratin recipe today.
This Crockpot Au Gratin Recipe Is…
Made with real potatoes
Cheesy
Easy slow cooker recipe
Great crockpot side dish
Simple ingredients
Ingredients Needed
Potatoes – I used russet potatoes but you are welcome to swap with Yukon Golds, red potatoes, etc. You want a potato that won't break down too much as it cooks. Make sure to peel the potatoes for this crock pot au gratin potatoes, or it will give you a chewy texture.
Sour Cream and Milk– This adds a rich flavor to the potatoes.
Butter – I recommend real butter not margarine. Margarine is made with oil and can cause your potatoes to break down and become extra greasy.
Flour – The flour is needed to act as a thickening agent for the sauce for the au gratin potatoes.
Cheese – I used a shredded cheddar jack cheese, but any variety of cheese works.
Seasonings – Salt, pepper, garlic powder, and paprika are the spices I used for this recipe.
Tools For This Recipe
Inexpensive Mandoline – I use a mandoline for getting nice even slices of the potatoes. You can use a knife but I find the vegetable slicer to speed up the process and I can fully control the thickness.
Crockpot – Any brand or style of crockpot works.
Crockpot Liner – If you want an easy cleanup consider getting crockpot liners. These you place in the pot and then add ingredients. So you simply scoop out leftovers, and then throw away the liner and no mess is made in your crockpot.
How to Make
Full directions for how to make these crockpot au gratin potatoes are in the printable recipe card at the bottom of the post.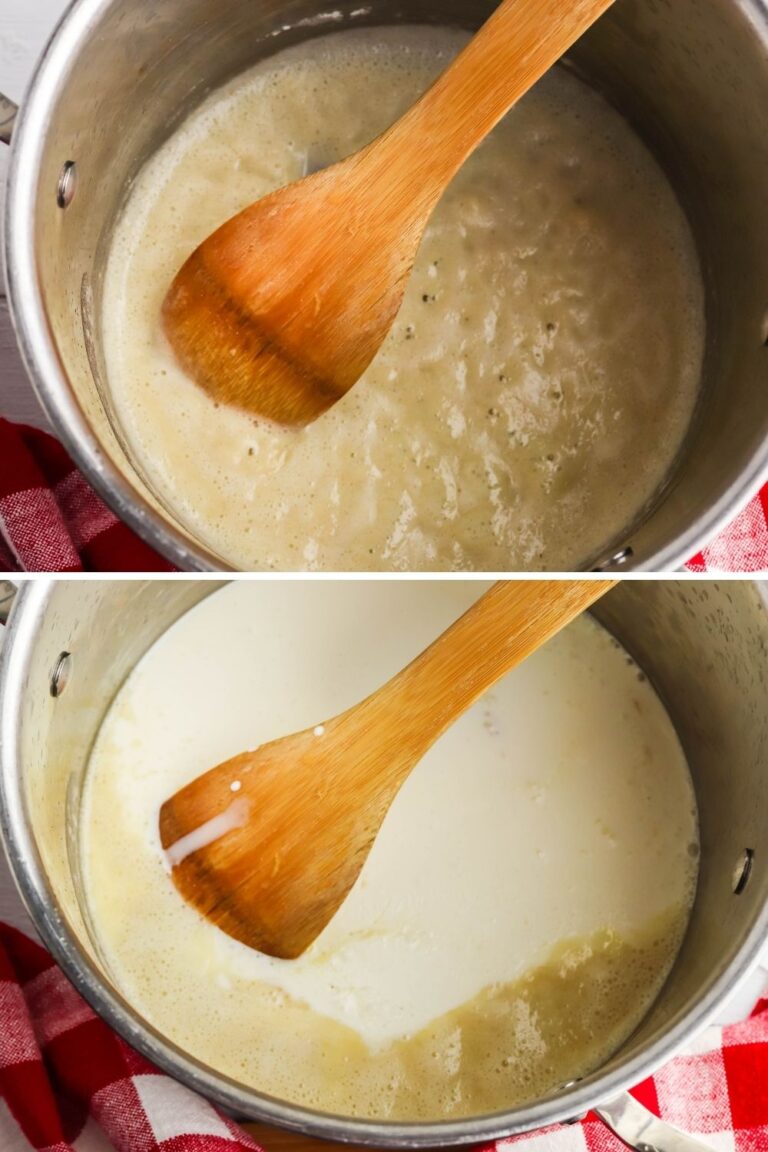 Step One: In a saucepan you will heat on medium low heat, and add your butter and let it fully melt.
Step Two: Next you will stir in the flour and cook it for 2-3 minutes. Stir often and make sure that your allowing the flour to cook a bit. This will remove the flour flavor in the roux.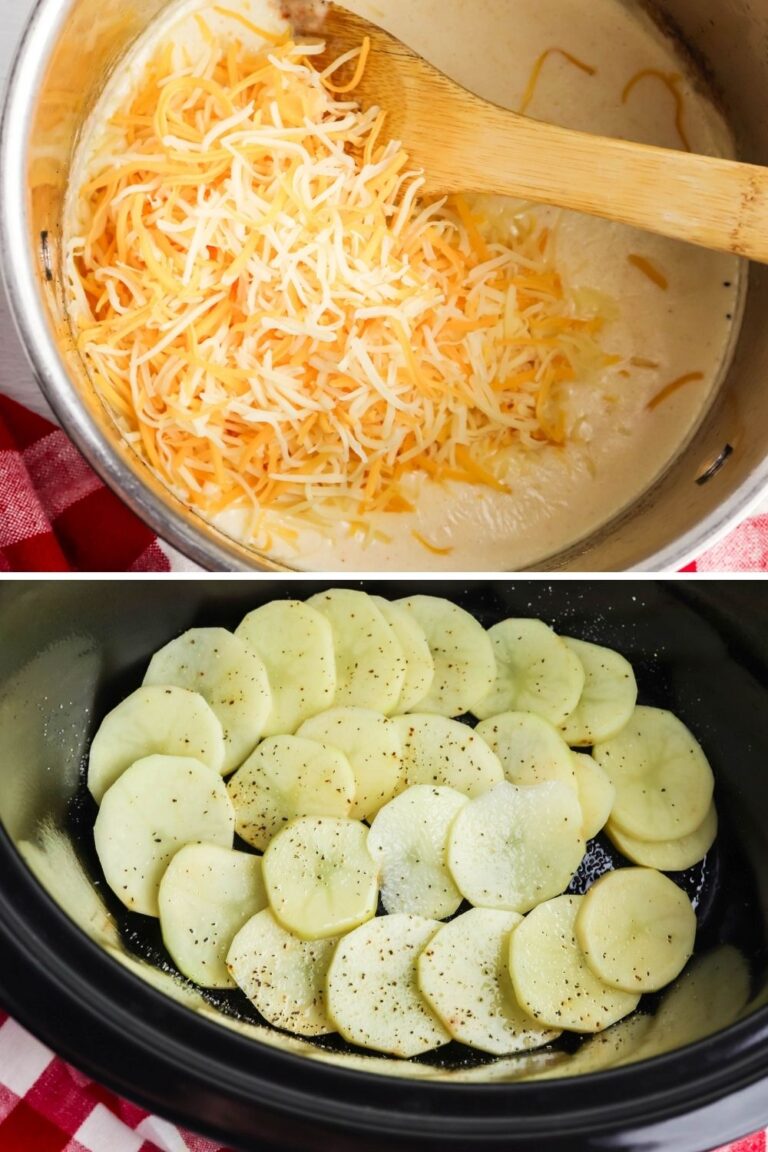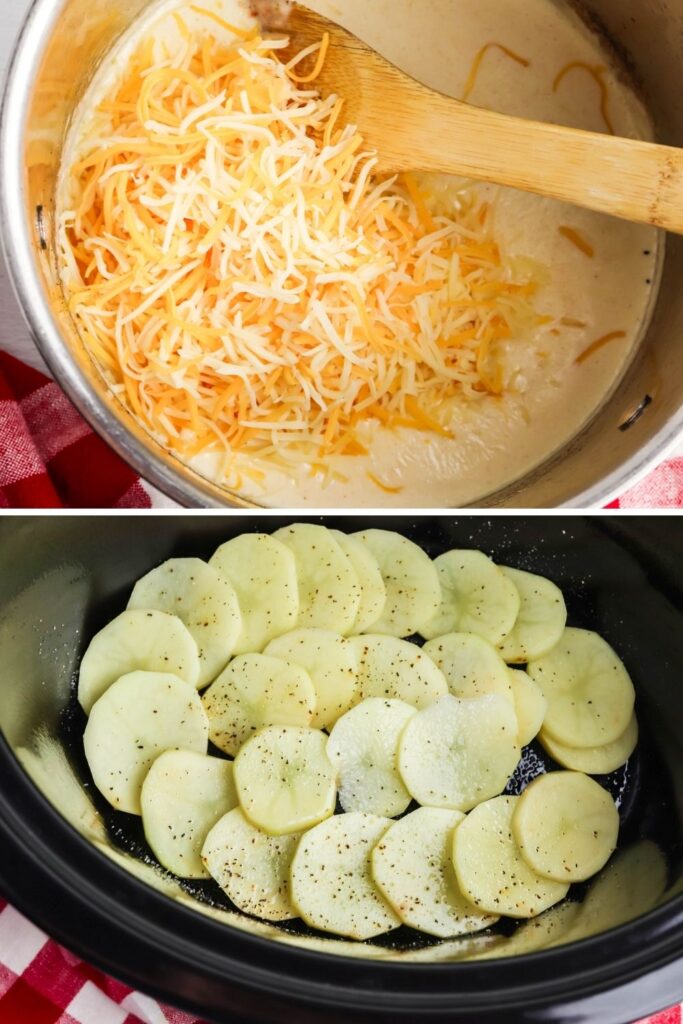 Step Three: Next pour in the seasonings, sour cream, and milk, and bring the mixture to a simmer. Make sure to stir continuously. Then remove from the heat and stir in the shredded cheese.
Step Four: Peel and slice your potatoes thin and place a layer of potatoes in the bottom of the crock pot. Add a little salt and pepper if you would like.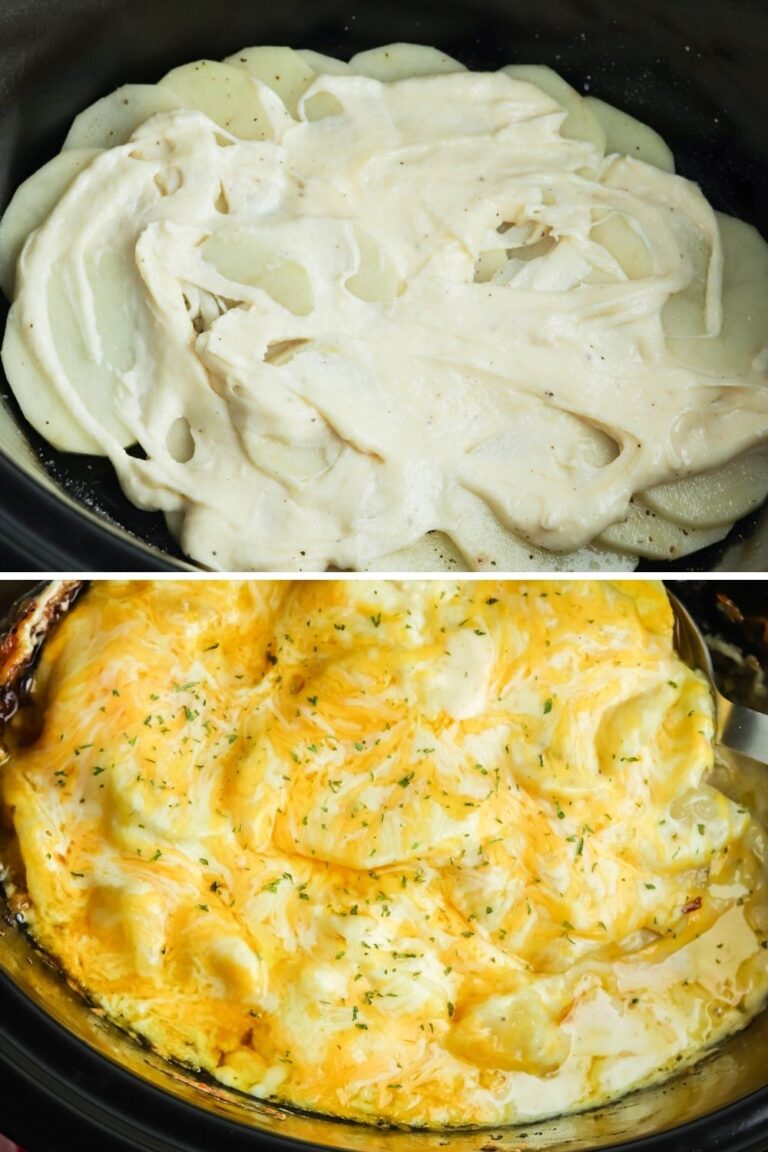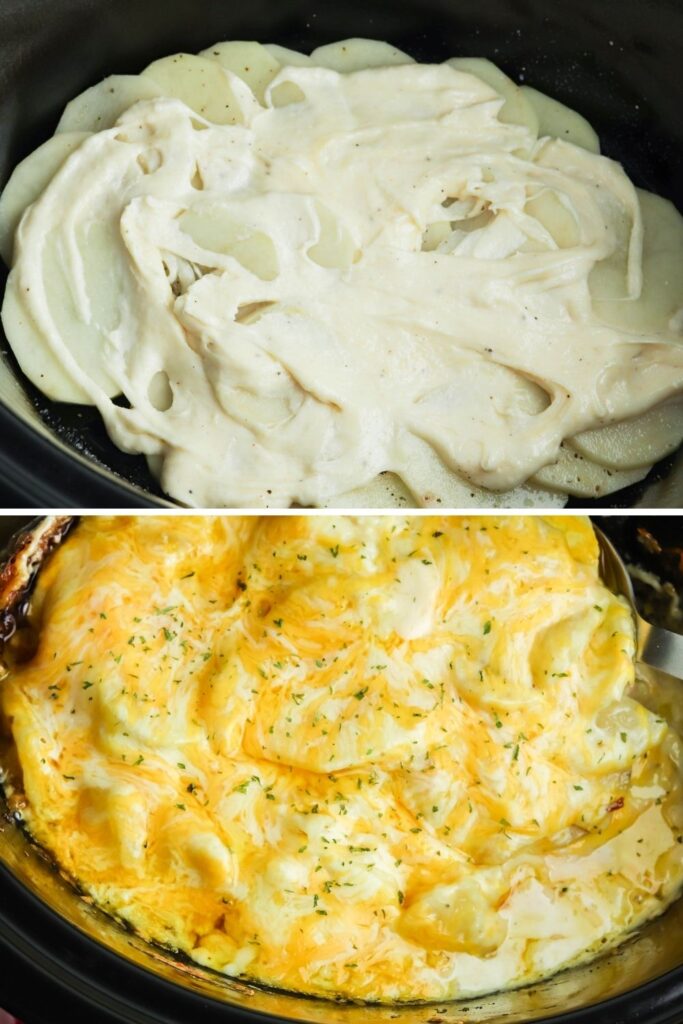 Step Five: Then add around 1/4 of the cheese mixture, and then repeat with potatoes, cheese mixture, potatoes, cheese, etc.
Step Six: Next place lid on the crockpot and cook on high for 3-5 hours or until the potatoes are fork tender. At about 15 minutes before the potatoes are done you will remove lid and add a layer of shredded cheese. Let it melt then dish up and serve.
Pro Tip: Shredding cheese off the block gives you a creamier consistency. If you don't have block cheese to grate yourself you can use pre-shredded. It will just alter the texture slightly.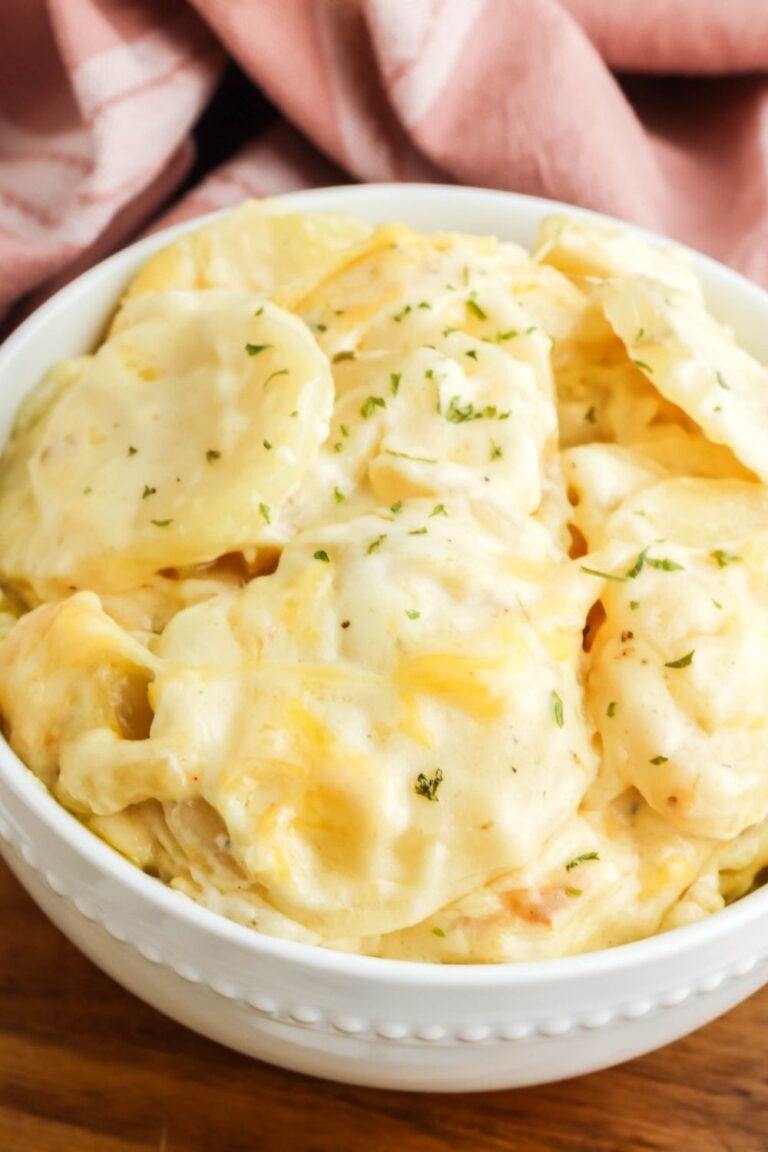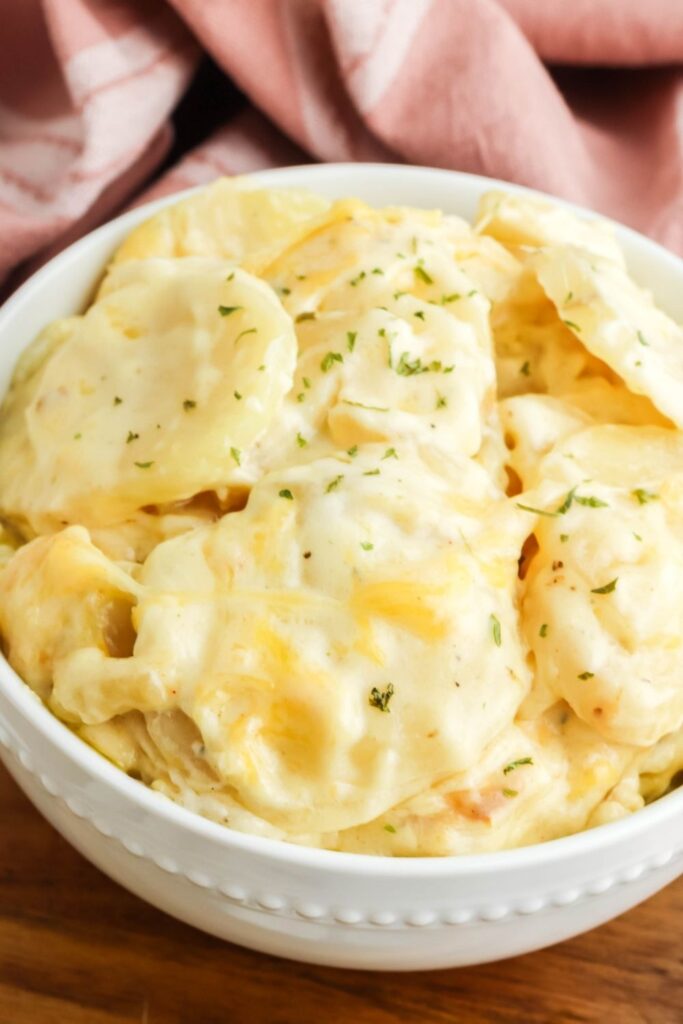 Storing Leftovers
Store any leftover potatoes in an airtight container in the fridge for up to 4-5 days. You will find these potatoes are best served fresh and warm, but reheat pretty good.
For reheating you can reheat in the microwave or in the oven. If you warm up in the oven make sure to cover the potatoes in foil. This is needed or the potatoes will dry out too much.
Helpful Tips
Here are some tips to help set you up for success if you have not made these type of potatoes or are looking for some pointers.
First you need to aim to slice potatoes 1/4-1/8 inch thick. I prefer thinner but depending on your choice of cutting potatoes you will find getting them thinner can be a harder task.
Cooking your flour for 2-3 minutes with the butter helps to remove the "flour" taste. It also will allow the flour to become a thickening agent for a rich and creamy sauce.
You can use any flavor of cheese you like for this recipe. From a sharp cheddar to a Gruyere cheese, the choice is yours.
Gently stir the potatoes at the 2 hour mark of cooking. This will help to ensure all the potatoes can evenly cook in your crock pot.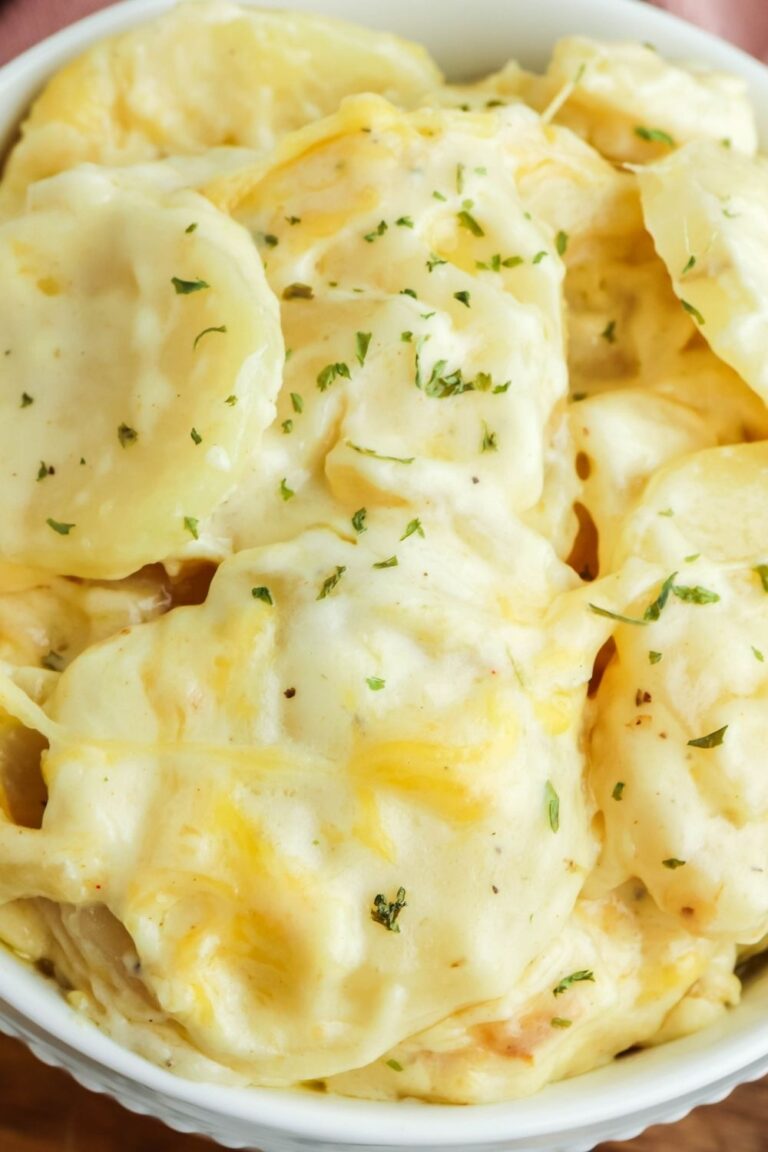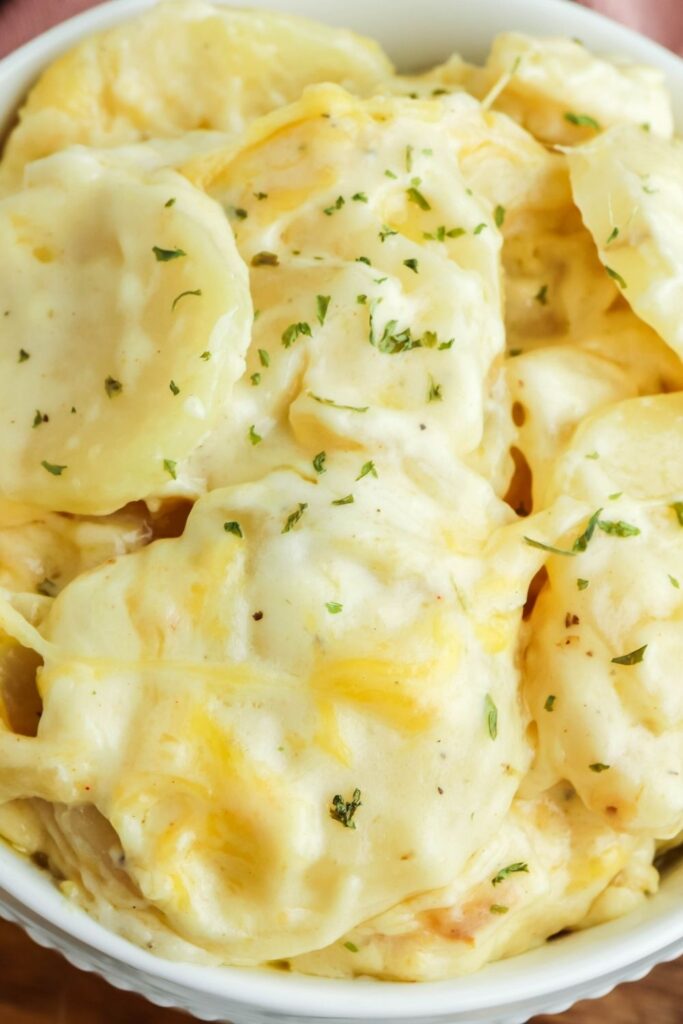 Main Dishes To Pair With Au Gratin Potatoes
As well as a tasty side, let me introduce you to some main dishes that would work nicely with this crock pot potatoes au gratin!
Frequently Asked Questions
Have you tried the recipe? If so, please leave a star ⭐️⭐️⭐️⭐️⭐️ rating in the recipe card below or drop a comment. Also stay in touch with me through social media by following me on Facebook, Pinterest, or My Facebook Group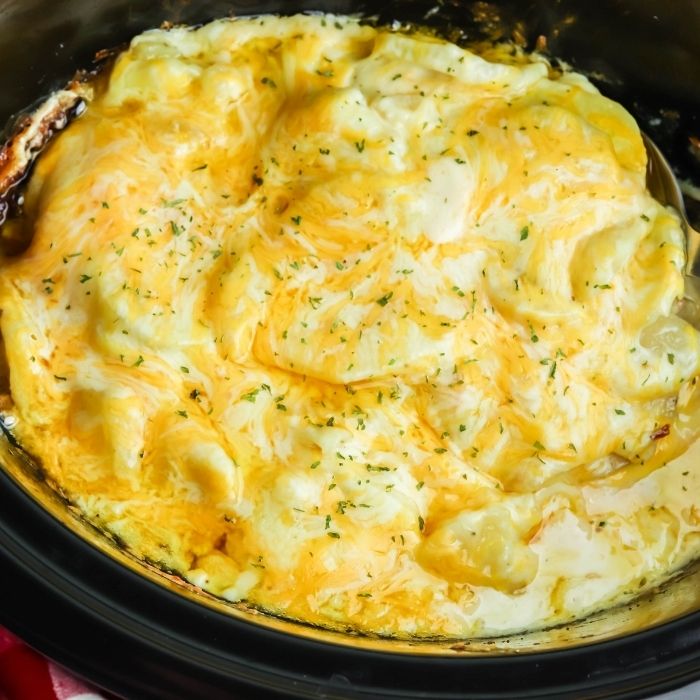 Crockpot Au Gratin Potatoes
Servings 6 -8
Crockpot Au Gratin Potatoes are a simple side dish that is loaded with a cheesy sauce. This is a great weeknight side dish or holiday side dish recipe. A delicious au gratin potato recipe to try soon.
Ingredients
4-5 cups of peeled and sliced Yukon Gold or Russet Potatoes
Salt and Pepper
4 tablespoons butter
4 tablespoons all purpose flour
1/2 teaspoon garlic powder
1 1/2 cups whole milk
1/2 cup sour cream
1 3/4 cup shredded cheese reserve 1/4 – 1/3 cup for topping potatoes at end
Parsley optional (for topping potatoes)
Instructions
Spray your crockpot with cooking spray or use a liner. Then peel and thinly slice your potatoes. I did around 1/4-1/8 inch thick. I prefer thinner but if you don't use a mandoline it is hard to get super thin.

In a pot on the stove you are going to add the butter and melt it on medium low heat.

Once the butter is fully melted whisk in the flour and cook for 2-3 minutes, to cook the flavor off the flour.

Add in some salt, pepper, and the garlic powder. Then slowly whisk in the milk, making sure to whisk any lumps to break them up.

Once the milk has been added and the mixture is smooth, remove from the heat and add in the sour cream and the shredded cheese. Whisk again until fully incorporated.

Now you will add a single layer of potatoes on the bottom of the slow cooker. Season with salt and pepper.

Then add a bit (around 1/4) of the cheese sauce. Then repeat a potato layer, then cheese sauce, until you finish with cheese sauce.

Place around 3-4 paper towels on top of the crockpot and place the lid on. Cook on high. The paper towels will soak up the condensation to help keep the potatoes crispier.

Around the 2 hour mark I removed the lid, and tossed the paper towels. Mix lightly to adjust the potatoes for a more even cook.

Place new paper towels on top and lid.

Cook for another hour and check the potatoes. If they are close to fork tender, add on the final cheese and cook an additional 15-20 minutes. Or if the potatoes are still hard, cook longer.

Depending on size of potatoes it can take anywhere from 3-5 hours to cook your potatoes. The thinner the potatoes the less cook time it will need. Mine were done at the 4 hour mark.

When your crockpot au gratin potatoes are done, garnish with parsley flakes and serve.
Notes
Grate Your Own Cheese – Grating your own cheese can help prevent the greasy texture. Pre-shredded cheese can leave a greasier potato. If that is all you have that is okay, but know the texture will be different. Cook Time – As I mentioned the cook time does vary. All potatoes depending on thickness will cook differently. Paper Towels – Placing paper towels so they drape over the crockpot helps to make sure all the condensation doesn't drip into the potatoes. Don't have the paper towels touching the potatoes. You want it hanging over the edges of the top. So when you place your lid down it seals with the lid.
Nutrition
Serving: 1gCalories: 419kcalCarbohydrates: 66gProtein: 13gFat: 13gSaturated Fat: 7gPolyunsaturated Fat: 4gCholesterol: 35mgSodium: 209mgFiber: 7gSugar: 5g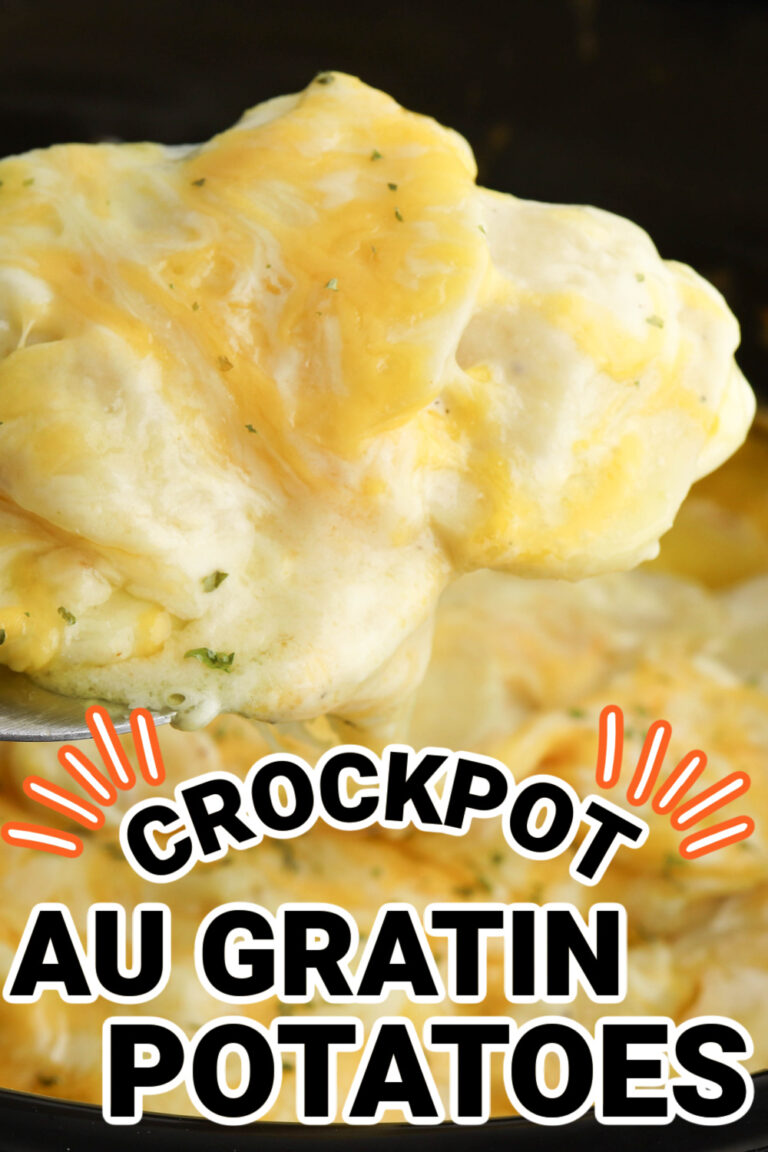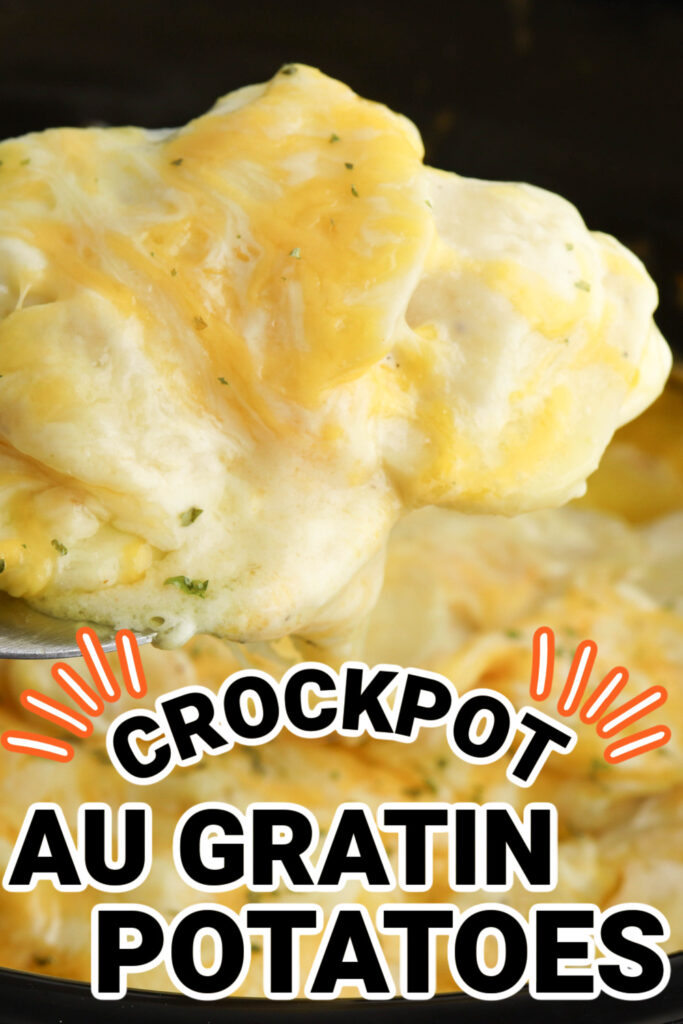 Reader Interactions