Roast beef sliders are one of my favorites. Fluffy tender buns, layers of cheese and roast beef, paired with sauteed onions. You can pair with some au jus for dipping to transform these to French Dip sliders if you want.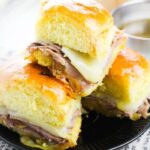 Roast beef sliders are slider buns that are filled with sliced roast beef, sautéed onions, two types of cheese and baked to cheesy perfection. Serve with au jus sauce to make them into French dip sliders.
This roast beef recipe takes minimal effort to make and is a delicious dinner or appetizer to serve up. A buttery golden brown roll stuffed full of meat and cheese. Also, check out my turkey and cheese sliders for another tasty sandwich idea.
This Roast Beef Sliders Recipe Is…
Lunch meat dinner idea
Quick prep
Cheesy and delicious
Tasty dinner idea or party appetizer
Budget friendly recipe
Ingredients Needed
Roast Beef – I used lunch meat for this sliders recipe. But if you happen to have leftover pot roast you can use that instead.
Cheese – Provolone and Swiss cheese are what I used. Feel free to use one type of cheese if you prefer.
Onions – You will sauté the onions on the stovetop to break them down. This adds incredible flavor to the sliders.
Butter – Butter is used for topping buns, cooking with onions and if you choose to make au jus.
Broth and Worcestershire – Worcestershire with butter is what you pour over buns to add flavor and keep them soft. The broth is used for making an optional dipping sauce.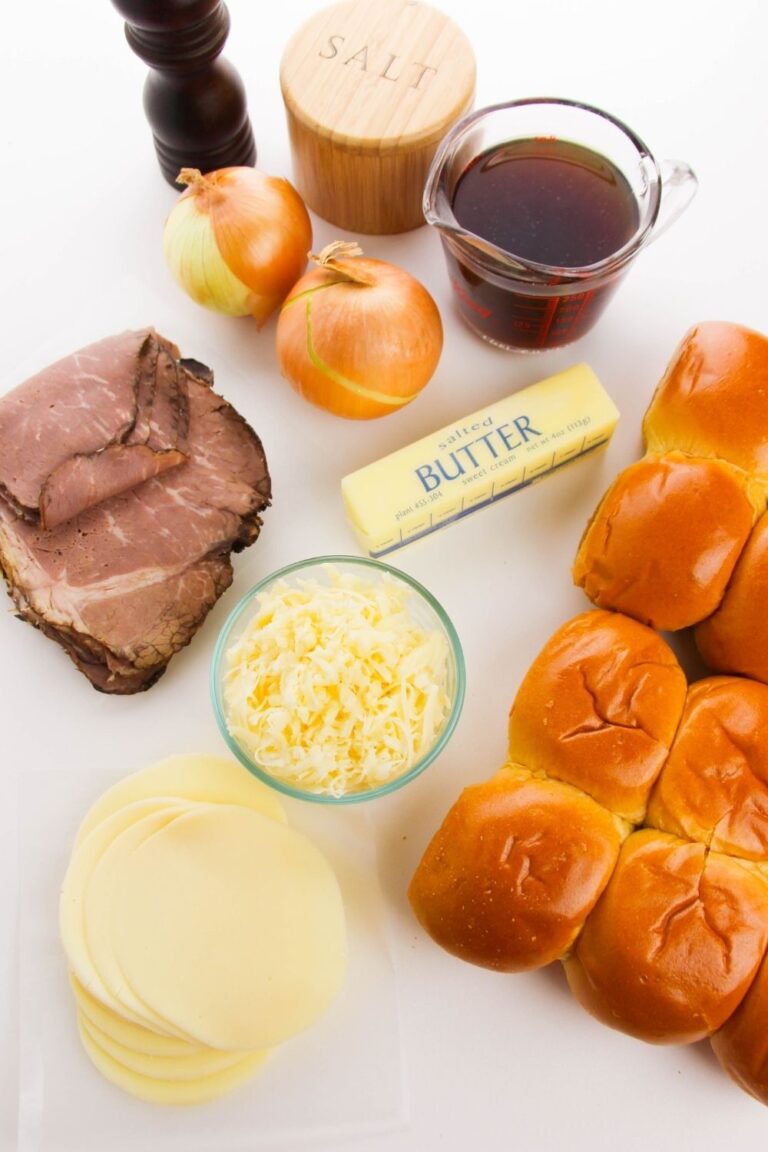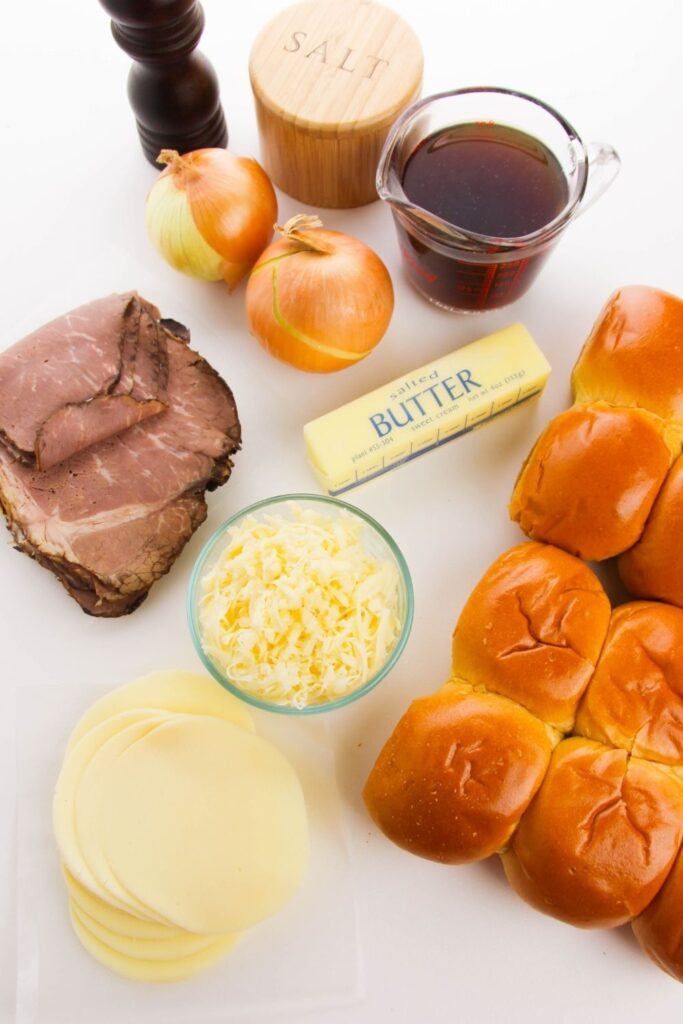 Variations to Recipe
Instead of lunch meat, use pot roast. Or opt for pastrami, or even corned beef.
Swap the cheese with provolone or mozzarella.
Use butter rolls, or Hawaiian rolls for a twist of sweet.
Skip the onions if you are not a fan.
Toss in some sliced bell peppers with onions for added flavor.
How to Make
Full directions for this roast beef sliders recipe are in the printable recipe card featured at the bottom of the post. This is a visual walk through on how it is made.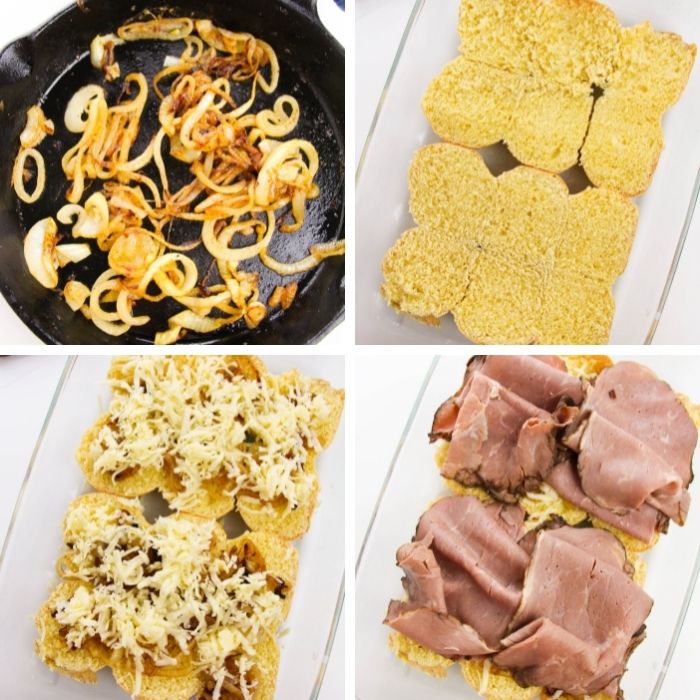 Step One: Add some butter in a pan and then add in the onions to sauté. You will cook until golden brown.
Step Two: Next remove all but 2 tablespoons of onions and pour in the broth. Let the sauce reduce by half which will be au jus for dipping. This step is optional.
Step Three: Preheat the oven and grab rolls and slice in half.
Step Four: Next you will pour your onions onto the bottom of the buns. Add some cheese, then top with meat and finish off adding another layer of cheese.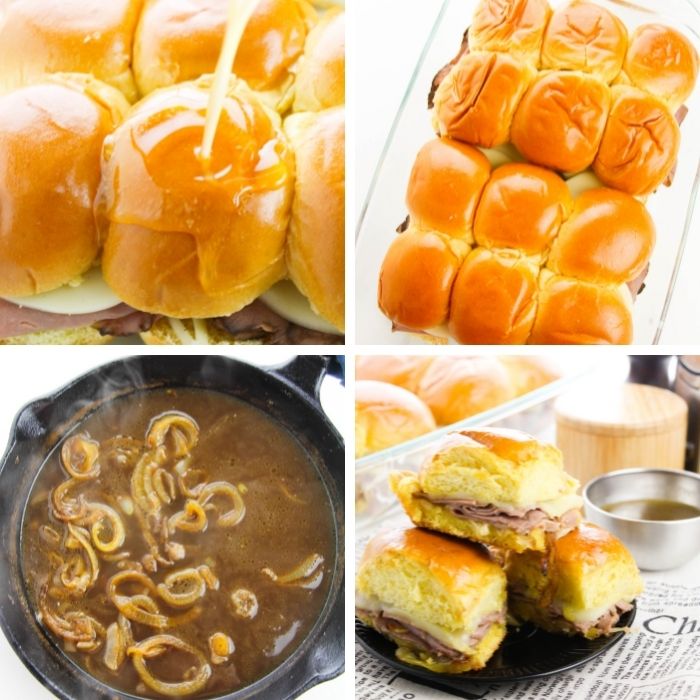 Step Five: In a saucepan place butter and Worcestershire in the pan and melt. Cook for 2 minutes. Place the top roll on top of meat and cheese.
Step Six: Once the mixture has cooked, pour over buns. Then bake as directed.
Finally once done, slice and serve up these cheesy sliders.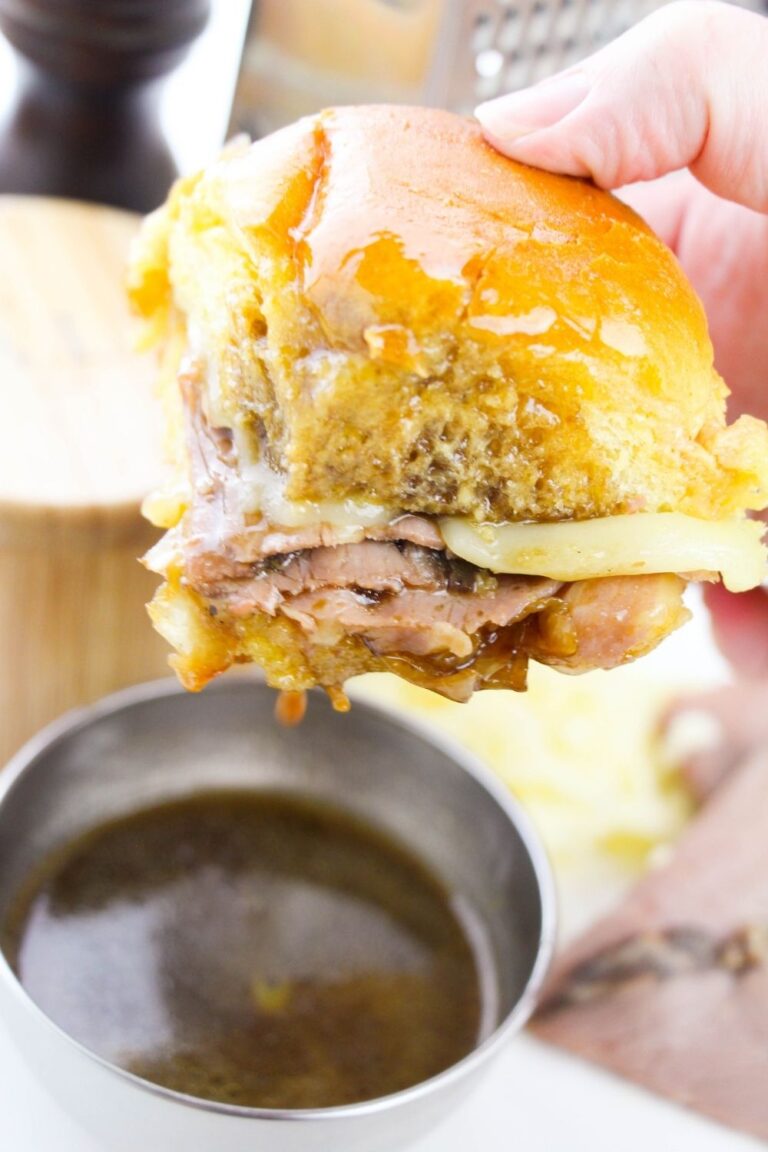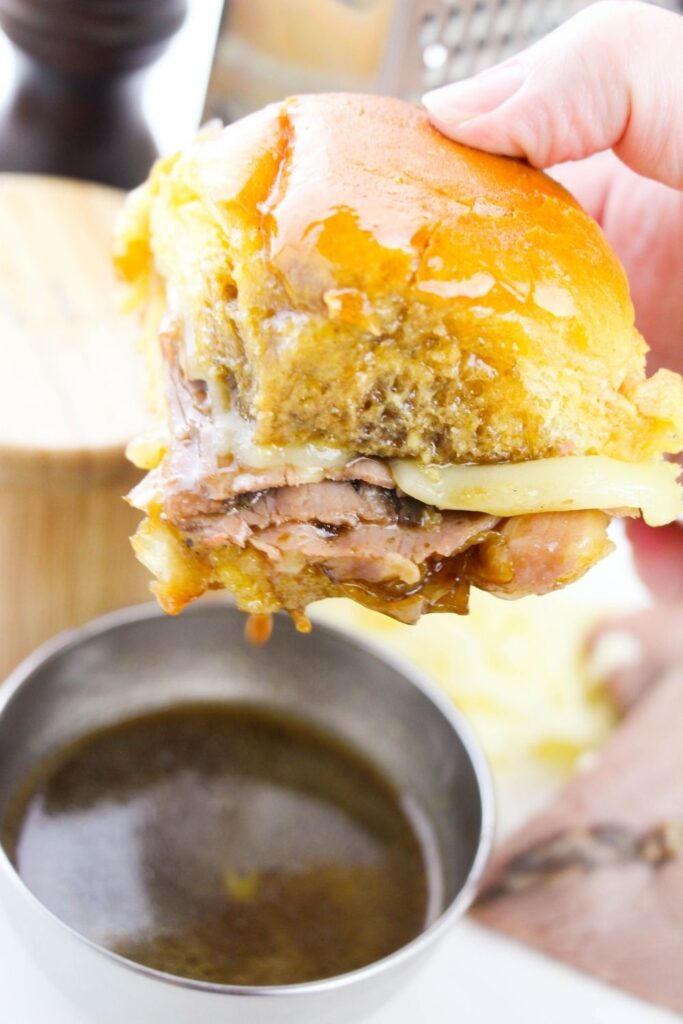 Expert Tips
Cooking down the broth and onions creates a rich au jus sauce for dipping.
Making sure to have butter on all areas of rolls is important. If you don't it will keep rolls moist and soft. Otherwise it will dry out buns when baked in the oven.
You can double the recipe if you want just use a sheet pan.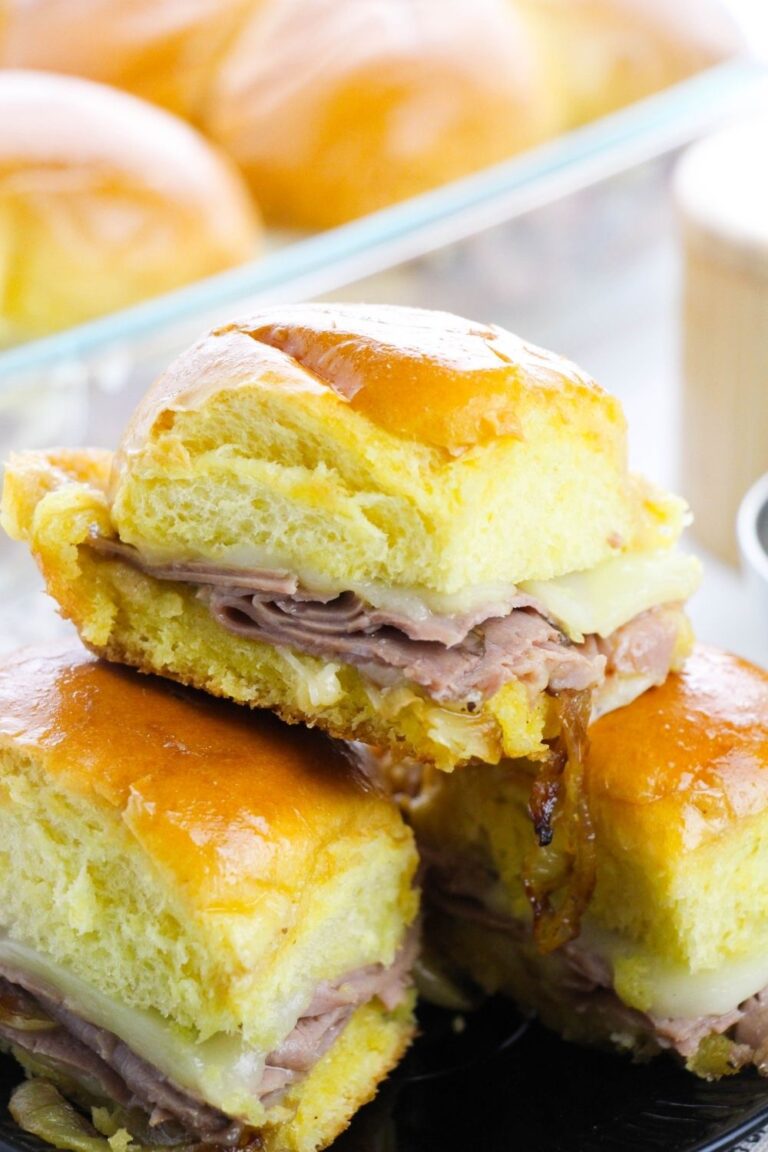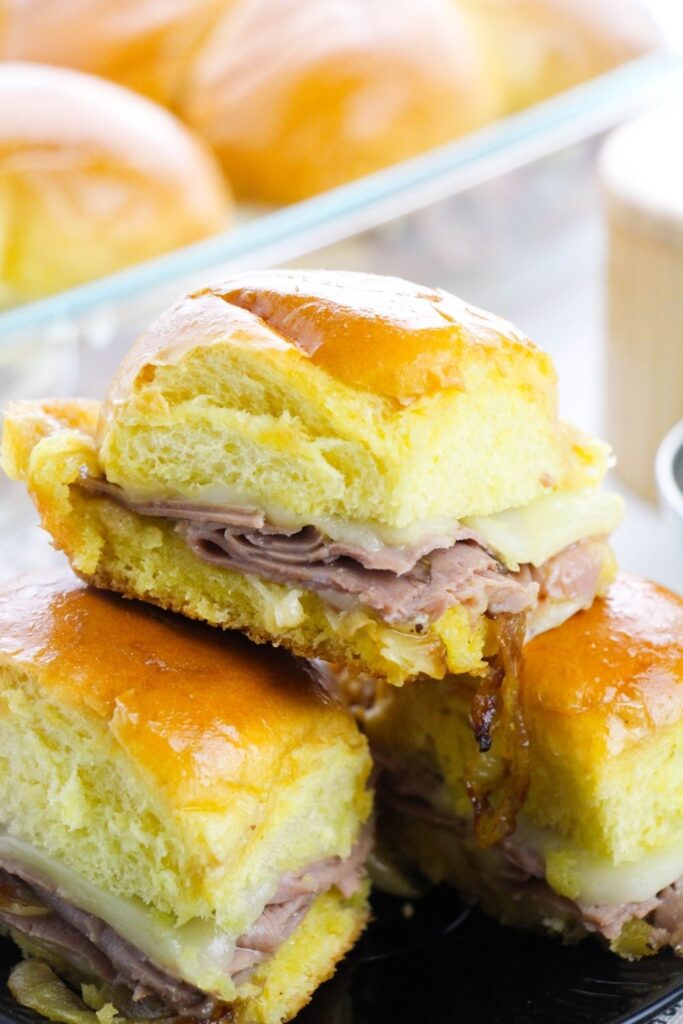 Storing Leftovers
Go right ahead and store your leftover roast beef sandwiches in an airtight container. The sandwiches will store for 1-2 days.
You can eat the sandwiches cold or warm them up in the microwave or in the oven. If you reheat in the oven I would cover them with foil to prevent the buns from drying out as they warm up. This will help keep the bread nice and soft.
What Goes Good with Sliders?
For this easy dinner idea, here are some of my go-to sides to pair with these slider sandwiches. If you are not doing a roast beef appetizer and prefer dinner, try these sides.
Common Questions
More Slider Ideas To Try
Have you tried the recipe? If so, please leave a star ⭐️⭐️⭐️⭐️⭐️ rating in the recipe card below or drop a comment. Also stay in touch with me through social media by following me on Facebook, Pinterest, or My Facebook Group
Roast Beef Sliders
Servings 12 sandwiches
Roast beef sliders are one of my favorites. Fluffy tender buns, layers of cheese and roast beef, paired with sauteed onions. You can pair with some au jus for dipping to transform these to French Dip sliders if you want.
Ingredients
1 package slider buns butter or potato style 12 rolls
12-15 Slices Deli Roast Beef
1/2 cup Shredded Swiss Cheese
9 Slices Provolone Cheese
1 stick of butter 1/2 cup
2 Small Onions or 1 Large Onion sliced thin
Salt and Pepper to taste
1 cup Beef Broth optional
1 Tablespoons Worcestershire Sauce
Instructions
Start by adding 2 tablespoons butter and the sliced onions into a skillet on the stove. Cook on medium heat to soften and turn onions a nice golden color. This takes around 5-10 minutes depending on thickness of sliced onions.

Slice your slider buns in half cutting through the middle to create two "slices" of your slider buns.

Next place your bottom half of the slider rolls in a casserole dish. Then pour the sauteed onions over the rolls spreading evenly.

Then top with the Swiss cheese. You can use shredded Swiss or sliced Swiss if that is what you have.

Top the Swiss cheese with deli Roast beef, and top with the Provolone cheese.

Place your top layer of buns on top.

In a skillet on the stove add your remaining butter and the Worcestershire sauce. Cook for 2 minutes once the butter is fully melted.

Pour the mixture evenly over the buns. Bake in the oven for 20-30 minutes or until the butter mixture absorbs into the rolls.
Au Jus Steps
If you want to make au jus for dipping, reserve 2 tablespoons of the sauteed onions and place them in a pan.

Pour in the beef broth and cook while the roast beef sliders are cooking. You want to bring mixture to a boil, once it boils, lower heat and simmer.

The sauce will begin to reduce to about 1/2. Season with salt and pepper and then use the sauce for dipping your French dip sliders in!

Notes
Au Jus- The Au Jus is optional, so if you don't plan to make it discard the broth in the recipe. Onion – I recommend using a yellow or white onion. I find the red onions do not cook down the right way, and will leave an off flavor. You can also omit the onions if you don't want them on the sandwiches.
Nutrition
Serving: 1gCalories: 217kcalCarbohydrates: 6gProtein: 12gFat: 16gSaturated Fat: 10gPolyunsaturated Fat: 5gCholesterol: 52mgSodium: 524mgFiber: 1gSugar: 2g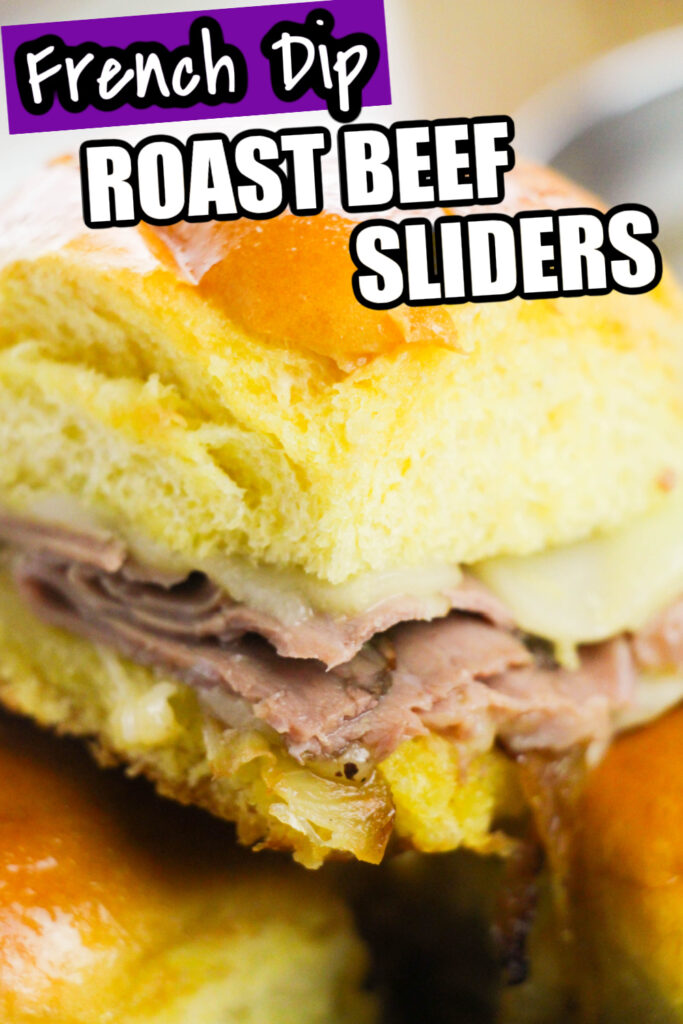 Reader Interactions