Air Fryer Turkey and Cheese Sliders is a quick and easy air fryer slider recipe. You can use deli turkey meat or leftover holiday turkey. Feel free to make this air fryer slider recipe for an appetizer, lunch or dinner option.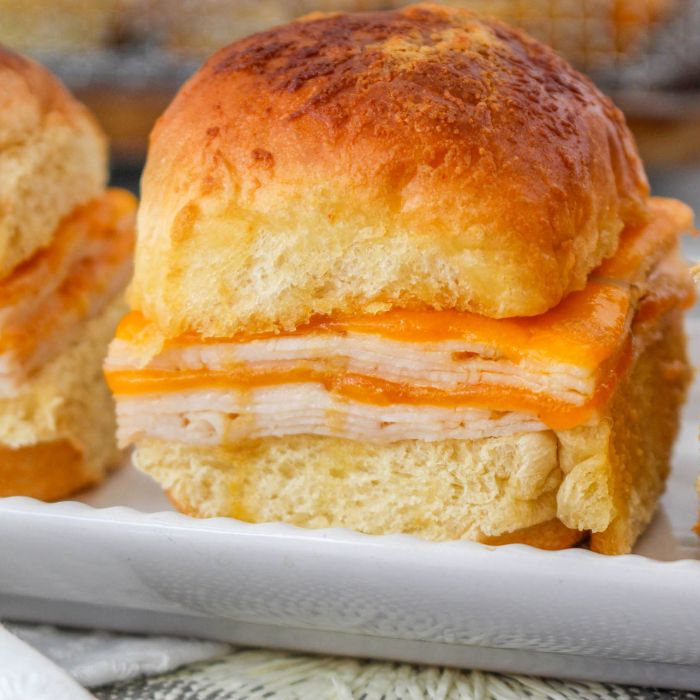 Air fryer turkey and cheese sliders are a simple and quick lunch or dinner idea. Made with thinly sliced turkey, cheddar cheese, your choice of slider buns, Dijon mustard, and butter, all packed into one mouthwatering sandwich. These turkey sliders are so simple to throw together.
Now if you have leftover turkey from the holidays this is a great way to use up holiday turkey as well, in replace of deli meat. Kids and adults will both enjoy this slider recipe.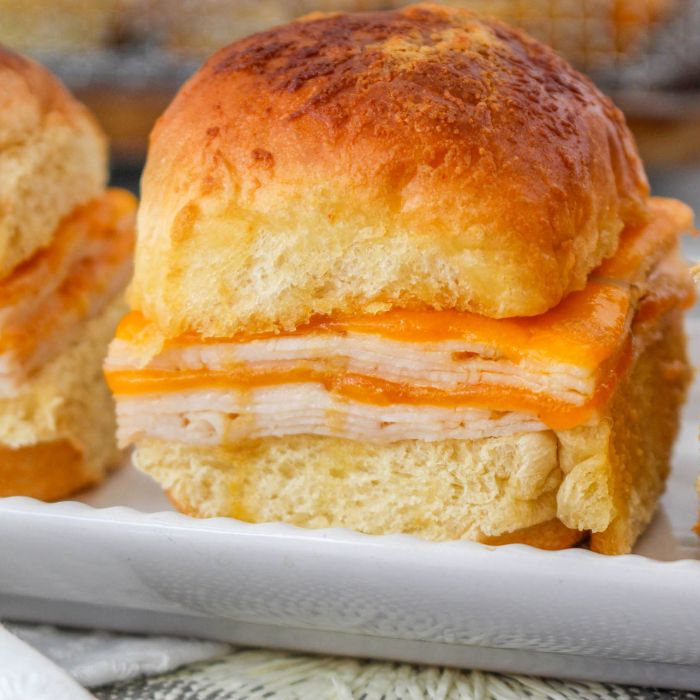 You might also enjoy trying my roast beef sliders, patty melt sliders, or cheeseburger sliders. All are great bite-size sandwiches.
Why We Love Turkey And Cheese Sliders
Budget-friendly meal that kids and adults can both enjoy.
Serve as a meal or an appetizer for a game-day party.
You can use lunch meat or leftover turkey. Or opt for a different type of meat.
Cook in the air fryer or bake these sliders in the oven.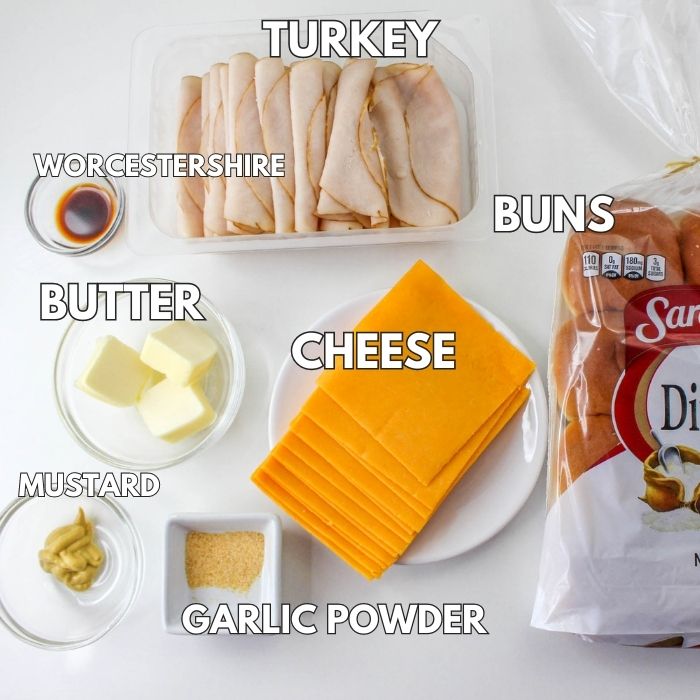 Ingredients Needed
Turkey – Sliced deli meat or leftover turkey from holidays.
Sliders – Reach for sweet rolls, butter, etc. You pick.
Butter – Real butter is recommended, melted.
Worcestershire Sauce – Adds a smoky flavor to the sliders.
Cheese – Cheddar cheese, Swiss, or choice of cheese.
Mustard – Dijon or horseradish mustard are both great.
Garlic Powder
How to Make
This is a visual walkthrough on how to make air fryer turkey and cheese sliders. Full directions are at the bottom of the post in the printable recipe card.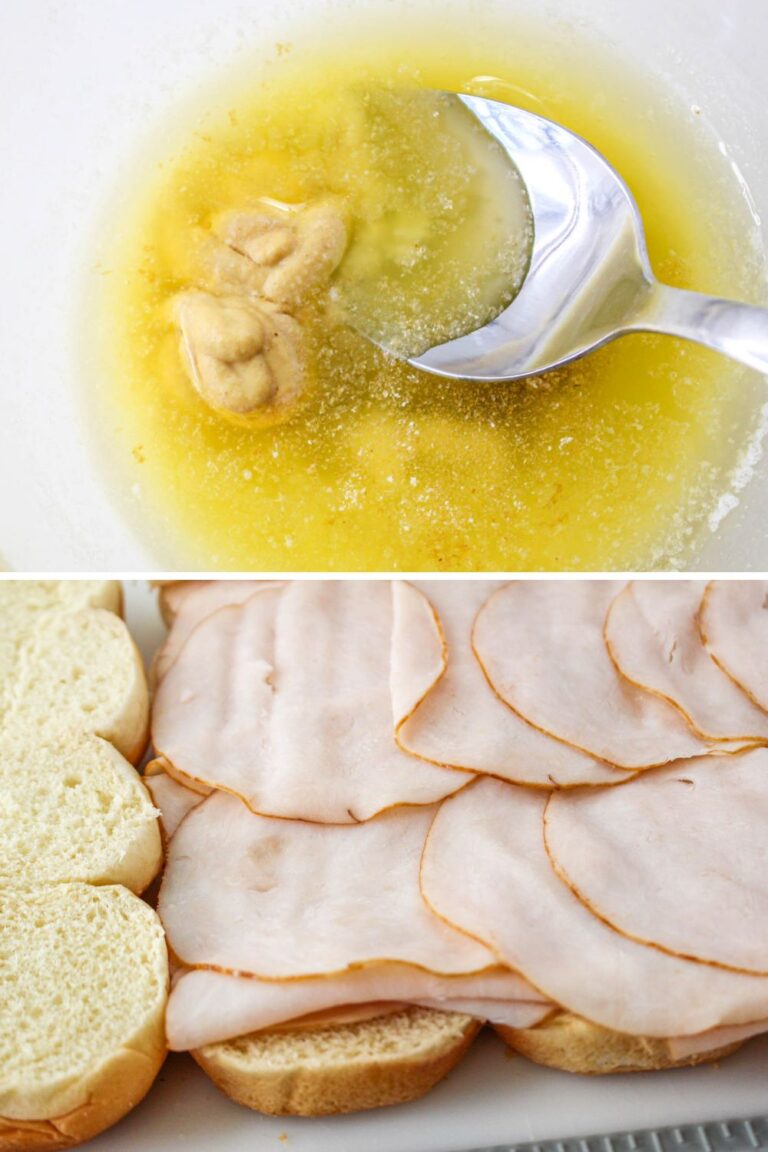 Preheat the air fryer, and then line a baking sheet or your air fryer basket with parchment paper.
Then in a small bowl mix the butter, mustard, Worcestershire, and garlic powder. Mix well.
Slice the rolls in half, and place the bottom rolls on the cutting board.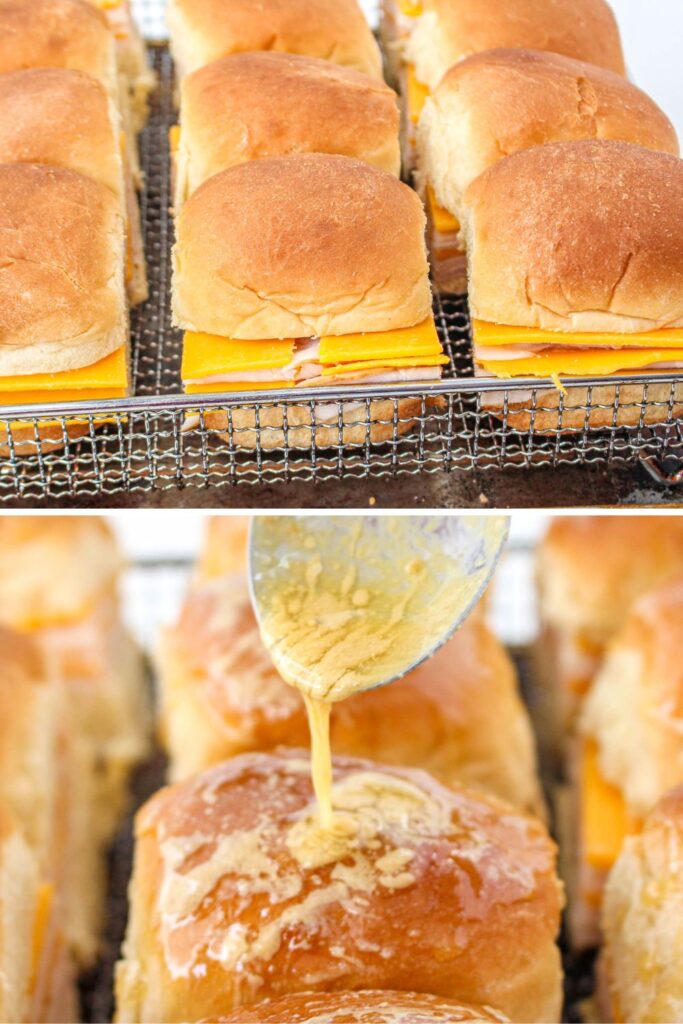 Top with a layer of turkey, then cheese. Feel free to do two layers if you want.
Cut rolls apart so they are not touching.
Brush with the butter mixture and air fry for 5-8 minutes.
Once the cheese is melted and the turkey is warmed up, you can serve.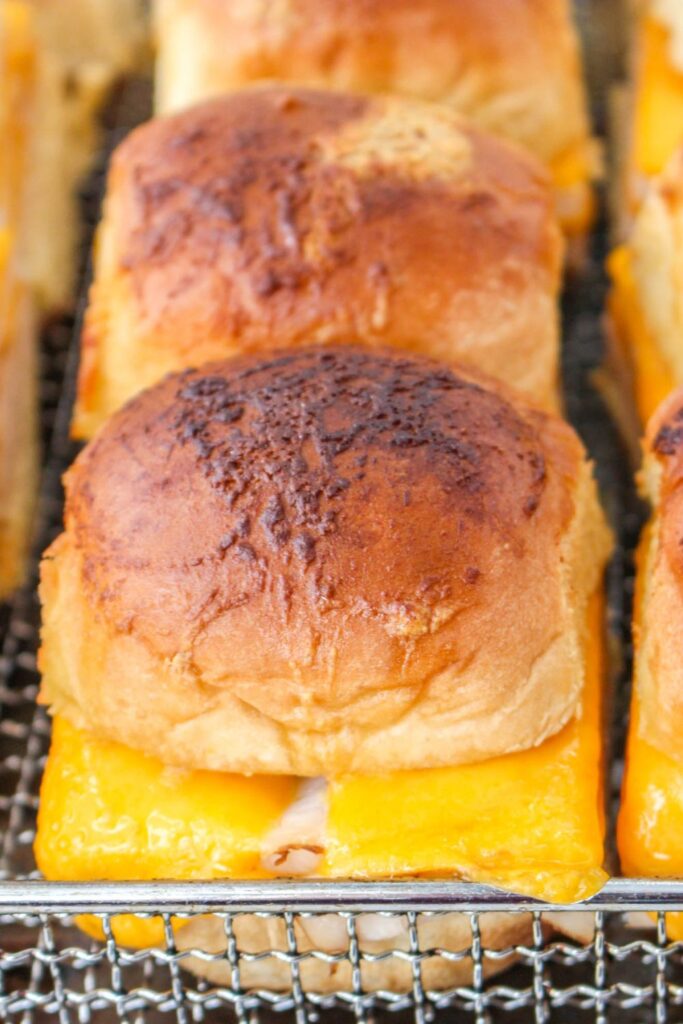 Tips and Variations to Recipe
Any type of meat works for this recipe.
Feel free to swap out the variety of cheese used. Or dress it up more and add two types of cheese to the sandwiches.
Add a splash of hot sauce to the butter mixture to add some heat to the sliders.
You need to baste with butter otherwise, it will dry out the buns.
Once done you can top sliders with sliced lettuce, tomatoes, onions, etc.
Top with everything but the bagel seasoning instead of the garlic powder.
You can bake in the oven at 325 degrees for 5-8 minutes. Place the sliders in a 9×13 casserole dish.
You can buy parchment paper that is meant for the air fryer. They have papers sized for baskets and oven-sized air fryers.
Storing
Refrigerate – Any leftovers can be stored in the fridge in a sealed container. The sandwiches will last for 2-3 days.
Freezing – You can also freeze for 3-4 months in a freezer bag or freezer container. Thaw in the fridge overnight for a slow thaw. Or defrost and reheat as you wish.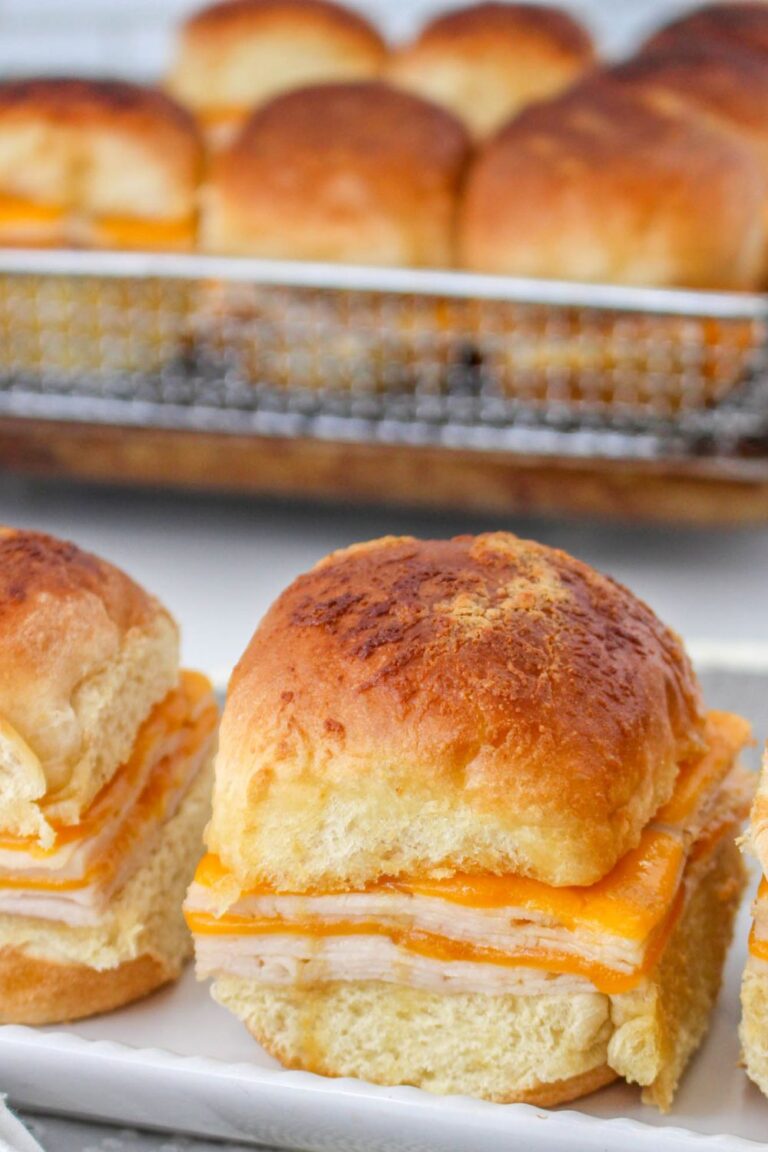 FAQs
How many sliders can I make in the air fryer at once?
Depending on the size of your air fryer will depend on how many sliders you can make at once. Typically 4-6 sliders are what fits in a basket-style air fryer. Or if you have an air fryer oven you will get more in them.
Why do you leave space between each slider?
When you air fryer the heat circulates around the food. So ensuring you have space between each slider creates an even cook on all parts of your slider sandwiches.
More Air Fryer Recipe Ideas
Are you still hungry? If so, here are a few more of my favorite air fryer recipes.
Have you tried the recipe? If so, please leave a star ⭐️⭐️⭐️⭐️⭐️ rating in the recipe card below or drop a comment. Also stay in touch with me through social media by following me on Facebook, Pinterest, or My Facebook Group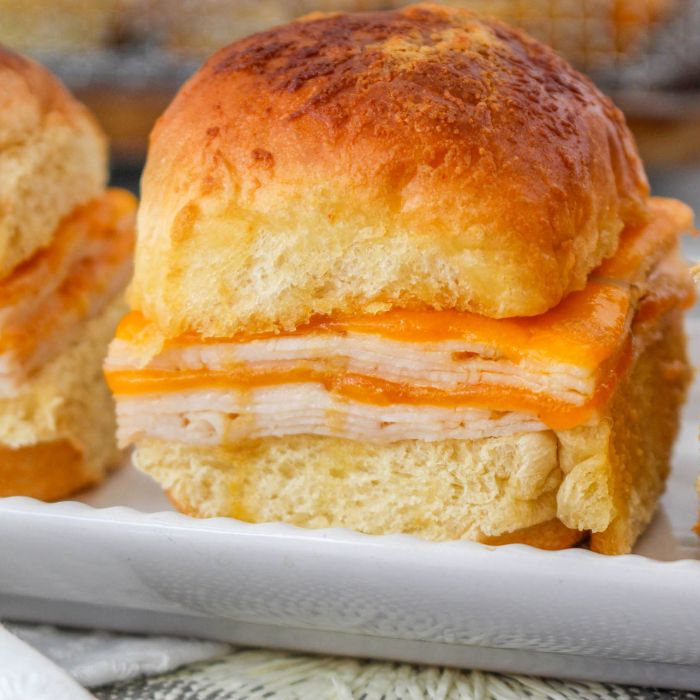 Air Fryer Turkey and Cheese Sliders
Servings 24 sliders
Air Fryer Turkey and Cheese Sliders is a quick and easy air fryer slider recipe. You can use deli turkey meat or leftover holiday turkey. Feel free to make this air fryer slider recipe for an appetizer, lunch or dinner option.
Ingredients
3 tablespoons butter melted
2 teaspoons Dijon mustard
½ teaspoon Worcestershire sauce
¼ teaspoon garlic powder
1 package dinner rolls
1 pounds thinly sliced deli turkey
12 slices cheddar cheese
Instructions
Preheat your air fryer to 300 degrees. Then you will line air fryer basket with parchment paper or line a baking pan that fits in the air fryer oven.

In a small bowl add your melted butter, garlic, mustard, and Worcestershire sauce. Mix well.

Slice the buns in half and remove the top portion of the buns and place to the side.

Now you will add layers of turkey and cheese onto the bottom layer of the slider buns.

Top with the top layer of rolls and then slice the sandwiches apart.

Place the sandwiches in a single layer in the air fryer, with space betwen each slider.

Then brush with the butter mixture, and air fry for 5-8 minutes or until the buns are golden brown, cheese is melted and turkey is warm.

Serve warm.
Notes
Slicing Sandwiches – Leaving space between each bun is going to create a nice texture for each sandwich. Air fryers circulate heat so having space between sandwiches is a must.  Bake in Oven: Preheat oven to 325 degrees. Then prepare the same except you don't have to slice apart. Place on a casserole pan, and brush with the butter mixture. Bake for 5-8 minutes.  Meat – You can use any type of meat you would like. Or use multiple types of meat to create your layers of flavor.  Cheese – Any type of cheese you would like will work for this recipe. 
Nutrition
Serving: 1gCalories: 70kcalCarbohydrates: 0.4gProtein: 3gFat: 6gSaturated Fat: 4gPolyunsaturated Fat: 0.2gMonounsaturated Fat: 1gTrans Fat: 0.1gCholesterol: 18mgSodium: 109mgPotassium: 13mgFiber: 0.02gSugar: 0.1gVitamin A: 184IUVitamin C: 0.02mgCalcium: 100mgIron: 0.04mg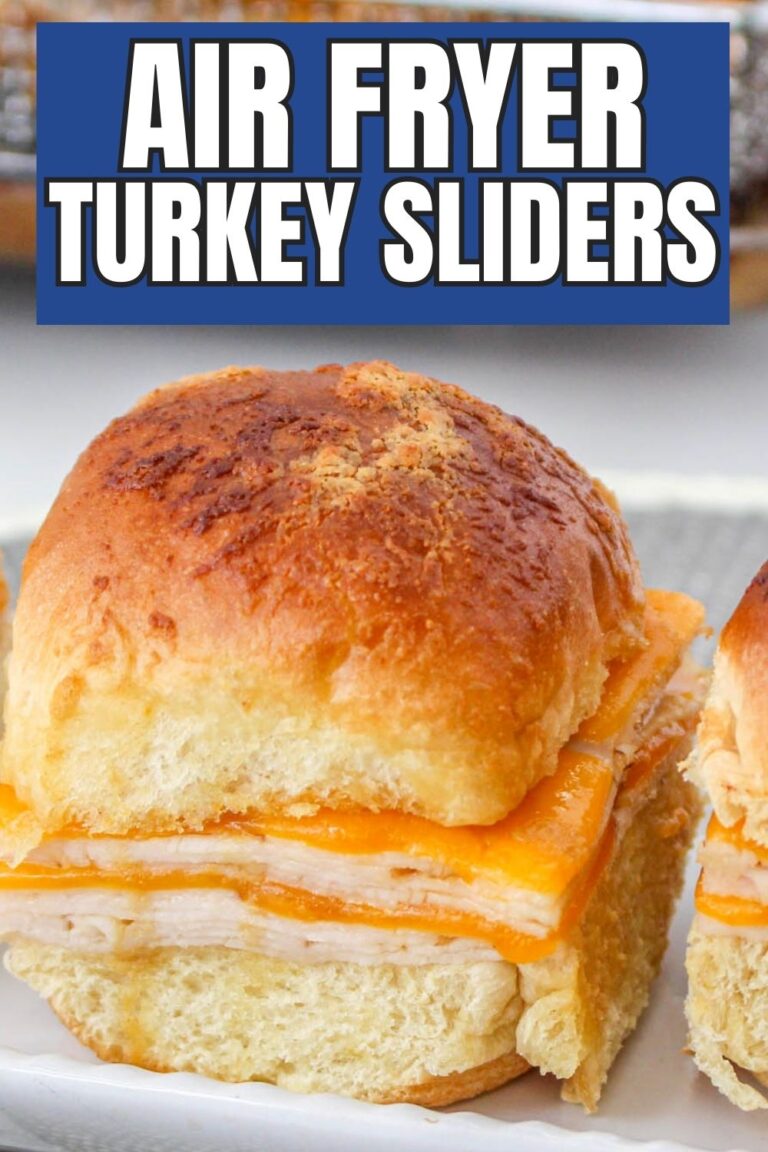 Reader Interactions