Mini Key Lime Pies will tickle your taste buds with sweet and tangy lime in every single bite. Or call these a key lime tart if you will, either way, they are jam-packed with flavor. Try these easy key lime tartlets!
I love pie, and if you do too, you might be interested in these other recipes I have. No-Bake S'mores Pie, Strawberry Rhubarb Pie, or my Butterscotch Pie! Or try out this vanilla pound cake for a sweet treat.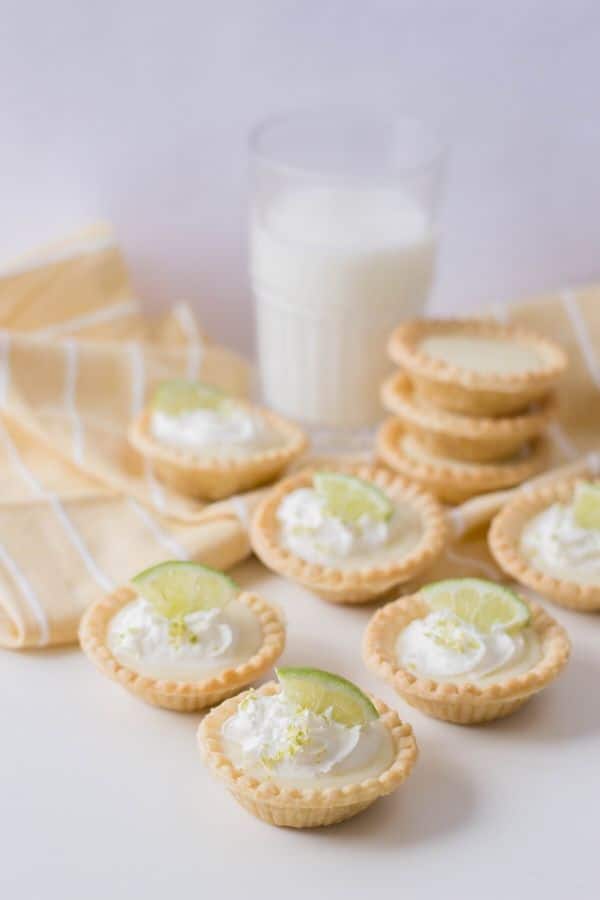 What makes key lime even better? Mini pies! Right? I mean who doesn't like an individual key lime pie.
Try this frozen limeade for a refreshing drink. If you love key lime pie then give this a try! Or pair this mini tart recipe with your limeade for an extra tasty lime treat.
How To Make Mini Pies
Full directions on how to make these mini key lime pies are in the printable recipe card. This is a visual walk through.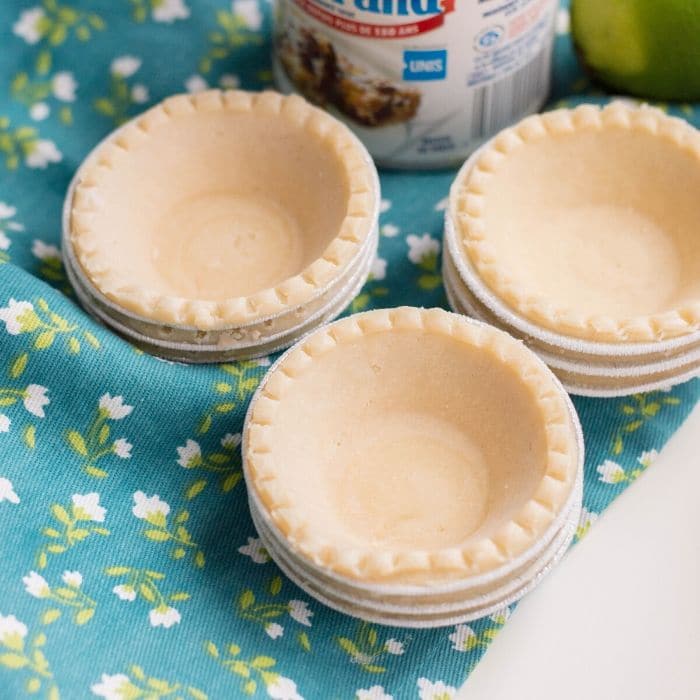 Step 1: Start by taking your pie crust or tart shells on a baking dish. Cook for 10 minutes in the oven at 375 degrees.
Step 2: Now whip up your pie filling. Sweetened condensed milk, lime juice, lime zest, and sour cream.
Once you get it all creamy pour it into the pie tart crusts.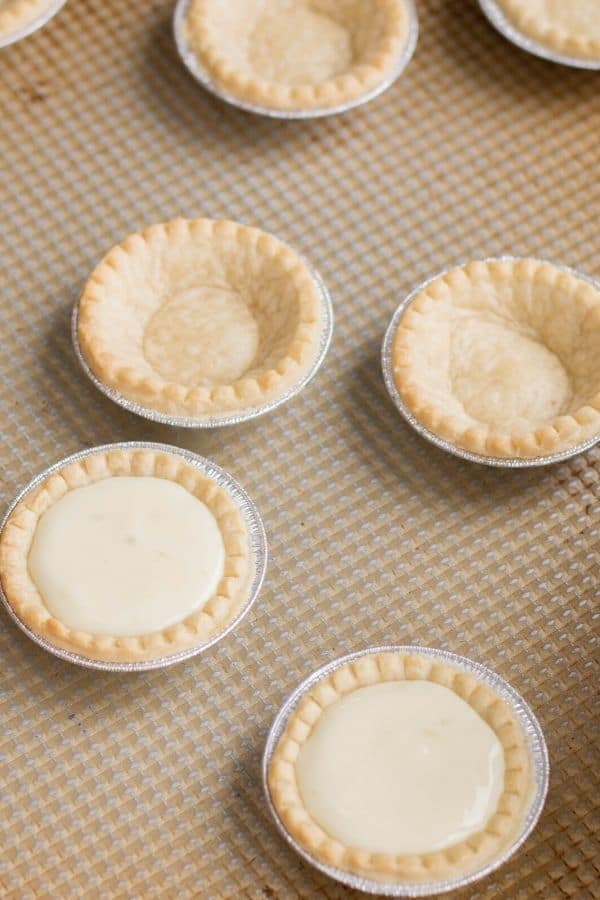 Step 3: You will then take your mini pies and place them back into the oven and finish baking them. As you can see this mini pie recipe is so easy.
Once done place on a cooling rack and allow your pies to cool down.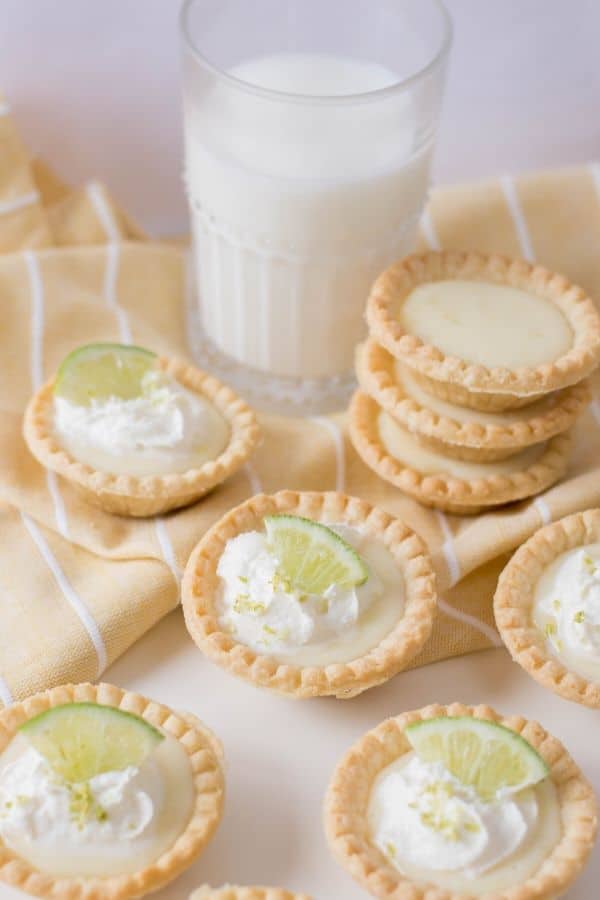 Step 4: Then top with whipped cream, lime zest or a lime wedge!
Tips For Success
Make sure to pre-bake the tartlets, as the filling doesn't bake for very long. So you want to get that nice golden color to the crust.
Sweetened condensed milk and evaporated milk are not the same. So make sure that you reach for the right ingredient.
I like to garnish with a little piece of lime. Another alternative would be some lime zest to add pop of color.
Homemade whipped cream can be used if you don't want to use Cool whip.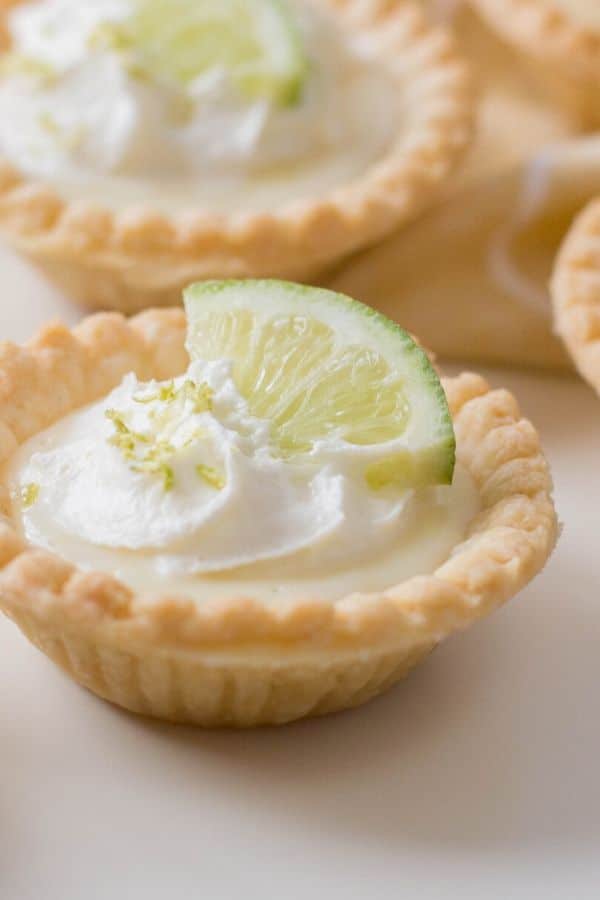 Storing
Your key lime tarts needs to be stored in the fridge. Just place in an airtight container or cover in plastic wrap.
These mini pies are best when served within the first few days. Otherwise they will start to dry out a bit.
How Do You Know When Key Lime Pie Is Done
The key to knowing when your pie is done it will be slightly jiggly in the center when you move your mini cake.
Since these are mini pies you will find that they are quick to bake. A full size pie will take longer. These mini pies take around 7-10 minutes in the oven.
FAQs
Looking for more desserts to make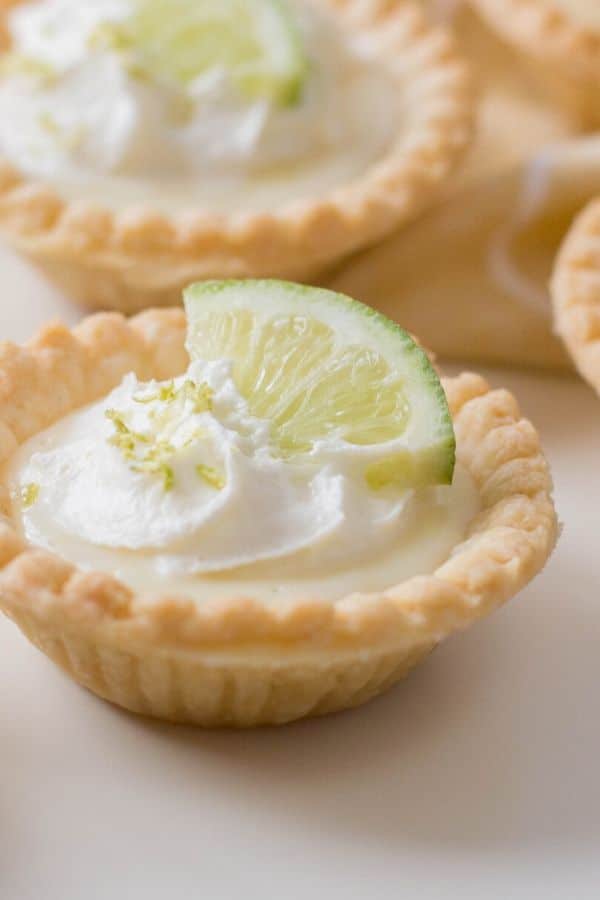 Mini Key Lime Pies
Servings 15 pies
Whip up these mini key lime pies for a dessert this week. A mini lime pie that is bursting with sweet and citrus lime flavor and topped with whipped cream. These mini tartlets are a must make summer dessert.
Ingredients
12-15 frozen mini tart shells or graham cracker crusts
14 oz. condensed milk
5 tablespoons key lime juice
¼ cup + 1 tablespoon sour cream
Zest of 1 lime
For the topping:
Whipped cream in a can, or homemade
Zest of 1 lime
6-8 lime slices cut into quarters (for a total of 12-16 quarter pieces)
Instructions
Preheat your oven to 375 degrees. Place your tartlet crust on a baking sheet and cook for 8-10 minutes. Remove from oven. If you use a graham cracker crust, skip the pre-cooking stage.

While your shells are cooking you can work on your key lime pie filling. In a bowl mix your condensed milk, lime juice, sour cream, and lime zest. Mix until creamy.

Spoon your lime pie filling into your baked tarts.

Return pies back to oven for 5-8 minutes.

Once pies are done, allow to cool completely on a cooling rack.

Refrigerate your pies in the fridge for at least one hour to help chill them off before serving.

Once your key lime mini pies are cooled, top with whipped cream, lime zest, and a lime quarter. Serve and enjoy!
Notes
Crust – If you want you can make and use graham cracker crust if you would like instead. Lime – If you can't find key limes, regular limes will work in this recipe. Topping – So I used whipped cream to top, but if you don't care for whipped cream you can leave it off.
Nutrition
Serving: 1gSodium: 243mgSugar: 60gFiber: 4gCholesterol: 58mgCalories: 616kcalTrans Fat: 1gPolyunsaturated Fat: 9gSaturated Fat: 14gFat: 24gProtein: 8gCarbohydrates: 96g
Reader Interactions