This galaxy ice cream is out of this world! Swirls of color, strawberry flavor, and tons of sprinkles that will put a smile on anyone's face. A no-churn galaxy ice cream recipe that is a must make.
Ice cream is my weakness. When I say that I mean it. It is one of my favorite foods. So, making no-churn ice cream was a no-brainer to me. Sweet, creamy ice cream without needing an ice cream machine!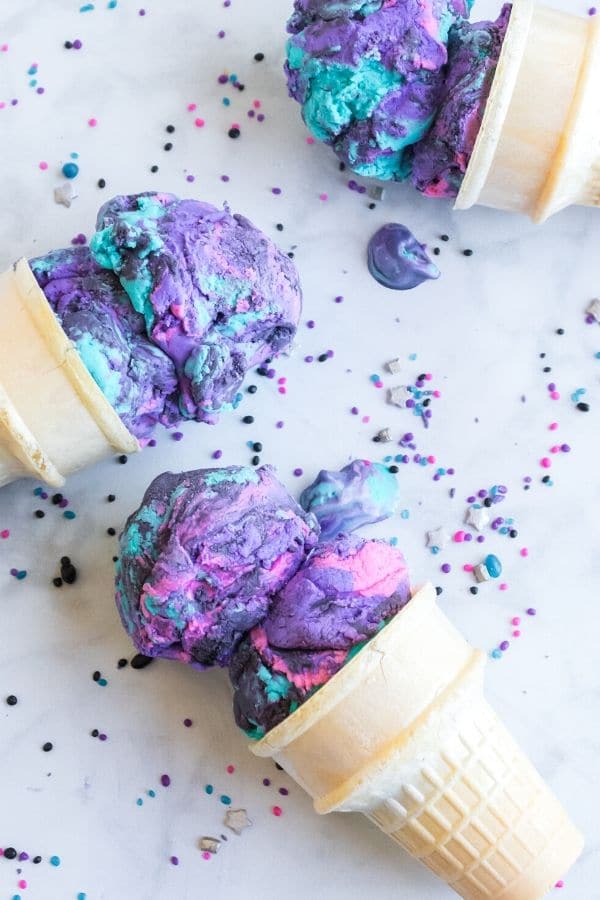 Fun colors, smooth and creamy ice cream, in every single bite. Space ice cream that will take you to a whole new planet as you sink your teeth into this colorful frozen dessert.
The perfect galaxy-themed treat that is perfect for an intergalactic celebration!
Why You Will Enjoy This Galaxy Ice Cream…
No churn ice cream
Bright Colors
Sweet Flavor
Great Birthday Ice Cream
Unicorn Party Theme
Mermaid Party Theme
Universe Party Theme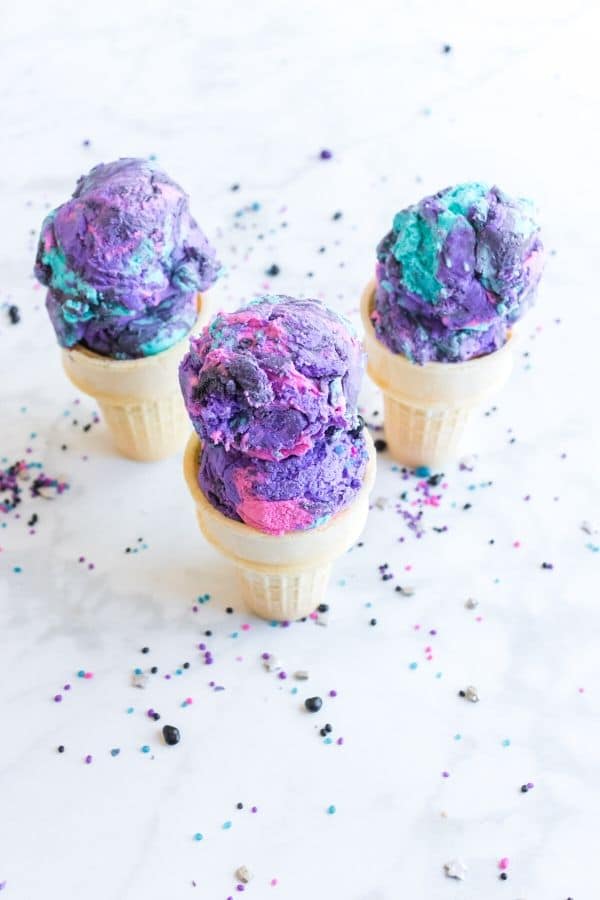 So there was a debate. Do we call this Unicorn Ice Cream, Mermaid ice cream, or Galaxy? My answer.. call it what you will.
It seems to fit all those categories, but most of all, it is tasty. So, name your ice cream to fit your style, and grab those spoons, and dive in.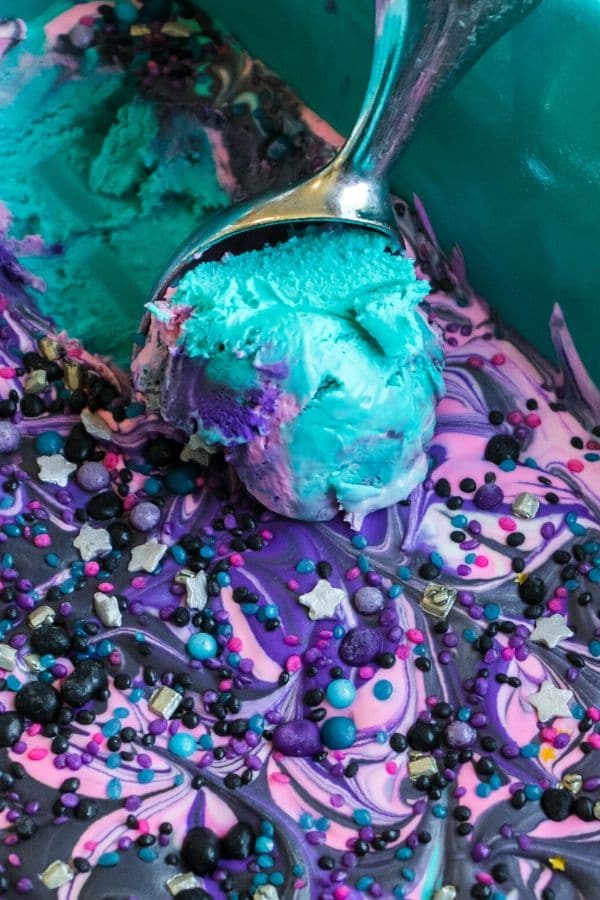 How To Make Galaxy Ice Cream
Full steps on how to make galaxy ice cream are in the printable recipe card at the bottom of the post. This is a visual walk through to help readers.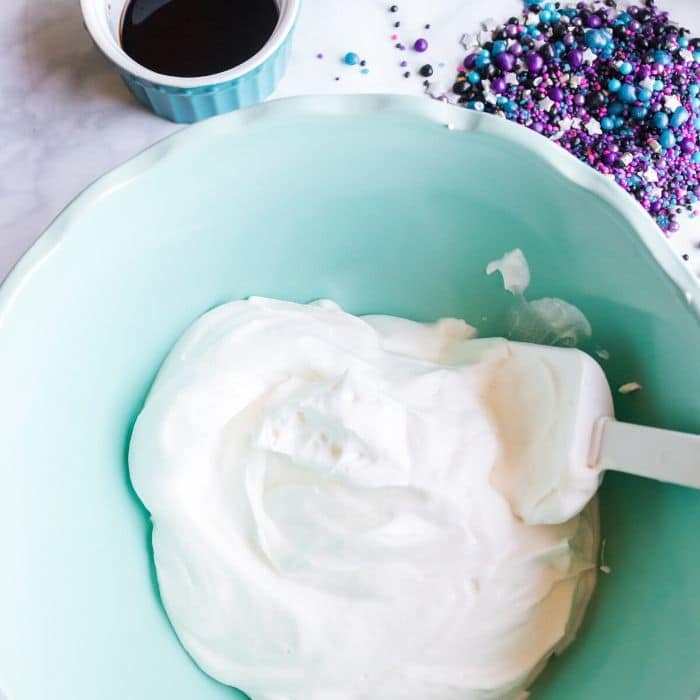 Step 1: To start you want to grab your stand mixer or a hand mixer and whip up that heavy cream until it forms stiff peaks.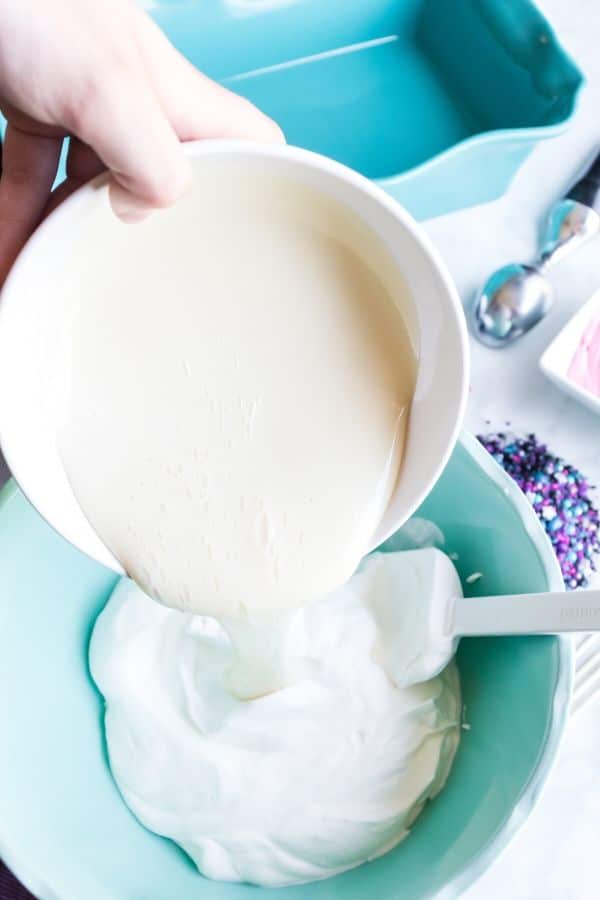 Step 2: Once your cream has stiff peaks, pour in your sweetened condensed milk along with vanilla extract. Make sure to fold it in, so you don't deflate the whipped cream.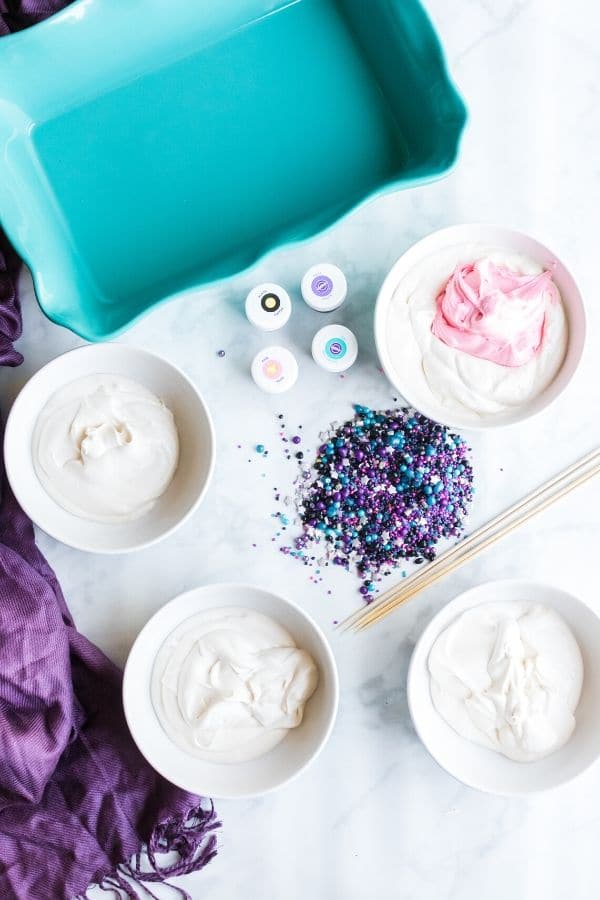 Step 3: Divide the batter into four bowls. One of the bowls you will add the strawberry frosting. Now add food coloring into each bowl to create all the colors.
Step 4: Stir them up until combined. The full directions are in the printable recipe card below.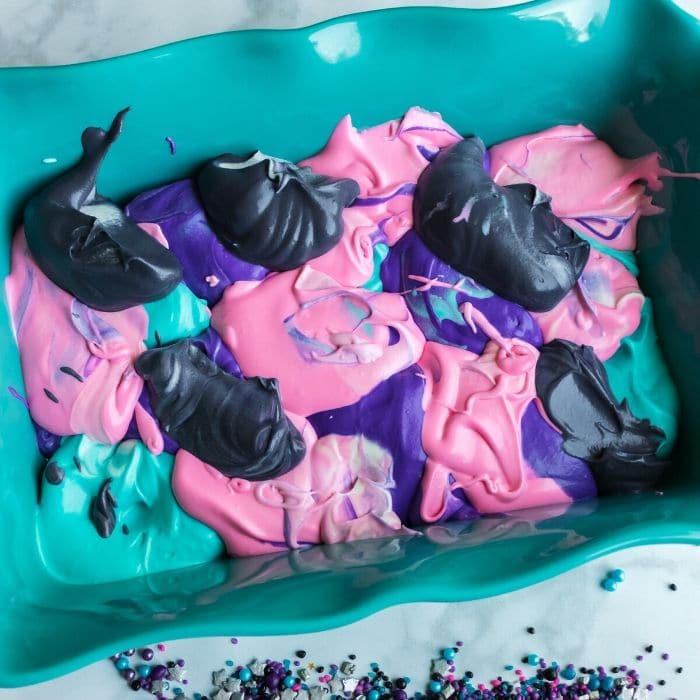 Step 5: Spoon the ice cream in making sure that you get all the colors mixed in. Then use a wooden skewer and swirl the top around to incorporate the colors.
Step 6: Add on your galaxy sprinkles, and then cover and freeze for up to six hours or overnight until hardened!
What To Store Homemade Ice Cream In
You can use a bread loaf pan for an easy container. Or you can opt to invest in an ice cream container.
The ice cream containers come with a lid to help prevent ice crystals from forming on your no-churn ice cream. You can also buy single-serve ice cream containers as well.
This is great for say birthday parties, prepping for easy grab and go desserts, etc.
Recipe FAQs
More No Churn Ice Cream Recipes
How Long Does Galaxy Ice Cream Last
This ice cream can last for 2-3 months in your freezer.
Make sure to store it properly, and put in the back of the freezer. This will prevent the temperatures from fluctuating and spoiling your ice cream faster.
Recipe Review:
Have you tried the recipe? If so, please leave a star ⭐️⭐️⭐️⭐️⭐️ rating in the recipe card below or drop a comment.  Also stay in touch with me through social media by following me on Facebook, Pinterest, or My Facebook Group!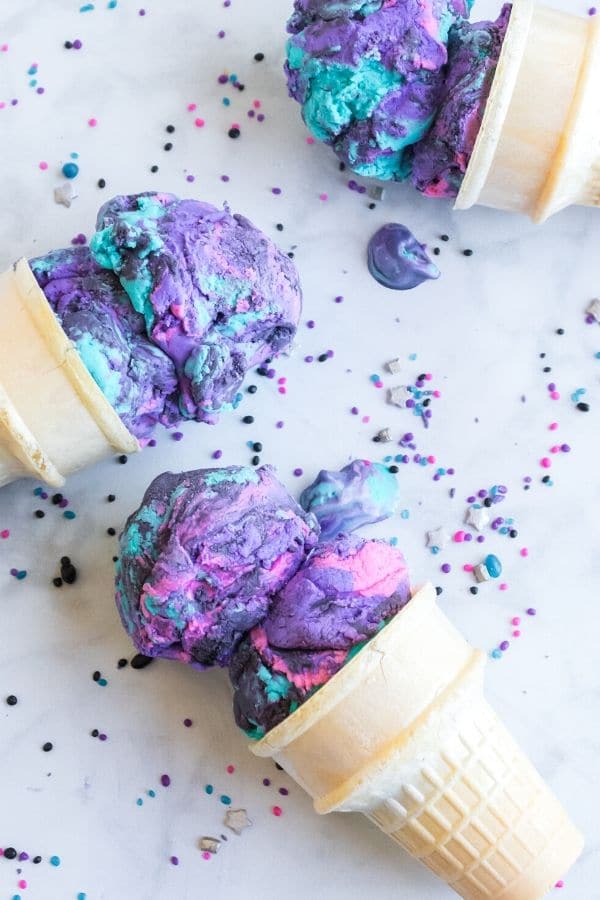 Galaxy Ice Cream
Servings 10
Galaxy Ice Cream is out of this world! Kids and adults will love this no churn space ice cream for birthdays, everyday dessert, and more. A simple recipe that requires no ice cream maker.
Ingredients
2 14 oz cans of sweetened condensed milk
4 cups heavy whipping cream
1/2 container of strawberry frosting
Black pink, teal and purple food coloring (I used Wilton Gel)
1 tbsp vanilla
Galaxy sprinkles
Instructions
Start by pouring your heavy cream into a stand mixer. I have found chilling the bowl helps to speed up the process. (This is my

stand mixer

)

Once your heavy cream forms stiff peaks you will now slowly pour in the sweetened condensed milk and vanilla, and fold it in. Don't overmix as that can flatten the whipped cream.

Grab 4 different containers to split the ice cream mixture up. Then add the frosting into one bowl with part of the whipped no-churn ice cream.

Now add drops of food coloring into each bowl. With the strawberry frosting, I did add a few drops to make it more vibrant. Do one bowl black, purple, and a teal blue. Or get creative and make your own mix of colors.

Spoon drop the colors into your pan, making sure to have a mix. This will give it that multi-color look! Once all the colors are in, use a wooden skewer or knife, and give a swirl to mix colors.

Once ready remove the no churn galaxy ice cream and dish up one sweet and flavorful ice cream.
Notes
Using the frosting does make this ice cream softer. You are welcome to skip the frosting if you want a firmer texture, but it does add a lot of flavor to the ice cream!
Nutrition
Serving: 1gCalories: 358kcalCarbohydrates: 8gProtein: 3gFat: 36gSaturated Fat: 22gPolyunsaturated Fat: 11gTrans Fat: 1gCholesterol: 109mgSodium: 38mgSugar: 8g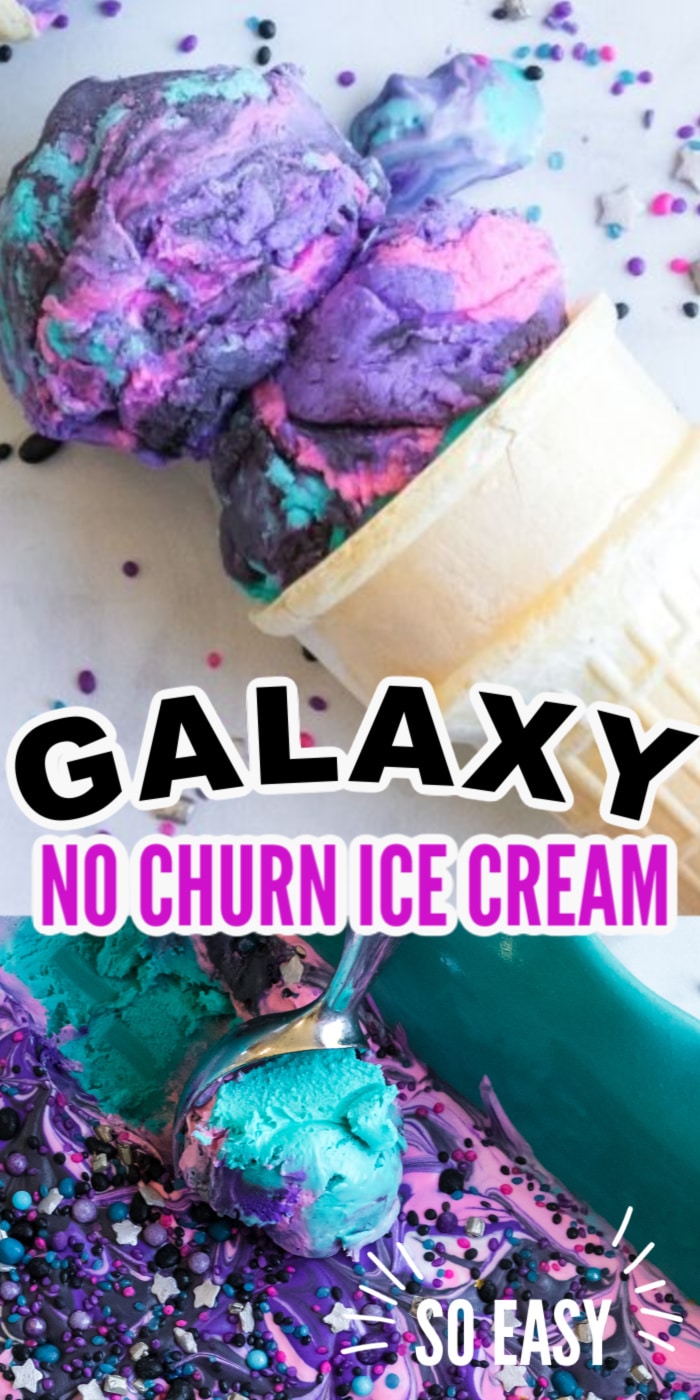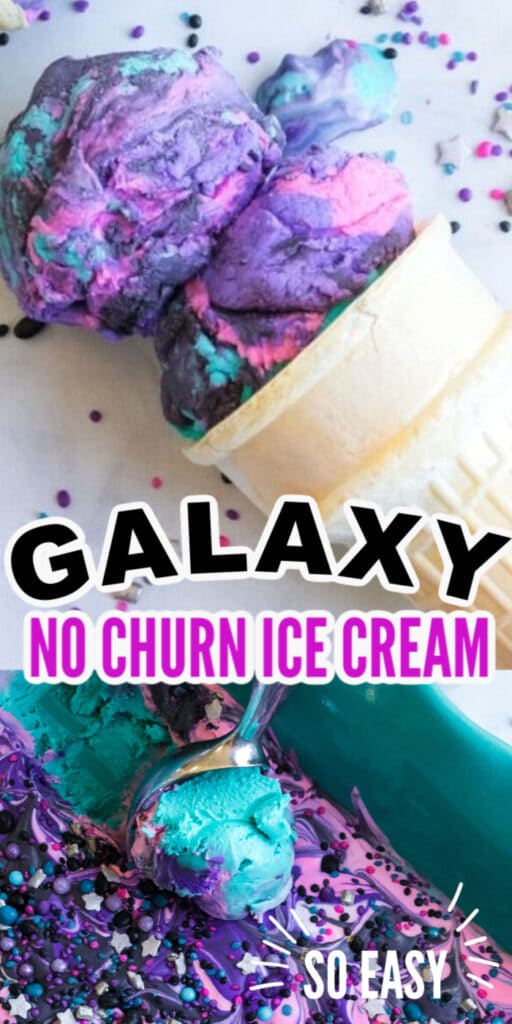 Reader Interactions