Four ingredient No Churn Strawberry Ice Cream is the easiest and most refreshing homemade strawberry ice cream I have ever made. strawberry ice cream recipe without ice cream maker makes it so simple to make. The hardest part is waiting for the no-churn ice cream to harden up in the freezer.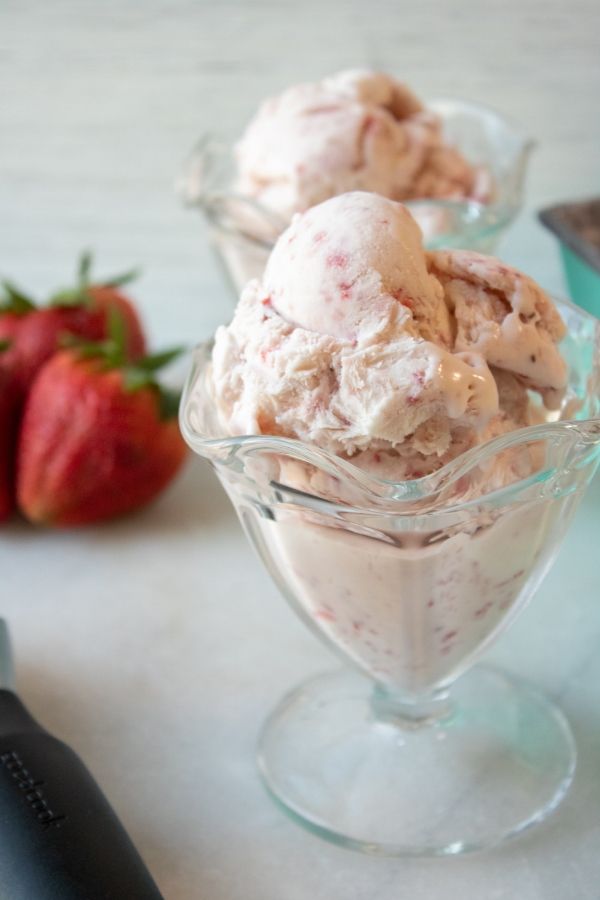 I love ice cream, that is no secret. I grew up sneaking ice cream for breakfast. My step-sister and I would easily eat a gallon of ice cream a week I think, we just loved it. And being young, we had no self-control, and learn sneaky ways to grab one more scoop. Now that I am an adult, I love making no-churn ice cream. Try my Blackberry No Churn Ice Cream as well!
Homemade Strawberry Ice Cream
No cook strawberry ice cream is the best. No eggs, just simple ingredients that can be stirred up, and tossed right into the freezer to harden. Grab those fresh strawberries from your garden or farmer's market and get to making incredible ice cream. Pureed strawberries offer a pink color to your homemade ice cream. Rich and creamy, and the perfect summer dessert.
What Does No Churn Mean?
No churn means that you don't need a traditional ice cream maker to churn the ice cream. Just mix it up with a stand mixer, and food processor for strawberries and then pour into freezer friendly container and freeze. This is the easiest homemade ice cream recipe to make. This strawberry ice cream has no eggs and doesn't have to be cooked like traditional.
What If I Don't Want Strawberry Seeds in No-Churn Ice Cream
After you use the food processor to puree your strawberries, you can use a strainer
to run through to hold back any seeds. That way you have a creamy strawberry ice cream.
How to Get A Deeper Red or Pink Color to Strawberry Ice Cream
Reach for red food coloring to add to the base of your ice cream and blend in. The food coloring will help to deepen the color of the ice cream.
How To Serve Strawberry Ice Cream
In a bowl
Make a Sundae
Waffle Cone or Sugar Cone
Between 2 sugar cookies like a sandwich
Make into a shake or malt
Best Containers for No Churn Ice Cream
Aluminized Steel Loaf Pan with Lid
Tovolo Glide-A-Scoop, Non-Slip Base, Insulated Ice Cream Tub, 1.5 Quart,
Ice Cream Freezer Storage Containers – Set of 2 with Silicone Lids
These are my favorite homemade ice cream storage containers that work great. I think you all will love them as much as I do! From single serve containers to the non-slip insulated tub.
Check out these other dessert recipes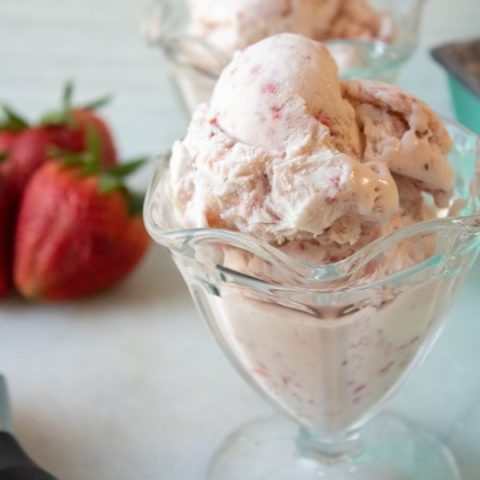 No Churn Strawberry Ice Cream Recipe
Total Time:
6 hours
10 minutes
No Churn Strawberry Ice Cream is a refreshing and easy no-egg ice cream that can be made without an ice cream machine.
Ingredients
1 (14 ounce) can sweetened condensed milk
½ teaspoon vanilla extract
2 cups cold heavy cream
½ quart strawberries, pureed
Instructions
Prep your strawberries and the puree them in your food processor or pulse in a blender.
In a Mixer beat your heavy cream until it is thick, and then add in your sweetened condensed milk and vanilla. Then fold in your strawberries.
Spoon your ice cream into a freezer friendly container.
Freeze for up to 5-6 hours or if you can freeze overnight.
Then let it sit on counter for 5-10 minutes before you scoop, it will freeze hard.
Nutrition Information:
Yield:

6
Serving Size:

1/2
Amount Per Serving:
Calories:

310
Total Fat:

29g
Saturated Fat:

19g
Trans Fat:

1g
Unsaturated Fat:

9g
Cholesterol:

92mg
Sodium:

30mg
Carbohydrates:

10g
Fiber:

1g
Sugar:

9g
Protein:

3g

Can I Use Frozen Strawberries In Replace of Fresh in Homemade Ice Cream
Yes. If you don't have any fresh strawberries you can reach for frozen. I do find that fresh strawberries offer the best flavor and texture, but feel free to reach for frozen if that is what you have on hand. It will work.
How Long Can You Store No-Churn Ice Cream
You can keep this ice cream in the freezer for up to three months when it is stored properly. I have my favorite storage containers listed above. But you can use any that you have, just make sure to cover the ice cream good so ice crystals don't begin to grow.