On the hunt for how to care for marble countertops? Let me share must know marble countertops care tips so you keep your marble looking brand new and sparkling.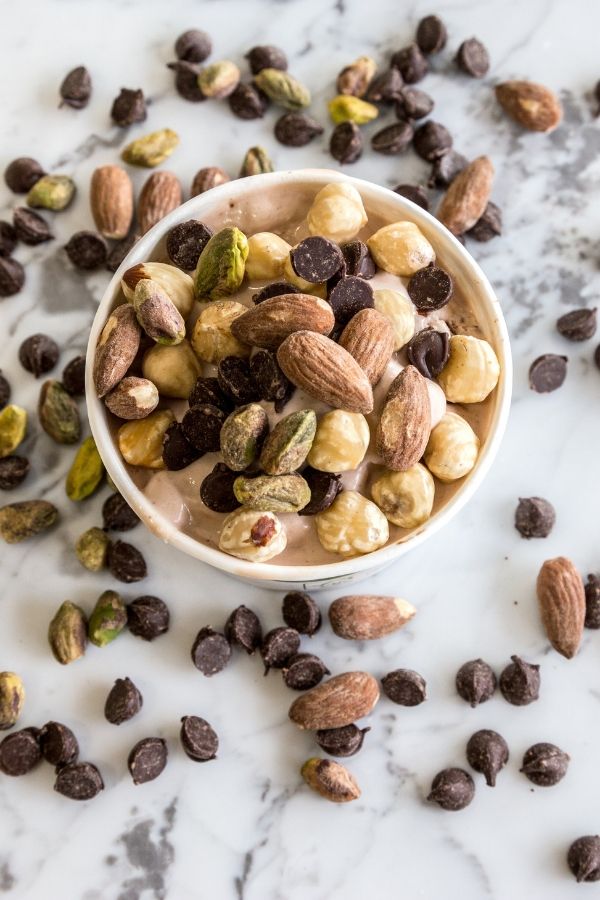 Do marble counters scratch? How do you seal marble? How do you clean marble countertops? Then How often do you need to seal marble countertops? What cleaning products can you use on marble countertops?
Those are the type of marble countertop care questions I will be answering!
More Kitchen Care Tips and Tricks
How To Care For Marble Countertops
Weiman Granite Cleaner and Polish
Lustro Italiano Etch Remover
Method Daily Granite Cleaner Spray
Granite Sealer & Protector
Rock Doctor Stone Granite Polish
Supreme Surface Granite & Quartz, Cleaner, Polish and Sealer with
What Cleaning Products Are Safe To Use on Marble?
Marble is a lot more delicate than other types of counters. If you use the wrong cleaners for marble it can ruin your stunning counters.
Can you use Clorox wipes on marble? The answer is no, Products like Clorox wipes can etch into your marble and ruin the finish.
How To Clean Marble Counters
You can use one of the cleaners listed above, (make sure to read labels to ensure it fits your style of marble). Or use a damp cloth and soap and water for cleaning your marble surfaces. You can use a non-abrasive mild soap
. Use a soft cloth to wipe away any messes and use this as an everyday cleaner if you will. Then use a dry towel to wipe away any standing water on your counter. This will help keep your marble kitchen counters or any other room in your home clean.
Care and maintenance is slightly different than other counters, but once you learn how cleaning and caring for natural stone fits you, you will have no troubles.
Acidic Food Prepping
Acidic food can be harmful to your marble. So how do you peel acidic foods on your marble counters?
Foods like tomatoes, Wine, citrus fruit, coffee, vinegar all could damage your marble.
When you go to food prepping make sure you use a cutting board and wipe up any spills immediately. You could even go the extra step to lay out a silicone mat under your cutting board to prevent any spills on your counter.
Do Marble Countertops Scratch
Yes. Marble can and will show scratches. If you get a honed finish it will be less likely to show scratches as much. Polished finishes are really shiny and will showcase scratches a lot more prominently.
By cleaning properly and sealing you can get rid of those scratch marks.
Marble vs Hot Pans
Non Slip Silicone Carved Trivet
Square Cast Iron Trivet
Silicone Trivets
One thing that catches people's attention is a lot of times people set hot pans and pots directly on their marble counters. While marble does tolerate heat, I highly recommend using a trivet to protect any damage to your counters.
How Often Do You Need To Seal Countertops
Sealing your marble should be done regularly. I share two ways to Test if your marble needs resealed. Sealing your marble is just adding a protective layer over the marble so it isn't exposed.
You want to ensure your marble always has a proper seal because it will help prevent damage, stains, and keep them shiny and looking like new.
How to Test of Your Counters Need Sealed
Mineral Oil Test | Add a few drops of mineral oil to your countertop on different spots. Only do a few areas. Wait ten minutes, come back and wipe it off and leaves discoloration it needs sealed.
Water Test | If you add drops of water to your counter and it doesn't bead up that means you need to seal. Or if the water makes the marble a darker color (let water sit on the counter for 10 minutes before wiping up) it shows it is soaking into marble and the finish is gone.
The mineral oil stain will evaporate in around 30 minutes so don't panic.
How To Seal Marble Countertops
Like any other counters, there is care involved. Marble counters can last a lifetime and stay shiny and looking like new. Once you learn how to care for marble, you will feel less intimidated!

What tips do you have for how to care for marble countertops?