If you are working towards stocking your kitchen with essentials, you might need help in knowing what kitchen essentials you might need. With a world full of products, it is very easy to get overwhelmed in a hurry. Let me share essential kitchen tools that you might want to invest in for your home.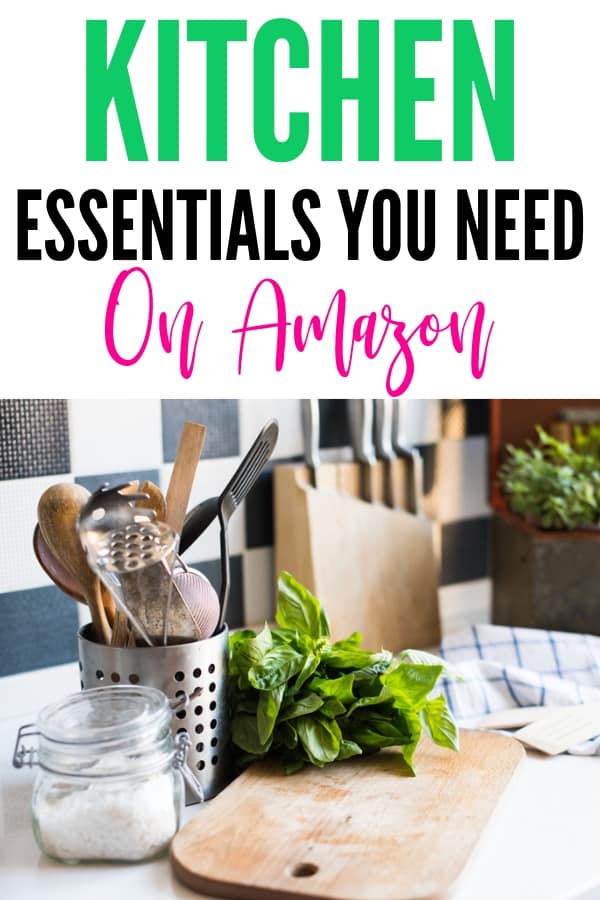 This list is great for any starter kitchen or well-equipped kitchen that is looking for additional items to add to their list. From essential kitchen knives to handy tools to save you time. I got you covered!
The Best Kitchen Essentials
I wanted to create a list of true kitchen essentials you might want to have for daily cooking and baking. Now I tried to cover all the basic basis and find your kitchen tools that are quality as well as affordable. You might splurge on one or two items and that is okay, but overall you will find these items worth the investment.
I focused on the actual kitchen tools you will use.
Affordable buys, or something to splurge on for quality that will last.
Quality products that won't break after one use! Sometimes cheaper stuff can be less quality.
Some Items I Didn't Include In My Kitchen Essentials
Dishes, silverware, glasses, blenders, toasters, etc. Those items you can easily choose that fit your preference for your home. Or you can even head to a thrift store or shop at a yard sale and buy mismatched items that work just as good!
Aluminum Sheet Pan
8-Piece Mixing Bowl Set
Thick Flexible Plastic Cutting Board Mats
Measuring Cups and Measuring Spoons Set
Cuisinart 15-Piece Stainless Steel Hollow Handle Block Set
Kitchen Essentials
AmazonBasics 6-Piece Nonstick Bakeware Set
Stainless Steel Mixing Bowls
11pcs Silicone Cooking Kitchen Utensils
Airtight Food Storage Containers,Vtopmart 8 Pieces BPA Free
AmazonBasics Silicone Baking Mat – 2-Pack
Essential Kitchen Tools And Gear To Invest In
Kitchen Dish Towels
Colander, Stainless Steel
Enameled Cast Iron Dutch Oven
4-Piece Oval Pot Holders
3 Set Silicone Multi-Use Intricately Carved Trivet Mat – Insulated
What is one of the first kitchen essentials you felt the need to buy?