Instant Pot Smothered Pork Chops is the perfect meal to serve up this week. Fork-Tender pork chops smothered in gravy.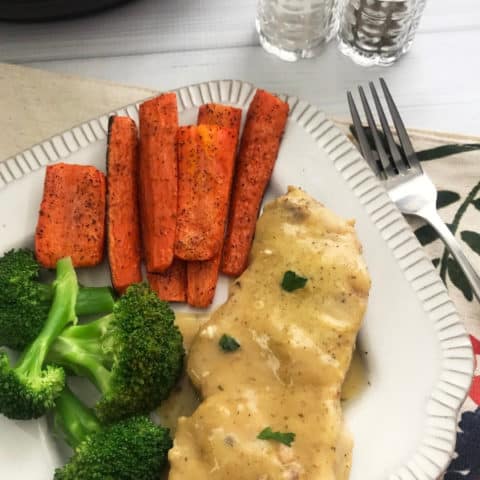 I love smothered pork chops! Probably my favorite way to eat a boneless pork chop. Pork chops and gravy paired with steamed broccoli or a side of mashed potatoes is always a total comfort dish. Now, you can make Instant Pot smothered pork chops in no time. Pair with rice, noodles, or creamy mashed taters.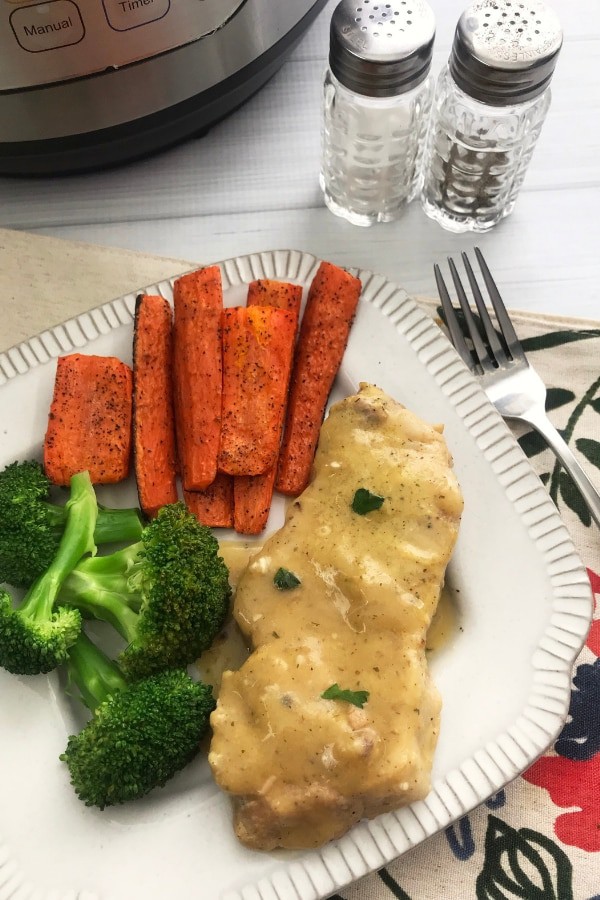 Right after I had my son, my mother-in-law made some smothered pork chops in the oven, and let me say it was the one and only food I felt like eating. I literally ate it breakfast, lunch, and dinner until it was gone. It was the only food that tasted good, and I still dream and swoon over those tender pork chops with gravy.
More Incredible and Easy Instant Pot Recipes
Easy Smothered Pork Chops
If you love your Instant Pot like so many others, you might enjoy this pork chop recipe! It is something a bit different than your classic ground beef recipes or pasta, and it is going to please your whole family.
Can I Use Chicken Stock Instead of Beef Stock in Smothered Pork Chops Recipe
Yes! I have actually used both and I don't notice much difference at all. Feel free to use what you prefer or what is already in your pantry at home.
Can I Use Homemade Ranch Seasoning For Smothered Pork Chops
Absolutely! Don't have a ranch packet in your cupboard just make your own! It is really easy to do, and has a nice shelf life. Here is a great recipe for homemade ranch seasoning, and just 3 tablespoons equals a packet of ranch.
Depending on if I can run to the store or not, I generally make my own. But I do keep a few packets hidden in my cupboard in case I run out and can't make it to the store.
How To Make Smothered Pork Chops and Gravy in Instant Pot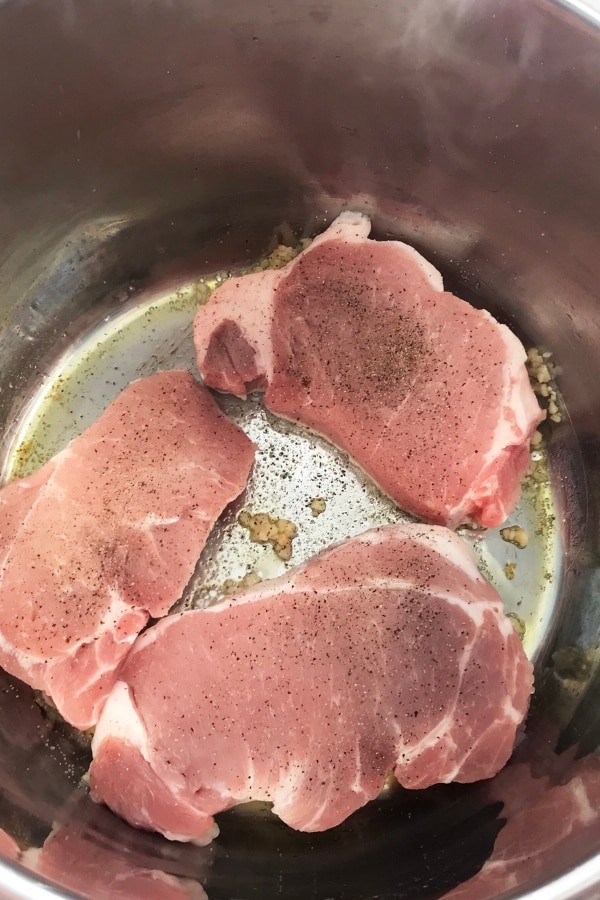 Start by sauteing your garlic in oil, then add in your pork chops and brown them on each side. This will add a nice depth in flavor, that you won't get if you skip this step.
Then in a bowl, you combine all other ingredients like your beef stock, canned soup, ranch, and mix until combined. Pour over your chops, and seal your Instant Pot.
Cook on manual for 8 minutes! Release pressure and then serve!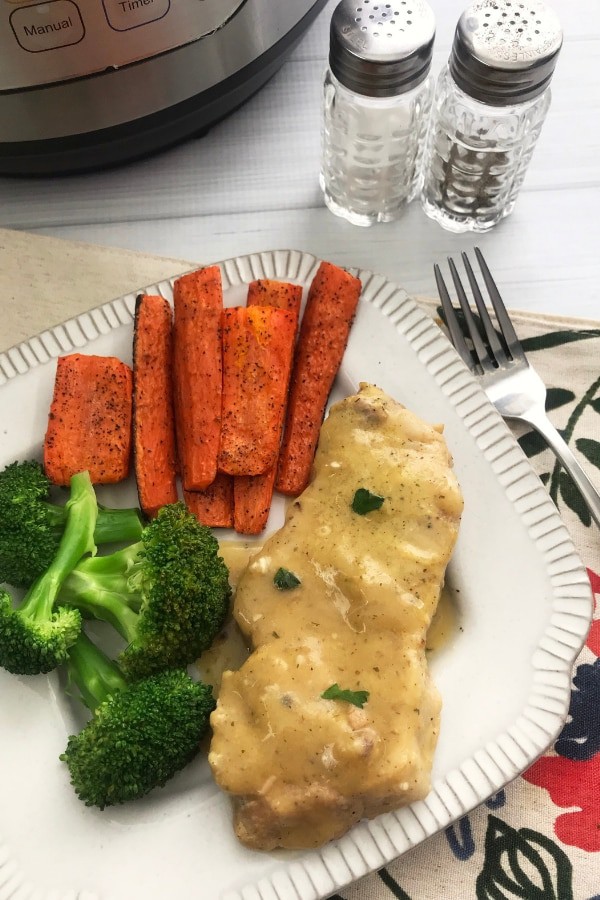 Instant Pot Smothered Pork Chops
Servings 5 pork chops
Instant Pot Smothered Pork Chops is the perfect meal to serve up this week. Fork-Tender pork chops smothered in gravy.
Ingredients
5 medium boneless pork chops
1-2 tbsp oil
1/2 tsp. salt
1/2 tsp. pepper
1/2 tsp. garlic powder
1 tsp. minced garlic
1 oz package of ranch seasoning
1 oz package of brown gravy
10.5 oz can cream of chicken soup
2 C. beef broth
Instructions
Start by seasoning your pork chops, (garlic powder, salt, and pepper.)

Then add olive oil and minced garlic to your Instant Pot and select Saute.

Brown pork chops on both sides.

In a bowl mix your soup, beef stock, ranch seasoning and beef gravy packets and whisk until combined well.

Pour over the browned pork chops.

Place lid on and seal it shut.

Hit manual and select 8 minutes and ensure your vent is closed.

When the timer is done carefully vent the Instant Pot.

Remove and pair with whatever sides you want.
Notes
For oven directions:
Preheat oven to 350 degrees.
In a skillet add olive oil and garlic and saute until fragrant.
Add in your pork chops and season and brown on both sides.
Follow directions of making the gravy base in a separate bowl.
In a 9x13 greased pan, lay out your chops, and pour gravy mix over top.
Cover with aluminum foil and bake for around 1 hour, or until chops are cooked through and tender.
Nutrition
Serving: 1chopCalories: 445kcalCarbohydrates: 8gProtein: 40gFat: 28gSaturated Fat: 8gPolyunsaturated Fat: 18gCholesterol: 108mgSodium: 1597mgSugar: 1g

Sides To Pair With Pork Chops and Gravy
Mashed Potatoes
Rice
Egg Noodles
Steamed Vegetables
Oven Baked Pork Chops and Gravy
In the notes section above I give directions on how to make this in the oven. I have done it both ways! Making sure your pan is tightly sealed in important so it locks in the moisture and won't dry out your chops.
If you find you need more liquid add in some water or even more beef broth during the cooking process.
Tools Used to Make Pork Chops and Gravy in Instant Pot
Instant Pot 6 Qt
SteamMates
Cupboards/Cabinets Savior
2 Pack Black Kitchen Tongs,
Here are a few of the items I like to have on hand when I use my Instant pot for this recipe.
Kitchen Tongs | Great for flipping the pork chops without burning my hands in the process!
Cupboard Saver | This is great if you cook with your Instant Pot under your cabinets. You get to direct where the steam goes when you release it, vs spraying the cabinets above it. I shared two styles you could pick from.
Instant Pot | Of course, if you don't have an Instant Pot it might be worth investing in. A wonderful way to cook wholesome and hearty meals in a fraction of the time, and using less energy than the stove.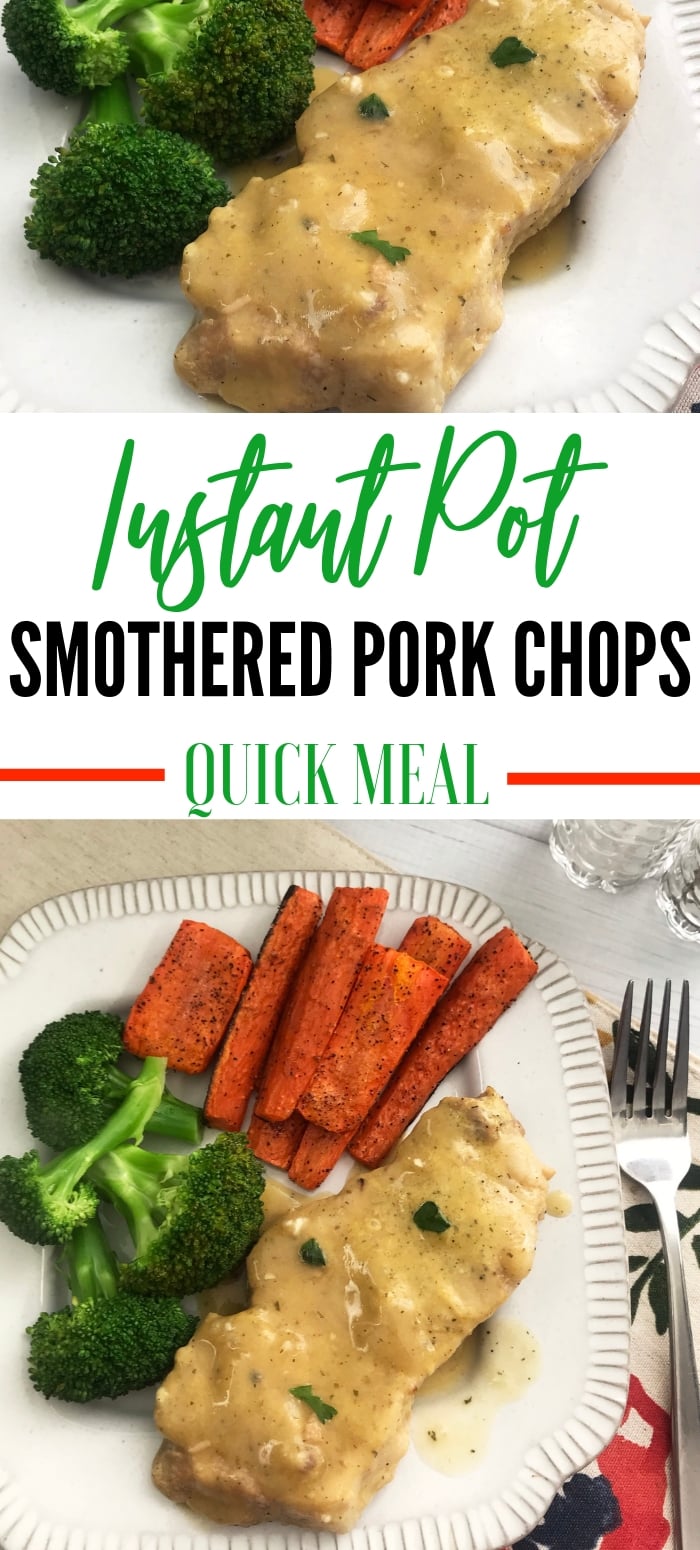 Are you a fan of smothered pork chops?
Reader Interactions