Whip up a batch of this strawberry fudge for a sweet treat. A swirl of red and pink fudge, that is then topped with sprinkles. A simple fudge recipe that is made with canned frosting.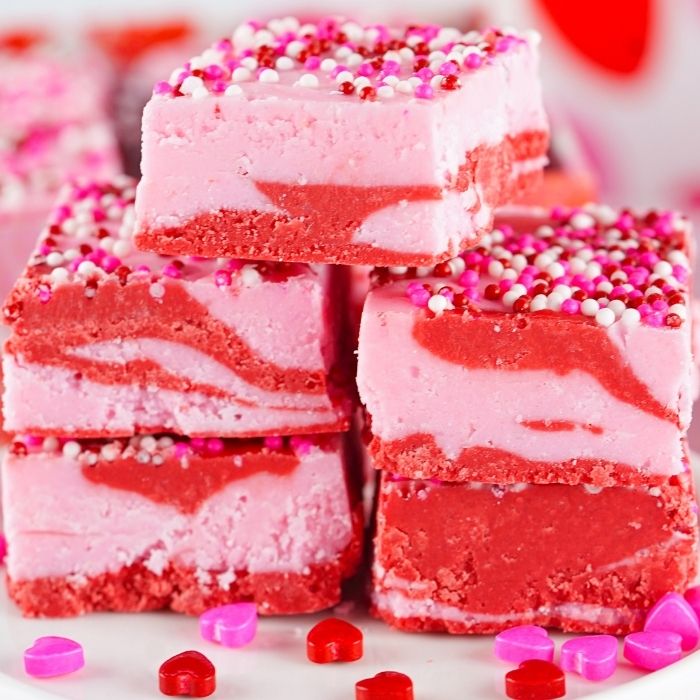 Did you know you can make strawberry fudge using frosting. No need for sweetened condensed milk, this is a fudge made with frosting! A two colored swirled strawberry flavored fudge, that is creamy, rich, and melt in your mouth delicious.
This strawberry fudge recipe can be made all year round. Or make this into a Valentine's Day fudge for your sweetheart! Either way, this fudge recipe is melt in your mouth.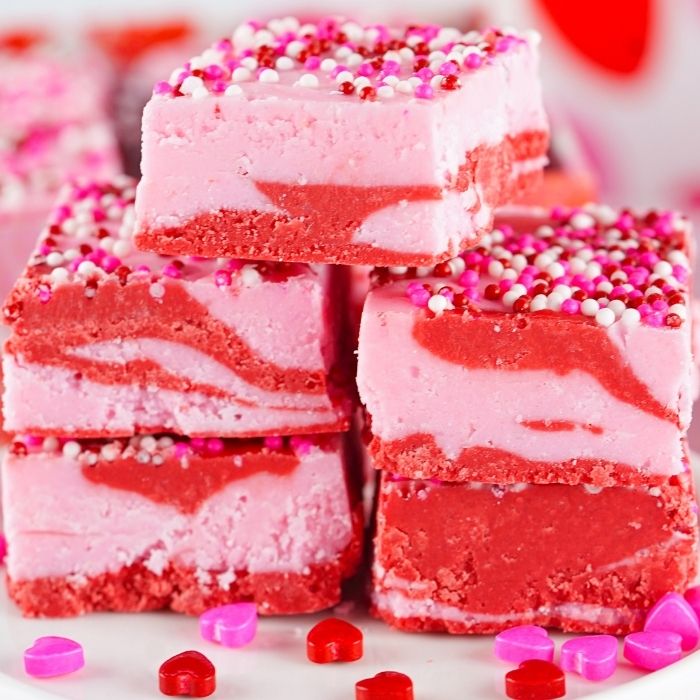 This Strawberry Fudge Recipe Is…
Made with a container of frosting
Uses strawberry extract for a sweet flavor punch
Easy
A no bake dessert
Freezer Friendly
Ingredients Needed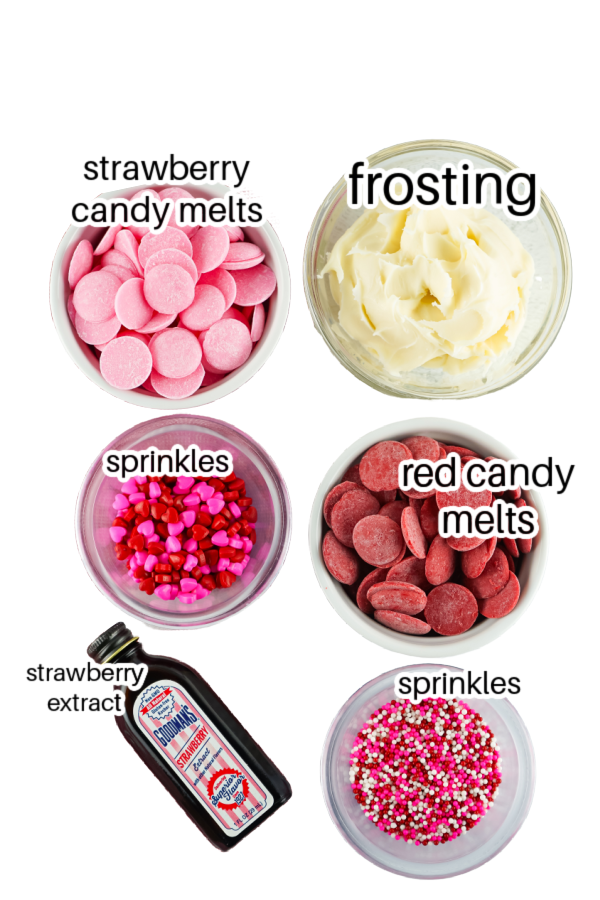 Buttercream Frosting
Sprinkles (optional)
Variations To Recipe
I used a buttercream frosting, you can use any flavor of frosting. Even a cream cheese frosting would be delicious to make this a strawberry cheesecake fudge recipe.
Sprinkles are optional.
Swap the strawberry extract with any other flavor to change up the flavor of the fudge.
Instead of strawberry candy melts you can use pink candy melts without added flavoring.
How to Make Strawberry Fudge
Full directions on how to make strawberry fudge are in the printable recipe card. This is a visual walk through on how to make.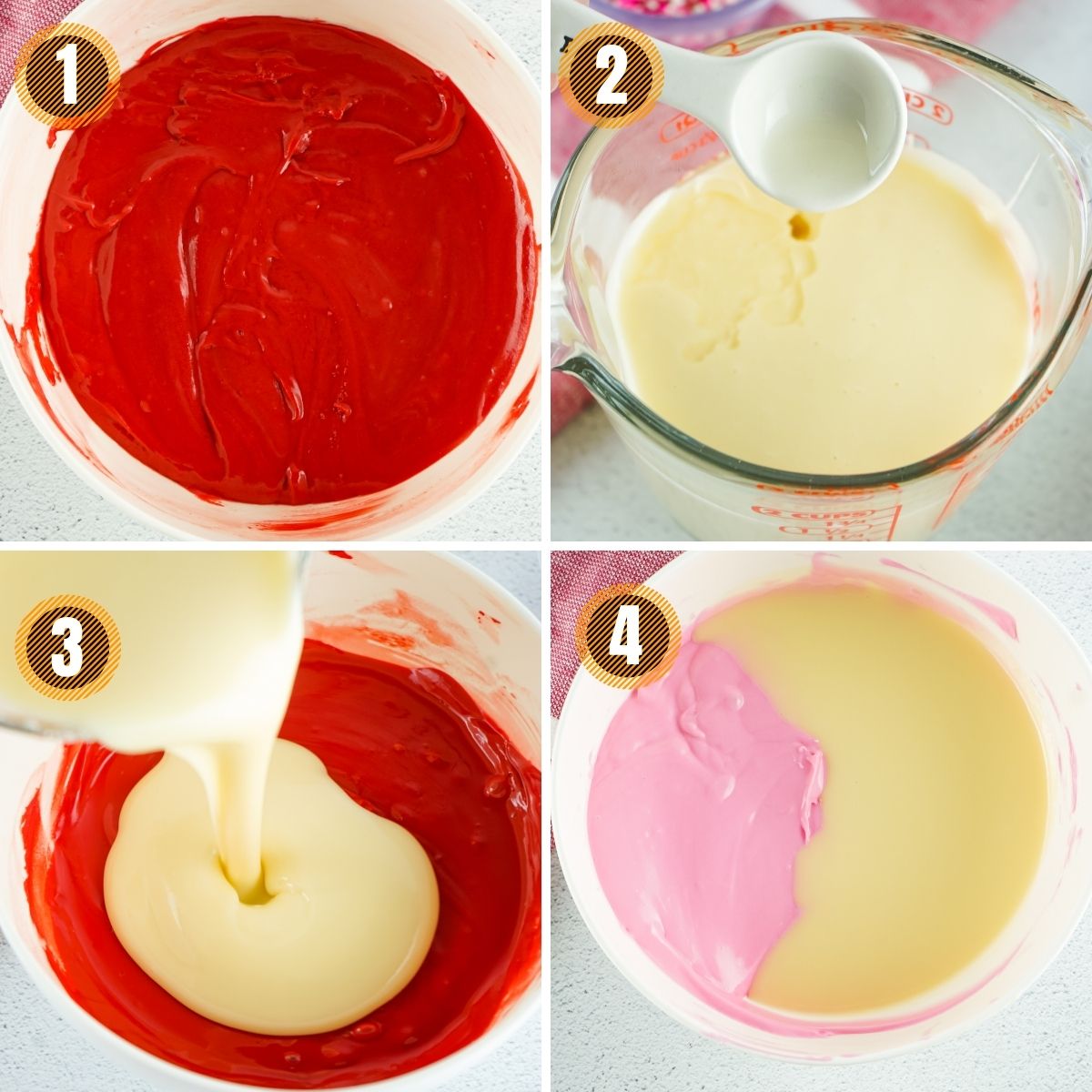 Add red candy melts in one bowl and pink candy melts in another bowl. Heat the candy melts for 20-30 second and then stir the chocolate, to make sure it fully melts without overcooking.
Now you will remove the lid and aluminum film from the frosting and heat in the microwave for 30-45 seconds.
Stir in the strawberry extract.
Pour half the frosting in the red and the other half in the pink. Stir well.
Now pour your frosting fudge into the 8×8 pan, alternating the colors.
Use a toothpick or knife to swirl colors to blend a bit, then add sprinkles if you want.
Refrigerate for 2 hours, or until set. Then slice and serve.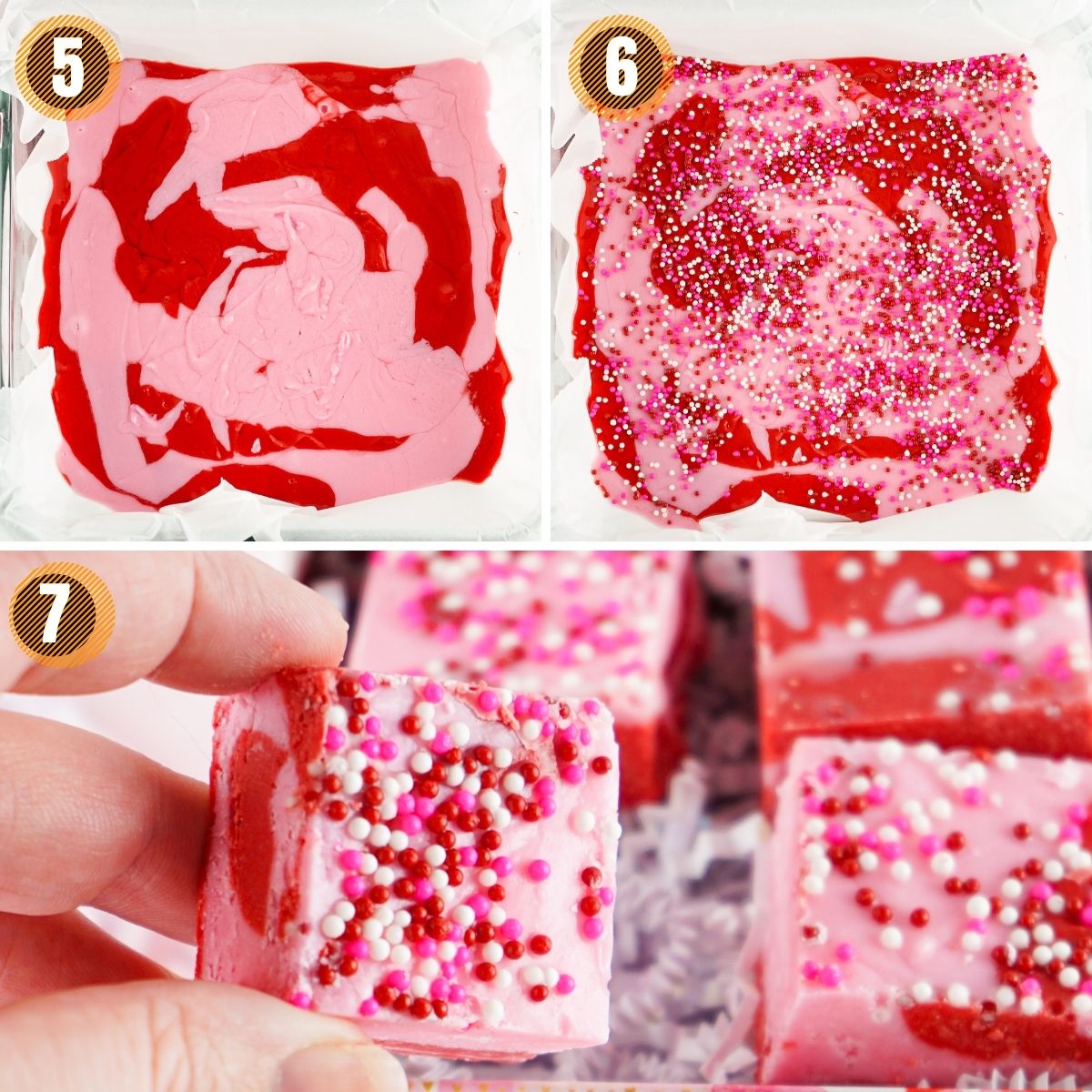 Helpful Tips
Melting Chocolate – Make sure that you don't overheat the chocolate. If you do it can cause it to seize up. Just heat it up in 20-30 second intervals.
Warm up In Double Boiler – If you don't want to heat the chocolate in the microwave, then warm up in a double boiler.
Line Pan – Line pan with foil or parchment paper to prevent sticking.
Sprinkles – Add on the sprinkles right after you get it poured into the pan. Then lightly press the sprinkles into the fudge, to ensure they stick.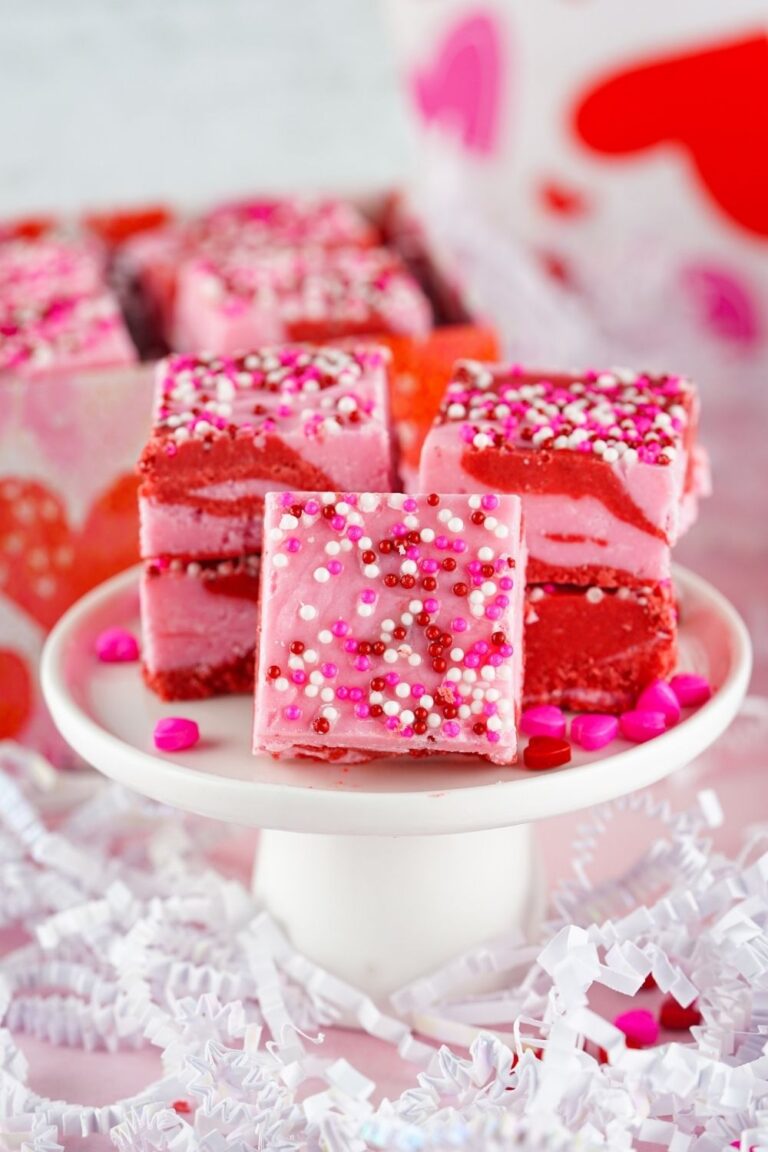 Storing
Room Temperature or Fridge: You can store this fudge at room temperature or in the fridge. If room temperature the fudge lasts 3-4 days, and in the fridge it is 5-7 days. Just place in a covered container.
Freezer: You can also freeze any fudge you don't eat right away. Simply store properly in a freezer bag or container for 3-4 months. Thaw on counter or in the fridge overnight.
Common Questions
Some common questions for this easy fudge recipe.
Related Recipes
Have you tried the recipe? If so, please leave a star ⭐️⭐️⭐️⭐️⭐️ rating in the recipe card below or drop a comment. Also stay in touch with me through social media by following me on Facebook, Pinterest, or My Facebook Group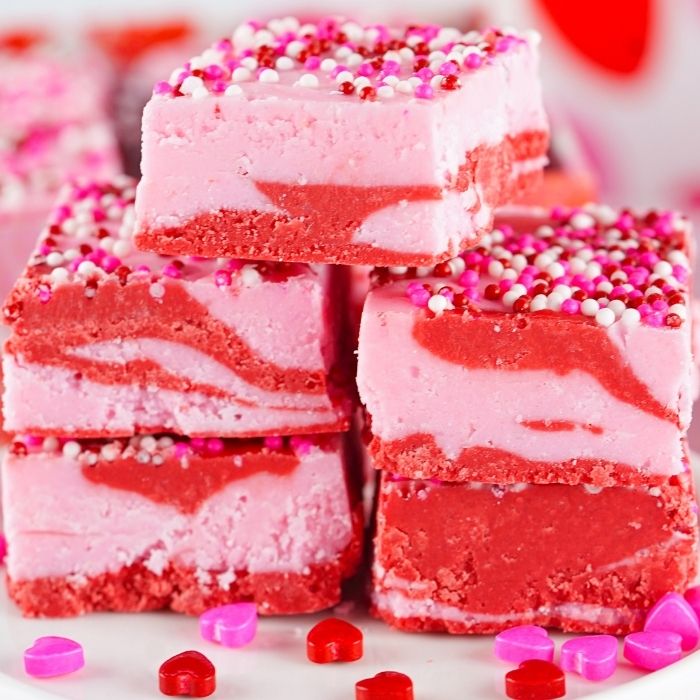 Strawberry Fudge
Servings 8 x8 pan
Whip up a batch of this strawberry fudge for a sweet treat. A swirl of red and pink fudge, that is then topped with sprinkles. A simple fudge recipe that is made with canned frosting.
Ingredients
1 container buttercream frosting 16 ounces
1 teaspoon strawberry extract
3/4 cup strawberry flavored pink candy melts
3/4 cup red candy melts
Sprinkles – Optional
Instructions
Line an 8×8 pan with parchment paper or foil and set aside.

Start by adding your red and pink candy melts in separate containers that are microwave safe.

Begin to heat the red candy melts doing 20-30 second heat cycles, stirring between each heat cycle. Once melted set aside and repeat with the strawberry candy melts.

Then take the lid and aluminum seal off the frosting and heat for 45 seconds in the microwave.

Stir in the strawberry extract, and mix really well.

Pour half the frosting in the pink and half the frosting in the red. Stir well.

Pour the colored frostings in an 8×8 prepared pan, doing a little of each color to creates a swirl effect.

Top with sprinkles if you want, and then refrigerate the strawberry fudge for 2 hours or until it is hardened.
Notes
Frosting – You can use any flavor of frosting you want. Vanilla, cream cheese, etc. I loved the flavor of the buttercream. Candy Melts – Go right ahead and swap out the candy melts for baking chocolate if you don't want to use a candy melt for this dessert. Temper the chocolate to ensure it sets up properly. Sprinkles – Sprinkles are optional but they add a nice color to the frosting fudge. I used Valentine's Day themed since it is approaching.
Nutrition
Serving: 1gCalories: 75kcalCarbohydrates: 17gFat: 1gCholesterol: 2mgSodium: 6mgSugar: 12g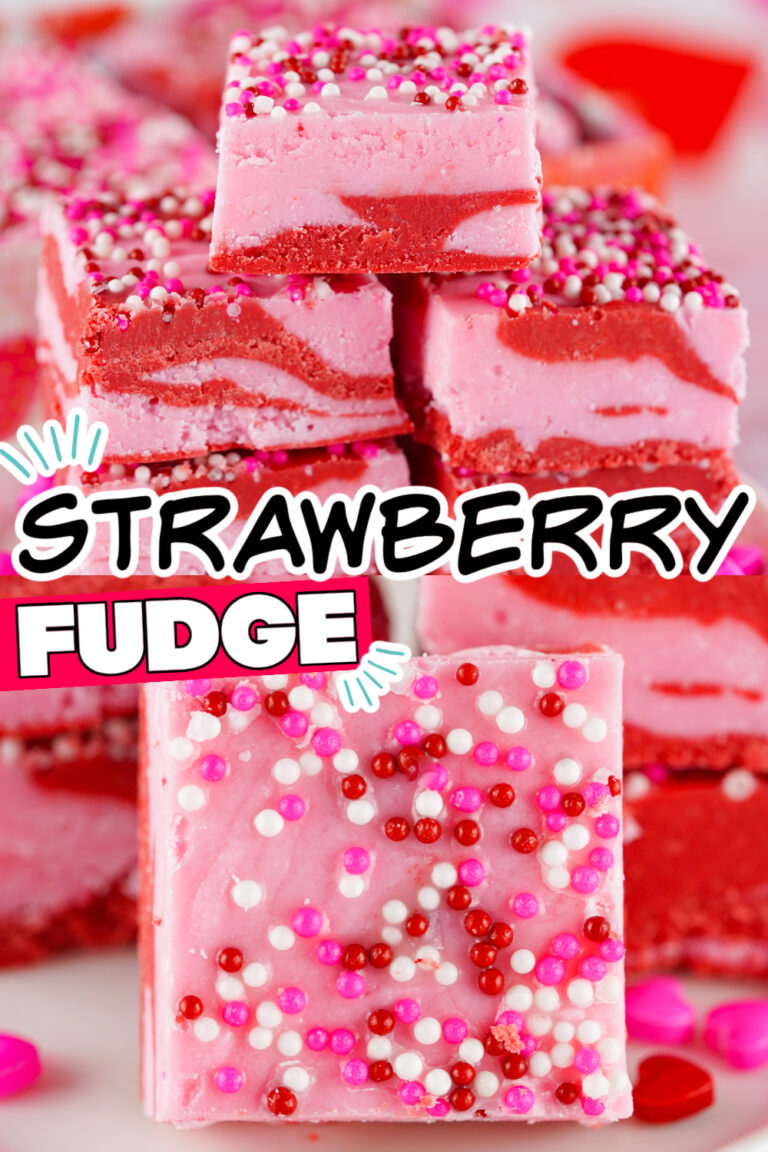 Reader Interactions