S'mores Pie is a chocolate pudding pie topped with a marshmallow cream topping with whipped cream, and mini chocolate chips and marshmallows. A no-bake s' mores pie recipe.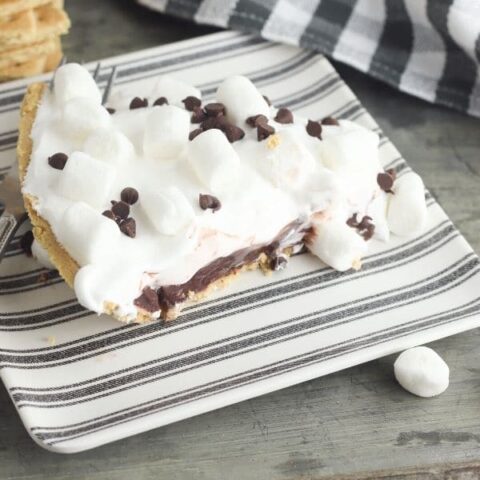 This Smores Pie is about to become your dessert dream. Golden graham cracker crust, creamy chocolate filling, topped with marshmallow creme and topped with sweet chocolate chips. A chocolate pudding pie that gets a whole new look.
Give this no bake pudding pie a try today. The marshmallow topping is the perfect topping.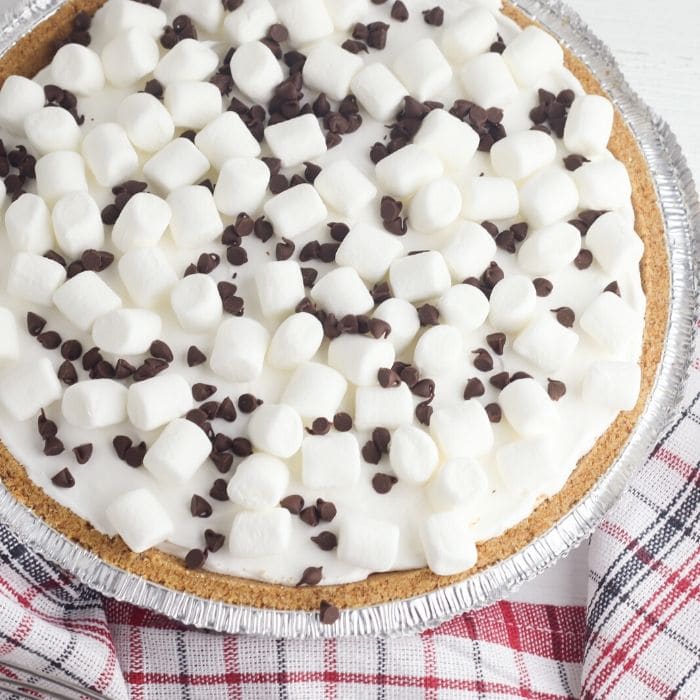 The simplicity of this pie is that it takes minimal effort and NO BAKING AT ALL! That means that during the hot months of the summer, your oven can remain off, just as it should.
But we all know that to make s'mores, it requires a campfire and time, and sometimes neither of those things are an option.
Why You Will Enjoy This No Bake S'mores Pie…
No Bake
7 Ingredients
Graham Cracker Crust
Chocolate Pudding Filling
Great potluck dessert
Affordable dessert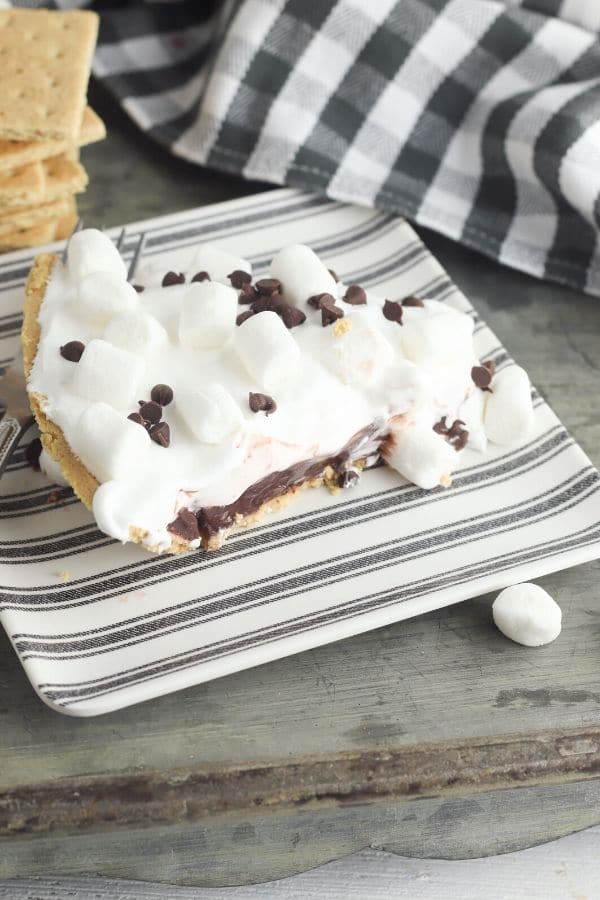 Instead of waiting for the perfect outdoor scenario to get that tasty treat, why not get ahead of the game and create this simple s'mores pie instead. It's literally as simple as wanting to make it and then making it happen.
Ingredients
Graham Cracker Crust
Chocolate Pudding
Mini Chocolate Chips
Marshmallow Fluff
Mini Marshmallows
Milk
Whipped Topping
The full measurements and directions are in the printable recipe card below.
How to Make
Full directions on how to make this no bake s'mores pie are in the printable recipe card. This is a visual walk through.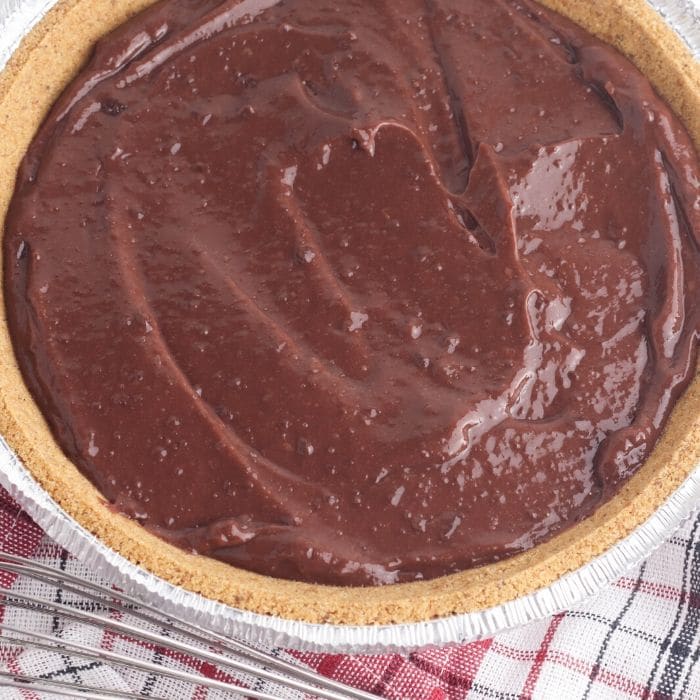 Step 1: Start by whisking your pudding and milk together to make the pudding pie base. Once it is nice and creamy pour into your crust.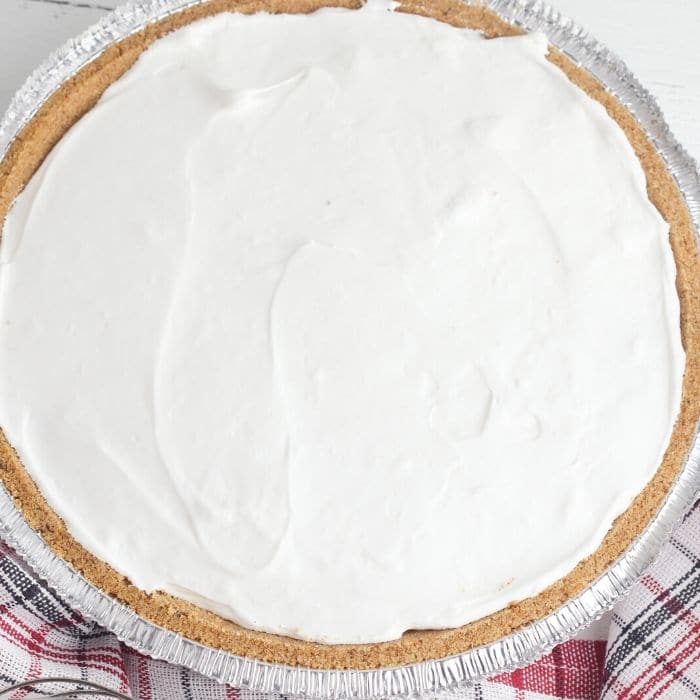 Step 2: Now mix your whipped topping and marshmallow fluff together until well combined. Then gently spread over the chocolate pudding layer of the pie.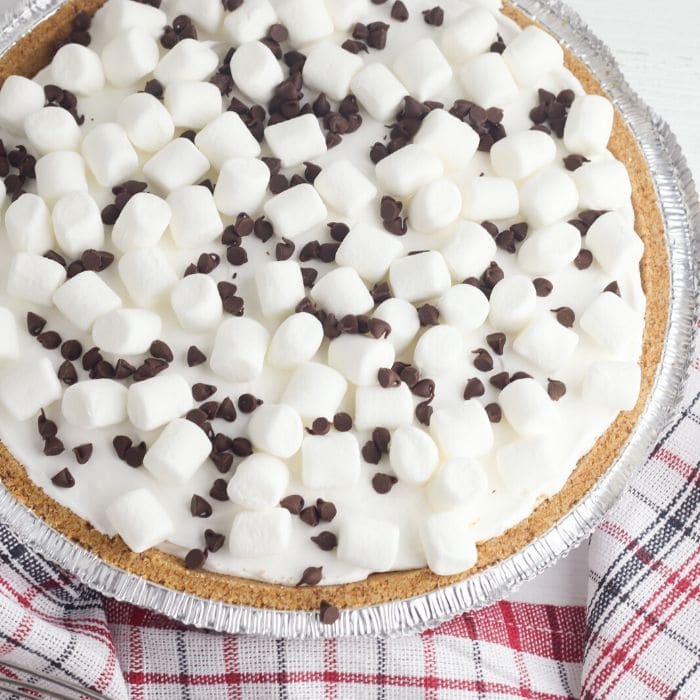 Step 3: Refrigerate your pie to set up, and then once ready top with mini chocolate chips and marshmallows!
Love Easy Desserts? Check these out!
Can I swap out the crust?
You can! This is what makes this pie so great. I like to use a premade crust for this pie recipe to keep it really simple but you can easily use another crust option as well.
Oreos and Golden Oreos can make a super yummy crust but just know that whatever you choose to use, it will more than likely change the taste away from being that delicious s' mores flavor.
The only crust that will remain true to s'mores is going to be the graham cracker crust but if you do try a different crust.
I'm certain that it will still end up an amazing flavor and taste!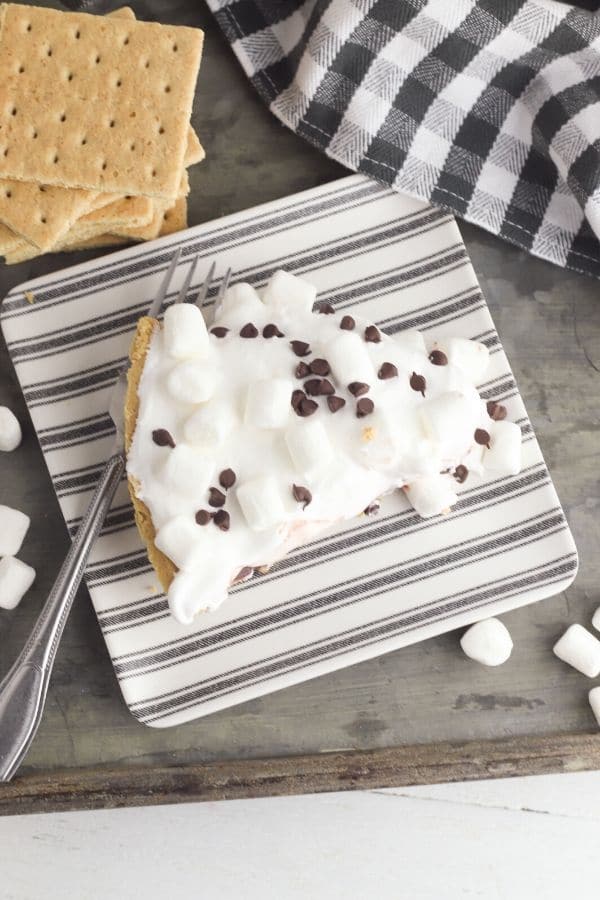 Can I Make This Pie In Advance?
Absolutely. (although this recipe is really fast and simple so once you make it in advance, you're literally almost done with it!)
Whipping up the pudding filling ahead of time will save you a few moments of time so this is one simple step that you could knock out with ease so that it saves you time later on down the road.
Just make the pudding filling and store it covered in the fridge until you're ready to pour it into the crust.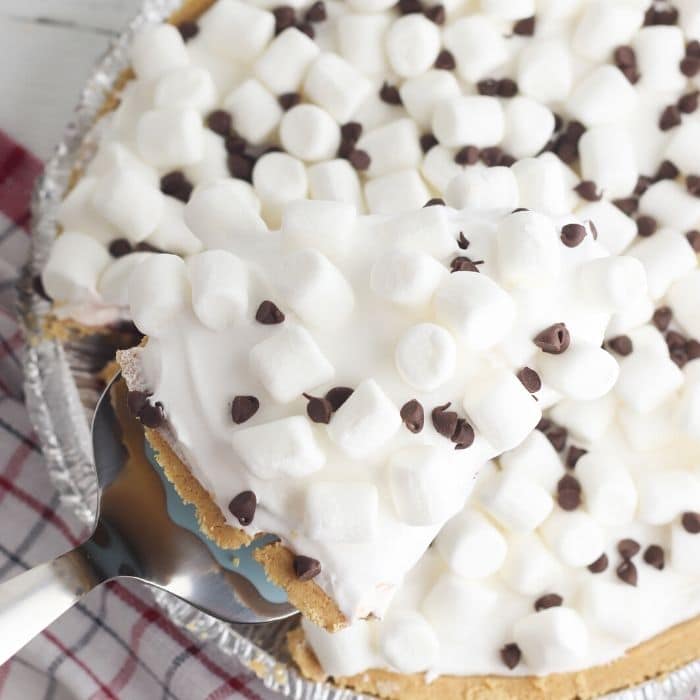 Will This Pudding Pie Freeze Well?
Yes this no-bake pie will freeze perfectly! Just leave the mini chocolate chips and marshmallows off until you are ready to serve!
This smores dessert will freeze for up to three months. Just allow it to thaw in the fridge the night before you plan to eat, or do a quicker thaw on the counter for about an hour.
Then, when you're ready to unthaw and serve, you can add the toppings onto the pie at that point in time.
How to Store
Storing this simple pie recipe is as easy as making it! Once everybody has their pieces, it's as simple as adding a lid to it and storing it in the fridge.
Keeping this pie cool is necessary due to the ingredients that are used in this pie.
As long as you keep it stored in the fridge, it should be good for up to 3-5 days to enjoy over and over again.
When To Serve This Smores Pie
This is totally up to you! I love to serve this pie on a hot summer night as a way to cool down and just relax.
But this pie is also great for family carry-in dinners and outdoor BBQs as well. Once you have the pie nice and cool and chilled, you can literally serve up this delicious S' mores Pie anytime that you want!
Are you ready to make this pie for your own household? It's as simple as gathering up the 7 simple ingredients and getting started!
Now that you can see how simple and fast this pie recipe is to make, there's nothing holding you back or stopping you from making it! Be the star of the weekend and cool everyone down with this delicious chilled pie!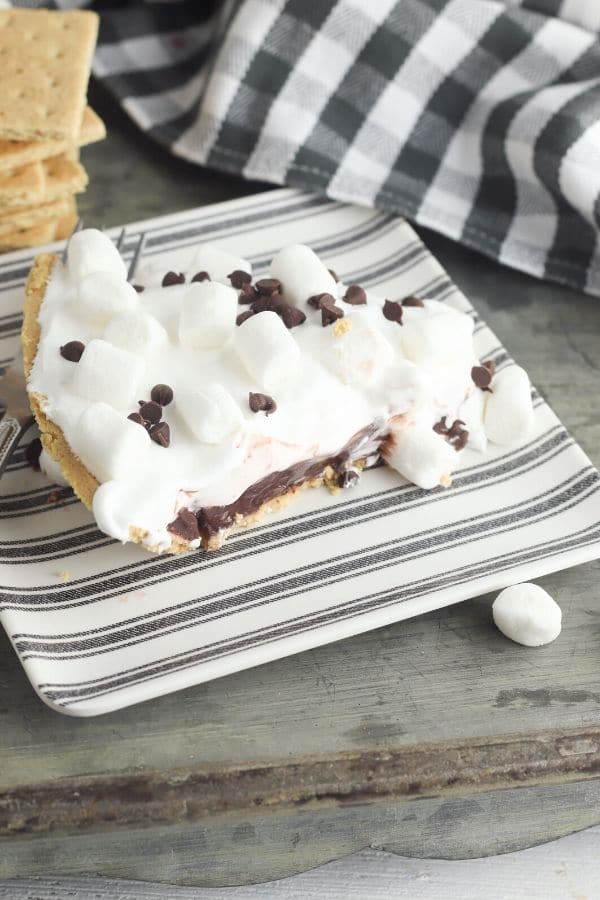 S'mores Pie Recipe – No Bake
Servings 8 slices
S'mores Pie is a chocolate pudding pie topped with a marshmallow cream topping with whipped cream, and mini chocolate chips and marshmallows. A no-bake s' mores pie recipe.
Ingredients
1 graham cracker crust
1 instant chocolate pudding 3.4 ounce
1 3/4 cup milk
1 cup marshmallow fluff
1 cup whipped cream
1/2 cup mini marshmallows
1/2 cup mini chocolate chips
Instructions
In a bowl whisk your chocolate pudding and milk together until it thickens up. Now pour the chocolate pudding mixture into your graham cracker crust.

Grab a new bowl and add your whipped topping and marshmallow fluff together. Fold it together until creamy.

Slowly pour the mixture on top of the chocolate pudding and spread evenly.

Cover and refrigerate the pie for at least one hour or until the pudding mixture is set.

Right before serving top the s'mores pie with your mini marshmallows and mini chocolate chips.

Serve up this no bake s'mores pie anyday of the week and for every occassion. So simple and yet satisfying down to the last crumbs.
Notes
Store your pie covered in the fridge for 3-4 days. You can make homemade pudding or buy boxed to whip up. Make your own graham cracker crust or buy it if you prefer. You could even swap the crust with an Oreo cookie crust. Decorate your pie as you would like.
Nutrition
Serving: 1gCalories: 280kcalCarbohydrates: 41gProtein: 5gFat: 12gSaturated Fat: 5gPolyunsaturated Fat: 6gCholesterol: 11mgSodium: 200mgFiber: 1gSugar: 19g
Whip up this easy summer dessert. Now, you can make this pie all year round, I just especially love it in the summer months. A no bake smores pie that will satisfy a crowd.
Reader Interactions