Baked Beans Recipe With Canned Beans is a quick and easy assemble baked beans recipe that is loaded with leftover ham from the holidays. This baked beans has two varieties of beans, rich sauce, and savory and tangy flavor in each bite.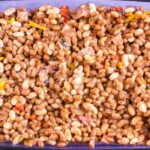 This baked beans recipe with canned beans totally transforms the flavor of your canned beans. I used leftover holiday ham to toss in to make it a hearty bean recipe. This baked beans with ham is tangy, savory, and a hint of sweetness. This easy baked beans recipe offers rich flavor, and is bursting with flavor. Dress up a can of beans for the perfect side dish for summer entertaining.
Homemade baked beans are awesome, but I wanted to cut a corner and use canned beans instead of dried beans. I used pork and beans and Northern beans to make a delicious bean recipe with diced ham throughout. This bean mixture is great for family reunions, birthday parties, or a side for a summer bbq. Plus the leftover baked beans taste even better, as the thick sauce blends even more together on flavor.
A leftover ham recipe that is great after the holidays. It allows you to create a whole new meal that doesn't taste like you are eating leftovers through the week. Looking for more side dish recipes? Try out my broccoli salad, cold spaghetti salad, or try my TikTok corn ribs!

Whether you pair with hot dogs, hamburgers, or even pork chops, this makes for an incredible side dish. These our our favorite beans, and I hope you like it. The barbecue sauce next to the Worcestershire sauce really elevates the flavor of these beans.
This Baked Beans With Canned Beans Recipe Is…
Loaded Bean Recipe – These beans are anything but bland. Loaded with rich flavors in each bite.
Two Types of Beans – In this recipe I used pinto and Northern beans. It offers a different texture than using just plain pinto beans.
Meat – I used diced ham that was leftover from Thanksgiving and it was delicious. That makes this meat a tasty option for a dinner or a comforting side dish.
Potluck Side Dish – I have used this as a potluck side dish many times. It bakes up nicely and can be made a day in advance if needed.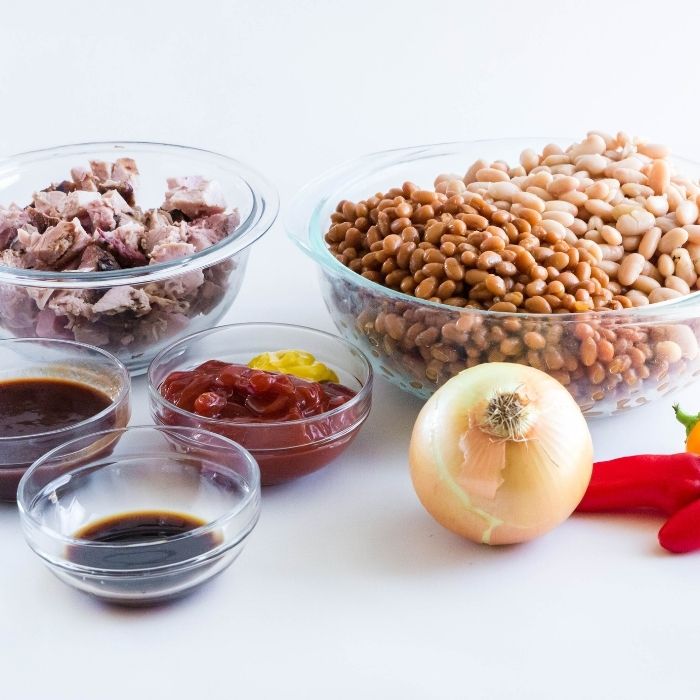 Ingredients and Variation Options
Beans – Northern beans and cans of pork and beans are what I used. You could easily use kidney beans or other varieties of beans.
BBQ Sauce and Ketchup – Ketchup has the acidic component that brings all the flavors together. I used a Hickory BBQ sauce, but you can use any style you want.
Soy Sauce and Worcestershire Sauce – Here is a smoky and salty component to the beans. This really helps add depth to the beans.
Onion and Pepper – We saute the yellow onions and bell peppers for a few minutes on the stovetop to helps soften and release more flavor to the beans.
Ham – I used ham but you could easily do pulled pork, ground beef that is fully cooked, bacon, etc.If you used bacon the bacon grease will elevate the flavor even more to the simple ingredients in the recipe.
Brown Sugar – So if you want some sweet to your beans reach for brown sugar or molasses. We prefer more of a savory so I didn't use any, but this is an option for you. Or you could use maple syrup as well as a sweetening agent.
How to Make
Full directions on how to make baked beans with canned beans and ham is in the printable recipe card at the bottom of the post.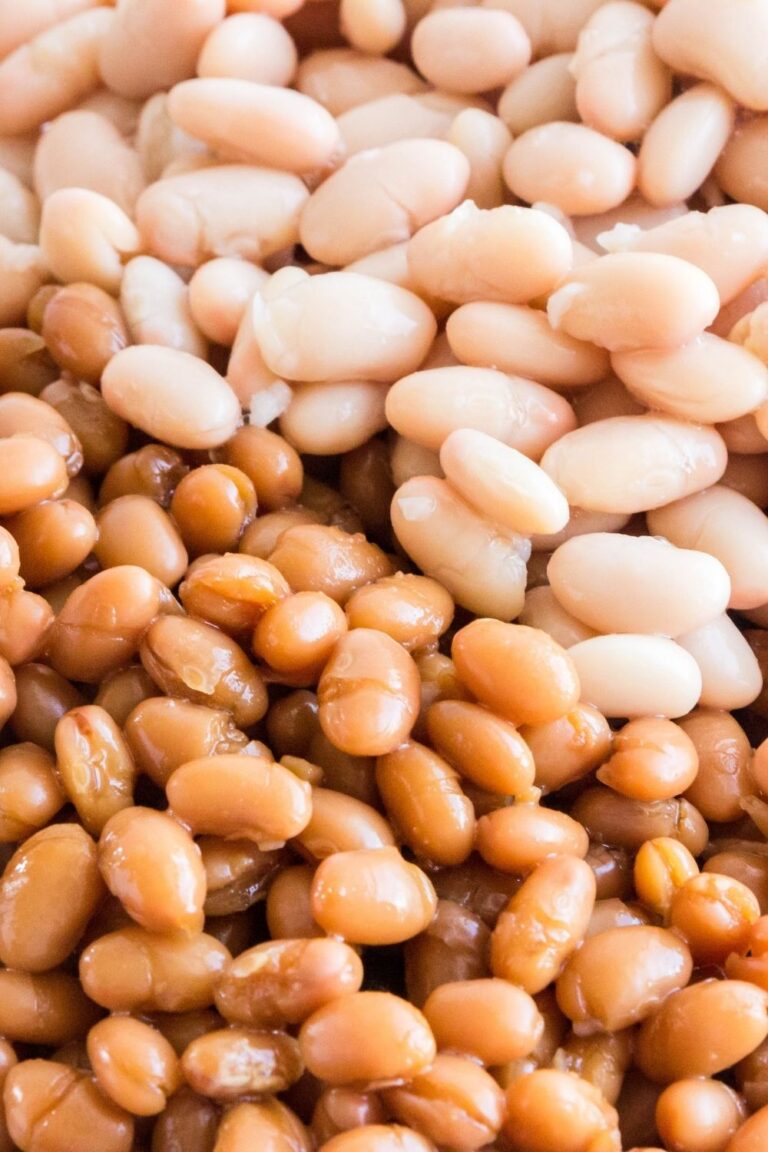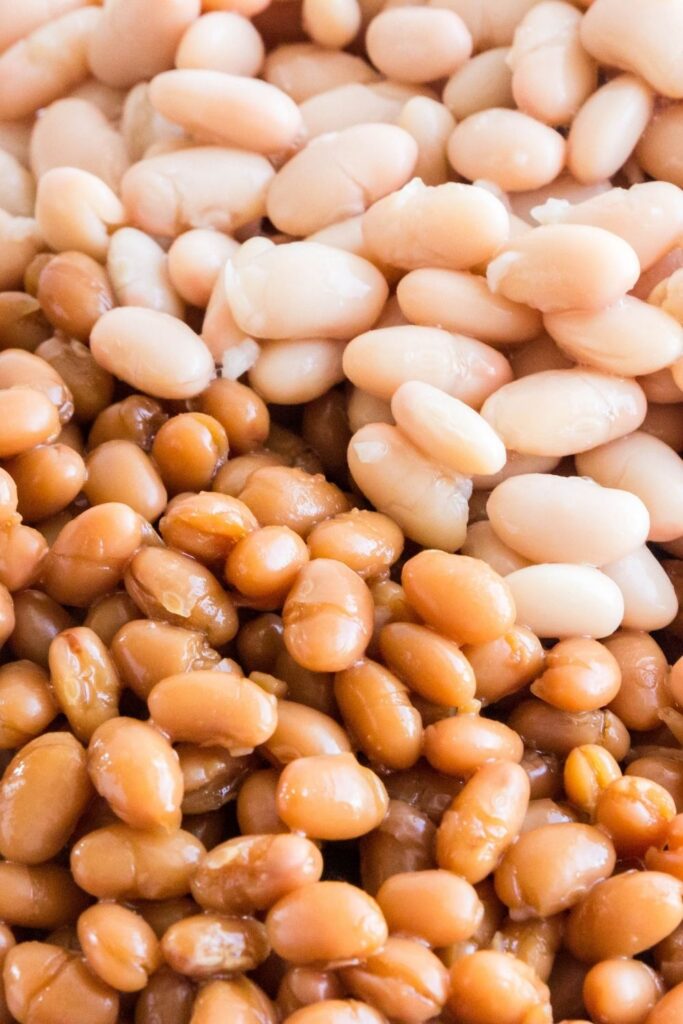 Step One: First, drain and rinse your Northern beans. Then grab can of pork and beans and then pour them into a large bowl. Saute your peppers and onions in a skillet on the stove with a little oil. Cook until softened.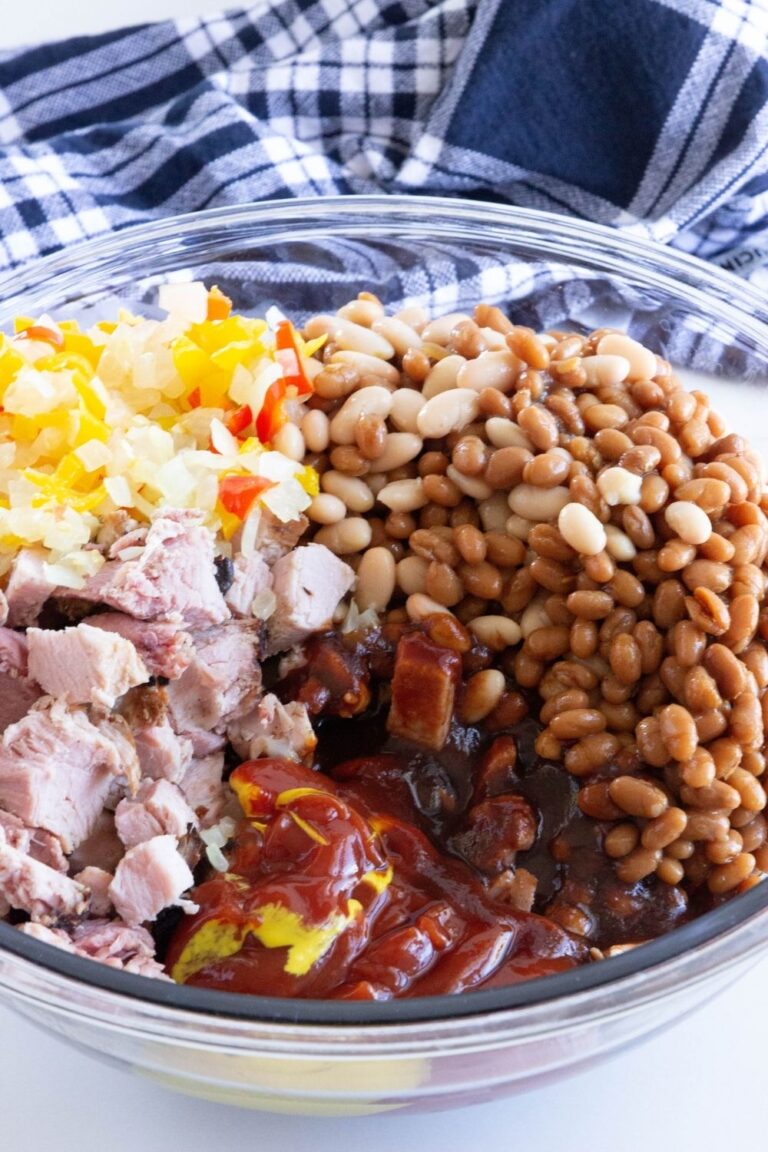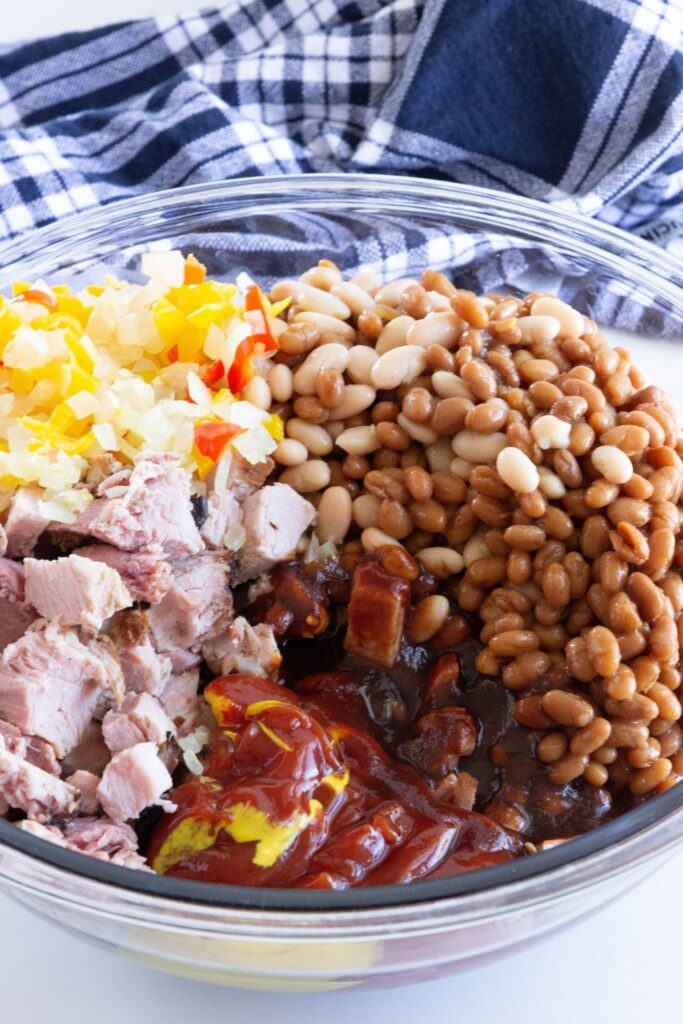 Step Two: Then you will add in the ketchup, Worcestershire, Soy Sauce, BBQ sauce, peppers and onions, and diced up ham. Mix well to get all the items well mixed in the bowl.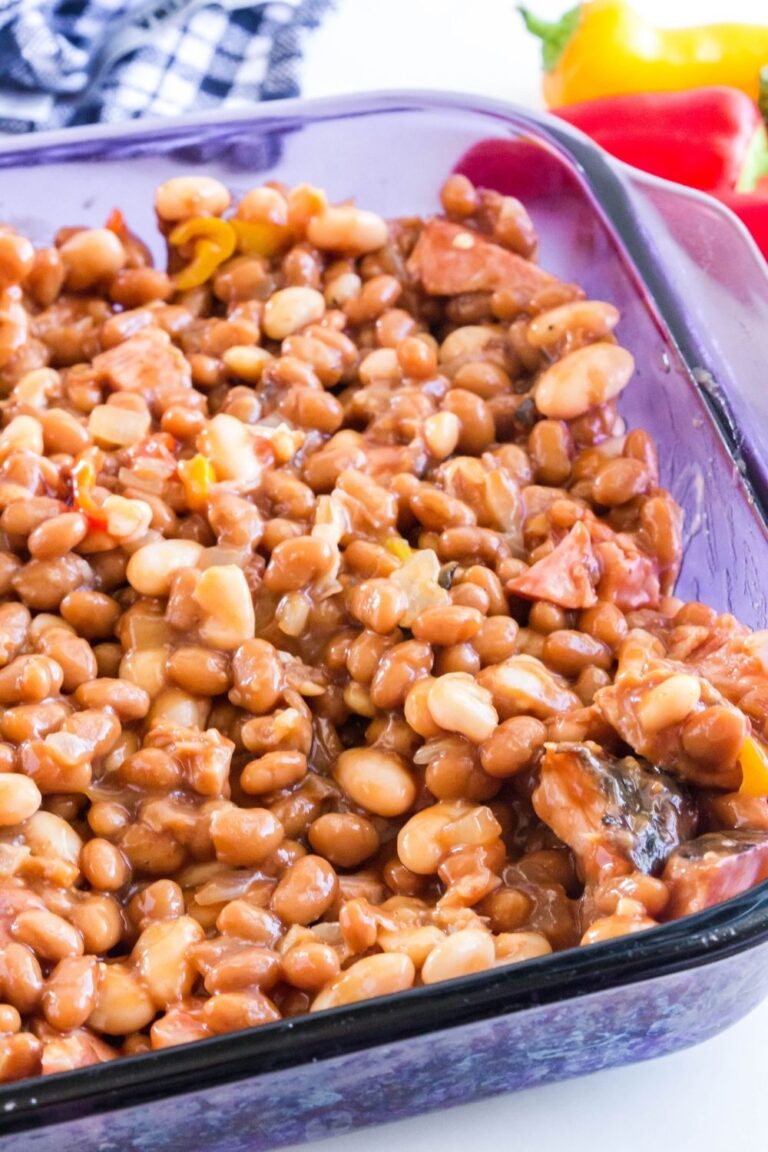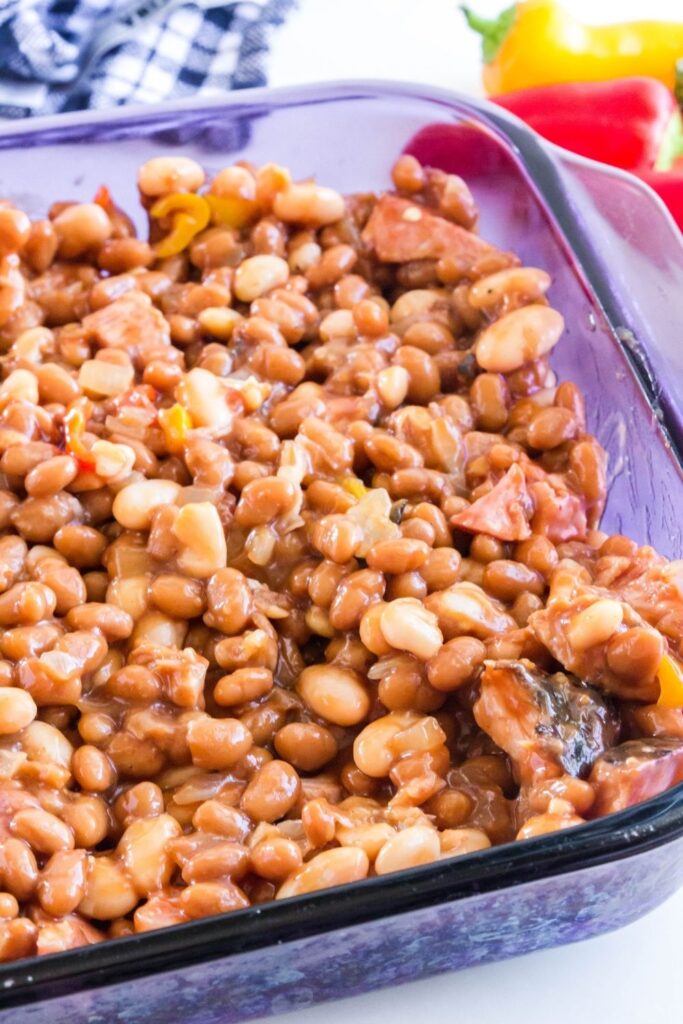 Step Three: Next, mix well and pour into a baking dish. Cover and place in the oven and bake as directed below. You can cook in a Dutch oven or baking dish of choice. Just make sure the beans are covered to help prevent beans from drying out.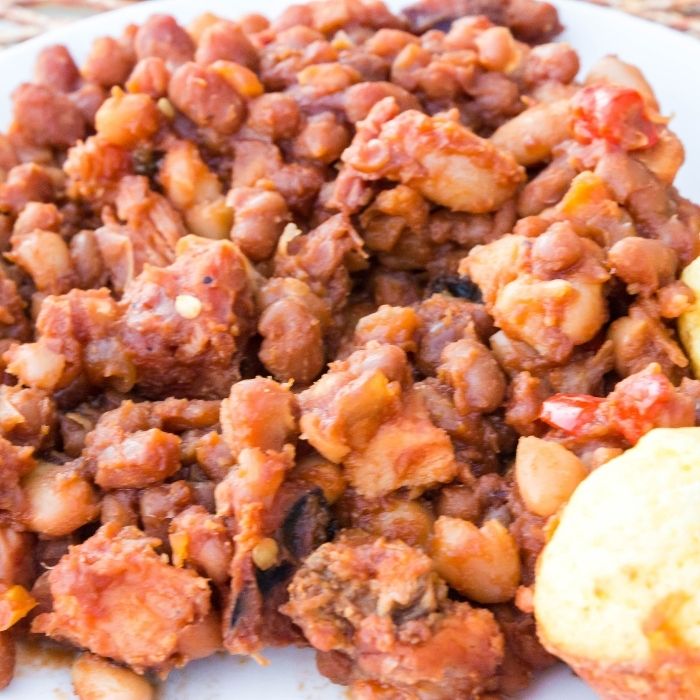 Step Four: Lastly, once done, remove, stir and serve up these hearty baked beans!
Recipe Notes:
Make sure to cover your beans as they cook. Otherwise, the beans will dry out quite a lot.
If you find your beans are looking a bit dry you can add in a little bit of a beef broth, or more bbq sauce. This will help enhance the flavors as well.
Sauting the onions and peppers first helps to bring a richer flavor to the beans. Otherwise, the onions can become a bit harsh in flavor.
Cut ham into small pieces making sure they are bite size pieces.
Storing Leftovers
If you happen to not eat all the beans up right away, store the remaining leftovers in the fridge in an airtight container. The beans will store for 2-3 days in the fridge.
Also, if you want you can freeze the beans as well. They will be softer once thawed from the freezer but the flavor will still be a great. Place in a freezer friendly container for 2-3 months.
Then heat right in the oven straight from frozen in a covered dish. Or thaw in the fridge and warm up in microwave or stovetop.
FAQs
Here are common questions about this best baked beans recipe I have shared with you.
Related Recipes
Have you tried the recipe? If so, please leave a star ⭐️⭐️⭐️⭐️⭐️ rating in the recipe card below or drop a comment. Also stay in touch with me through social media by following me on Facebook, Pinterest, or My Facebook Group
Baked Beans Recipe With Canned Beans
Servings 9 x13
Baked Beans Recipe With Canned Beans is a quick and easy assemble baked beans recipe that is loaded with leftover ham from the holidays. This baked beans has two varieties of beans, rich sauce, and savory and tangy flavor in each bite.
Ingredients
46 ounces pork and beans rinsed and drained
32 ounces Northern beans rinsed and drained
1/2 small onion finely diced
4-5 mini sweet peppers diced finely
1 cup ketchup
1/2 teaspoon mustard
1 cup barbeque sauce
2 tablespoons Worcestershire sauce
1 teaspoon soy sauce
1 1/2-2 cups diced ham
1-2 tablespoons brown sugar optional for sweeter beans
Instructions
Preheat the oven to 250 degrees. In a small skillet on the stove, saute your pepper and onions until softened. This takes around 5-7 minutes.

While peppers and onions are cooking open cans of beans and drain and rinse well. Pour the beans in the bowl.

Now add in the diced ham, sauted pepper and onions, Worcestershire, soy sauce, ketchup, bbq sauce, mustard, and if you want sweeter beans brown sugar.

Mix well and then pour into a 9×13 baking dish. Cover well with aluminum foil.

Place in a preheated oven and cook for 2 hours to 2 1/2 hours. The baked beans will begin to thicken. If you find they are drying out, you can add in some beef broth or more bbq sauce to help thin them out.

Once the beans are done, remove and serve. This baked beans recipe with canned beans and ham can be used as a main dish or side dish recipe.
Notes
Sweet Beans – Adding brown sugar or molasses will give you a sweeter bean instead of savory. We prefer less sweet so we leave it out. Beans – You can use pinto beans, kidney, Northern, or pork and beans for this recipe. Mustard – You can easily use a spicy mustard if you want, it will add more kick to the beans. Peppers – We used the mini sweet peppers but you could swap it with a bell pepper or even poblano if you want your beans to have a bit of spice to them.
Nutrition
Serving: 1gCalories: 346kcalCarbohydrates: 61gProtein: 21gFat: 4gSaturated Fat: 1gPolyunsaturated Fat: 2gCholesterol: 29mgSodium: 1330mgFiber: 13gSugar: 17g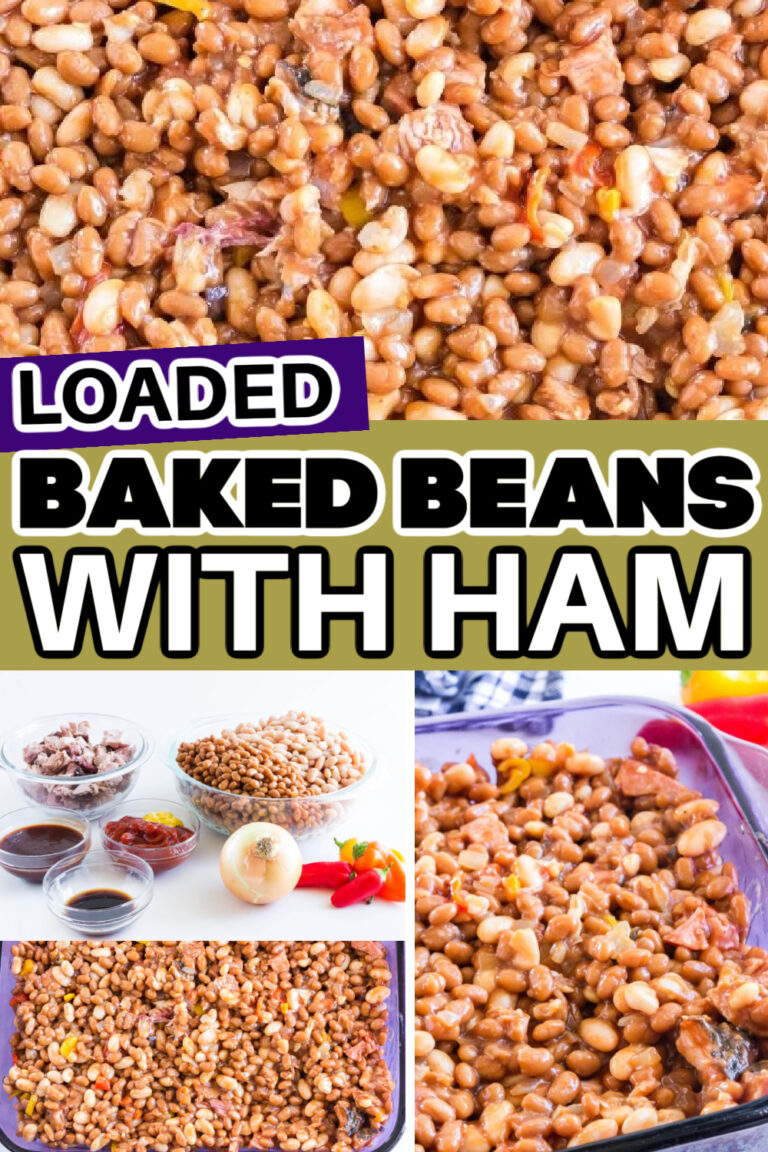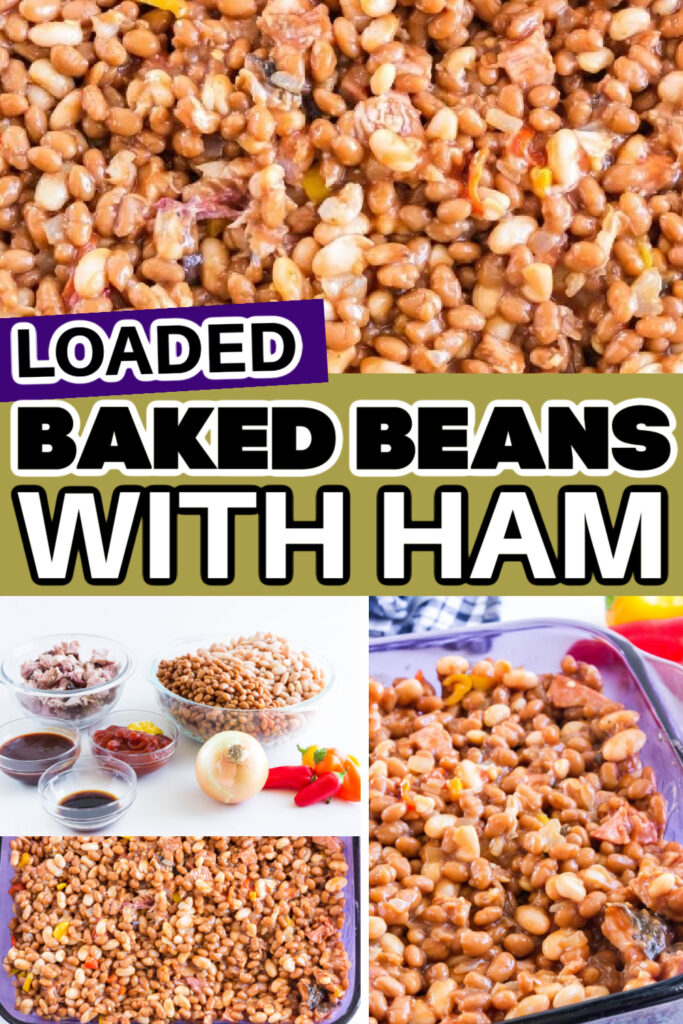 Reader Interactions