Sausage balls are a classic recipe. Bisquick sausage balls are quick to prep, and bake in the oven or opt to air fry them. Sausage cheese balls can be served as a dinner or appetizer for entertaining guest.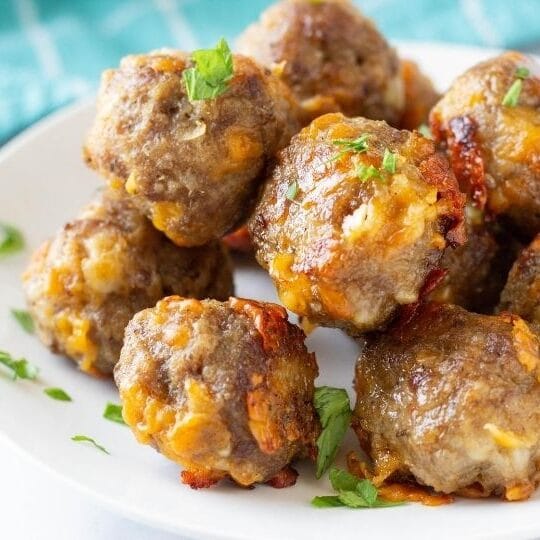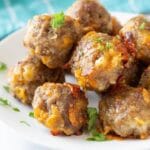 Sausage Balls are a vintage recipe that you want to make over and over again. Ground sausage, shredded cheese, and Bisquick combine to make savory Bisquick sausage balls. Serve these up as an appetizer or a weeknight dinner.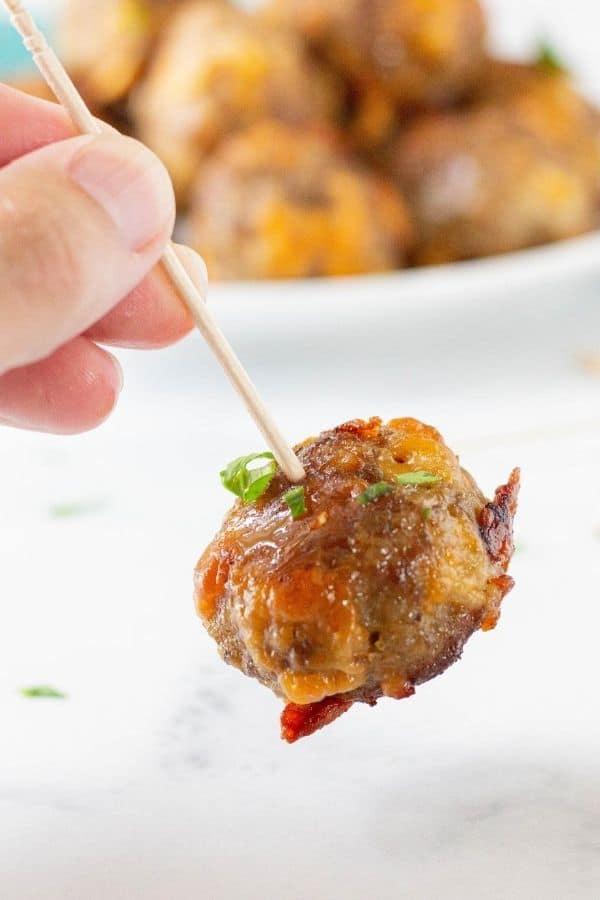 Want more delicious recipes to whip up. Classic sloppy joes, lemon butter chicken, or zucchini tomato casserole.
Sausage Balls
I first learned about sausage balls years ago while watching Trisha Yearwood on the Food Network channel. My husband recommended I make them.
We fell in love and since then I have changed out the recipe just slightly to fit our personal preference.
What Is A Sausage Ball
Sausage cheese balls are a ground breakfast sausage that is mixed with Bisquick and cheese. Roll up like small meatballs and bake in the oven or air fry them.
When the balls are done they will be golden brown. Then pair with your favorite dipping sauce. This recipe can be used for a weeknight dinner or holiday appetizer for a crowd.
What Is The Best Sausage To Use
I used Jimmy Dean breakfast Sausage, regular. Now if you prefer to spice things up reach for the hot sausage if you would like. It will add some heat to this sausage balls recipe.
Or if you want you could even try an Italian sausage, but I can't vouch for how that would taste.
How To Make Sausage Balls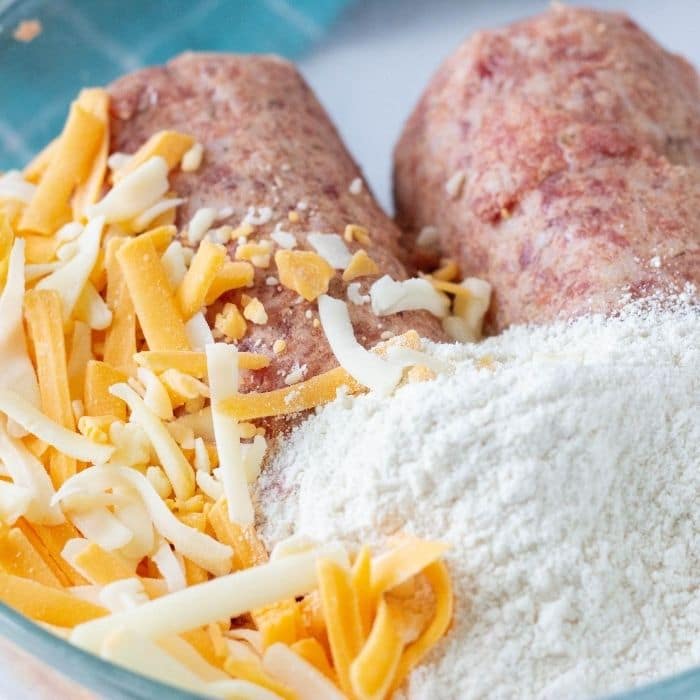 Step 1: Start by adding your ground sausage, Bisquick, and cheese in a bowl. With your hands, you will want to mix it up. Just as you would a homemade meatloaf.
Mix the sausage mixture until it is well combined.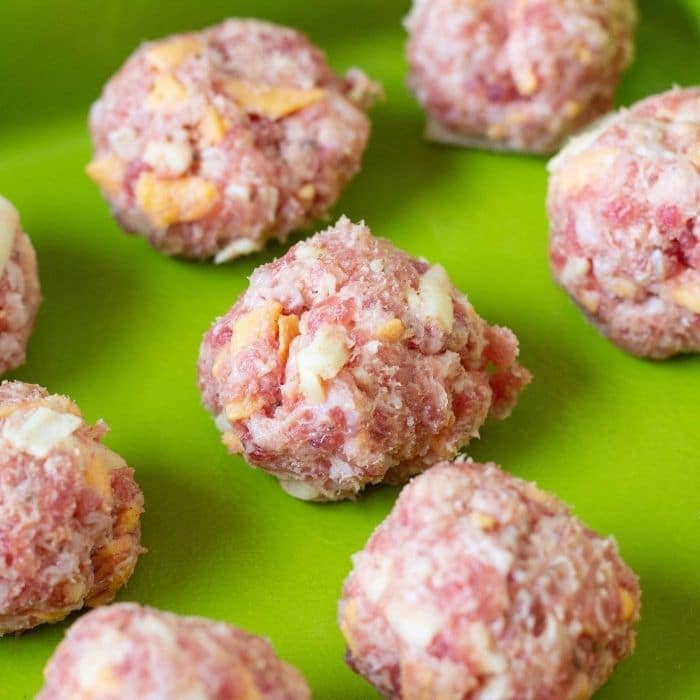 Step 2: Once mixed you will scoop up a ball and roll it around in her hand. You can try and roll all the same size, or use a scoop to get even sausage meatballs.
Step 3: Bake in the oven or air fry until your balls are fully cooked and golden brown on the outside.
Can You Make Homemade Bisquick
Making homemade Bisquick is so easy! All you need are 4 staple ingredients, and you can create a homemade Bisquick to use in recipes or make pancakes or biscuits with.
Just store the homemade Bisquick in the fridge until you are ready to use it. Then use just the same as buying a box. It is an affordable and easy way to make it at home.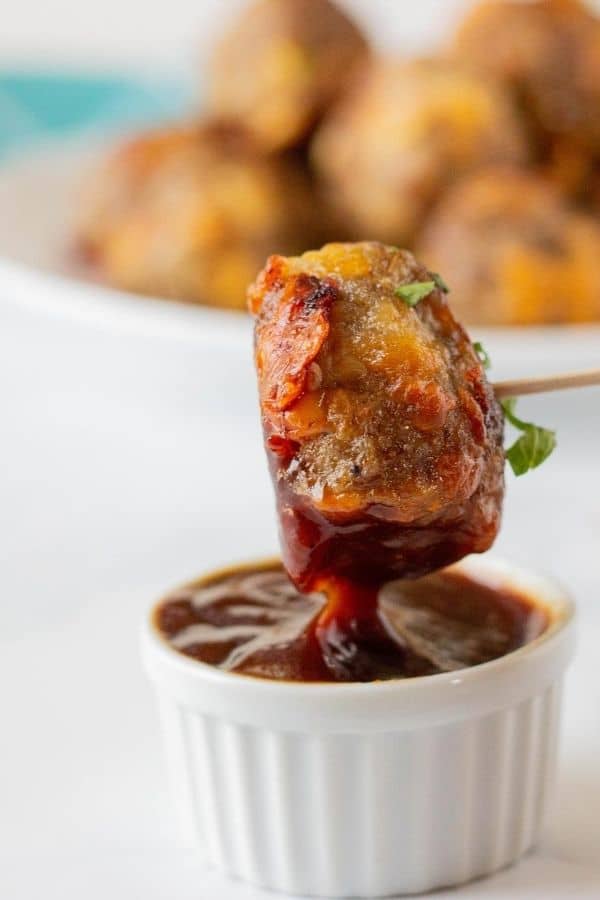 Dipping Sauce For Sausage Balls
Not sure what to dip these sausage meatballs in? I have a few ideas for you to consider below. I tend to eat them plain, while my husband and son love to dip these.
What To Serve With Sausage Balls As A Meal
If you don't want to serve these up as an appetizer, here are items to pair with your balls as a main dish. We eat them a lot for dinner and they are so versatile!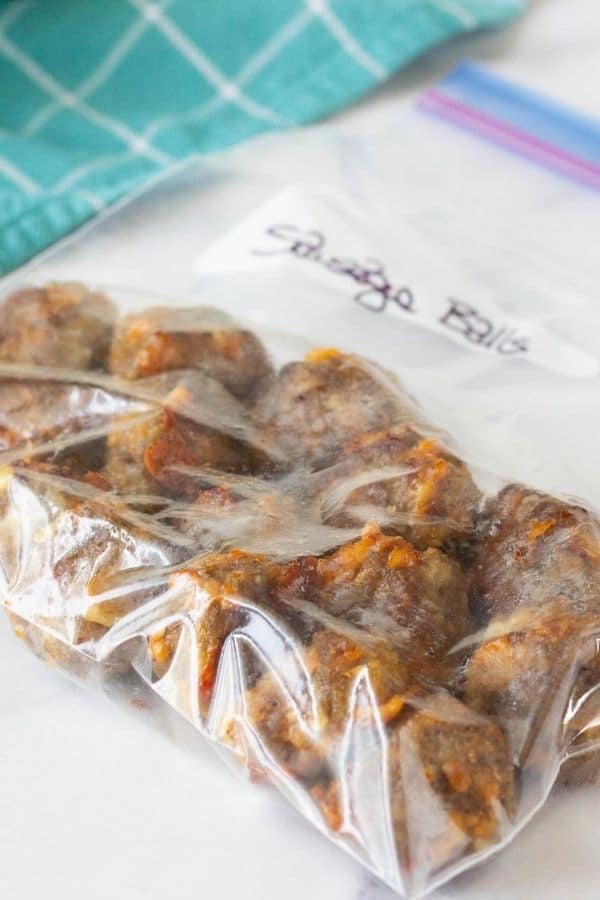 Freezing Homemade Bisquick Sausage Balls
To make this a freezer meal, simply follow the recipe directions below. Then once your balls are fully baked, allow them to cool a bit.
Transfer to a freezer bag or use a vacuum seal system or airtight container. Freeze for up to 3 months.
Reheating From Frozen
Microwave Method: Simply place on a microwave-safe plate and heat in the microwave for a minute or two until fully warmed.
Oven Method: Or if you prefer to heat them up in the oven. Just cover and place in a single layer on the baking sheet. Heat at 350 for 30 minutes or until fully thawed and warmed up. Keep covered or the Bisquick balls will dry out.
Best Cheese Blend to Use
I can't even tell you how many times I have made these Bisquick sausage cheese balls. I have used sharp cheddar, pepper jack, monterey jack, 4 cheese blends, and more.
Every single cheese has tasted amazing. There is a slight flavor change with each but ultimately just pick a cheese you and your family enjoys!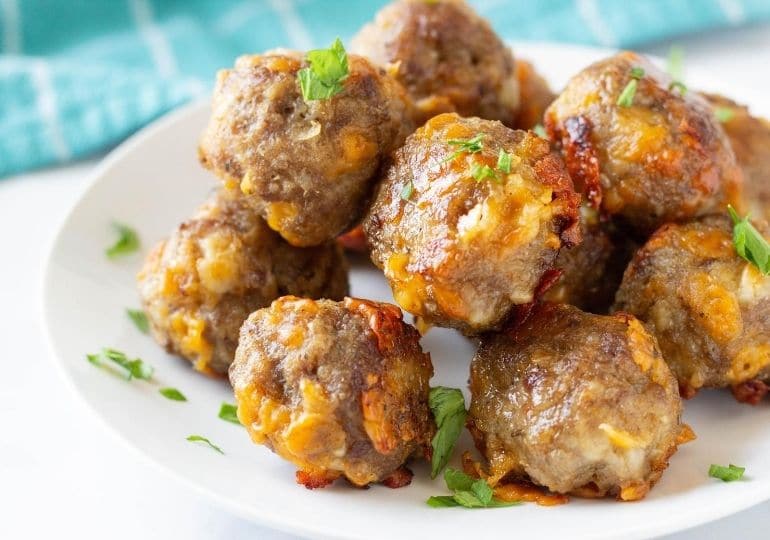 Sausage Balls
Servings 32 -40 sausage balls
Sausage balls are a classic recipe. Bisquick sausage balls are quick to prep, and bake in the oven or opt to air fry them. Sausage cheese balls can be served as a dinner or appetizer for entertaining guest.
Ingredients
2 pounds pork breakfast sausage I used original Jimmy Dean
1/2 cup Bisquick
1 cup shredded sharp cheese or swap with your favorite flavor of cheese
Instructions
Preheat oven to 350 degrees F. Add in your sausage, Bisquick, and shredded cheese into a bowl.

With your hands begin to mix the sausage mixture. You want to mix until it is fully incorporated. I find hands work better than a spatula.

Once your mixture is ready, use a scoop to measure out and roll into 1-2 inch balls (up to you on size). Then place on a greased baking pan. Roll all the sausage balls until they are done. I used two pans.

Place your raw sausage balls in the oven and bake for 20-30 minutes or until the balls are fully cooked. Depending on the size of your cheese sausage balls will depend on cook time.

Once done remove and allow the homemade Bisquick sausage balls to cool a bit. Then serve with your favorite dipping sauces.

These sausage balls are great for dinner or even a party or game day appetizer.
Notes
Air Fryer Method
Assemble the sausage balls the same way. Leave space in between each sausage ball or they will not cook even.
Cook at 370 degrees for 6-10 minutes or until your sausage Bisquick balls are fully cooked.
Freezer Instructions
Cook your sausage balls as directed, whether oven or air fryer. Once cooled, place in a freezer safe container and freeze for up to three months.
Then reheat from frozen in microwave or toss in the oven covered with aluminum foil till fully warmed!
Nutrition
Serving: 3gCalories: 231kcalCarbohydrates: 3gProtein: 13gFat: 19gSaturated Fat: 7gPolyunsaturated Fat: 8gCholesterol: 36mgSodium: 160mgSugar: 1g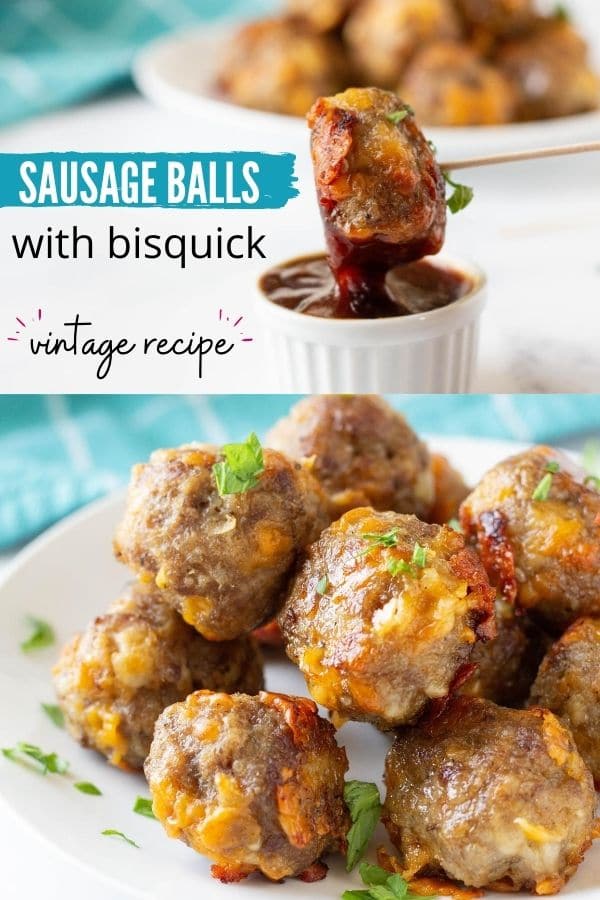 Reader Interactions