Lemon butter chicken is an easy lemon garlic butter chicken recipe made right in a skillet. Homemade lemon sauce, and tender juicy chicken thighs. This homemade lemon sauce for chicken is so creamy, and adds so much flavor to this easy skillet chicken.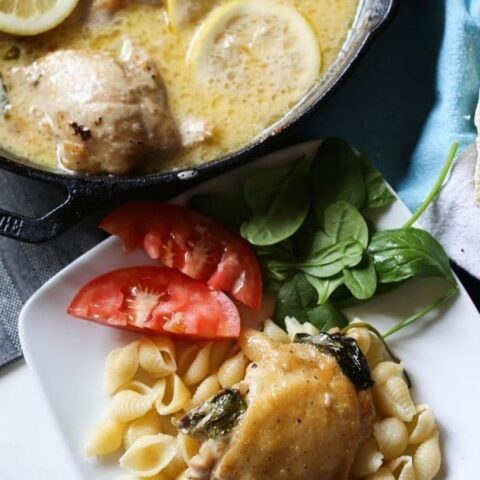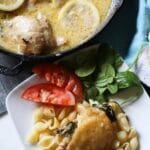 Lemon butter chicken is the ultimate chicken dish. Quick and easy skillet chicken that is seasoned perfectly. Tender and juicy chicken thighs smothered in a garlic lemon butter sauce.
Start by cooking this lemon chicken on the stove in a cast iron or oven safe pan and then finish it off by baking the chicken in the oven!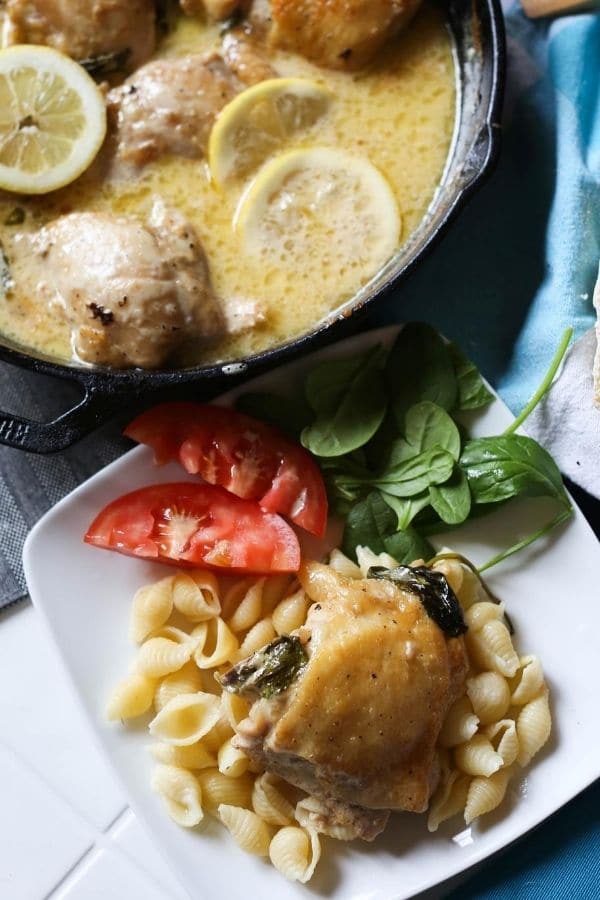 Craving more easy chicken recipes? Try out my chicken club wraps, baked Hawaiian chicken, or my honey garlic chicken in the Instant Pot.
Lemon Butter Chicken
I am a huge fan of lemon garlic butter chicken. If you have not tried it yet, you are missing out! 
If you want an easy skillet chicken thighs recipe that is made on the stove this is one of my go-to's.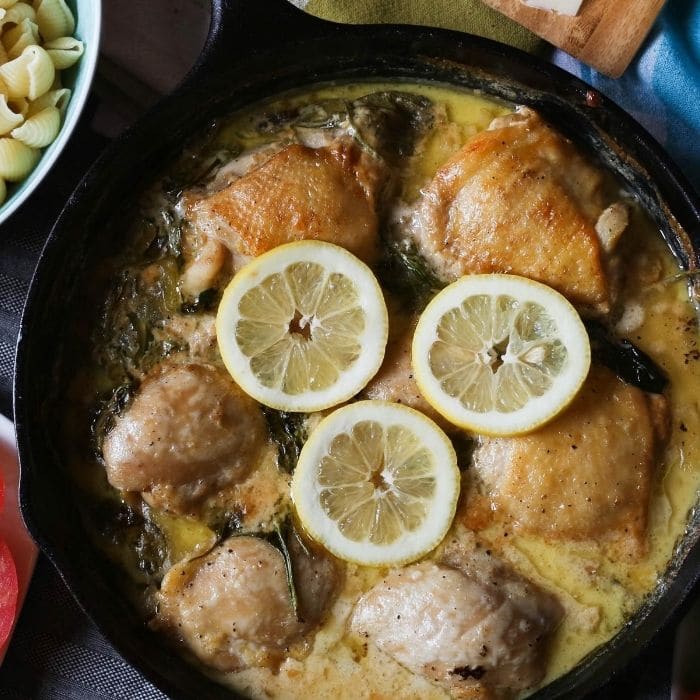 Is Lemon Butter Sauce for Chicken Hard to Make
Lemon Butter Chicken is very easy. The sauce is so simple to make as well. Once you get chicken cooked in your skillet, you remove, add in your butter and allow it to melt. Then toss in the garlic and allow it to cook for just a minute or two.
Next stir in the cream, chicken broth, lemon juice, and parmesan cheese. Let it cook for a bit then add in your chicken thighs and baby spinach leaves.
The sauce just adds so much flavor to the chicken. We absolutely loved it.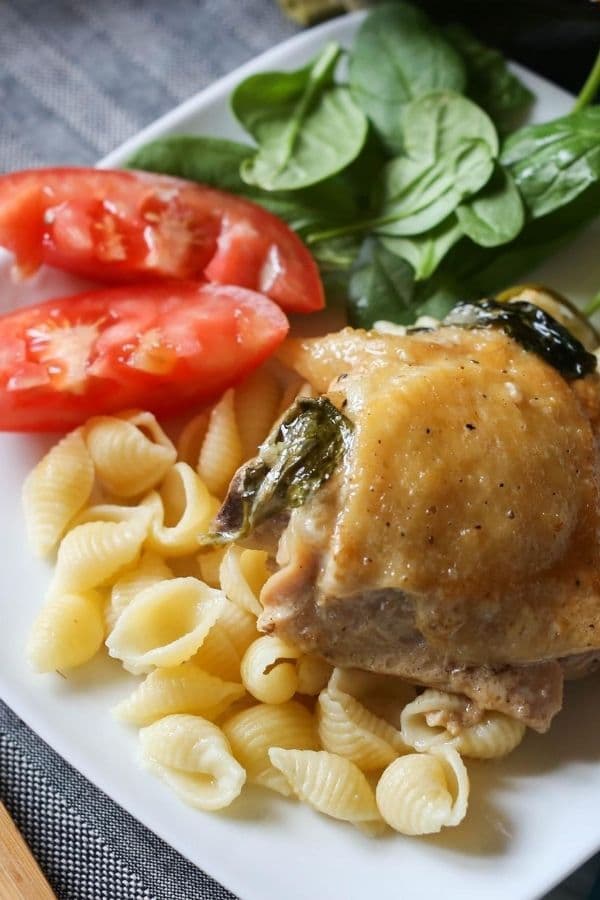 What To Serve With Skillet Lemon Chicken
You will find this chicken recipe is very versatile for pairing. Feel free to pair it with any of your favorite side dishes.
How To Know When Chicken Is Done Cooking
I recommend buying a meat thermometer. You can buy one for a couple of dollars or spend more for a digital one. 
Chicken needs to be an internal temperature of 165 degrees to ensure it is cooked all the way through.
Make sure when you check, you stick in the largest piece of chicken, and don't poke all the way through the chicken. That way you get an accurate reading.
Searching for more chicken recipes
We love chicken in our home and these are some of my latest and highly popular recipes you might want to try out!
Can I Use Boneless Chicken
Yes, you can use bone-in chicken or boneless. The biggest thing is to ensure you cook your chicken fill it is fully done. 
Bone in chicken will take a lot longer to cook vs a skinless breast or tenderloin. So make sure to cook for the proper time and make sure your meat reaches proper internal temperature.
Does Lemon Dry Out Chicken
Lemon can dry out chicken at times. This recipe I found works great and you have the butter to help counteract the drying that the lemon could cause.
So no worries if you cook your chicken properly it should not be dry!
How to Store Leftover Chicken
You can place your chicken in an airtight container and store for up to 3 days. If you go after that use your best judgement if the chicken is still good.
Meal Prep With Lemon Butter Chicken
I have meal prepped this recipe in the past for lunches for a few days out of the week.
Once cooked I place in airtight container with some quinoa and veggies and then seal up and store it in the fridge.
Toss in the microwave for a quick reheat for a satisfying lunch that will tickle those taste buds!
Easy Chicken Recipe
This is an easy chicken recipe you guys will truly enjoy. Classic pan and stove method for an easy meal any day of the week!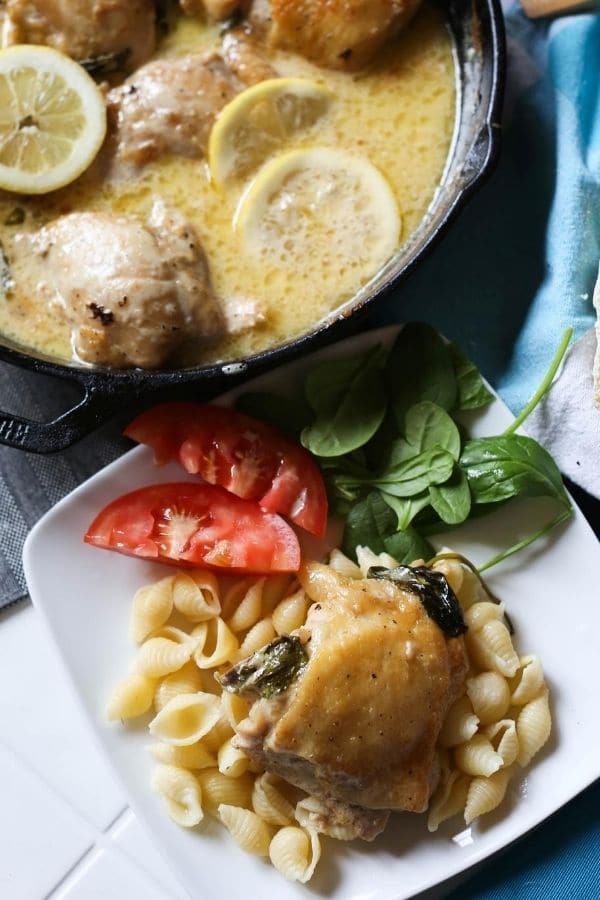 Lemon Butter Chicken
Servings 6 chicken thighs
Lemon butter chicken is an easy lemon garlic butter chicken recipe made right in a skillet. Homemade lemon sauce, and tender juicy chicken thighs. This homemade lemon sauce for chicken is so creamy, and adds so much flavor to this easy skillet chicken.
Ingredients
4-6 chicken thighs with bone and skin
1 teaspoon salt
1 teaspoon lemon pepper
3 tablespoons divided butter, salted
3 cloves garlic
1/2 cup chicken broth
1 cup heavy cream
1/2 cup parmesan cheese grated
2 lemons juiced
Two handfuls baby spinach
Instructions
Start by preheating your oven to 400 degrees. Then in a oven safe pan (I used cast iron) add in your butter and heat over medium high heat.

Season your chicken thighs with the lemon pepper and salt.

Once the skillet it hot, add in your chicken thighs and sear 3-4 minutes per side. The chicken will not be fully cooked, you just want a nice sear on the skin.

Remove the chicken and set it on a plate.

Add in your minced garlic and let it cook 1-2 minutes or until nice and fragrant.

Add in your chicken broth, cream, parmesan and the lemon juice. Start to stir and mix until it begins to boil. Stir constantly or it will burn.

Once it is boiling reduce the heat, and let simmer 5 minutes to help thicken your sauce.

Add in your baby spinach, and then top with the chicken thighs.

Place the skillet with the lemon butter chicken thighs in the oven and bake for 20-25 minutes or until the chicken reaches 165 degrees internal temperature.

Remove the lemon garlic butter chicken from the oven and serve with pasta, rice, salad, etc. You can garnish the lemon chicken with fresh lemon slices.
Notes
If you don't own an oven safe skillet, cook on the skillet in a regular pan and then pour the sauce and add chicken into a 9×9 pan and bake in the oven that way.
Nutrition
Serving: 1gCalories: 465kcalCarbohydrates: 6gProtein: 35gFat: 35gSaturated Fat: 16gPolyunsaturated Fat: 18gTrans Fat: 1gCholesterol: 219mgSodium: 982mgFiber: 1gSugar: 2g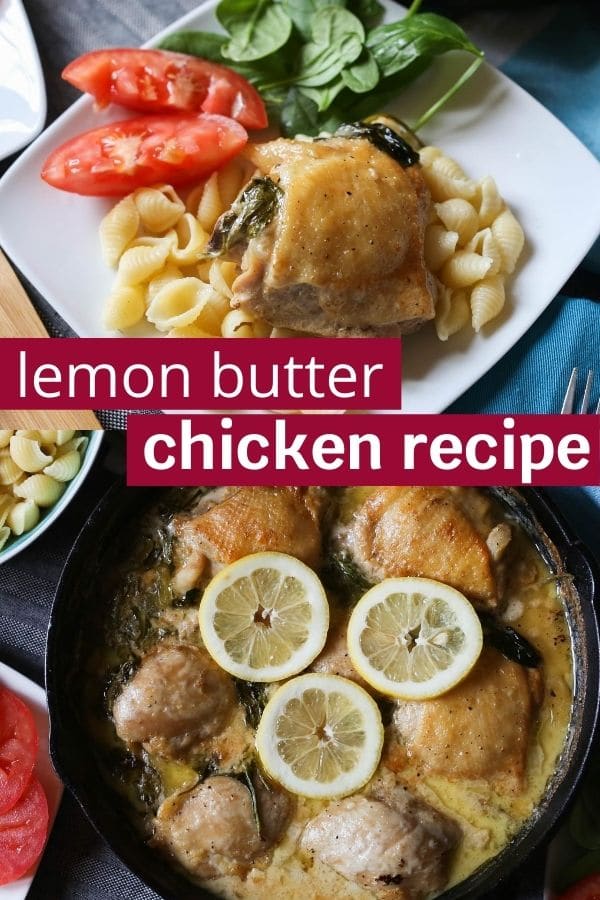 You will love this lemon sauce for chicken! Give this recipe a try today and use chicken thighs or even chicken breasts if you will!
Reader Interactions