Instant Pot Lobster Rolls is a super easy Instant Pot seafood recipe. A toasted bun topped with juicy lobster that is perfectly seasoned.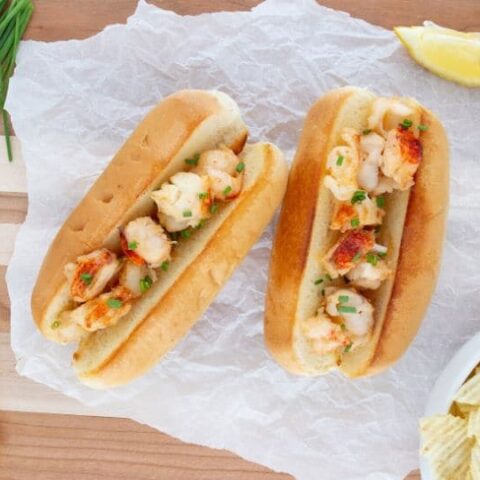 Instant Pot Lobster Rolls are a fantastic way to make Instant Pot Lobster Tails in minutes.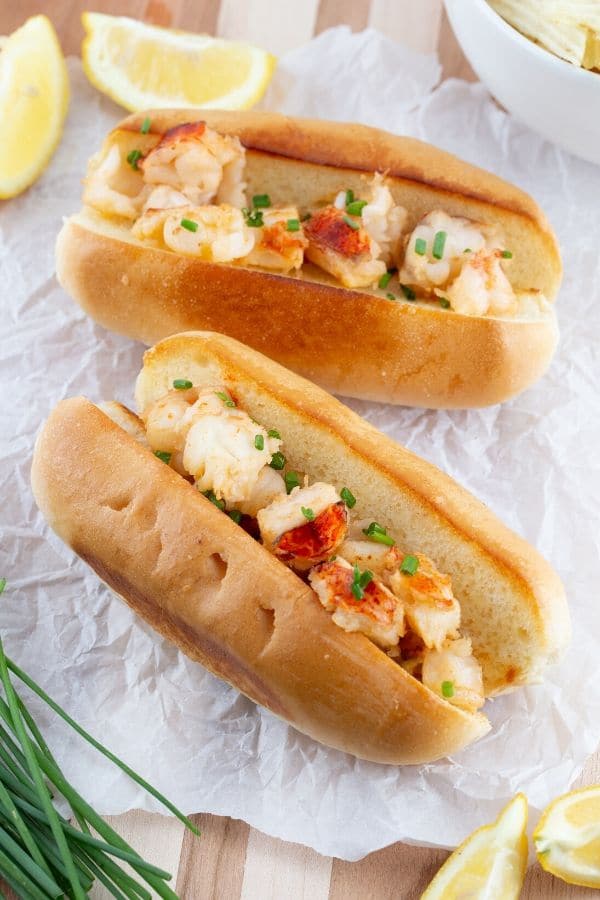 This lobster roll recipe is so simple but yet satisfying. My husband loves these lobster hoagie sandwiches. Give it a try!
Instant Pot Lobster Rolls
Here is how you can make lobster rolls using the pressure cooker to cook your lobster tails easily and quickly.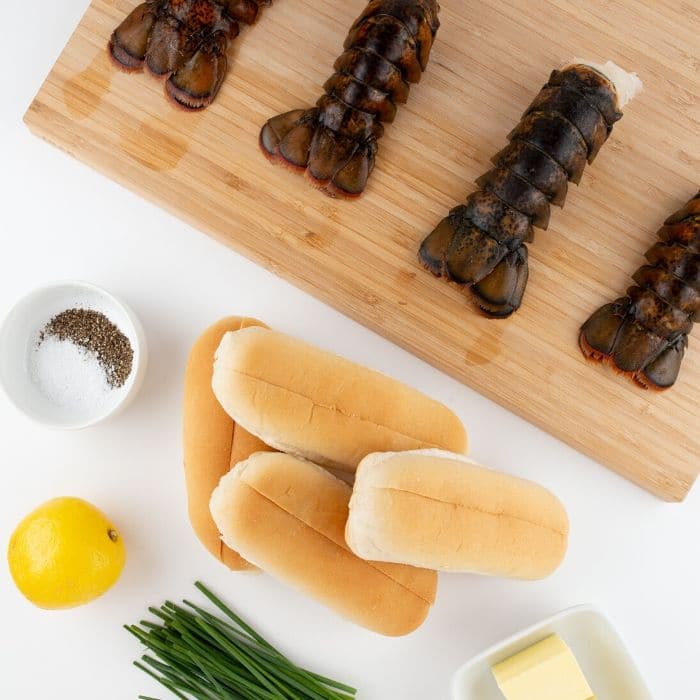 Can I Use Frozen Lobster Tails
It is best to use fully thawed lobster tails. The reason being is lobster is very delicate and cooking lobster happens fast.
If you use frozen just make sure you watch it closely on time or you can go from perfectly cooked lobster to overcooked.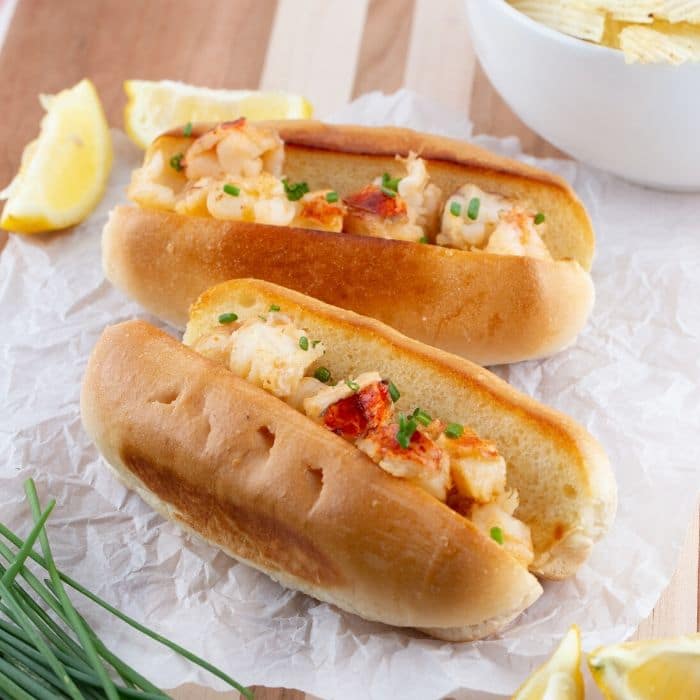 How To Cook Instant Pot Lobster
You will find using a steam basket is a fantastic way to cook your lobster in your electric pressure cooker.
Add your water, salt, garlic, and lobster tails into the Instant Pot.
You will cook your lobster meat for 2 minutes on low pressure, with a quick release. Pressure cooker lobster literally is so quick to cook.
Remove meat from the shell, drizzle with some lemon juice, butter, and prepare your buns for your easy lobster rolls.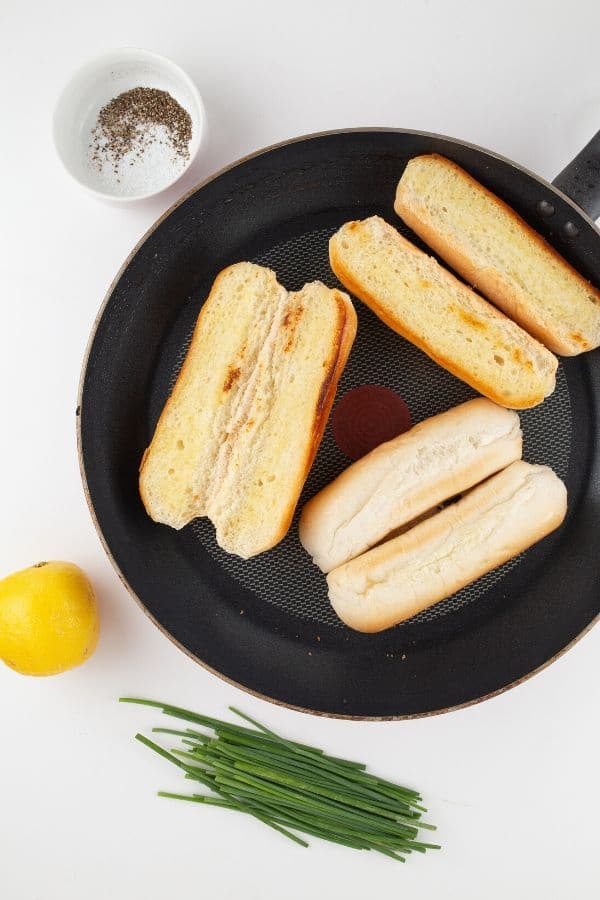 What Kind Of Bread Do You Use For Lobster Rolls
I have found hot dog buns or any soft bun will work great. You can even reach for a slightly sweet roll if you would like as well.
Feel free to use what you have on hand and enjoy the lobster rolls how you prefer.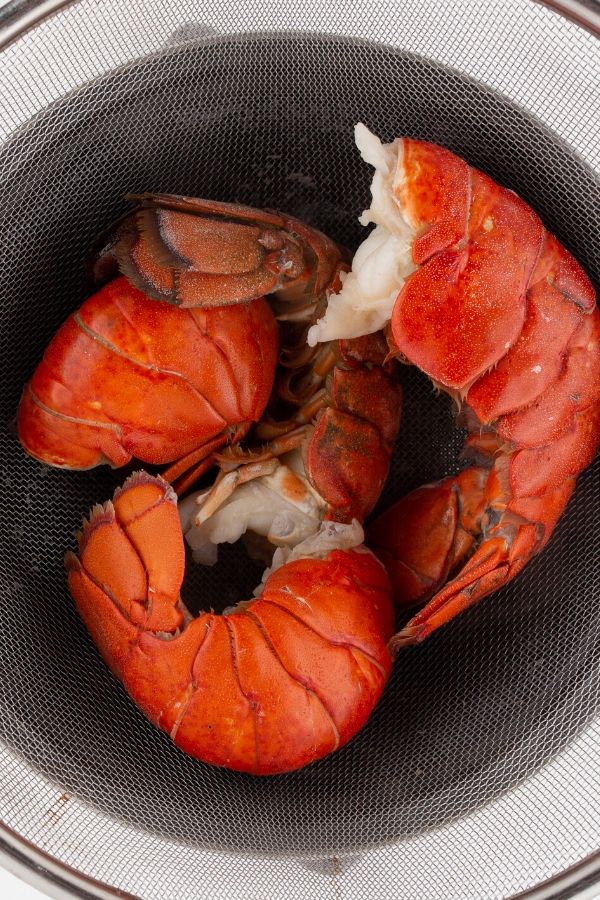 How Many Lobsters Do You Need For A Lobster Roll
Typically, it takes around 2 lobsters (8 ounces) per lobster roll. Or if you prefer less meat you can reach for a smaller amount of meat.
Do All Lobster Rolls Have Mayo
You will find that New England style lobster rolls are made with butter. Then served with fries, potato chips, or other sides.
Some people reach for mayonnaise, so it is up to you the style of hot lobster roll you decide to serve up.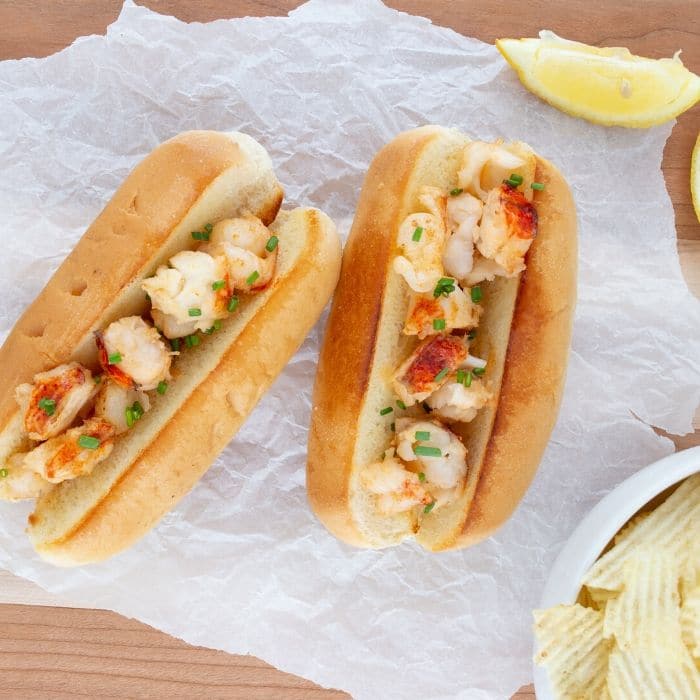 Craving More Seafood Recipes
Here are more Instant Pot seafood recipes and regular recipes to make and serve anyone who enjoys whipping up seafood.
What To Serve With Lobster Sandwiches
Potato Chips
French Fries
Etc
How To Cook Lobster Tails On Stove
Start by filling a large pot with about 2 inches of water before you place in your steamer basket.
Cover with a lid and bring your water to a bowl. Add the lobster tails in the steamer basket. Cook until your tails are bright red shell, and white meat and tender. Remove the meat and chop up the lobster meat.
Now you will follow the steps on toasting your buns and assembling your sandwiches.
Instant Pot Lobster Rolls
Servings 4
Instant Pot Lobster Rolls is a super easy Instant Pot seafood recipe. A toasted bun topped with juicy lobster that is perfectly seasoned.
Ingredients
4 lobster tails
1 cup water
1 1/2 teaspoons salt
4 New England hot dog buns
2-3 tablespoons melted butter
Lemon optional
Salt and Pepper to Taste
Fresh chives chopped (optional)
Instructions
Start by placing your water and salt in the bottom of the Instant Pot.

Now you can slice the end of your tails and carefully lift up the lobster meat if you would like. Then run under the sink to clean, sometimes lobsters can have some dirt or sand on them.

Place lobster tails in the steamer basket, and seal your lid on the pressure cooker. Make sure the valve is sealed. Cook on steam setting or do low pressure for 2 minutes.

Once the 2 minutes are up, do a quick release. Don't allow your lobster to sit in the pressure cooker or it can overcook.

Once you remove lobster, you can work at getting the meat out of the lobster tails. Chop the seafood and set aside.

In a pan on the stove, you will butter your buns with some of the melted butter, and toast the buns.

Remove the buns from the pan and then toss in all the butter, cut lobster meat, and salt and pepper to taste. Toss around getting the meat hot, and you can even sear if you would like.

Spoon into toasted buns and top with fresh chives and a drizzle of lemon juice.

Serve up these Instant Pot Lobster Rolls with any of your favorite side dishes.
Notes
If you have frozen lobster, I suggest thawing your lobster tails first. They will over-cook very easily, so if you cook from frozen know it could over-cook your lobster.
If you have an Air Fryer or Duo Crisp Lid
You can butter and air crisp your rolls in your air fryer at 375 degrees if you would like to do that instead of on the stove! Then you can warm your lobster up in the air fryer as well if you would like.
If you have the Instant Pot Duo Crisp lid, just swap it out from the pressure cooker lid.
Nutrition
Serving: 1gCalories: 349kcalCarbohydrates: 31gProtein: 28gFat: 12gSaturated Fat: 6gPolyunsaturated Fat: 5gCholesterol: 99mgSodium: 1388mgFiber: 2gSugar: 4g
I share a ton of instant pot recipes, so make sure to check back often for the latest recipes I have created!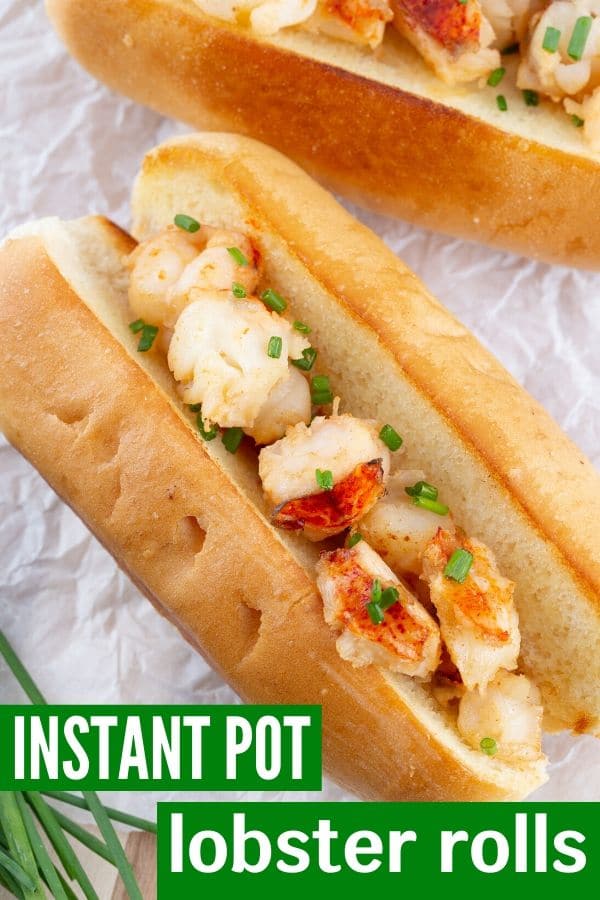 Are you a fan of lobster rolls?
Reader Interactions