Craving an easy pasta dish? Whip up this Instant Pot tortellini and marinara sauce for a light lunch or dinner tonight. Fresh cheese-filled tortellini, swirled with a savory marinara sauce and topped with freshly grated parmesan cheese.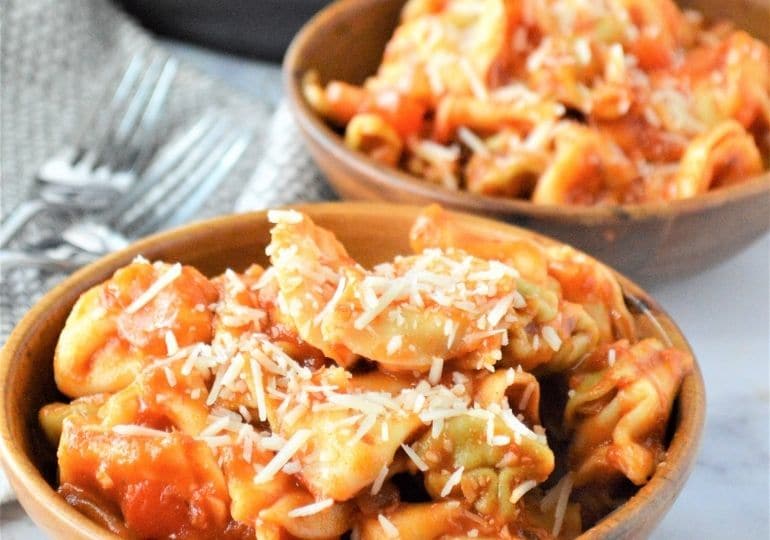 Tortellini in the Instant Pot is so easy to do. I reached for cheese tortellini from Buitoni pasta. If you are new to the Instant Pot I will teach you how to cook tortellini easily in your pressure cooker.
A vegetarian Instant Pot pasta recipe that is so easy to make, and blends great with the pasta sauce. A super simple weeknight dinner recipe the whole family will love.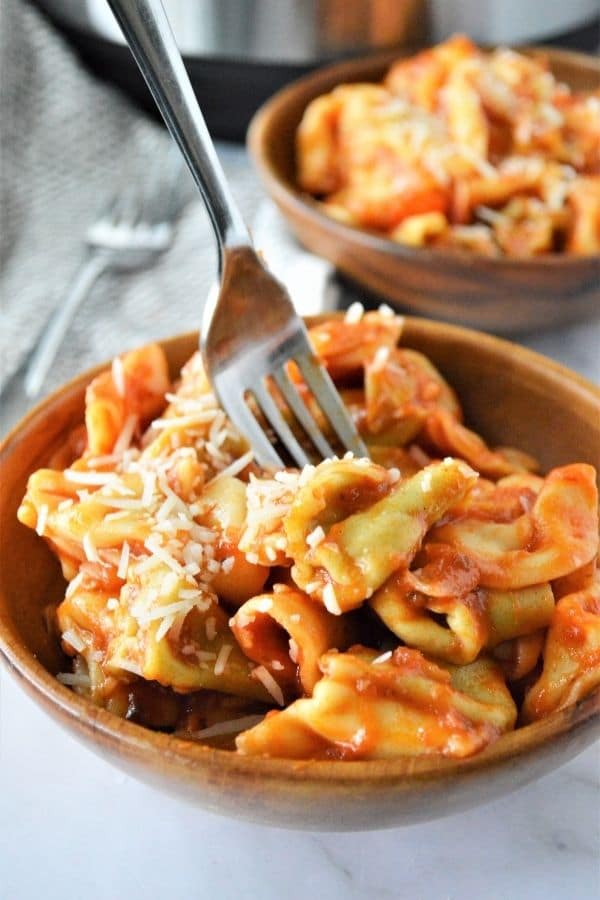 🧀 Why This Recipe Works
Super quick cook time
Minimal ingredients needed
Tasty leftovers that store well
Easy to change it up a bit to fit your liking
Affordable to make
🍴 Main Ingredients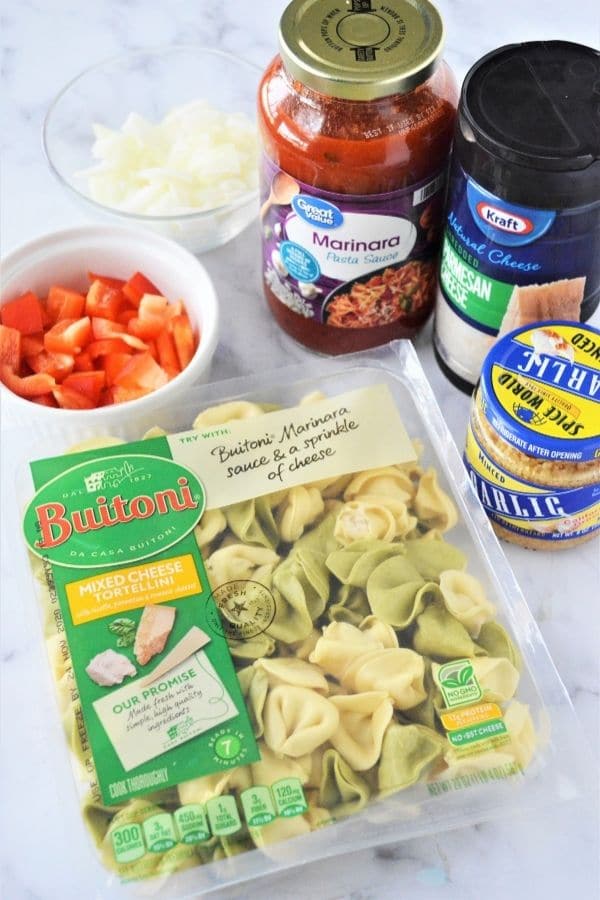 Tortellini | I used refrigerator tortellini, that is filled with cheese. Feel free to buy your favorite brand.
Peppers, Onions, Garlic | This will help add a lot of flavor to your pasta dish. Saute for optimal flavor.
Marinara Sauce | Any brand you like will work great for this pasta dish.
Dust with parmesan cheese!
⏲️ How to Make
The first step is to make sure to put liner in your Instant pot, and then heat up your oil.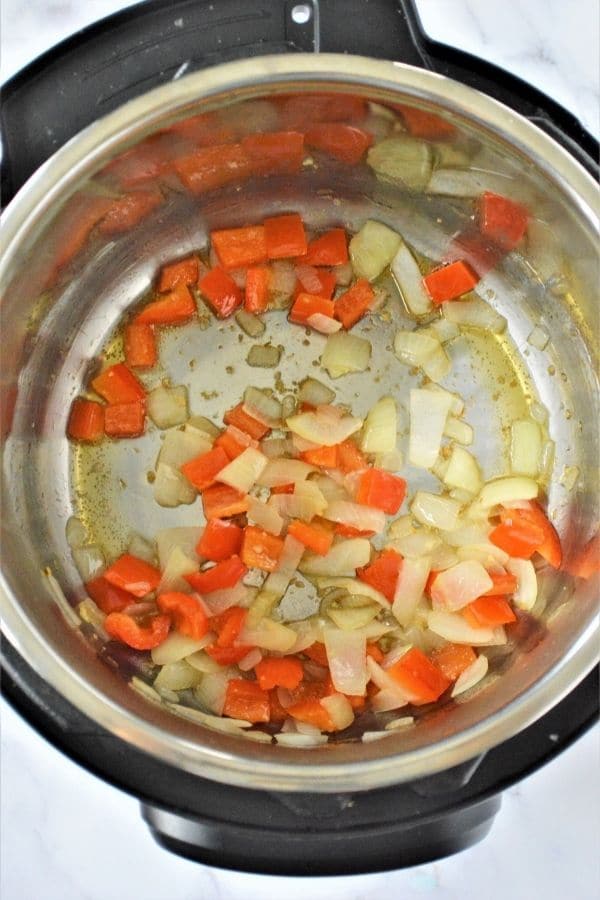 Add in your onions and red bell pepper and cook for 3 minutes or so until the vegetables are tender. Then stir in the garlic at the end.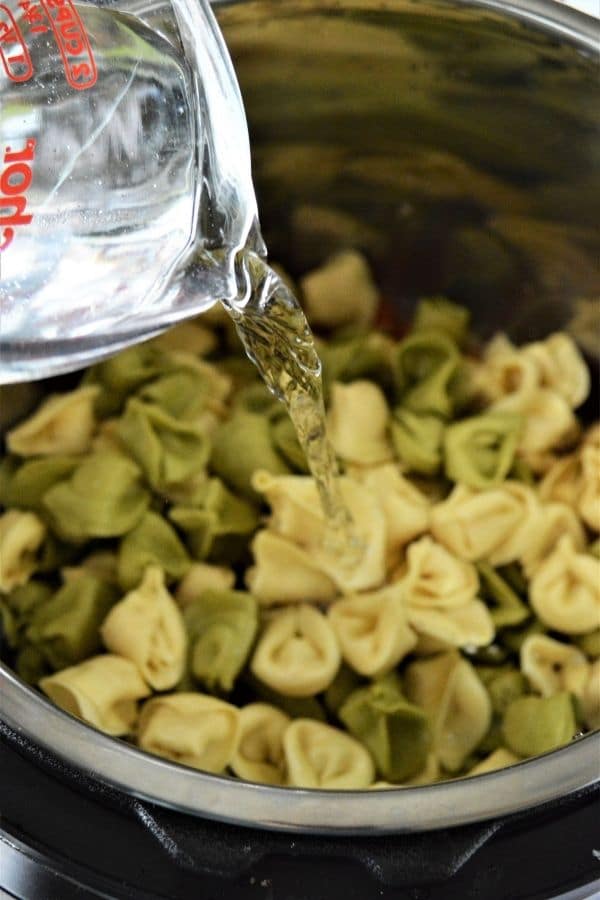 Turn the saute function off, and pour in your cheese filled pastas into the pot. Add in the water, and 2 cups of your marinara or pasta sauce.
Cook the tortellini for 2 minutes followed by a quick release. Once you open lid, pour in the remaining sauce, stir and you are ready to serve up!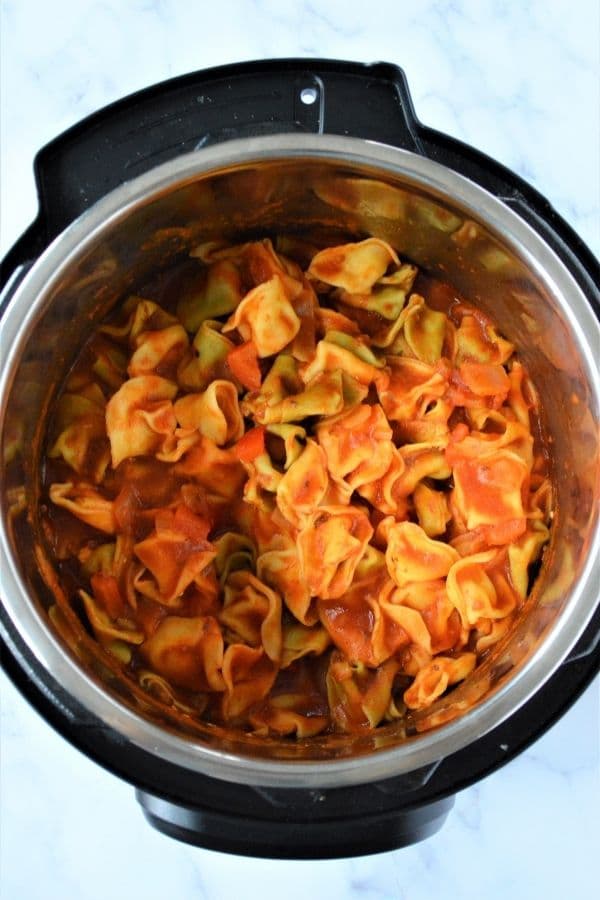 Ladle up the pasta and sauce, and add parmesan cheese on top if desired!
📌 Expert Tips
Saute the vegetables to help add extra flavor to your pasta dish.
Ensure the valve on the Instant Pot is set to sealing, or it will not cook properly.
When cooking pasta in the Instant Pot you have to quickly release pressure or it will turn pasta to mush if you natural release pressure.
Feel free to add in basil, cooked ground beef, or other ingredients for added flavor.
Go right ahead and make a homemade marinara sauce if you would like.
You are more than welcome to double the recipe for added leftovers or feeding a larger crowd.
Swirl in some heavy cream once cooked to make it a creamier tomato sauce blend.
Meal Prep
Do you like to meal prep? Go right ahead and make extra or use your leftovers to meal prep for a few meals. I love to buy the single-serve containers and fill up the containers as I am cleaning up dinner.
Then add in some broccoli, brussels sprouts or other vegetables to the side, and you have a hearty and delicious lunch or dinner to grab and reheat.
Also, make sure to check out my Instant Pot Freezer meals as well. This is a great way to simplify your weeknight and weekend meals.
👩‍🍳 Recipe FAQs
How Long Does It Take An Instant Pot To Come To Pressure?
The Instant Pot can take anywhere from 5 minutes to 20 minutes to come to pressure. Normally with pasta recipes it is quicker, where a large roast could be closer to 20 minutes.
Can I Cook Homemade Tortellini In The Instant Pot?
Unfortunately, homemade pasta does not work well in the pressure cooker. Homemade pasta of any kind is rather tender, so freshly made pasta is not recommended. I did use store bought refrigerated tortellini and it holds up to the high pressure.
Can You Cook Dried Tortellini in Pressure Cooker?
If you want to cooked dried tortellini add in your water, tortellini and pasta sauce on top. Then cook 2-3 minutes followed by a quick release of pressure. Pressure cook time can vary depending on how large or small the pasta is.
How long does tortellini last in fridge?
You can store your tortellini in the fridge anywhere from 3-5 days. If you have meat in the dish you will want to aim for the 3 days timeframe. Meatless can go up to 5 days. Use your judgment in terms of quality.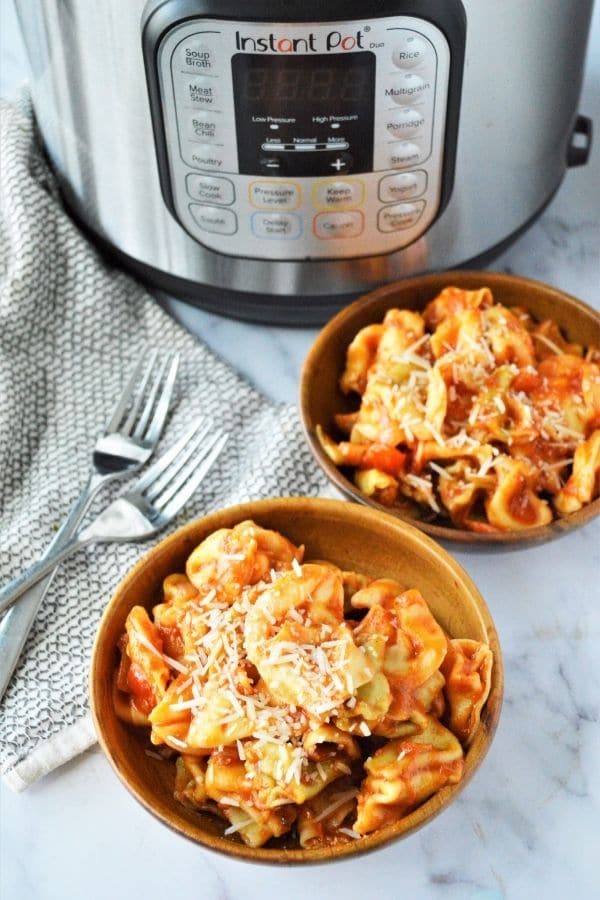 More Crave-Worthy Recipes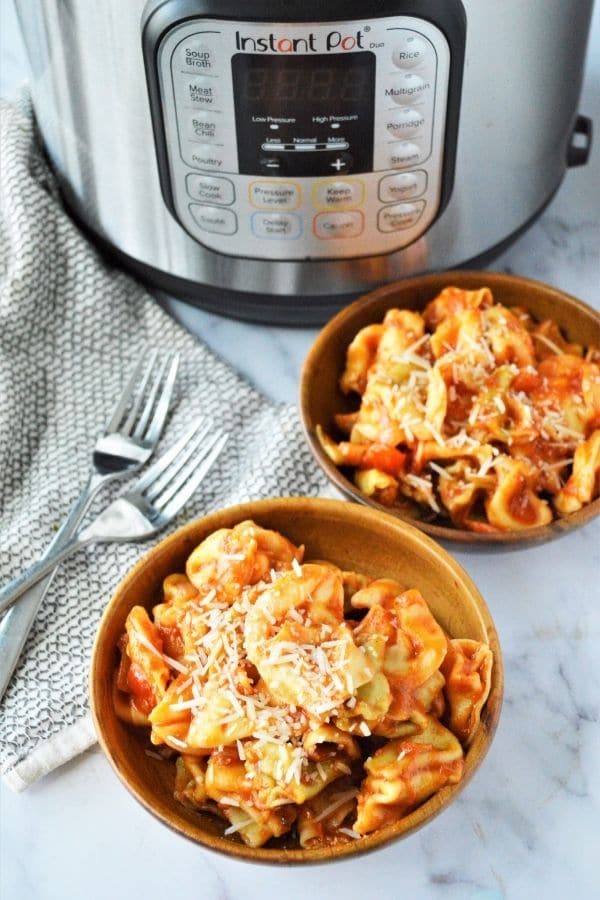 Instant Pot Tortellini
Servings 4 -5 servings
Instant Pot Tortellini is a quick and easy pasta dish made right in the Instant Pot. Simple ingredients, quick cook time, big taste! Give this marinara tortellini recipe a try. This is a meatless dish for a vegetarian-friendly meal. Or if you want it heartier go right ahead and cook up some meat to mix in.
Ingredients
1 20 oz package of tortellini your preference. I used mixed cheese
1 24 oz jar marinara sauce
⅔ cup red bell pepper – chopped
½ yellow or white onion – chopped
1 teaspoon minced garlic
3 Tablespoons oil
3 cups of water
Garnish: shredded Parmesan cheese and fresh basil
Instructions
In the Instant Pot turn your pot to saute and add in your oil. Toss in your onions and bell pepper and saute for 2-3 minutes or until tender. Once tender add in your garlic and turn off the saute function.

Now you will toss in your water, and use a wooden spoon to scrape the bottom of the pot to ensure nothing is stuck on the bottom. Now pour in your tortellini, and top with 2 cups of marinara sauce. Don't stir the sauce into the mixture, let it sit on top of pasta.

Close the lid on the pressure cooker and make sure the valve is set to sealing. Do a 2-minute high-pressure cook. Followed by a quick release of pressure.

Once you remove the lid, stir in the remaining marinara sauce, and then dish up your Instant Pot tortellini and marinara sauce. Top with grated parmesan and fresh basil.
Notes
Feel free to cook up meat and add to the dish to make it heartier. Ensure you do a quick release of pressure or it will break down your pasta too much. You can use homemade marinara or pasta sauce in replace of the jar. You can leave out the onions and pepper and onion if you do not want added flavor to your pasta sauce. Feel free to use dried tortellini in replace of refrigerated pasta. I find refrigerated tortellini offers the best flavor. Go ahead and double the recipe if you would like or want to serve a larger crowd. Just make sure if you own a smaller Instant Pot you don't go past the max fill line.
Nutrition
Serving: 1gCalories: 516kcalCarbohydrates: 67gProtein: 18gFat: 19gSaturated Fat: 5gPolyunsaturated Fat: 12gCholesterol: 52mgSodium: 1176mgFiber: 5gSugar: 10g
Helpful Instant Pot Posts To Read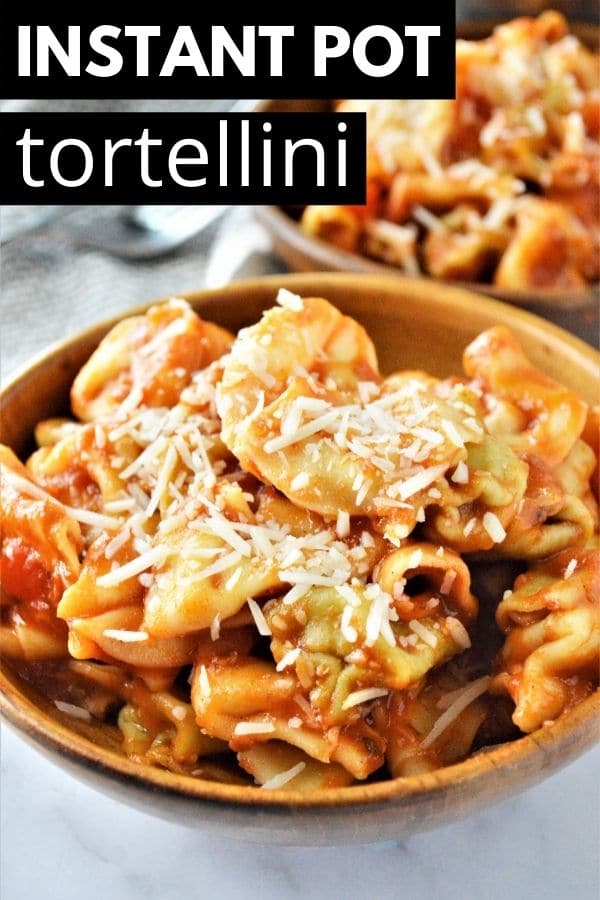 Reader Interactions