Instant Pot Hummus is a velvety and creamy homemade hummus recipe that is bursting with savory flavors. A no soak dried chickpea hummus that takes a fraction of the time to make.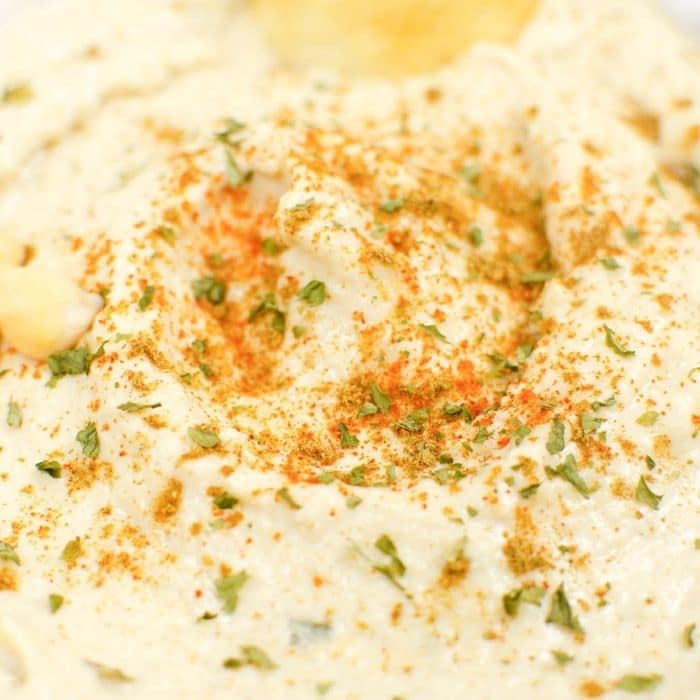 Grab your dried chickpeas and get them cooking without having to soak for hours or overnight on your counter!
A simple and easy way to make homemade hummus with dried beans. Save your money and make a classic hummus Instant Pot version that tastes even better than buying a container at the store.
🍴 Why This Recipe Works So Well
No Soak | Skip soaking beans overnight for a quicker and easier prep to making homemade hummus.
Fresh Flavors | Making homemade you get rid of all the processed items in hummus you buy. You get to control what goes into this recipe.
Makes A Lot | You are able to make a lot of hummus for a fraction of the price of buying it at a store.
🧄 Ingredients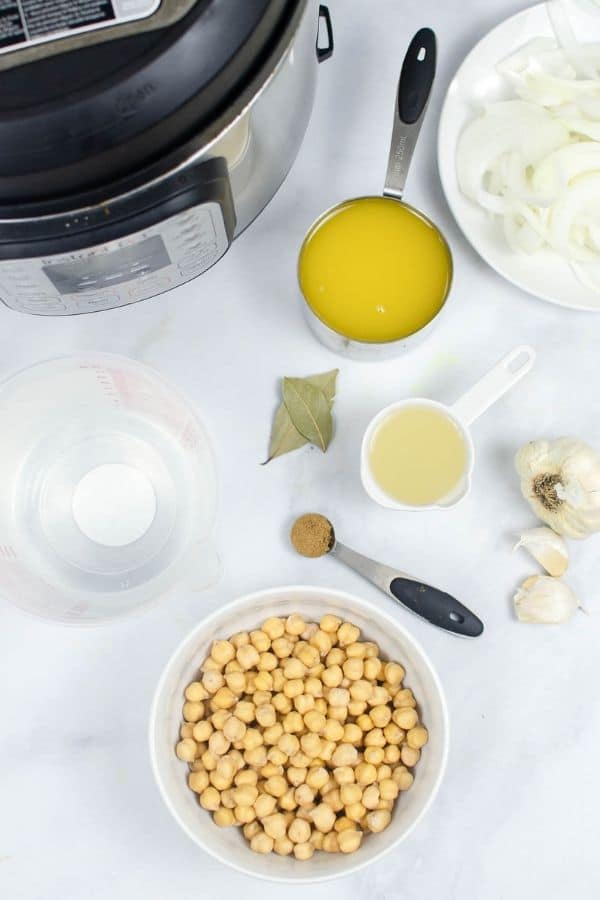 Chickpeas | Dried chickpeas or Garbanzo beans are what you will start with.
Garlic and Onions | I love using garlic and onions in making hummus. Go a step further and use roasted garlic for even more flavor.
Spices and Oil | Olive oil, lemon juice and spices are going to add even more flavor to your cooked chickpeas.
This is a vegan hummus recipe that you can make over and over again!
🧅 How to Make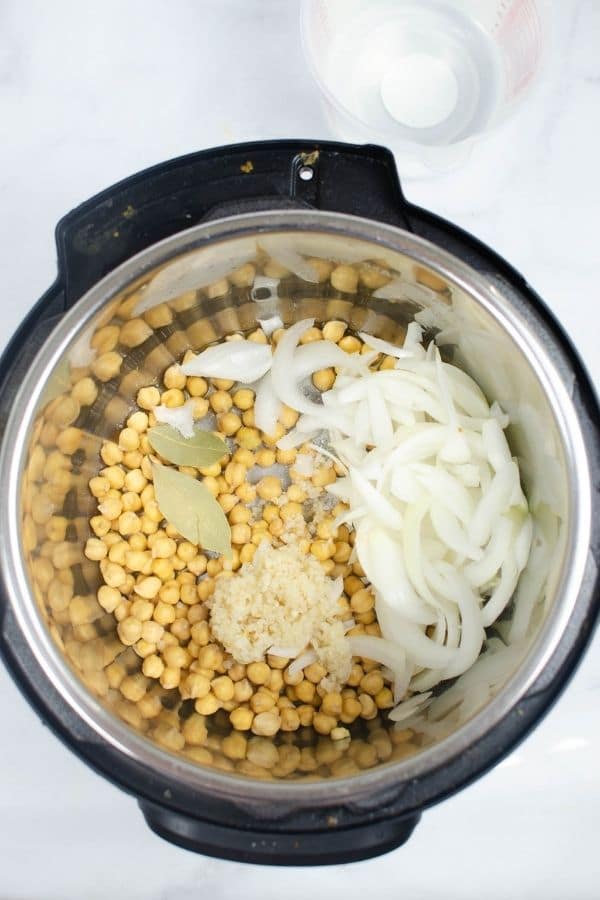 Start by rinsing your garbanzo beans and discard any bad chickpeas or stones you come across. Add in 4 cups of filtered water, and beans to your Instant Pot.
Toss in your onions, garlic and bay leaves.
Close the lid and place the valve to sealing. Do high pressure for 35 minutes followed by a natural release. The natural release will take around 20 minutes.
Now you will drain your chickpeas, make sure you save your cooking liquid. You will need 1/2 cups of the liquid. Remove the bay leaves from the mixture.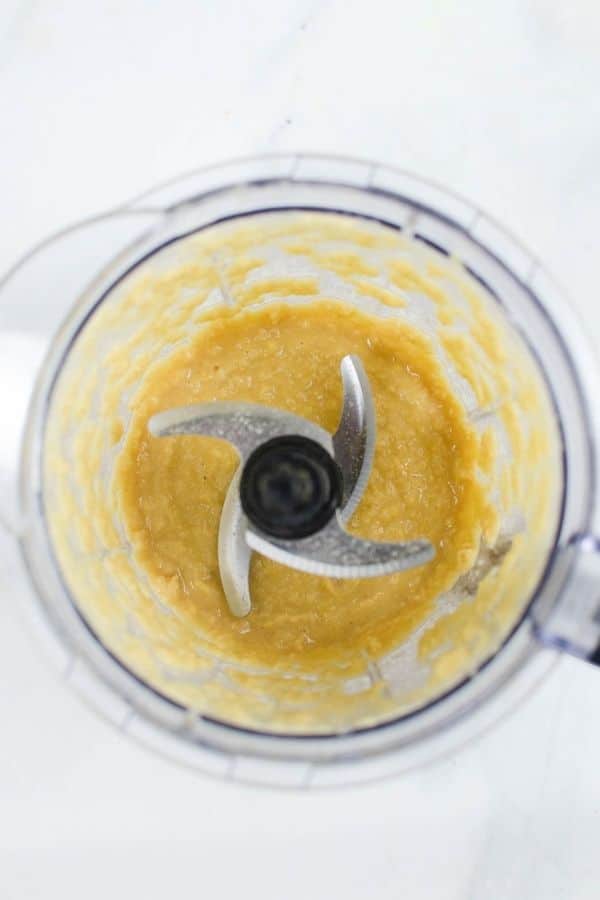 Take 3 cups of the cooking liquid and place in a bowl along with your cooked beans. Use a food processor or blender and mix up the beans with the cooked garlic, onion, and spices.
Then once mixed, slowly add in your olive oil a teaspoon at a time. You will mix until the chick peas are smooth, creamy, and whipped texture.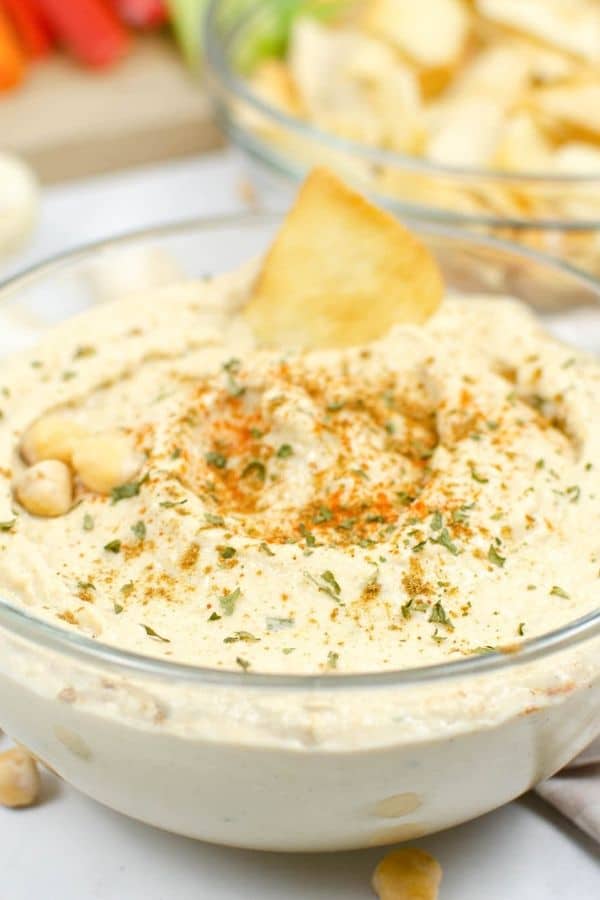 Expert Tips
If you soak beans overnight reduce the cooking time to 25 minutes. This will speed up the cooking time.
Make sure to rinse and remove any bad beans or stones in the mixture before cooking.
Add your oil in by a teaspoon at a time, to get a perfect consistency. It will offer a whipped style texture.
Feel free to play around with spices and such to give your pressure cooker hummus the flavor you want.
You can double this recipe if you plan to serve a crowd or have a large family who eats a lot of hummus.
FAQs
Is hummus good or bad for you?
If you eat the proper serving of hummus you will find it is quite healthy. The normal serving size is 2 tablespoons of hummus.
What is hummus made of?
Chickpeas or also known as garbanzo beans are the star of hummus. Oil, chickpeas, garlic, onions, roasted red peppers, spices all come together for a creamy condiment or dip to serve up.
How To Store Hummus?
Hummus needs to be stored in the refrigerator. The dip will spoil if left out at room temperature. Properly cover and store your homemade hummus for up to five days.
How Many Cups Are In 1 Pound Bag of Garbanzo Beans
Roughly you will expect a one pound bag of dry garbanzo beans are equal to about 9 cups of beans. This will make an incredible amount of hummus.
Feel free to add more to your recipe if you want to make more hummus then just the 1 cup of beans method I chose to do here.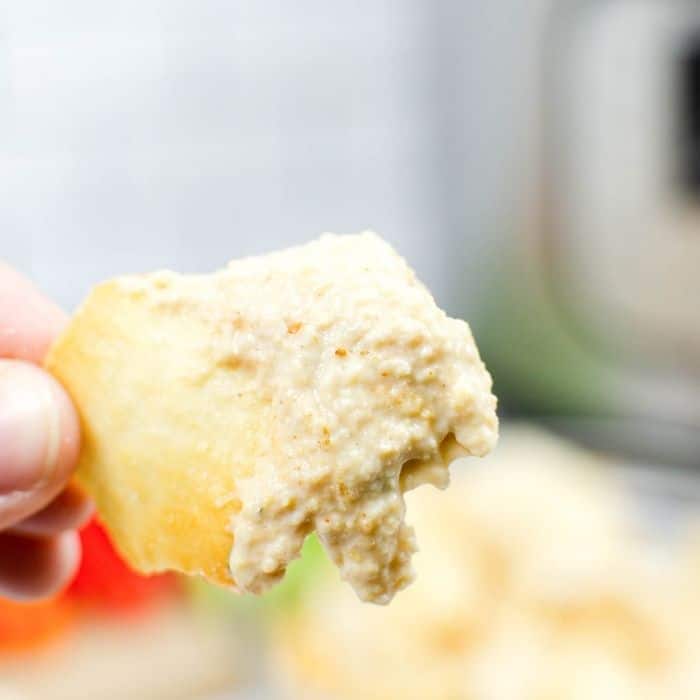 What To Serve With
Pita Chips
French Bread
Fresh Carrots, Celery, Cucumbers, Peppers, Etc
Spread on bread and use in replace of condiments
Pretzels
Etc
Variations to Recipe
Blend in roasted red peppers
Swap out spices to create your own flavor blend
Skip the onions and garlic if you don't want it to have that layer of flavor
Drizzle on oil once done, along with some diced peppers for a fun topping
Want More Chickpea Recipes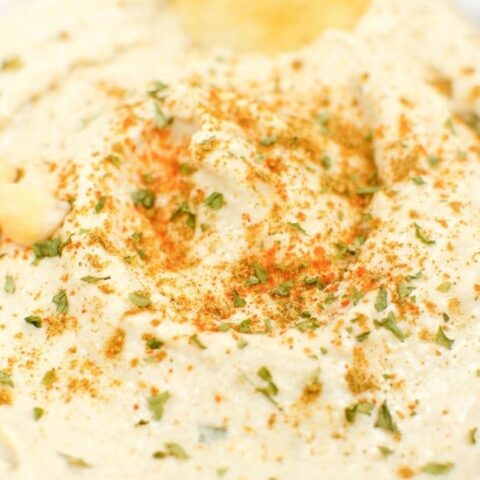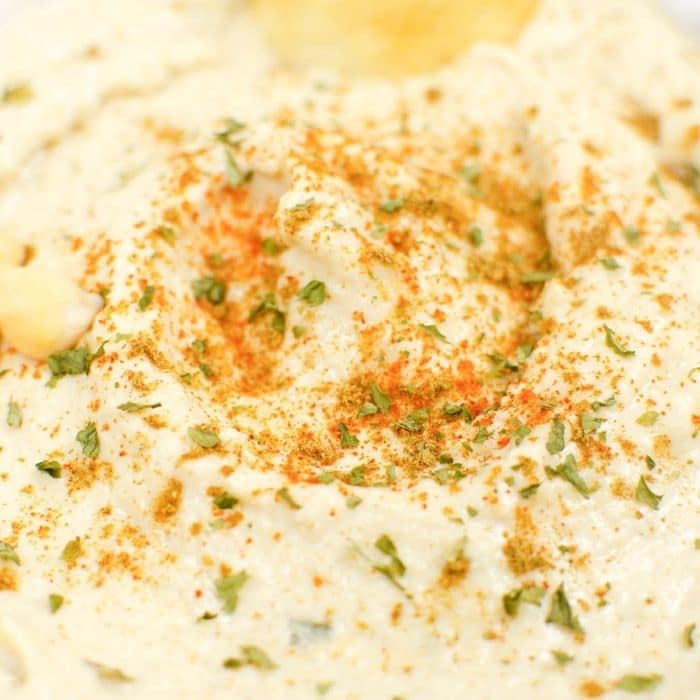 Instant Pot Hummus (No Soak)
Additional Time:
20 minutes
Instant Pot Hummus is a velvety and creamy homemade hummus recipe that is bursting with savory flavors. A no soak dried chickpea hummus that takes a fraction of the time to make.
Ingredients
1 cup dried chickpeas (garbanzo beans)
12 tablespoons minced garlic, divided in 2
2 bay leaves
1 teaspoon olive oil
1/2 onion, sliced into thin halves
1 teaspoon salt
4 cups of filtered water
2.5 teaspoon ground cumin
1 tablespoon paprika
5 tablespoons garlic, minced
1 cup (250ml) tahini
¼ cup fresh lemon juice (or 2 lemons)
Instructions
Start by rinsing and removing any stones from your chickpeas. You will then pour the chickpeas in your Instant Pot along with the 4 cups filtered water, bay leaves, onions and garlic.
Place your lid on the Instant Pot and make sure the valve is set to sealing position. Do 35 minutes high pressure with a natural release of pressure. This will take around 20 minutes.
Once done remove lid, and reserve 1/2 cup of the liquid. Remove bay leaves, and then place the drained chickpeas, onions and garlic in a food processor or blender. Add in a bit of the liquid you reserved.
Add in your cumin, paprika, tahini, lemon juice, salt and blend. Slowly add in more of the liquid as you mix, along with a little olive oil. You will mix until the hummus becomes a creamy texture.
Once your Instant Pot hummus is fully blended pour into a bowl, garnish with fresh parsley, paprika, cumin, etc. Pair your homemade hummus with pita chips, vegetables, etc.
Notes
You might not use all of the 1/2 cup liquid you saved from your bean mixture. You will just blend and mix until it reaches your desired thickness and texture.
Change up the spices you use to create different elements of flavor.
You can soak your beans overnight if you want and then cook for just 20 minutes high pressure followed my 15 minutes natural release to shave off some cook time.
You can double this recipe if you would like.
Store in the fridge in an airtight container for up to five days.
Recommended Products
As an Amazon Associate and member of other affiliate programs, I earn from qualifying purchases.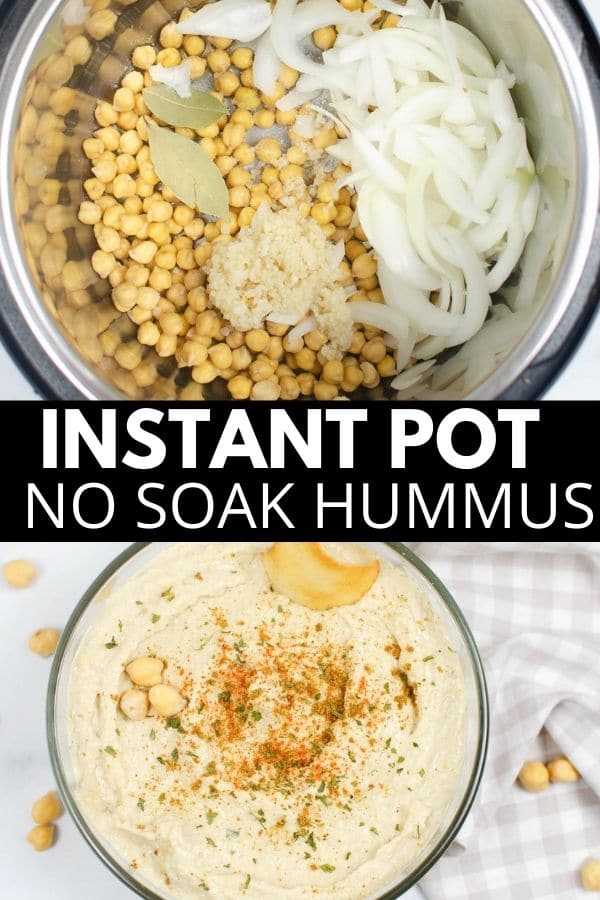 Have you ever made Instant Pot Hummus?